I have been fortunate in my life to have been encouraged to read.  My parents read tons of books to my sister and I when we were little and my dad liked to do silly voices for all the characters to make us laugh and scream in delight.  Reading transports you into a world of creativity, encouraging you to imagine things beyond your reality and experience emotions and scenarios outside your comfort zone.  Books can teach you to be brave, empathetic, optimistic, and humble.  They can help you cope with sadness, anger, and disappointment.  I wouldn't be the person I am today if it weren't for the books I've read. It is important to remember that reading is a skill we are lucky enough to have learned and privileged enough to practice.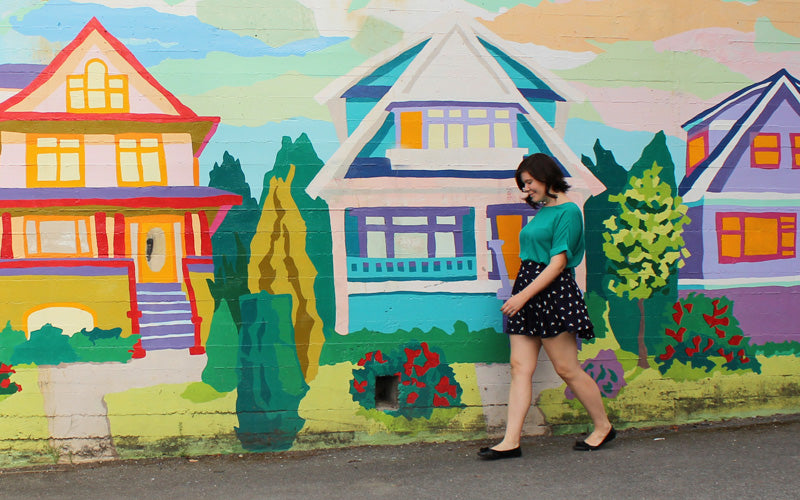 When Karen Ball started the Made-up Initiative benefitting the National Literacy Trust, I knew I had the perfect fabric in my stash for my pledge – this darling unicorn printed crepe.  This fabric is right out of a fairytale, so it seemed appropriate for this project.  I pledged to make the Tania Culottes by Megan Nielsen Patterns, something I have been planning to make all summer but sadly kept pushing back. I love the design of these culottes, they look just like a skirt but are secretly shorts, it is so brilliant.  I made view A (the shortest version) in a size XL.
I really like the way these turned out, they are so fun to wear and they are pretty comfortable.  One thing I have found is that the crotch connecting piece does have a tendency to ride up when I'm walking.  It is not noticeable from the front or back though, thanks the the genius pleat design that makes these look so much like a skirt.  I think i'll make the longer version next time and the crotch seam will sit lower on the legs and won't ride up.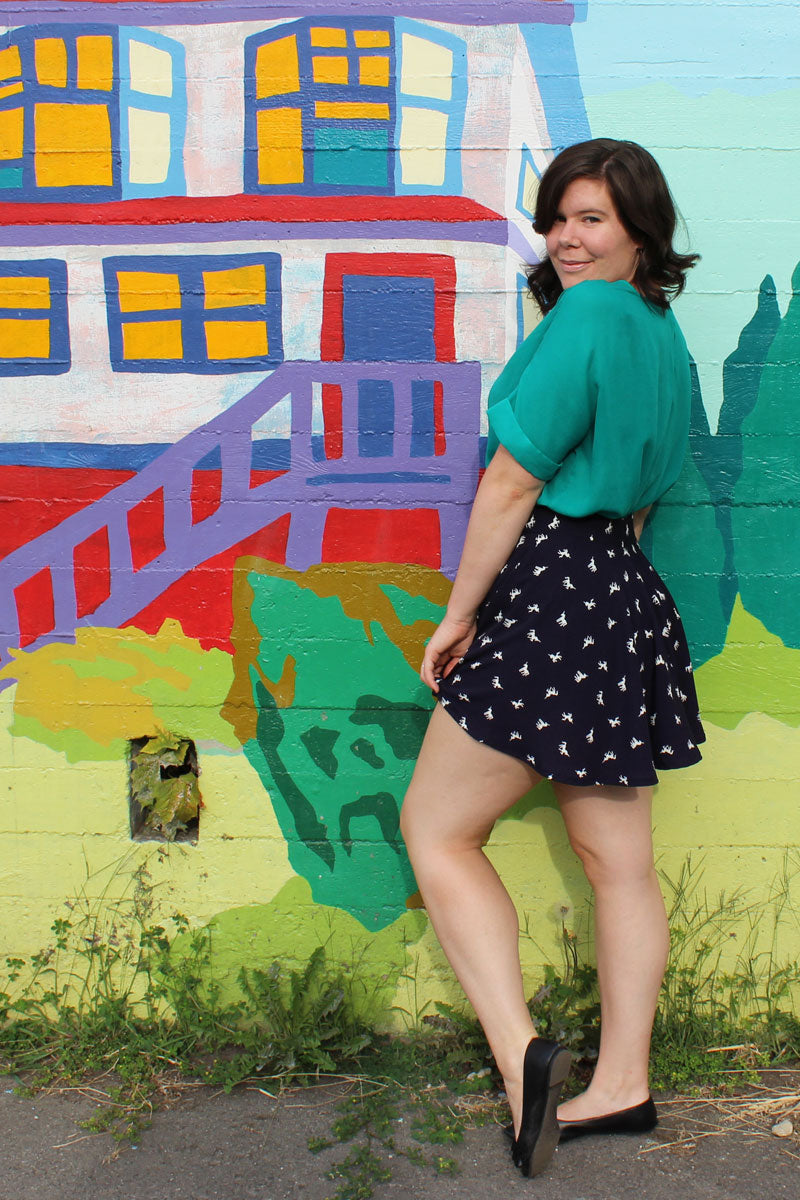 I'm excited to try these out with leggings and boots in the fall, I think I might actually wear them more like that than as summer shorts with bare legs. They look so much like a skirt that I actually feel a little exposed – this is shorter than my preferred skirt length. Even though they are shorts, nobody can tell so it is still perceived as a skirt.   I do love that I can comfortably ride my bike in them though, that is seriously awesome.
I finished all the seams by folding the seam allowance under and stitching it in place. I was feeling a little tired of french seams after my romper, so I thought I'd try out this method.  I think I like french seams better, they leave a cleaner finish.  
My waistband somehow managed to not match up on the side at the zipper.  It did, however, match up at the top so I honestly don't know what happened there.   I suspect I must have cut one piece a bit wonky, which is not surprising because I struggled to cut this fabric cleanly (it was really slippery). I really need to get a mat and rotary cutter.  I used a zipper from my stash which wasn't a perfect colour match, but I decided it was good enough.  Also, can we talk about this adorable mural for a minute?  It covers the whole wall alongside the track by the local high school.  I love the cartoon style houses, I feel like I'm in a storybook!  


Thanks to Karen for creating this initiative and if you haven't donated yet, there is still time! The deadline for completing your pledge is September 10th.
Final Stats:
Total project time:  Approximately 4 hours
Fabric: 1.5 meters of crepe
Pattern: Tania Culottes by Megan Nielsen Patterns