News
Grainline Studios released their new pattern, the Lark Tee!
Seamwork Magazine has put the Oslo sweater on sale this month for $1!  Grab yours before this offer ends.
Sewaholic Patterns took new photos of their Crescent and Rae skirts and they look really lovely.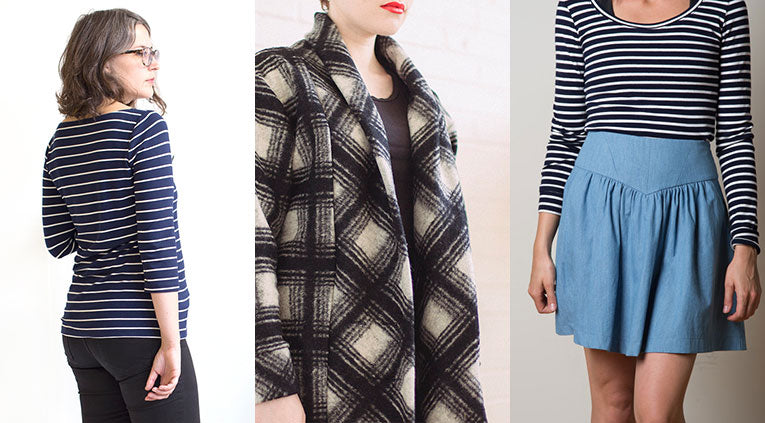 Grainline Lark Tee,  Seamwork Oslo Sweater,  Sewaholic Crescent Skirt
Makes
Laura Mae finished a 10 year work in progress dress this week, isn't that just the best feeling?
I am dying over these crazy pants by Clio.  Crazy cut, crazy fabric, crazy awesome!
Deer & Doe released three new patterns this month, and Camille has made them all!!
Winnie made a great simple gathered skirt, and I laughed out loud at those 'beer can' pockets!
Devon came back strong this week with the Well Composed Blouse by Anna Maria Horner.
Drew made this fantastic sewing machine cover for his Singer (aka Bertie).  Check out his full step-by-step tutorial to make your own!
This relaxed fit Kimono wrap by Christy is simply divine.
Lauren completed her MadeUp initiative project, a beautiful two piece swimsuit. 
I loved Carmen's entry into the Refashioners 2015, made from shits from Costco!  The matching bra she made with this ensemble is wonderful.
Heather braved a sleeveless Granville shirt using rayon this week and it turned out great!
Resources
Erin shows us how to make our own ironing boards this week, no power tools needed!
Melissa's tutorial on how to make a bodice pattern is great. It features clear photos and illustrations to help with every step of the process.
Community
If you live in London, you should definitely go check out the Made Up Meet Up happening on September 12th.
Sara announced the Sew Pro convention, taking place on September 15th – 18th of 2016, registration is now open!