Welcome to day one of the Granger Bag sewalong!  I hope you were all able to print and piece together your PDF patterns successfully, if you have any questions, please let me know.  Today I will be walking through cutting and marking your fabric, let's get started!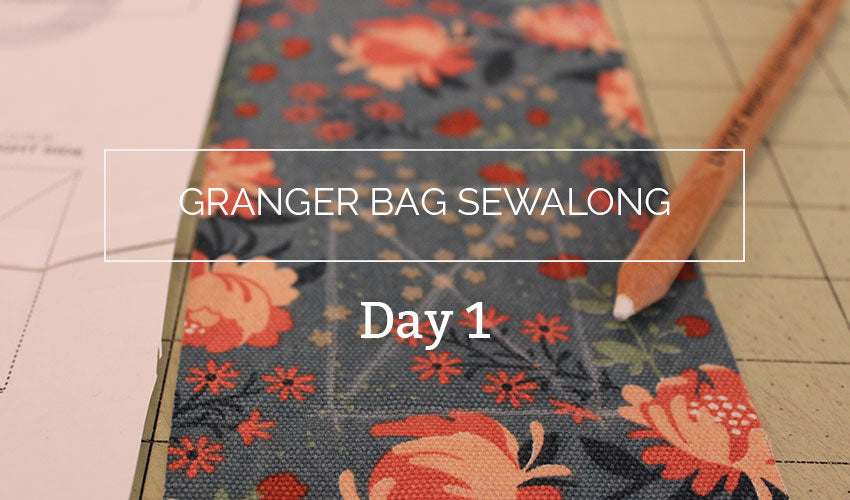 Pattern Updates!  After starting the sewalong, I found a few minor errors, thanks for your patience with my first PDF pattern :).
Updates to Instructions: 
View A fabric layout: Pattern piece #9 is included in the outer bag top layout, but is only needed for view B.
View B fabric layout: Pattern piece #10 is missing from the lining layout, cut one for the outside pocket lining.
On step 20, the instructions say to fold tab in at 2″ and 3.5″. This should be 'fold in at 1.5″ and 3 7/8″'.
Updates to the Pattern
The stitch guide on the tab pieces (13) should be 1.7″ x 3.75″, not 1.7″ x 2.75″.  See diagram below.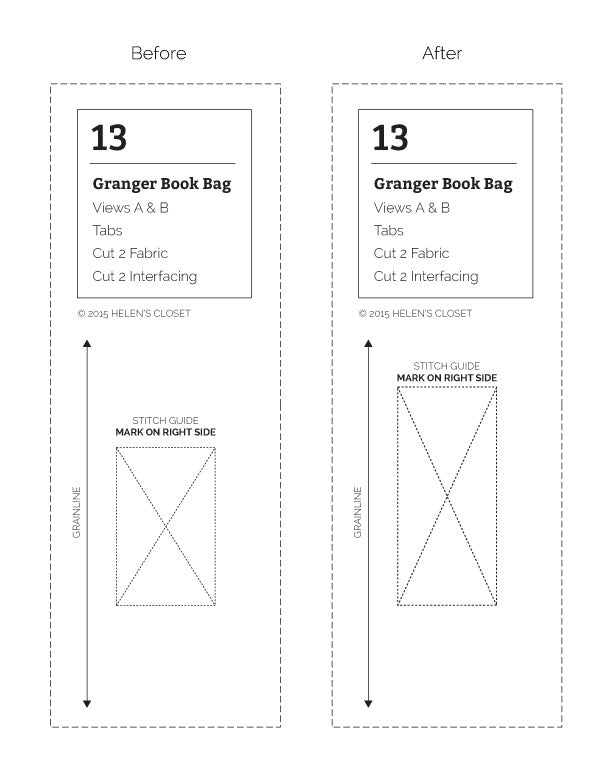 For the sewalong, I'll be making view A & view B of the pattern, so you can see both views come together.  For view A, I'm using a floral paired with a plain canvas, and for view B I'm using solid black and green canvas.  They are very different so it won't be too confusing when I switch between views.  For view A, I'll be using webbing for the strap, and for view B, I'll be using the provided strap pattern pieces. For the most part, I'll be demonstrating on view A, unless it is a step that is specific to view B. Check out the combos below.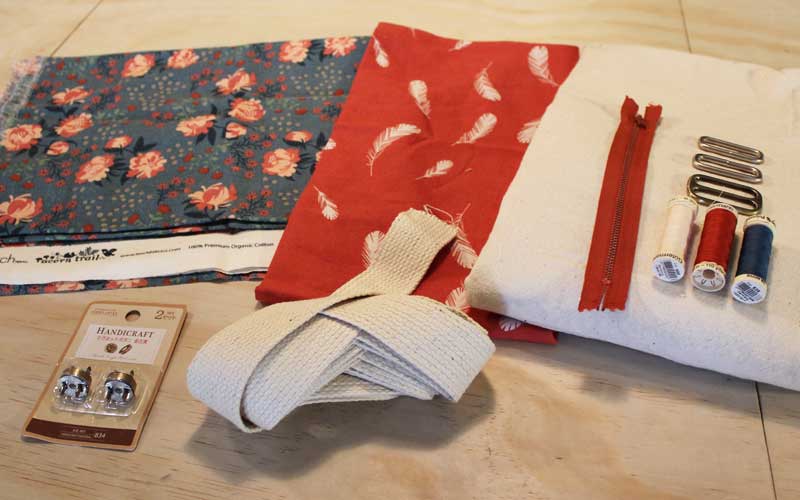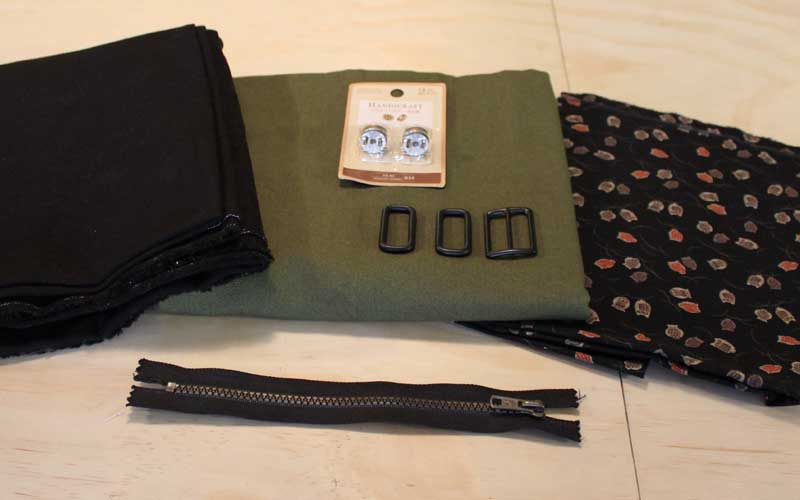 For notions, you will need two rectangle rings that can accommodate a 1.65″ (4.25cm) wide strap.  The strap should fit snuggly up against the sides, so it doesn't slide around too much. You will also need a bag slider the same width as the rectangle rings and an 8″ zipper.  Lastly, you need one – two magnetic snaps depending on the view you are making and thread to match each fabric you are using.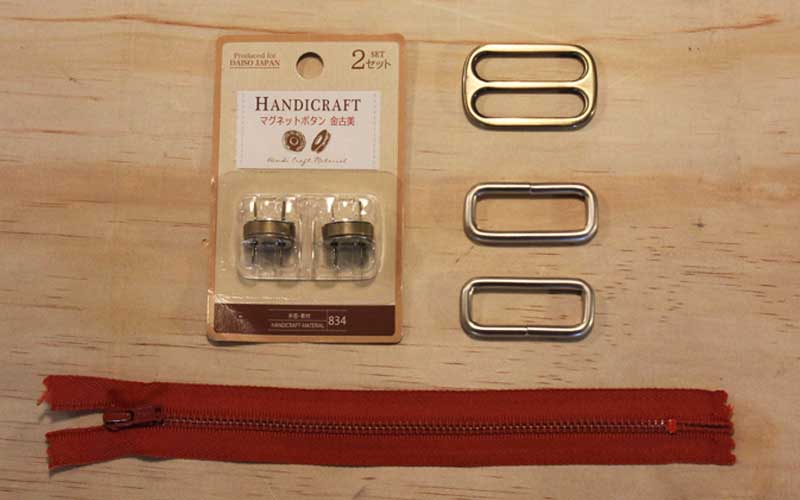 To cut out your fabric, you will need fabric shears or a rotary cutter and cutting mat.  Because the pattern is mostly rectangles, a rotary cutter is ideal and will save you a ton of time.  You will also need a marking pen or fabric chalk, and an optional painters tape and sharpie for marking your pieces.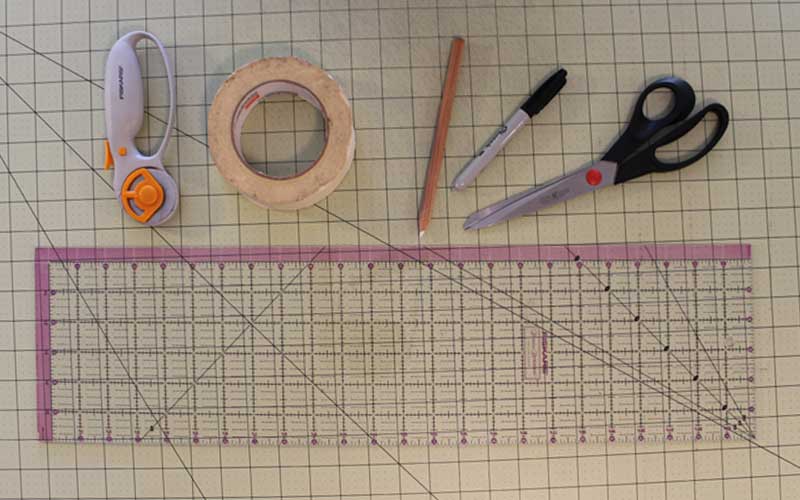 Begin cutting out your fabrics based on the layouts provided in the instructions.  All the fabric layouts in the instructions are based on cutting one layer of fabric, so be sure to cut two pieces when indicated. For my view A, I will be using webbing for the strap, so I don't need quite as much fabric.  The alternate amounts are indicated on the fabric requirement charts.  If you are using plain canvas, you may be able to cut your strap perpendicular to the grain like I'm doing in the photo below and save on fabric. This alternate amount is also indicated on the fabric charts.
Be sure to mark the notches on your fabric.  The pattern includes a 5/8″ (1.5cm) seam allowance, so you can cut in 1/4″ for your notch.  For view B, you will be cutting two notches on the flap pieces.
For the snap markings, make an 'X' on your fabric to indicate the snap placement.  Make sure you only mark the snaps for the view you are making, and only make the 'X' on one of the pattern pieces.  Don't mind the red dotted lines on my pattern in these pictures, I'm using an older version of the pattern that had some additional markings.
For the various stitch guides, you can simply fold the paper pattern out of the way to make some marks and then draw in the finished box.
If you are concerned about keeping the pattern pieces in order (it's a little hard to tell since they are all rectangles!), you can put a piece of tape on your fabric and mark the number, or mark the number in fabric pen. Keep in mind that you will be interfacing some of these pieces, so you'll have to remove the tape for that step. Once the pieces are interfaced, it's less challenging to keep things straight.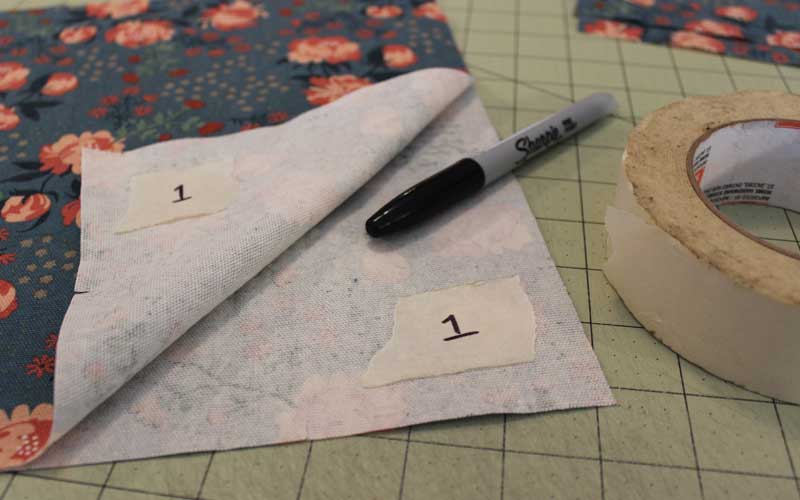 For those of you using webbing instead of fabric for your strap, you will need to cut a piece the length of both the strap pieces combined, or any length that suits you.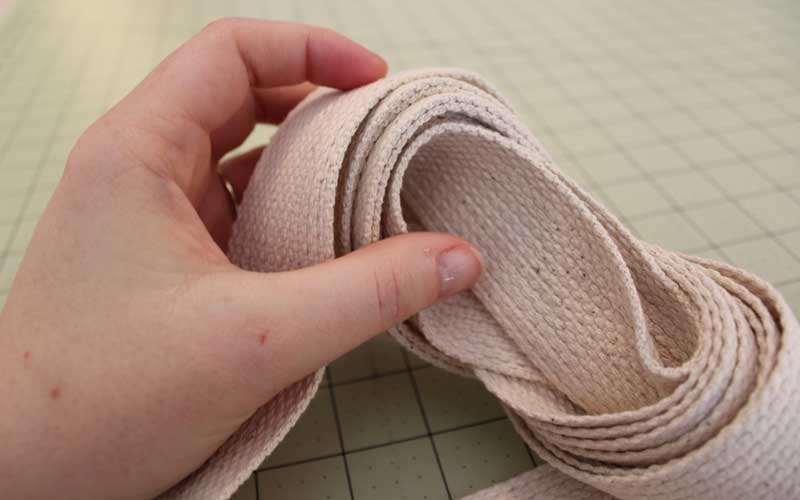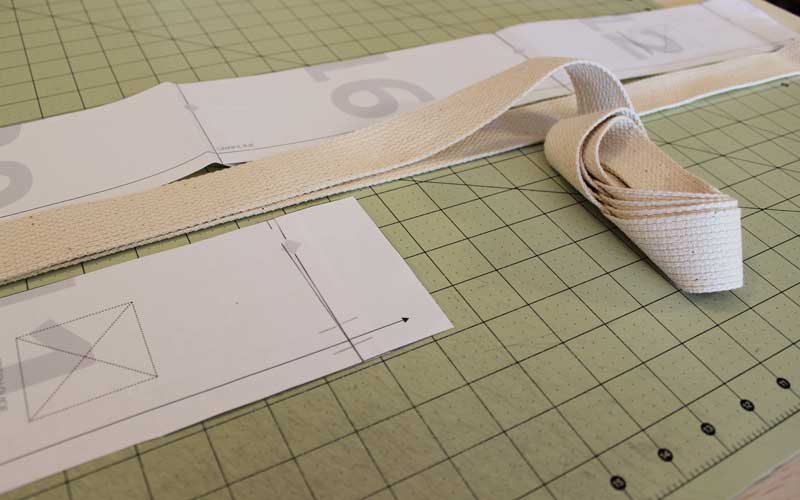 Once you have cut out all your fabric & interfacing, interface the pieces for your view. For view A, this is 1, 2, and 13.  For view B, it's 1, 2, 3, 4, and 13.  Use a press cloth to protect your iron and press firmly on the interfacing for 10 seconds before lifting your iron and moving to a new spot.  Do not move your iron from side to side, lift and press!   You interfacing may have come with instructions, in which case, use those!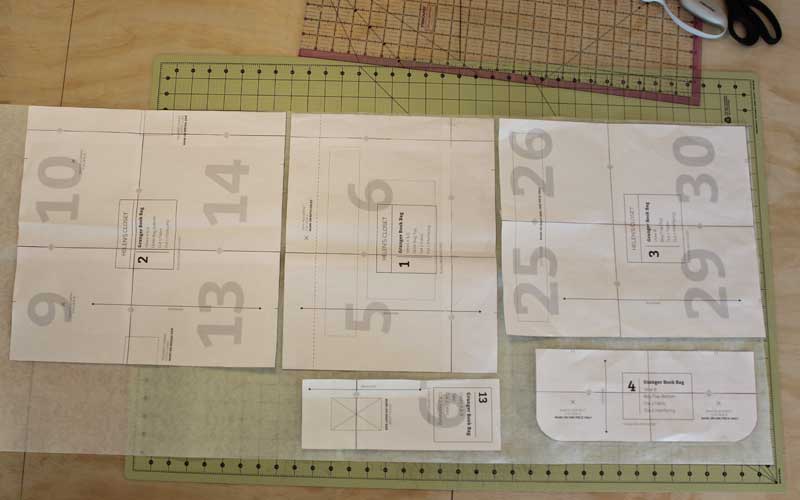 That's all for cutting and interfacing. Best of luck with this step and I look forward to getting started making the bag on Thursday.  Please ask any questions in the comments below 🙂