I finally sewed an Archer Button Up!  It's been in my pattern stash for months and has been getting pushed back in favour of easier or more exciting projects (ooo, shiney!). Not that button ups can't be exciting too, but I wanted to make my first Archer a very versatile garment I would want to wear regularly, ie: boring basic.  Fortunately, I purchased some slubby tencel denim from Blackbird Fabrics a couple months ago with nothing specific planned for it, and when it arrived it was just begging to be an Archer so I was inspired! 🙂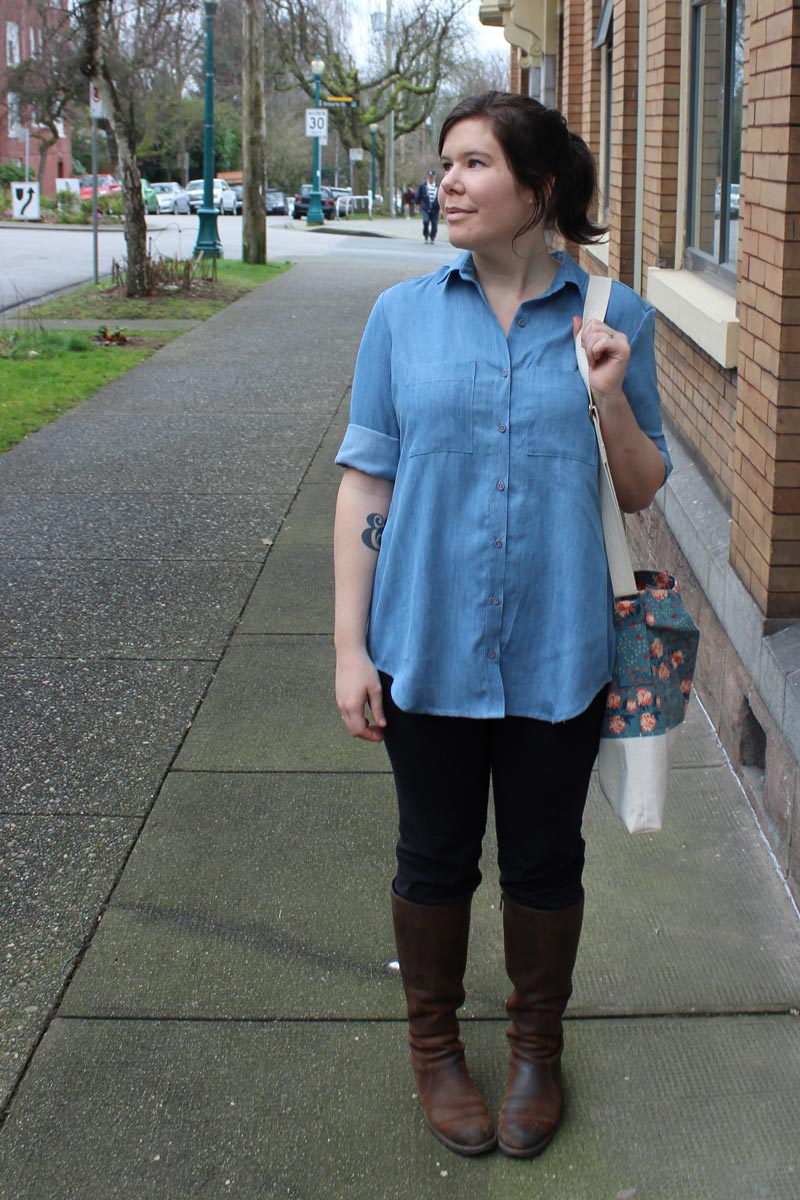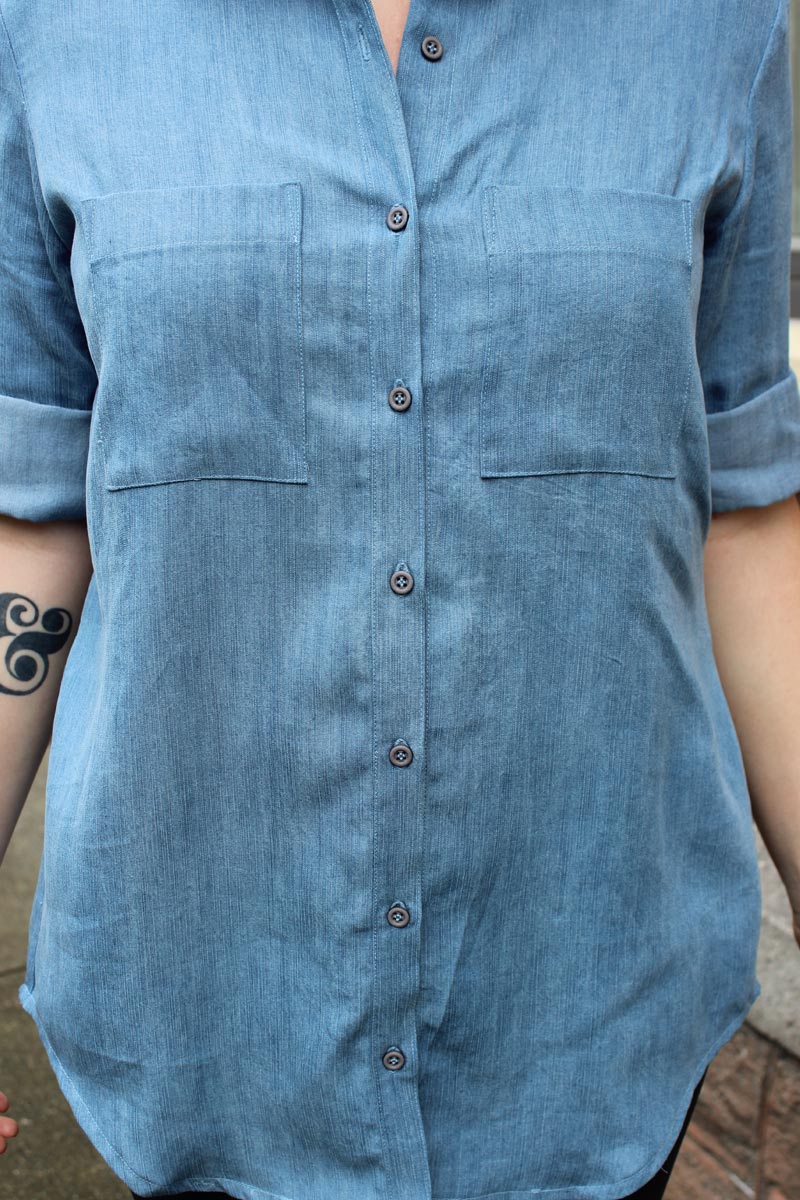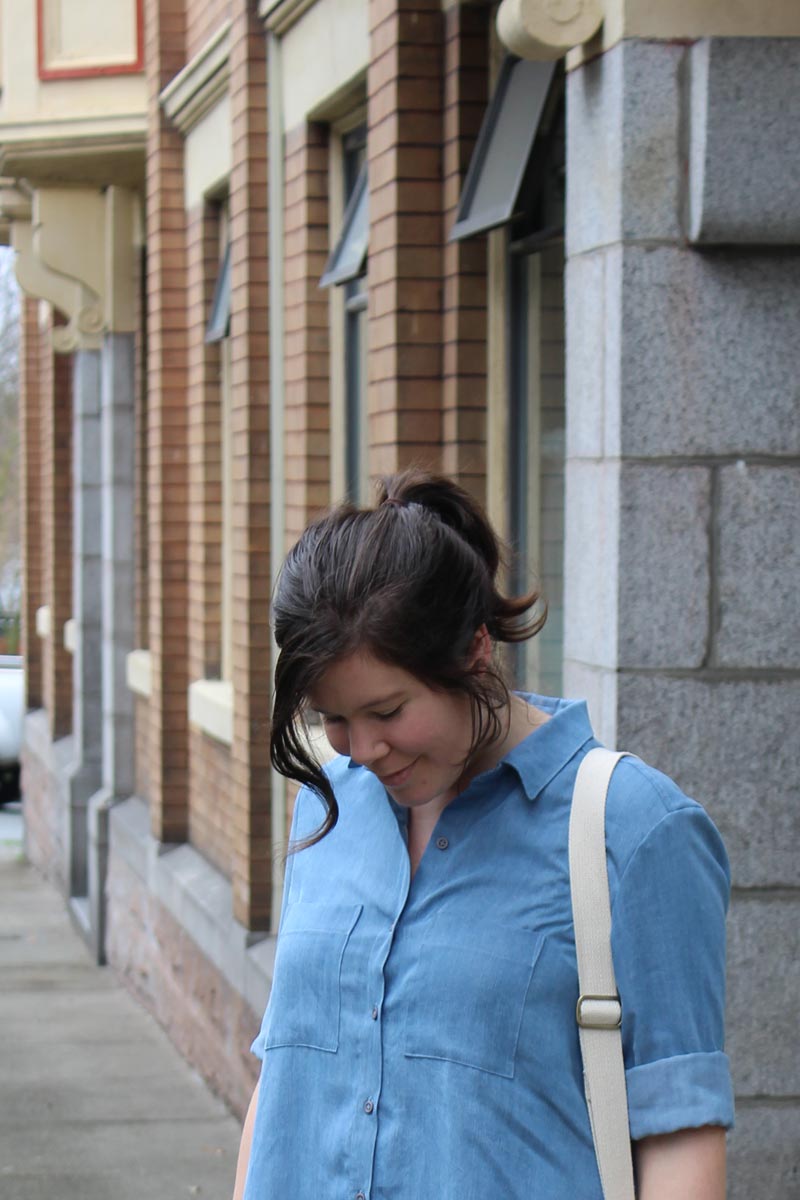 I love a good, loose top over leggings and paired with boots.  It is definitely one of my go-to silhouettes for everyday and this shirt is a perfect addition to my arsenal of long tops.  I did lengthen the pattern to get this look, as seen on a few other blogs like SweetKM and The Sara Project.  I love the way view B looks with the added length, it is almost an Alder Shirtdress at this point, but the fit is more boxy.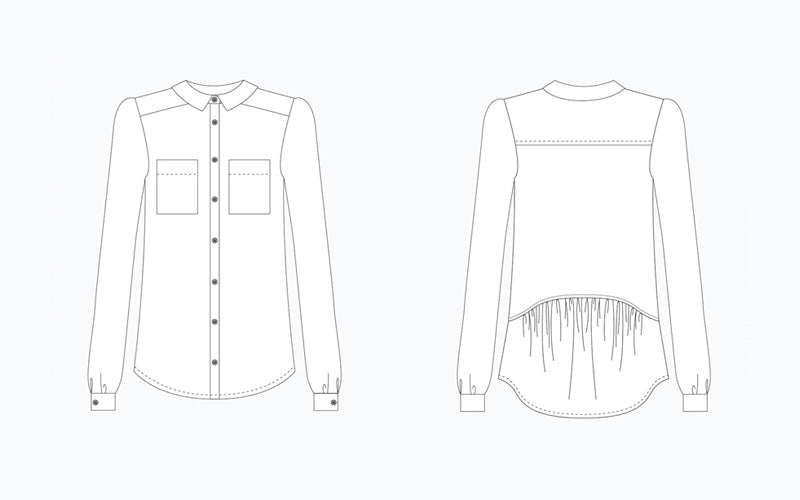 I made a pretty big mistake when lengthening this Archer, and I decided to ignore it until almost completion thinking that it wasn't that big of a deal.  When I decided to lengthen the shirt, I added 4 inches to the front and back.  The 'lengthen or shorten here' lines are on the upper back piece of view B, so I added 4 inches to that and left the bottom, gathered piece untouched.  Of course this resulted in the gathered detail sitting really low on my back, pretty much right on my bum like a little bustle.  I was also getting major fabric pooling above the gathers – not flattering, check out the pics below.
I sewed almost the entire shirt, hem included, before admitting that I could not live with this mistake. I knew this shirt would get pushed to the back of my closet and never worn and I really wanted this shirt to become a favourite.  I had enough fabric to re-cut the bottom piece and I actually ended up adding 5 inches of height to the bottom and taking 1 inch off of the top.  As you can see, the fit is way better now that the gathers are sitting more at my waist.  
Lesson Learned: If you don't like something about your project, just fix it! you will only regret it if you don't.
Adding Length to the Archer Button Up view B:  Make sure you distribute the length between the upper and lower back pieces, or just add the length to the lower piece (like I did).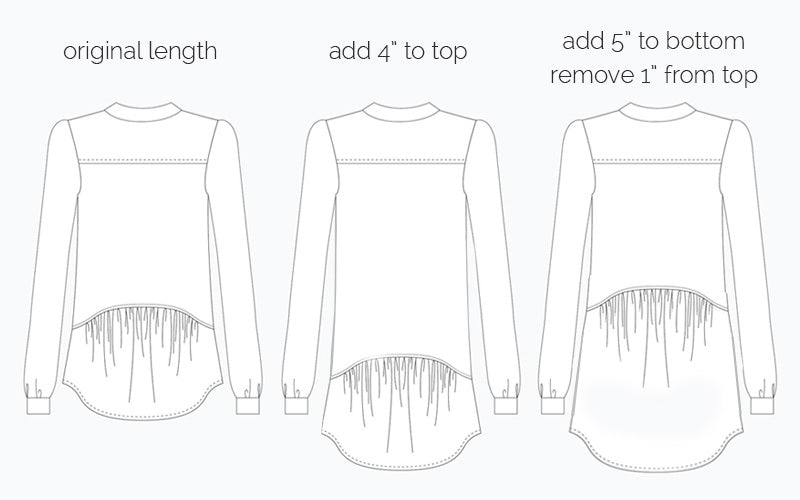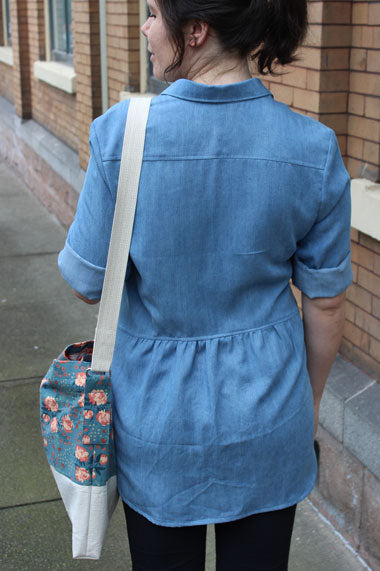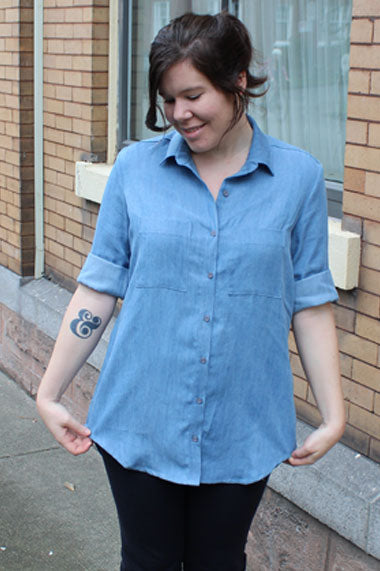 Other than the bustle fiasco, this project was fairly smooth sailing.  The cuffs and collar were challenging as always, but they get easier every time! I did manage to mess up one of my cuffs by not folding the placket under the right way when sewing on the cuff piece.  I didn't notice this until it was finished, and I wont be wearing this with the sleeves down anyways so it's not an issue for me.  You can see how it is twisted below.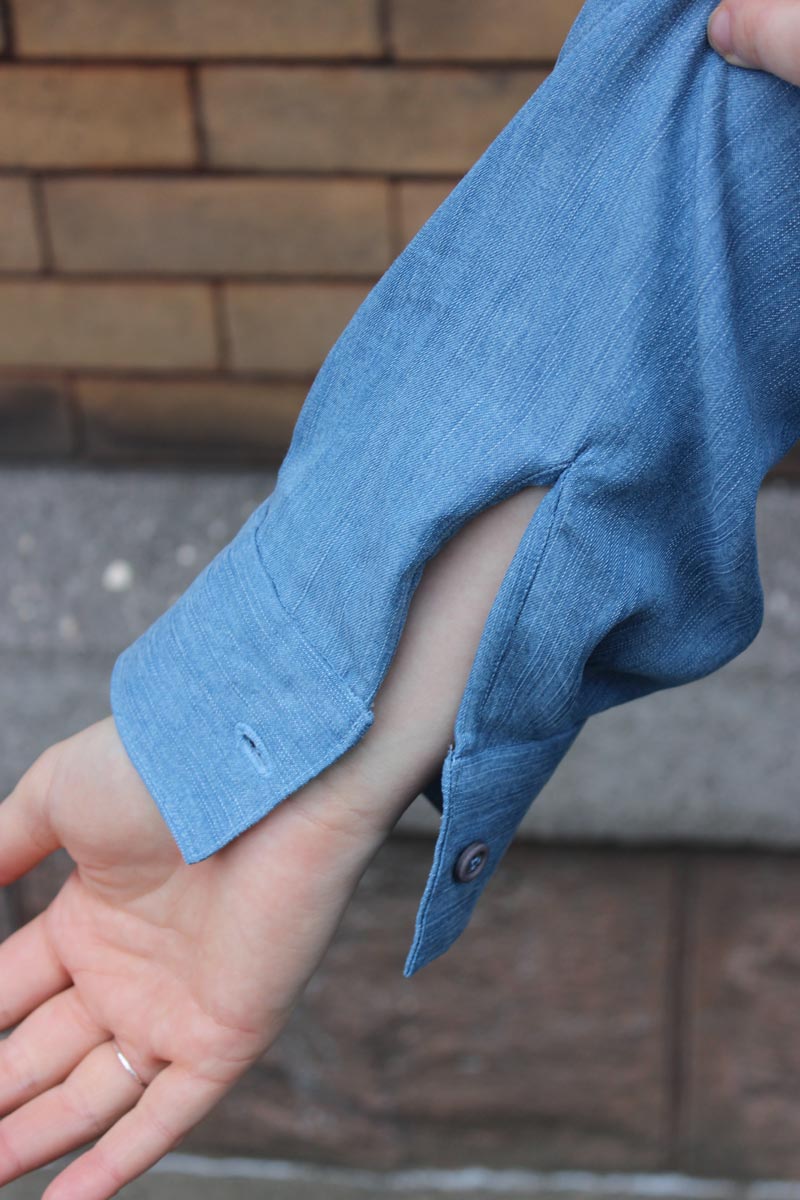 I used hong kong french seams for all the seams, and the burrito method for attaching the yoke (my favourite). I also decided to use a small amount of contrasting fabric for the under-collar and the inside yoke.  I love details like this, and I kept it quite subtle because the shirt is intended to be a wardrobe basic.  In future I would love to do a contrasting button band, inside cuffs and pocket as well, that would be awesome!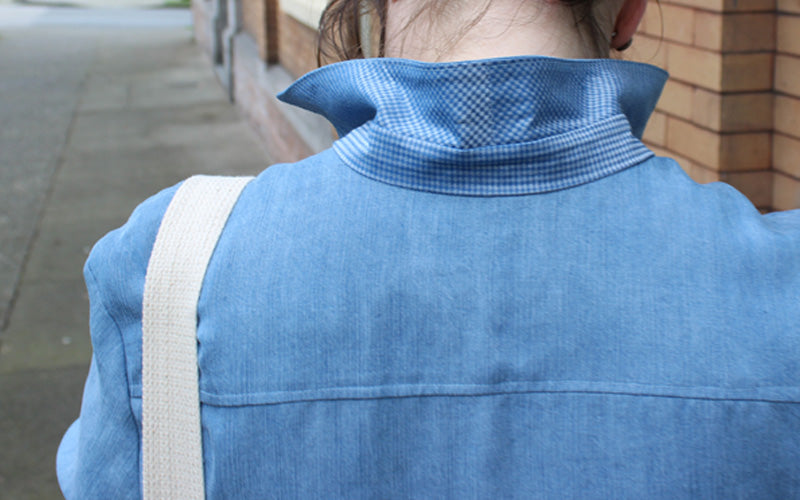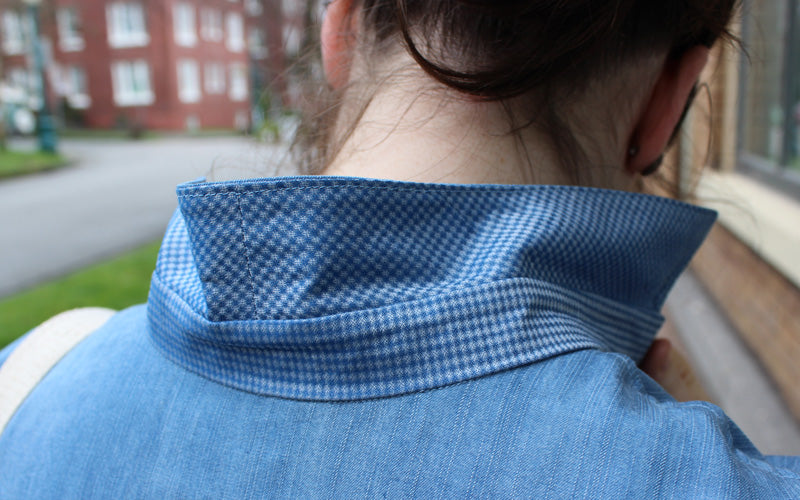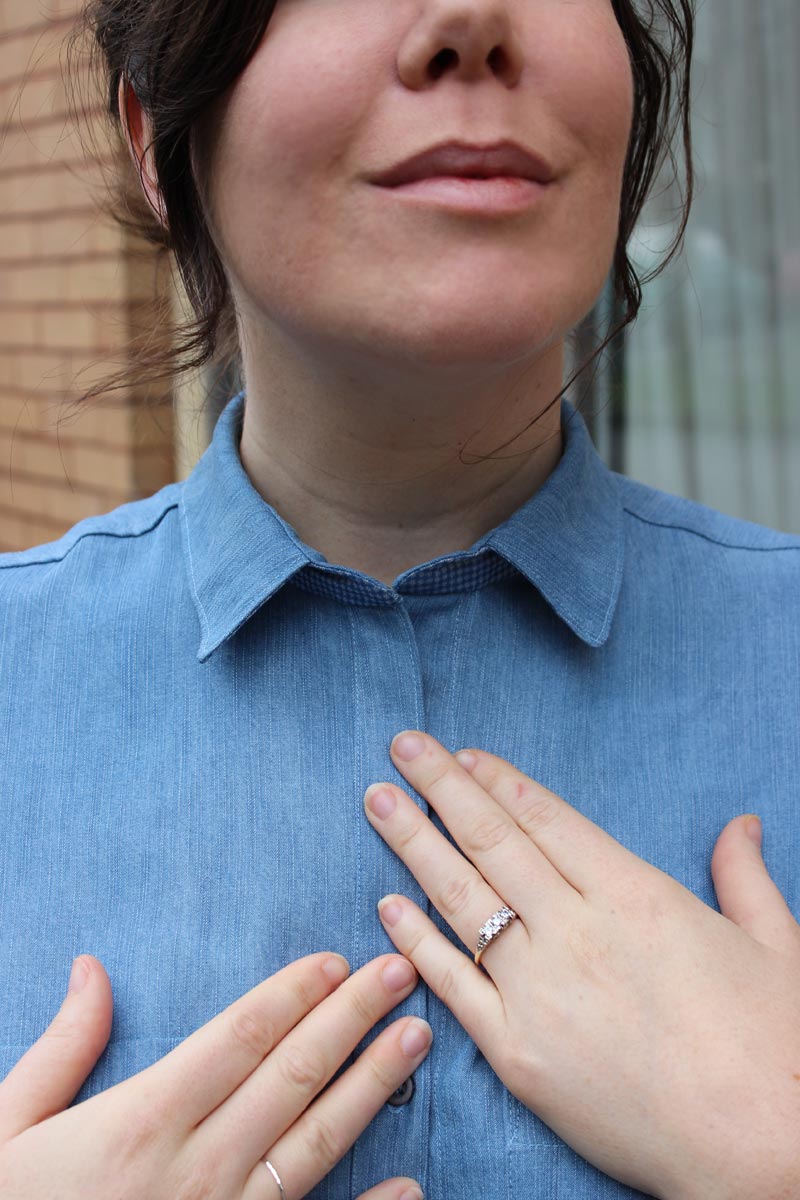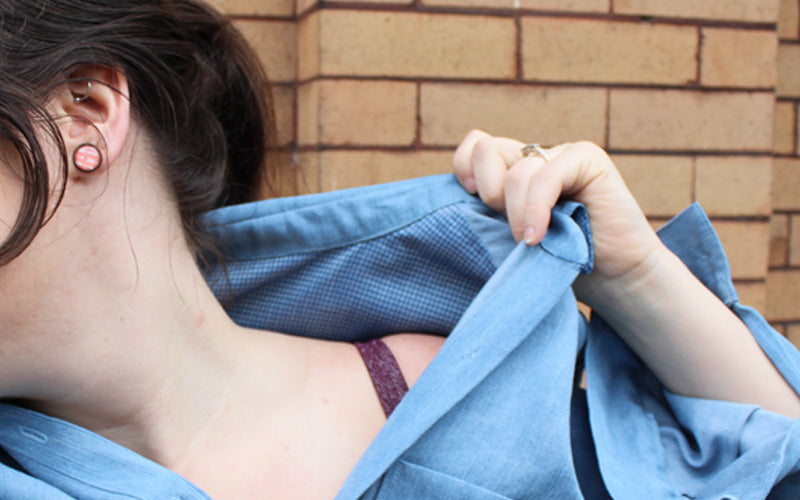 Overall I really like the fit of the Archer.  It is relaxed but it retains that nice, crisp button-up shirt look. The sleeves are quite roomy, which I was unsure about at first, but since I plan to wear it with the sleeves rolled up it is actually really great because there is room to do a nice, clean roll.  They are also too long on me, so I will make a note to shorten them next time.  I am happy with the amount of length I added to the front and back ( 4 inches ).  It seems a bit extreme but I do have a long torso and I wanted it to extend past my hips when wearing leggings.  One thing that is not quite right is the fit across the back. Next time I will do a broad back adjustment or add a pleat to the back of the shirt, because it is quite tight when I lift my arms forward. You can see what I mean in the three shots below.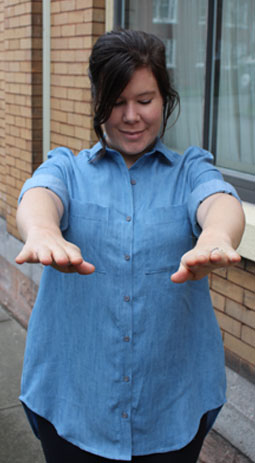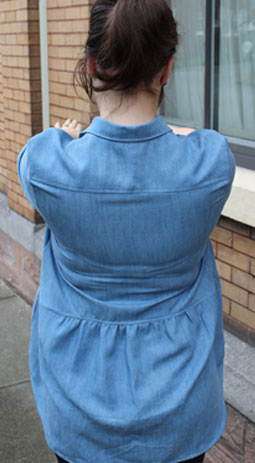 As I mentioned before, the fabric used is a light slubby tencel denim from Blackbird Fabrics.  They are sold out right now, but if they get more in I am definitely buying more of all the colours.  It is the perfect fabric for shirts and dresses and skirts because it has a nice drape.  I like that it has the look of denim without the weight, and it presses like a dream. It also wrinkles minimally which is wonderful. The contrasting fabric is quilting cotton from Dressew Supply and the buttons are from Button Button, all local Vancouver businesses.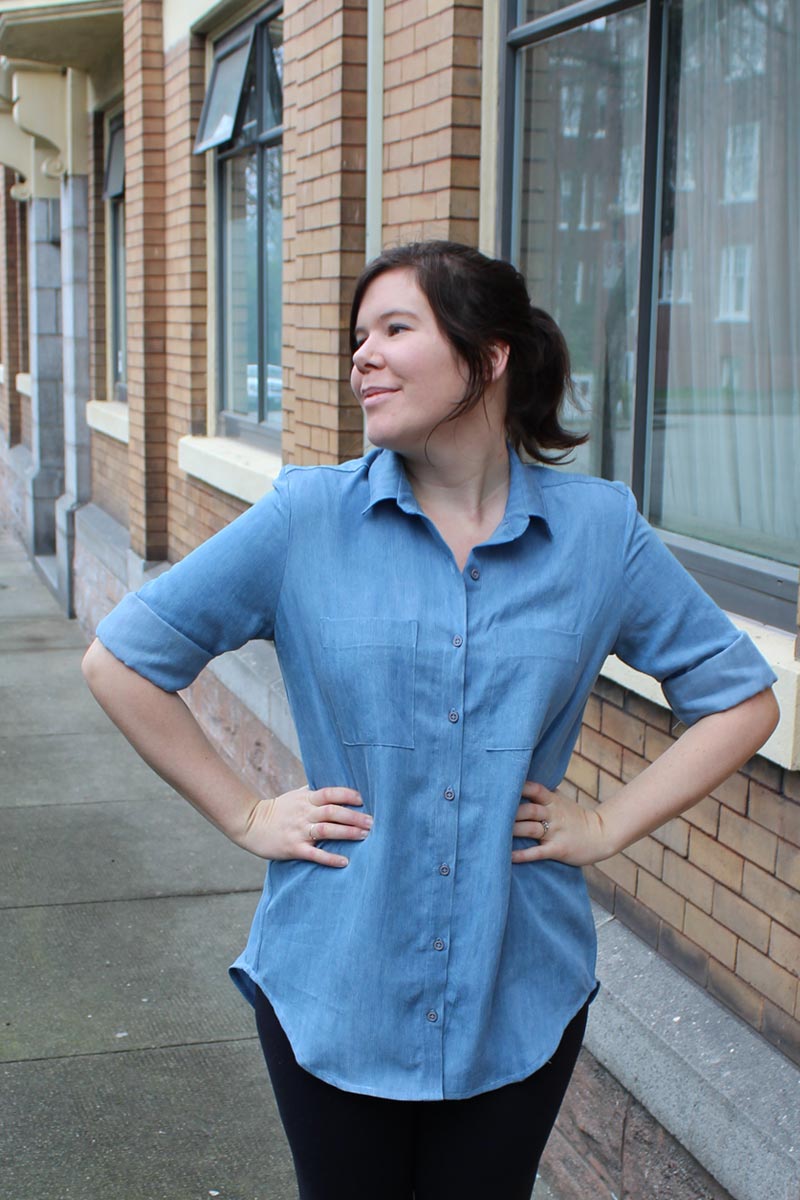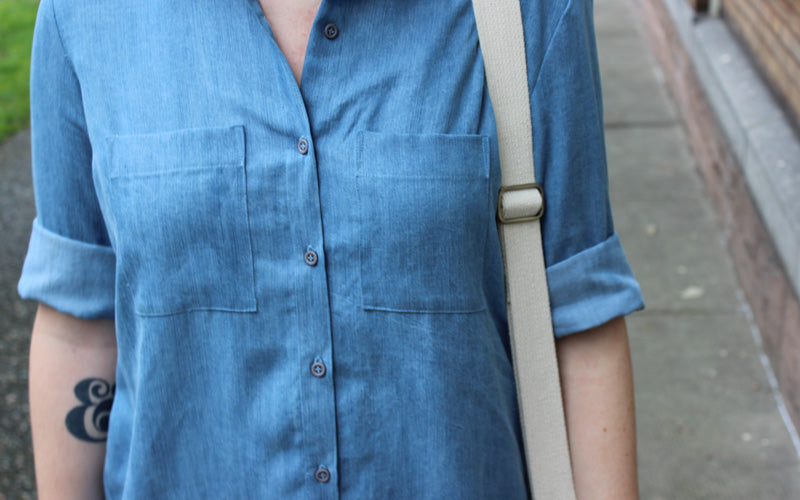 It's no surprise that the Archer Button Up is one of the most popular indie patterns. Do you like sewing button ups? What is your favourite button up pattern?
Also featured in this post is my beloved Granger Book Bag! You can grab this pattern for free here. 
Final Stats
Pattern: Archer Button Up by Grainline Studio
Fabric: Slubby tencel denim from Blackbird Fabrics, contrasting quilting cotton from Dressew Supply and buttons from Button Button.
Alterations:  Added 4″ length to the front and removed 1" length from the upper back while adding 5" length to the lower back so 4" in length was added overall.