I love when fabric in my stash is perfectly suited to a new pattern, almost like it was awaiting its fate and the time has come for it to fulfil its purpose. Too cheesy? Probably, but much like I once believed my stuffed animals to have personalities and secret lives, I assign character traits and aspirations to my fabrics.  I hope I'm not alone in this, somebody, back me up here!  This gorgeous bright coral raw silk has been sitting in my stash just dying to burst out of it's ziplock bag and become…a True Bias Colfax dress! Who knew?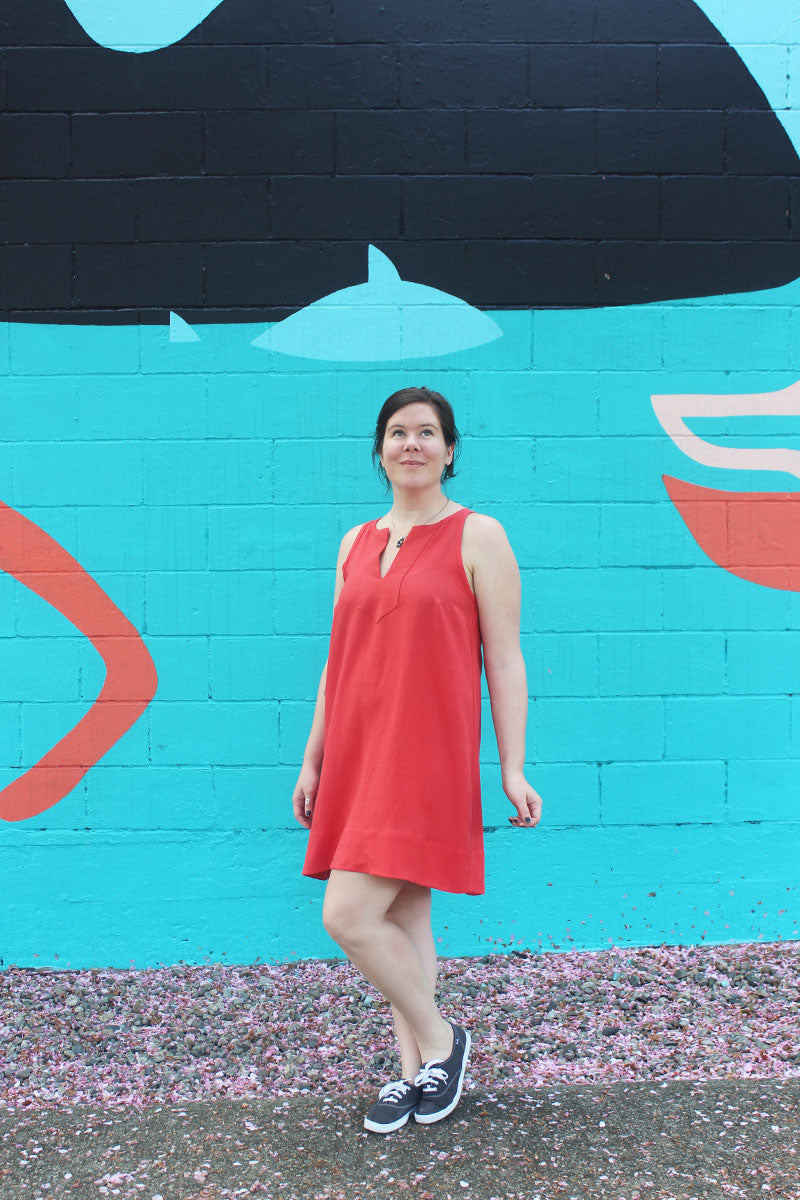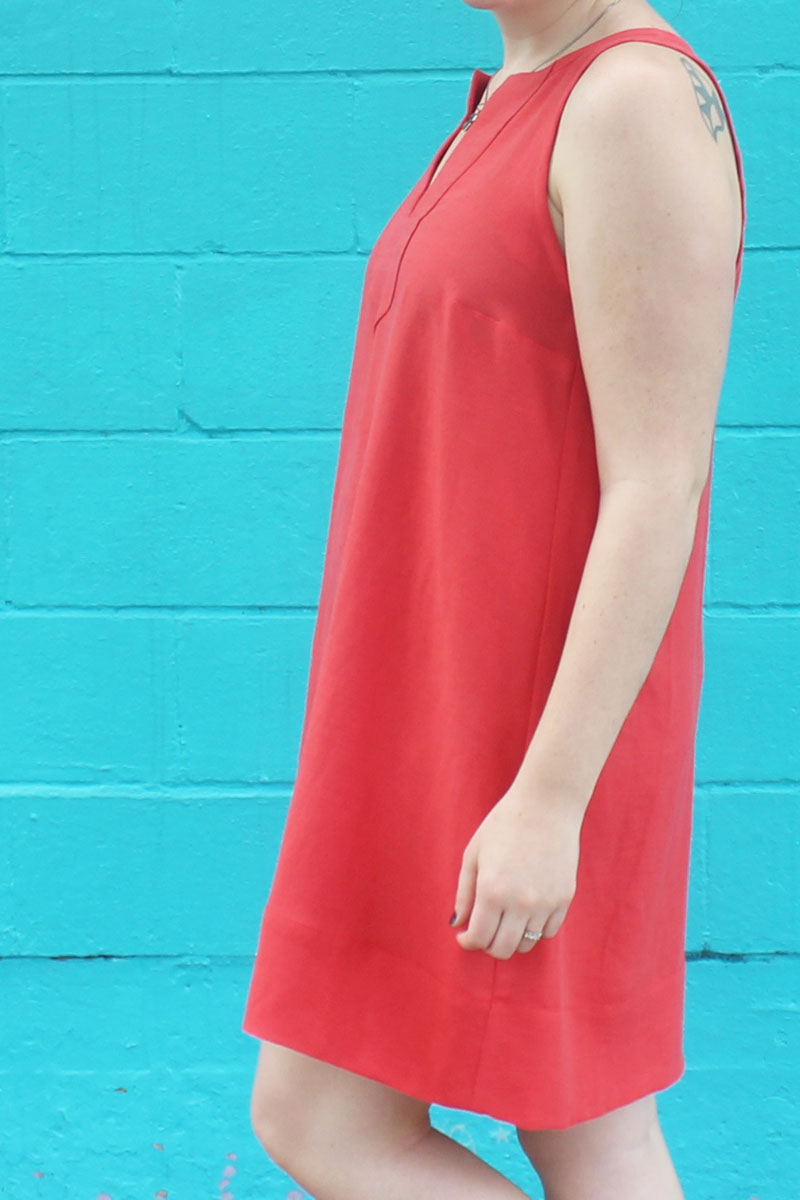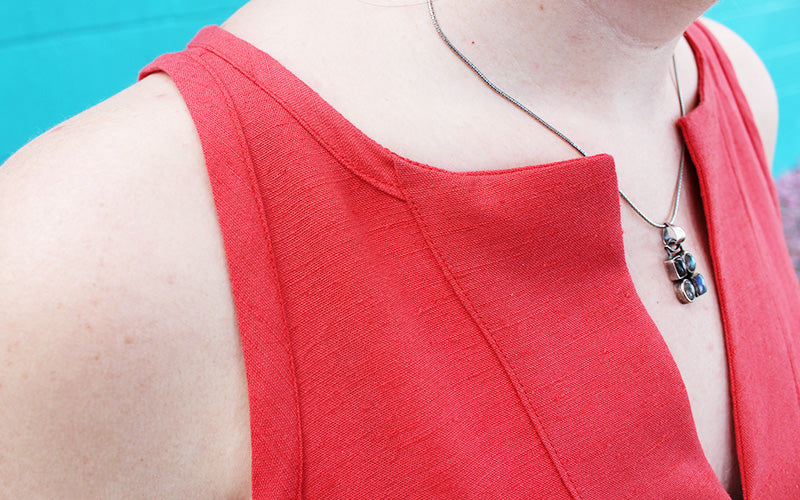 I just couldn't resist the a-line shape of the Colfax with its bias binding and neck yoke detail.  I am also a sucker for straps that sit a bit closer to the neck, showing off the shoulders, not sure what you call this shape – any ideas?  This is a perfect summer dress, not clingy and well suited to natural fibres like linen, cotton, and (case and point) silk.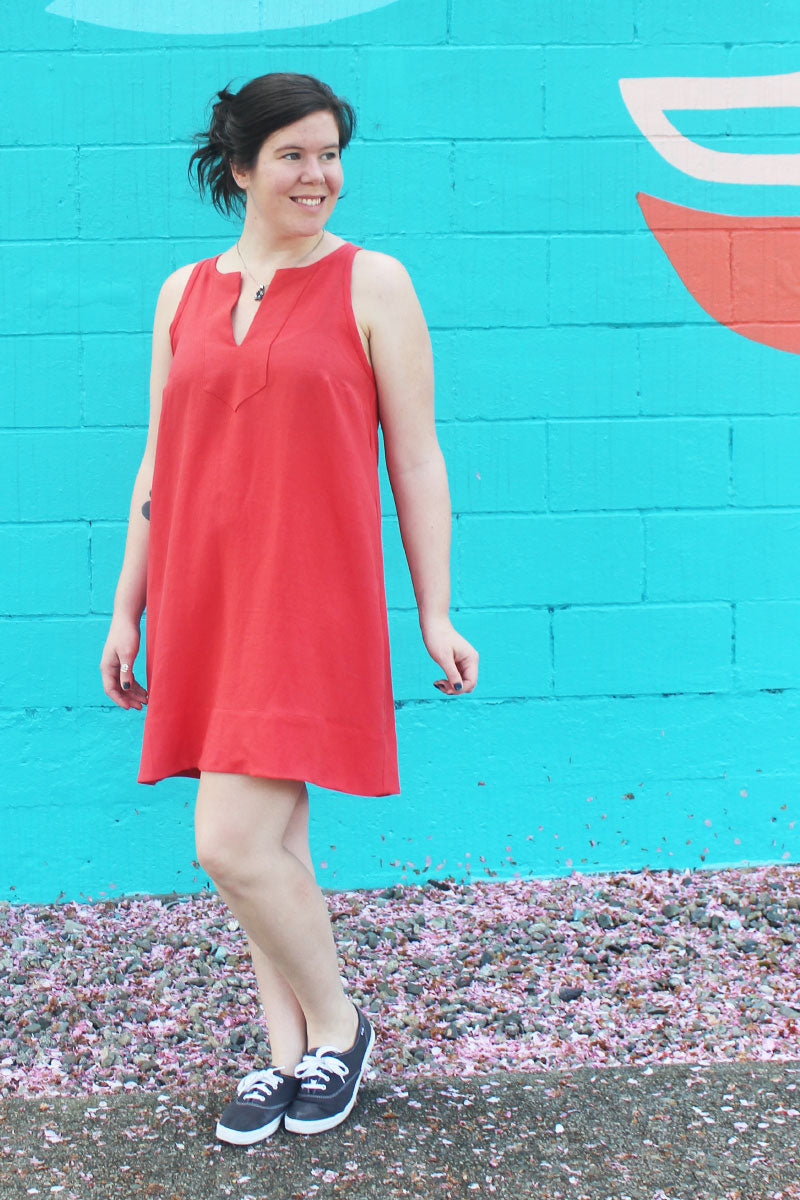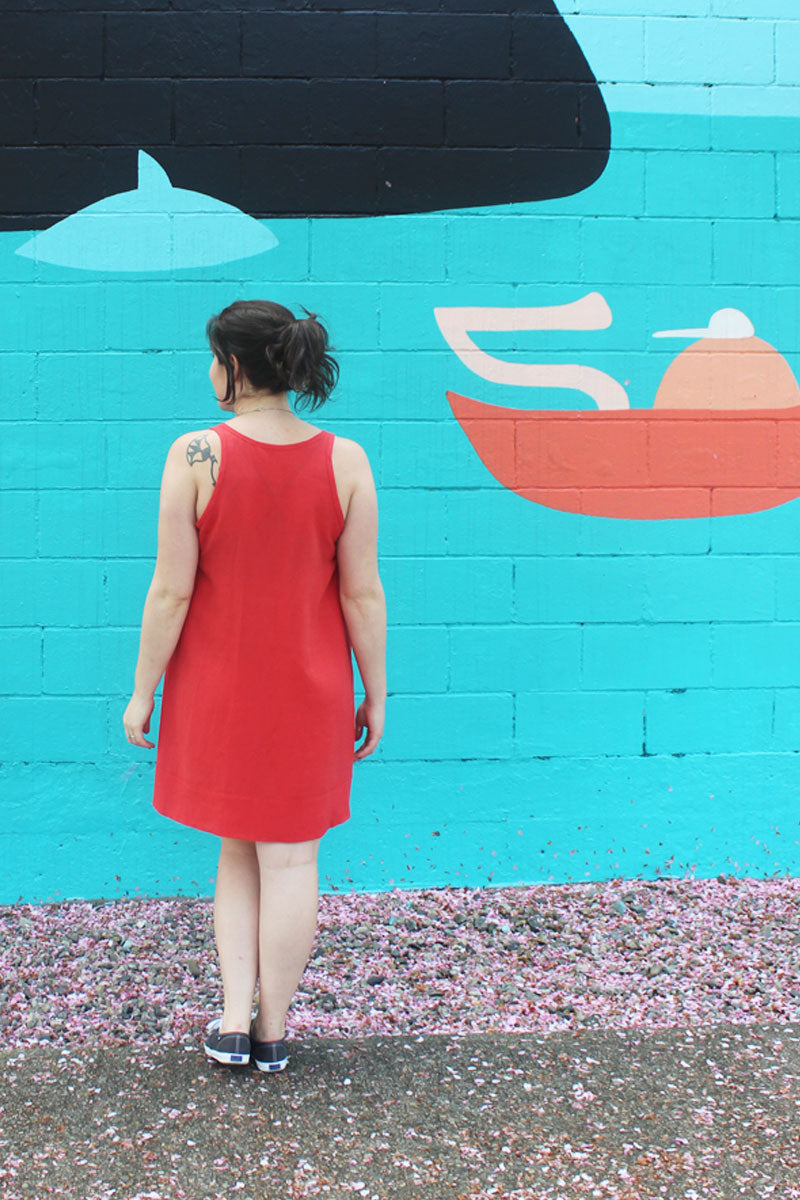 I made the Colfax as-is but for a slight grading from a 14 to almost a 16 at the hips. The bust darts sit a bit funny on me, I think I will raise the point up next time and take in the sides a bit at the top to get a better fit around the armpit.  As Sam kindly pointed out, the darts are giving me 'weird nipples', great.  What do you think?  Will re-positioning the dart do the trick here?  I am still a total pattern alteration newbie.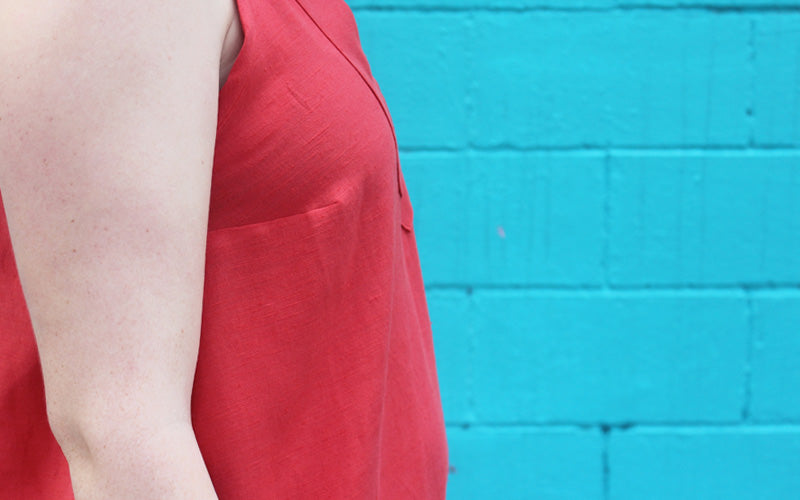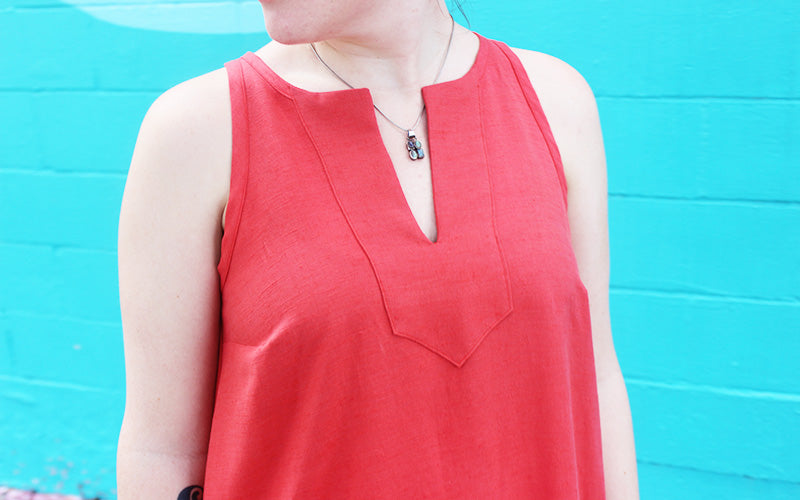 Lucky for me, it is hard to see anything like 'weird nipples' with fabric this bright blinding you.  Coral is one of my absolute favourite colours, so cheerful and full of life.  I am always drawn to this shade and was so thrilled to find this fabric at an Our Social Fabric sale here in Vancouver.  I got 2 meters of this raw silk for 2 dollars.  THAT IS $1.50 USD PEOPLE!  Thank you, thank you, thank you, OSF!  This fabric has reached its destiny.  Speaking of OSF, they are opening up in their new location next weekend!  The first sale is on May 1st, check their website for details.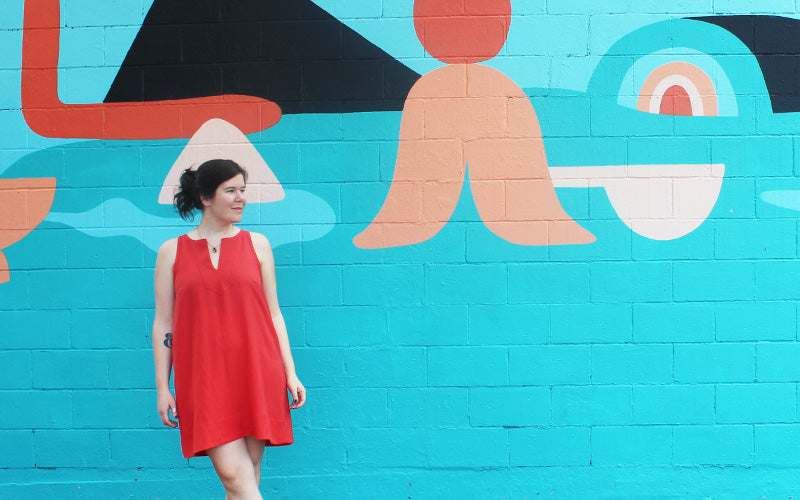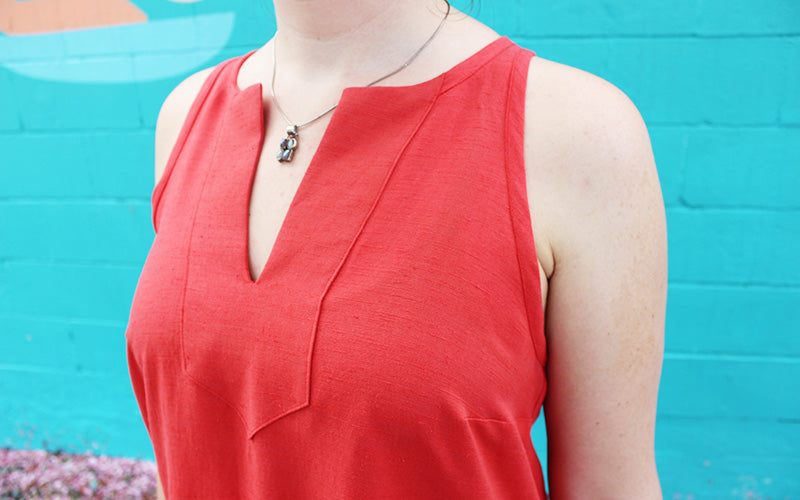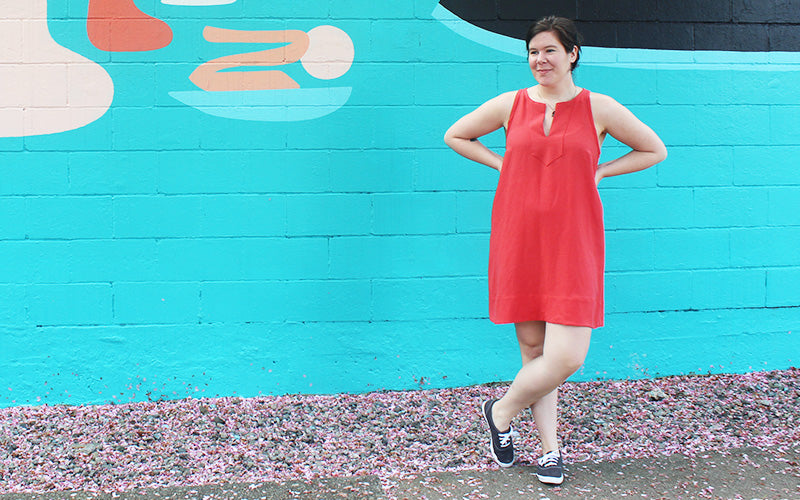 The only thing I did differently from the pattern instructions was to sew the hem band as directed for view B instead of the directions for view A, the version I made.  I did this because I really liked the extra ridge that this hem application created, I think it mirrors the edge stitching on the yoke detail perfectly.  View A does not have pockets, and this fabric would have sagged something fierce on either side if I had put them in.  I would like to make a more structured version and add the pockets because, well,  I love me some pockets!  Alas, the raw silk would have been angry at me (she's quite particular, you see), so no pockets this time around.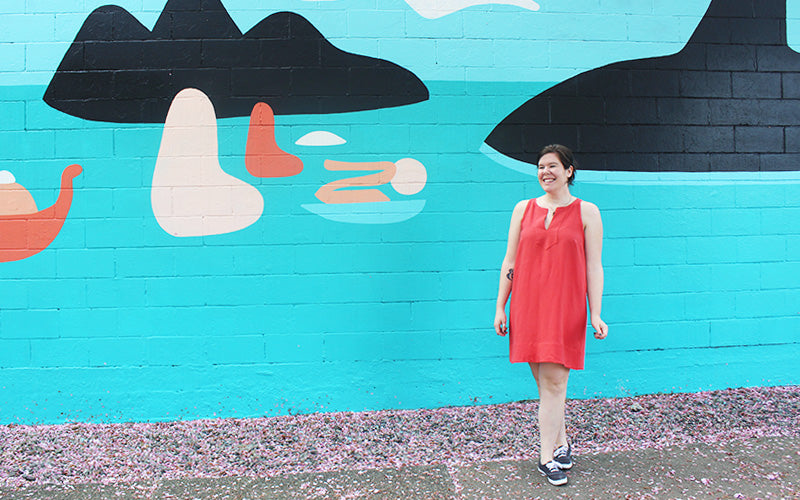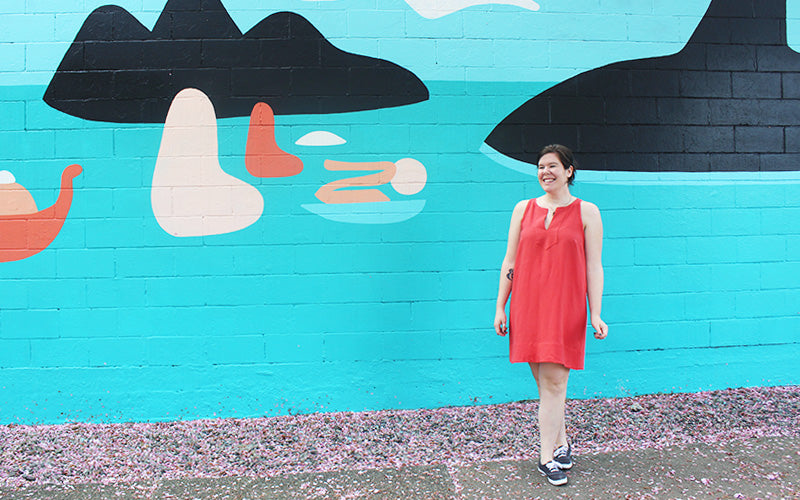 The Colfax sew-along is complete and you can participate in the Colfax dress contest by making a Colfax and sharing it on instagram with the hashtag #colfaxdresscontest.
Read more about the Colfax Dress Contest here
Final Stats
Pattern: Colfax dress by True Bias
Fabric: Raw Silk from Our Social Fabric
Time:Adjustments: None. Next time I think I will move the point of the bust dart up and take in the side seams a bit at the top.