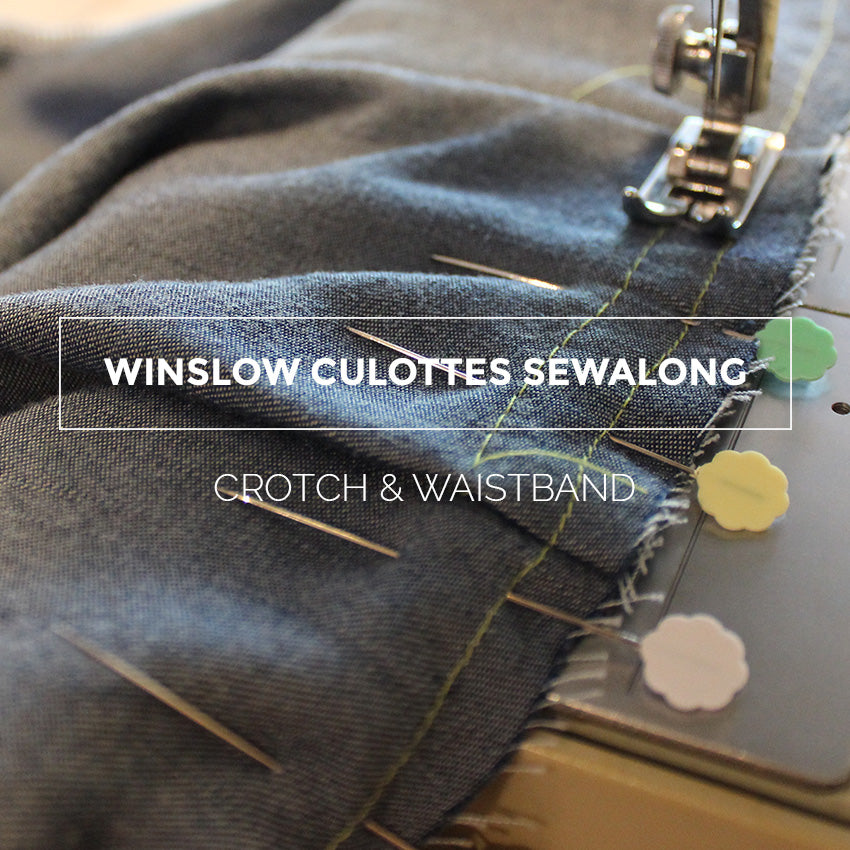 Welcome back, Winslow Sewalong-ers!  Today we are going to be focusing on the crotch seam and the waistband!  Make sure you have your waistband interfaced and ready to go.
With right sides together, pin and sew the inner leg seam of both pant legs using a 5/8″ (1.6cm) seam allowance.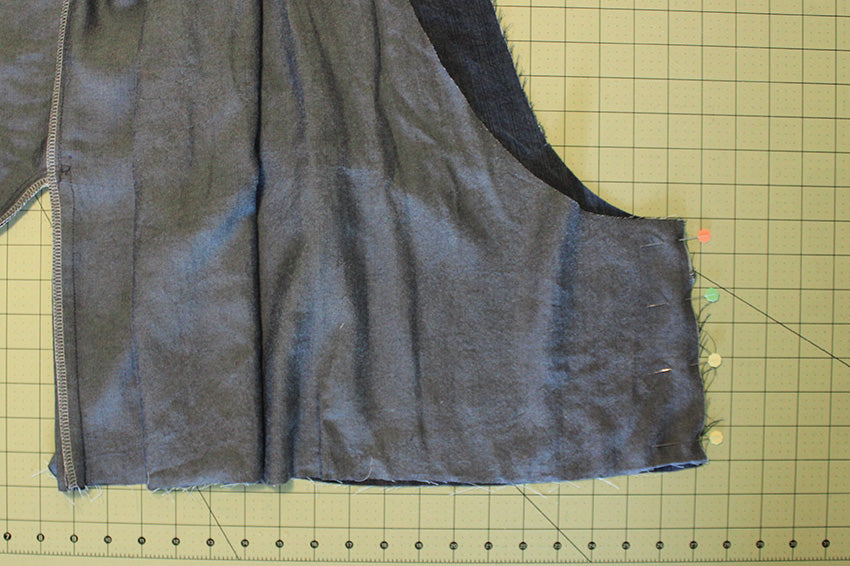 Finish this seam together using your preferred method.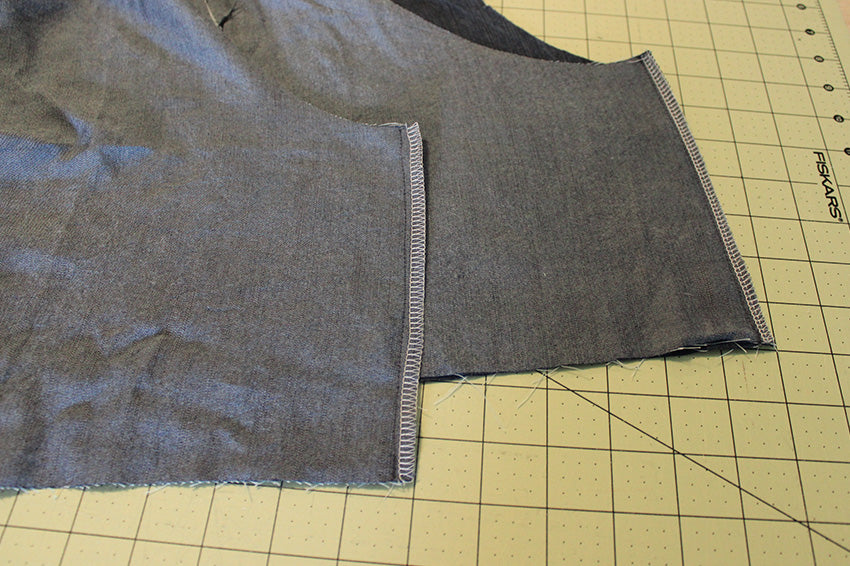 Press the inner leg seam towards the back on both pant legs.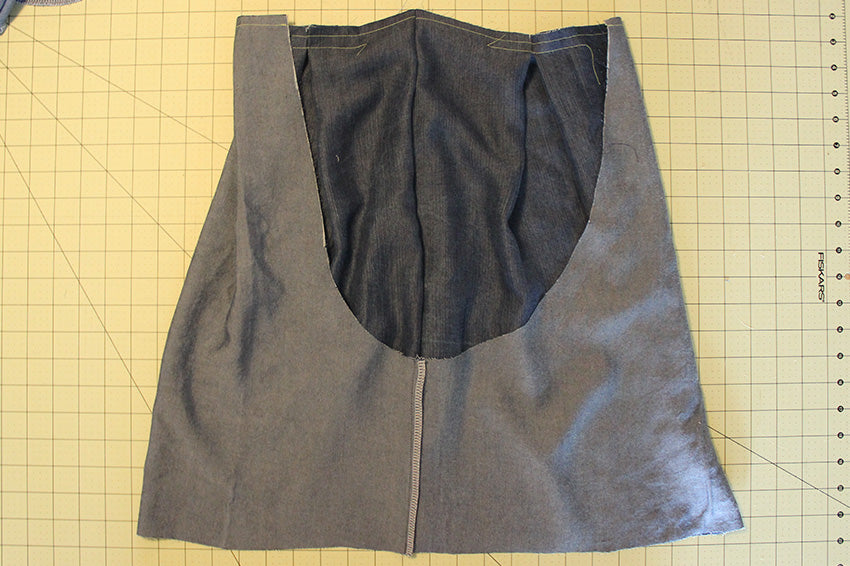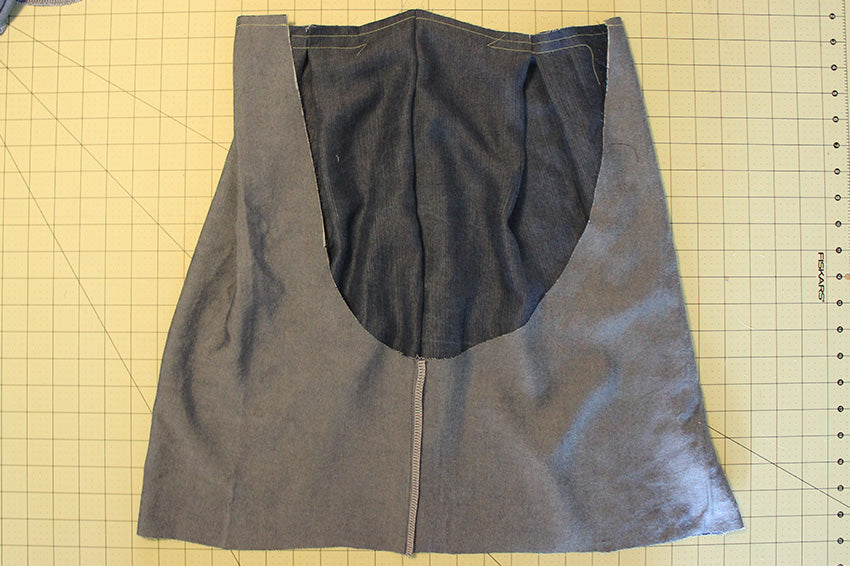 Finish the crotch seam of each pant leg separately.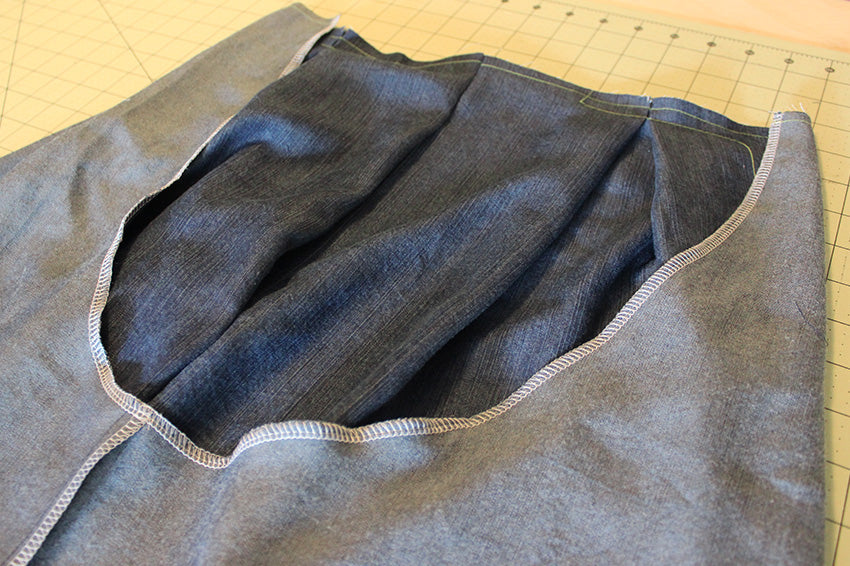 Place one pant leg inside the other, with right sides facing. Match up the notches (if you serged, you will need to hunt for the notches, but they will still be there).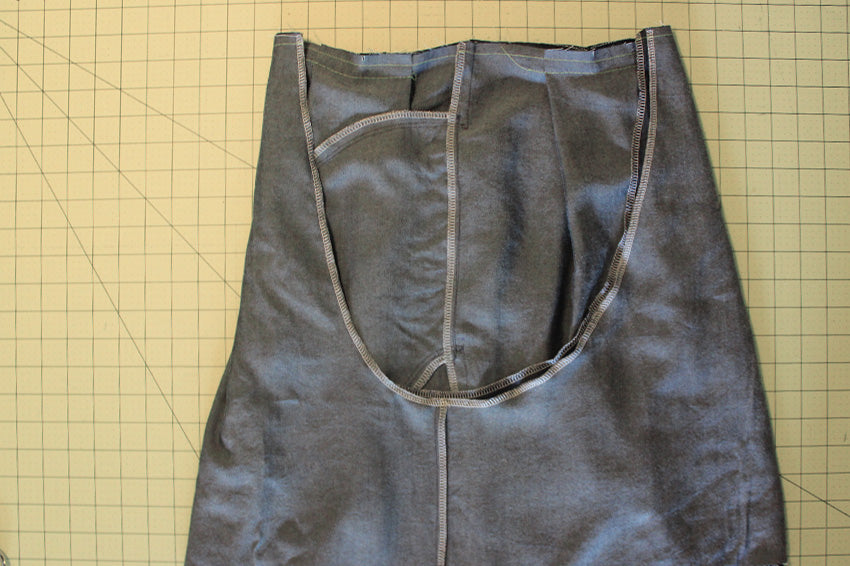 Pin the pant legs together, stopping at the top notch on the pants back, we need to leave room for our zipper!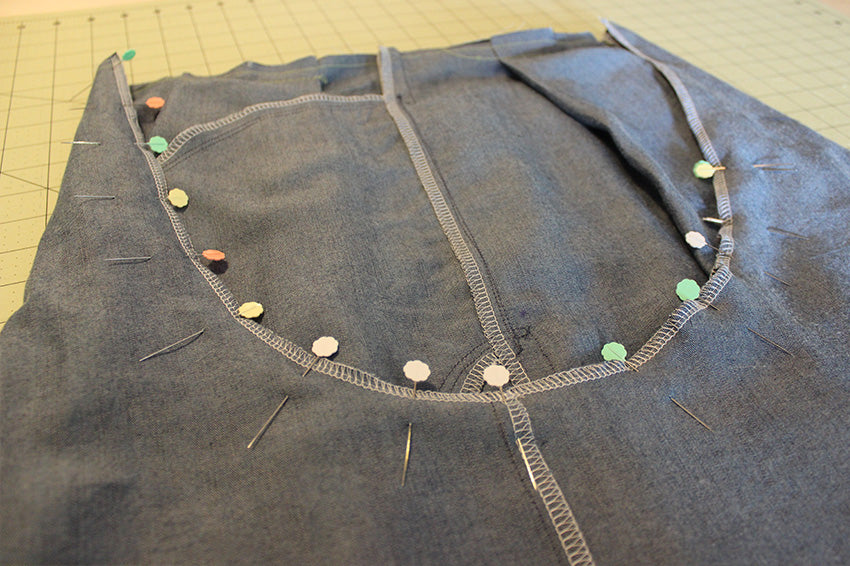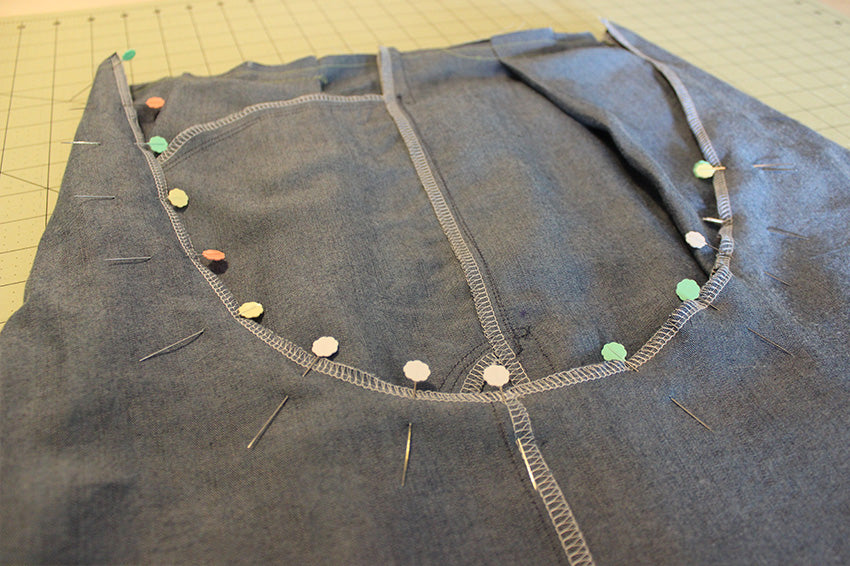 Sew the crotch seam, stopping at the top back notch and backstitching.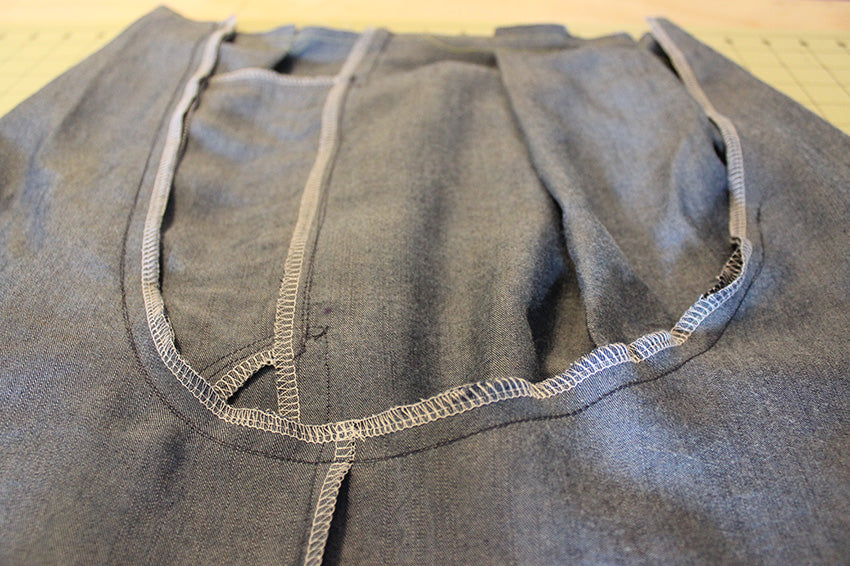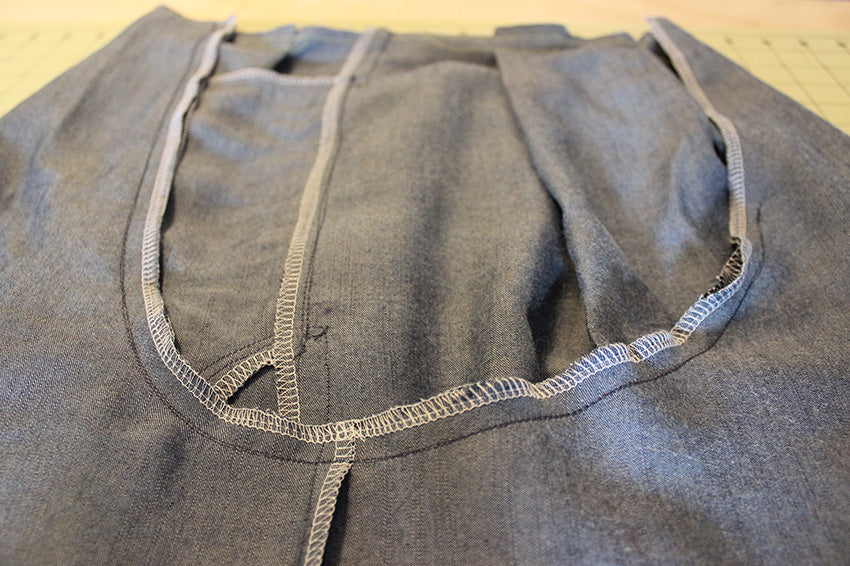 I like to sew a second line of reinforcing stitches right next to my first one, because the crotch seam gets put under a lot of stress and it is always good to have a strong seam in these areas.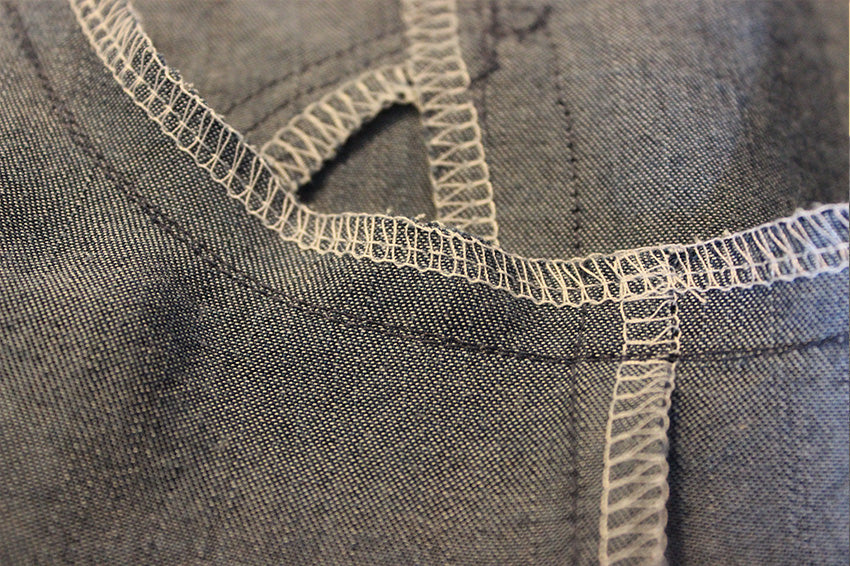 Press the center front crotch open and you can try on your culottes at this point.  They will seem quite baggy without the zipper, so don't panic if they look like a sack at this point, that is to be expected.
Press the un-notched edge of the interfaced waistband over 1/2" (1.3cm) towards the interfaced side of the fabric.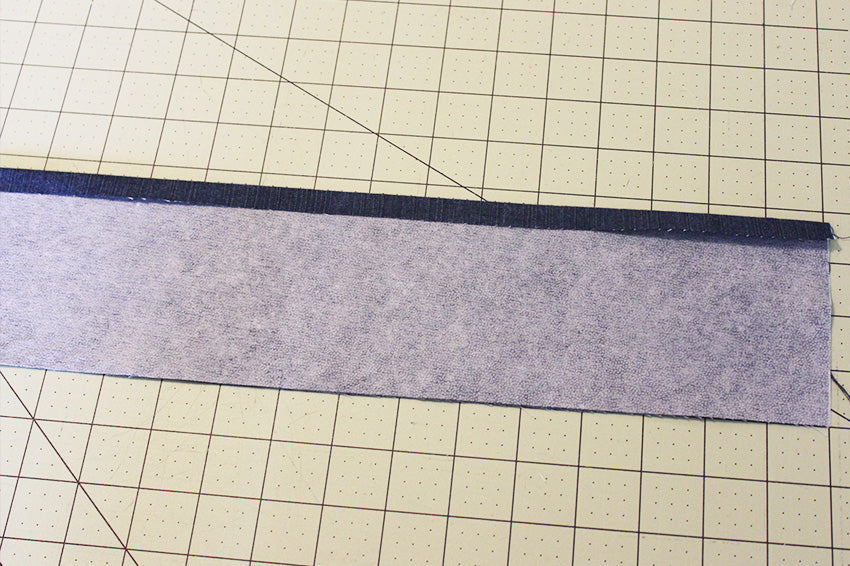 With right sides facing and matching notches, pin the waistband to the culottes.  Start with one pin on either end, one pin at each side seam, and two at the center front to hold the seam open.  In my picture below I have pressed my side seams open. Do as I say and not as I do, this was a mistake on my part (whoops!).  The side seams should be pressed toward the front.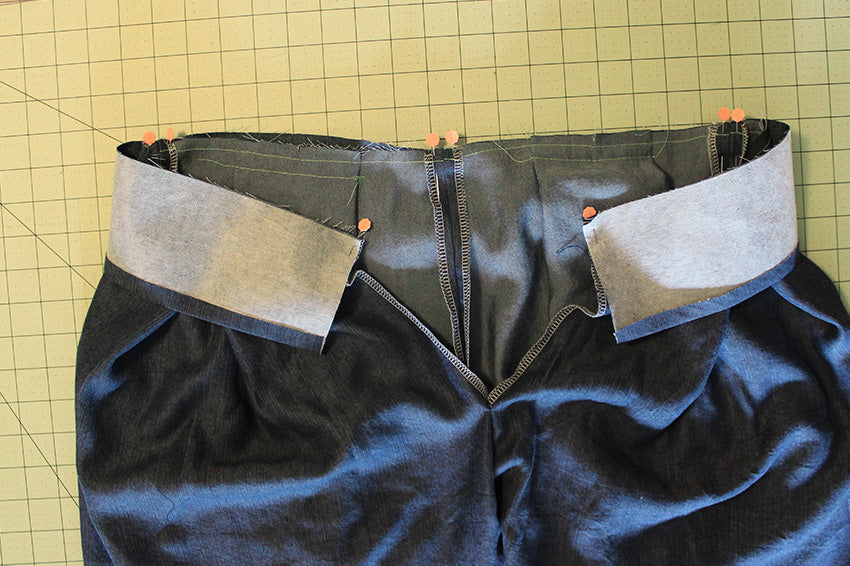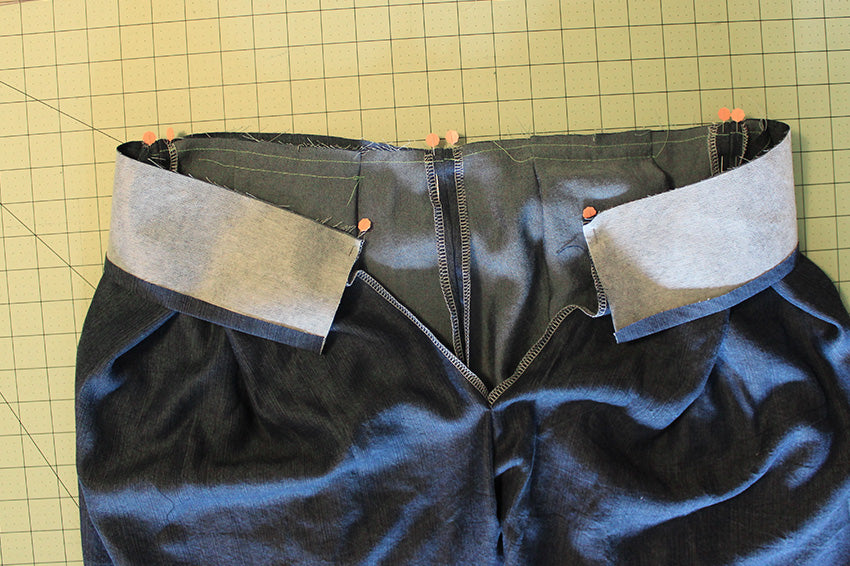 Add a pin the middle of your existing pins, which should be right at the pleats.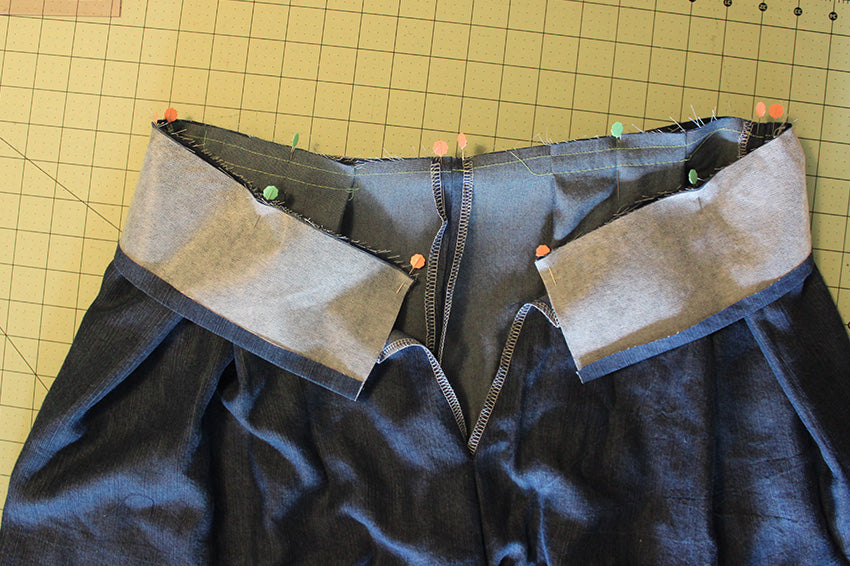 Keep adding pins between your existing pins.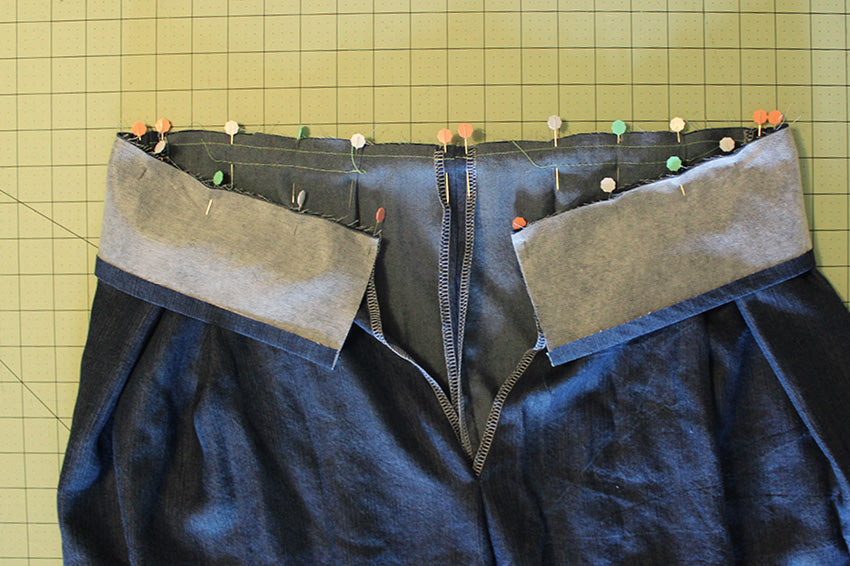 Add as many pins as you need to feel confident sewing your waistband.  I like to have lots, so it is easy to distribute any excess fabric.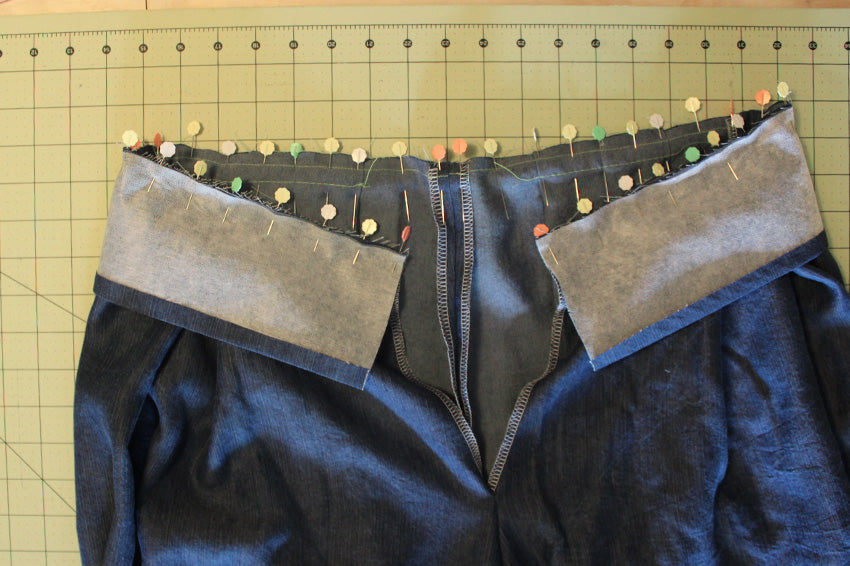 Sew using a 5/8" (1.6cm ) seam allowance, taking care not to bunch up the pleats.  Your stitch line will be right between your stay-stitching and basting stitches from the beginning.  Gently ease the fabric together by sewing slowly and pushing the fibers together.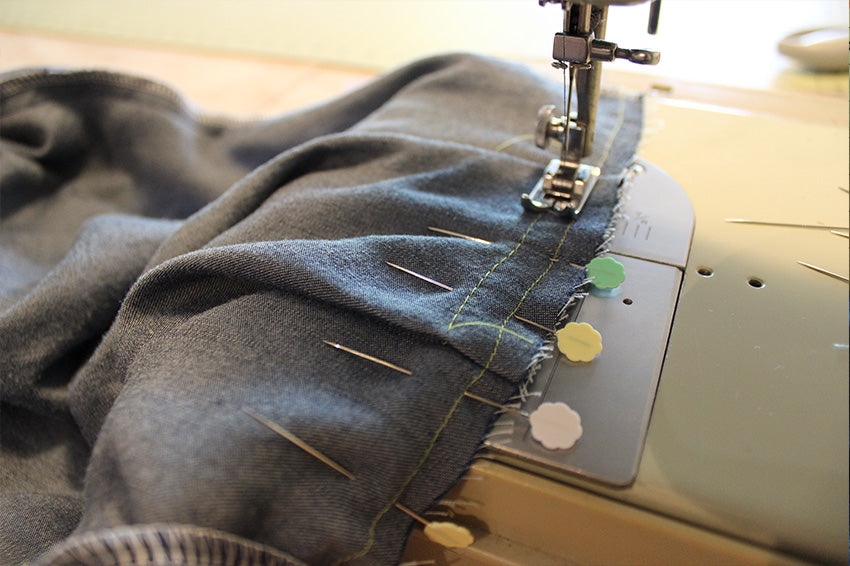 Once sewn, you will have something that looks like this.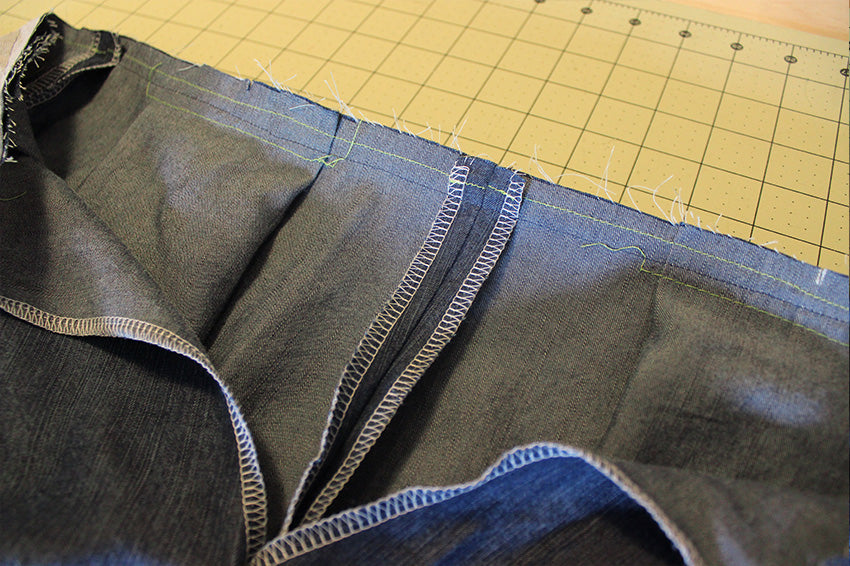 Grade the waistband seam allowance down to reduce bulk.  Trim waistband seam allowance down to 1/4"/6mm and pants seam allowance down to 3/8"/1cm).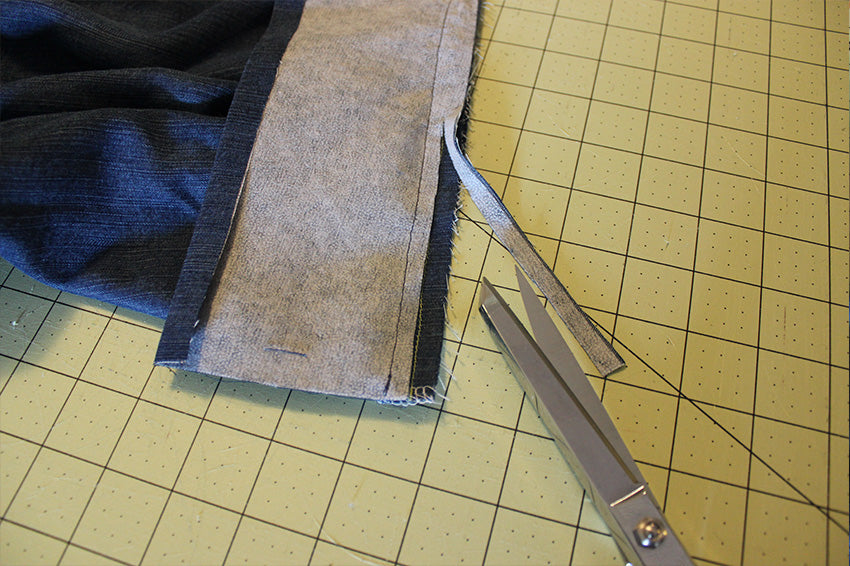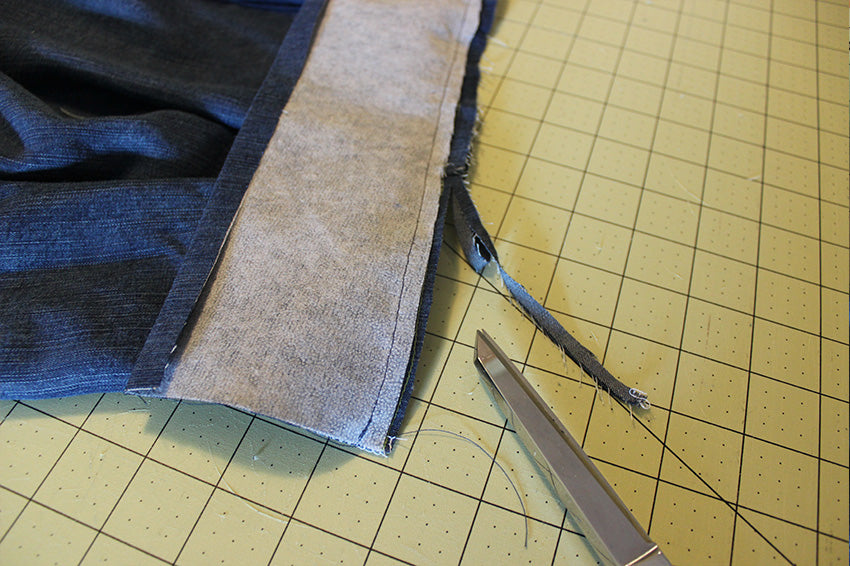 Press the seam allowance and waistband upwards.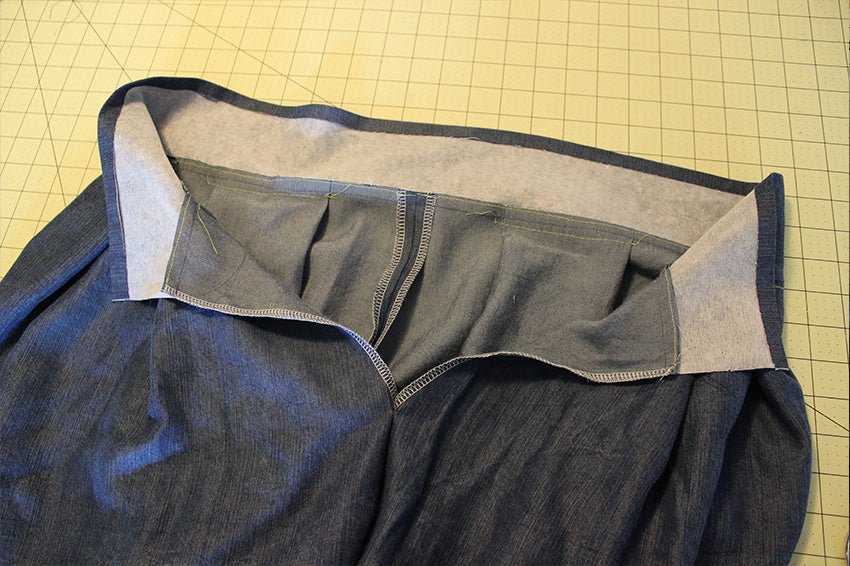 Remove the basting stitches, we do not need them anymore!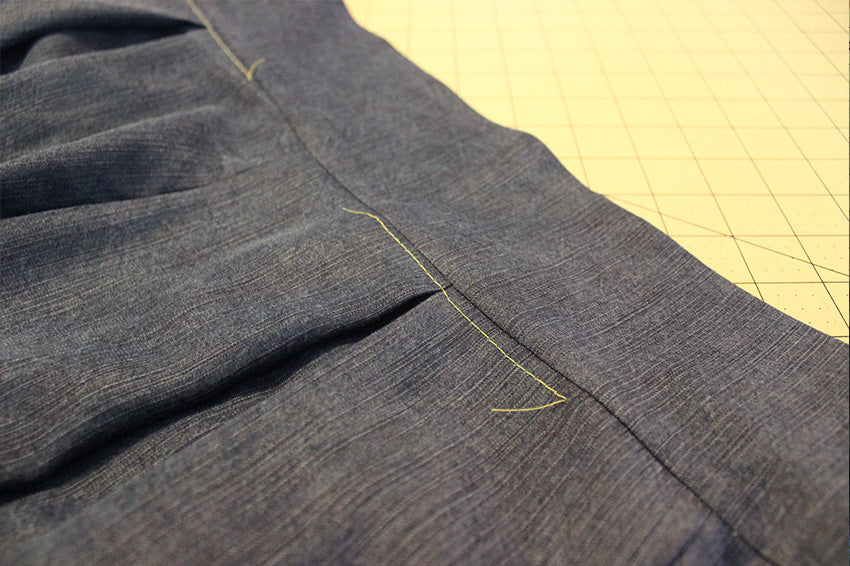 Now, you can check the fit of your culottes once more.  They will still seem a bit baggy at the point, so don't despair if they look a little like a sack with pleats. The zipper is what cinches this design in and gives it it's final shape.
Tomorrow we will brave the zipper and hem!  Be sure to get your 9″ invisible zip and have some spare pieces of interfacing ready. I can't wait to finish up!  Thanks for sewing along 🙂