I am such a sucker for a bold colour.  It's a good thing that I also enjoy wearing bright colours, otherwise I'd be in trouble!  Earlier this year, Blackbird Fabrics had three italian linens in lime green, coral, and teal.  I decided to grab a couple meters of the lime green despite the little voice in the back of my mind saying "what on earth are you going to make out of that?!" It's true that it sat for months in my stash because I was convinced it was a 'summer fabric', but when summer arrived, I had the perfect pattern in mind – the Megan Nielsen Brumby Skirt!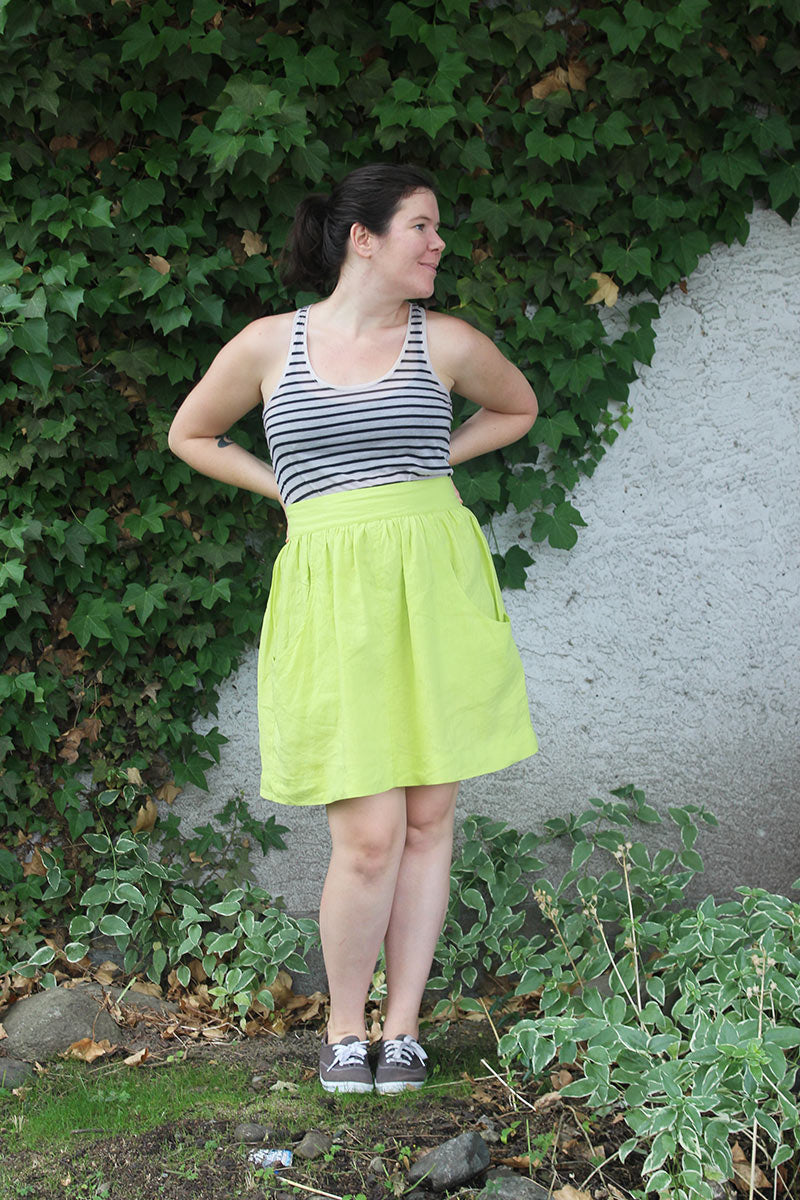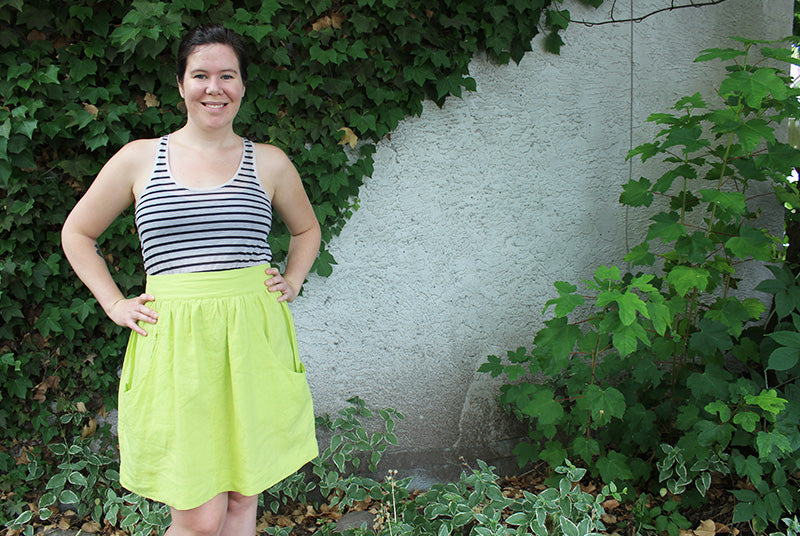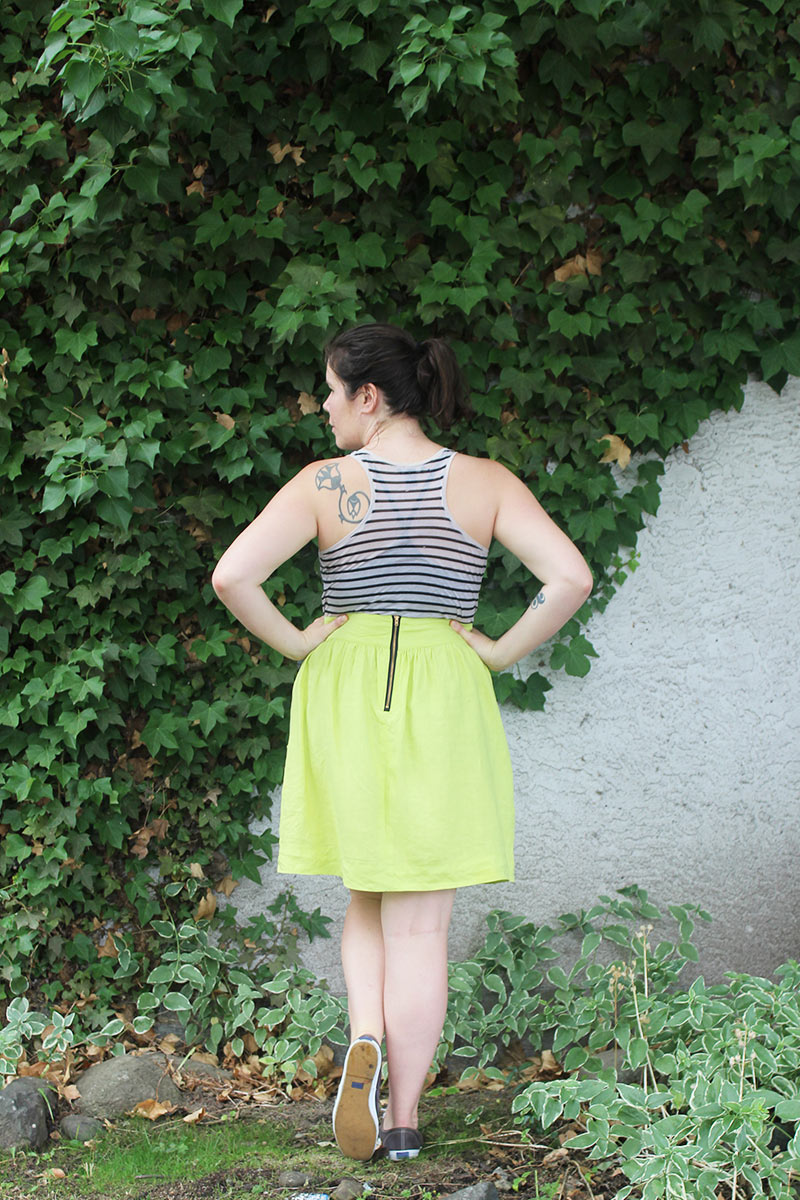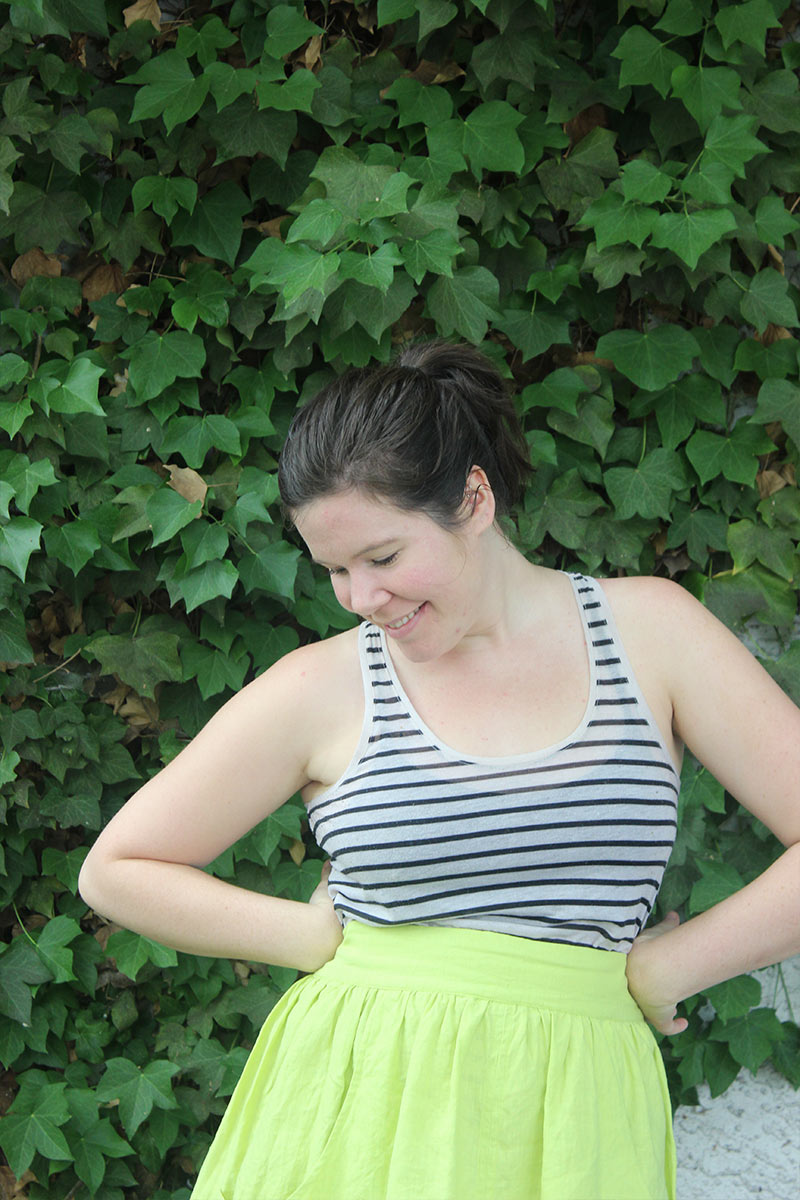 Before we get into the sewing details, I want to tell you that this photoshoot was one of the hardest yet!  Usually, our photoshoots go something like this: Sam and I go for a walk on the weekend, bring the camera, get iced coffees, and set out to find the perfect spot in our neighbourhoods to take pics.  It's really fun and gets us out and about.  We like to wander alleyways because I love the textures and colours of garage doors, they make the perfect backdrop!  Today, however, luck was not smiling upon us and no matter where we tried, the sun was too bright or the spot was just not doing this skirt justice.  FINALLY, we found an ivy wall with a kind of secret garden feel to it, and I think the pics turned out lovely.  Here are is a snapshot of our journey, and my happiness at finding the spot in the end 🙂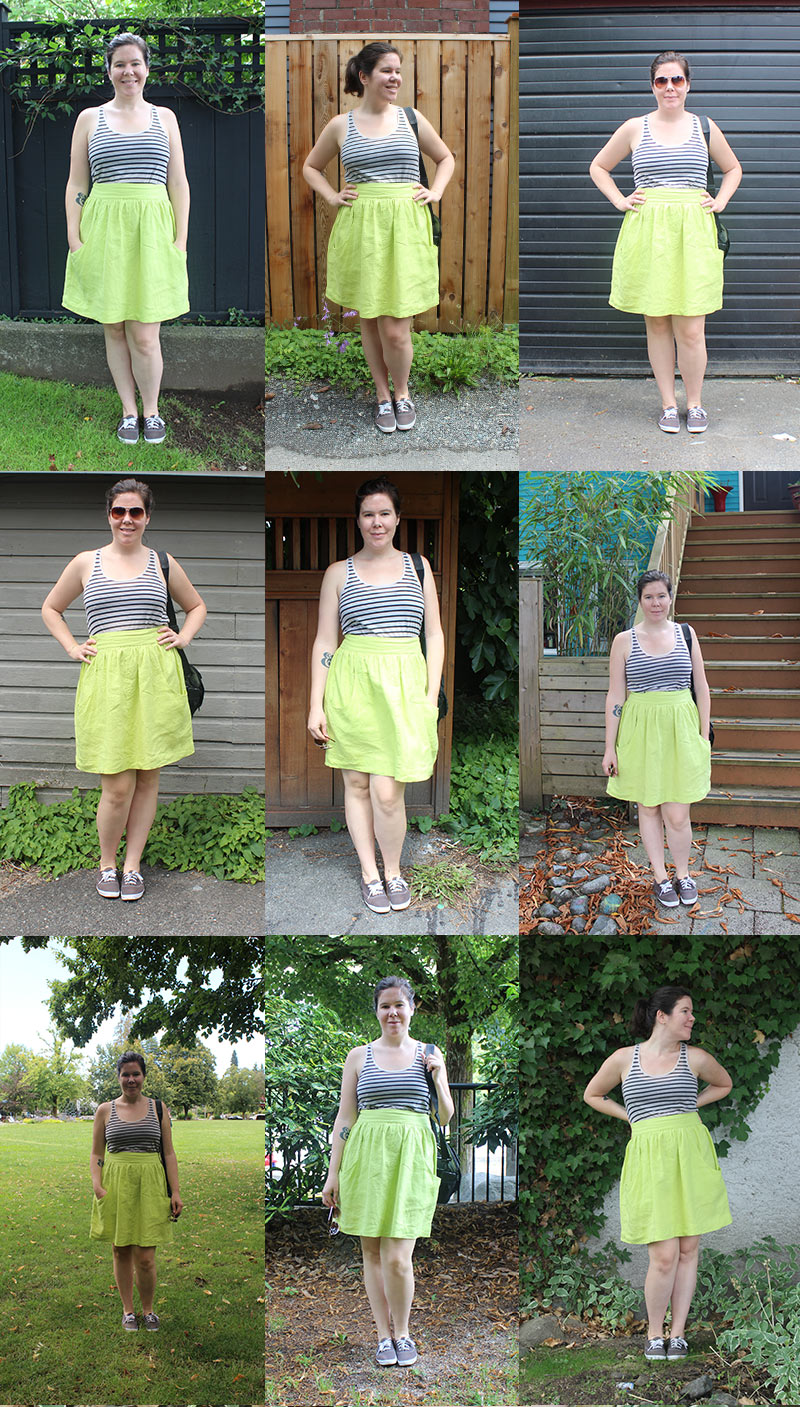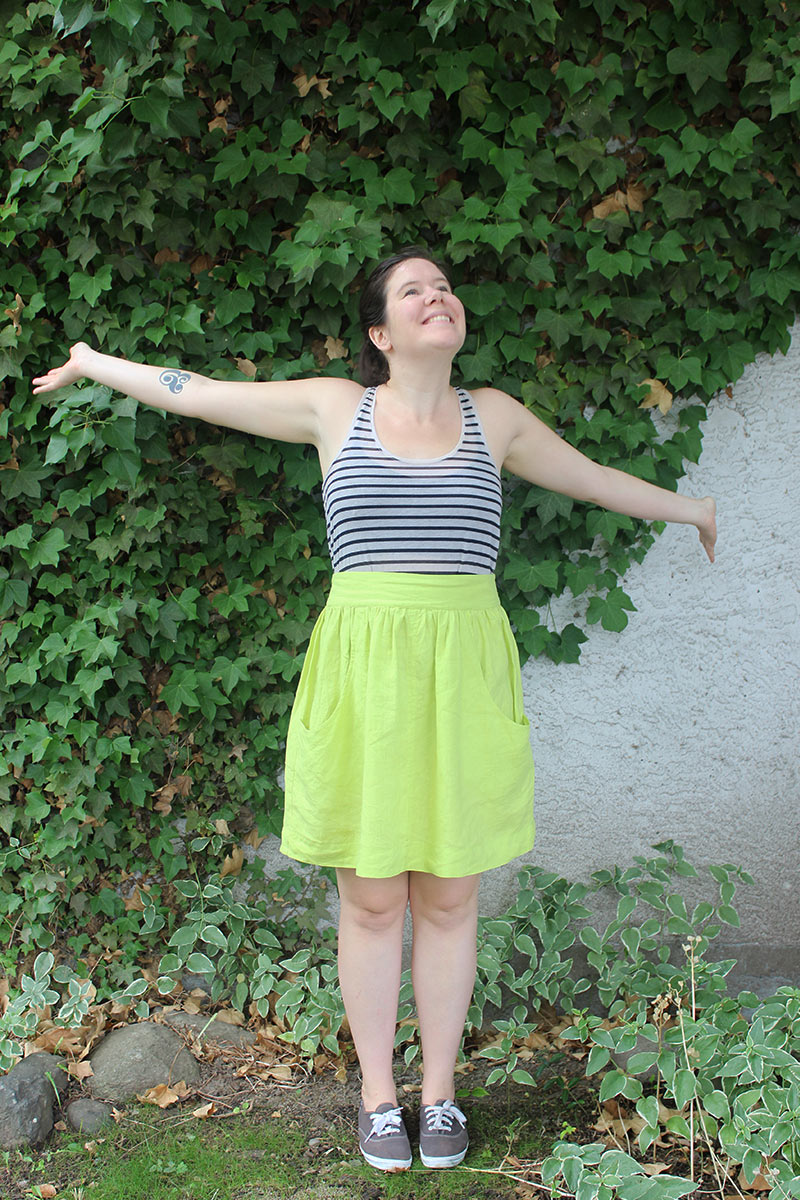 Like many others, I fell for this skirt because of the awesome scoop pockets.  How can you resist this lovely shape?  I don't often go for gathered waisted skirts because it can add bulk, but I like the combination of the gathers and the thick waistband, it seems to work here! Also, because the short view of this pattern is designed for thicker fabrics, the skirt holds it's shape and helps to create a nice hourglass silhouette.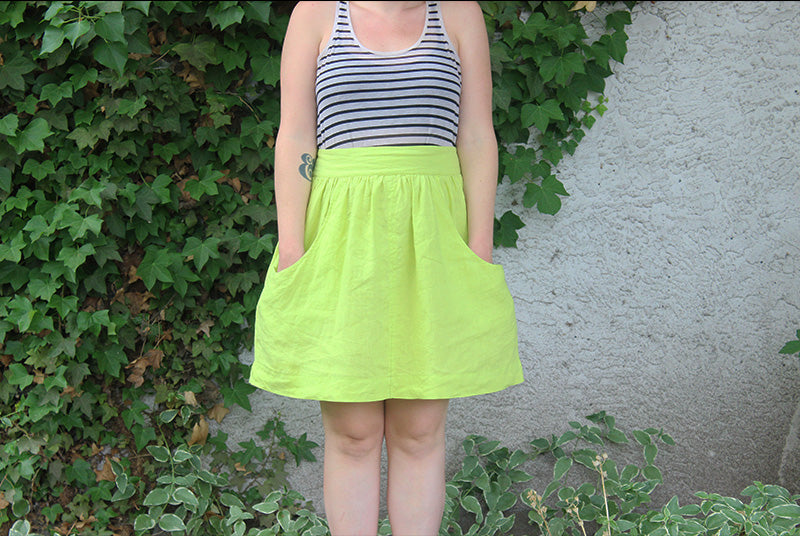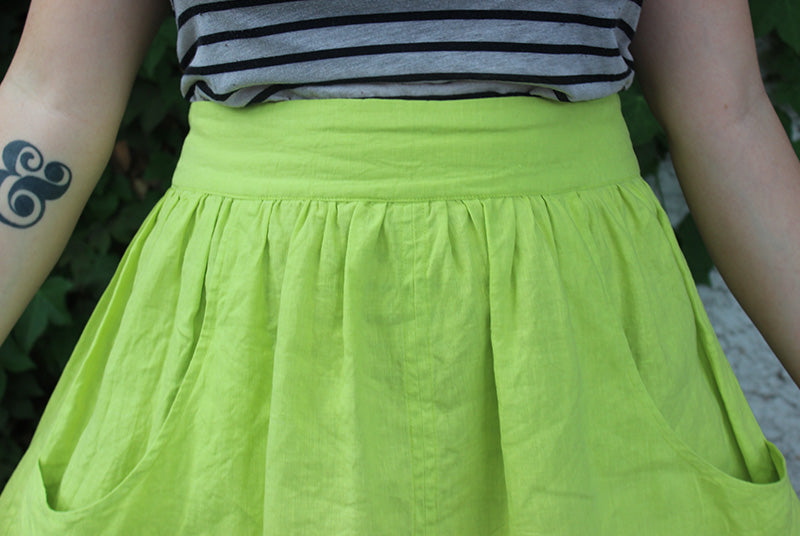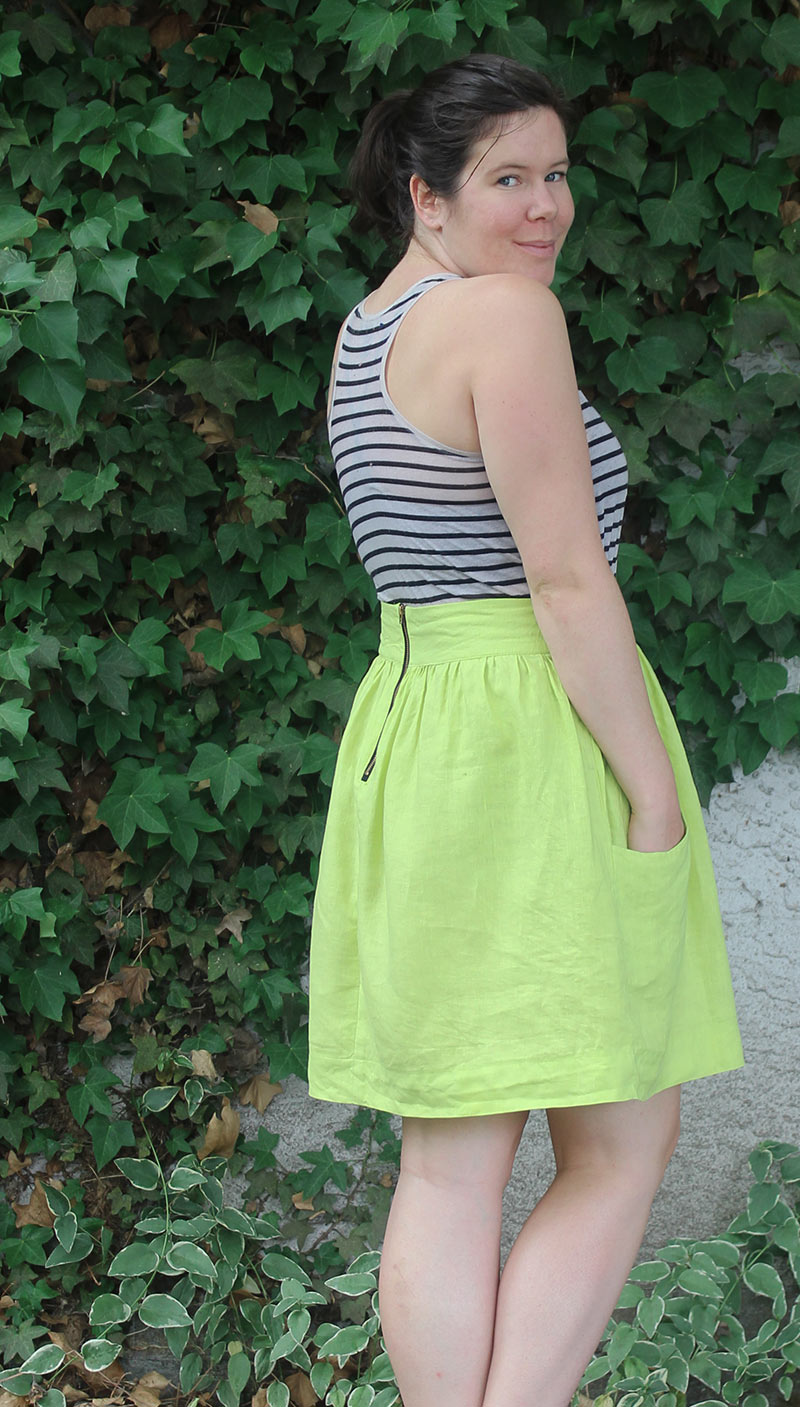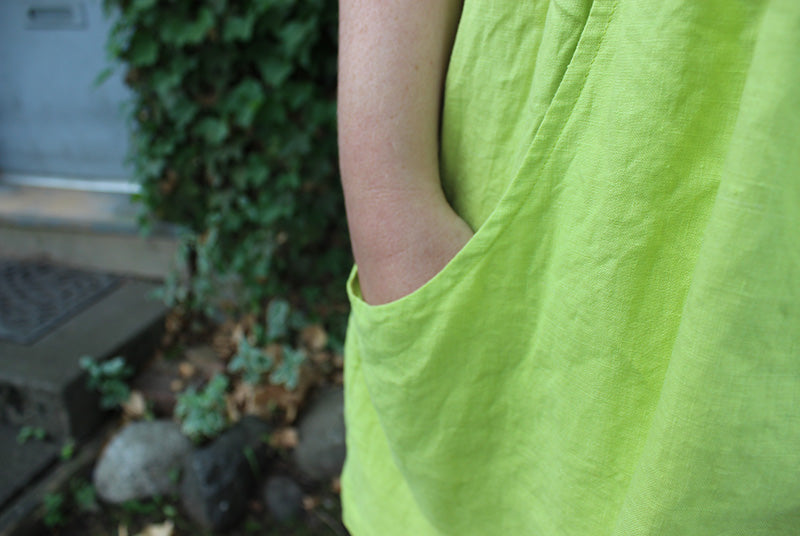 Many other versions of the Brumby I have seen feature lovely topstitching in contrasting thread.  I thought about it, but in the end I decided to go with a matching thread and let the lime colour steal the show here.  I did, however, go with a very bold zip.  Since the zip is exposed and intended to be metal, I did as told (for once) and chose a black zip with brassy coloured metal teeth.  I really like this look and I am quite smitten with this skirt from the back.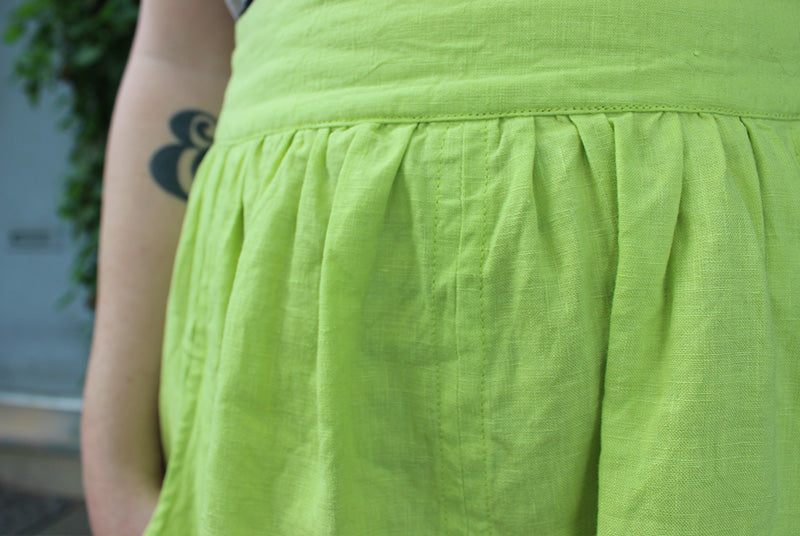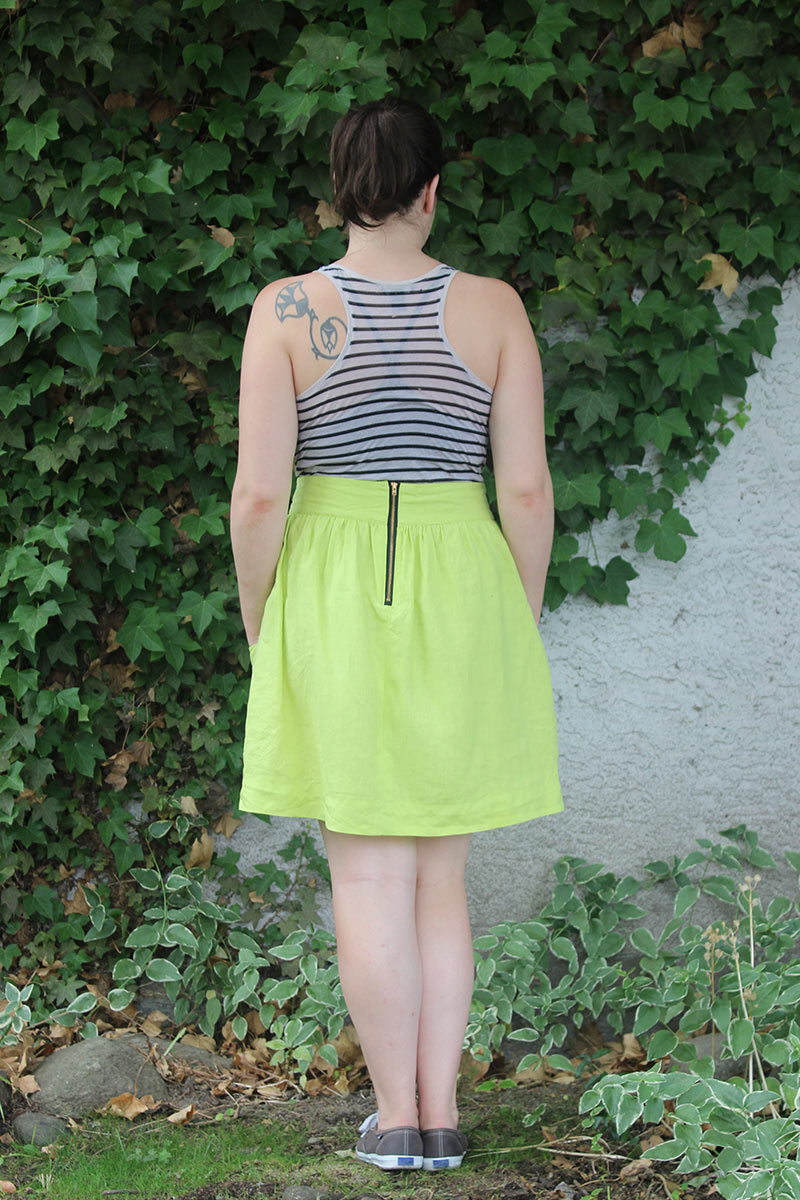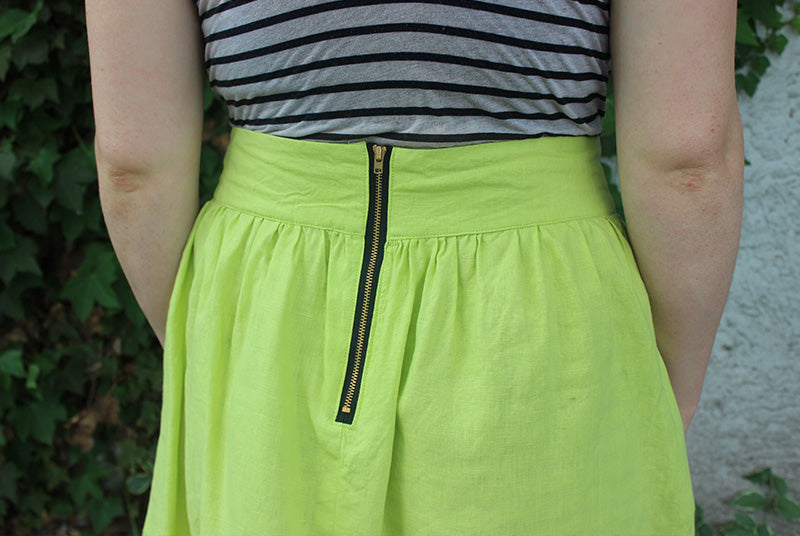 Another design feature of the Brumby is the nice, wide hem.  This helps the skirt to keep it's shape and (again) create that nice hourglass.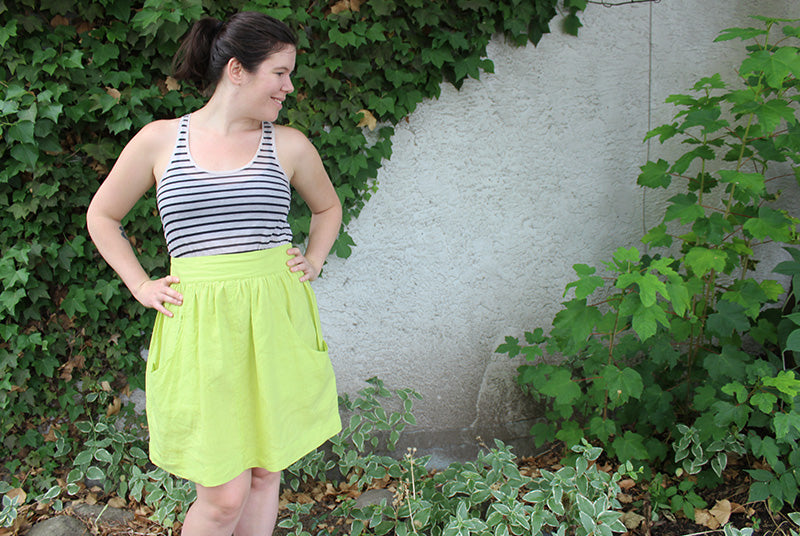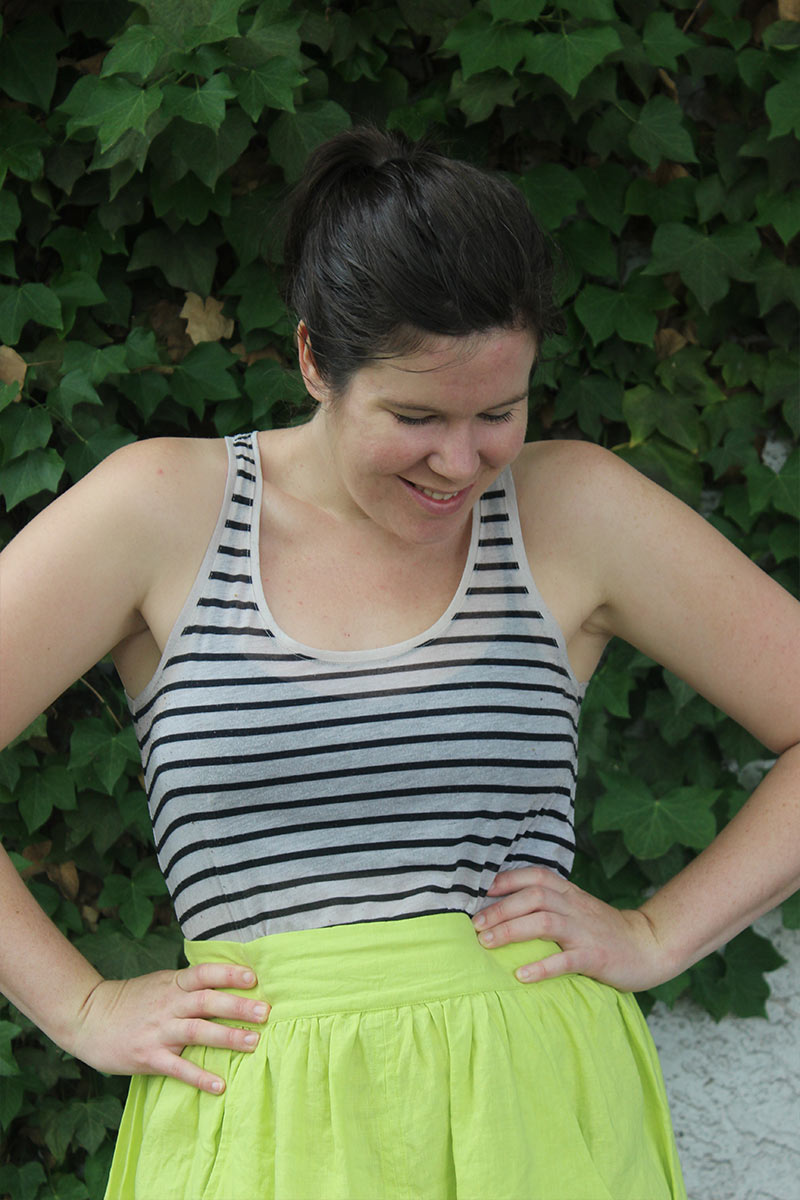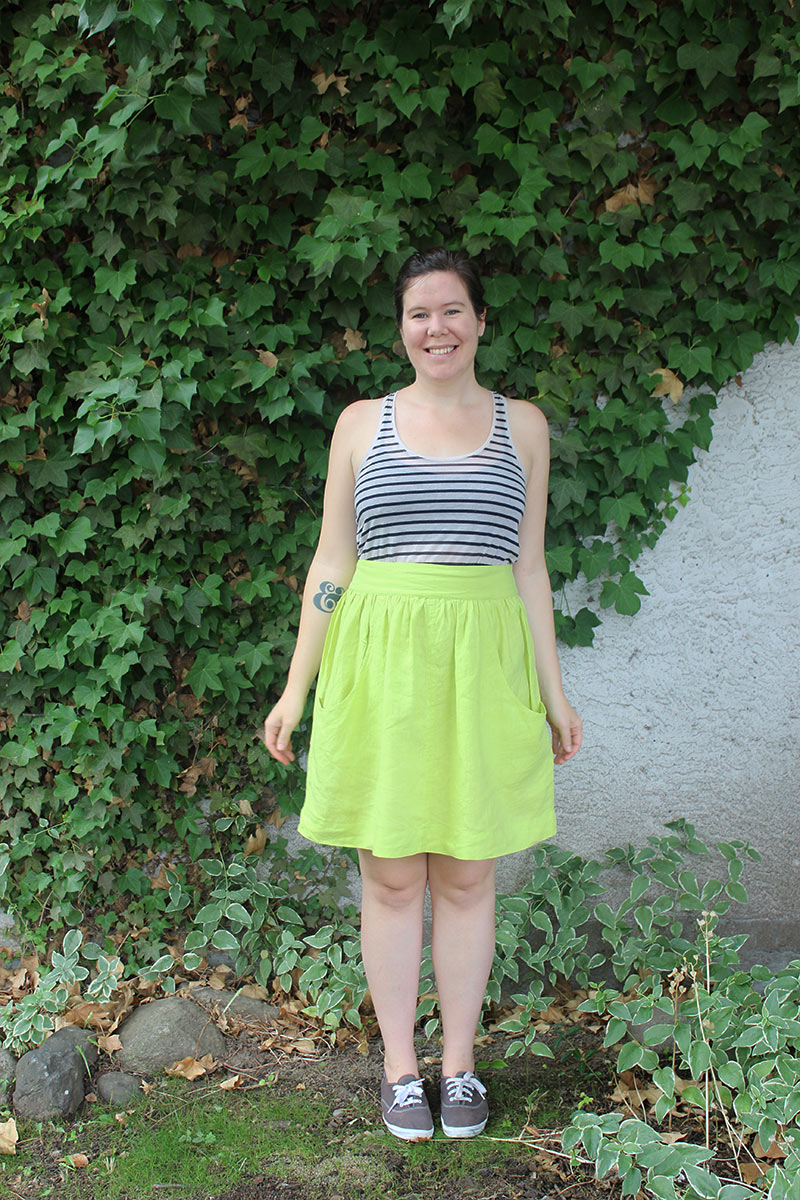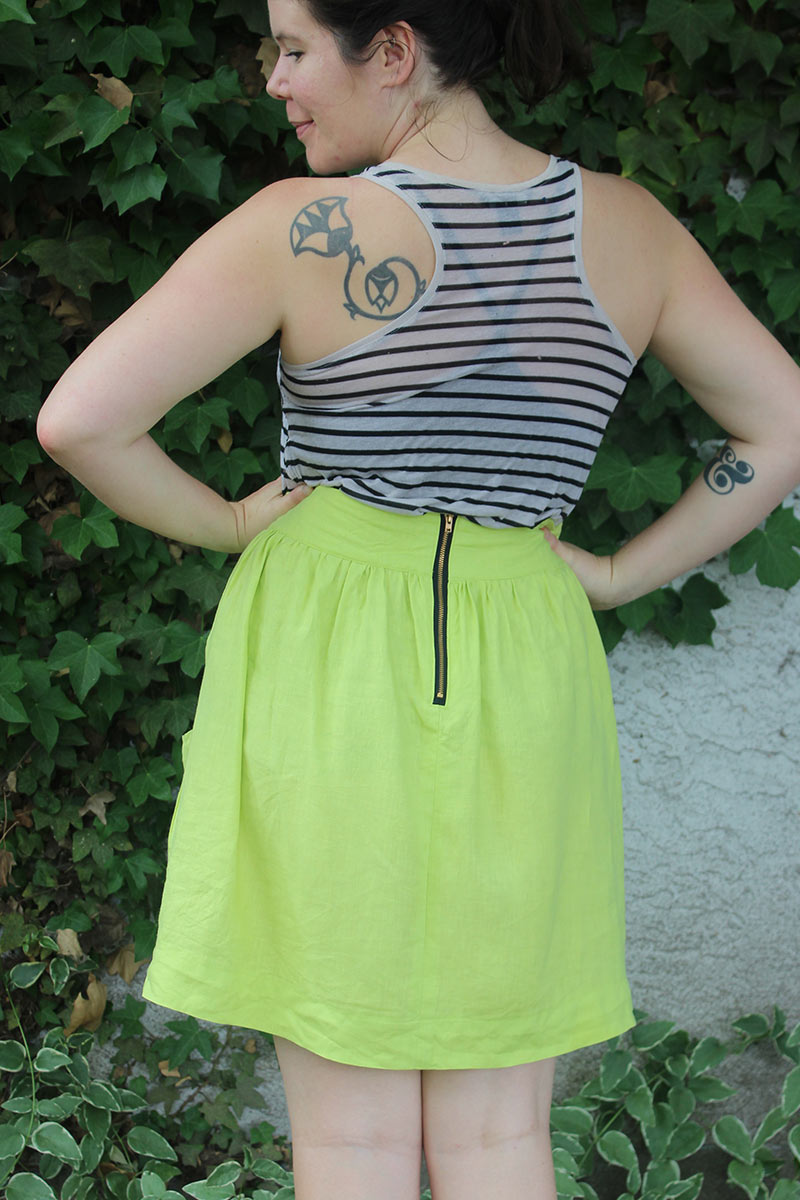 This pattern was easy to sew and I would recommend it to a beginner sewist looking for a challenge or wanting to try an exposed zip.   There are three views in the pattern, the longer ones are better suited to lightweight fabrics and the pockets are optional.
Side note, this pattern was on my #2016makenine list, so theres another one checked off! 6 More to go…
---
Final Stats:
Pattern: Megan Nielsen Brumby Skirt
Fabric: Italian Linen in Tendershoot from Blackbird Fabrics
Alterations: None!