Making swimwear is something I delved into last summer with the Bombshell Swimsuit, and I was immediately hooked. Needless to say, I was pretty excited (ok, really really excited) when Heather released another swimsuit pattern this year!  The Sophie Swimsuit is a one or two piece number with a retro vibe and supportive cups, hoorah!  While I am not in need of a ton of support, I do appreciate feeling free to run, skip, and prance along the beach or in waves without worrying about a major wardrobe malfunction.  Larger chest sizes will love the fit and cut of this swimsuit, and it includes cup sizes to help you get the right fit!  You can opt to sew in an underwire for extra shaping, which I decided (after several failed attempts) to leave out.   Thank goodness I am signed up to take the underwire bra making class with Amy from Cloth Habit at Camp Workroom Social in October.  I definitely see another Sophie in my future with the full foam cups and underwire inserted.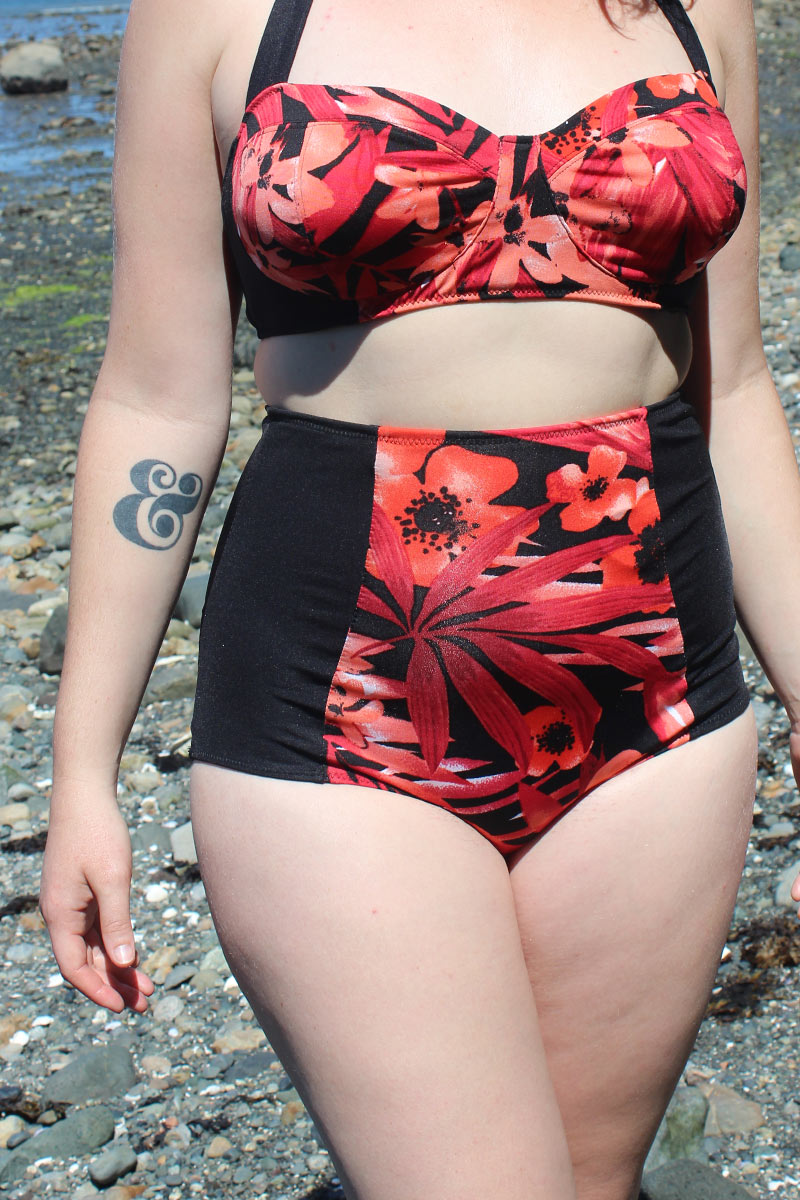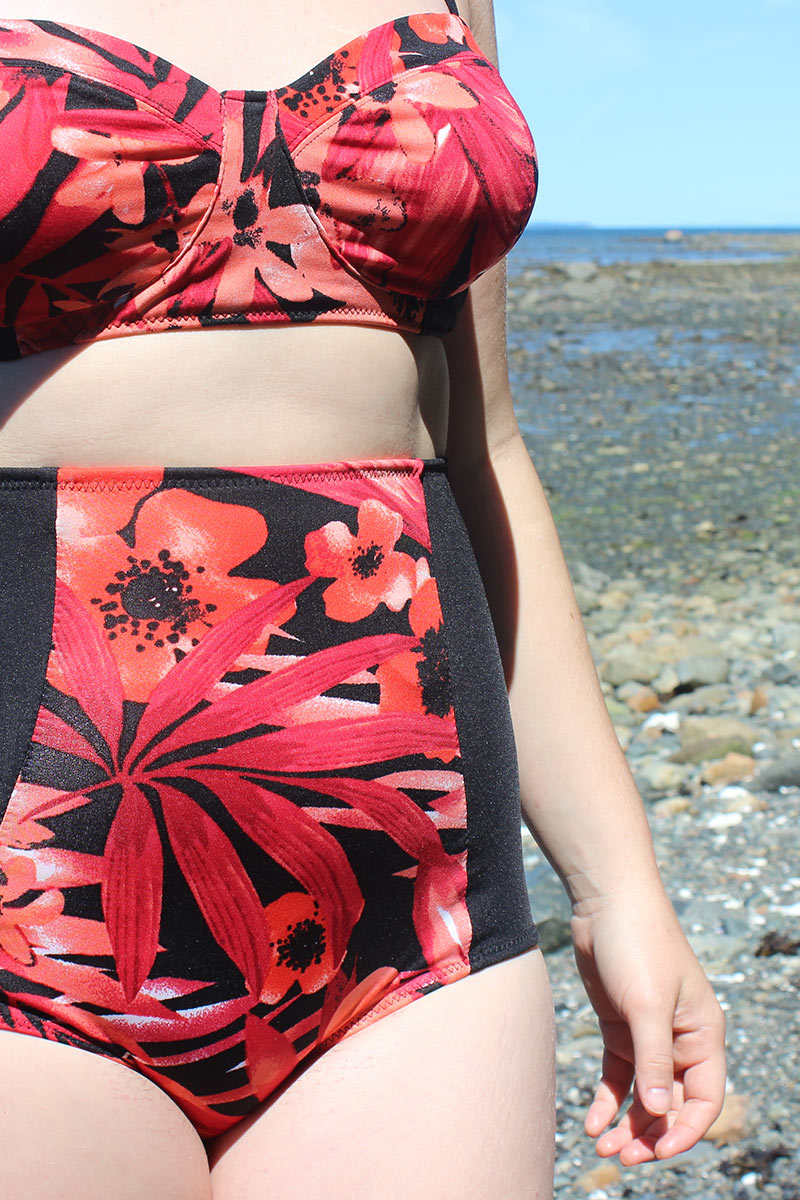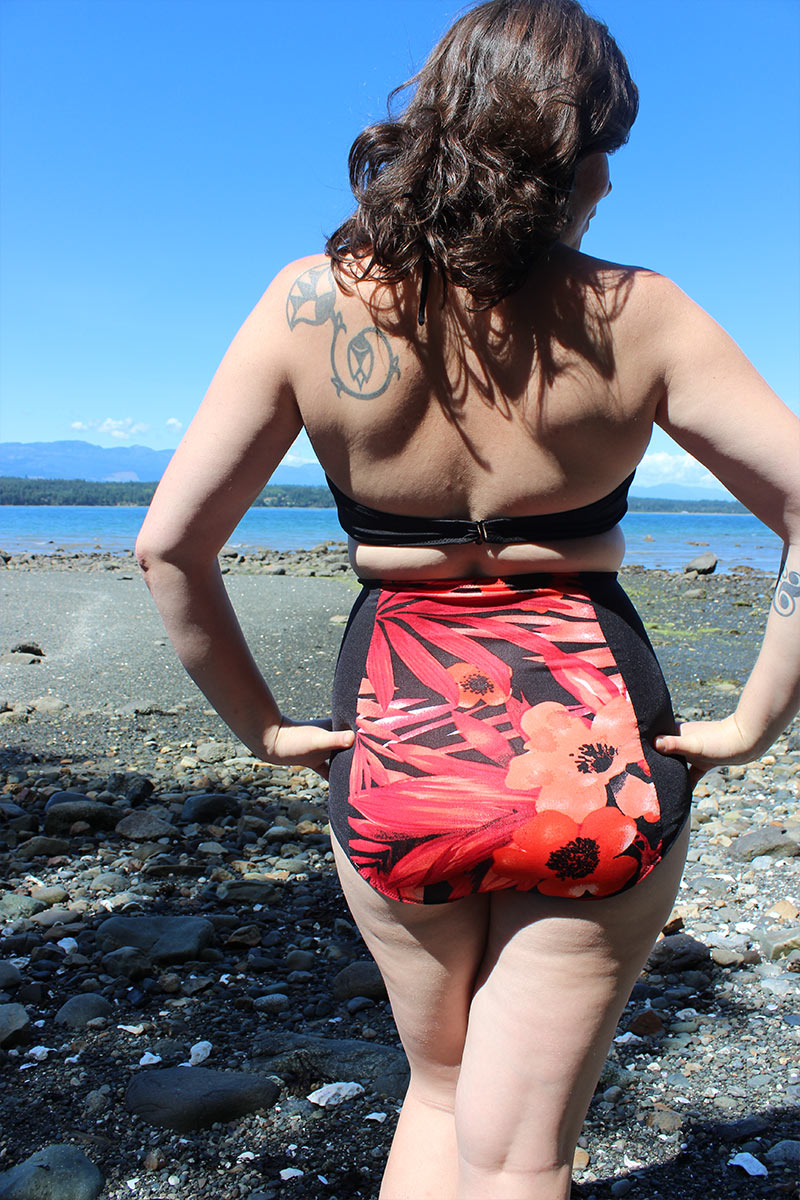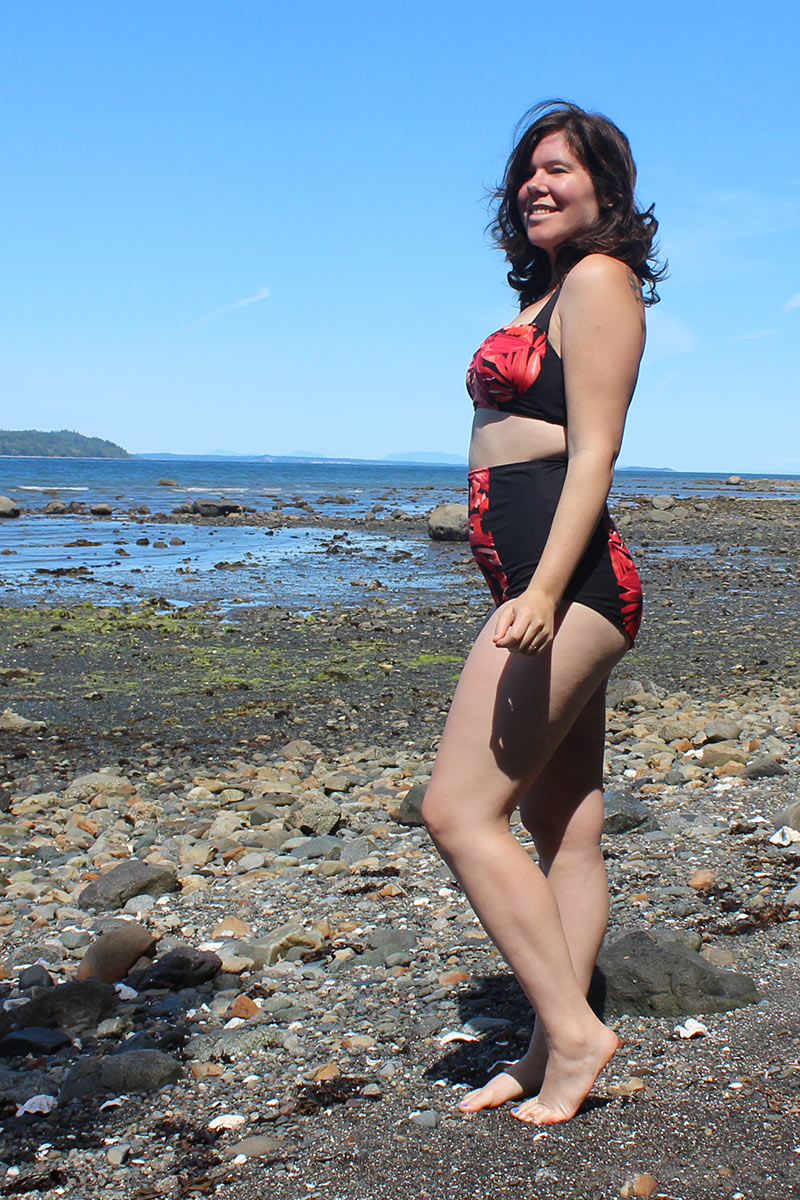 I opted to make the separate high wasted bikini and top, which is one of my favourite swimsuit styles.  As some of you may remember, I made the Reno & Dakota, and the Reno & Bombshell Bikini last winter, and I love the look of the high waisted bottoms.  They cover my tummy while emphasizing my waist, a perfect combo for my body type.  As far as fit goes, the Reno and Sophie tops are very different.  I enjoy both of them, but I'd say the Reno fit me better out of the package, and because I don't need too much support up top, it works well for my bust size.  They are obviously different in appearance as well, and I love the look of both of them. The Sophie bottoms offer more shaping than the Dakota.  I think this will help many people to achieve a nice, slim fit on the suit.  I found the butt of the Dakota to offer more coverage, but the Sophie has enough coverage to be comfortable, and could be adjusted to cover more if desired. I added some height to my Sophie bottoms (about 2″), because I wanted to emphasize the retro look even more.  In hind-site (and in looking at the comparison photos below) I think I added too much height, and it looks as though my bottoms may be a bit tight, resulting in less coverage on the bum.  In summary, my Reno and Dakota swimsuit is still my favourite me-made suit, though I believe a second attempt at Sophie could give it a run for its money.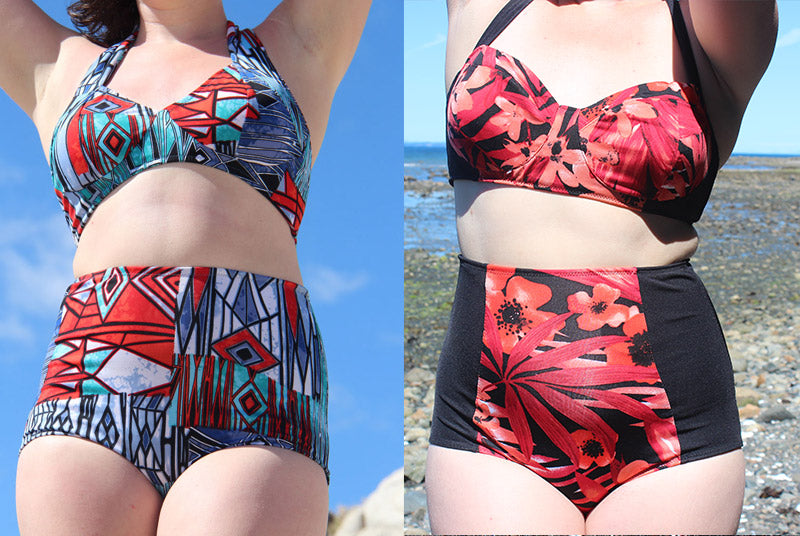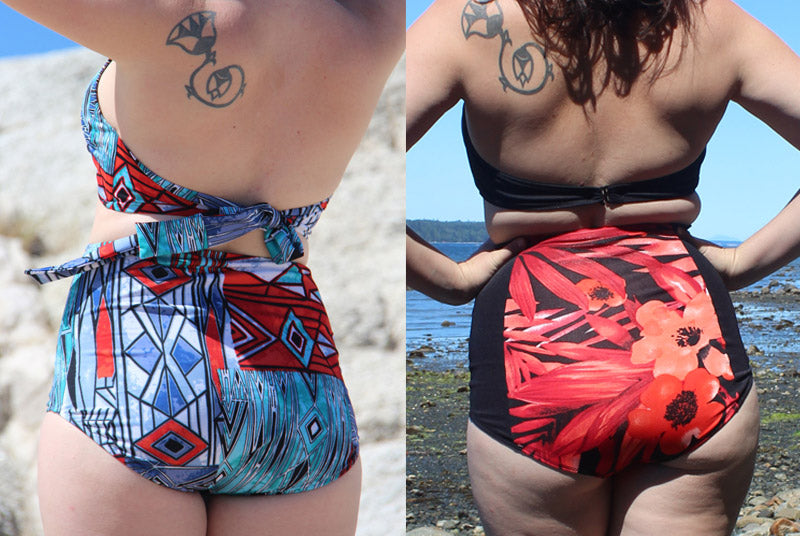 This swimsuit is a challenging and rewarding sew, and Heather has a video course you can take, in which you can sew along with her (brilliant).  I didn't take the course, but I'm sure if I had this would have turned out even better. I could have used some help with my construction and fitting up top.  I did not include the foam cups or underwire, but I did put the stabilizing bra mesh in the cradle, to help keep the shape of the top.  All of the corners I cut were because I was desperate to finish this suit before my vacation (silly me).  Don't get me wrong, It turned out quite nicely, but as you can see in the closeups of the top below, my top stitching is wonky and my insides are a bit ragged, oh well!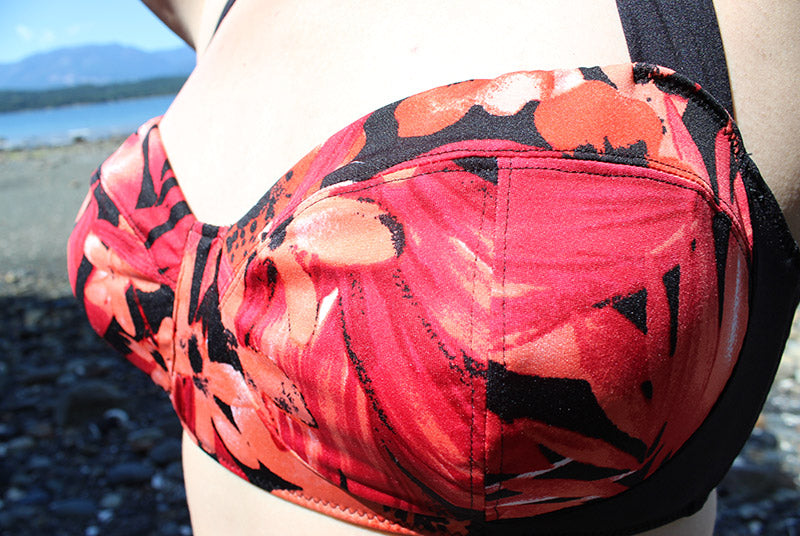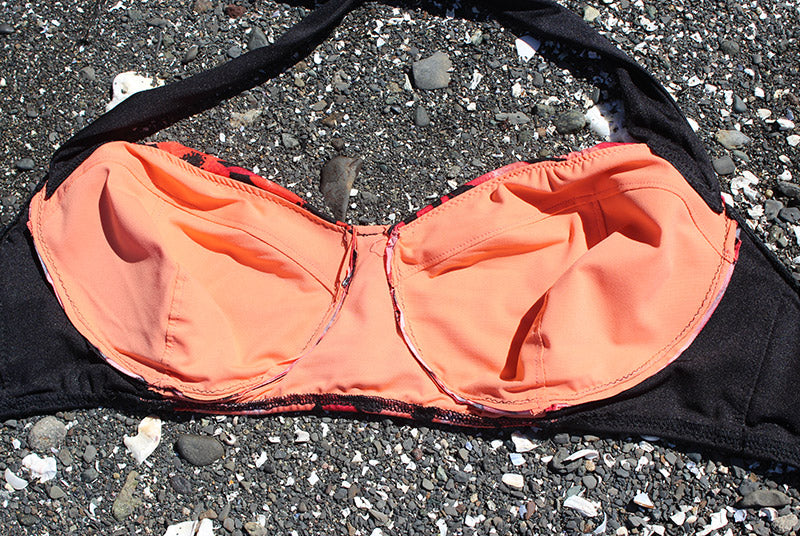 I love the samples of the Sophie Swimsuit, and the idea of using contrasting fabrics to get an interesting hourglass shape.  I like the plain black because it is slimming, and went for the red floral pattern because it was so different from my other me-made suits. The combo turned out great and I have to thank my amazing instagram friends for helping me spot any weird pattern placements before sewing, seriously, you guys are awesome!  The fabric is from Dresssew here in Vancouver.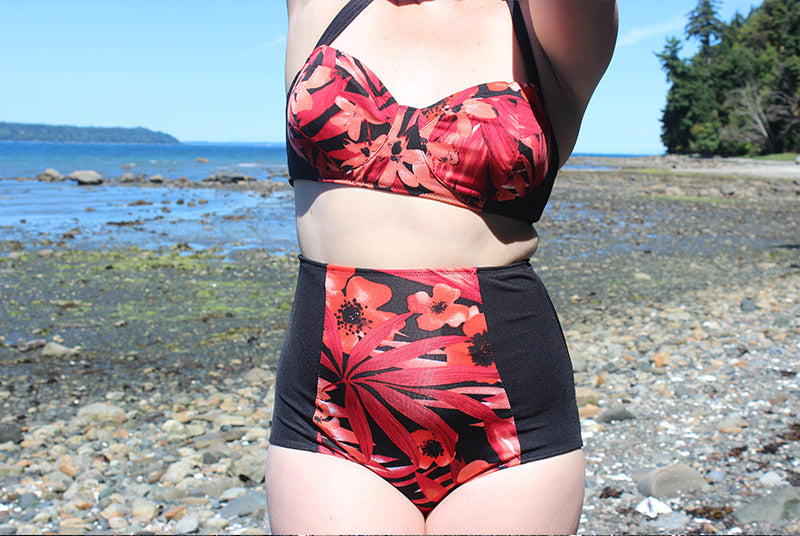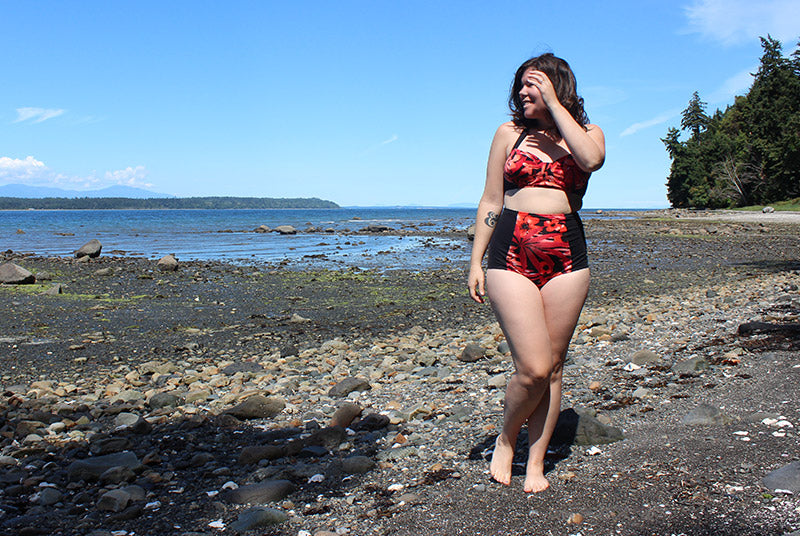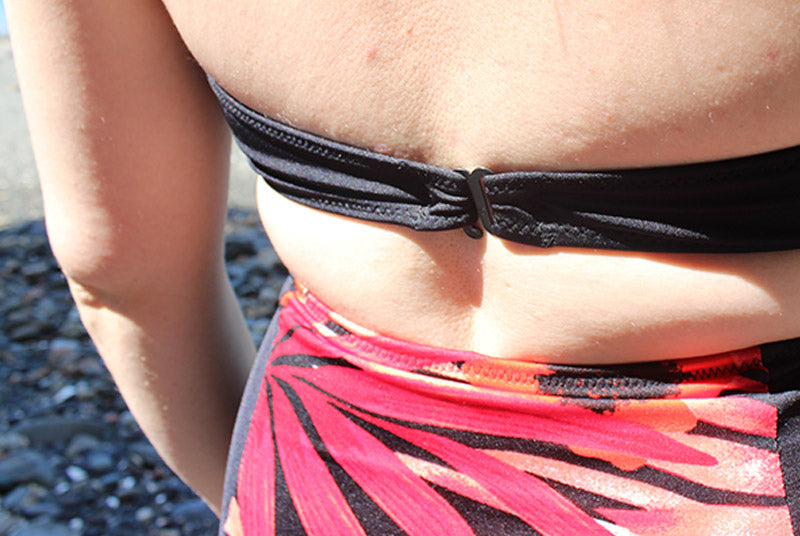 These photos were taken on Hornby Island here in BC.  The island is known for its pristine sandy beaches, obviously not featured here, lol.  You can swim anywhere on the island, and if you choose to do so off of one of the less popular beaches, you are likely to have the place to yourself! We like to snorkle and check out the marine life around the rocks, too.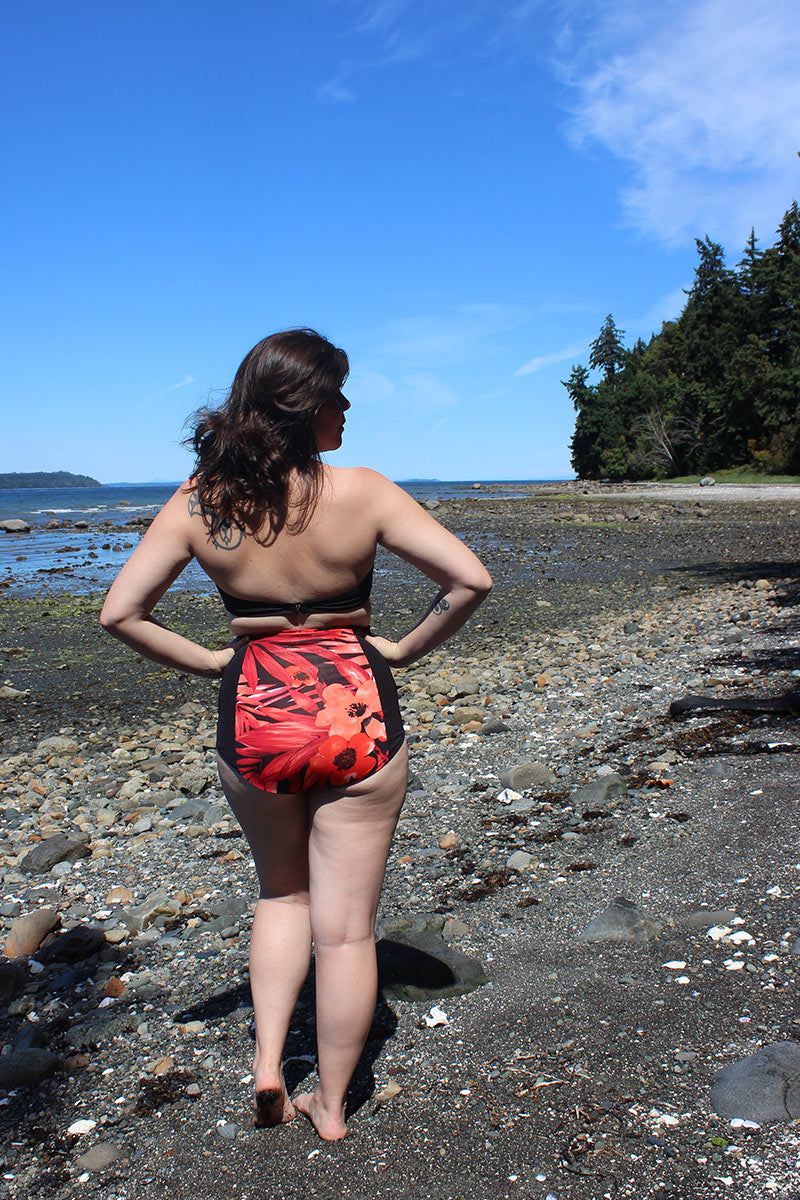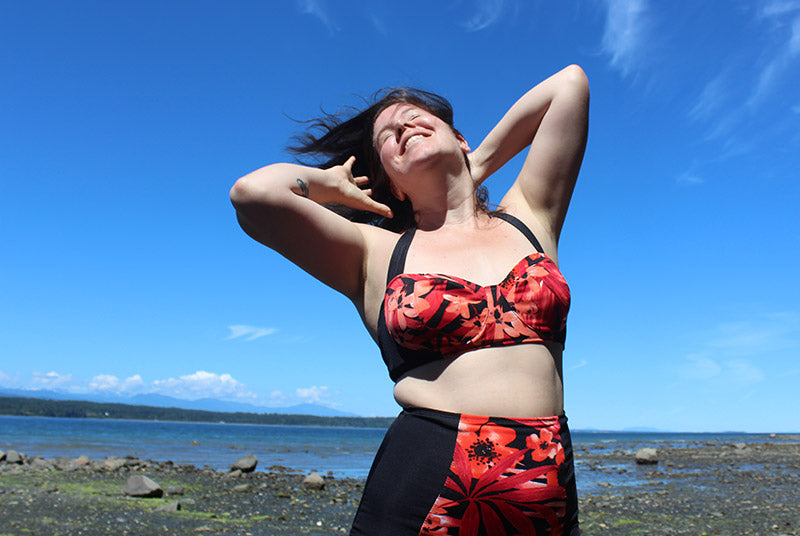 I am very pleased with my Sophie Swimsuit and am excited to give it another go in the future.  If you haven't tried sewing swimwear yet, this pattern is a good place to start!  Yes, it is challenging and complex, but there are many resources available and the end result will be comfortable and supportive, a very important detail, indeed.  Thanks, Heather, for another fantastic pattern!