Welcome back to the Wednesday Weekly!  I have been catching up on all the amazing things I missed over the past 2 weeks, and I am so excited to get back to my usual schedule and share these highlights with you!  I've tried to include all the pattern releases that happened while I was away, but please do let me know if I missed anything!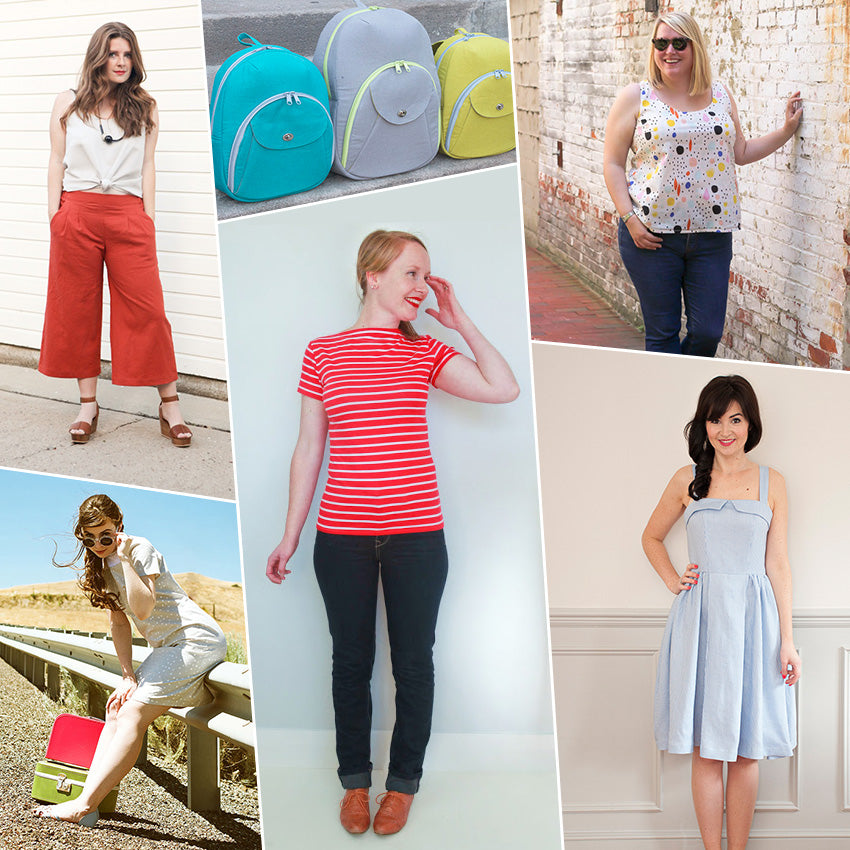 News (clockwise from top left)
True Bias released the Emerson Crop Pants and the  Ogden Tank.  I am loving this whole ensemble and I can't wait to get started on my versions! Obviously I am all for more culottes!
Sew Sweetness released the Cumberland backpack, just in time for back to school.
Cashmerette released the Springfield Top, a great everyday top for curvy figures.
Sew over it released the Rosie Dress pattern, the cutest little dress I've seen this summer!  Did you see this test version from Diary of a Chainstitcher?  Divine!
Jennifer Lauren released the Gable Top.
The August issue of Seamwork came out last week with two new patterns, Lynn and Elmira.
Salme Sewing Patterns is discontinuing their older designs in favour of new, updated versions with seam allowances included and improved design.  You can grab the older versions this week for 50% off before they take them off the 'shelf'.
Hannah from Cinderellis Sews is hosting this year's One Week One Pattern (OWOP) week this year!  I had the pleasure of connecting with Hannah a few weeks ago when she was in Vancouver, definitely check out this sewing challenge!
Makes
I am loving this Marigold/Bettine jumpsuit hack from Allie M Jackson.
Speaking of jumpsuits, this one from What Katie Sews is to die for.
I am speechless looking at this swimsuit from Emerald Erin, seriously, how cool is that?!
There is nothing that screams summer more than wearing white, and this white dress from Creating in the Gap is just brimming with summer whimsy,
Christine Haynes showcases a beautiful Lottie colour block hack. Learn how to make your own here.
I am so jelly of these cute summer PJ's from Grosgrain Green.
Anya is turning everyone's attention to pencil skirts this week with two fab makes.
I am always floored by me-made wedding dresses, and this one from Sew Wrong is no exception!
How gorgeous is this linen Hannah dress from Sewing and Cocktails?
There have been some amazing Winslow Culottes posted in the past couple of weeks! Did you guys see these Winslow Culottes from Sew Abigail?  I love her whole look, it's perfect!  This version from Nightingale and Dolittle is a gorgeous wardrobe staple, and these Winslows from Sew Sarah Smith are simple and stylish! Last and certainly not least is Clueless Leigh with a lovely palazzo pant version.  Thanks so much for sewing Winslow, you guys!
Resources
Madalynne shows us how to care for our swimwear, me made or RTW.
SBCC patterns teaches us how to make a Gimlet Sleeve,
Sew DIY showcases some great tie overall options.
Check out these awesome tips on sewing with Rayon Challis from Cali Fabrics.
Inspiration
I have been completely amazed by the breathtaking denim creations happening for the Re-fashioners 2016. Check out these versions below from Megan, Sarai, Kate, and Rosie, all made from recycled jeans! Head on over to the Makery to see more fantastic works!