Happy Wednesday everyone! I am currently in the midst of perfecting the fit on the By Hand London Flora dress because I am making it to wear in my sister's wedding next month.  I am scared to cut into the actual fabric until I know the dress fits perfectly, so I am making a wearable muslin first.  After a full bust adjustment, the Flora is fitting just as I would like.  I am finally getting used to doing proper fitting and enjoying the process rather than getting frustrated.  It is such a big part of sewing and by embracing it as part of the sewing process, I'm avoiding getting too disheartened or annoyed when problems arise.  Do you like fitting?  Do you find you don't know what adjustments to make to get the right fit?  Let me know in the comments!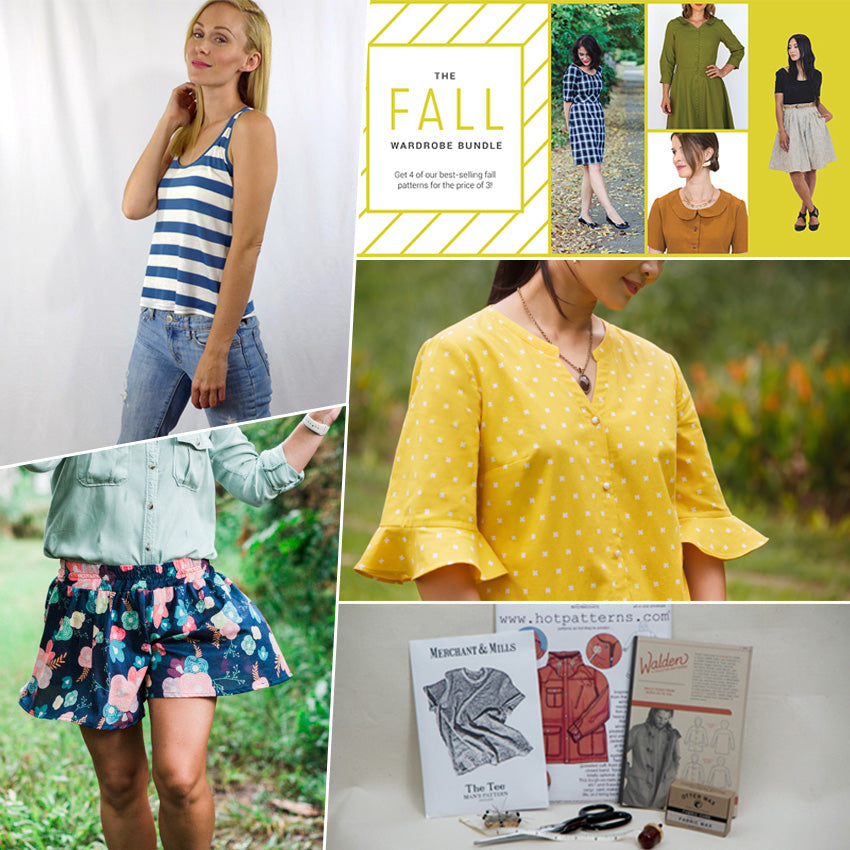 News (clockwise from top left)
Christine Haynes released the Rumi tank and dress.  I am beyond excited about this pattern, you guys, I'm gonna finally sew some basics…I swear.
Colette is offering a fall wardrobe building bundle, get 4 of their patterns for the price of three!
A little sneak peak at what's coming next from Itch To Stich with the Bonn shirt and dress call for testers.
Thread Theory has expanded their shop to include menswear patterns from other designers.
Sew Caroline released the Magnolia Shorts.
Makes
I love the idea of separates that combine to be a dress, like this gorgeous chiffon combo from This Blog Is Not For You.
The latest creation from Sew Urbane has completely blown my mind, as always.
The pattern matching on this bomber jacket from Sewionista is sooo satisfying. 
I have been thinking about long cardigans for fall, check out this version from Doppelnaht. 
A gorgeous yellow sundress from Crafty Clyde, and you can sewalong!
Some seriously impressive athletic wear over on Miss Celies Pants. 
I am crazy for these culottes from Sew Pamona.
Check out this fun reversible Osaka skirt from Craft Rambler.
Resources
I'm not sure I will ever need this, but here is a great tutorial on making your own shoulder pads from Sew For Victory.
Beth from Sew DIY goes over her experience with four different lounge bra patterns.
These DIY thread storage ideas are so cool! I need something like this…
Inspiration
These paintings from Romanian artist Aitch are truly stunning.  You can check out her work on her website, or purchase it from her shop!