Happy September!  Since I reached 50 Wednesday Weekly's last week, I've been thinking about this little sewing round-up and how I can make it even better for you as a reader. If you are able, please answer a few quick questions to help me learn what makes the Wednesday Weekly work for you!  I really look forward to hearing your feedback. All submission are anonymous. Thanks for your help!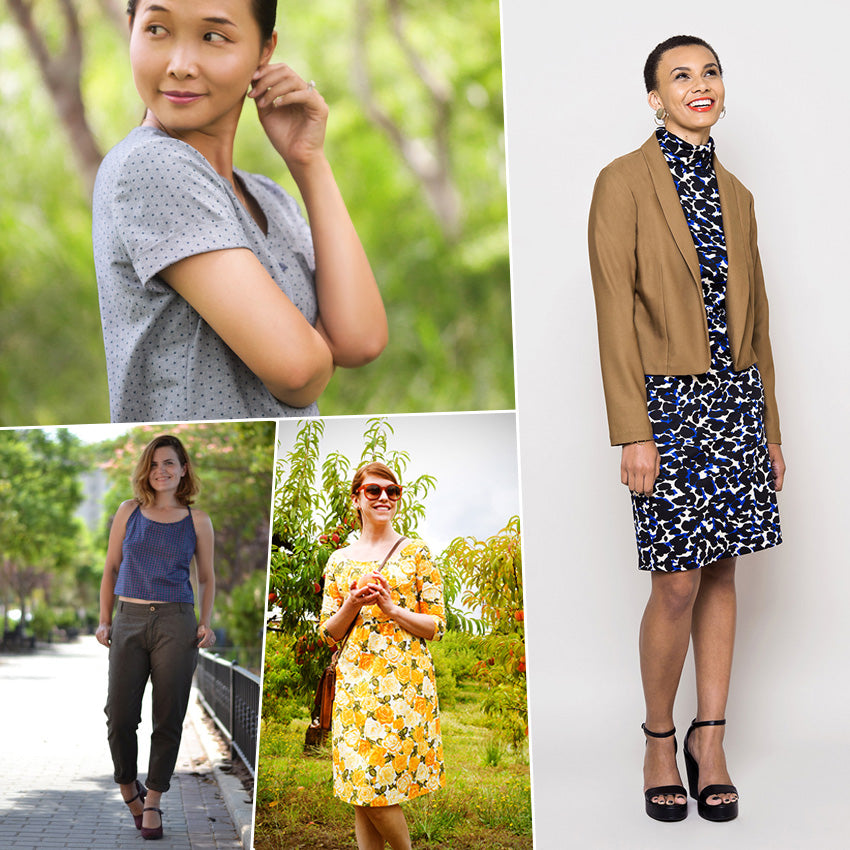 News (clockwise from top left)
I am very excited about the latest pattern from Itch to Stitch, the Bonn Shirt and Shirt Dress.
The September Issue of Seamwork is hot off the presses and comes with two new patterns, the Nennah turtleneck dress and the Delevan Blazer.
Colette has made a return to their vintage inspired roots with their latest pattern, Rue.
Pauline Alice released the Port trousers and shorts, a great looking pattern for fall!
Makes
A fantastic pencil skirt and blouse from Saturday Night Stitch!
The cut-outs on this pink dress from Tea Okereke are so freaking cool!
How cute is this matching shirt and skirt from Rue des Renards?
I have been lusting after the deer and doe Melilot shirt ever since it came out, and this version from Bimble vs. Pimble is totally pushing me over the edge!
A simple and pretty pleated skirt from Seemansgarn.
This yellow sundress from Petite Republic is really adorable.
I adore this sleeveless Bruyere by The Quirky Peach!
Resources
Itch To Stitch goes over when to clip and when to notch your curves.
Sew along and make your own Gwen top on the Simple Sew Blog.
I am so interested in this reverse bobbin technique shown here on the Lauren Durr Design blog.
Inspiration
I am always inspired by unique sewing projects like these showcased on the Gayley Girl blog this week!