I could not be more excited to share my latest creation with you today, it is my contribution to this year's Re-fashioners 2016 Jeanious challenge! Every year there is an exciting new challenge and every year there are incredible refashions to swoon over.  This year, the challenge was to refashion jeans and I decided it was high time I participated in this awesome event.  Any type of jeans will do, as long as they are jeans (pants) and not other denim garments. You can use as many as you need to complete the challenge, so there is no shortage of fabric to work with.  If you want to read more about the Re-fashioners challenge, head over the the Makery for oodles of inspiration and more details.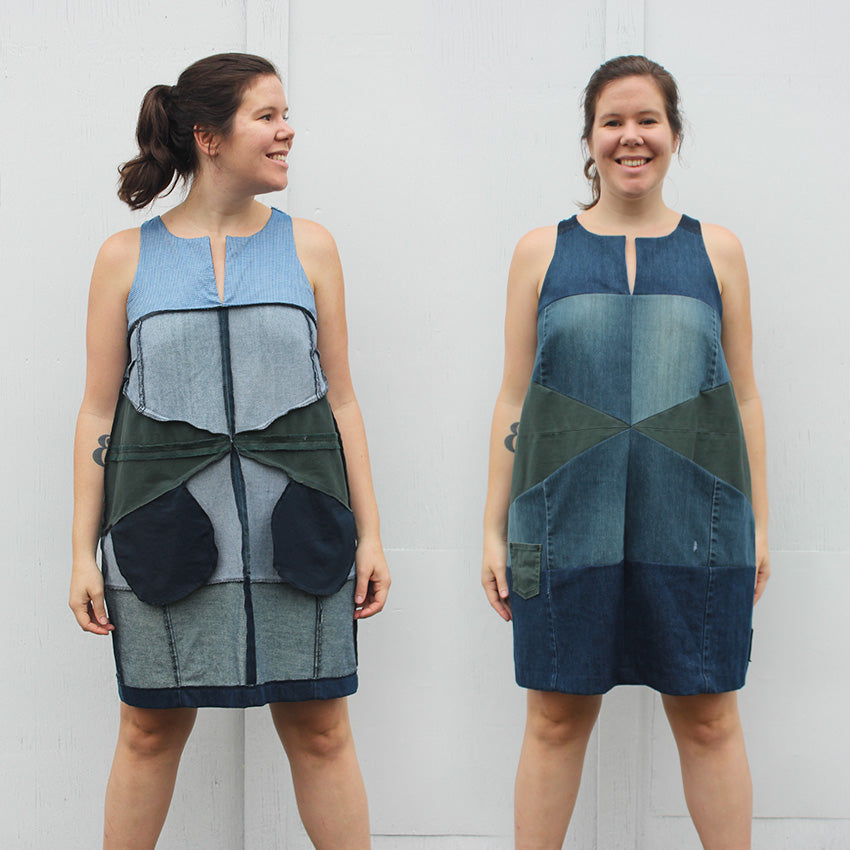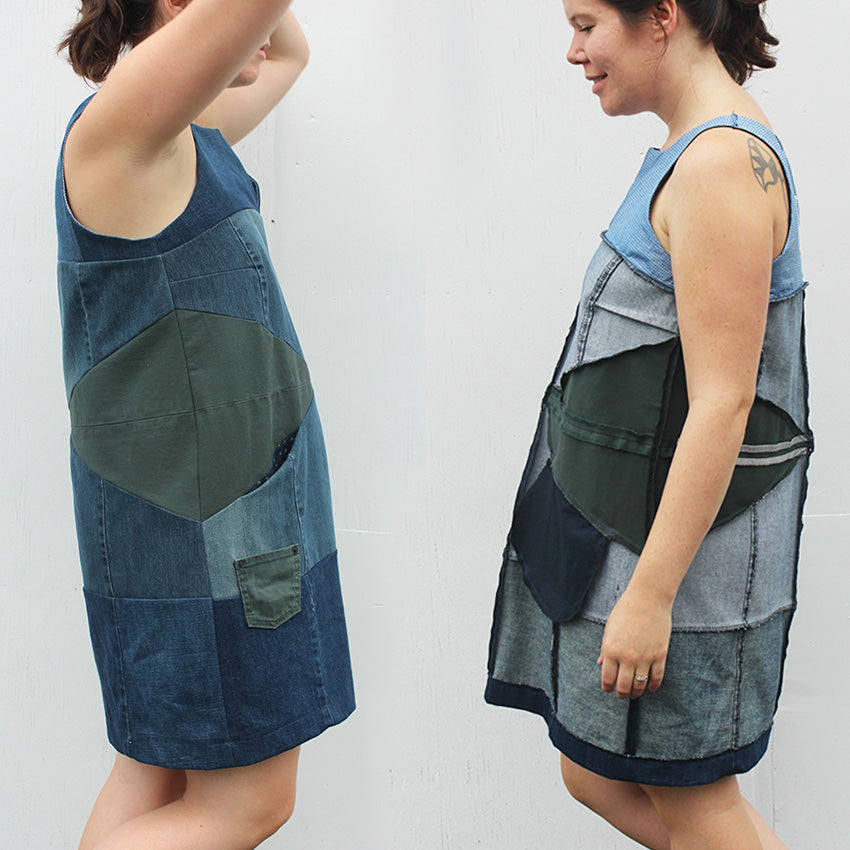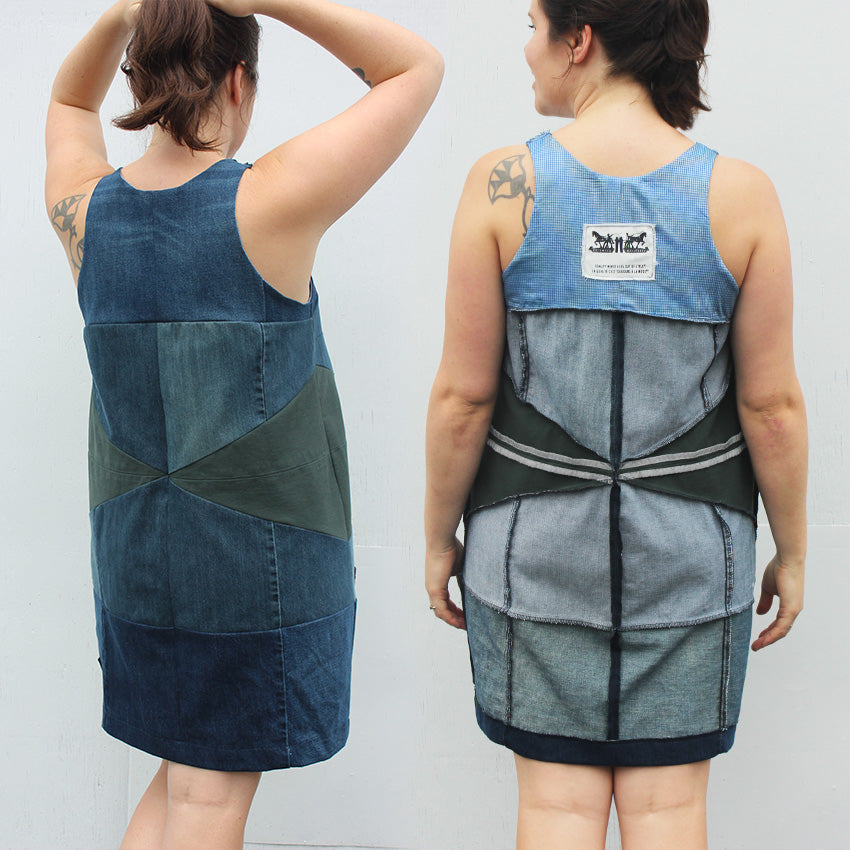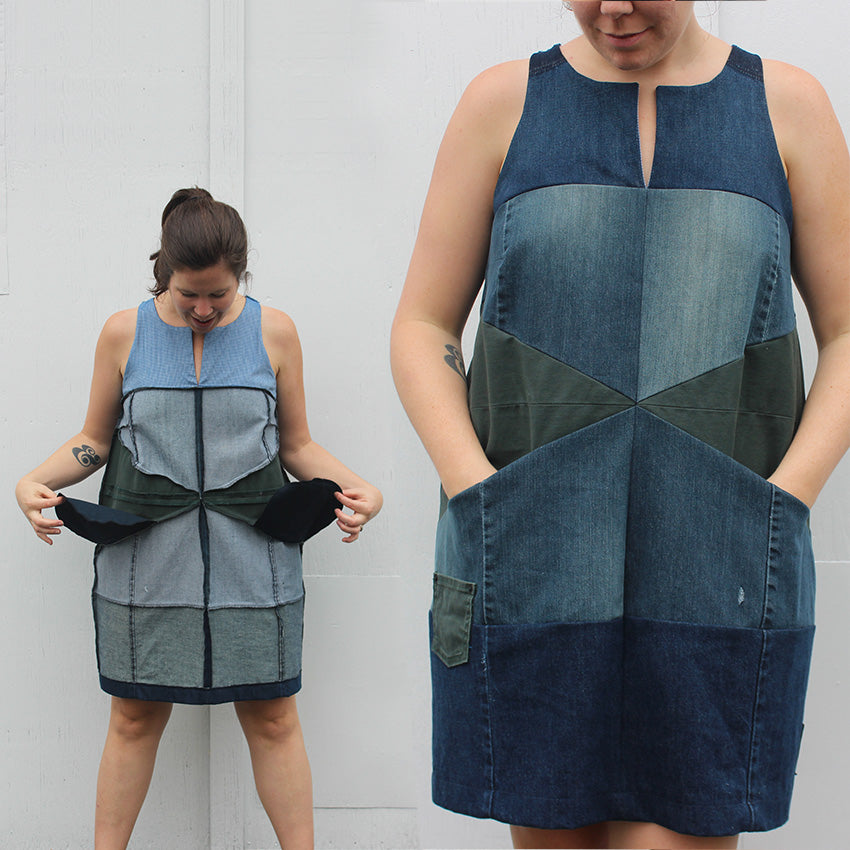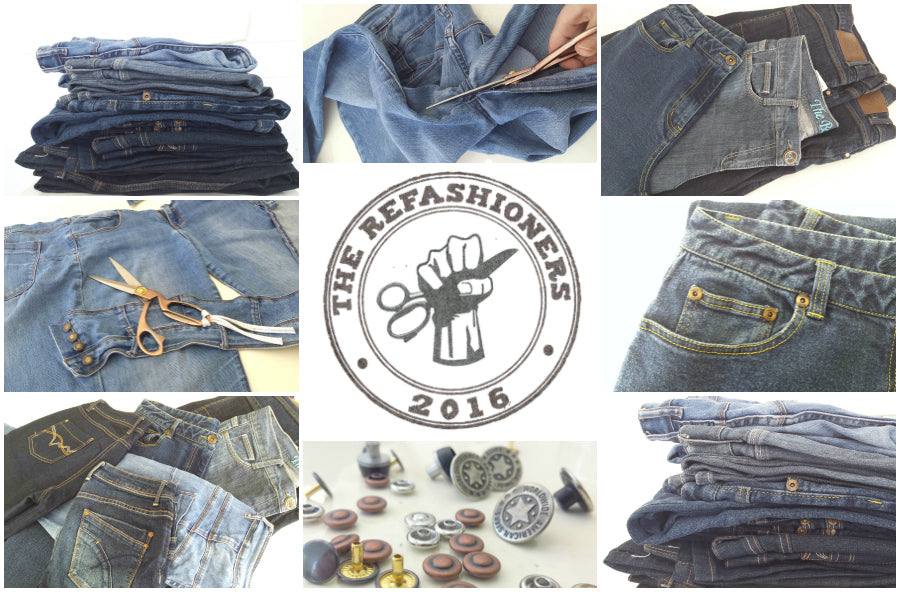 ---
For my refashion, I used three pairs of Sam's old jeans that didn't fit him anymore.  He had about eight pairs to choose from, but I ended up going with the three pairs of Levis because the denim was a similar quality and feel on all three, and the construction was consistent.  I knew I wanted to make a loose dress with some diagonal design lines after seeing Megan Nielsen's inspiration post, so I did a quick sketch and fell in love with the idea of hidden pockets on the diagonal lines.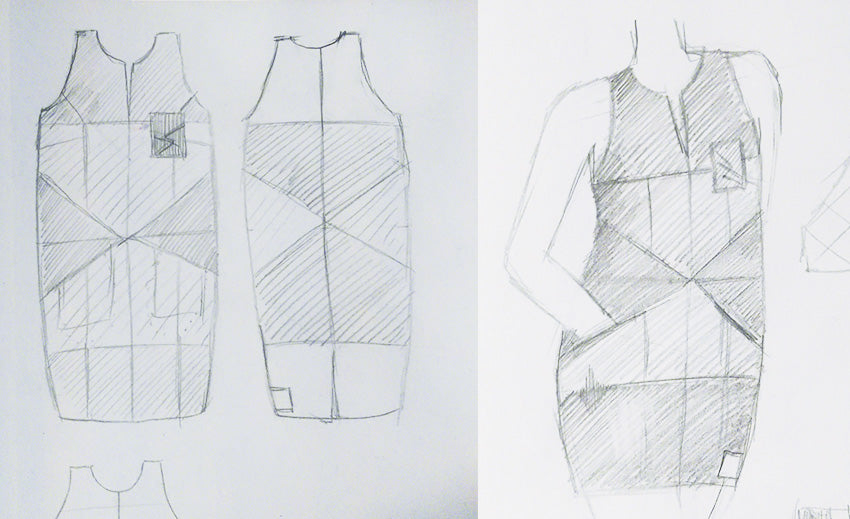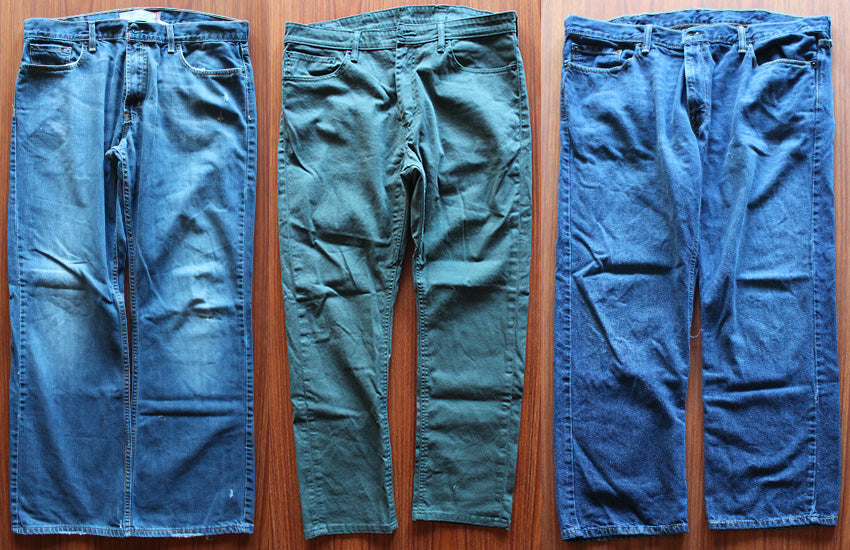 I drafted a quick cocoon shaped dress with a slashed neckline and began drawing lines on it until I was satisfied with the shapes.  I planned to open up the jeans along the inseam and work the outer seam into the design to save me some time and effort. I marked all the edges that needed a seam allowance added so that when I traced it out, I would be sure to include it. Once ready, I cut up my pattern block and got to work tracing!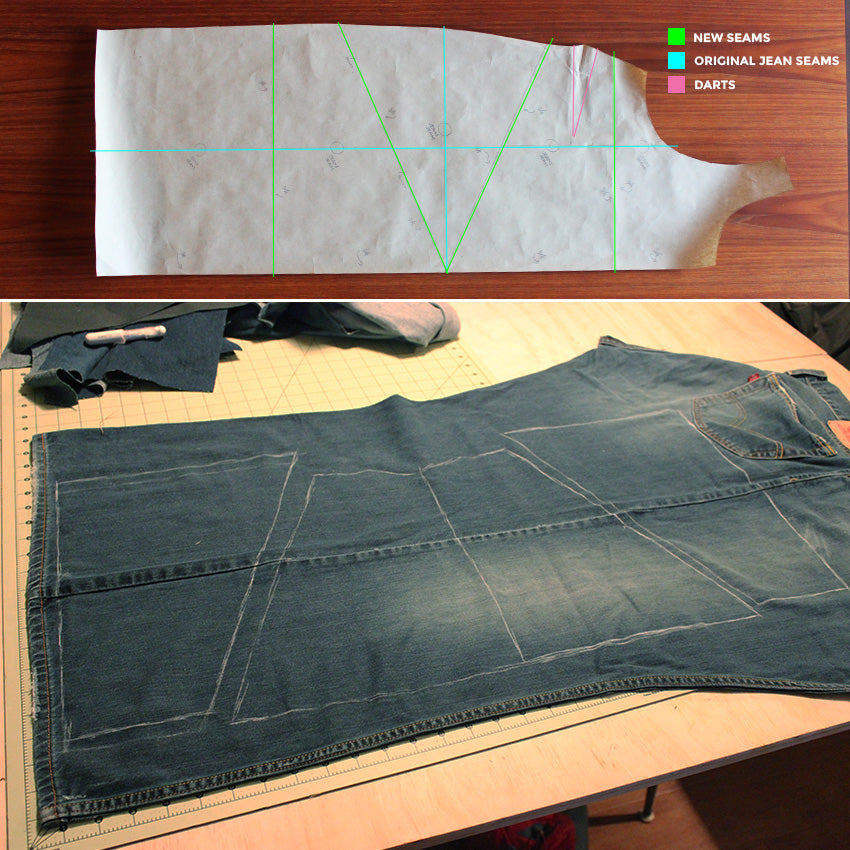 It turned out I had JUST enough denim to make this work with the three pairs, so it was a bit tight.  That said, it forced me to use every bit of the jeans and work some of the flaws into my dress, which turned out to be my favourite thing about it!
I sewed the denim pieces together, inserting the pockets (using the inseam pocket method), for each side of the front and the back.  I then sewed up the center front and back seam, followed by the side seams.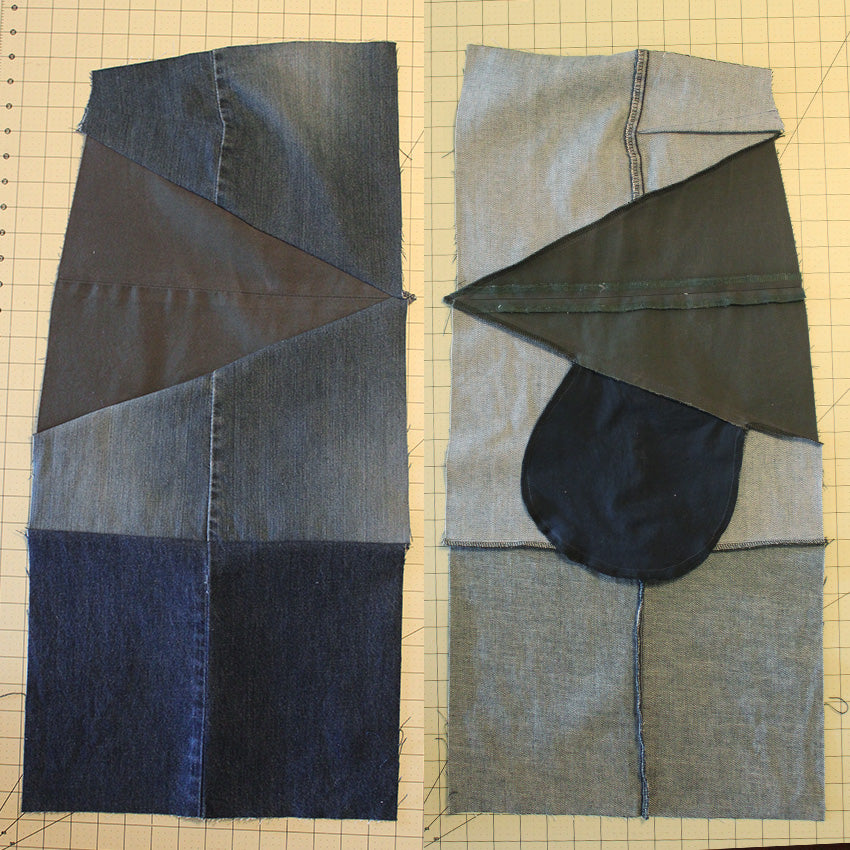 The top front, back, and armscye were constructed separately and sewn onto the rest of the dress last.  I did this because I wanted to fully line the top to allow for a nice clean neckline. I also included the Levis logo and tagline "good quality never goes out of style" to the inside back of the dress.  I pulled this from the pocket lining of one of the pairs of jeans.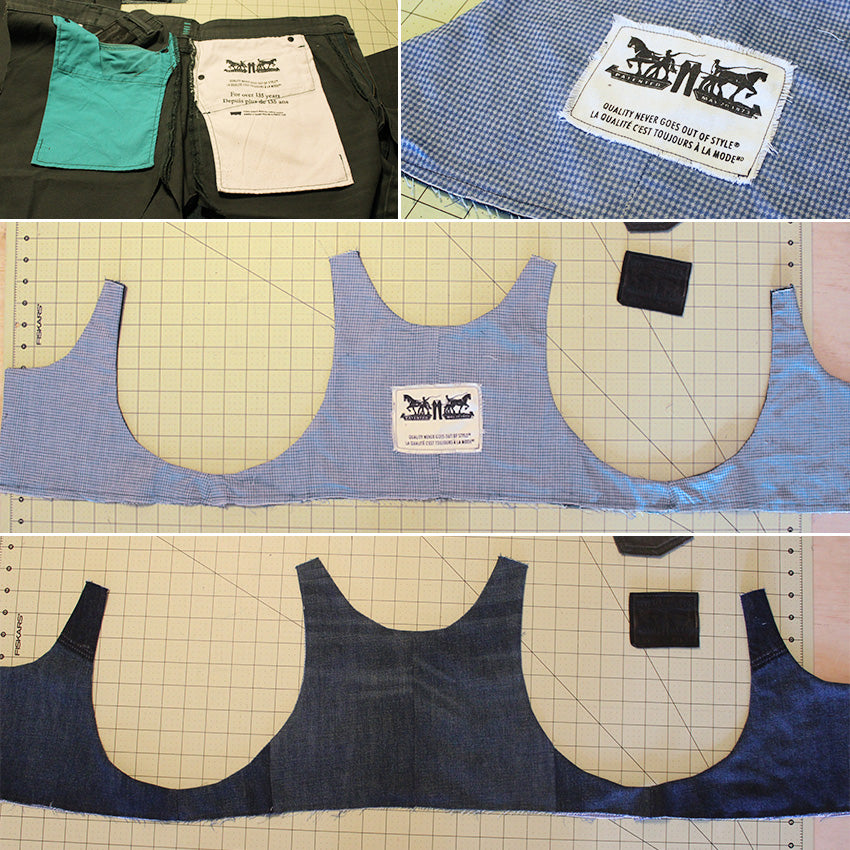 I won't sugar coat it, this dress was very challenging to pull together.  The denim seams were so bulky, my poor sewing machine could barely make it happen.  With much trimming and reducing, I was able to sew and serge all the edges of the dress to ensure it wouldn't fray to pieces on the inside. The points where the diagonal lines meet are quite stiff, but I am happy to report that they aren't uncomfortable, nor do they detract from the shape of the dress (I think).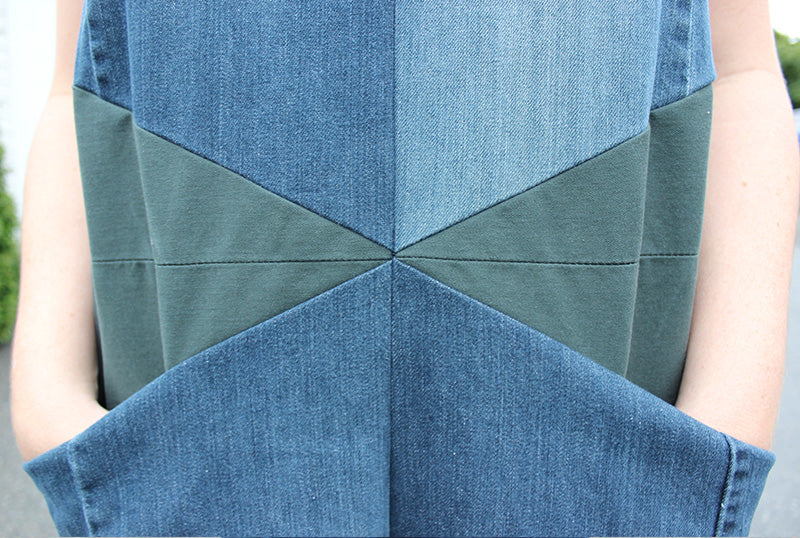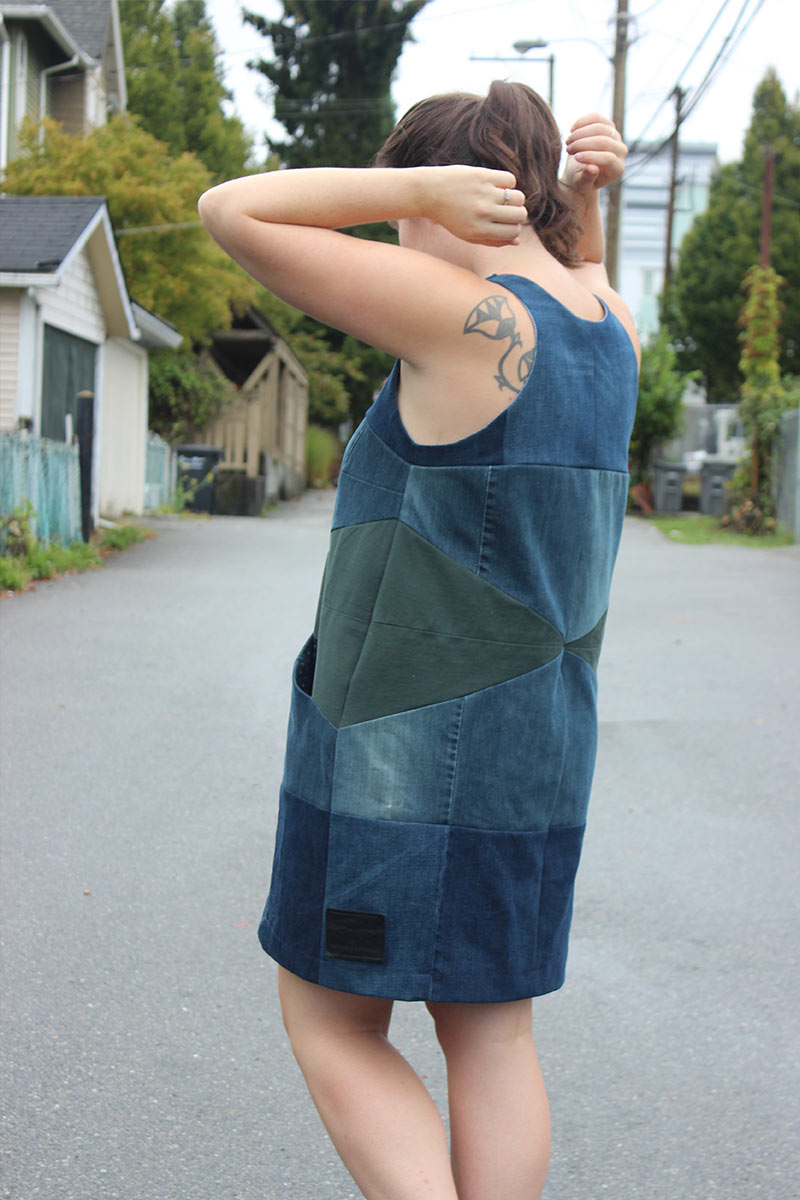 I honestly wasn't sure if this dress would be amazing or a hot mess, and I was prepared for either.  Thankfully, when I put it on for the first time when it was 90% done, it looked amazing!  It is really comfortable, which I was not expecting.  I'm not sure why, since jeans are so comfortable, but I kind figured the bulky seams would be awkward.  On the contrary, it is like being wrapped up in well worn denim and I love how it feels.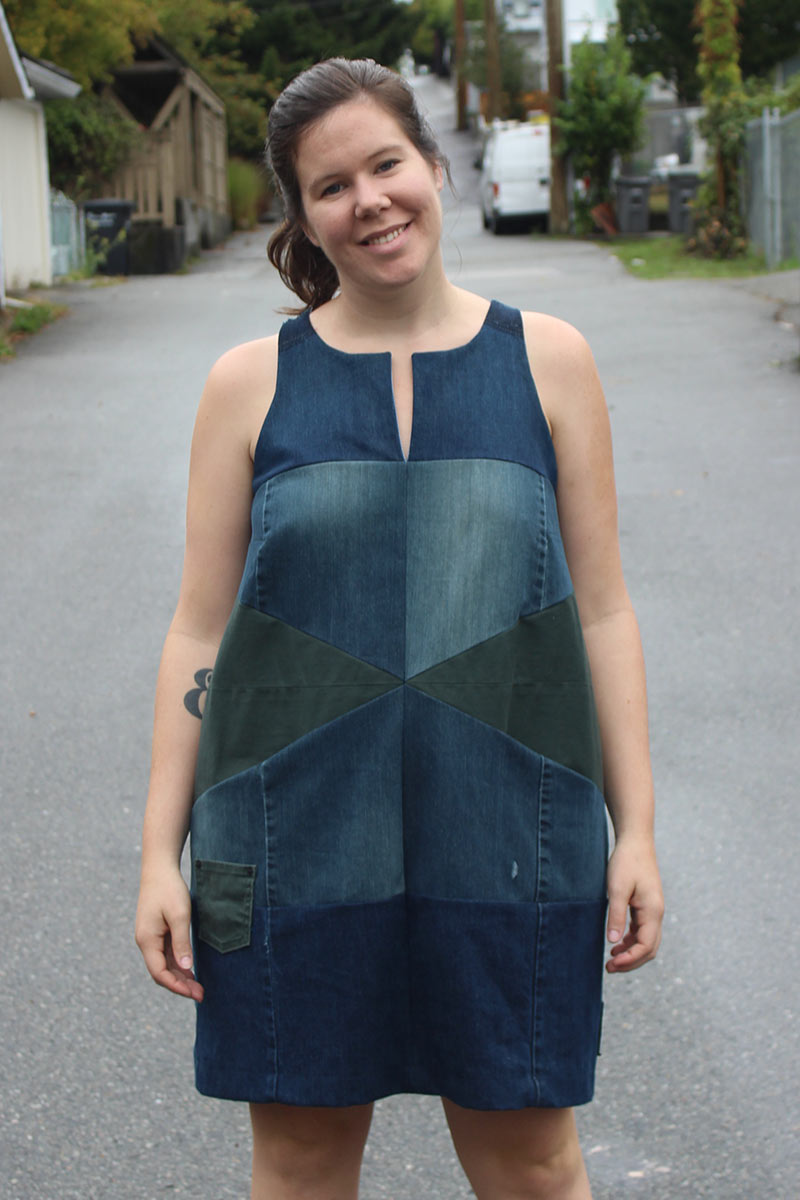 I could not be more pleased with this project, it is easily one of my favourite things I have ever made.  Huge thanks to the Re-fashioners 2016 team and to Portia for organizing it, I love love love my dress and would never have made it without your encouragement! <3
Now, please forgive me while I bombard you with pictures 😛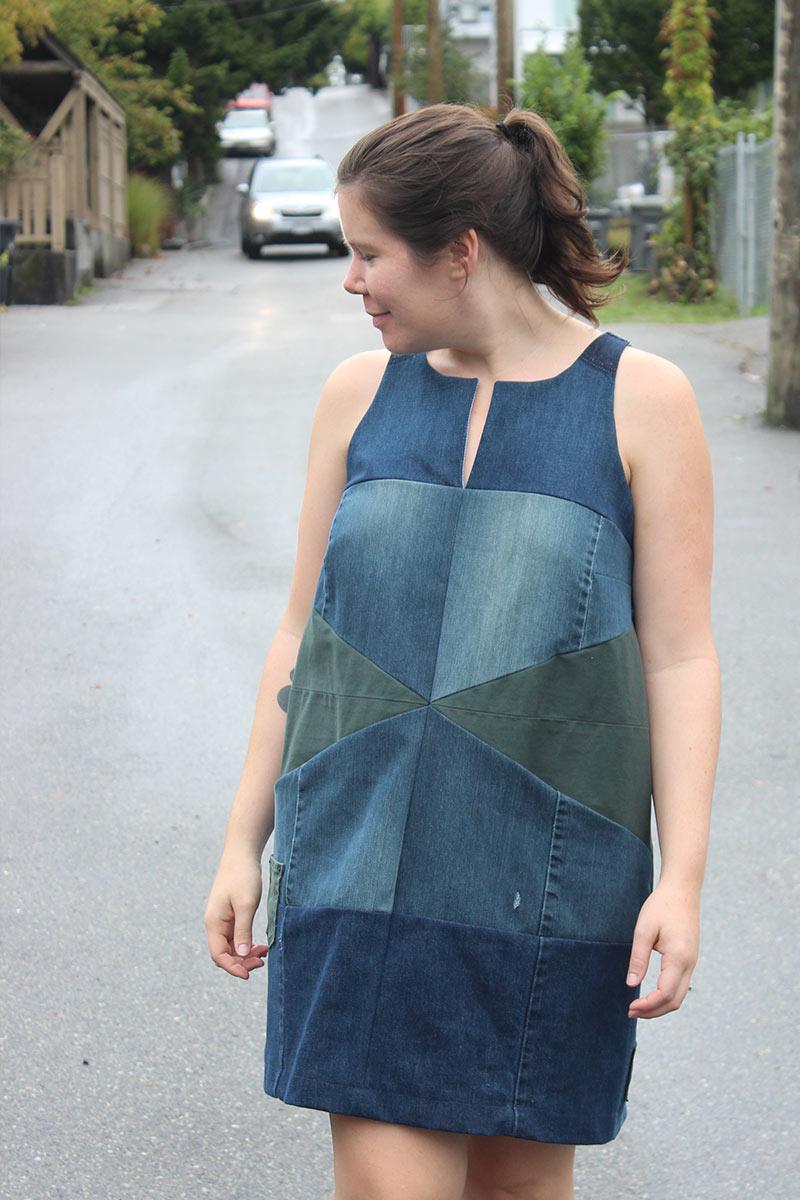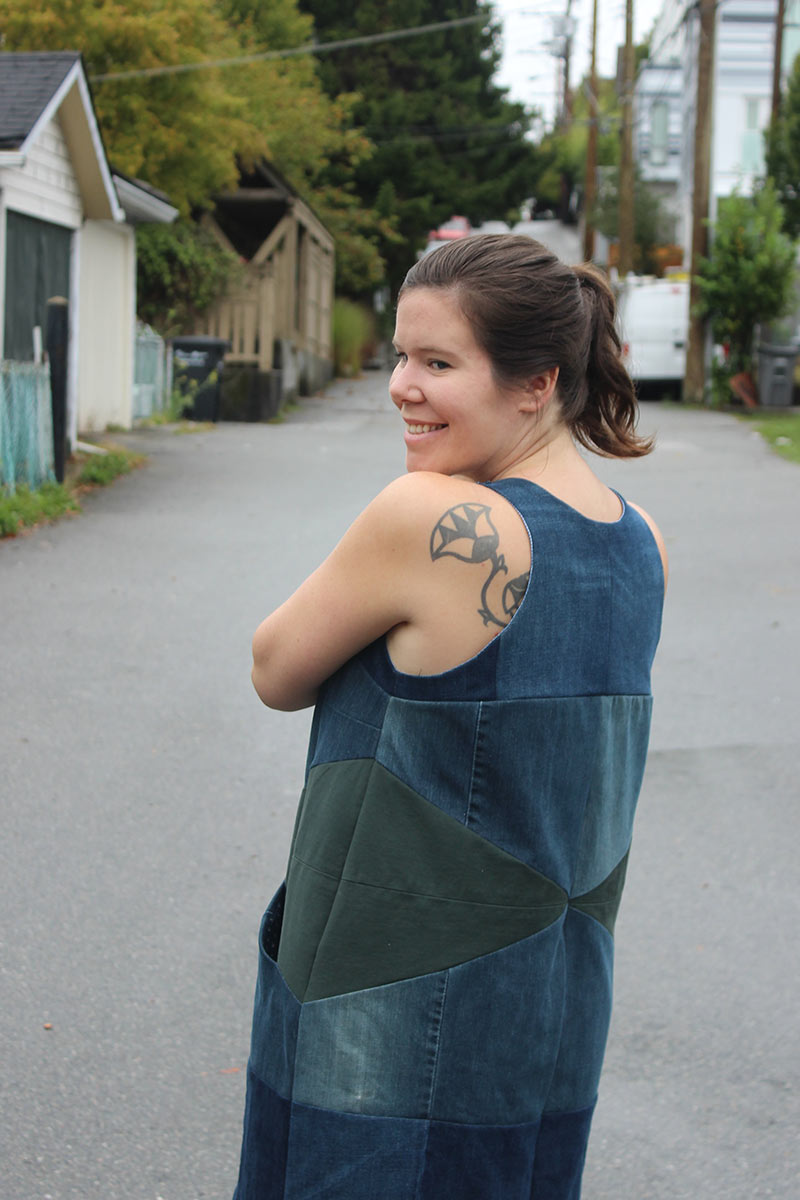 One of the things I knew I wanted to include in my dress design was pockets!  The temptation to use the back pockets of the jeans was strong, but I didn't want to over complicate the design and detract from the nice, clean lines I had going on.  I opted for secret pockets hidden in the diagonal lines, inserted using a basic inseam pocket method.  They ended up being the perfect height and angle, and I made them nice an big (of course).  I also used this darling printed cotton with crossed scissors on it, perfect for the refashioners challenge!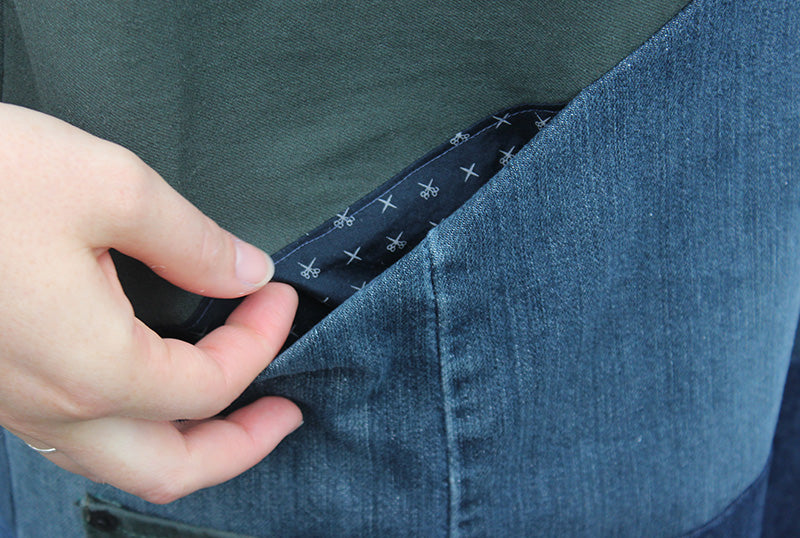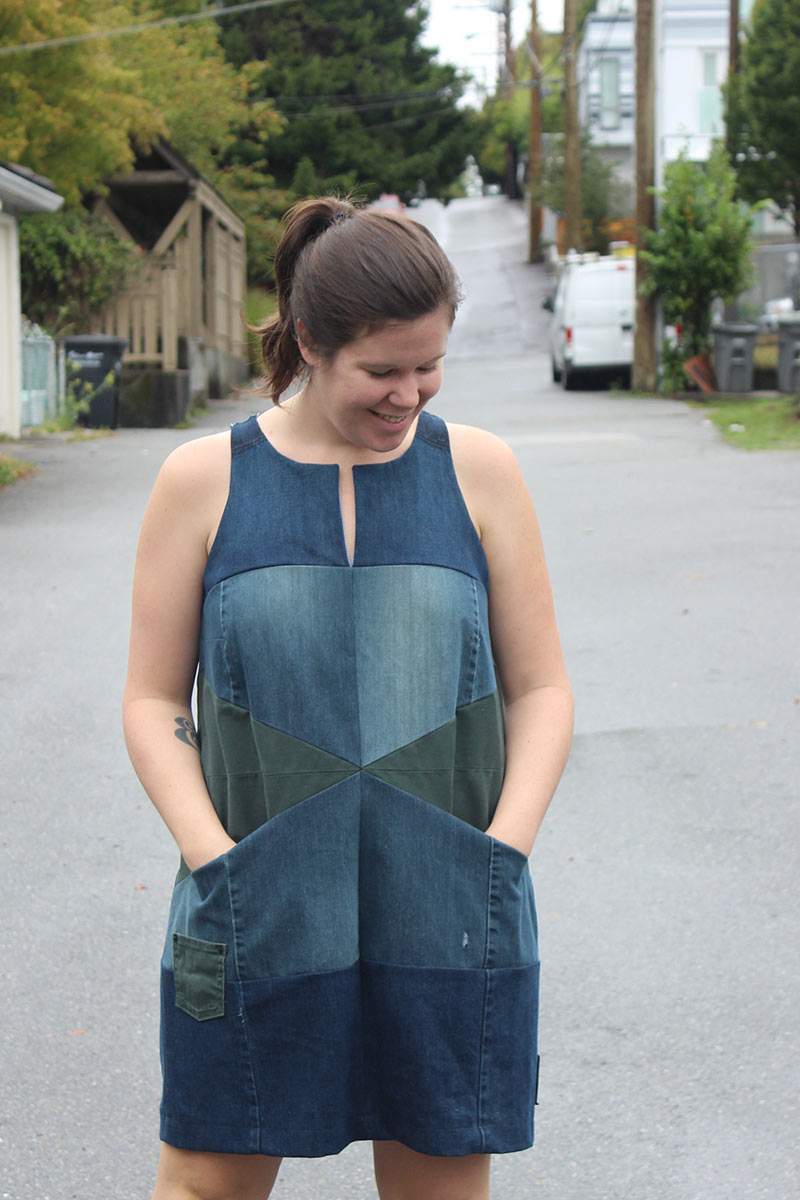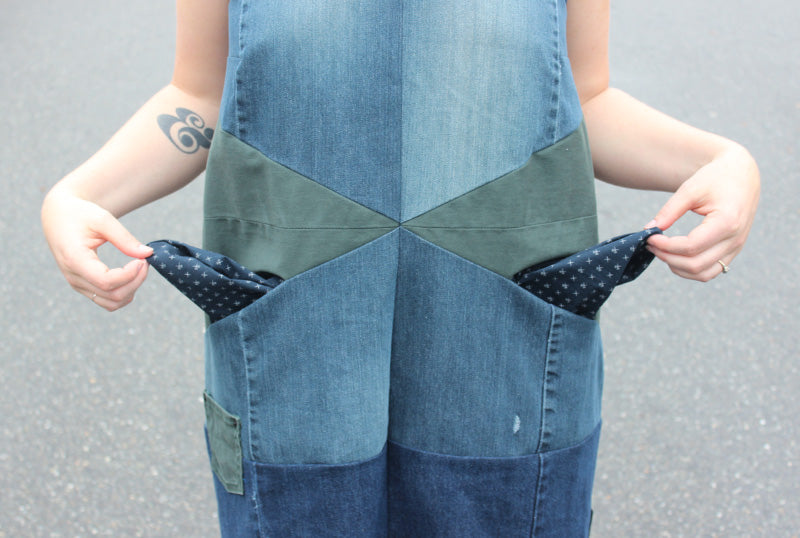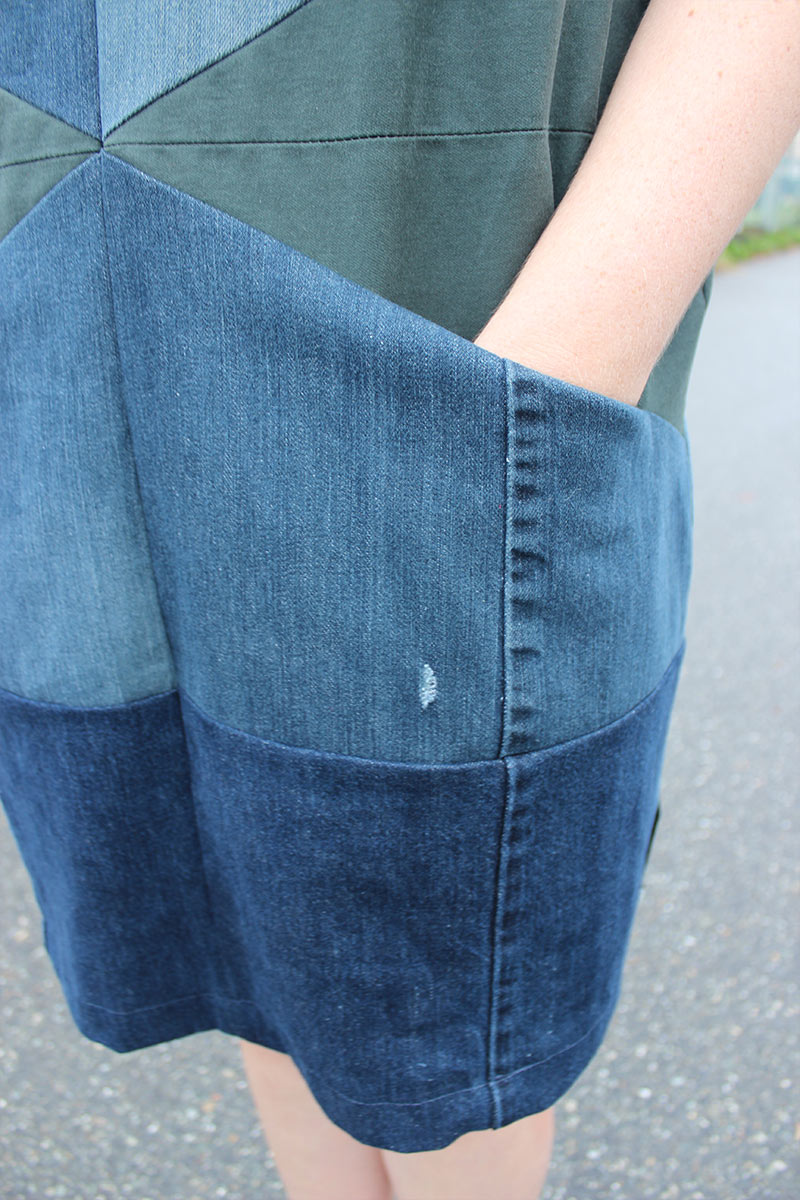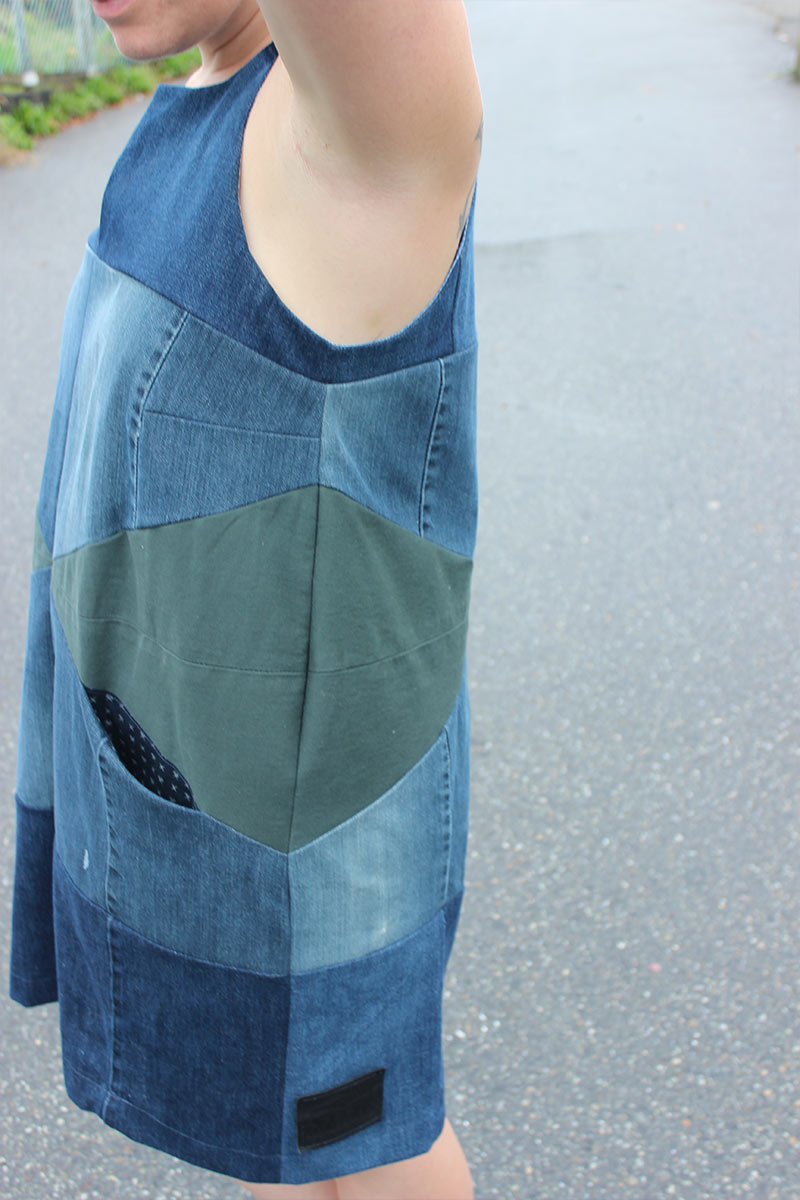 I did include one of the existing pockets from the jeans in my design, a small one from the inside of the front pocket. I had originally planned to use it as a breast pocket (like in my sketch), but after pinning it in various places I liked how it looked lower down.  It is still a good height for my hand and big enough to put a bus pass or something small in.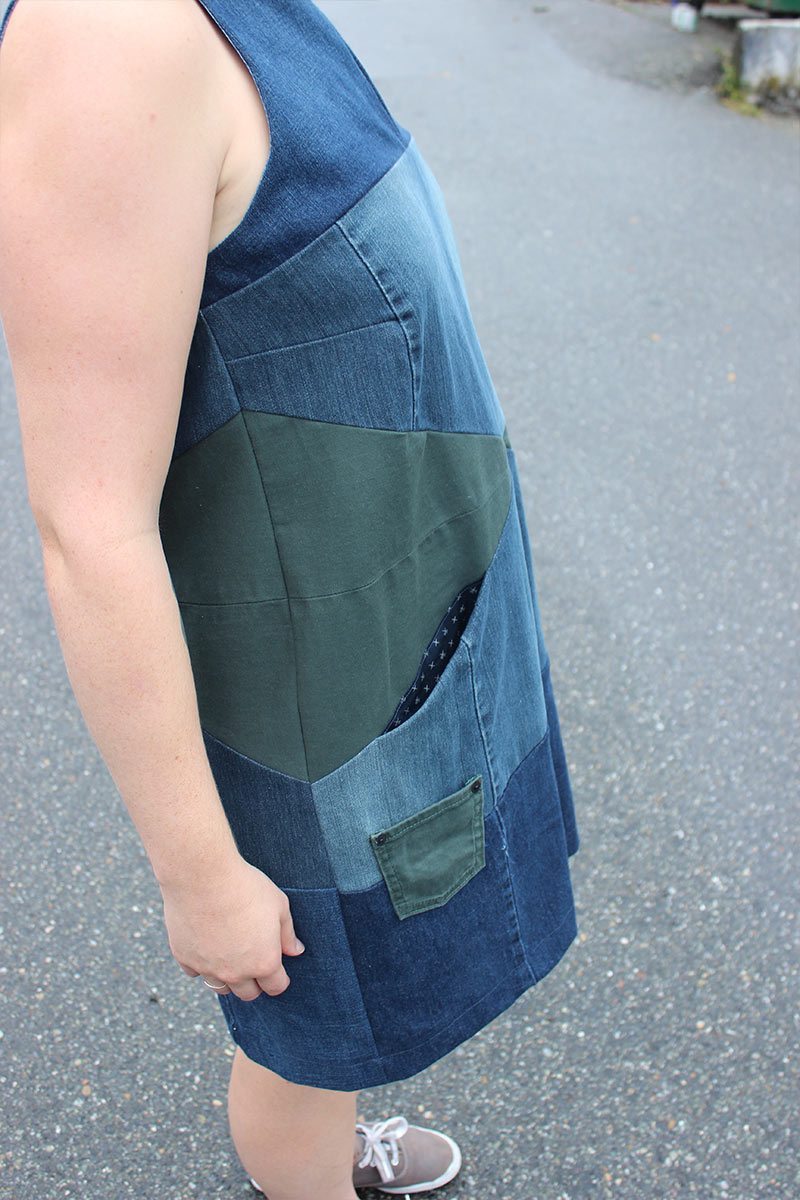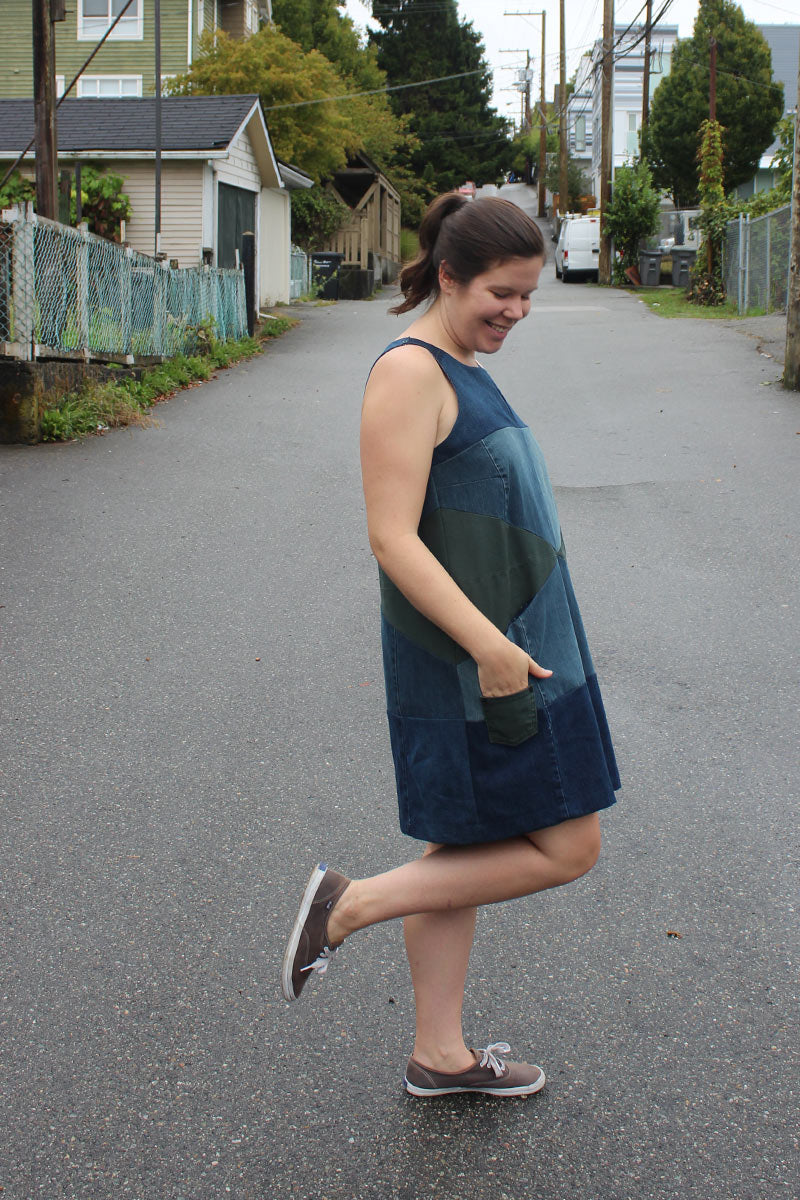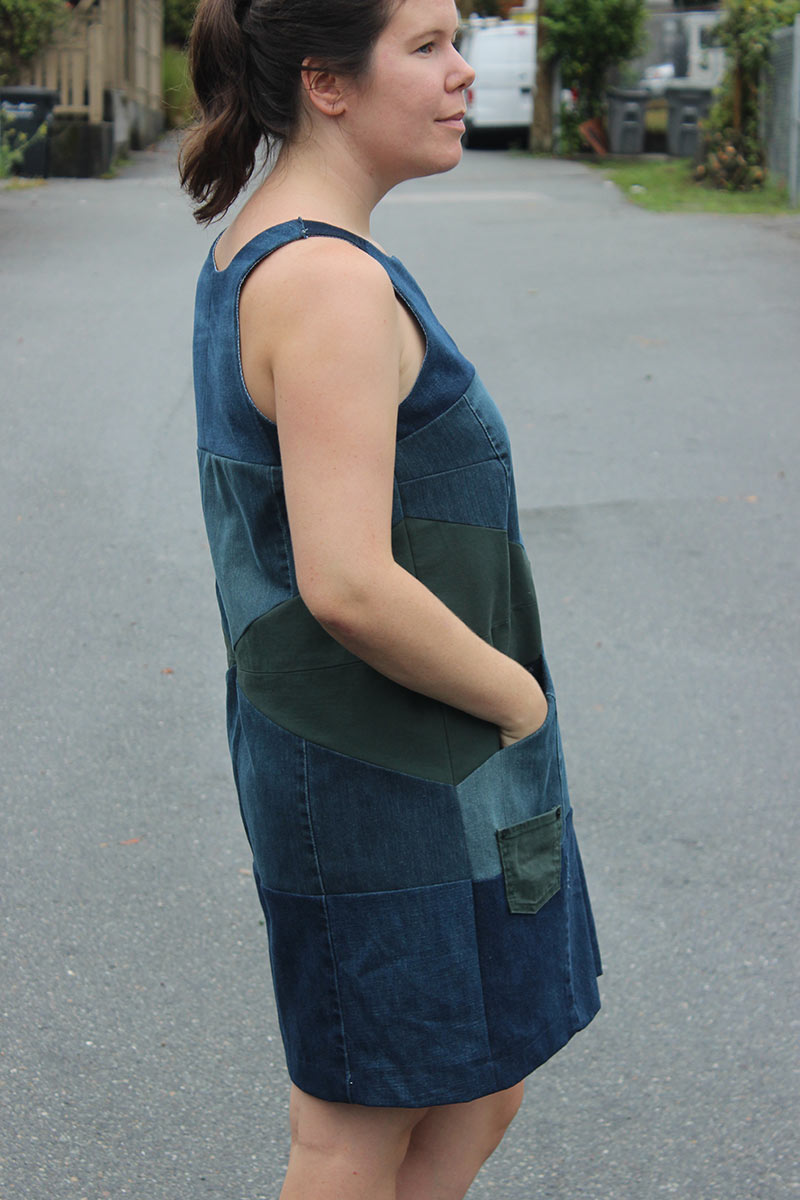 Another little detail I pulled in was the leather Levis patch from the green jeans.  It was a black patch instead of the usual brown, and It looks great on the side of the dress.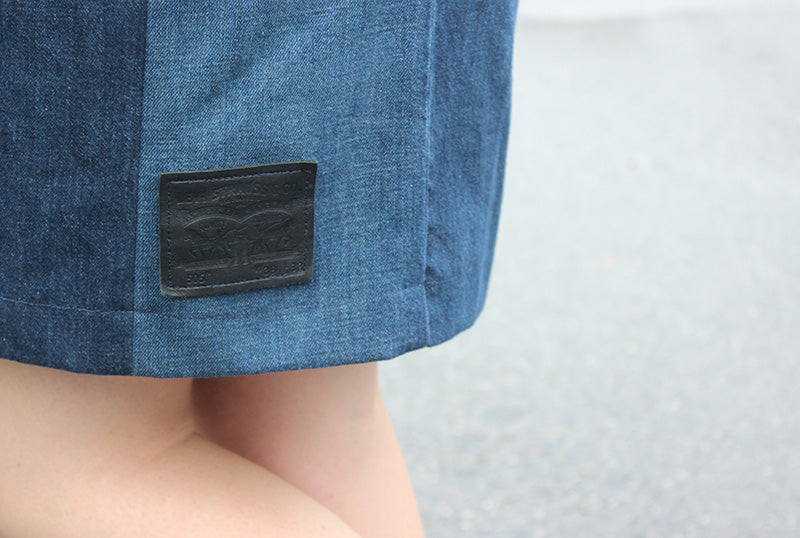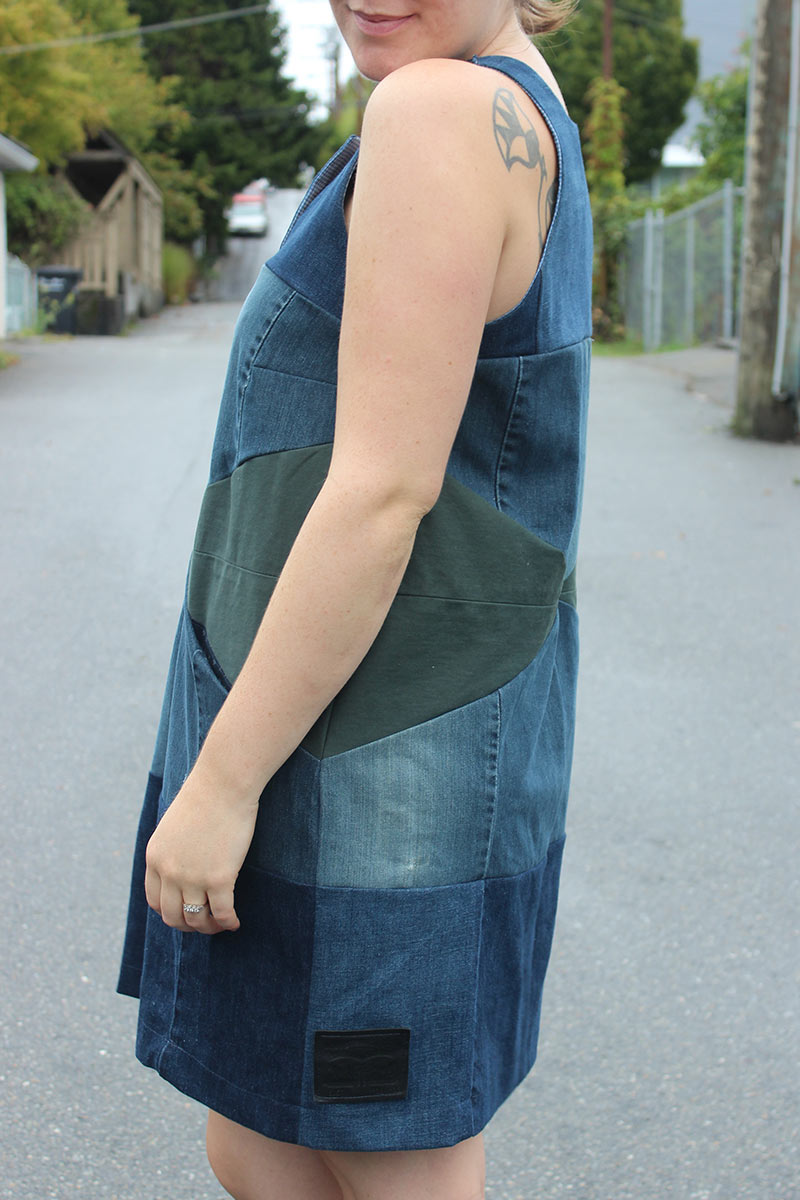 One of the most challenging parts of the dress was the top portion, which I fully lined. It was pieced together from small scraps and included some of the back pocket (once the pocket had been removed).  It was going to be too thick to make the shoulders connect and lie flat, so I decided to show off a raw edge here, my only raw edge in the whole project surprisingly!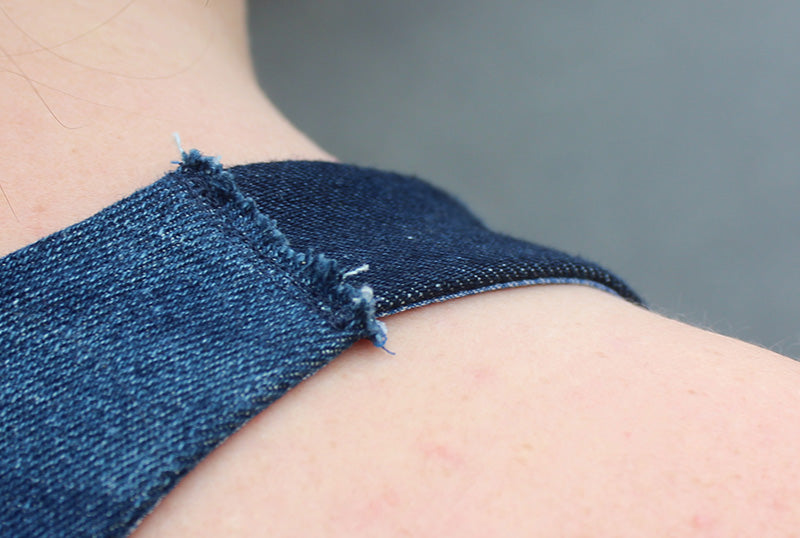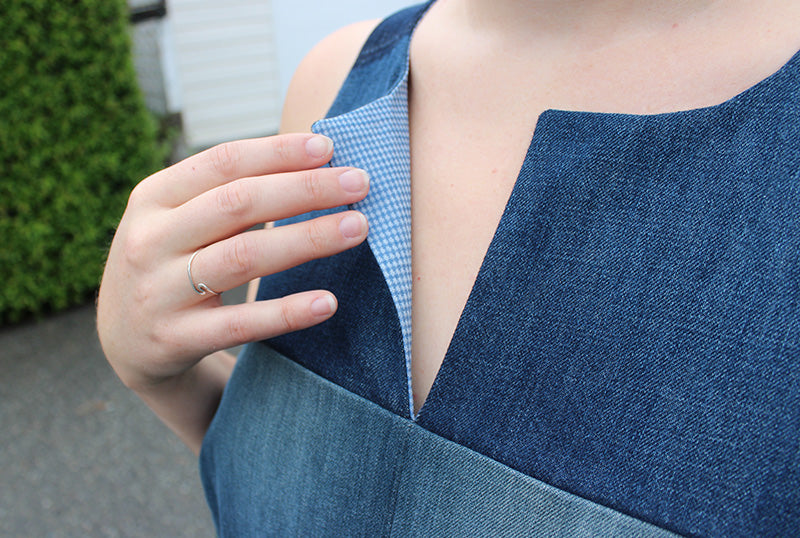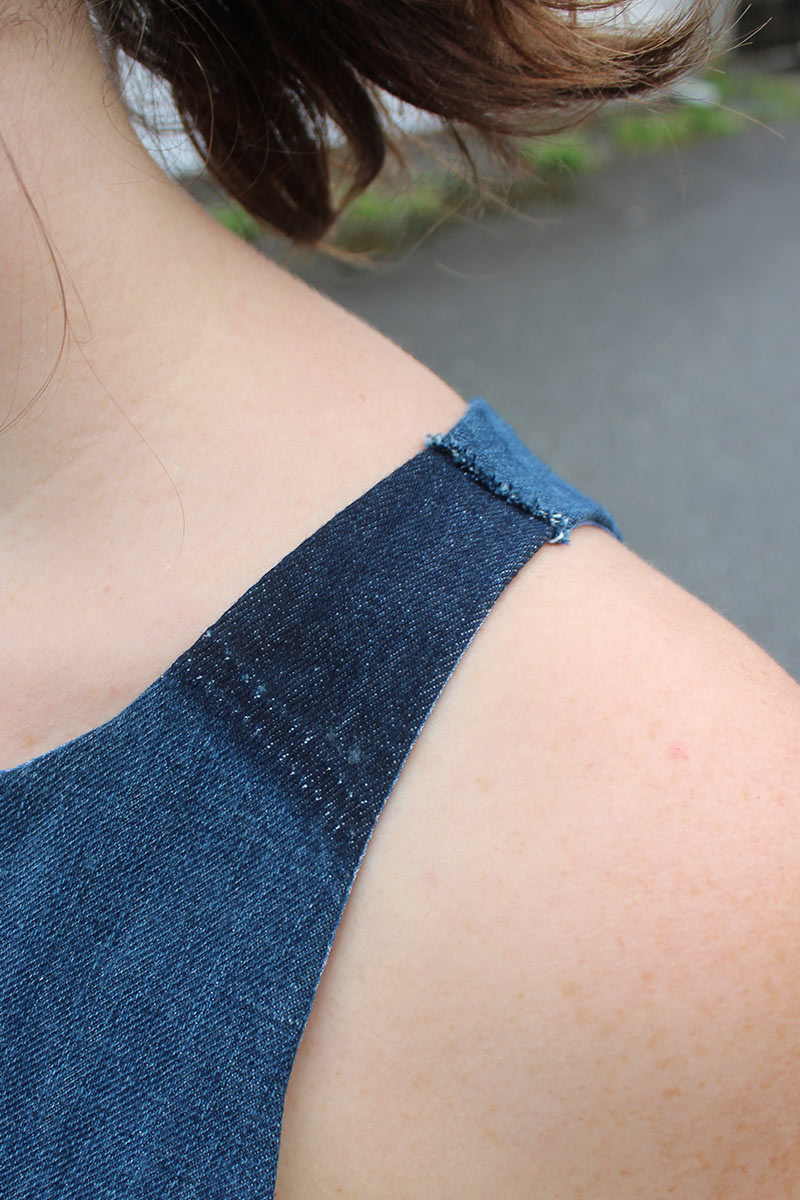 For the hem of the dress I simply serged the edge and turned it up 2″ before sewing.  I considered doing a blind hem but decided it would be OK to have some topstitching on the project….and I was tired….ok, mostly I was tired.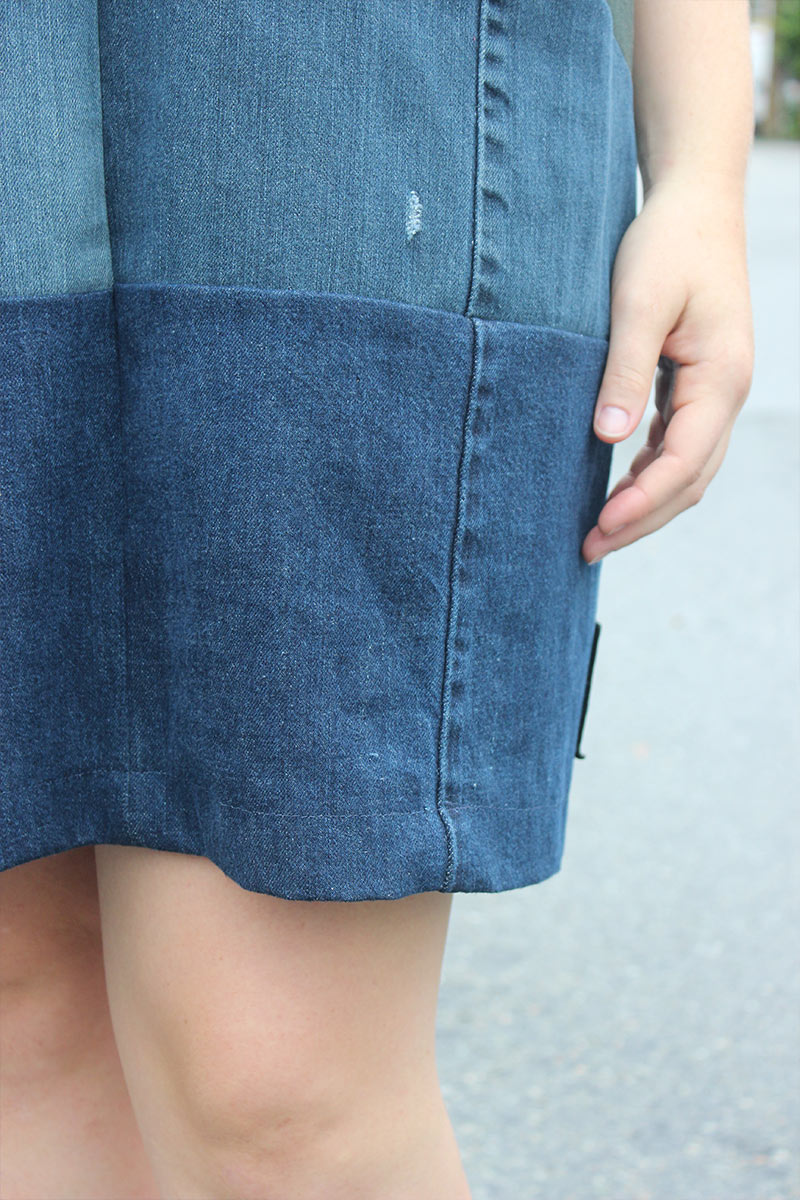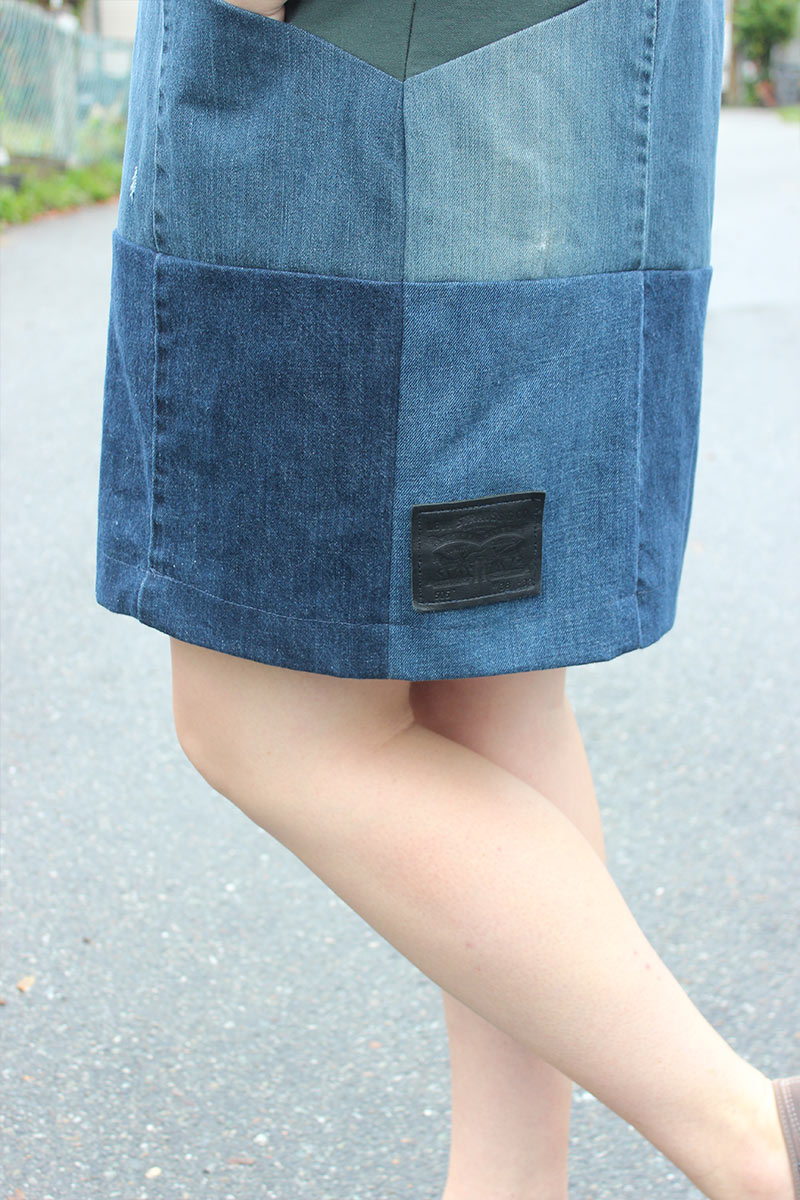 I had a lot of fun wearing my dress inside-out to get some shots of the construction.  We were just outside our apartment, so I didn't have to go far, but I think it actually looks pretty awesome either way, what do you think?