Ahhh the Emerson and Ogden – truly a match made in heaven! Today is an exciting post because Kelli and I are doing a little pattern swap!  Kelli is the amazing designer behind True Bias Patterns, of which I am a huge fan.  I have made almost all of her designs and love her effortlessly chic style. Not to mention her patterns always fit me perfectly right from the get-go, so how can I resist? 🙂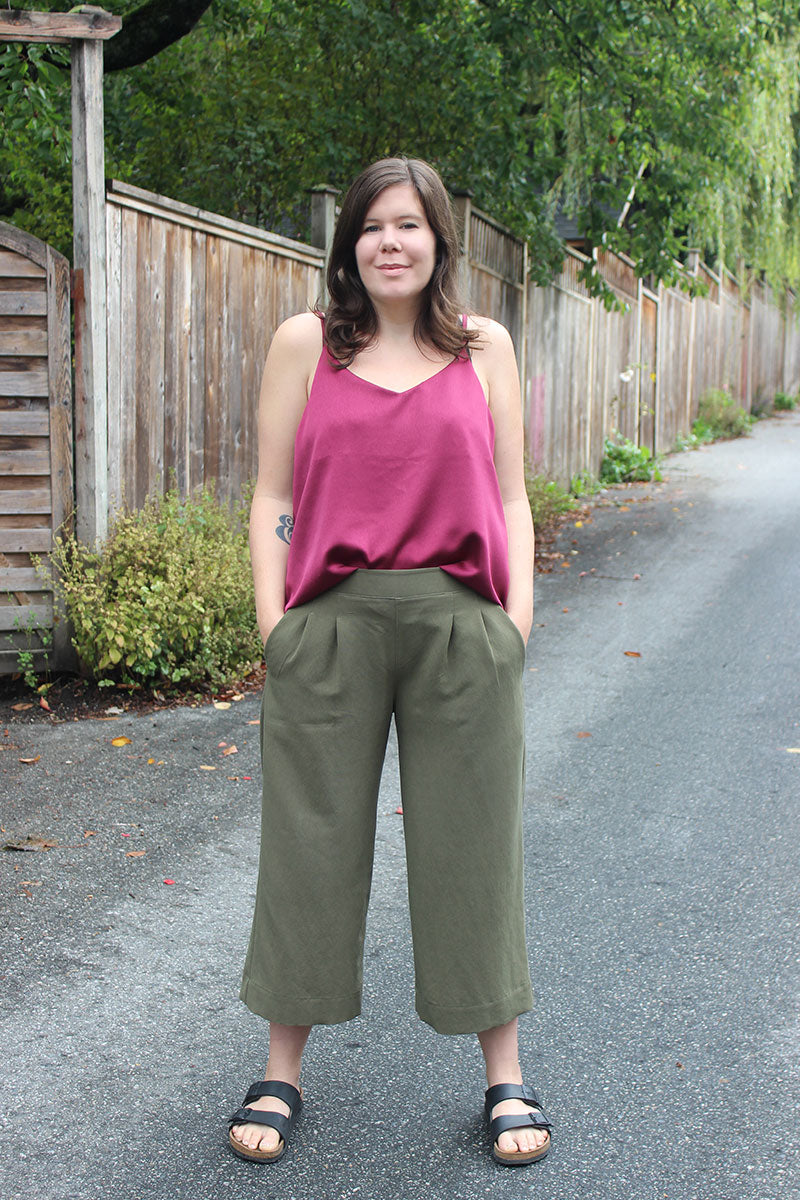 A little backstory first. Kelli reached out to me a couple months ago to give me a heads up about the release of the Emerson pants.  She wanted to connect before the launch because the Winslow Culottes are also pleated, wide legged pants. She didn't want me thinking she had copied my idea or was trying to steal my thunder. Naturally, I was so excited to hear from her and assured her I could never think such a thing, having so much respect for her and her designs. Since I can now fully appreciate how much time and effort it takes to get a pattern out there, I know any similarities in patterns released around the same time are coincidental.  It was really nice to hear from her and I was truly flattered that she took the time to reach out and make sure I wouldn't be bummed out when her pattern was released.  Seriously, how nice is that? I've said it before and I'll say it again, sewing people are the best people <3
Once we had chatted about pattern releases, I asked if Kelli might like to do a swap and get the full experience of each other's designs!  It seemed like the thing to do considering the circumstances, and would be a nice comparison for anyone considering the Emersons or the Winslows. They are actually very different, each offering a unique take on the wide-legged crop pant look. Here is my Emerson and Ogden duo and you can check out Kelli's Winslow Culottes here.
Disclaimer: Kelli and I agreed to swap patterns and give honest reviews on our respective blogs. All opinions expressed in this post are my own.
Emerson Pants
The Emerson's have two small pleats on either side of the front, and a gathered waistband at the back.  The elastic waist makes this design so easy to make and to wear, just pull it on and go!  The pants have slash pockets and can be made as shorts, crop pants, or even full length pants (I think this would be awesome).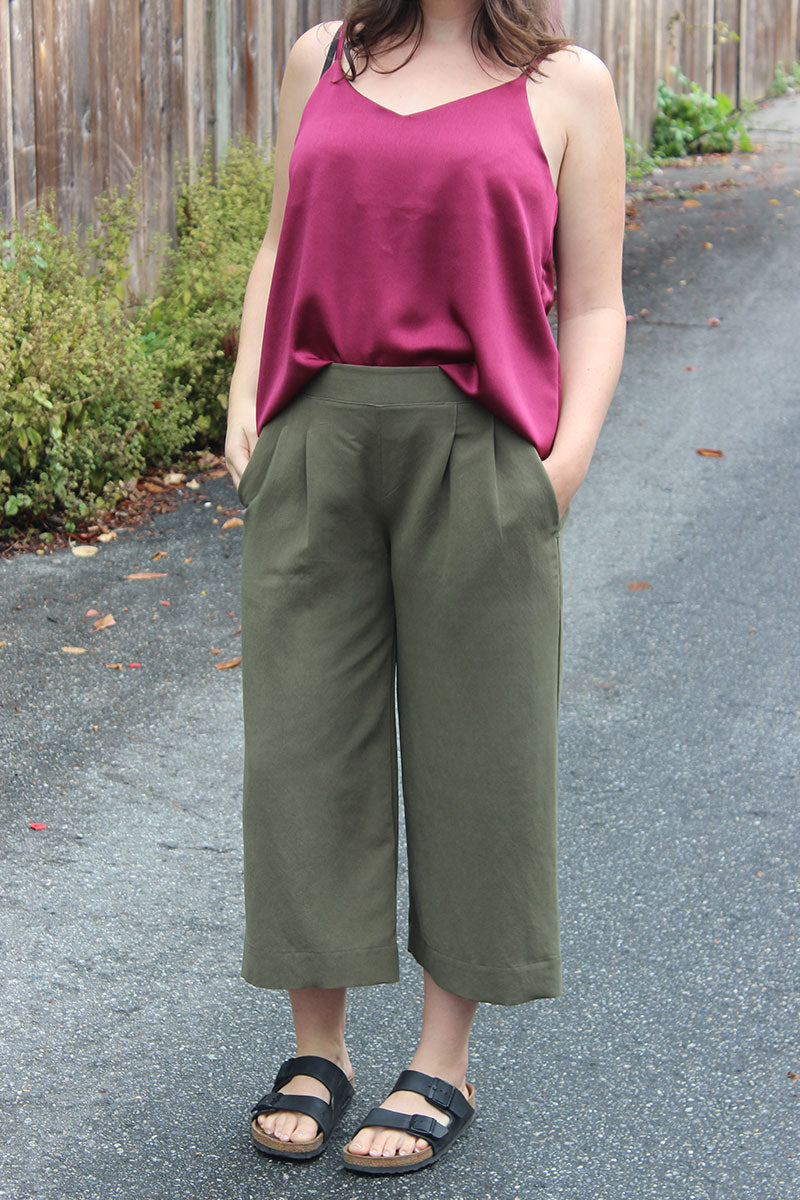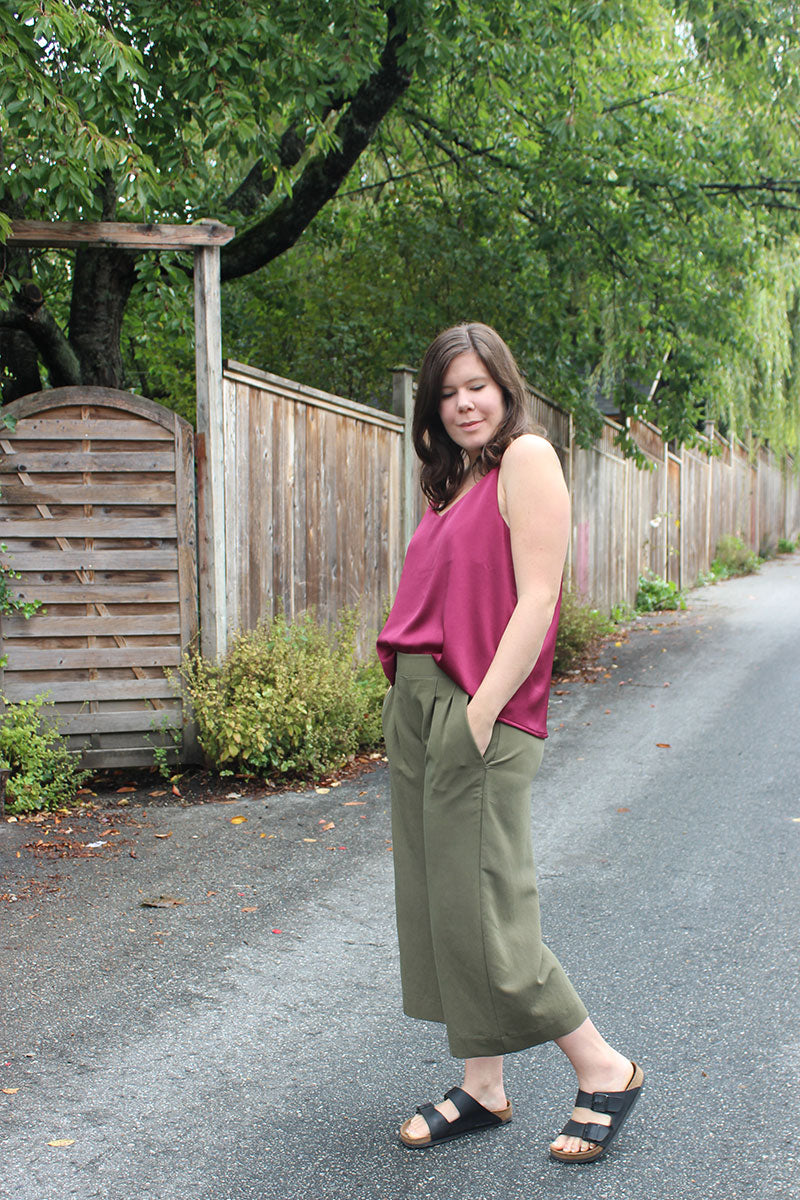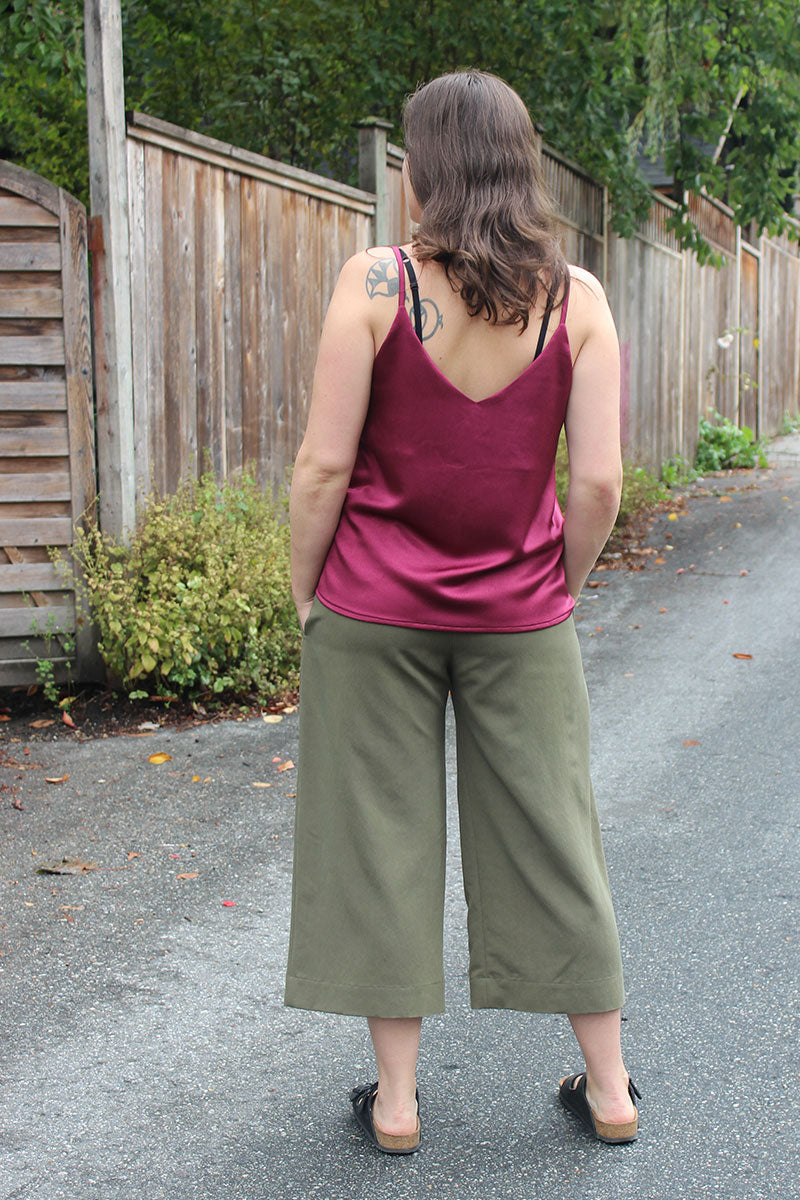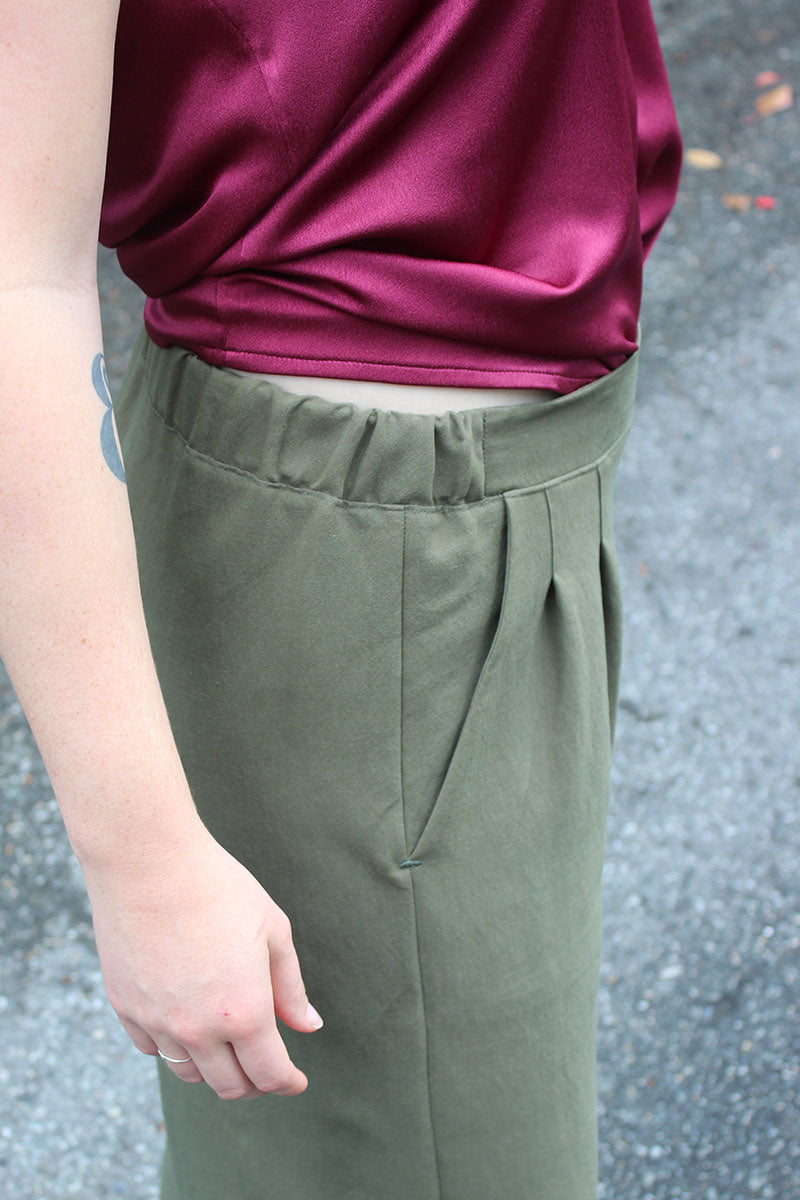 I have to say, I have never owned a pair of front-pleated pants like these ones, and I had written them off as 'not my style', but this pattern has proved that to be wrong!  While the Winslows do feature pleats in front and back, the finished fit is more skirt-like.  Now I see that the pleated front in this style of pant leaves room for your hands to be in your pockets and it makes the pants very comfortable to move around in.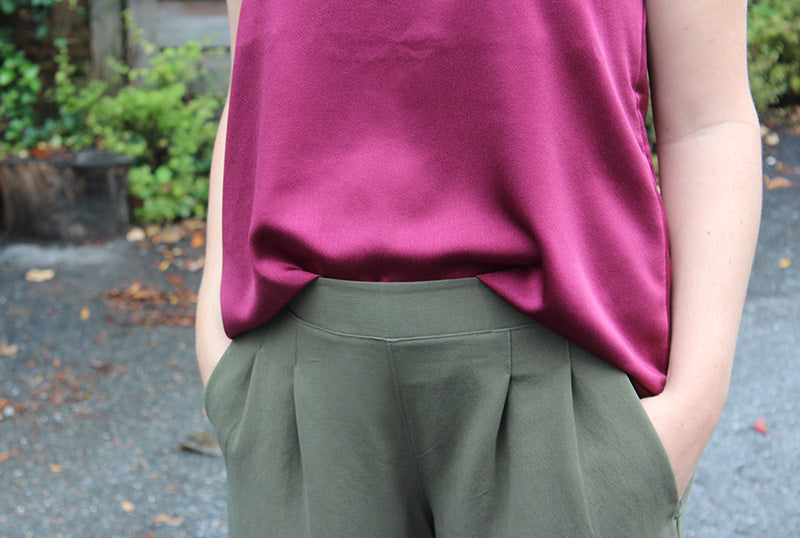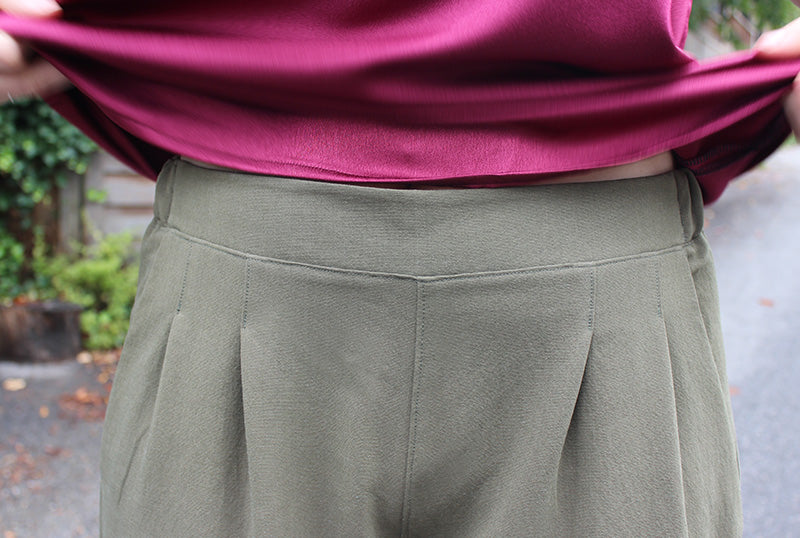 These Emersons are made out of a tencel twill, which is one of my favourite fabrics.  It has a soft feel and an amazing drape, while still being a medium weight, perfect for this pattern design. It doesn't wrinkle badly, either, so it holds up when worn all day.  I got this fabric at Dressew here in Vancouver, but you can find some at Blackbird Fabrics in blue and navy at the moment.  Seriously, it is a dream to sew, you should try it!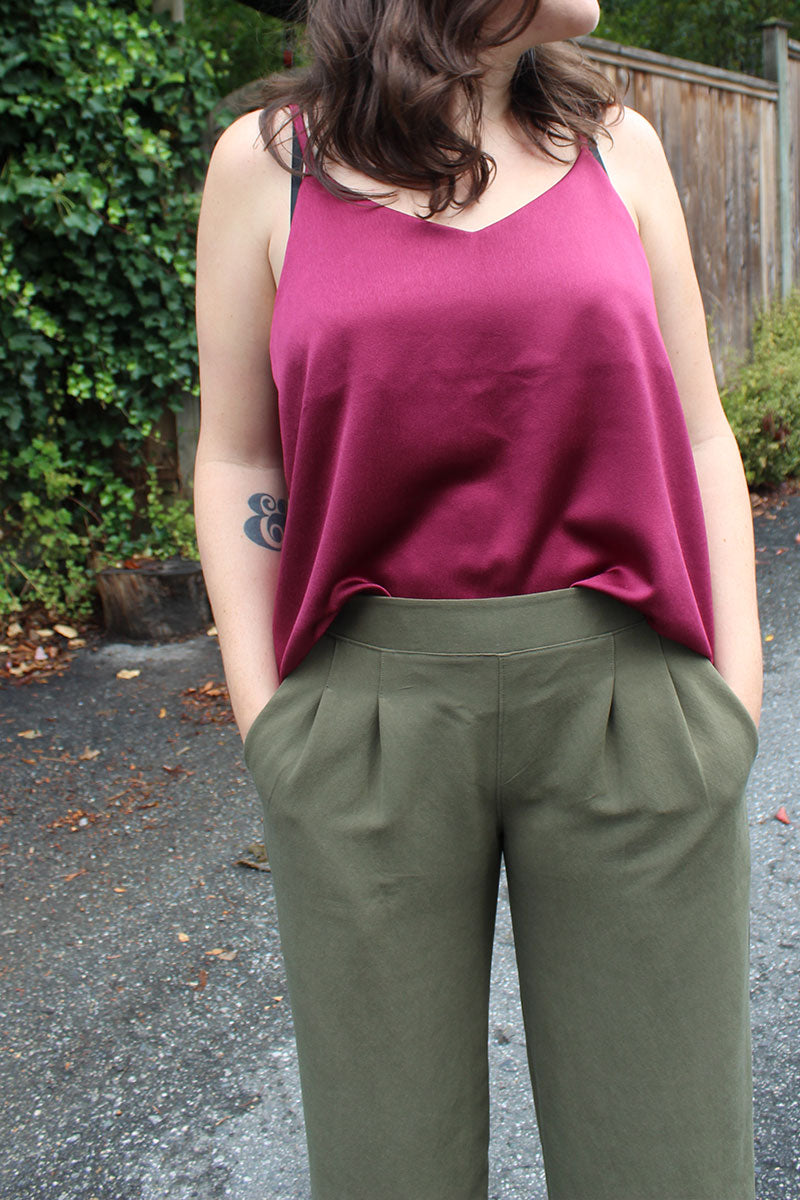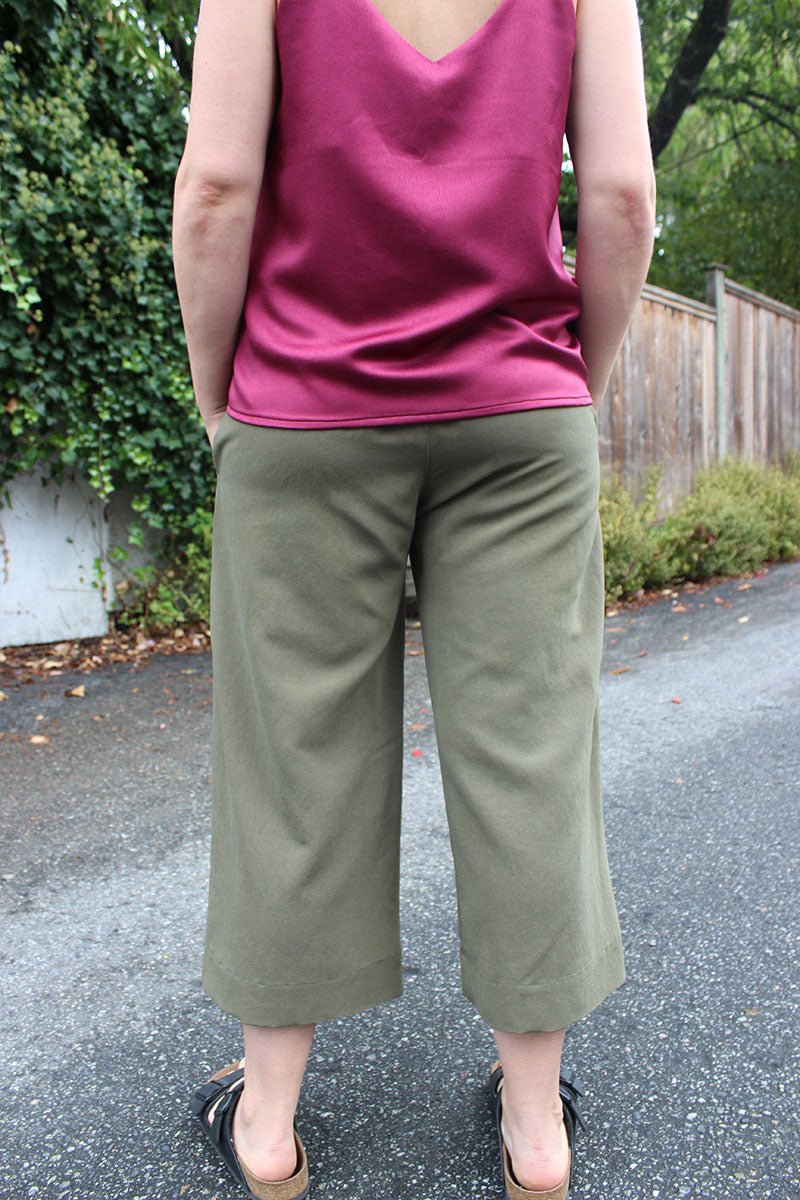 The other main differences between the Emersons and Winslows are the waistband height and the leg width.  The Emersons sit just below the natural waist and the elastic hugs around the back beautifully. The Winslows sit on the natural waist, draping down over the hips to give the illusion of a pleated skirt.  Both patterns feature a straight, wide leg, but the Winslows are about twice as wide as the Emersons. In short, they are both awesome, and offer two very different looks! Don't forget to check out Kelli's Winslows on the True Bias blog!
Ogden Tank
I made an effort this past summer to turn my larger fabric scraps into summer tank tops.  I love simple camisoles because you can throw them on with jeans and look dressed up or down with little effort.  They also make great layering pieces in the cooler months, so they are a definite wardrobe staple for me. Between the Ogden and the Saltspring tank hack I have made previously, I prefer the V-cut of the Ogden.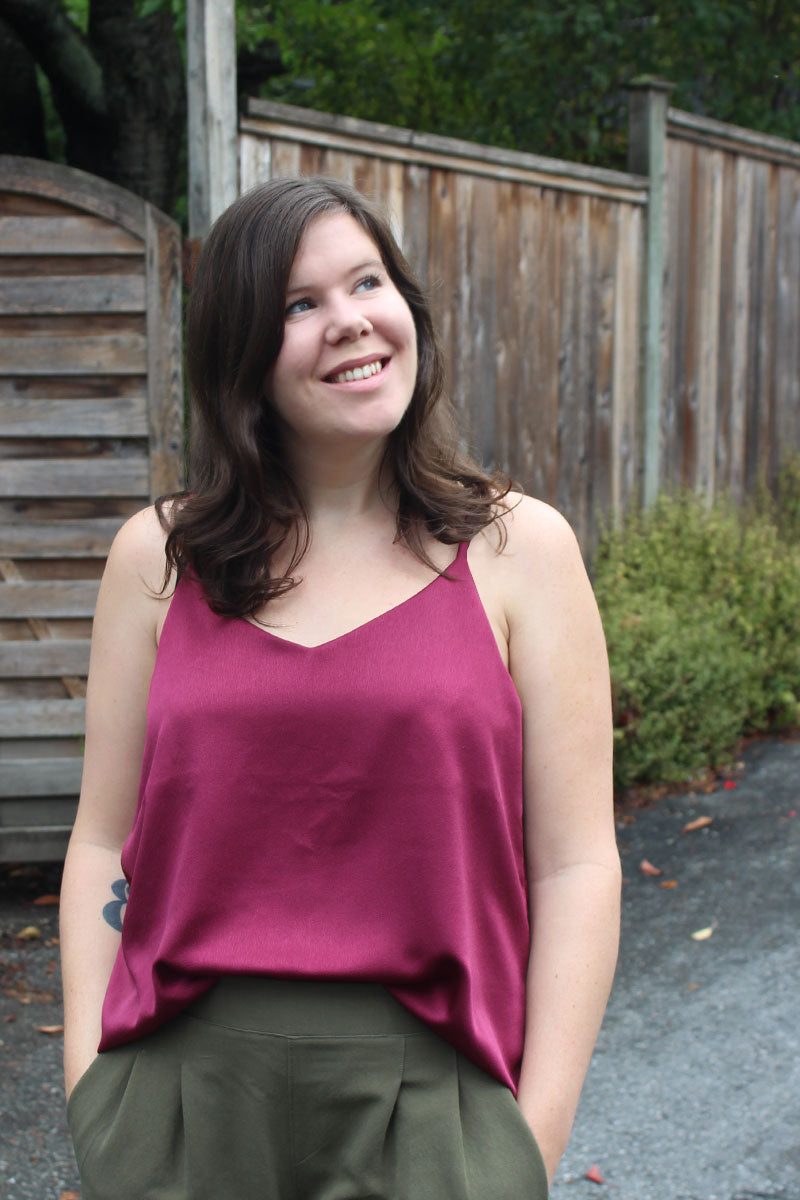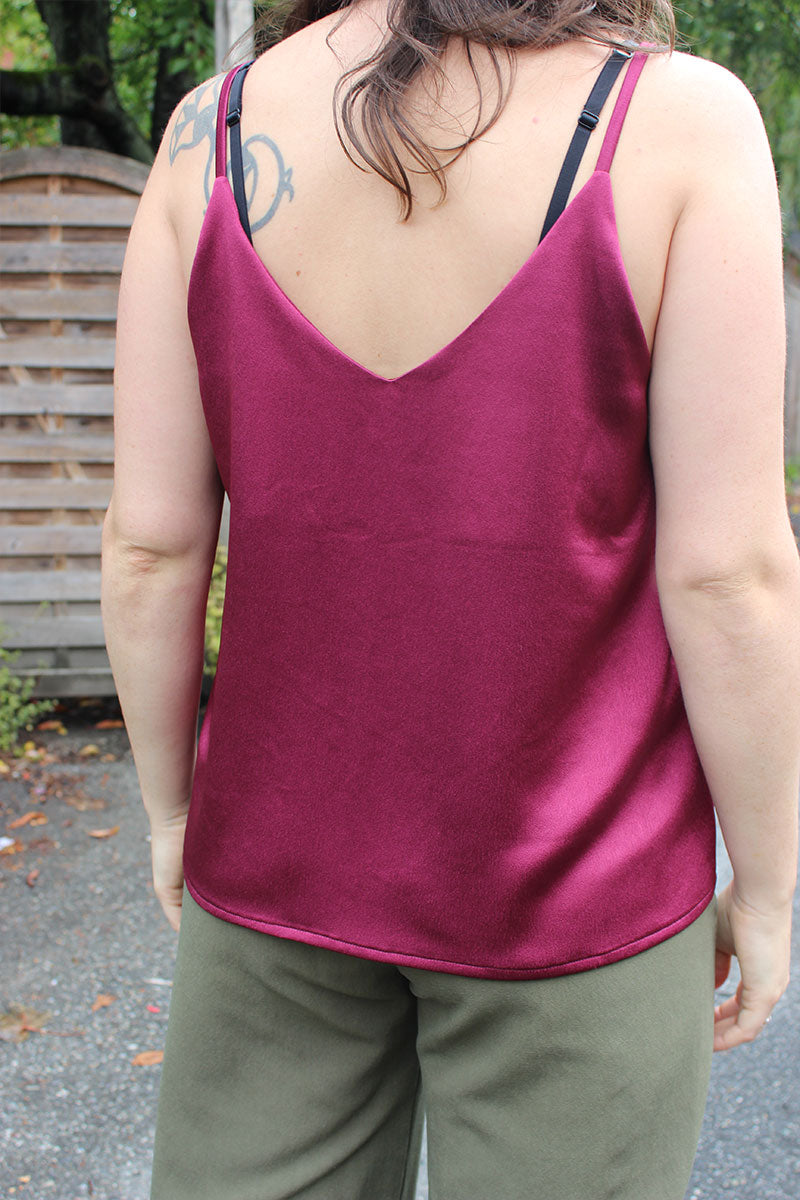 The Ogden is the perfect tank top for me, with it's loose, simple shape and v-neck in the front and back.  This version was made from a scrap of satin I picked up at an Our Social Fabric sale.  It may be a poly blend, but it certainly doesn't have any of the sticky, plasticy feel of a poly, and it drapes and moves in a lovely way.  The colour is also one of my favourites, so it was an obvious choice for this project.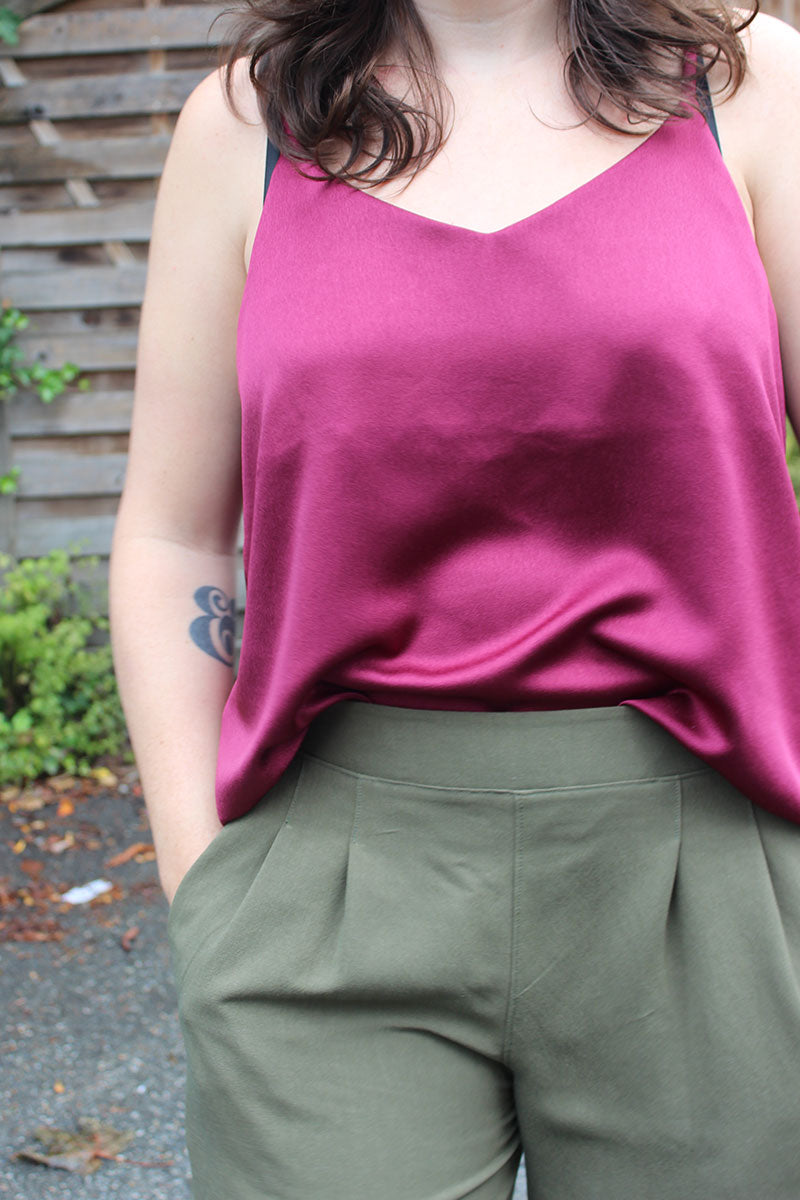 I really like the combined look of the silky deep magenta Ogden with the matte army green Emersons here.  I usually pair a loose top with tight bottoms and vice-versa, but I was pleasantly surprised at the overall look when I tried it on. I particularly like the Ogden tucked in at the front, showing off the Emersons pleated details. Kelli wore it like this in her product photos, so thanks to her for the inspiration!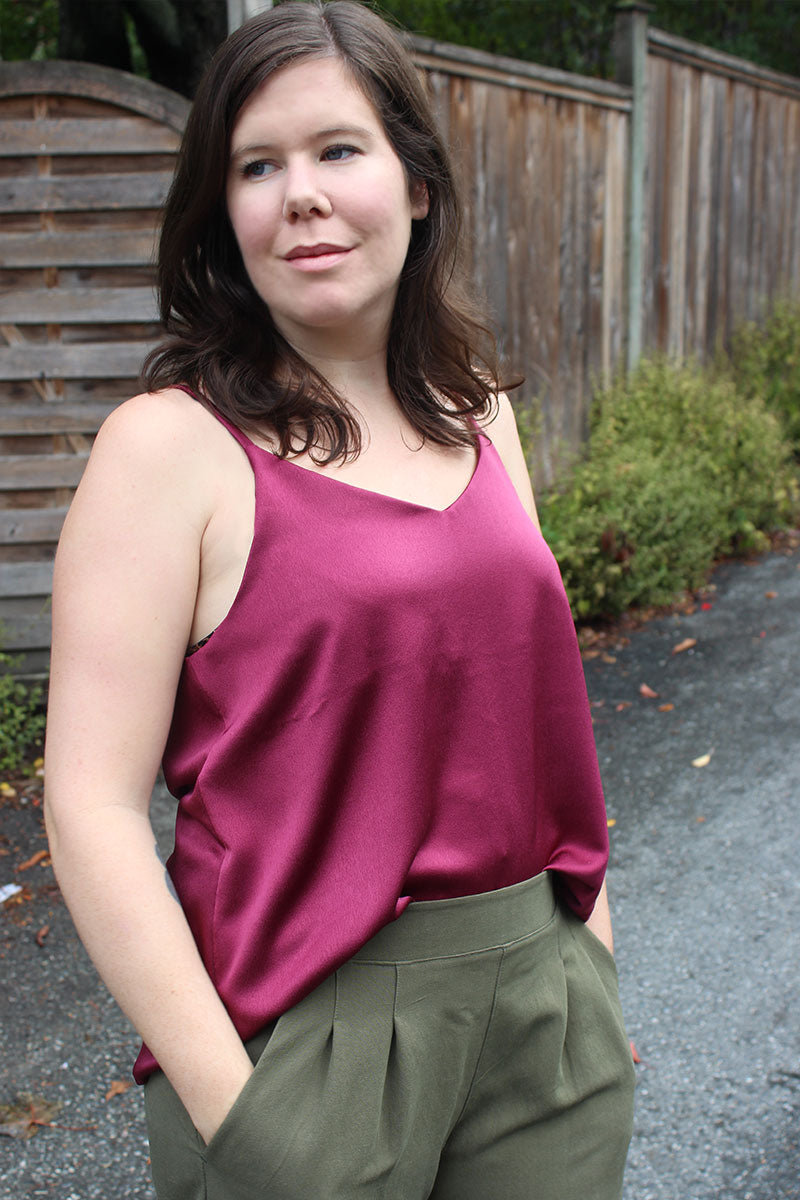 Thanks again to Kelli from True Bias for reaching out and agreeing to swap with me! You can find the Emerson crop pants and Ogden Tank in her shop and you can check out her Winslow Culottes on her blog!