Hey, makers! This week is all about making the pajamas of my dreams for me.  I posted this picture on Instagram of my fabric choices for the project, and I could not be more excited about how it looks so far!  The pants are going to be made from the Mesa Lawn and the top is going to be made from some batik cotton/rayon that I got in Indonesia 10 years ago (10 years!).  Stashes are full of amazing memories, aren't they?  I can't wait to share them with you. Is anyone else making some new fall loungewear?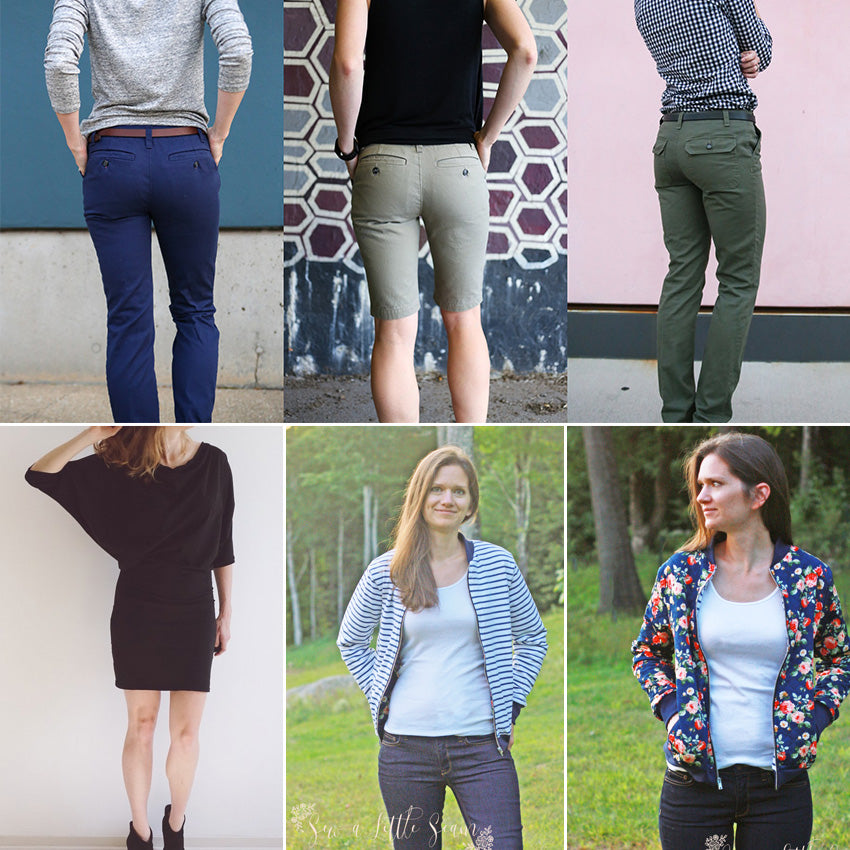 News (Top row: Alina Design Co., bottom right: Sew a Little Seam, bottom left: Charlotte Kan)
Alina Design Co. released two new expansion packs so you can turn your Chi-town Chinos into capris or full length pants!
This reversible bomber jacket pattern from Sew a Little Seam is so cool!
Charlotte Kan released the Elskan dress, a simple batwing dress, perfect for layering in the fall.
Makes
The stripe placement on this dress from Grosgrain Green is awesome.
I was completely blown away by two denim refashions this week. This faux-shearling vest from Carissa Knits is mind blowing, and this panelled dress from Restless Grace fits like a dream.
How much fun is this jungle dress from Sew This Pattern?!
I am really interested in making a moto-style jacket this fall. Check out this Hey June Evergreen jacket from Girls in the Garden!
Gray All Day also showcased Mimi G's moto jacket on the blog this week.  That whole outfit is just perfect!
The mustard colour of this Zinnia skirt on Fancy Tiger Crafts makes me so happy 😀
Did you guys get a chance to see Kelli's Winslow Culottes?  I have some serious fabric envy…
Last but certainly not least, don't miss this Landgate Jacket on the Thread Theory blog.
Resources
By Hand London demonstrates how to make your own pashmina.
Learn how to finish a neckline facing three ways from Megan Nielsen.
I am so smitten with this pointy coat pocket tutorial from Marilla Walker.
Are you guys joining in the Camp Workroom Social Pajama Party?  Learn how to sew piping here.
A very nice tutorial on how to sew bias binding details from Allspice Abounds.
Inspiration
These beautiful little embroidery details from Nahtzugabe are so neat! I need to add some more finishing touches like this to my projects.