Let's focus on happy news today, shall we?  I am sending all the wonderful Americans I have met over the years lots of love, and any woman out there who feels how I feel today, well, I'm sending you a bunch extra. When times are uncertain and people are scared, the answer is not to point fingers and place blame, but to support and care for each other and for ourselves. We will get through this.  Just keep sewing 🙂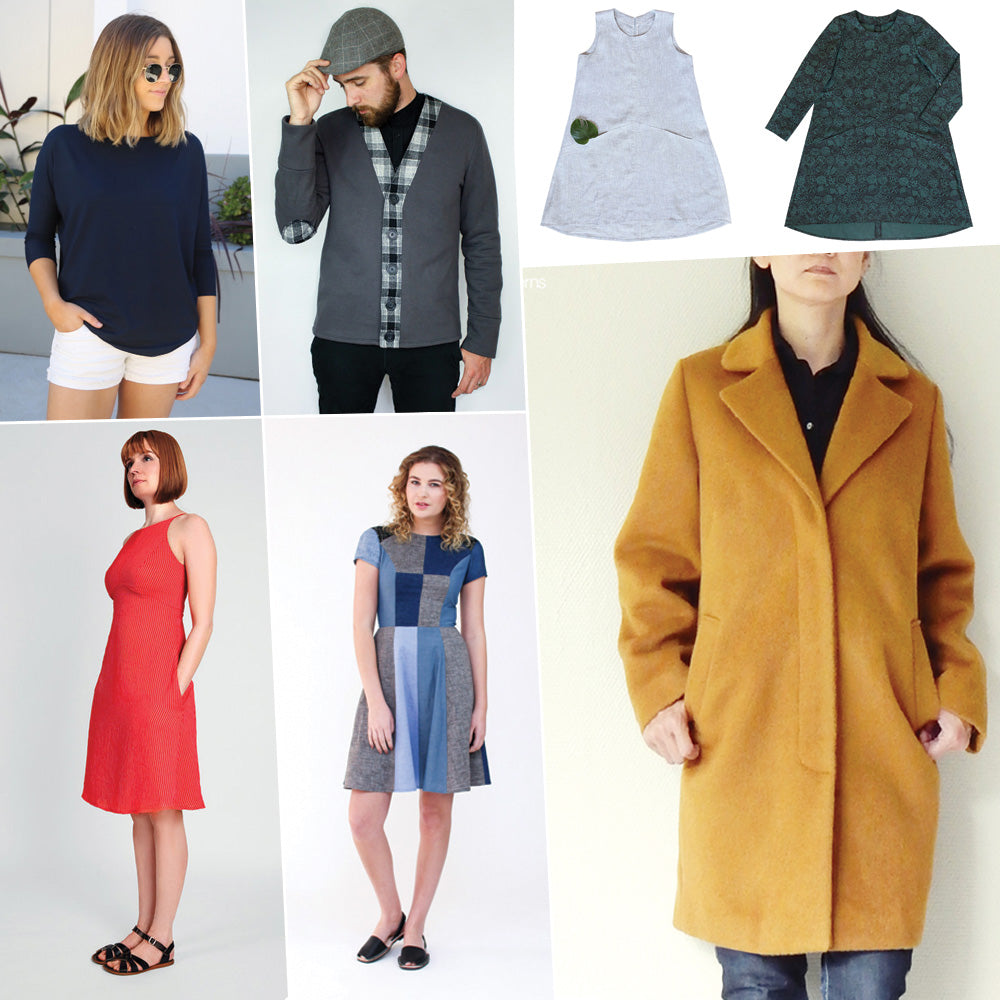 News (clockwise from top left)
Tessuti released the Isla top pattern.
Jennifer Lauren Vintage released her first menswear pattern, the Auden cardigan.
Grainline Studio released the Farrow dress.
Waffle patterns released another coat pattern and it's stunning (as always). Check out the Bamboo coat here.
Megan Nielson's new patchwork dress pattern, Karri, is blowing my mind.
In The Folds released the Acton dress (I love this dress – mine is going to be on the blog on Monday!)
Makes
A very cute yellow jacket from Rue Des Renards.
Jolies Bobbins made the the Leo pants from her new book! I love this style.
This black and white dress from Hanne Vandersteen is a real stunner.
This little black inari tee dress from The Doing Things Blog is perfection.
I love jacket making season!  Check out this cozy Tosti jacket from Peneloping.
A lovely striped Karl dress from Fabric Tragic.
This cascade front coat from Rainy Day Parent is so pretty!
I want to steal this vintage-inspired dress from Susan Young Sewing.
Don't miss this amazing pink coat from Bee Made.
Did you all see Mimi G's velvet dress?  It is seriously awesome.
Resources
The crafty pin-up shows us how to sew heart-shaped pockets.
Check out this great video from In House Patterns on how to do a sway back adjustment three ways.
Do you love podcasts? I know I do! Check out this roundup of all the sewing podcasts from The Last Stitch.
Inspiration
Every once and awhile someone in the sewing community works on a huge project and shares the progress, which I love!  Sallieoh has completed the undergarments for her traditional victorian era costume, and they are SO GOOD! Check out her full post for lots of sewing eye candy.