Happy Wednesday, makers! Are you all getting excited for black Friday sewing sales?! I know I am 🙂 I have already seen a few open up and I expect many more over the weekend.  In addition to excitement for new sewing patterns and fabric, I've got my December Holiday schedule almost planned out completely and it is looking like fun! Now I just have to whip up party dresses for the occasions! Check out this post from Rachel at House of Pinheiro for some inspiration.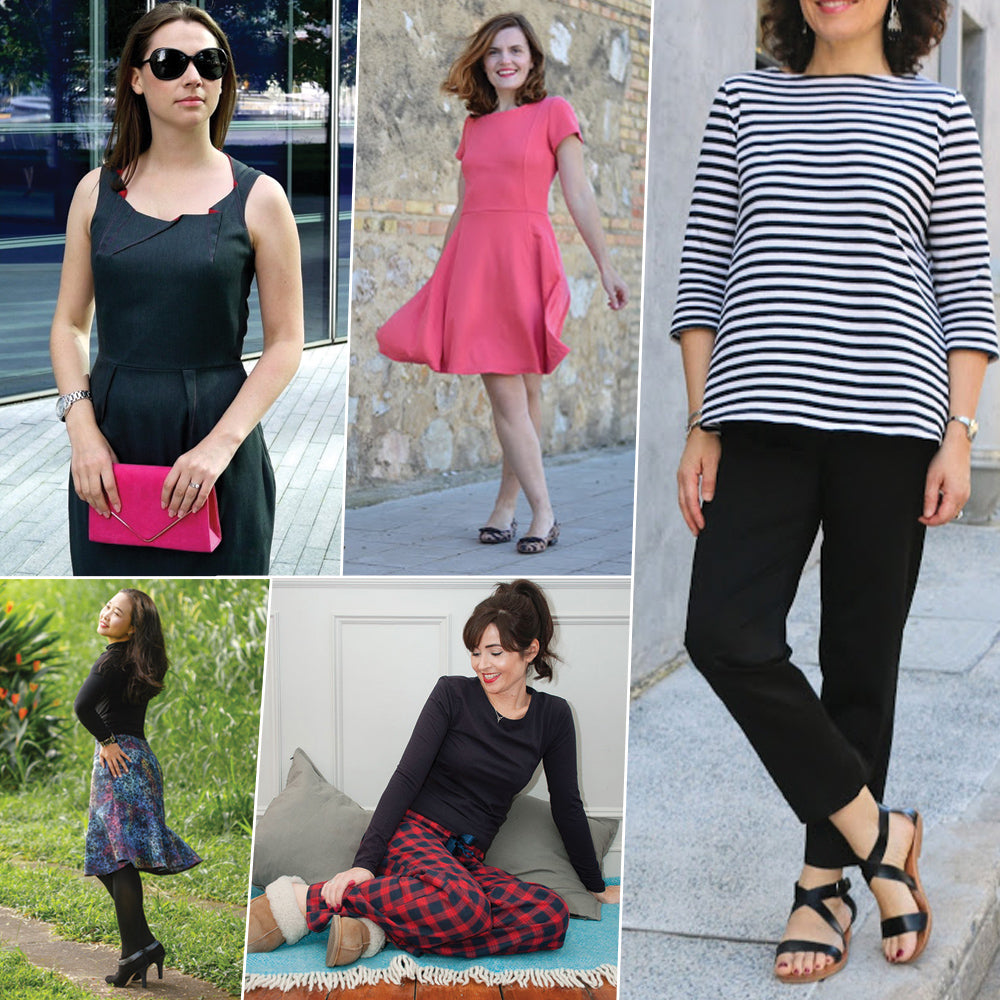 News (clockwise from top left)
Capitol Chic released a new winter line of patterns all named after cocktails! I am intrigued by the Gimlet dress (featured above).
Pauline Alice has released the Aldaia dress, which has 27 possible views!
Tessuti released the Nina pants pattern.
Sew Over It released the cozy Ultimate Pajamas and kit.
Itch to Stitch released the fun and flirty Vientiane skirt.
It is now possible to purchase Colette patterns with Seamwork credits. Seamwork patterns are usually 1 credit to download, and now you can get access to the Colette patterns too for 3 credits!
Thread Theory is now carrying waterproof hardware kits for making raincoats! I just ordered one for my next Kelly Anorak. So excited!
Makes
I am in love with this denim Rosa dress from Lladybird.
This reversible Groove dress from Secondo Piano is awesome.
Check out Tanya in her gorgeous Rifle Paper Co. Dress.
This striped Marshmallow dress from Self-Assembly Sewing is too cute!
Lori is looking groovy in her new Birkin Flares.
This suede Farrow dress from Style Maker Fabric blog is fall perfection.
I really enjoyed this story of a personal style crisis from Sewing and Cocktails.
Resources
Waffle patterns put out a great tutorial on making a single welt (or box) pocket.
Made by Rae tells us why staystitching is important.
CJ Patterns give us a list of pro tips for sewing knits.
The Last Stitch runs through how to sew mesh inserts into activewear.
Inspiration
I was very intrigued by this design challenge described by Made By 6. She had to integrate jewelry into a garment for a school project and her team came up with this stunning look. She also modeled it with her 100th make, this gorgeous modified Isla trench coat.