Ahhh, Spring!  How wonderful it is to be surrounded by pretty flowers and the sunshine once again! You would think we would get used to the feeling of changing seasons, yet somehow it feels new and exciting every time.  Vancouver has loads of cherry trees that always mark the start of the season and cover the whole city in fluffy pink clouds. This week's project was inspired by these lovely flowers and is just the thing to celebrate the warmer weather.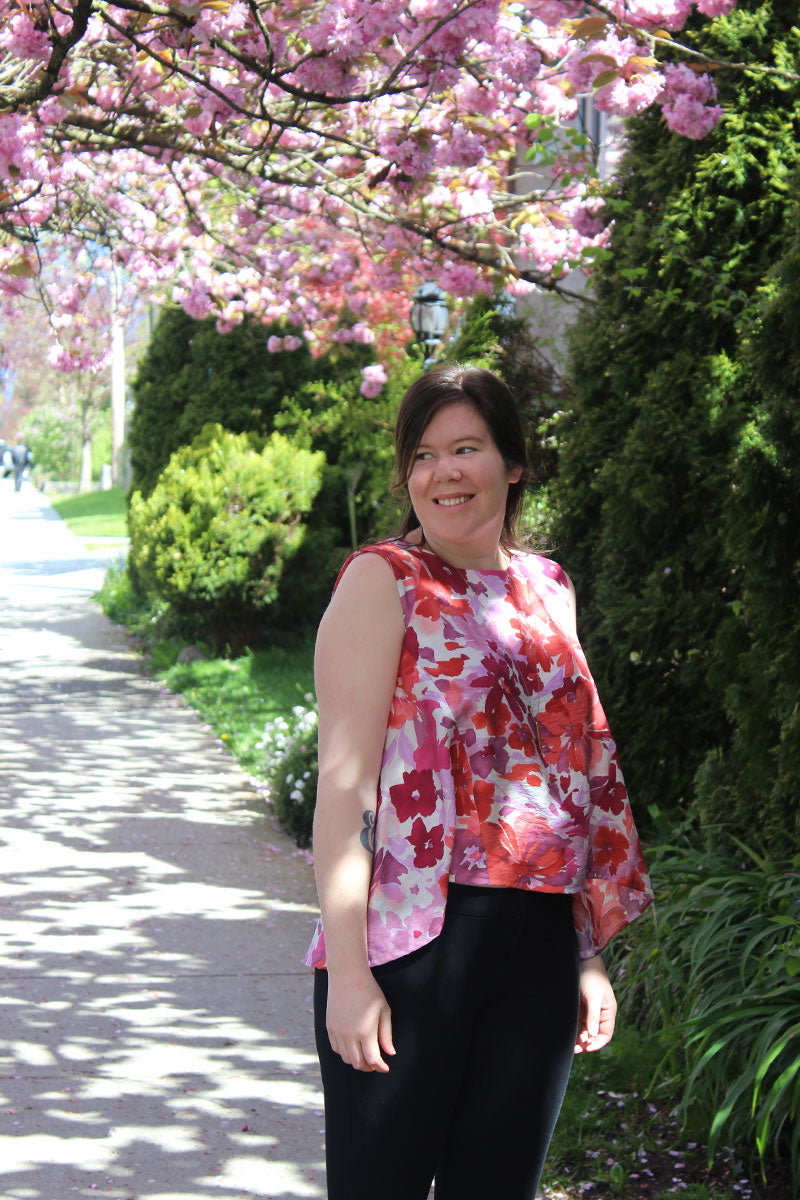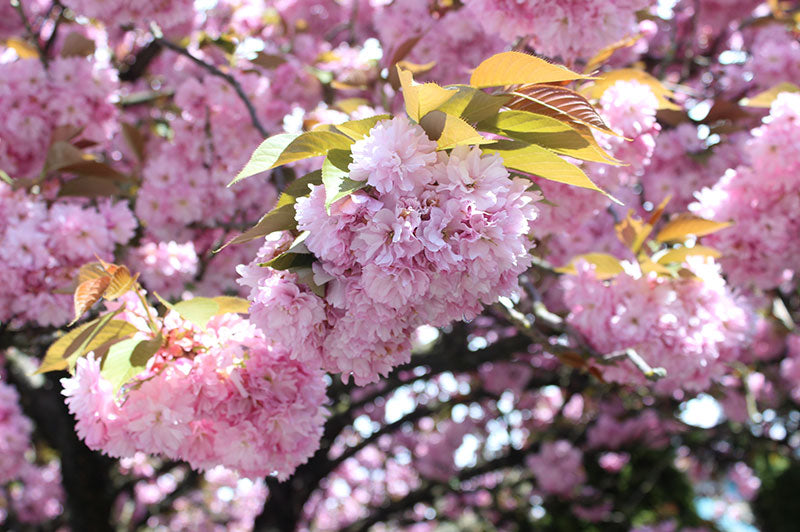 This is the Collins Top, the latest pattern from In The Folds. I love Emily's design aesthetic, she always puts really great details into her patterns. I have also made her Acton dress pattern and it is one of my favourites. I knew as soon as I saw the Collins that it was for me. I love a loose fitting sleeveless top, and this one has such gorgeous style lines. There are diagonal lines throughout and a unique back panel to really show off a striped or colour blocked version. I opted for this floral to start, but I would really love to make another version in a fabric that shows off the pieces better.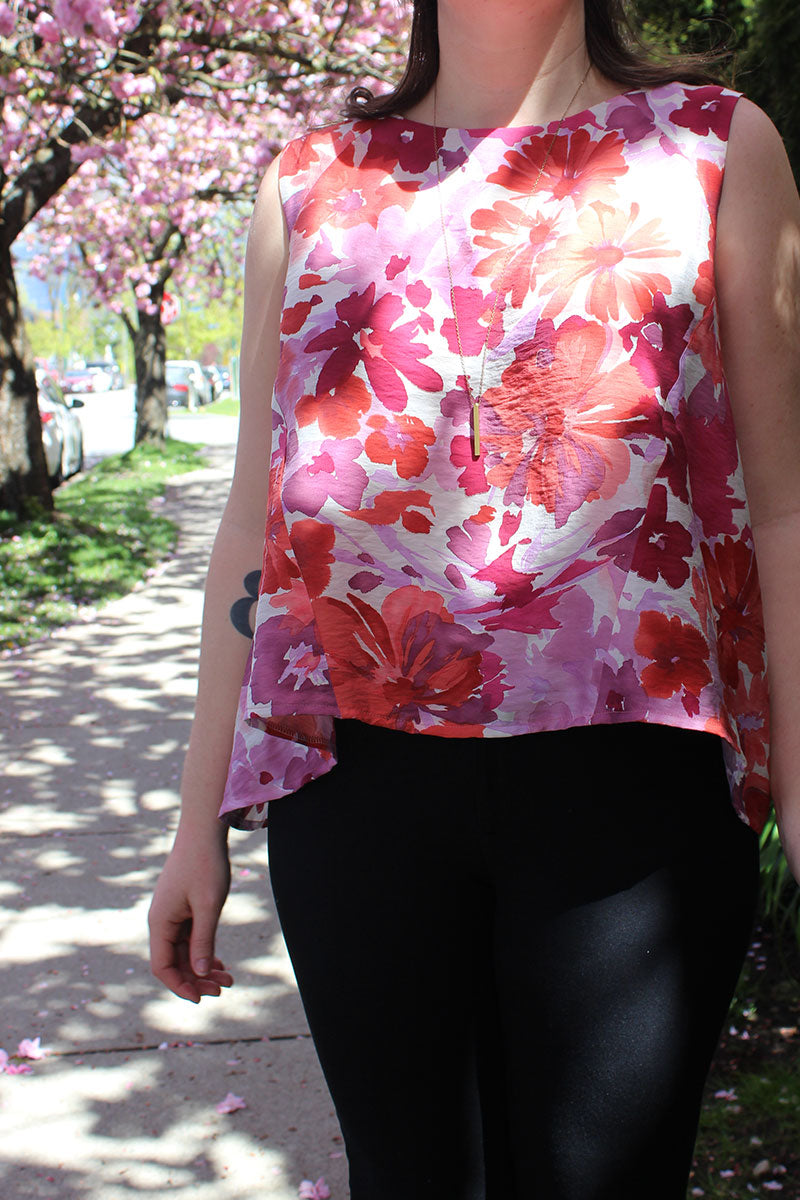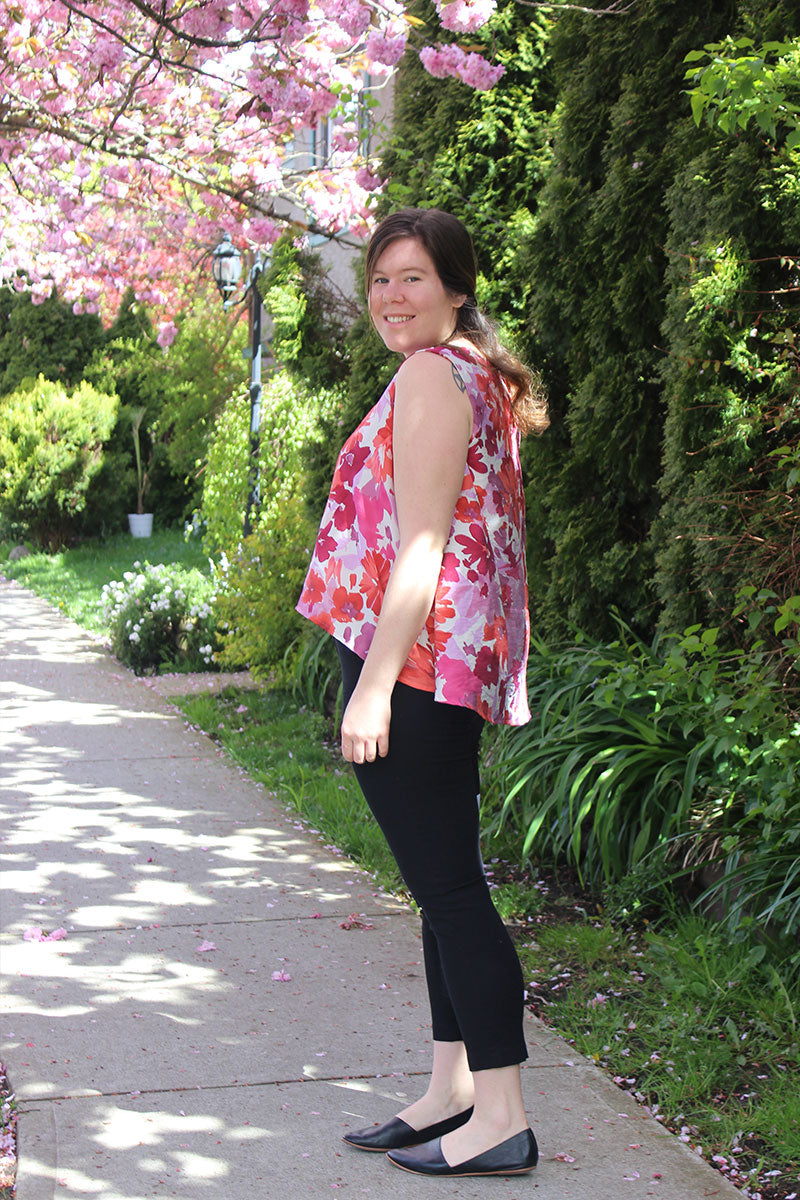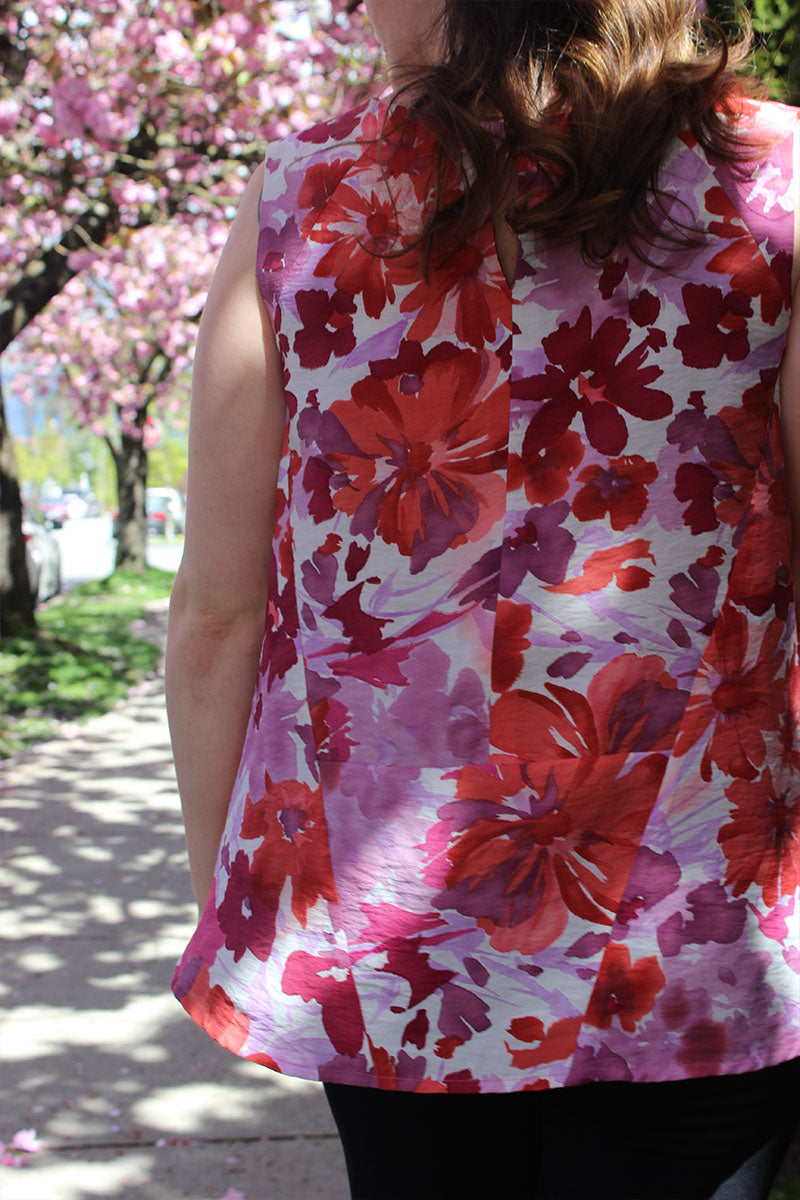 This fabric is a floaty rayon. It was unlabeled in the store, and I am not entirely sure what kind of rayon it is.  It is very lightweight but does not feel like any challis I have used previously. It almost feels like silk. I think it works perfectly for this pattern, as it is floaty while still holding volume quite well.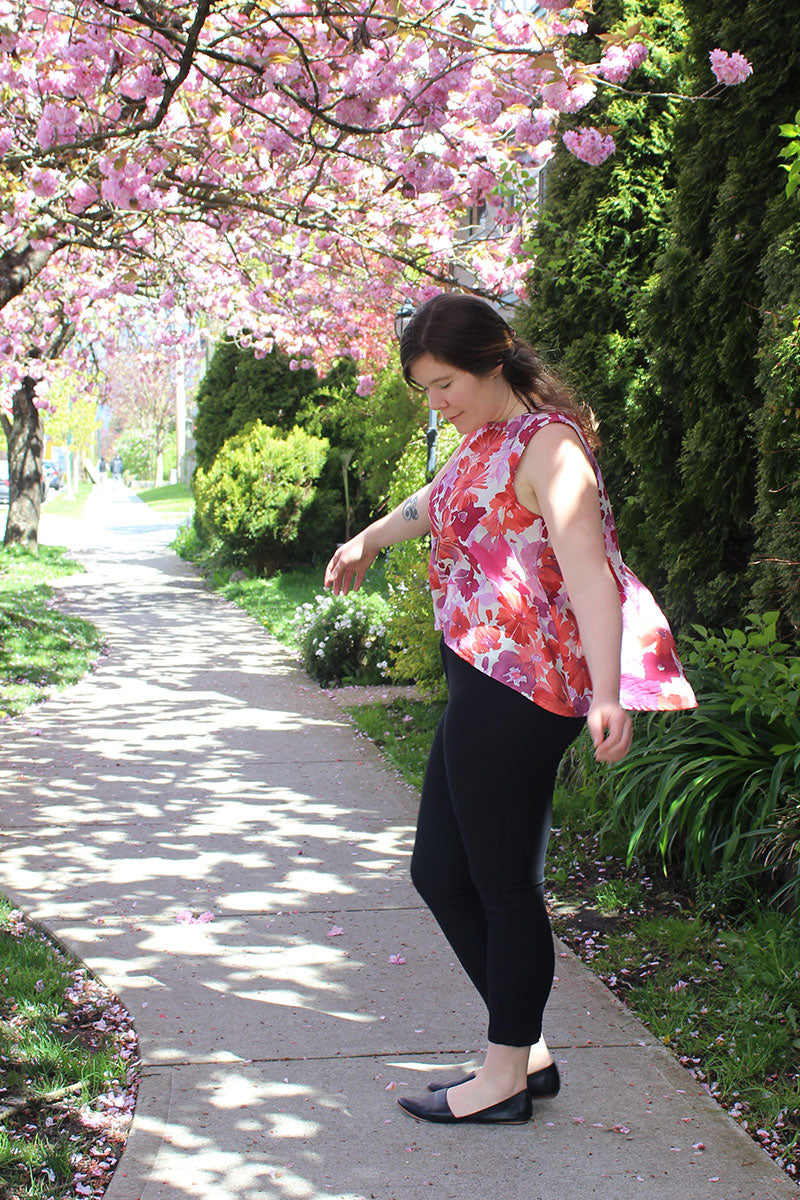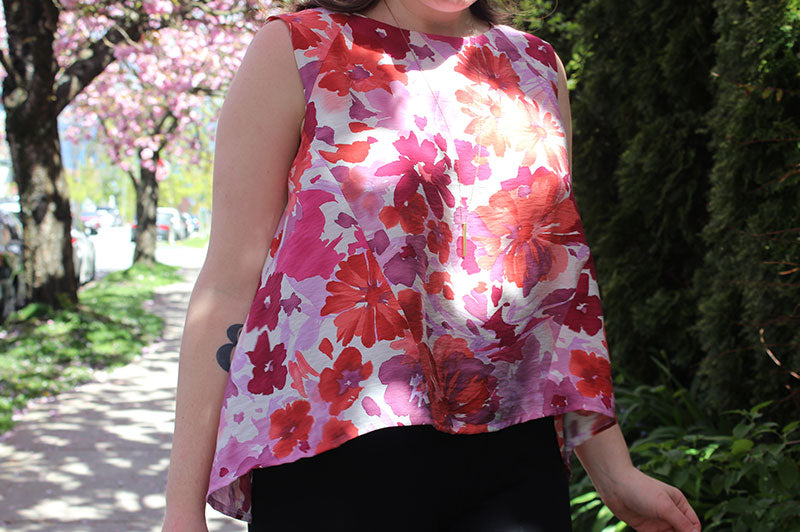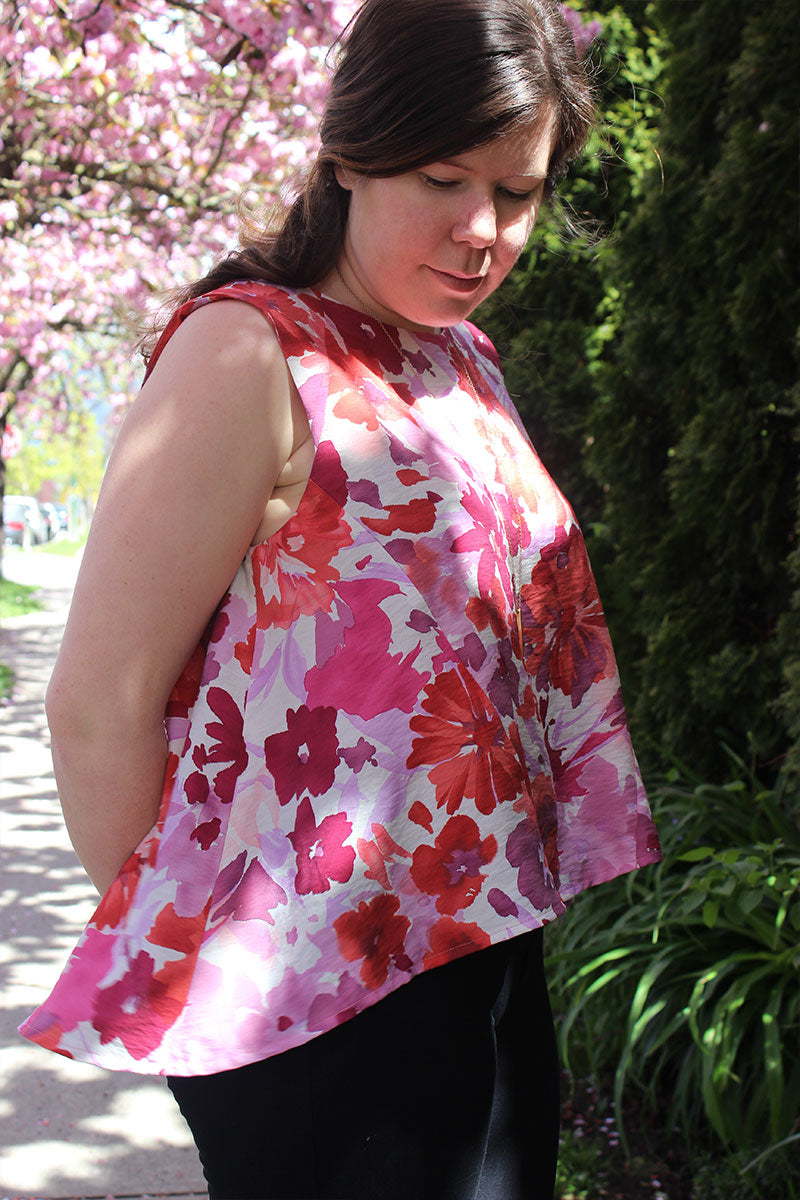 Since I am moving to a new office soon for my day job, I have been thinking a lot about workplace attire.  I am working on expanding my blouse wardrobe since I have loads of me-made knit tops already. I can really see myself wearing this style in the office and I think it fits the smart casual workplace vibe perfectly. It is quite feminine in this floral print, but paired with black pants and shoes it is the perfect balance for my style.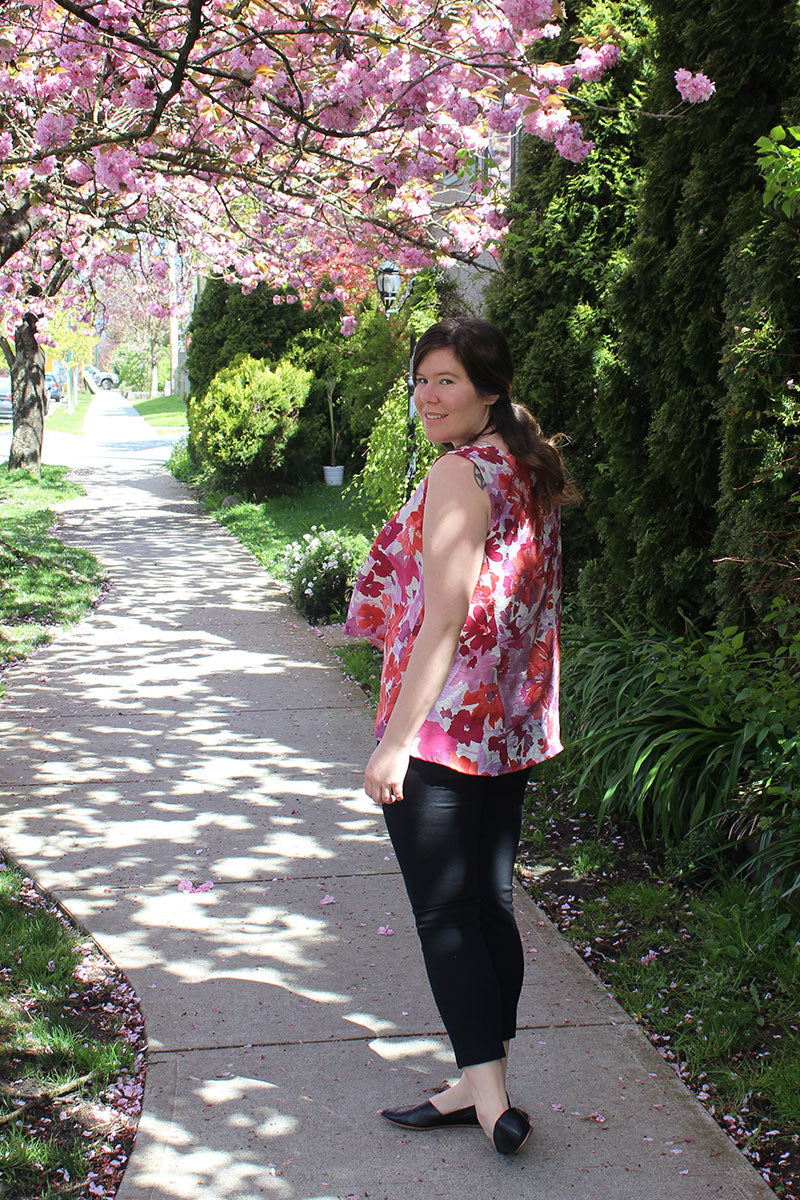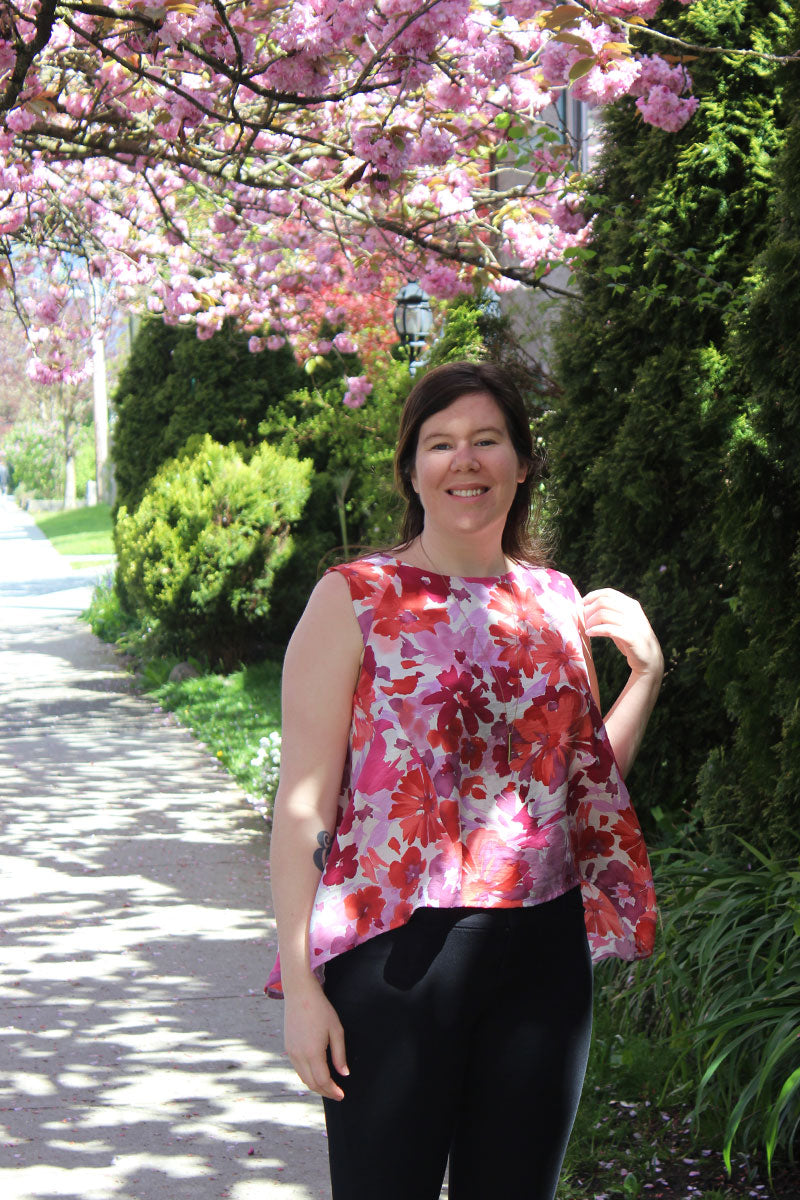 This blouse is finished with a facing and has a pretty button closure at the back. I can pull it on without the closure, so I may skip this next time if I want to save time. I found a nice vintage glass button to use here, though, so it was worth it.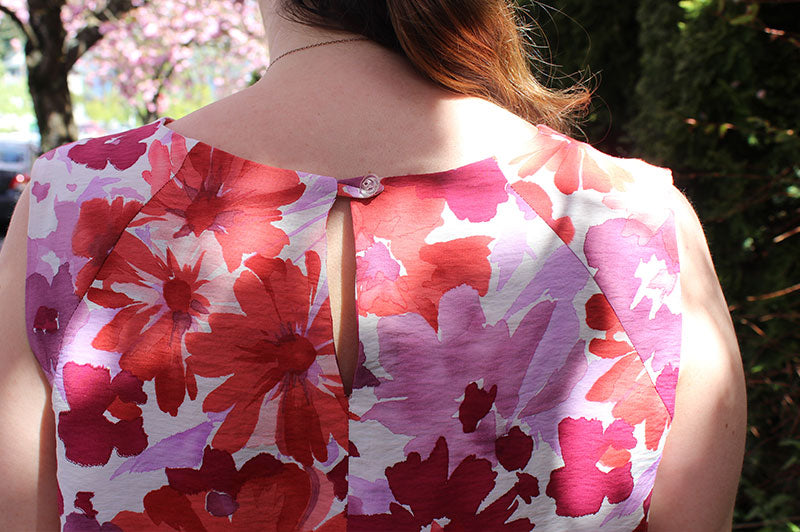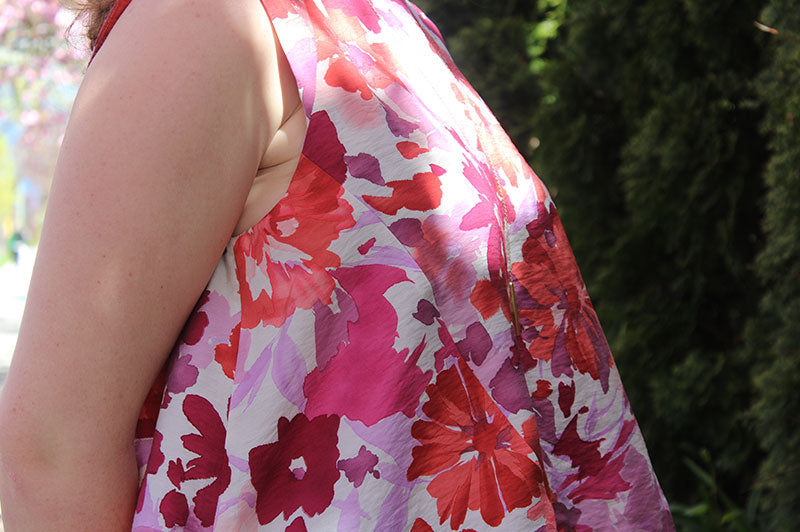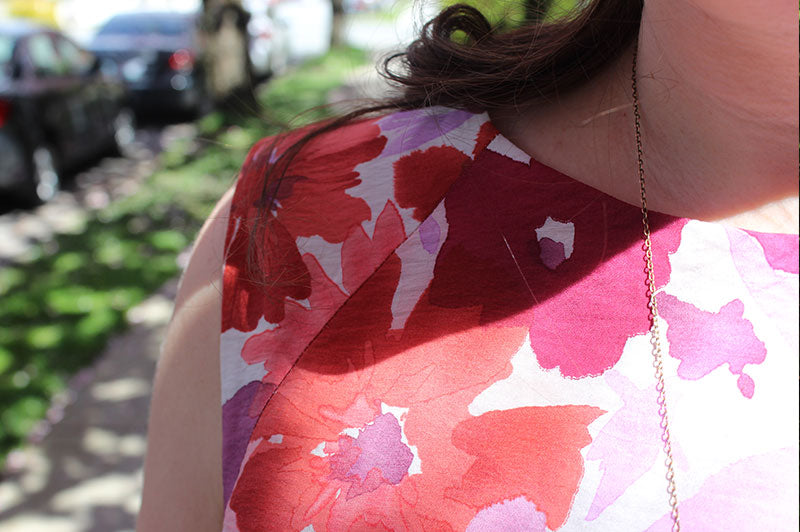 When I was sewing this top I somehow managed to cut a hole right in the center front panel (arrrgg!!), so I had to do a quick mend.  Nothing quite like mending something before you even finish making it, is there?  I would have cut a new piece but this was all the fabric left on the bolt. I mended it best I could and thank God for a busy print!  The hem of the Collins is designed to be finished with a bias facing, but I just serged the edge and turned it up, I'm lazy like that.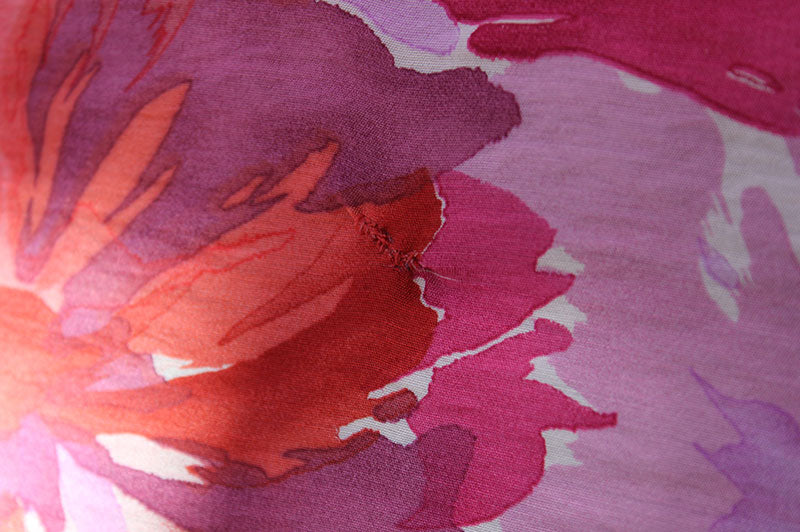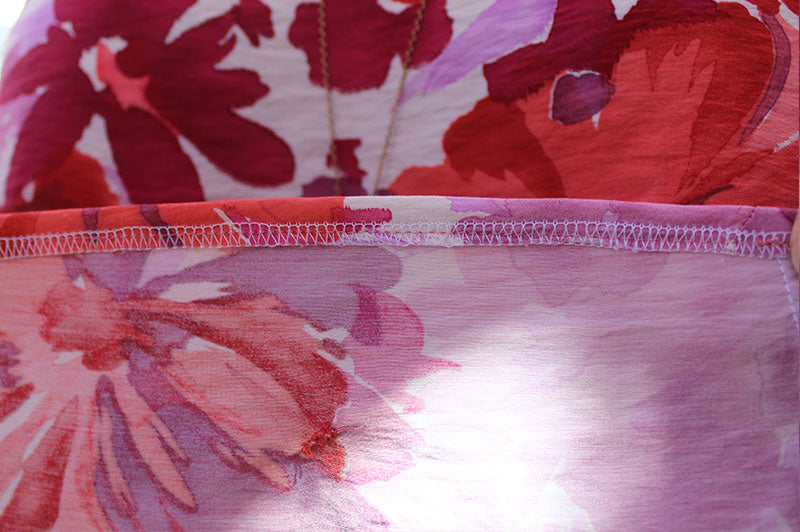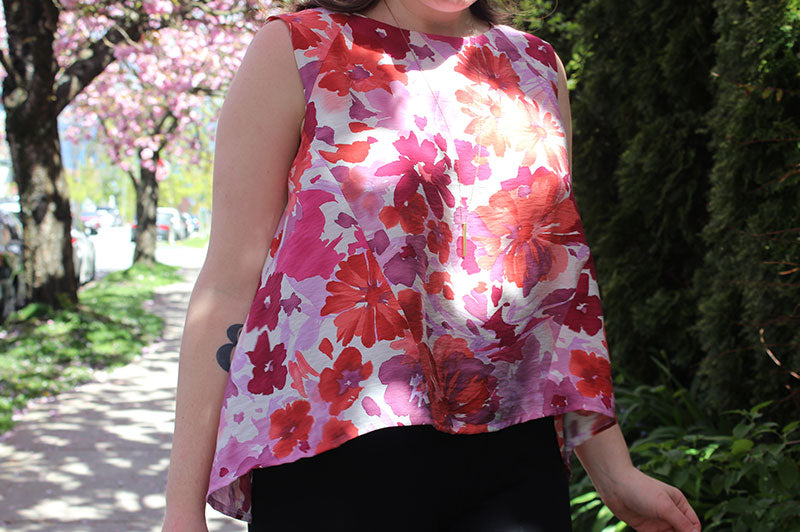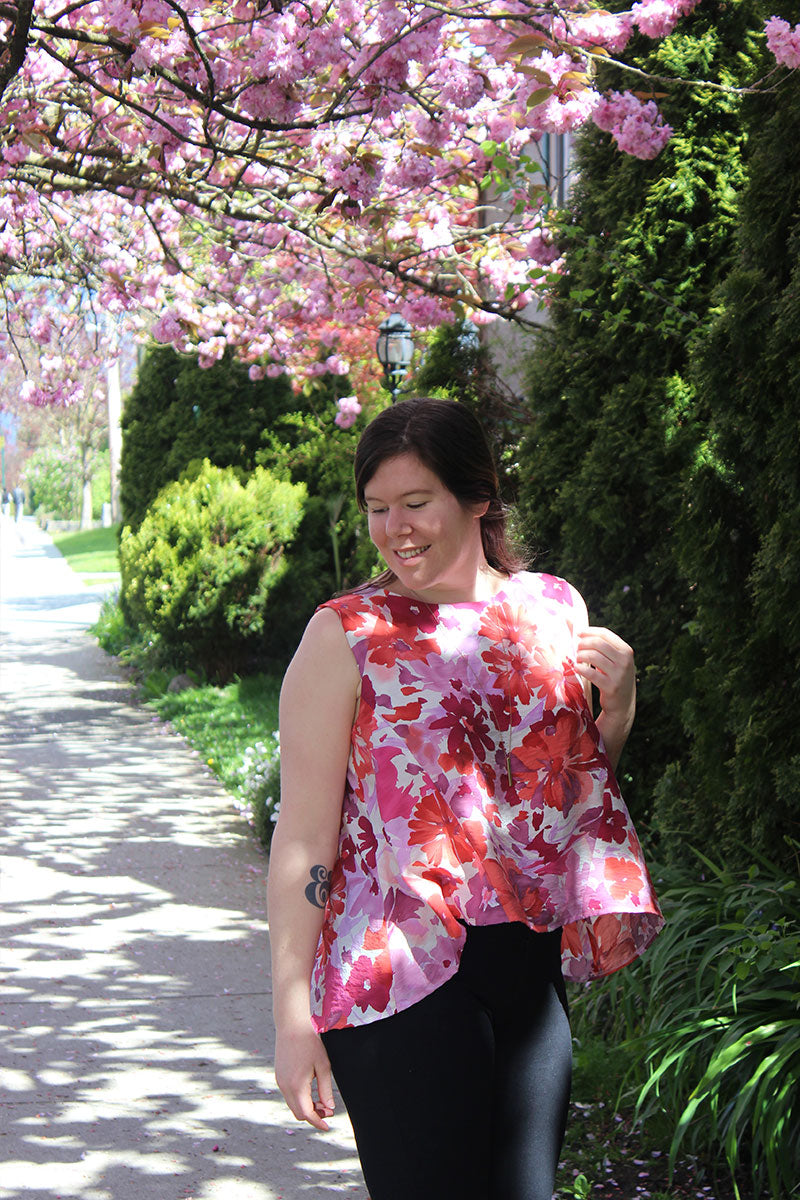 Since the light was so pretty the day we took these pics, I insisted on getting a shot of my dedicated photographer and financé, Sam. He doesn't much like being photographed, but I have to give credit and show his cute face from time to time on the blog, else people might think I do this all myself! On the contrary, this blog would certainly not be what it is without his support and enthusiasm. Thanks, Sam! <3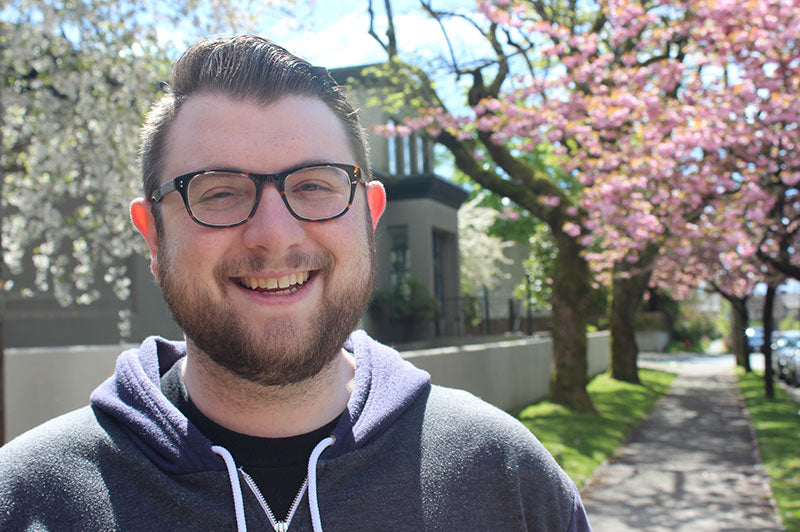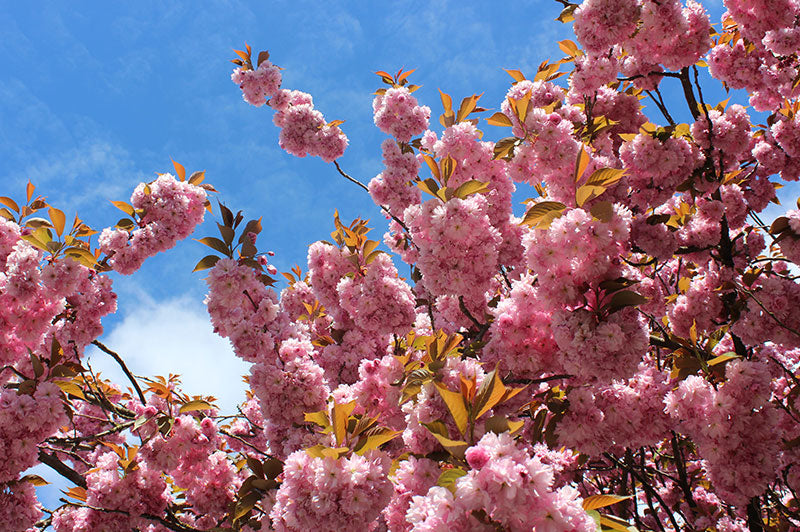 Have you considered the Collins Top? I hope to see more versions out there soon!