Happy Wednesday my lovelies! I have a BIG weekly for you this week, there were so many pattern releases and gorgeous makes that I just couldn't edit it down. I'm gearing up to go on a little vacay next week so I have been planning out my packing list! It's very handy to be able to shop your own closet by flipping back through all your makes on your blog. I love planning little capsule wardrobes like this and choosing which me-mades to travel with.  My favorite Blackwood will feature prominently, but I am also bringing many summer sundresses for hotter days.  Packing has caused me to realize I need more shorts that aren't RTW, so I'll be rectifying that when I return!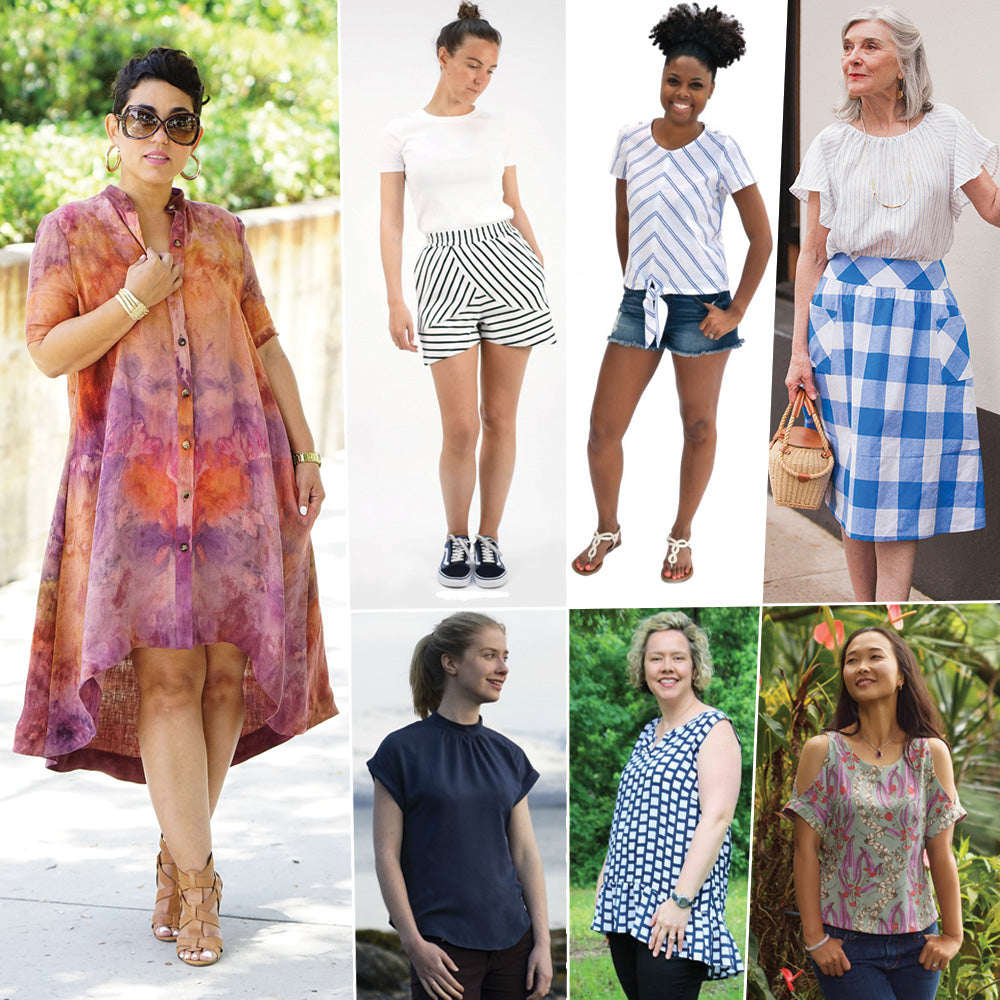 News
Sew Sew Def released the Katie Dress and the Gosling Shirt.
Ready to Sew released the Joanne shorts and pants.
Hey June released the Key Largo top.
Seamwork released the Patsy Skirt and the Loretta Top.
Itch to Stitch released the Beausoleil top and dress.
Wardrobe By Me released the Summer Breeze Tunic and the Summer Tulip Top.
Community
Are you under 40 and do you love to sew? Consider participating in this sewing study. Naomi is an MSc Social Work Research student at the University of Bristol and she is interested in gathering stories from young sewists about our reasons for sewing and the benefits it offers as an activity. Check it out!
Makes
Miss Jenny Frances made a beautiful Merchant and Mills Factory Dress.
These red crepe Winslow Culottes from Sew Abigail made my week!
I am feeling the serpent vibes from Unchas Unchas this week.
A lovely Ansa Butterfly Dress from Au Fil Des Pages.
This ikat sundress from Deux Souriceaux is stunning.
Judith made a gorgeous shirtdress.
I am loving this Lourdes Jacket from Ginger Stitch.
So much love for this bright and colorful off the shoulder dress from Sew My Time.
Sewing like Mad made the ultimate summer Adeline dress.
I am beyond impressed by this chiffon skirt from Elizabeth Made This.
Handmade Wardrobe made a lovely Tea House dress.
Anneke Caramin tackled the popular Rachel Comey mock-tuck dress and the results are fantastic!
Resources
Pattern Fantastique share some great tips on t-shirt construction.
Itch to Stitch shows us how to install a lapped zipper and how to make a bra strap holder.
Fehr Trade shares her experience making espadrilles! I want to do this so bad!
Stitch and Sew shares their top 100 FREE sewing patterns.
Inspiration
If you're looking for some summer sewing inspiration, don't miss the latest Indie, Darling post! All the best indie shorts patterns are gathered up here for your viewing pleasure! It's been evolving all week thanks to your input, so there are even more on the list now!