Happy Wednesday!  I'm stoked to be back home from our little holiday to Toronto and Ottawa! We had a great time and I'm feeling so refreshed and I am itching to sew something. Right now I'm obsessing over the new Charlie Caftan – I think this could be my perfect summer dress! Apologies for skipping the Wednesday Weekly last week, I decided to take a real break and not do any blog-related things (other than the posts I had lined up already). As a result, this Weekly is HUGE! There were so many awesome releases, I couldn't leave any out.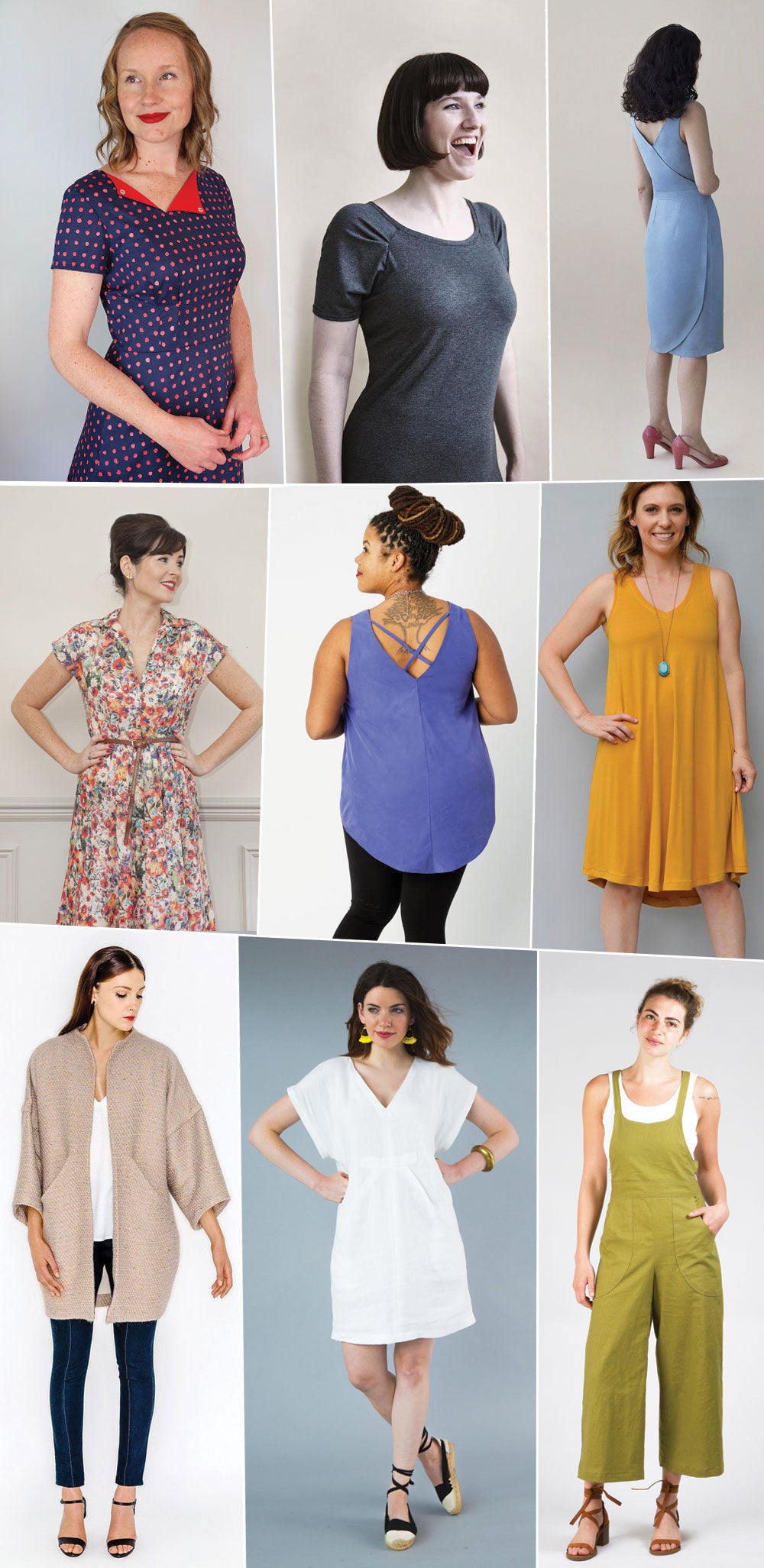 News (left to right from top left)
Jennifer Lauren Vintage released the Laneway Dress.
By Hand London released the Poppy Top and Dress and the Orsola Dress and Skirt.
Sew Over It released the Penny Dress.
Cashmerette released the Webster Top and Dress.
Chalk and Notch released the Pony Tank and Dress.
Papercut Patterns released their new collection, Sakura.
Closet Case Files released the Charlie Caftan
Sew House Seven released the Burnside Bibs.
Indie Sew launched a new course on distressing denim!
Community
Gillian from Crafting a Rainbow is bringing back the Sewcialists! Follow the blog to be the first to hear about the new sewing challenges. They are fun and quite open, so it's going to be great to join in!
Makes
I am loving all the Reeta Shirtdresses this week! Check out this one from Noble and Daughter.
Sew Charleston made a great Highlands Wrap Dress.
This bright ruffle-sleeved dress from The Ravelout is fantastic.
I am so into the sleeves on this McCalls dress from Sew Much Fashion.
Kat's moto details on these Ginger jeans are amazing.
This dress from Dress Making Debacles is super cute.
How cute is this pink scalloped collar from Making It Well!?
This Kielo wrap dress by Handmade Wardrobe is my favourite one I've seen so far!
Resources
Melly Sews shows us how to sew a lined bodice using the burrito method.
Emerald Erin goes over the different underwires.
Seamstress Erin shows us how to sew narrow swimsuit straps.
Inspiration
Sew Over it has a tutorial on making a tie front button up top. I love this idea and it could work great with almost any button up shirt or dress pattern.