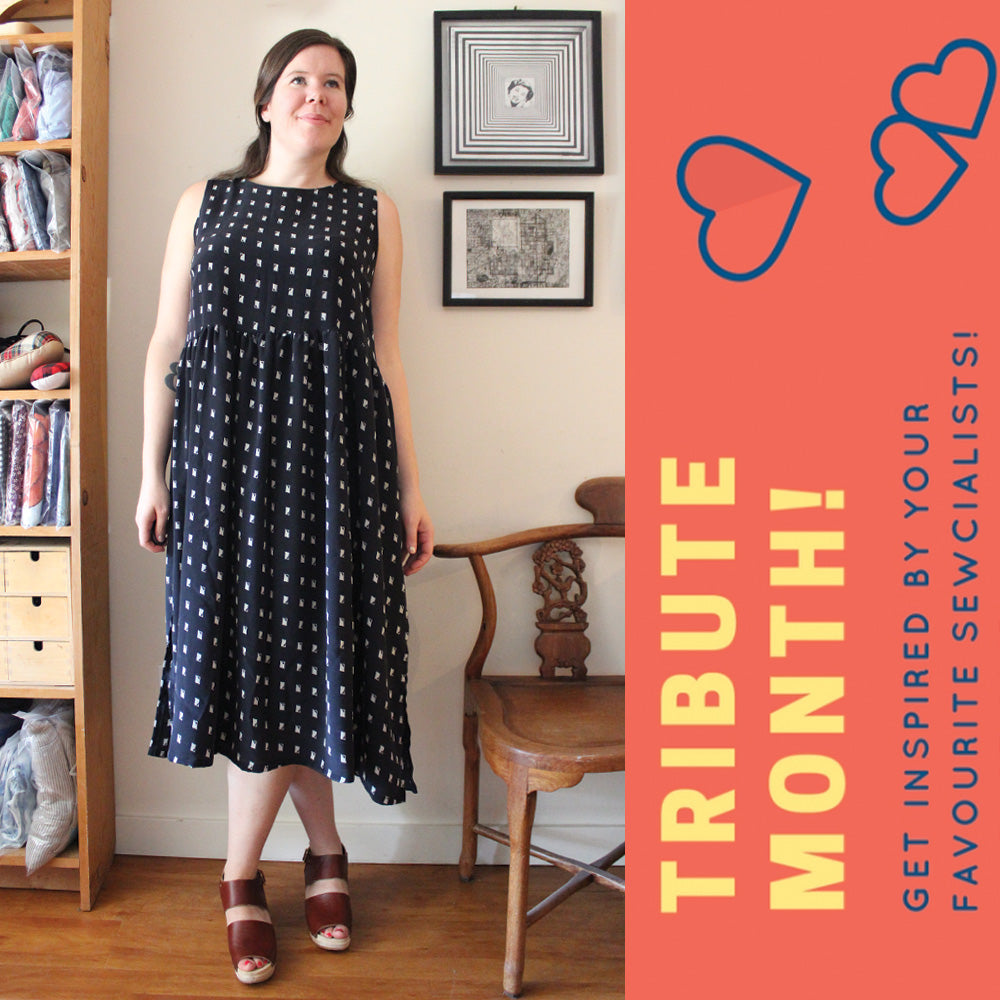 When I first heard that the Sewcialist August challenge was to pay tribute to a fellow sewist, I knew that I wanted to join in! Trouble is, I follow so many sewists who inspire me every day and I was really dragging my butt deciding. Finally, Caroline and I interviewed Katie from What Katie Sews for the Love to Sew podcast and I knew exactly who I should pick – duh – Katie! Katie always chooses the coolest fabrics, pairs patterns and textiles together so beautifully, and totally pulls of her effortless, modern, boxy style. We loved chatting with Katie and after we finished recording, I got started on my tribute!
Pssst – the Love to Sew interview with Katie came out today! Listen below 🙂
---
What do I love about Katie's Style?
Katie often chooses modern prints that are not too feminine. Fewer florals and more abstract dots and lines.
Katie almost always takes her pictures inside in her super adorable apartment. I love how she captures the natural light and her locations showcase her personality.
Katie plays with volume and modern shapes in her makes, opting for boxier designs with a looser waist fit.
Here are some of her makes that inspired my tribute look: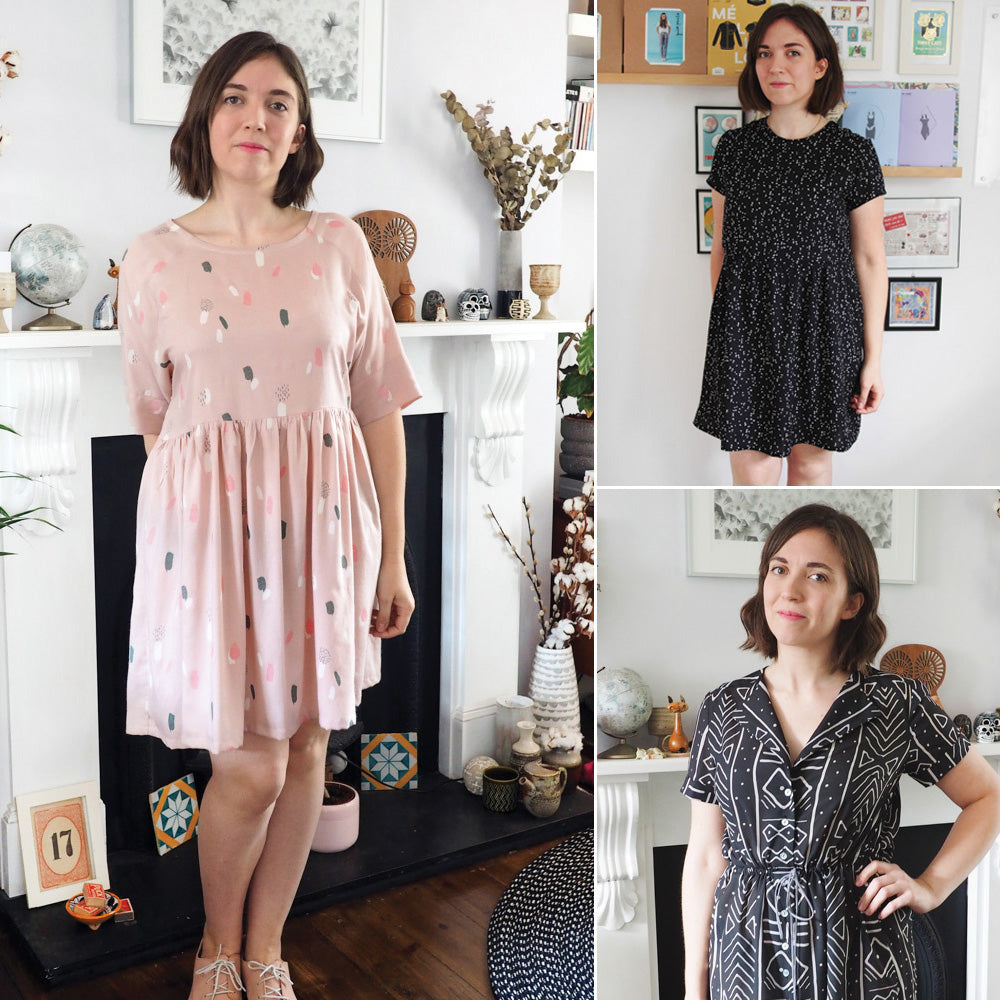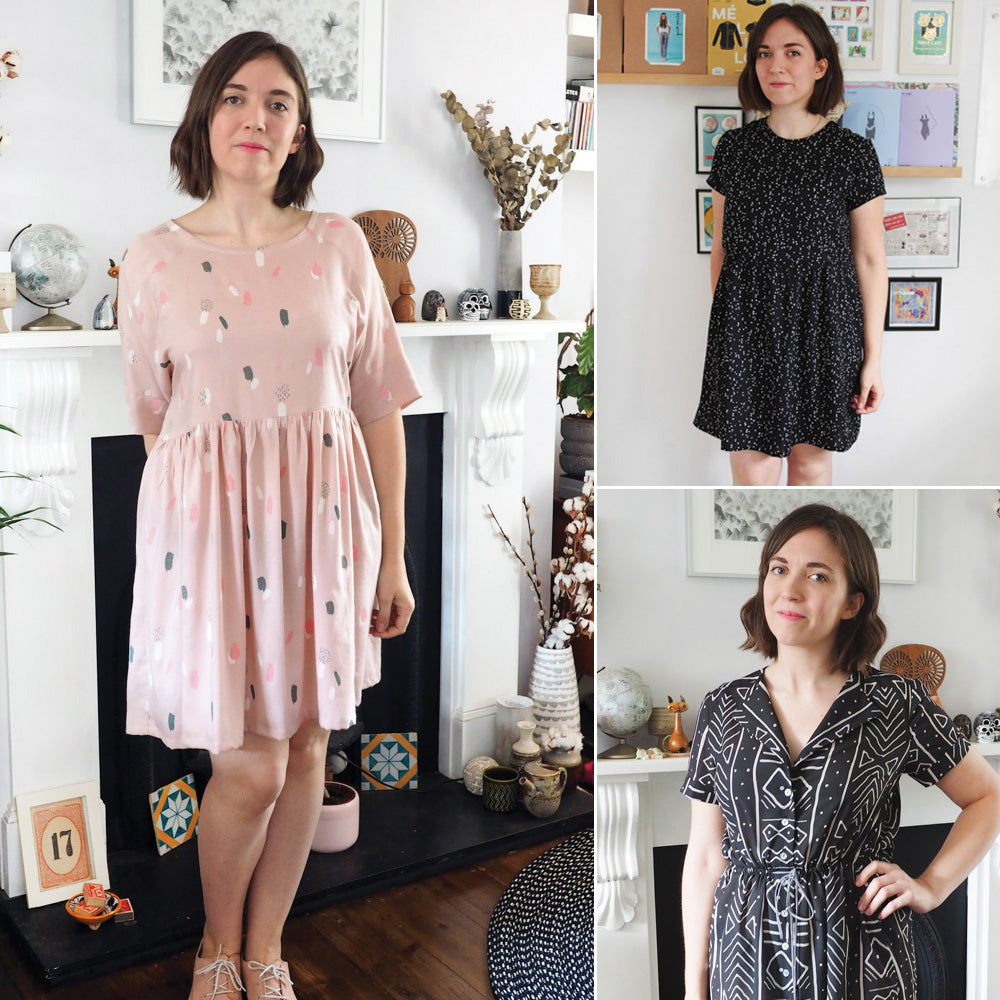 Clockwise from top left:    One  |  Two  |  Three
Because this is a tribute, I wanted to make sure I tipped my hat to the things that I love about Katie's style but also wanted to make sure that my own aesthetic was present. After all, I want to love and wear my tribute make. I decided to go with a longer, sleeveless design even though Katie tends to favour knee length dresses with sleeves. To emulate her style, I chose a modern print in a lovely silk (which I am certain she would appreciate) and I drafted this simple, gathered waisted dress. It looks cute with or without a belt and has side slits to show off the legs. I also braved indoor photos and set-up a little spot in my apartment that looks decently cute. Nowhere near Katie-cute, but cute enough for the pics!
The last thing I want to point out about Katie is that she shares a few choice pics of her makes, not the *nearly* 20 that I always post. I really admire bloggers who can narrow down the pics and still communicate the features and style of the garment. I'm going to try to do this today, but I will admit it was hard. Here is my tribute to Katie.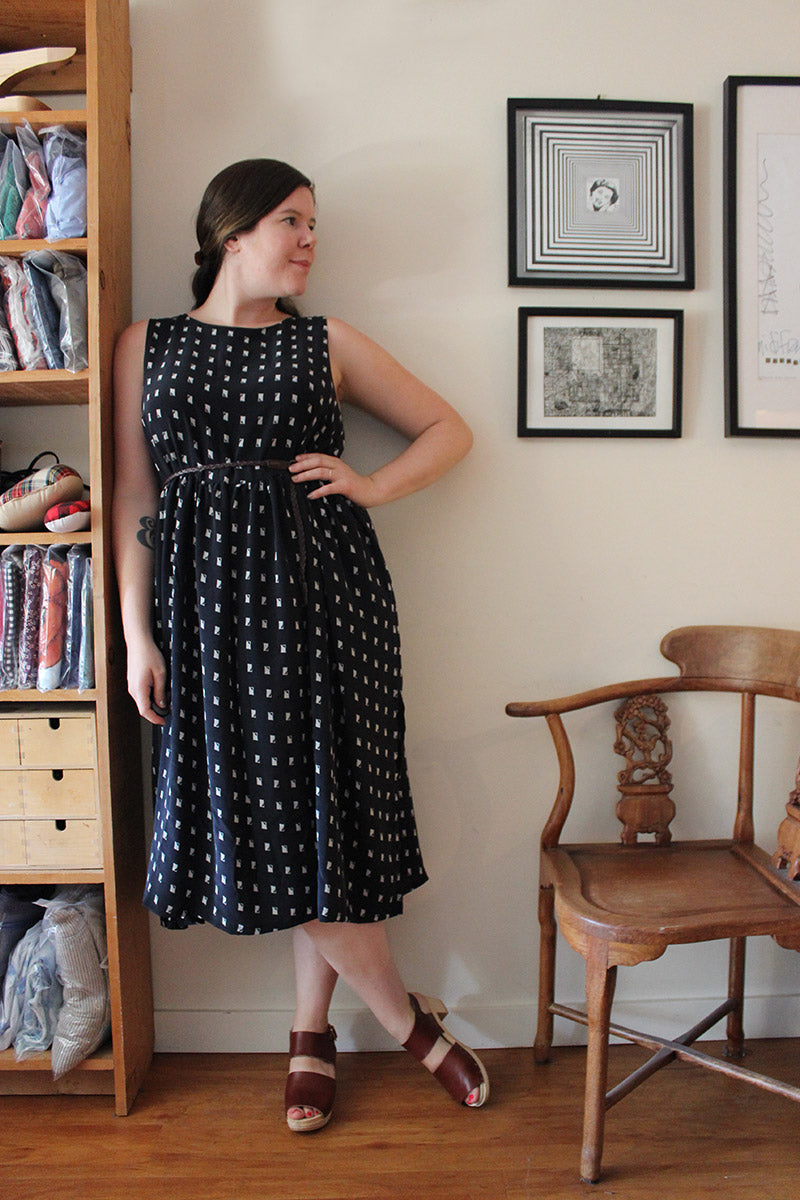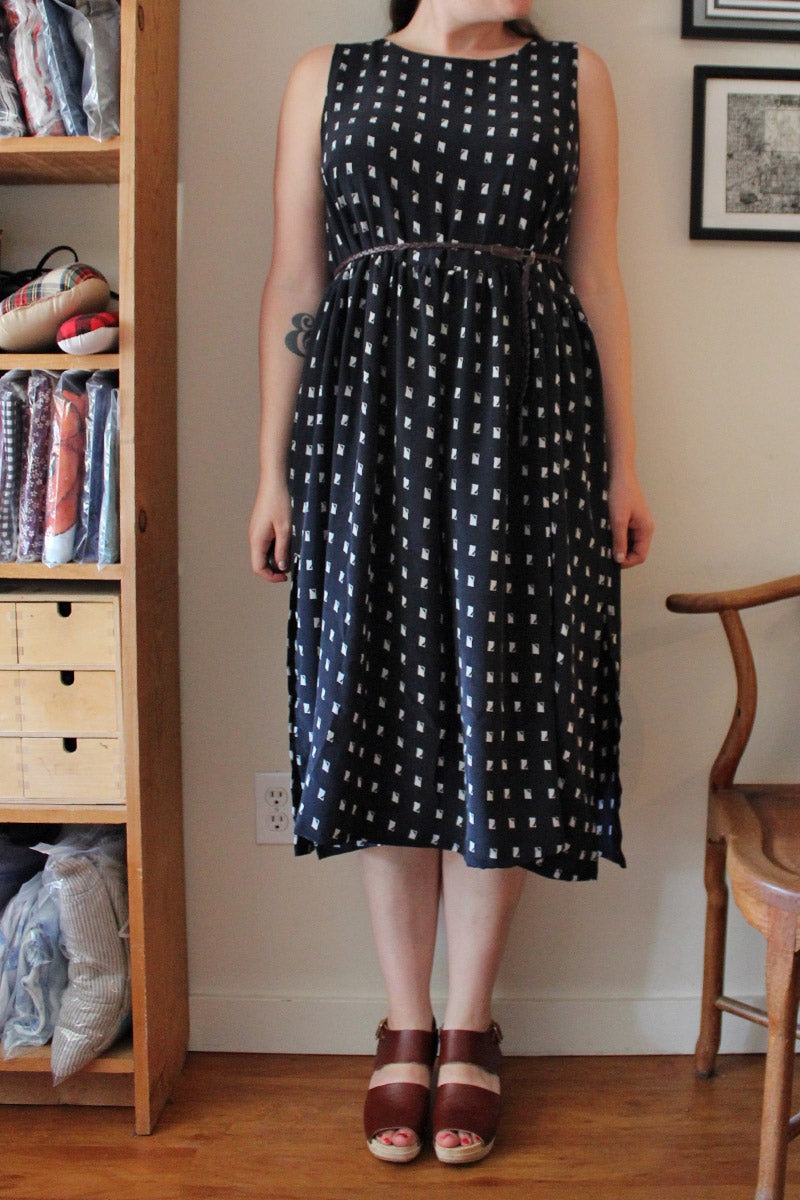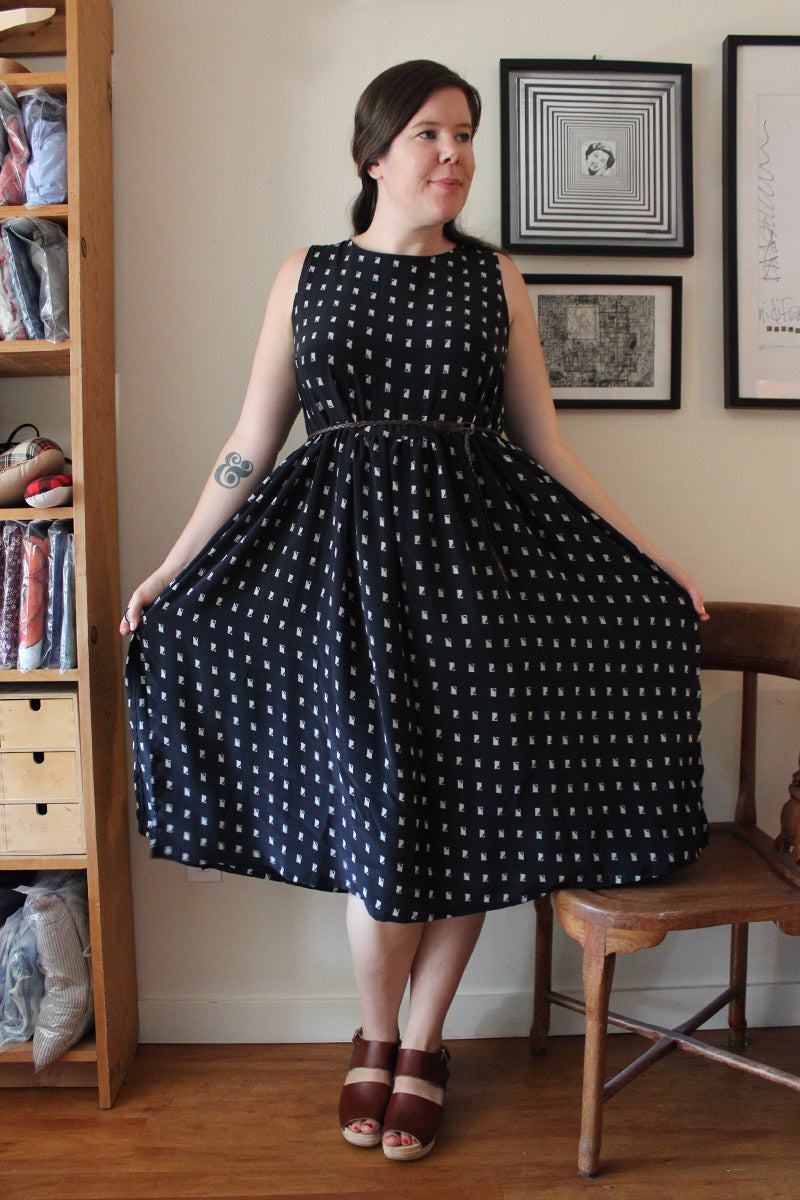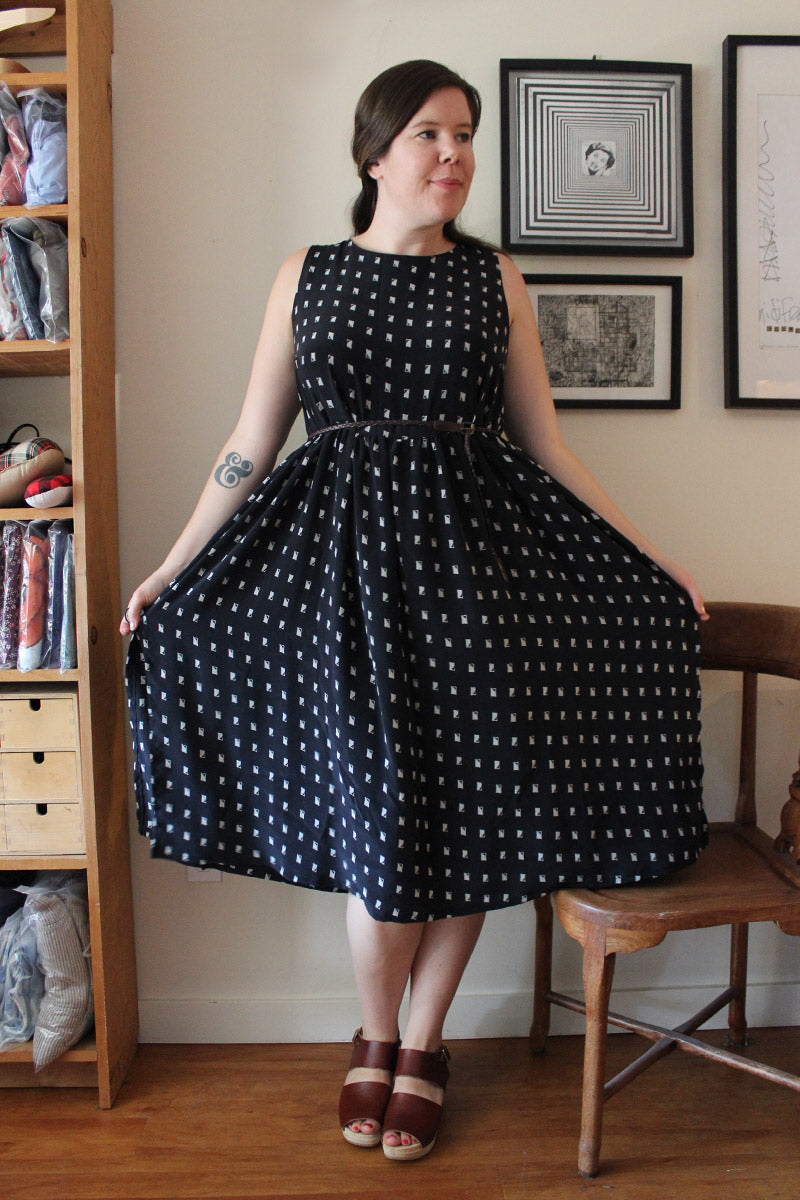 This fabric that I used was either printed off the grain, or the pattern is intentionally skewed. It was hard to tell but either way, I went with it. I promise I did cut straight, that is how the print was on the piece.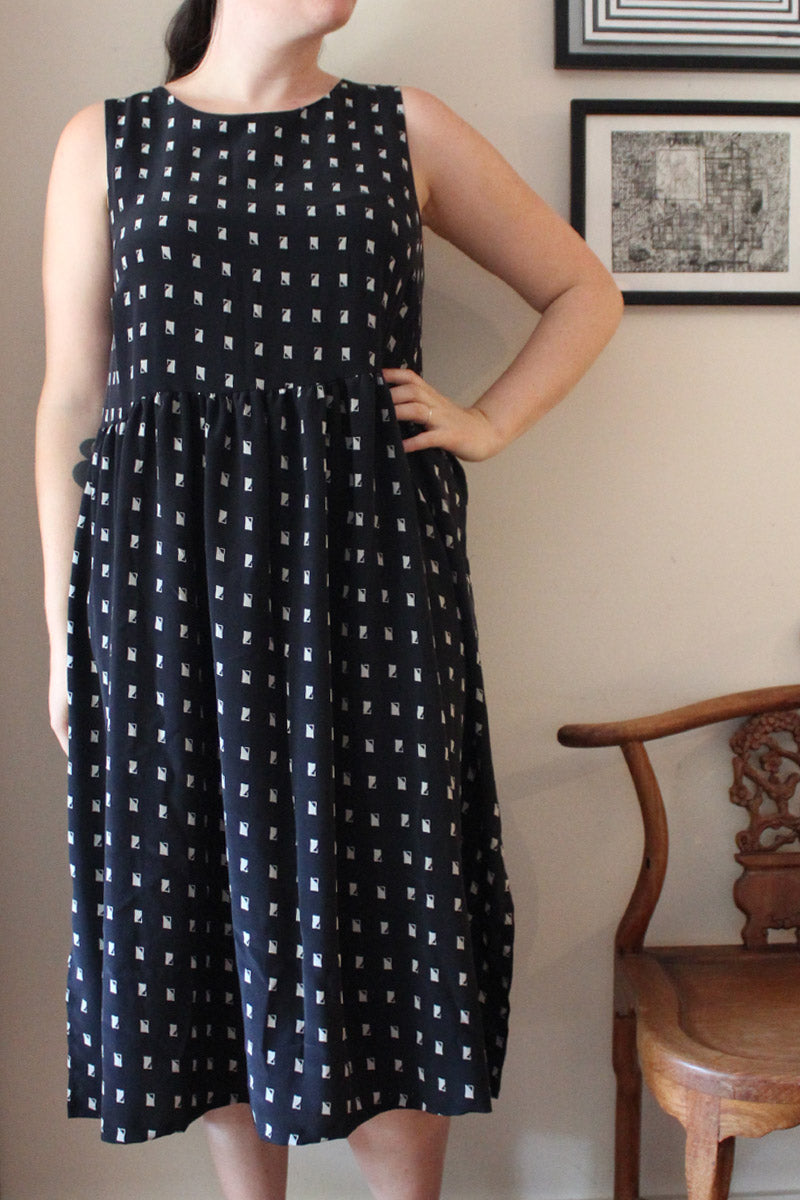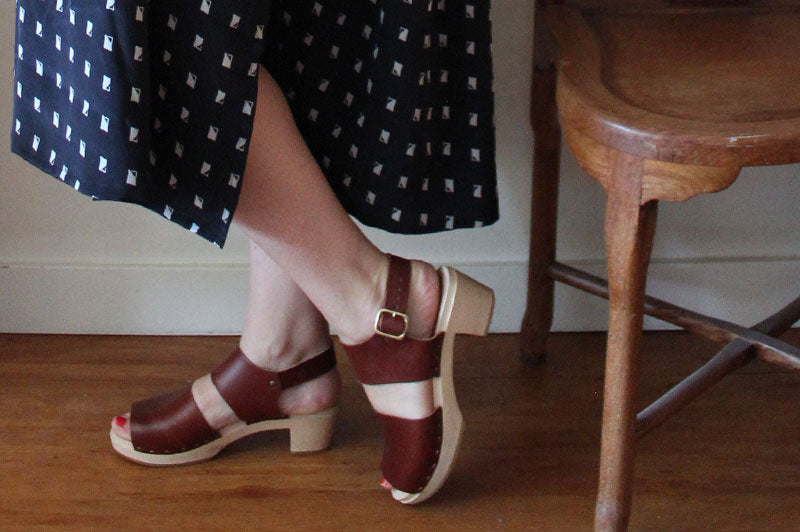 I really love my Sewcialist Tribute Month dress! Thanks to Katie for the inspiration and for coming on the Love to Sew Podcast to chat with us about your sewing! You can check out the Sewcialist blog for more info about participating in the challenges and to see more tributes!