Happy Wednesday, makers! First of all, a huge thank you to everyone who snapped up my patterns during the sale last week, I really appreciate it! Please take advantage of the sewalongs that are available and get in touch with me if you have any questions! You can reach me at hello@helenscloset.ca.  If you are looking for knits for your Blackwood Cardigan, keep your eyes open for the new Blackbird Fabrics sweater knits that are coming soon! I've seen the samples and they are really beautiful. It feels like September just FLEW by, but I am looking forward to October and sharing some more indie makes with you guys. Thank you for your patience while I flooded my blog with sale related things this past week, I've got some cool new posts coming soon!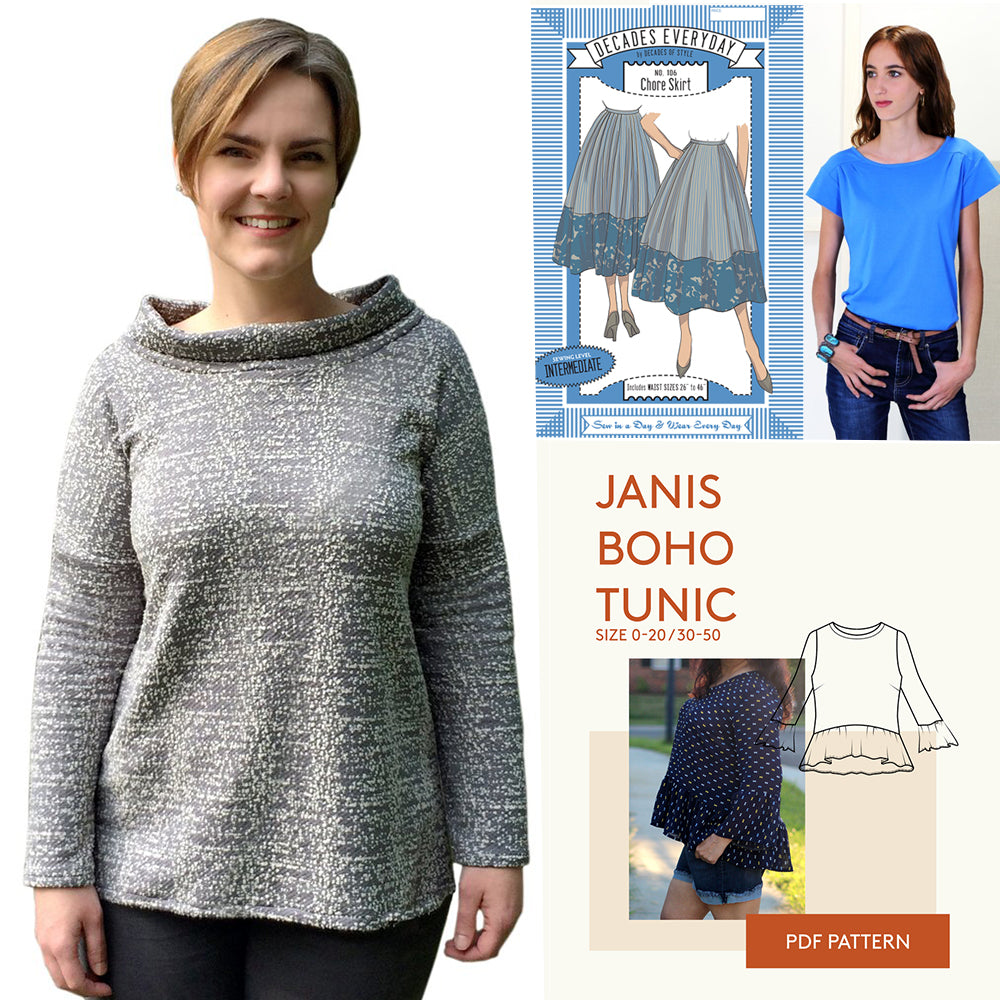 News (clockwise from top left)
Zierstoff Patterns released the Amy Sweater.
Decades of style released the Chore Skirt in an increased size range.
Oliver + S released the Chai Tee.
Wardrobe by Me released the Janis Boho Tunic.
Makes
I love this cute Ogden cami from Lucky Lucille.
Saki-Jane's gorgeous Yoni Wrap coat has me green with envy!
This dress inspired by Alabama Chanin is amazing!
The Wardrobe Project made a fabulous Kommantia parka jacket.
Check out this tropical print dress from Bobbin and Baste.
Allie J made an impressive Luzerne trench coat.
How cute is this Zephyr dress from Ginger Thread Girl?
Grosgrain Green made a very neat denim wrap skirt.
Alina's backpack is so cool!
This sundress from Tessuti is making me wish for summer again!
This day to night look from See Carmen Sew is stunning.
Ladulsatina made a seriously gorgeous draped silk dress.
Chalk and Notch totally nailed it with her Style Maker Fabrics tour makes.
Inspiration
Are you thinking about making your own wedding dress? Check out the first entry in this video series from Kat Makes!
On the Love to Sew Podcast this week:
Kelli Ward of True Bias patterns chats with us about her rebrand, her move to paper patterns, and reveals an exciting collaboration that she's been working on! Over the past few years, she has balanced motherhood, school, and her growing business. Kelli's approach of leaning slowly into her goals proves that big things can happen one day at a time.