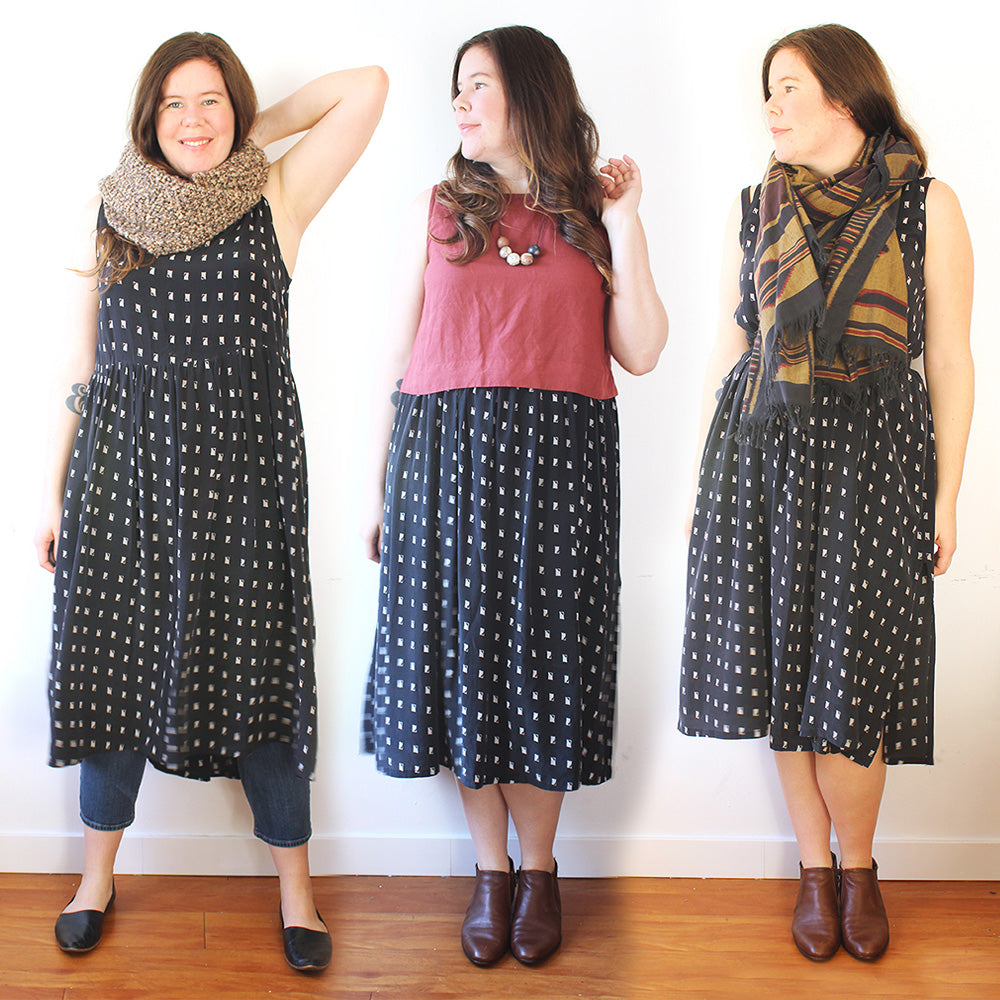 This week on the Love to Sew Podcast, Caroline and I are sharing our experience trying out a capsule wardrobe. A capsule wardrobe is a miniature wardrobe pulled from your closet that is easy to mix and match so you can spend less time thinking about getting dressed! In truth, this challenge was hard for both of us, and we are on the fence about whether this actually made getting dressed any easier, but it did force us both to get creative!
We used Lee Vosburgh's 10×10 challenge as our framework, so we only had 10 items for 10 days (jackets and shoes included!).
Here is what I chose:
Black

Winslow Culottes

in Tencel Twill (these were my favourite item in the challenge!)

Rusty red linen crop top (self-draft)

Oversized striped knit top (RTW)

Tribute Dress

(self-draft)

Boyfriend jeans (RTW)

Green rayon woven tank (self-draft)

Grey extra-long

Blackwood Cardigan

Blue linen jacket (thrifted)

Black flats

Brown ankle boots
I jazzed things up a bit with my collection of chunky scarves and a couple of necklaces. I don't wear a ton of jewelry or other accessories so It was a bit of struggle to come up with 10 unique looks. That said, I ended up trying out some things that I otherwise wouldn't have! I wore my dress over my jeans (love this look) and I tucked my dress into my Winslows, which actually worked!  I did end up adding in another pair of jeans at the end because I got sick of wearing the same pair. Lee says it's OK to break the rules, they are just there to help you along and this challenge is supposed to be fun!
We didn't force ourselves to choose all handmade items, but I would love to try that one day, too! Have you checked out Elena's series on capsule wardrobes? She has a free downloadable worksheet you can use to create your capsule.