Ahhhh, the Roscoe Dress. This dress and I have had a real 'will they/won't they' storyline since its release back in 2015. When I first saw it I was like, cute, but not for me. I think I was having flashbacks to when peasant blouses became popular and I was so against them because they made my already broad shoulders look like a linebacker's. Then I saw Caroline in her Roscoe and she looked so put together and chic! This is definitely one of those patterns that really sings in real life. Of course, Kelli looks amazing in her versions, but it honestly just moves and drapes so beautifully in person, you have to experience it to believe it! I bought the pattern at the beginning of 2017 and put it on my #2017makenine list.
*Insert the passing of time here*
The push came for me when we had Kelli Ward on the Love to Sew Podcast to talk about moving to printed pattern. She has selected three patterns to take to print first and the Roscoe is one of them! She said it's not as big of a seller as she had hoped, but she honestly thinks that it should be! She wears them all the time and pointed out that in a drapey fabric, this dress is serving some serious bohemian babe vibes. How can I resist after that? I grabbed the pattern and set to work on making one.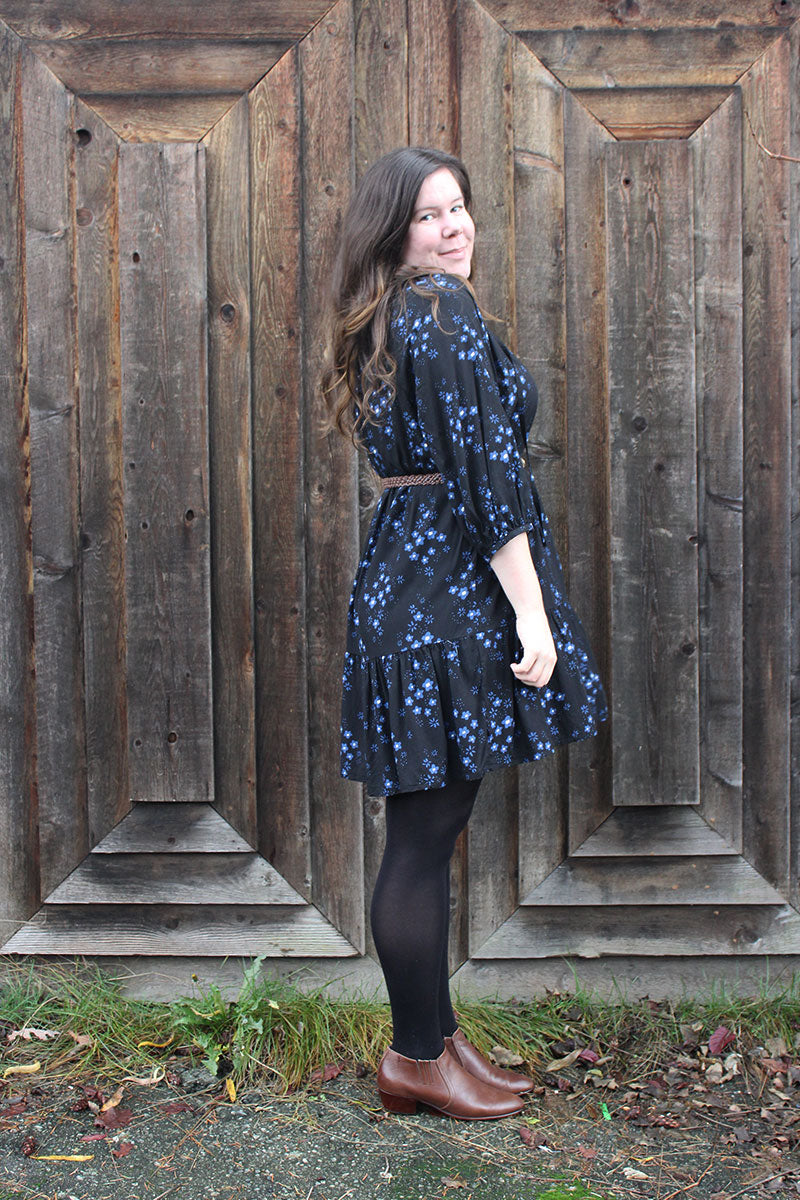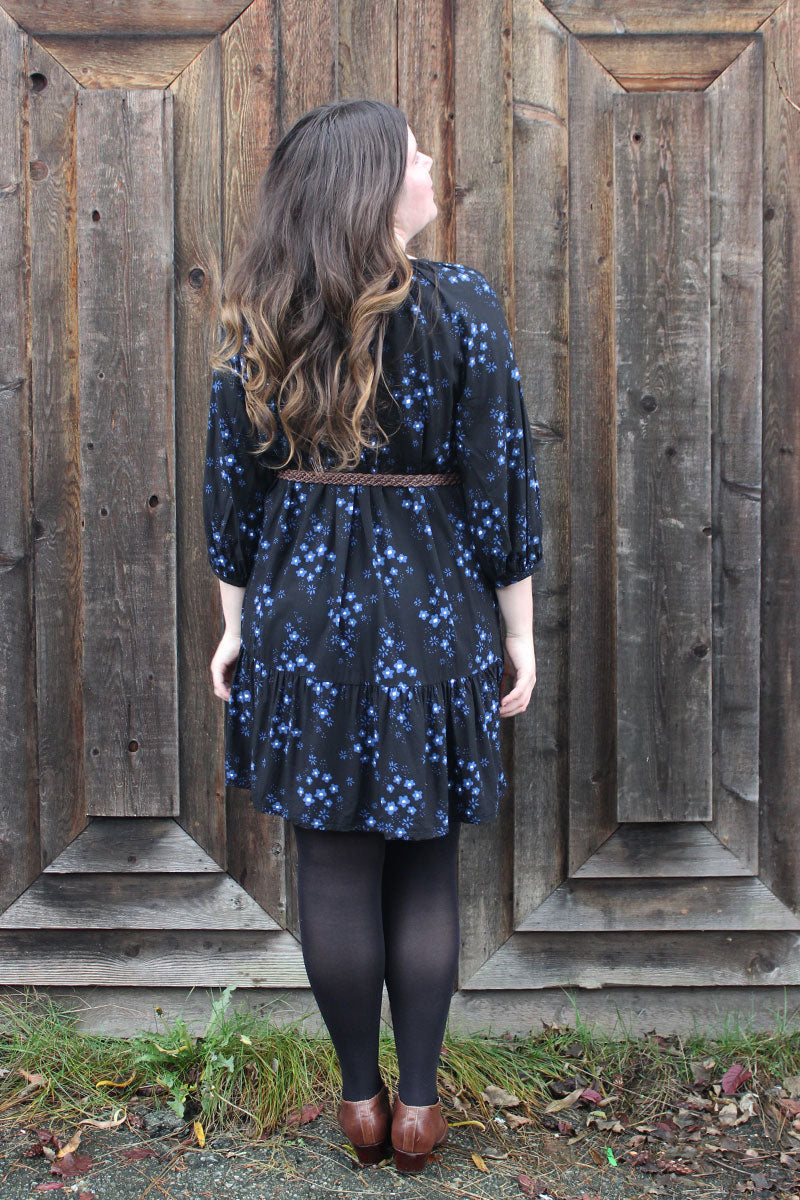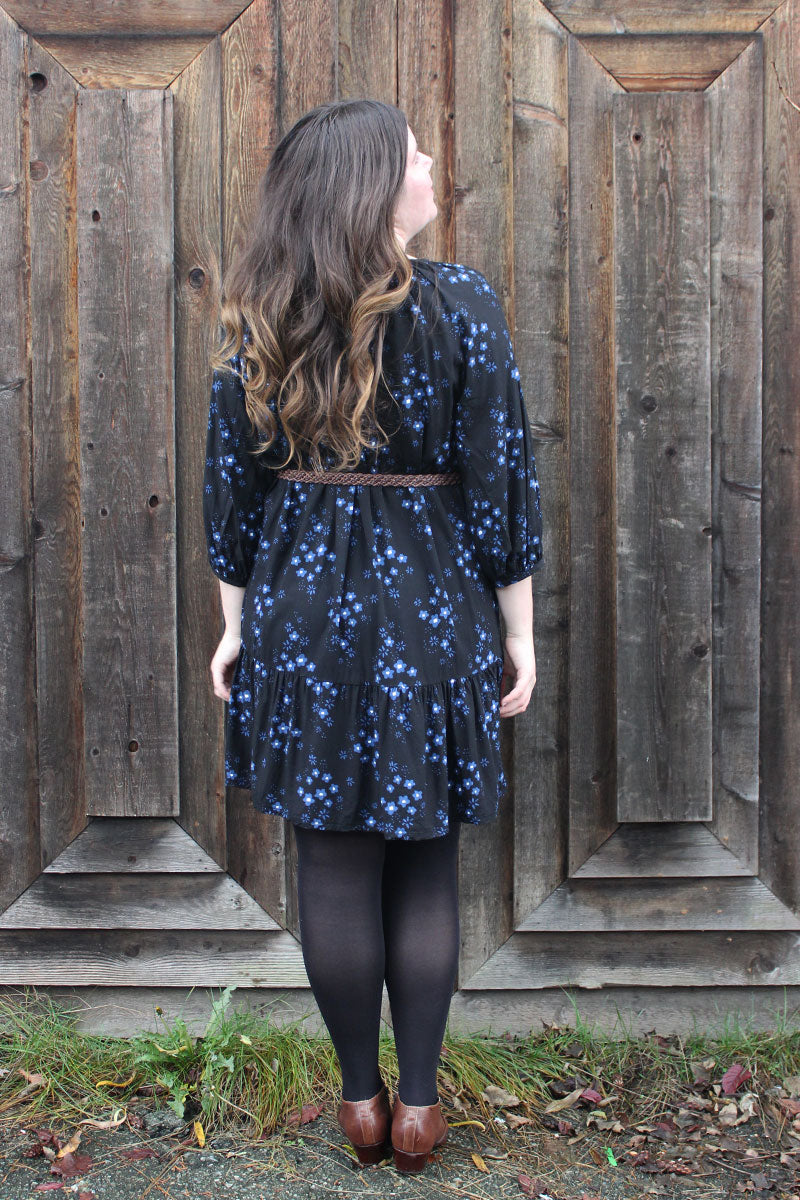 This pattern is a bit of a fabric hog, but trust me it is worth it. That said, I had almost no options in my stash! I finally settled on this 3 meters of Cotton + Steel Meadow Night rayon I had been hoarding for ages. I just barely squeezed the pattern out of it and I wasn't able to lengthen it quite as much as I need to for my height. With tights, it works, but I'm planning a summer version that hits the knee.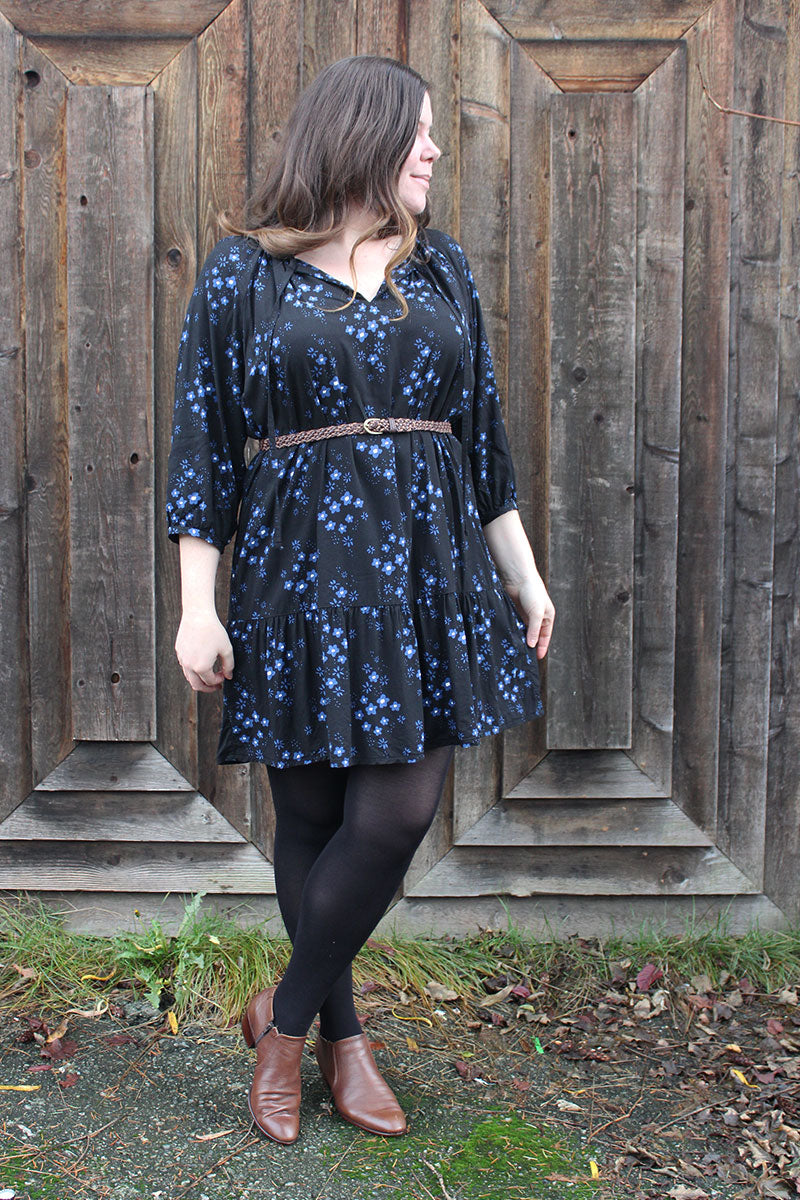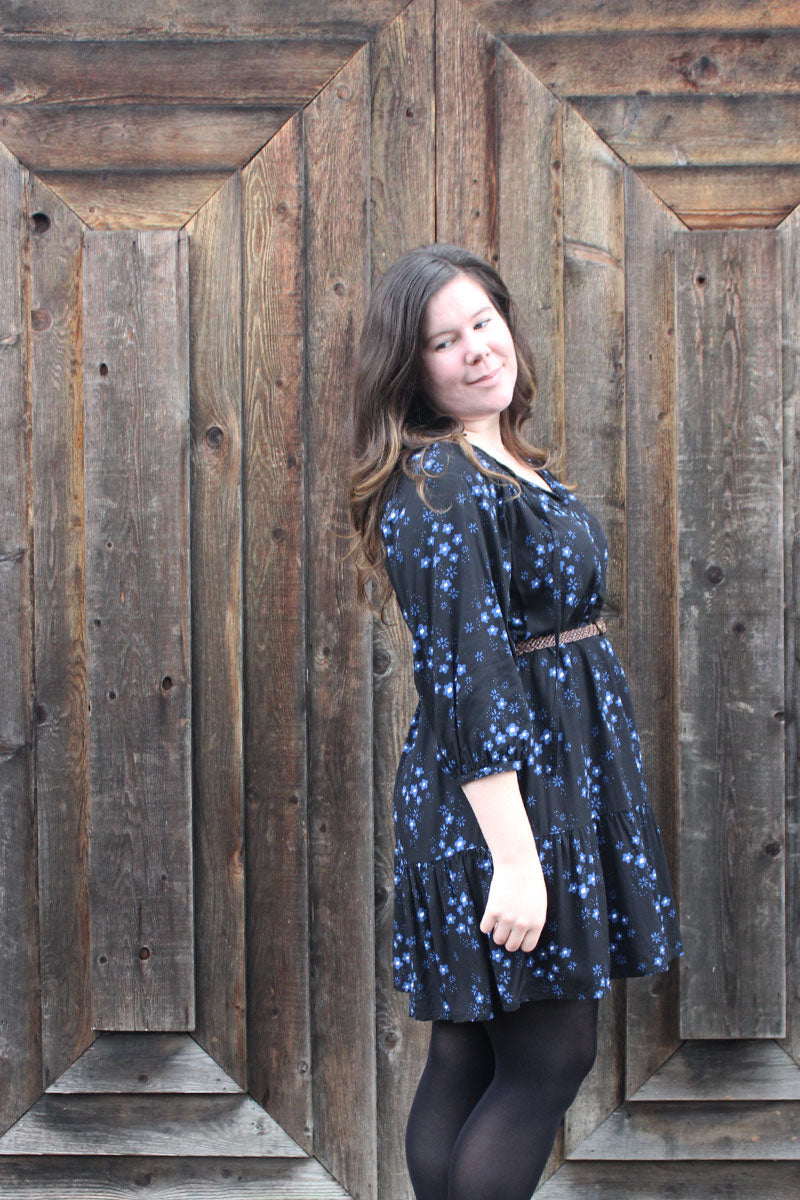 One thing I did that the pattern did not include is I put a facing on the inside of the top. I did this because when the Roscoe is open, the inside of the fabric shows and this particular rayon print had a really white inside. If you are using a cotton or linen where both sides are the same, you need not worry! Even with most rayon prints, this isn't a big deal. I just felt that the pop of white by my face was disrupting the effect of the dark, moody, fabric.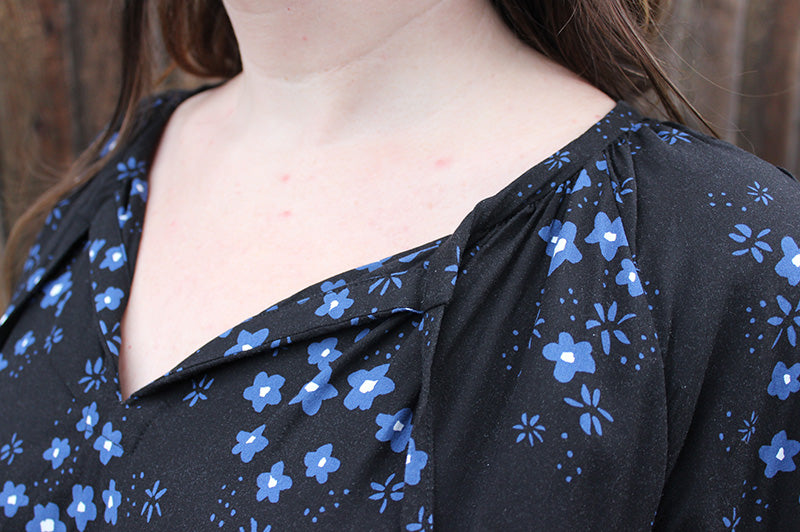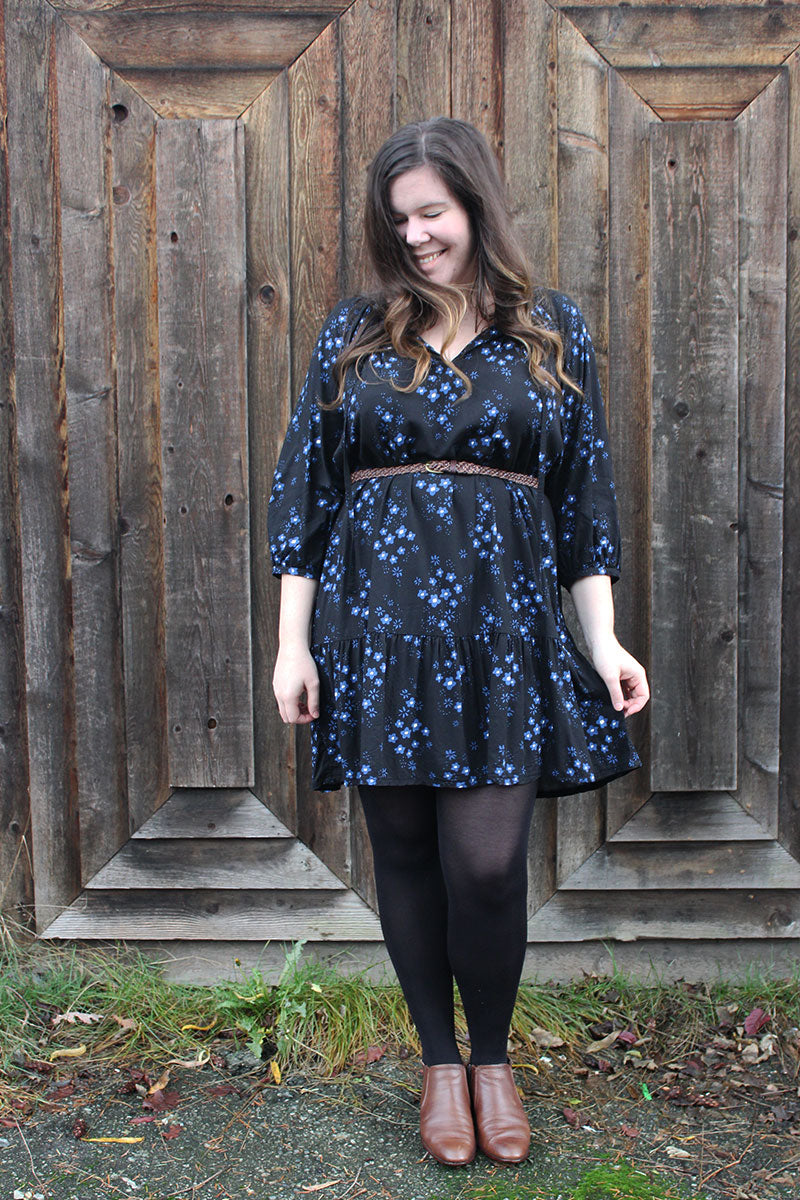 This is the mid-length Roscoe and there is also a blouse view (the same as this but with no ruffle) and a longer dress view. You can belt it or not and also wear it with the ties closed at the top for a different look. I prefer them open and love the dangling ties. Do you guys remember this version by Heather Lou? Those tassels! <3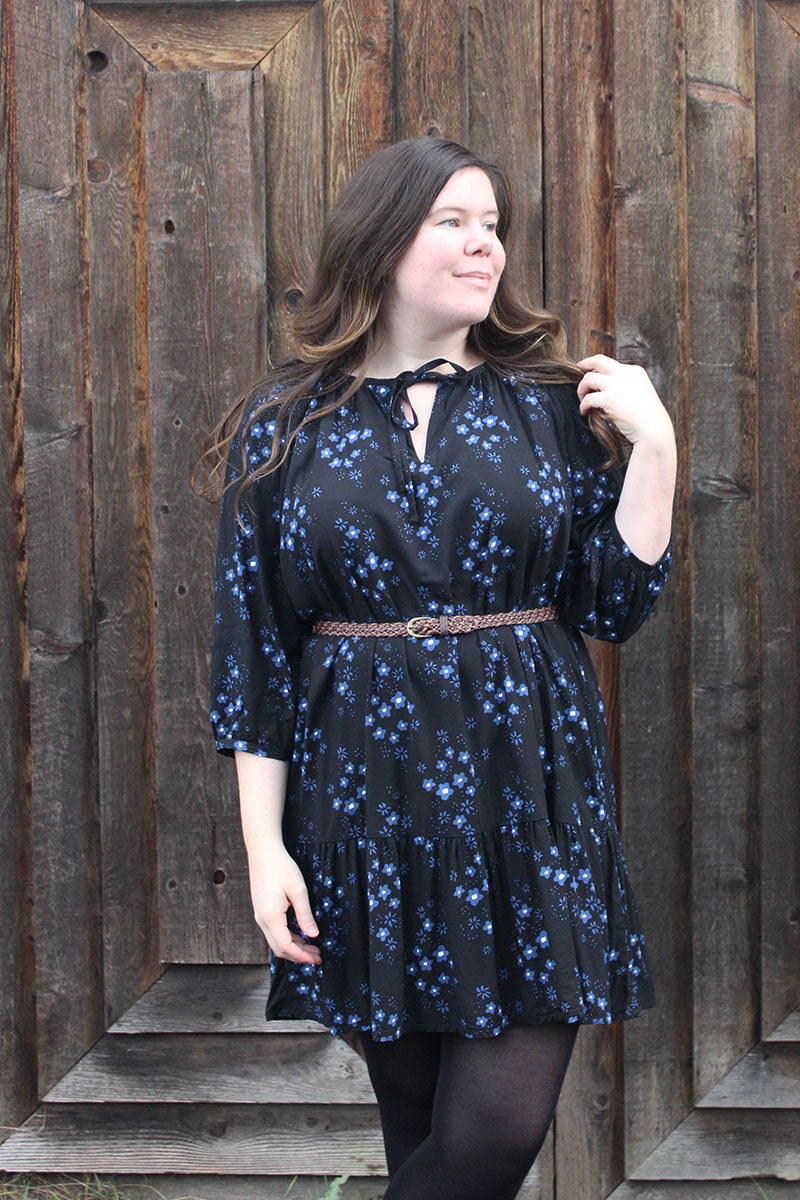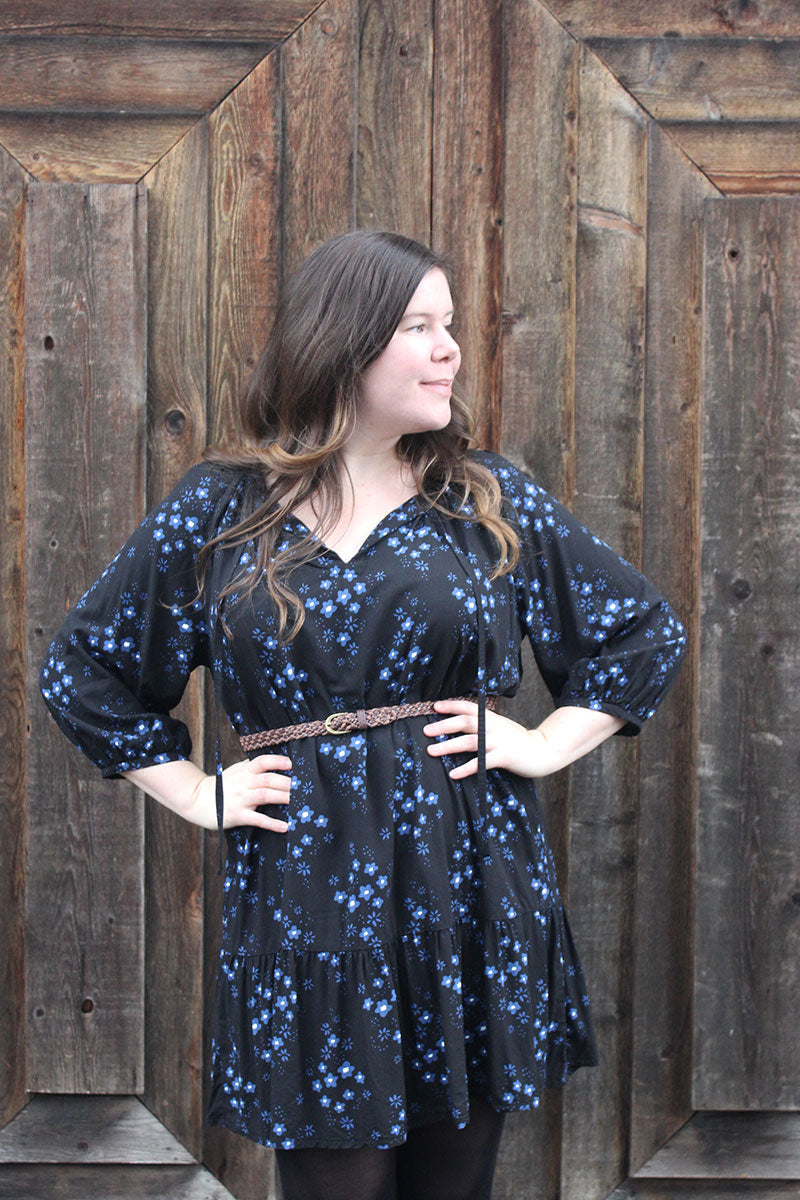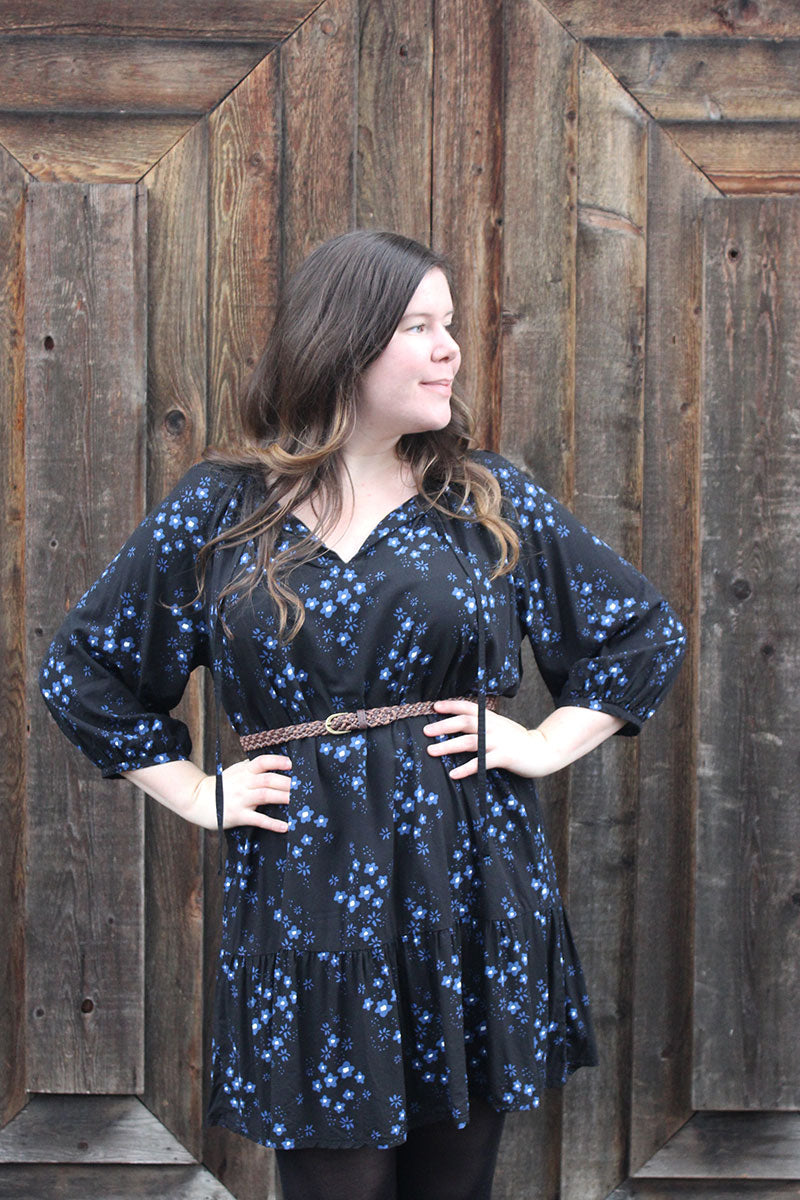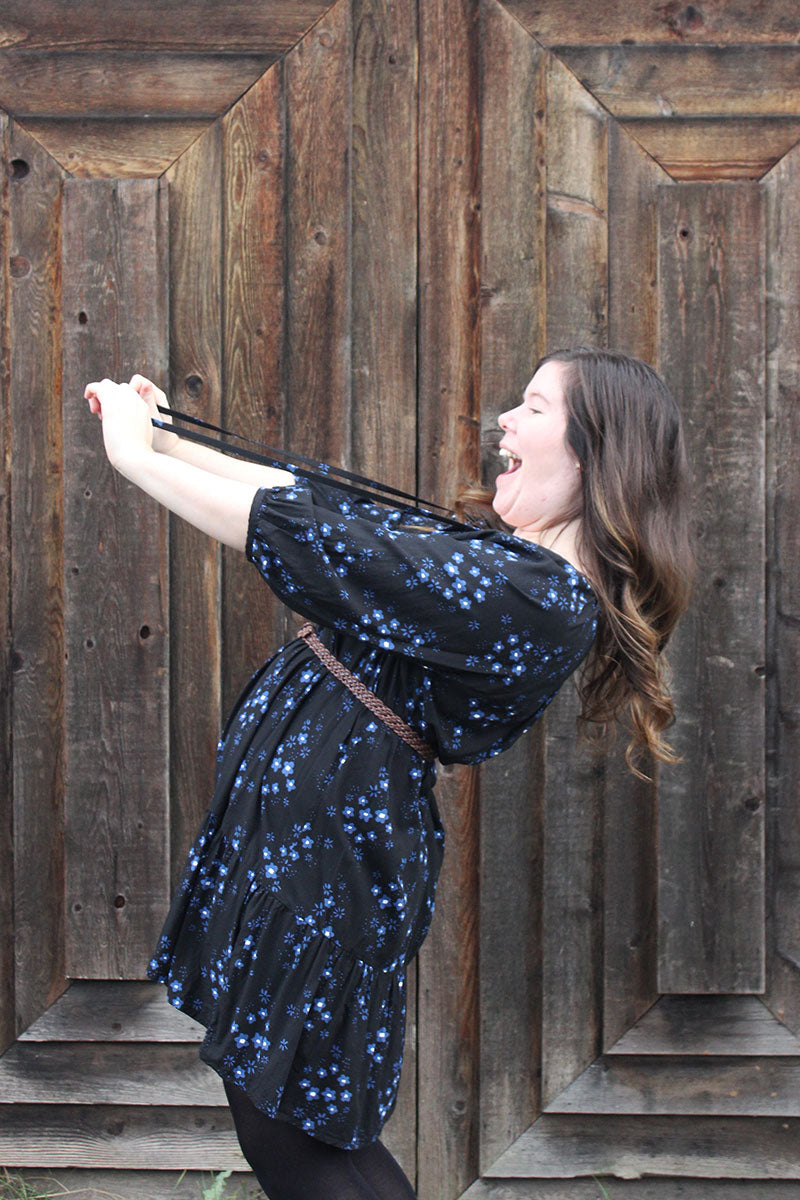 The Roscoe is quick to sew up, the only time-consuming part is getting nice, even gathers around the neck, cuffs, and ruffle bottom. The neck and cuffs are finished with binding and I chose to sew this by hand for a really clean finish. Stitching in the ditch can be a challenge with so many gathers, and I really wanted it to look nice and clean. It was fun to get more hand sewing practice in, too!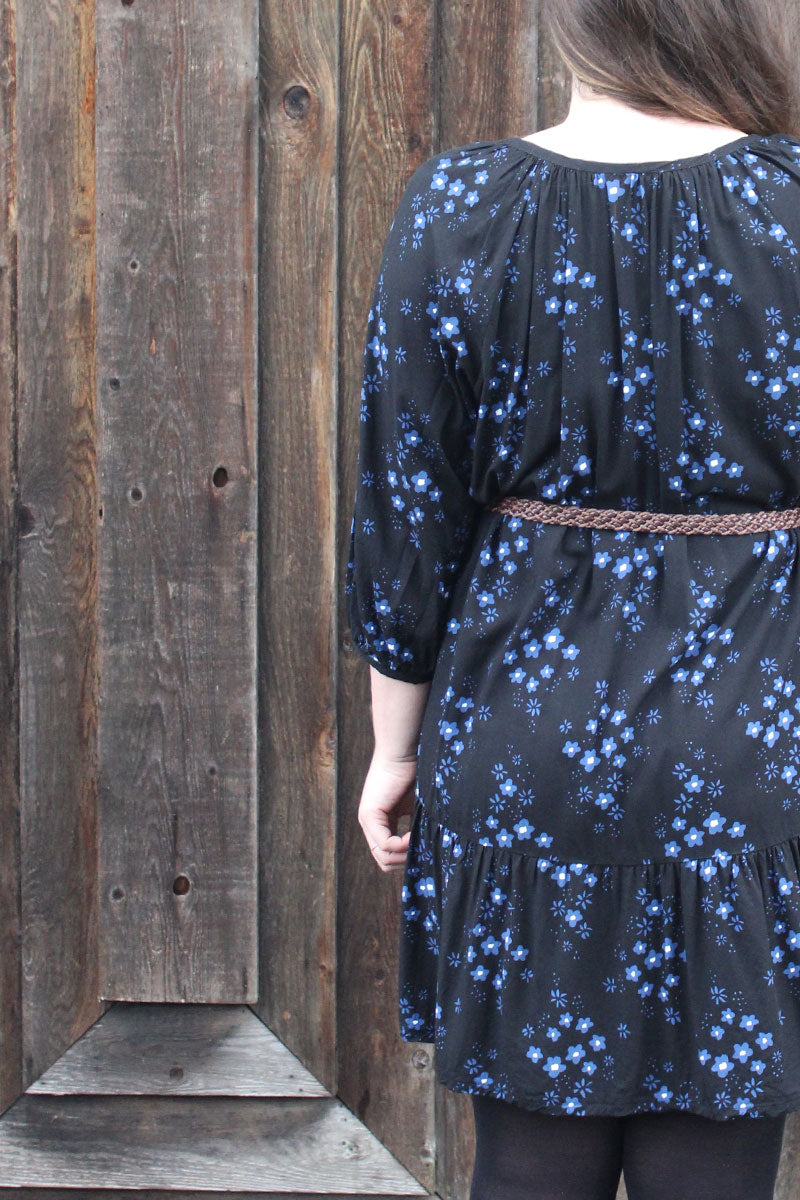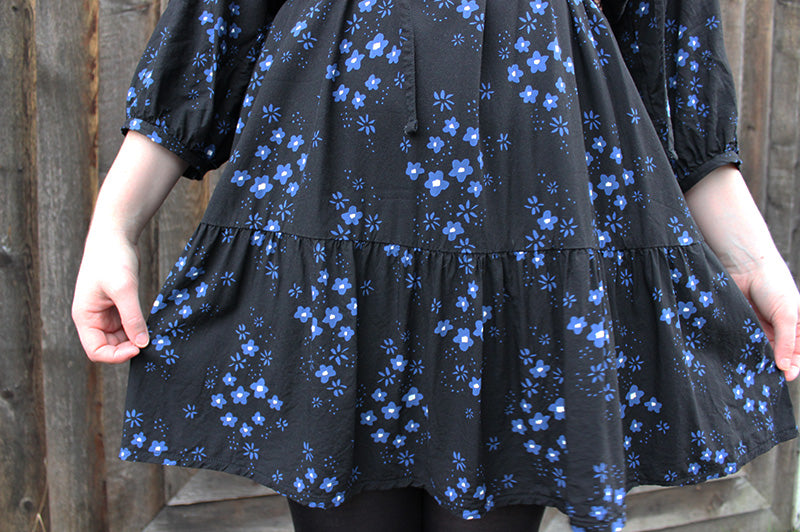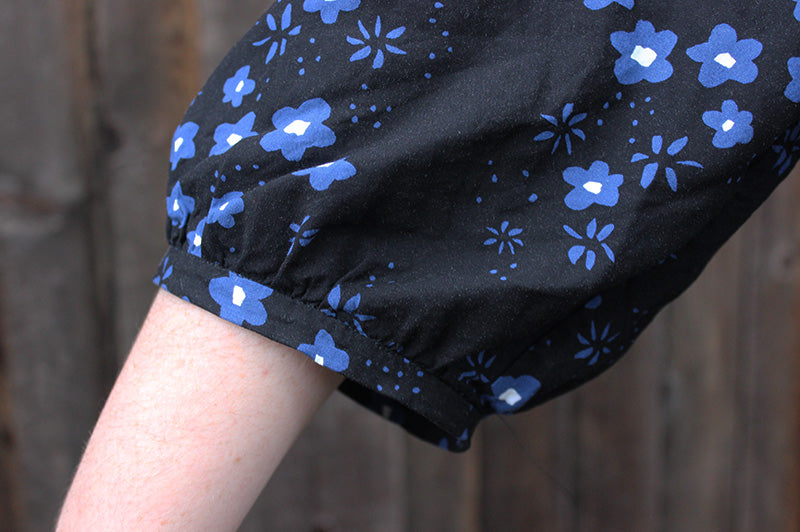 I really REALLY love this dress and can highly recommend it. I think it can be worn casually or formally, and it is one of those garments that feels like a fancy night shirt – secret pajamas all the way!
If you haven't yet, listen to Kelli's episode of the podcast where she talks about the Roscoe!