Happy Wednesday, Makers! If you are a regular listener to the Love to Sew Podcast, you may have already heard that my partner, Sam, is joining me in working from home! This is our first week together in the 'office' and we are really loving it. I have my personal chef and photographer on hand more often now, and he is going to help me out with many little things for Helen's Closet as well as the podcast. I hope to have more time to dedicate to creating patterns and tutorials for the blog with his help. Wish us luck with this new phase!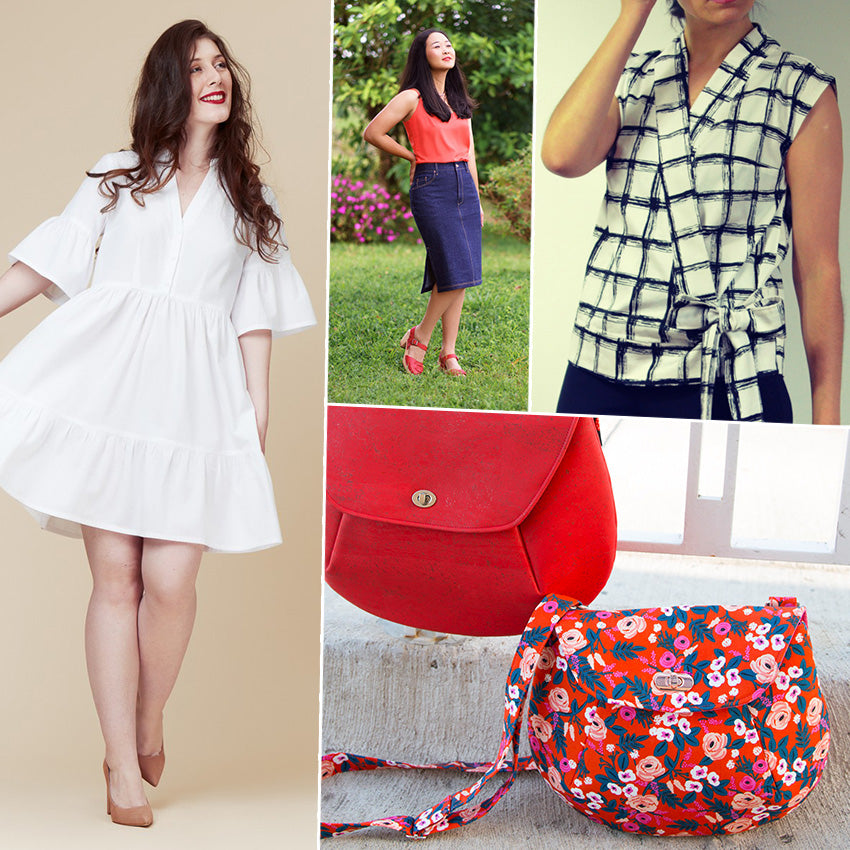 News (clockwise from top left)
Deer and Doe released three new patterns in their Spring/Summer collection, including the Myosotis Dress (featured above).
Itch to Stitch released the Danube denim skirt.
I am really feeling this latest pattern from DGPatterns, the Dana top.
This Oriole bag pattern from Sew Sweetness is really cute.
Makes
Three great Melilot shirts from Sewing and Stuff.
This pink Audrey Jacket from Sable Craft is amazing.
How cool is this asymmetric top from the Ravel Out!?
Nikki has knocked it out of the park with her latest tunic design (also available as a pattern!).
Meg uses up some fabric leftovers to make her latest tee.
A very nice Kalle shirtdress from Alexandra M Patterson.
Saki Jane is looking way too cool in her Burda Style top.
It's almost swimsuit season again! Check out this one from Buzzmills.
Petite Republic made a handmade version of a RTW jacket that blew me away.
I am seeing cropped Kalle tops everywhere! This one from The Everyday Handmade is perfect.
The Sewjourners made a gorgeous Joy Jacket.
Do not miss this outfit from Sew Urbane.
Resources
Megan Nielsen shares a big list of places to buy denim supplies!
We All Sew gives us tips on understitching.
Grainline Studio shares a rolled hem hack for the Linen Sweater that would work for other patterns, too!
On the Podcast
Our mothers join us on the show for this very special episode! We chat about what we were like as kids, the history of sewing in our families, and what our moms think of the sewing community today. These women helped shape who we are and we are so excited to introduce them to you! Listen Here.