Happy Wednesday, Makers! It's  been a couple weeks so there is lots to catch up on! I hope you are all enjoying your summers and getting some much deserved R&R. I am celebrating my three year blog anniversary this week and I wrote a little post reflecting on this past year. I can't wait to see what year four brings and I am so ready to take it on! All Helen's Closet Patterns are on sale this week to celebrate! Grab 15% off, no code required.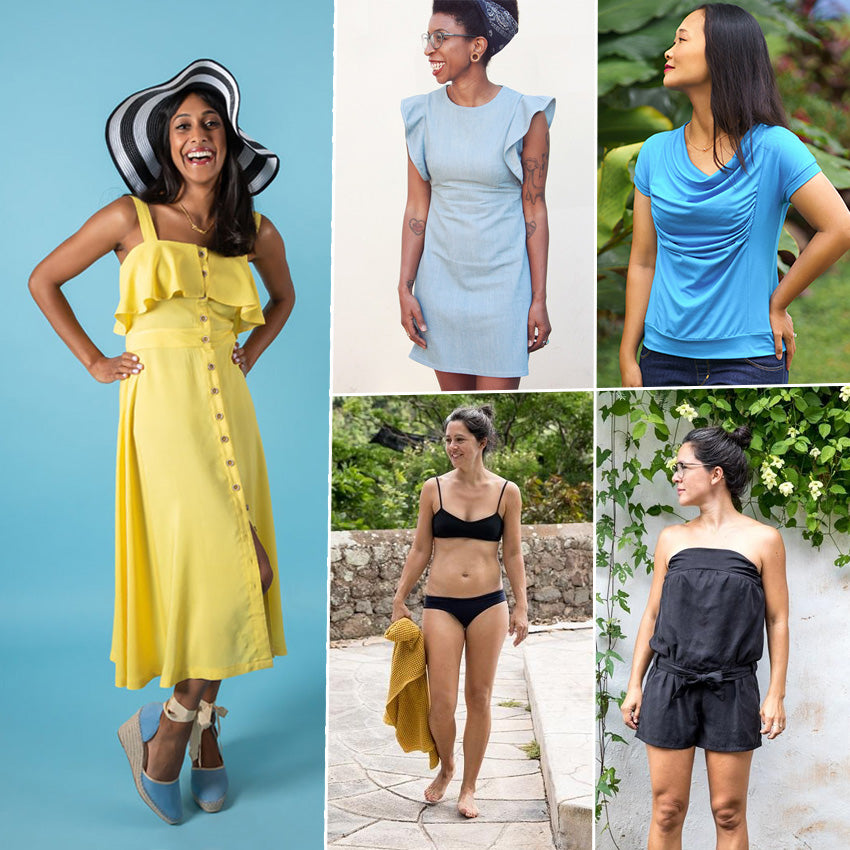 News (clockwise from top left)
Tilly and the Button released the Seren Dress and the Stevie Top.
Sew this pattern released the Sienna Dress.
Itch to Stitch released the Plitvice Top.
Halfmoon Atelier released the Well's Bay Bikini and the Tofo Jumpsuit!
All Helen's Closet Patterns are on sale this week! Grab 15% off, no coupon code required.
Makes
This dress from Sweet Shard took my breath away,
Love this gorgeous Seren dress from Hello Yellow Club.
Very pretty Ariel dresses from The Unfinished Seamstress.
This jacket from The Compulsive Seamstress is very nice,
Made by Laquana nailed it with this Trench Coat.
Check out this Jessica dress form Fake it While You Make it.
Love the Nani Iro fabric used for this Alice top from My Handmade Wardrobe.
This Erin Skirt from Mieko Made is so cute.
Resources
Megan Nielsen is talking about plastic in fabric this week on her blog.
I enjoyed this thoughtful post about sewing and body image from This Blog Is Not For You.
On the Podcast
We are celebrating episode 50 this week with a special recap of our time spent travelling together to Pattern Review Weekend, Prince Edward County, and Montreal. We recorded some mini interviews along the way, including a sewing pep talk from Heather Lou and an intro to bra-making with Emerald Erin! Listen here.