Happy Wednesday, makers! I am about to test my next pattern and I am feeling so excited about it, but the nerves are creeping in too. It is always hard to share something for the first time, even to a small group of trusted advisors. I am very hopeful for the test because I cannot wait to show you what I have been working on. Wish me luck! In the mean time, here is what my fellow designers have been up to: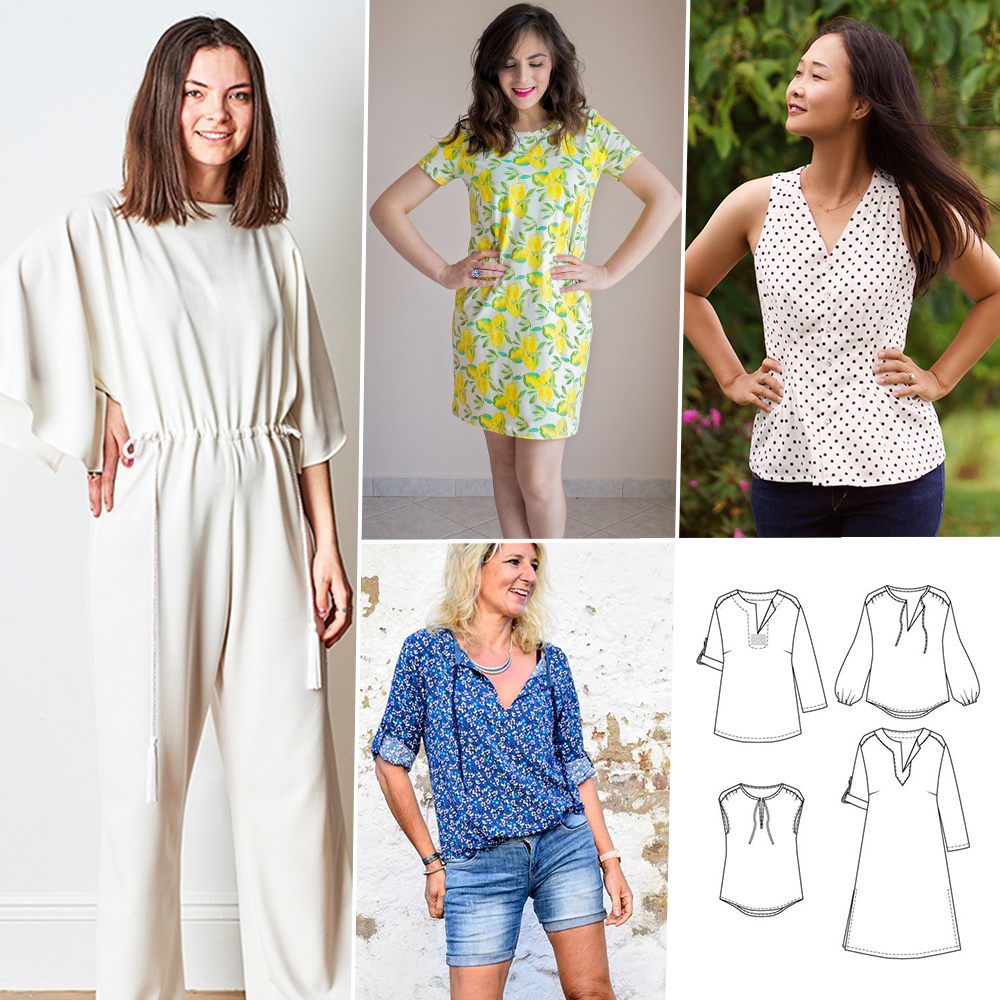 News (clockwise from top left)
The Makers Atelier released the Madeline Robertson Jumpsuit and Dress.
Athina Kakou released the Sheona Dress and top.
Itch to Stitch released the Dana Point Top.
Wardrobe by Me released the Piper Boho Tunic.
Makes
This embroidered linen Kobe top from Elle Gee Makes is so pretty.
This Madeleine skirt from Dolly Clackett is too cute!
Miss Crayola Creepy is totally rocking her York Pinafore.
I am into this cute Stevie top from Atelier 292.
Don't miss this gorgeous dress from the Telltale Tasha.
Love this Isca dress from Susan Young Sewing.
Thanks, I Made Them looks stunning in her M7654.
I can't get over this incredible Suki Robe from Sew Mariefleur.
This Tea House Dress from the Compulsive Seamstress is very nice.
Atelier Gold Faden is making sure the pants match the drapes.
Jasika shows off her amazing Persephone Pants.
Resources
Vintage on Tap gives tips for choosing fabrics.
Resliced by Jordon offers ways to be more eco-friendly in sewing.
Imagine Gnats highlights 3 ways to sew flat felled seams.
See Kate Sew shares 10 household items that are surprising sewing supplies!
On the Podcast
Brooks Ann Camper shares her incredible sewing journey that has taken her from Broadway costume creation to making custom bridal gowns. She teaches us how you can up your game by incorporating hand sewing into your next projects! Brooks Ann's positive attitude about enjoying the act of sewing and taking care in the details is truly infectious. Listen here.
[soundcloud url="https://api.soundcloud.com/tracks/491660529″ params="color=#ff5500&auto_play=false&hide_related=false&show_comments=true&show_user=true&show_reposts=false&show_teaser=true" width="100%" height="166″ iframe="true" /]