Happy Wednesday, makers! I am happy to report that my extended size range is almost ready to share with you all! We did the photoshoot last week and I am beyond happy with the pictures. My testers have been so incredible and I couldn't have done this without them! I am updating the Blackwood Cardigan first and I can't wait to share more! Stay tuned 😉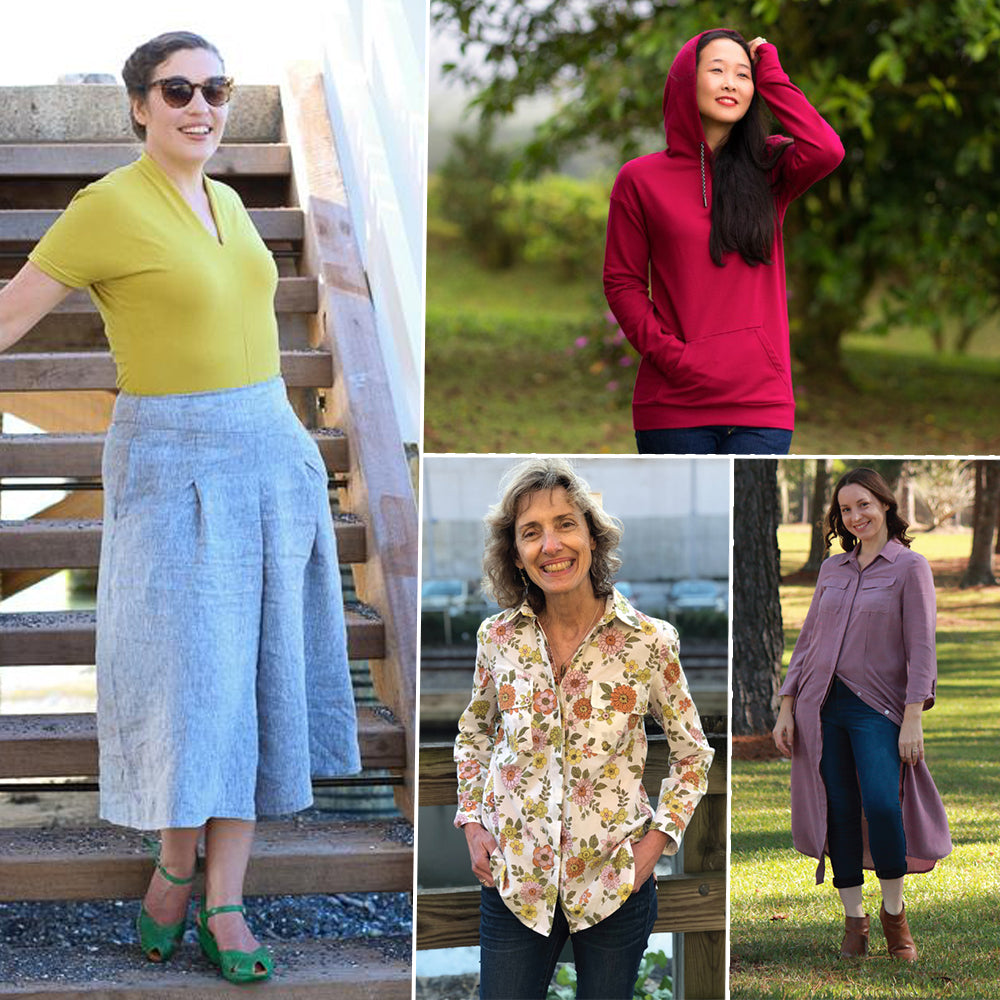 News (clockwise from top left)
Scroop patterns released the Eastbourne Trousers.
Itch to Stitch released an add-on for the Uvita Top.
Designer Stitch released the Sedona Shirt, Tunic, and Dress.
Makes
Love the colour in this smock blouse from Blogless Anna.
This waver jacket from Seemannsgarn Handmade is so cool!
Sweet Shard nailed this faux-leather bomber jacket! She also has a post highlighting the inside.
Katie Kortman shares her fabric painting adventures this week – don't miss it!
How cool is this rainbow lining on this Halla coat from Sewing Adventures in the Attic?
Noble and Daughter made a great pair of Peppermint Magazine trousers.
Needle and the Belle shares her fav pattern releases of 2018. Lots of great inspo here!
Pauline Alice nailed this Reina Dress pattern hack.
I can't stress enough how awesome this Jazz Jumpsuit from The Magnificent Thread is.
So many pretty colours in this dress from Bobbin and Baste.
Resources
Want a new sewing table? Miss Celie's Pants shares a great IKEA Kallax option.
I really enjoyed getting to know Glitter Grandpa in this post on the Sewcialists Blog.
Maternity sewing talks about making and/or using cloth menstrual pads.
Cashmerette covers how to grade between sewing patterns.
Sew Ve Style shows us how to make our own ironing board cover.
Don't miss this piece from Rare Device: What I want pattern companies to know about their fat, queer customers.
"The sewing community has an inclusivity problem. Again and again, in posts, pattern releases, hashtag challenges, and media features, we see the same bodies, the same narratives, the same assumptions." – Shannon (Rare Device)
On the Podcast
Kate Underdown joins us to talk about The Fold Line's new website and pattern shop! We discuss how things have evolved over the years, working as a team, and growing an online community. Kate also shares her favourite thing about the sewing world and why she loves what she does. Listen here.