Happy Wednesday! It's February already and I can hardly believe it. This has been a really exciting week for me because I had my first day with my new assistant! It is amazing to be able to get help with my business and create a job for somebody. She will be helping me with customer support, pattern development, and some fun blogging projects!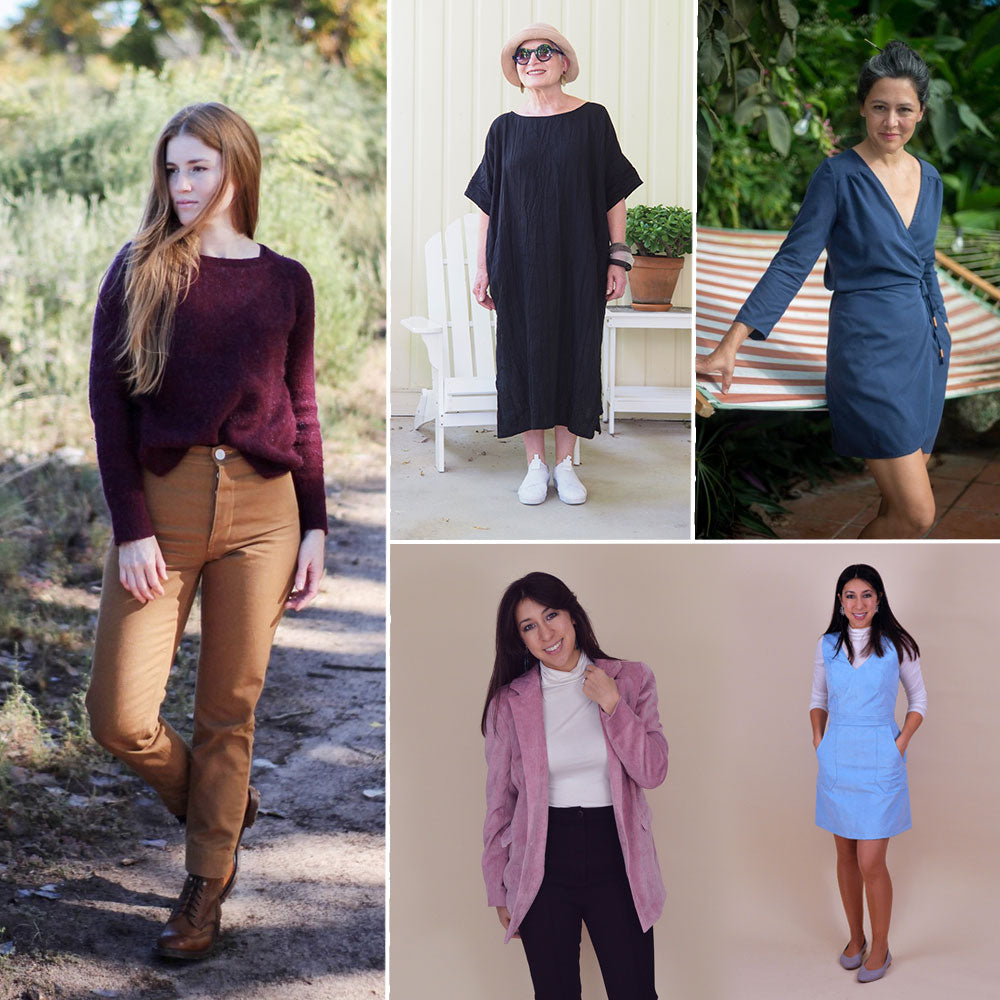 News (clockwise from top left)
The Philippa Pants are here! I can't wait to try the latest pants from Anna Allen Clothing.
Tessuti released the Coni top and dress.
Halfmoon Atelier released the Vondel Wrap Top.
Nina Lee London released the Camden Pinafore and the Richmond Blazer.

Community
Love fun prints and patterns? Join in the #sewpatternsandprints challenge! This is a monthly challenge to celebrate and showcase the wonderful variety of amazing patterned and printed fabric that is out there. Each month will have a specific theme and accompanying hashtag, such as #sewingfloralfebruary.

Join in the first #SewOver50 challenge! Sew a garment either for yourself or someone else using a pattern which features an older person ie: over approximately 45-50, on the cover and/or in other original supporting marketing.

Laeyla Jayne is hosting the Love Yourself Wardrobe Challenge in February. LoveWardrobe2019 is not a competition. It also isn't a challenge to make yourself a whole new wardrobe of clothes (unless you want to!). Look at what you already have that supports your positive body image.


Amy Nicole Studio is hosting The Year of Slow Sewing!

February is Black History Month and there is a sewing challenge called #BHMPatternDesigners. It stands for Black History Month Pattern Designers and this challenge is dedicated to African American Pattern Designers during the month of February.

Want to travel AND do fun sewing-related things? There are two events that popped up this week. Halfmoon Atelier is hosting an amazing getaway in Lisbon in September, and there is a Paris Sewcial happening on May 18th!

Makes
This up-cycled Wiksten Haori from The Petite Republic is so cool!
Love this cute Isca Shirtdress from Nurse Otter.
Is there anything more incredible than a sequined jumpsuit? Check out this one from Erica Bunker.
This fur coat from Wanderstitch is AH-MAZING.
I want this Beauxbaton uniform from The Sewing Goatherd so badly!
I can't get over this skirt/pants hack from The Unlikely Nest.
Foxgloves and Thimbles made a fab plaid dress.
I really need to make a Roksi dress! This one from Amy Nicole Studio is so pretty!
Go for the Gold! Love this Jackie dress from Zoubi Zoubisou.
Resources
We All Sew shares how to make a cool canvas hanging plant basket.
Sewing Adventures in the Attic shows us how she stores her patterns.
On the Podcast
We revisit the topic of sewcializing in this episode. Where can you find fellow makers online? What is good sewcial etiquette? How do you make an Instagram story? How can you start a sewing challenge? We cover all that and much more! Listen here.