Happy Wednesday, Makers! We are huddled up over here in the middle of our own giant snowglobe. Is there anything cozier than looking up from your machine and seeing big fat snowflakes falling from the sky? All the more reason to stay in and sew…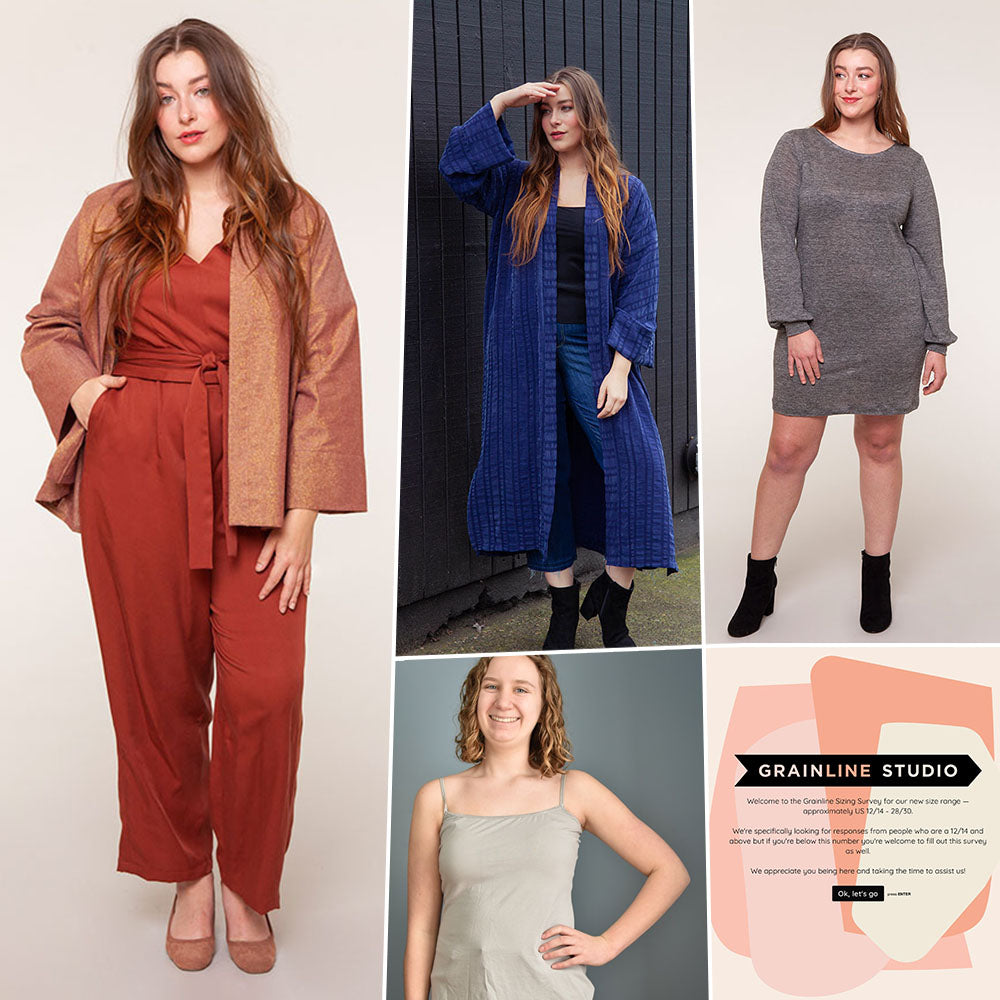 News (clockwise from top left)
Seamwork Magazine brings us the new Brit Dress and Quince Day Robe patterns for February.
Grainline Studio is expanding their size range, and they want to hear from sewists in the community- check out their survey if you're a size 12/14 or above.
The new Primrose Panty and Coraline Camisole patterns have arrived from Bella Sunshine Designs! These patterns are so cute for both women and girls.
Makes
LindseyinStitches has us swooning over this black denim York Pinafore and ribbed knit Nikko top featured on the Imagine Gnats blog!
This matching crop top and panty look from The Needle and the Belle is on fire.
Sew Essentially Sew made their handbag debut with this fun cork bag- the cork fabric is so nifty!
Sew Sweetness brings us these utterly adorable Park Sling Backpacks, perfect for work or school.
This Kalle Shirt from Fifty Two Fancies is irresistable- just look at how the face printed fabric lined up on the collar!
This vintage-inspired floor-length maxi coat from Ozzy Blackbeard is simply stunning. It's the coat of our dreams, too.
Jessalli Handmade is bringing the 70's flair with this wide-legged version of the Dawn Jeans.

Sylvia from The Ravel Out whipped up this incredibly cute The Polka Dots Afternoon Hat and a matching Nummi Tote.

Thanks to Meg Made Sewing for bringing these dynamite gold Lander Overalls with a detachable bib into our lives.

Mary from Sablecraft is striking in this Geodesic Sweatshirt.
Pins and Pinot tested the Camden Skirt, and the results are delightful! Check out the Art Deco-esque lines on the pockets.

The Green Violet is showing some major love for the Elliot Sweater with this gifted make for her mom- we love this rose terry version. 


Resources
Huge thanks to The Petite Font for showing us 3 easy ways to make a round back adjustment on knits. Neck gaping and front choking begone! 
Closet Case Patterns is jumping on the second wave of the Konmari Craze by showing how to Konmari your sewing space.  I think we could all do with a a little tidying, right?
Honestly WTF has some great tips for finding and curating a colour palette to best serve your colour-coordinating aspirations.
Sew Sweetness came out with this awesome video on how to use Odicoat to waterproof fabric. This opens up a whole new world for stash busting projects- makeup bags, lunch bags, and more.
Melly Sews shows us how to sew a lantern sleeve– this hack is so useful for adding a little flair onto a long-sleeved garment.
Is there anything better than a good free pattern? Thanks to Sewstainability for this amazing list!
Huge thanks to Curvy Sewing Collective for this very important post on why size-inclusive langauge matters in the sewing community.
Style Sew Me is providing some very useful advice for dealing with unsolicited criticism of your makes, and why it's important to build up fellow sewists with our words.
On the Podcast
We catch up with six amazing sewists who are on journeys of motherhood. We find out how being pregnant has impacted their sewing, favourite maternity-friendly patterns, and making time to sew post-partum. We also discuss major body changes and how that can both motivate and de-motivate us in our sewing. Listen here.