Happy Wednesday! It feels like the sewing community has been especially energized this past week. We are hard at work getting our next pattern out to testers. This is a new design for Helen's Closet and we can't wait to share more!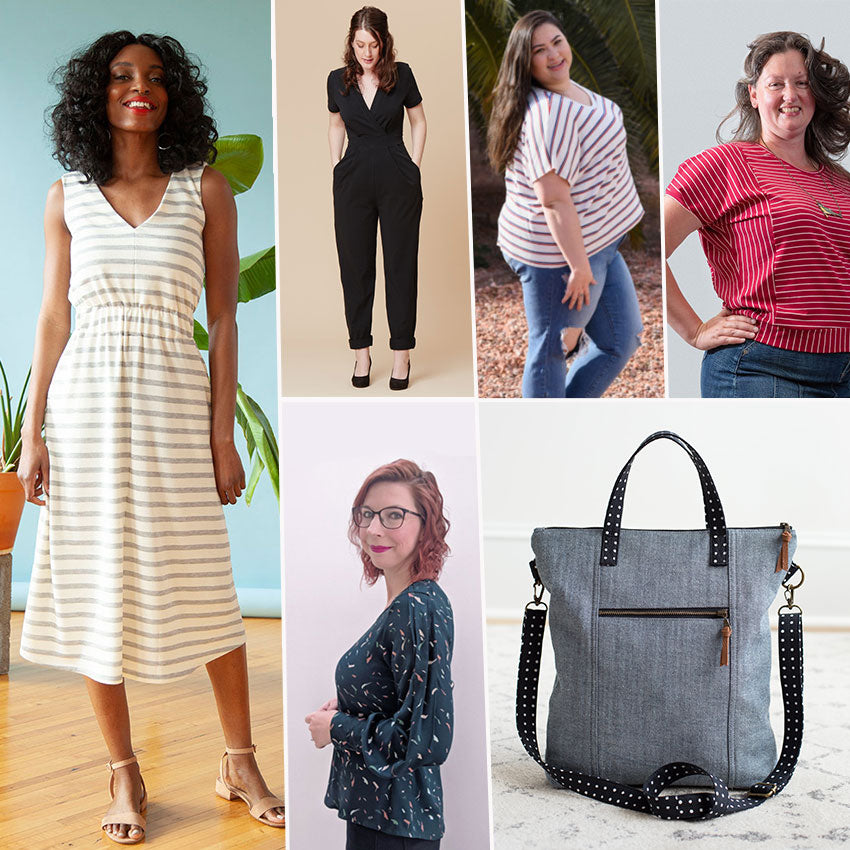 News (clockwise from left)
Seamwork Magazine released the Bobby Dress and the Carter Dress. 
Deer and Doe released their Spring Collection! The Sirocco jumpsuit is featured above.
Patterns for Pirates released the Sporty Piko hoodie/shirt.

Muse Patterns release the Hipi Top. Muse Patterns is located in New Zealand, and until April 8, all proceeds from this pattern will be donated to the victims of the recent tragedy in Christchurch.

Noodlehead released the Redwood Tote.

Sew Space released the Josie Blouse.
Makes

Trish Stitched refashioned a thrifted maxi skirt into an adorable pinafore with a removable bib! Not only is it perfect for the #sewbibs challenge, but refashioning thrifted clothes is an excellent way to exercise sustainability in your sewing practice.

A Colourful Canvas made this gorgeous York Pinafore with a hacked v-neck neckline, and a full lining. She wrote a tutorial as well!

You all know how we feel about the Persephone Pants (we love them). Thankfully, Love You Sew has proven that the shorts view of the Persephone's are just as adorable and perfect for summer.

A Stitching Odyssey combined the Jennifer Lauren Grable top and Pauline Alice Aldaia dress to create this gorgeous 50's-inspired dress in subtly striped velvet. Most importantly, the dress matches her bunny, Opie. I think Marie is on to something with #DressLikeYourPet. 

Jasika Nicole sewed this stunning starry night dress. It is just a dream!

My Love Affair with Sewing made this incredible flocked denim coat!

Grosgrain Green made this beautiful Bowline sweater. It's so simple, yet casually elegant at the same time.
Resources

Sew DIY made this tutorial on how to sew on snaps by machine. Snaps on your bodysuit will change the bodysuit game for you.

Heather Handmade wrote this tutorial on how to add sleeves to a dress, whether it's a handmade dress or ready-to-wear. This is another example of a great way to bring new life to your garments!

Danica Does It published this very fun tutorial on dying with turmeric! I've tried dying with turmeric before, it's easy and the results are gorgeous.

Measure Twice Cut Once wrote this tutorial on lengthening or shortening a swimsuit pattern. I will definitely be using this come summer sewing time!

Melly Sews showed us how to add a ballet inspired tie-bottom detail to leggings. Do you think that if I add tie-bottoms to all my leggings, I will be less clumsy?

On the Podcast
We have all experienced SewJo (sewing mojo) or lack thereof! Why does it leave us and how do we find it again? We discuss our personal experiences with losing our SewJo and things we have done to get it back. Listen here.
[soundcloud url="https://api.soundcloud.com/tracks/599635050″ params="color=#ff5500&auto_play=false&hide_related=false&show_comments=true&show_user=true&show_reposts=false&show_teaser=true" width="100%" height="166″ iframe="true" /]