Hello friends! Chloe here. I am very excited to debut my new blog post series, all about ways to practice sustainability in sewing. Sustainability is always at the front of my mind when I am sewing. As sewists, we have the power to significantly cut down on textile waste when we make our own garments, through reusing fabric scraps to make new projects, sustainable fabric choices, refashioning, and more. Isn't that amazing? This will be my first project in a series of tutorials all about how to do exactly that.
If you are a fabric hoarder like me, you might also hoard your fabric scraps. Don't be ashamed- in fact, you should be proud. You can use those scraps to sew all sorts of cool projects, like this soup bowl cozy!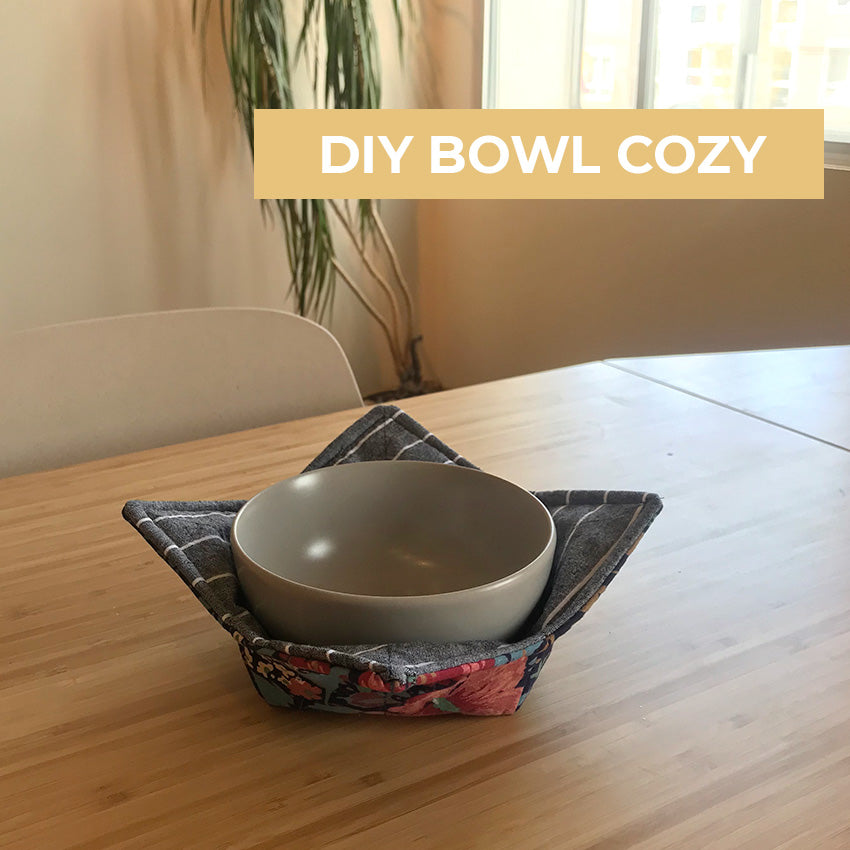 You know how when you microwave a bowl of food, by the time the food is barely warmed up, the bowl is as hot as molten lava bursting forth from an apocalyptic volcano? And you try to carry it to your table using your sweater sleeves as potholders? Well, this adorable soup bowl cozy is the solution you have been searching for.
This soup bowl cozy is so easy and quick to make, and saves your fabric scraps from the landfill. You can also use a couple of fat quarters for this project if you don't have scraps that are big enough.
Let's get started!
For this project, you will need two 10″ x 10″ squares of fabric, two 10″ x 10″ squares of cotton batting or boiled wool scraps, and a marking pen.
PLEASE make sure that whatever fabric and batting, and thread you use is microwave safe! Polyester is not a good choice for this project, nor any fabric with metallic embellishments. Use cotton batting and cotton thread.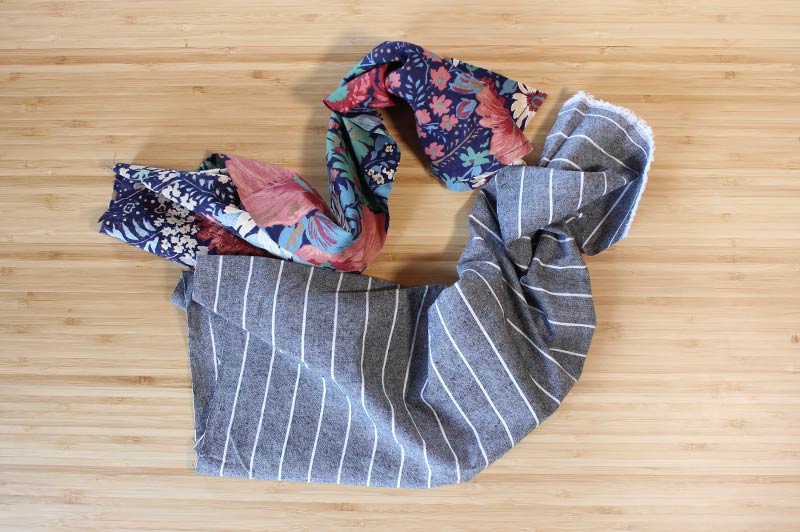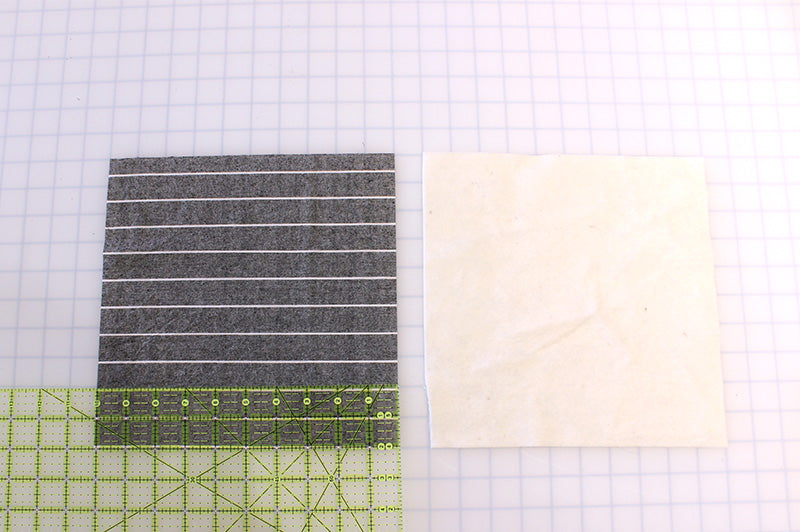 For the first step, layer each fabric square on top of a batting square. Pin in place.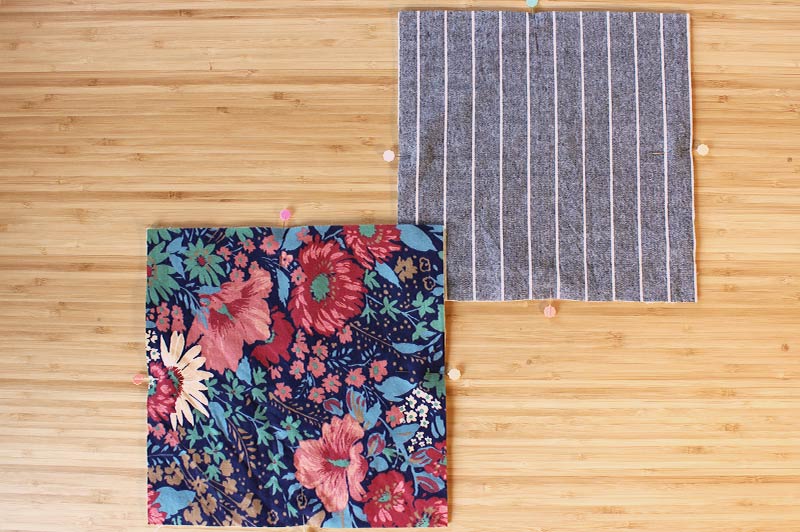 Next, sew two diagonal lines through each square, corner to corner. It will look like there's a big X on each square.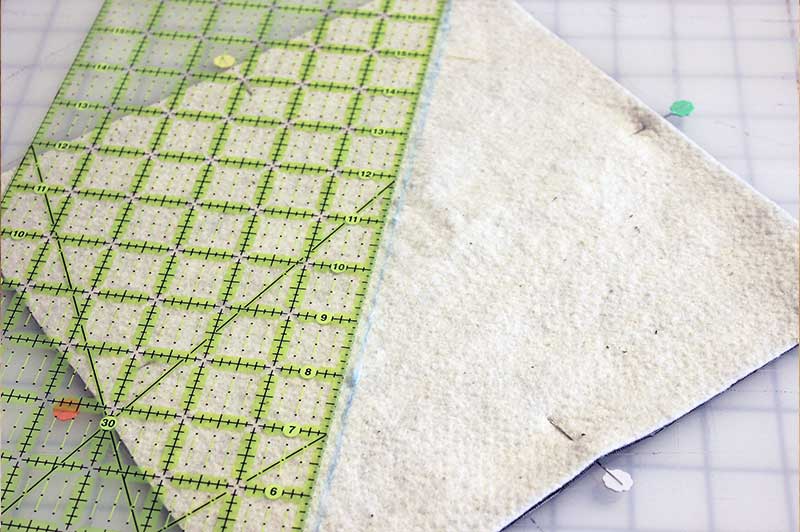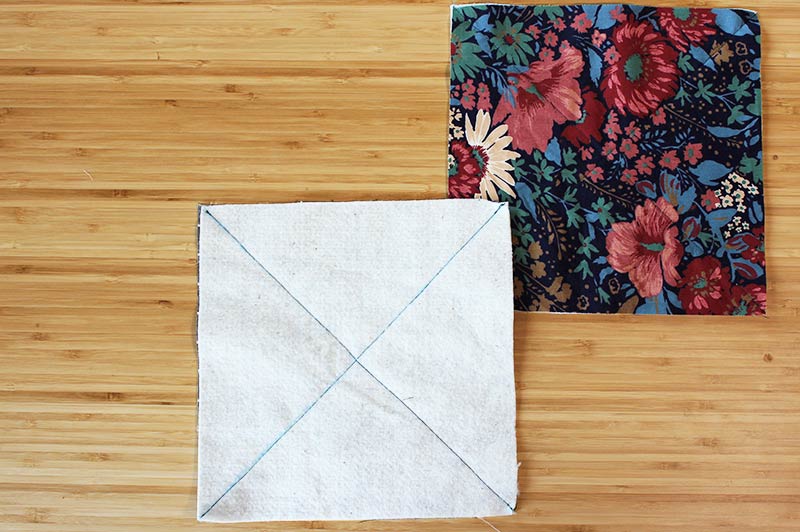 Then, grab one of your quilted squares. Fold the square in half, with the batting side out. Make a mark one inch in from the folded corner, and make another mark two inches down along the folded edge. Draw a line between the two dots. See the blue diagonal chalk line below: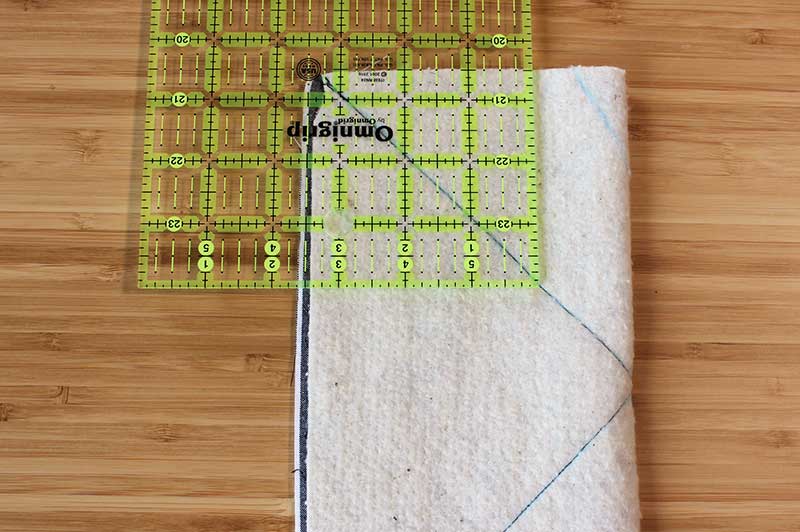 Repeat this process on the bottom corner of your square. Make sure that you are doing this process on the folded side of the square- if you use the unfolded sides, it won't work right.
Next, sew along each line. Trim the seam allowance down to 1/4″.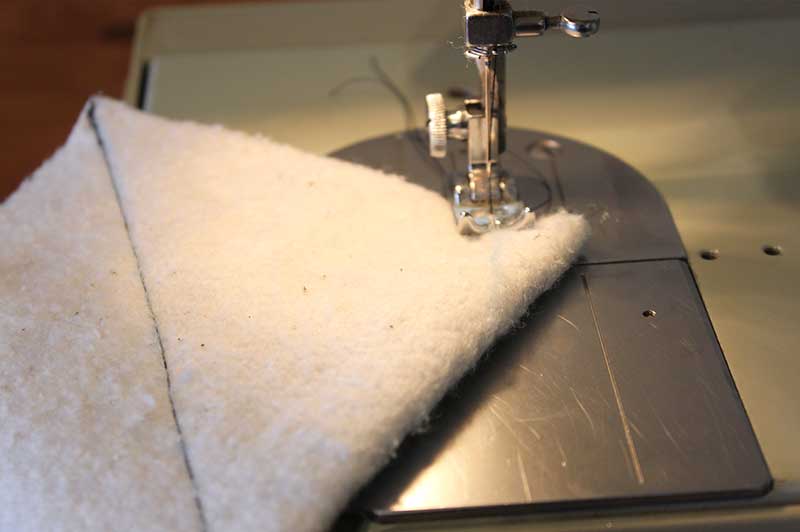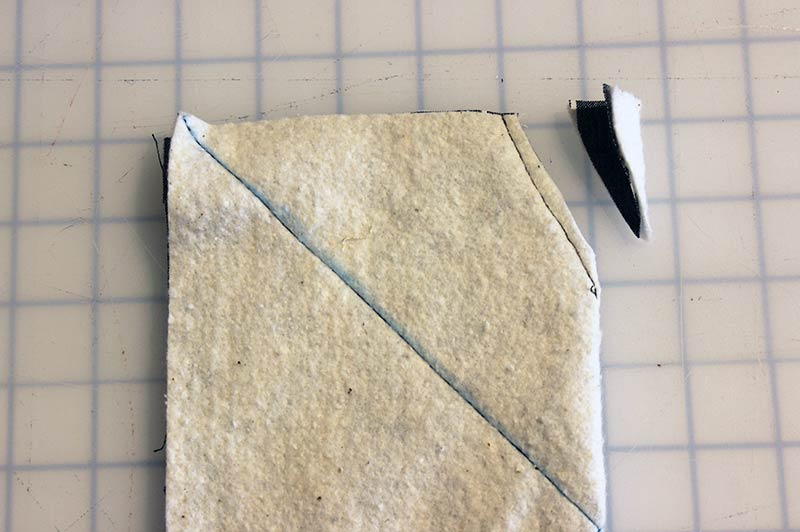 Then, fold the same quilted square in half in the opposite direction. The lines you already sewed will be opposite the fold. Repeat step 3; mark one inch in from the folded corner, and make another mark two inches down along the fold. Draw a line to connect the two marks, and repeat with the bottom corner of the square.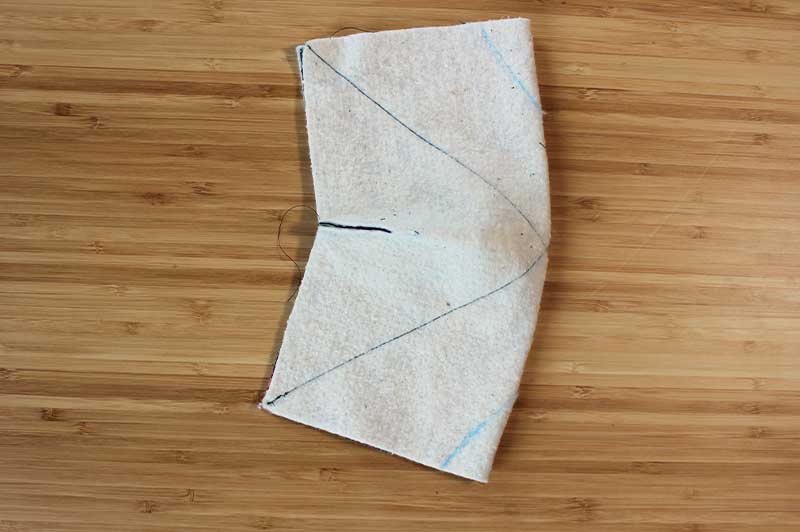 Sew along both lines, and trim to 1/4″.
Repeat this whole process with your second square of fabric and batting.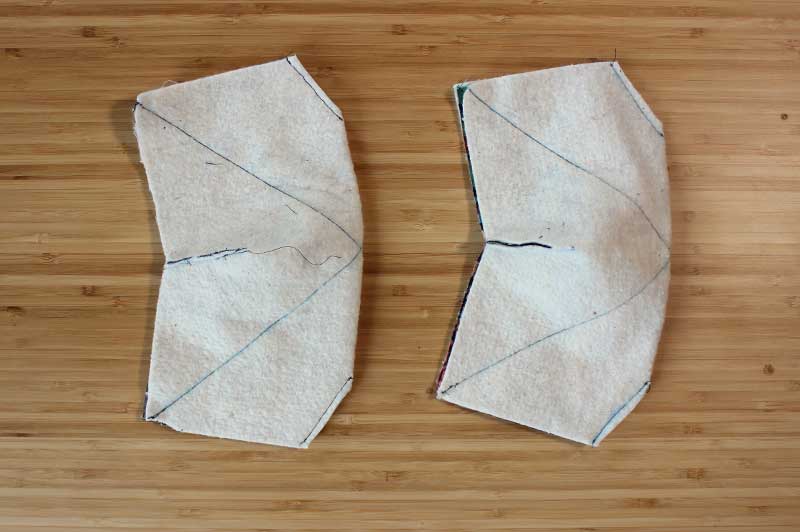 If you open up your squares, you will see that you now have two little fabric bowls.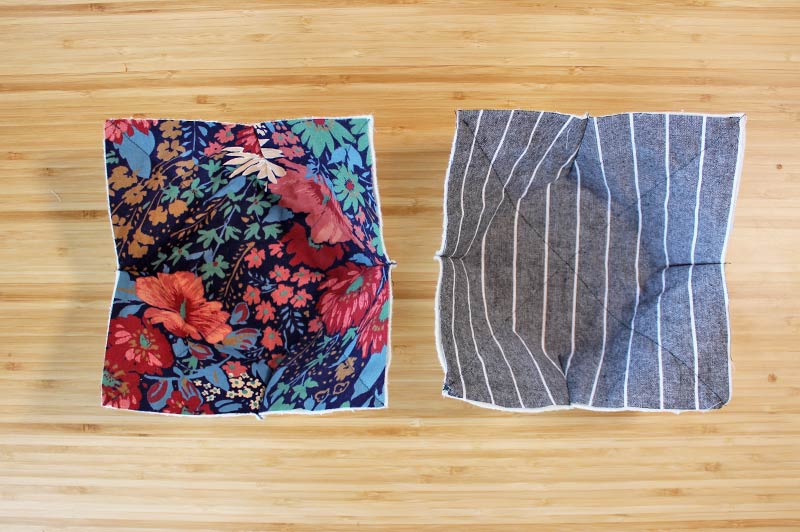 Turn one bowl right side out.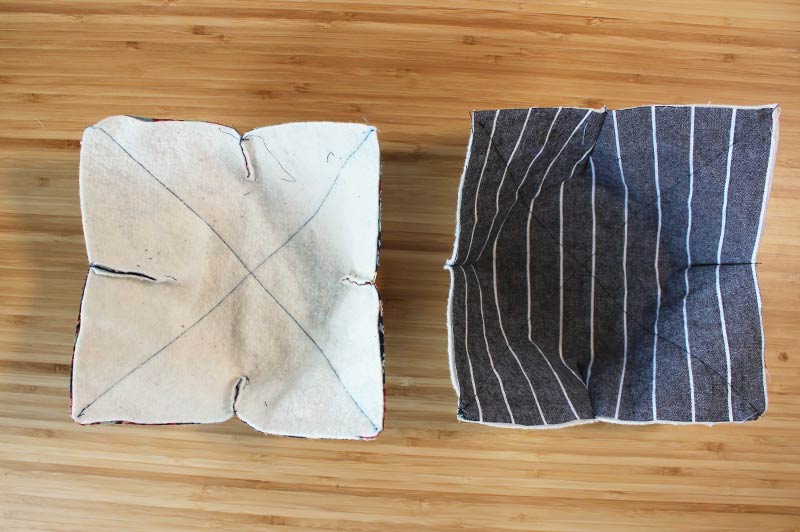 Sandwich the bowls together with right sides facing, making sure to align all corners and seam lines.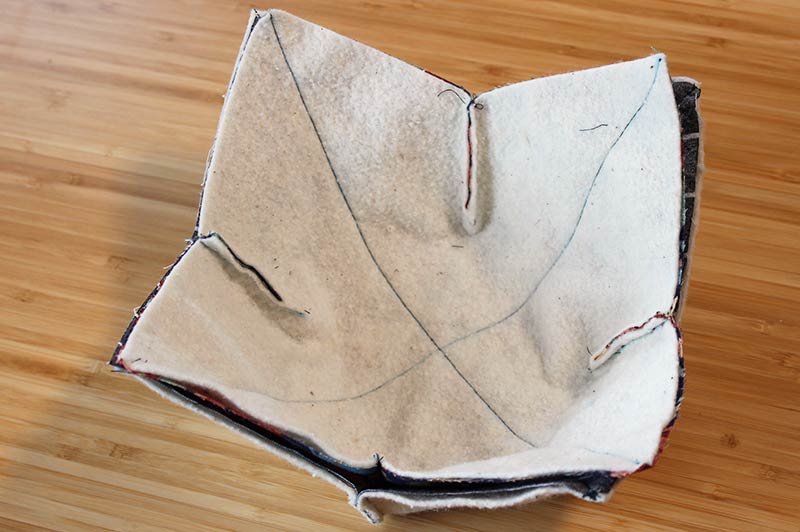 Sew along the edges of the layered bowls, at a 3/8″ seam allowance. Make sure to leave a 3″ opening on one side so that you can turn your cozy right-side-out.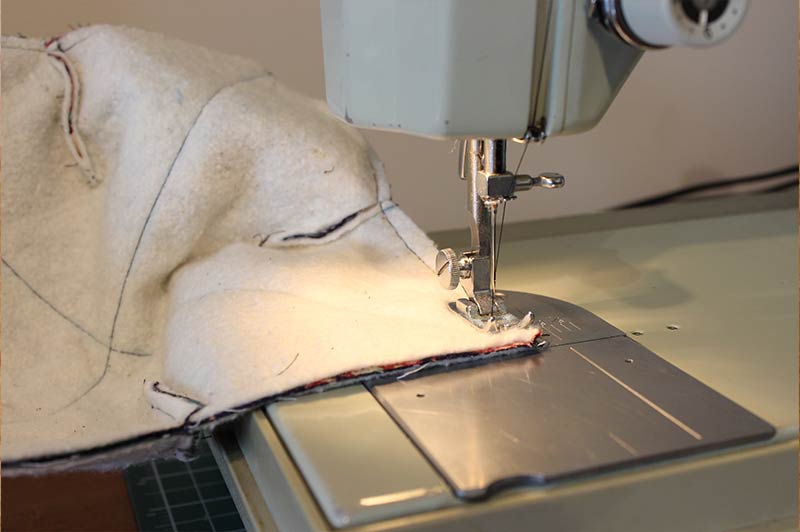 After you've sewed the edges together, trim the corners and turn the bowl right side out through the opening. Push the corners out.
Next, take your cozy back to the machine. Topstitch around the edge of the bowl at 1/4″, turning the edges of the opening in to close it. You can also handstitch the opening closed before topstitching.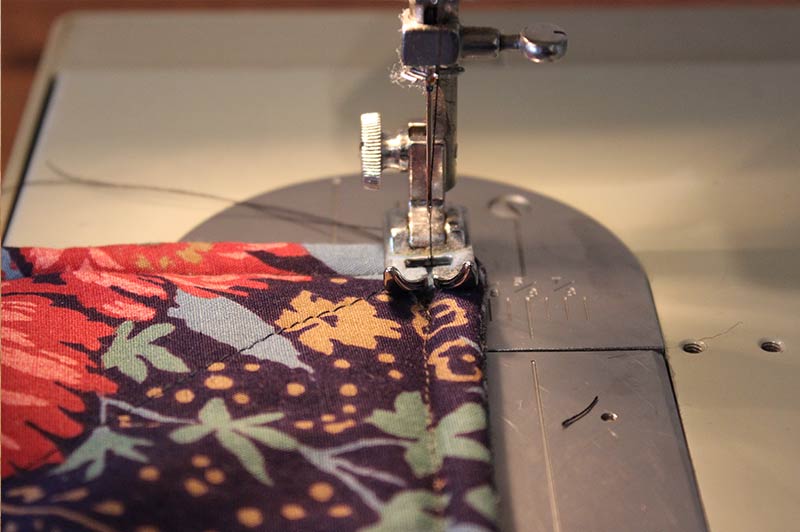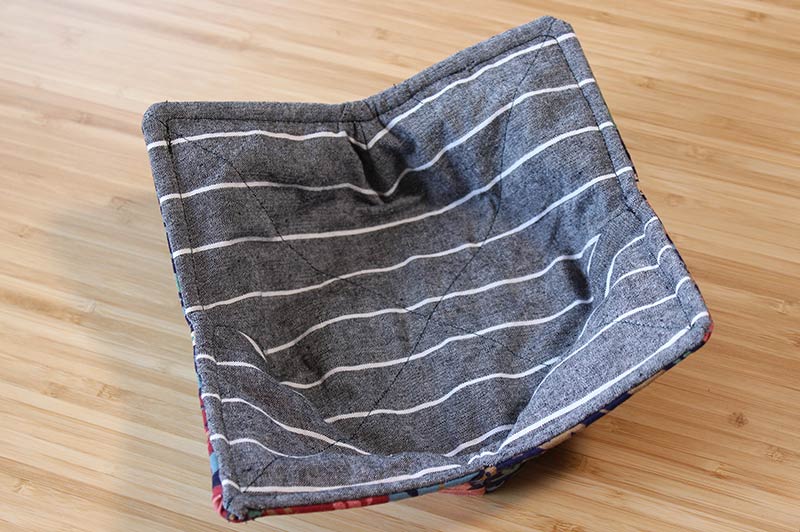 There you have it! Your soup bowl cozy is all finished. Isn't it cute? It's also reversible, so it's up to you which way you want to use it!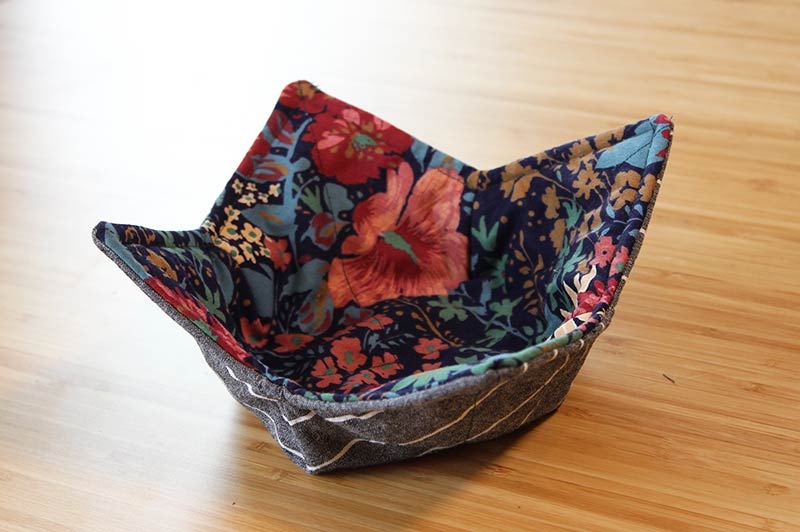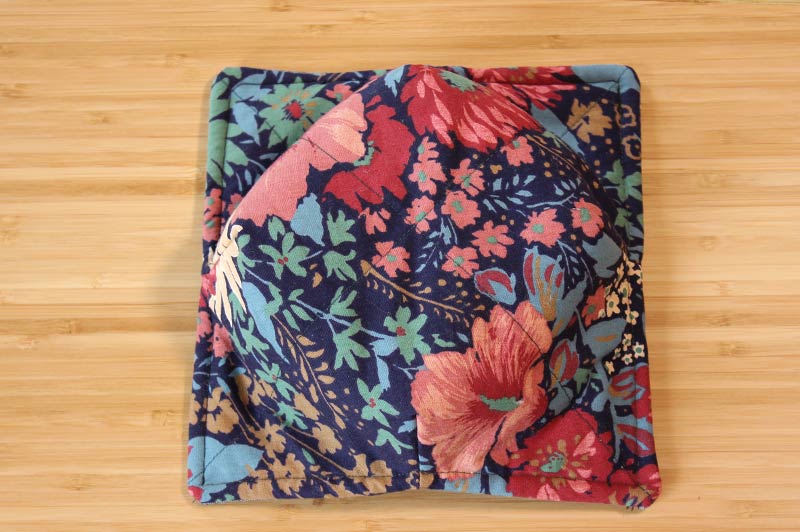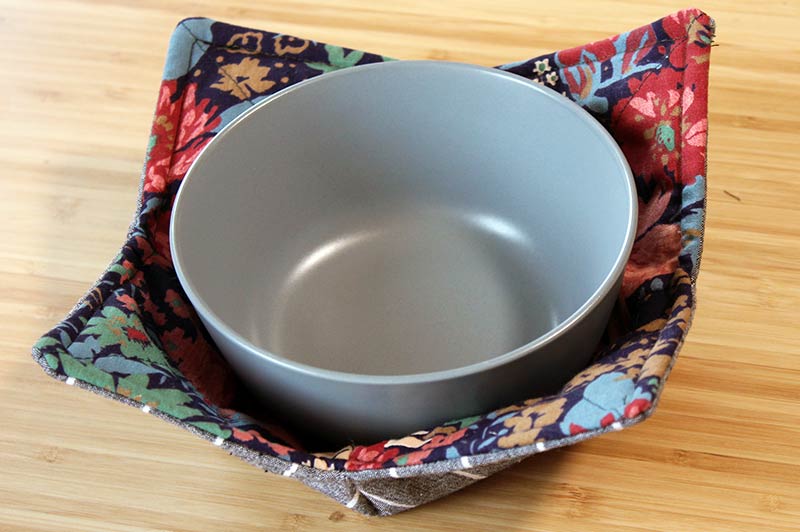 You are now free to microwave bowls of whatever you want without risking burns.
I hope you enjoyed this tutorial on how to sew a soup bowl cozy! If you have any favourite uses for fabric scraps, let us know in the comments!