Hi makers, happy Wednesday! This is an incredibly exciting week for us because we released our new pattern, the Yanta Overalls! We are in love with these overalls, and we hope you like them just as much as we do. To celebrate, Yanta is on sale for 20% off until May 13. Grab the pattern here!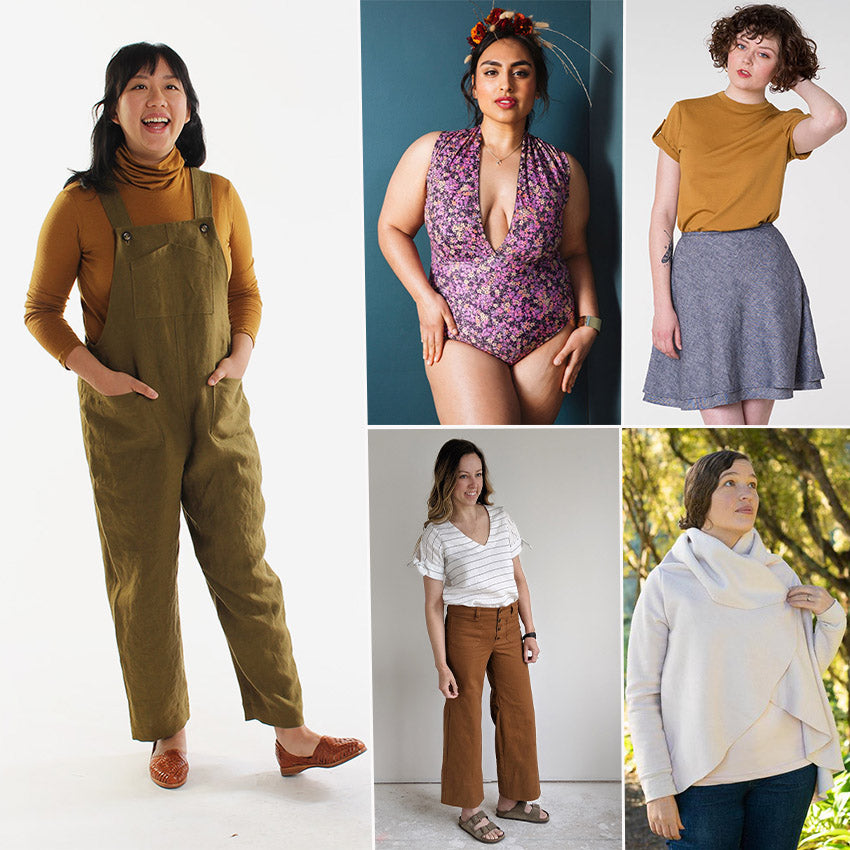 News (clockwise from top left)

We released the Yanta Overalls!
Friday Pattern Co. released The Seabright Swimmer.
Seamwork Magazine released the Everly Skirt and Rory Top. 
Scroop Patterns released the Mahina Cardigan.
Hey June Handmade released the Lucerne Blouse.

Makes
We are obsessing over the Zadie Jumpsuit and this striped cotton version from Diary of a Chainstitcher is just fantastic. 

Dixie DIY modified the Fringe Dress pattern for maternity, and made a rainbow striped version. It's adorable!

Making and Marking sewed a beautiful Nora Top using floral scuba fabric.

A Stitching Odyssey made an Anni Dress hack that is totally dreamy.

Julia Bobbin made a Sadie Slip Dress using bias cut silk and WOW, she looks amazing and the results are so luxe. As Julia says, it ticks all the boxes: glam, comfy, easy to make.

If we're waxing poetic about bias cut dresses, we have to mention this silk Jenna Dress from Sewn by Ashley.

Second Chances by Susan shared a really neat zero-waste refashion- she transformed a rayon dress into a tunic and skirt! Refashioning is a great way to create new makes and save resources.

This Fringe Dress from Handmade Wardrobe is darling! I love that she includes a breakdown of costs.

Resources

We released a reusable makeup pad tutorial as a part of our Sustainable Scrap-Busters blog series!

Goheen shared this tutorial on hand-dying fabric using avocados; it seems impossibly easy and the results are gorgeous!

If you want to try drafting your own flounced maxi skirt, try this tutorial from Melly Sews.

The Last Stitch made this handy video on sewing personalities. There is no such thing as right or wrong with your personal sewing style!

Creating Ashley shared this Blackwood Cardigan inseam pocket hack , complete with a video! LOVE! We will be trying this ASAP!

On the Podcast
Learn everything you ever wanted to know about sergers! We break down different types of stitches and what they are used for, give some top recommendations for entry-level machines, and tell you what to look out for when choosing the right serger for you. Plus lots of great resources to learn more and get you overlocking in no time. Listen here.
[soundcloud url="https://api.soundcloud.com/tracks/616841232″ params="color=#ff5500&auto_play=false&hide_related=false&show_comments=true&show_user=true&show_reposts=false&show_teaser=true&visual=true" width="100%" height="300″ iframe="true" /]