Happy Wednesday! We are having a productive and busy week here at Helen's Closet, jumping right from Me Made May right into summer projects! We are feeling so inspired by all of the wonderful makes we saw during Me Made May-everyone should give themselves a big pat on the back.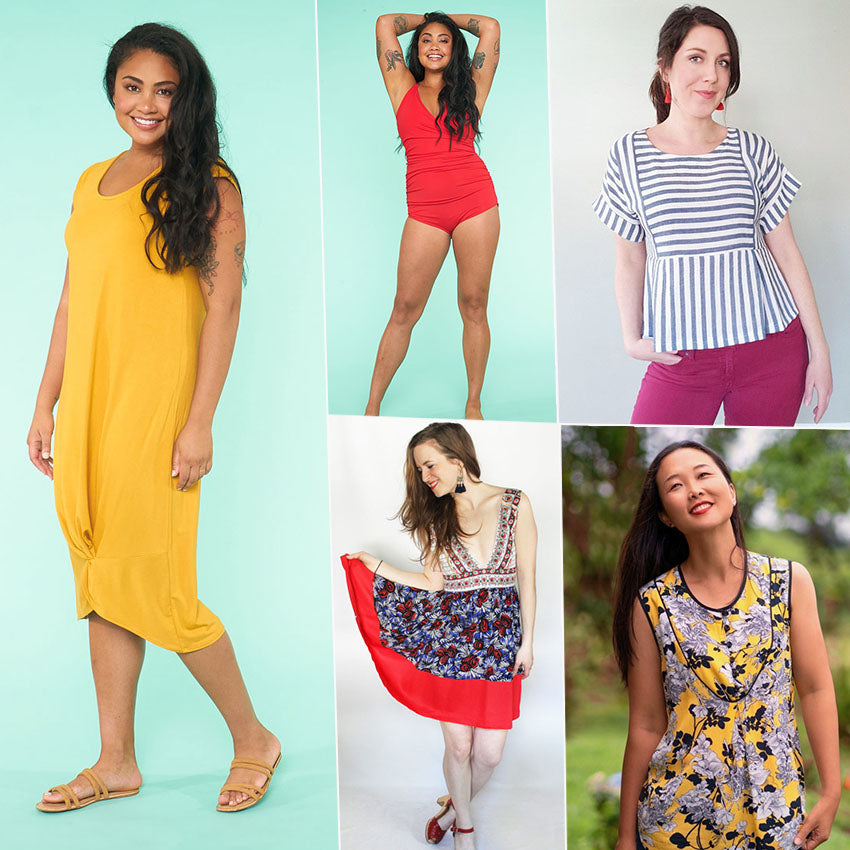 News (clockwise from top left)
Seamwork released the Crosby Swimsuit and Gene Dress.
Pattern Scout released the Fern Top.
Itch to Stitch released the Kauai Top.
Amy Nicole Studio released the Chelsea Party Dress.
Makes
Handmade Shelby made a York Pinafore in the coolest geometric fabric.
Teri from Fa Sew La sewed up a floral version of the new Fern Top, and it looks so cute! I think I will have to make one of these ASAP.
Fredi from Seemannsgard made the nicest summer Lander Shorts!
Sweet Shard sewed these amazing button up fly trousers.
Annie from Sew This Pattern shared this jaw-dropping crane dress.
Sewing Adventures in the Attick made the cutest pajamas! I don't know about you but fewer things make me happier than cute pajamas…
I love these eyelet Lola Shorts from Tweed & Greet.
Merritt Makes shared these really nice Arenite Pants that look so chic.

Resources
Cashmerette published this very insightful article on why it can be helpful to take some measurements sitting down.
Elizabeth Made This shared a handy little tutorial on how to sew your own raglan tee.
Heather Handmade shared a tutorial on how to make DIY reusable snack pouches, which are a great way to reduce single use ziplock bags.

On the Podcast
Recreate your favourite ready-to-wear garments! We break down different methods and provide tons of great resources that will help you replace your store-bought with me-mades. Plus, we answer your sewing questions and reveal some exciting podcast news! Listen here.
[soundcloud url="https://api.soundcloud.com/tracks/631244127″ params="color=#ff5500&auto_play=false&hide_related=false&show_comments=true&show_user=true&show_reposts=false&show_teaser=true&visual=true" width="100%" height="300″ iframe="true" /]