Happy Wednesday makers! At last, we can finally share what we've been working on over here at Helen's Closet for the past few weeks: our first duo pattern launch ever, the Ashton Top and Donovan Skirt! These patterns have been in the works for a long time, and we're so happy to finally have them out in the world.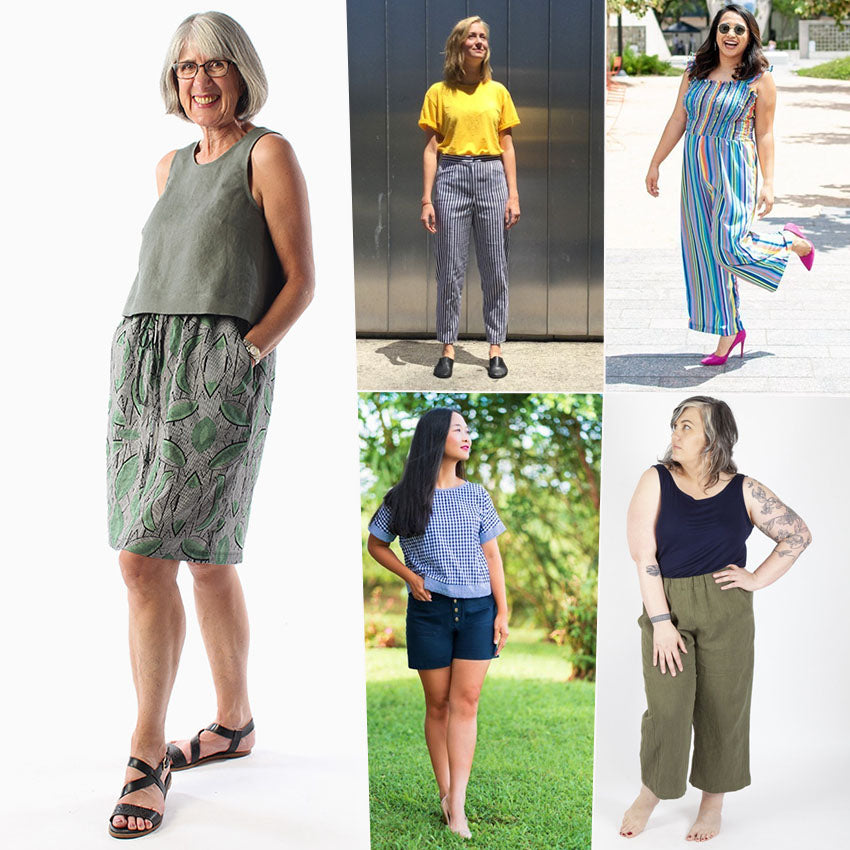 News (clockwise from top left)
We released two new patterns at Helen's Closet, the Ashton Top and Donovan Skirt!
CocoWawa Crafts released the Raspberry Jumpsuit & Dress.
Opian released the Vaulion Trousers & Shorts.
Sew House Seven released the Free-Range Slacks.
Itch to Stitch released the Hermosa Shorts.

Community
Grainline Studio is facilitating the Grainline Studio Sew Visible project. The Sew Visible Project aims to provide representation of the diverse array of makers in the sewing community, so they are reaching out to community members to help them increase representation by sewing Grainline patterns and sharing pictures on pattern launch days. Additionally, Grainline is aiming on increasing their size range by the end of the year. Take the survey and read more details here.
Makes
I adore this striped Amalfi Dress by A Jennuine Life. I think this would be the perfect thing to wear to a summer wedding.
Not a Primary Colour made this beautiful Wiksten Shift using amazing textured lobby fabric from my favourite hometown shop, Stonemountain & Daughter.
Cookin' and Craftin' made a delightful pair of the new Free-Range Slacks. After seeing her make I immediately purchased the pattern.
We've shared a couple Zadie Jumpsuits before, but I just have to share this Zadie from Merritts Makes because way she tapered the legs makes it look like a whole new pattern!
The imagine Gnats blog shared this gorgeous brushed twill Tillery Skirt by Erin Always. This skirt is so cute and looks very versatile!
I love this Assembly Line Cuff Top from Fadanista. It's so fun and cute, and I love a grown on sleeve.
Handmade Wardrobe sewed this really impressive cropped Hampton Jacket!

Resources
Amy Nicole Studio shared a useful tutorial on how to do a full bust adjustment on a princess seam.
Petit Font wrote a post on how to shorten and narrow a skirt. This could be very handy for when you want to use your favourite skirt pattern, but you are just a little short on the fabric you want to use.
The Creative Curator published some tips and tricks on how to organize your sewing patterns.

On the Podcast
What do we do with all of our fabric scraps? We break down how we store our scraps, what is worth keeping, and loads of project ideas that will have you scrap-free in no time. Listen here.
[soundcloud url="https://api.soundcloud.com/tracks/638363274″ params="color=#ff5500&auto_play=false&hide_related=false&show_comments=true&show_user=true&show_reposts=false&show_teaser=true&visual=true" width="100%" height="300″ iframe="true" /]