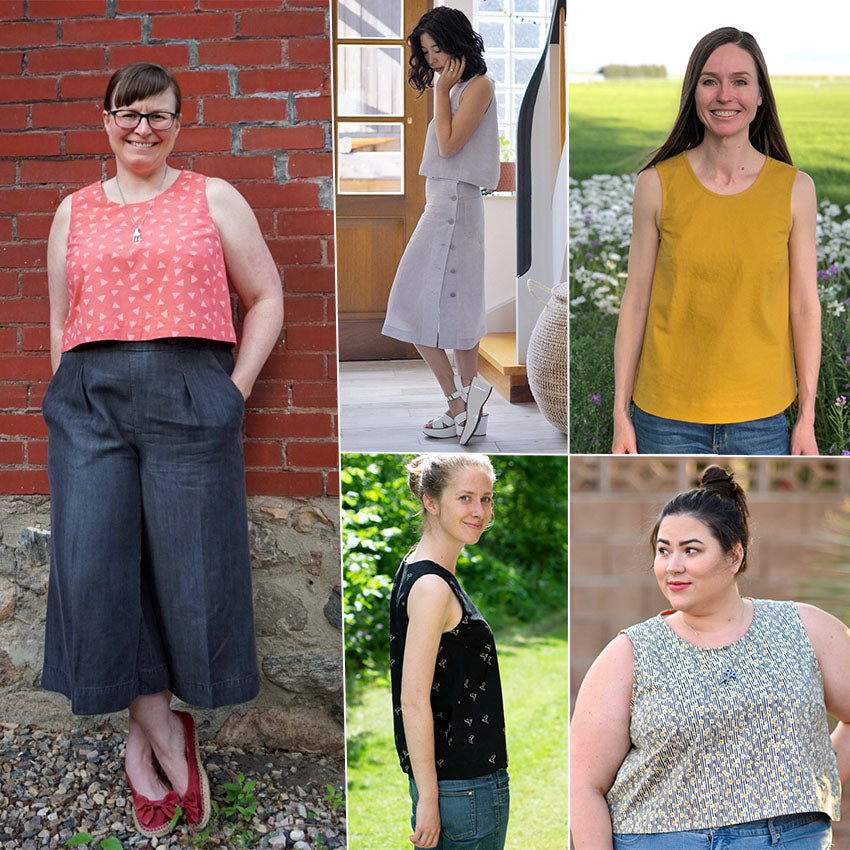 Thank you so much to everyone who supported the launch of the Ashton Top and Donovan Skirt! We are so happy with these two patterns and we can't wait to see all your makes. We are also incredibly grateful to the amazing testers whose Ashton photos are featured in this post! These generous sewists helped us test Ashton to make sure the pattern was as perfect as possible. They volunteered their time and supplies to test Ashton, and we couldn't have done it without them! They are all inspiring and we recommend you give them a follow.
Both Ashton and Donovan are available in sizes 0-30. Grab both patterns this week for 20% off!
What's Changed Through Testing?
Pattern testing is a crucial part of development here at Helen's Closet. After testing Ashton, we decided to make some adjustments to the armscye. We raised it and made it less deep in the front. We also decided to raise the shoulders on the B-cup size range. The simplicity of Ashton means that we really had to focus on getting all the details right! We are so pleased with the final pattern.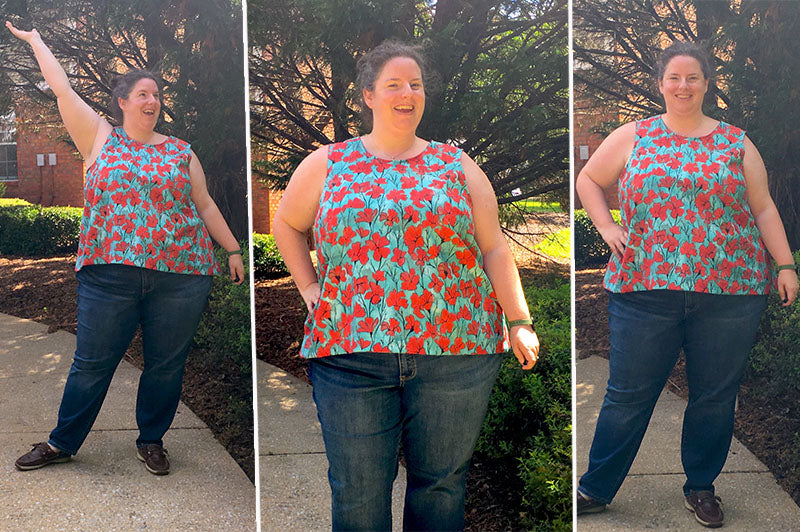 Sue
@suebearsews, sewbearsews.blogspot.com
"This is one of those simple patterns that will inevitably become a TNT pattern- a great silhouette, simple construction, with excellent potential for hacking."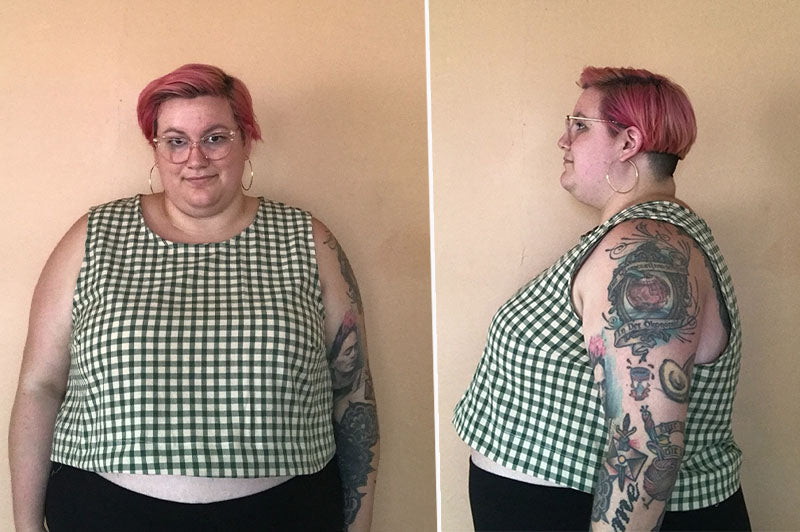 McKenzie
@emtothethird, emtothethirdyarn.com
"I'm continuously stoked by Helen's extended size range, and this is no different. I'm going to be living in these all. Dang. Summer."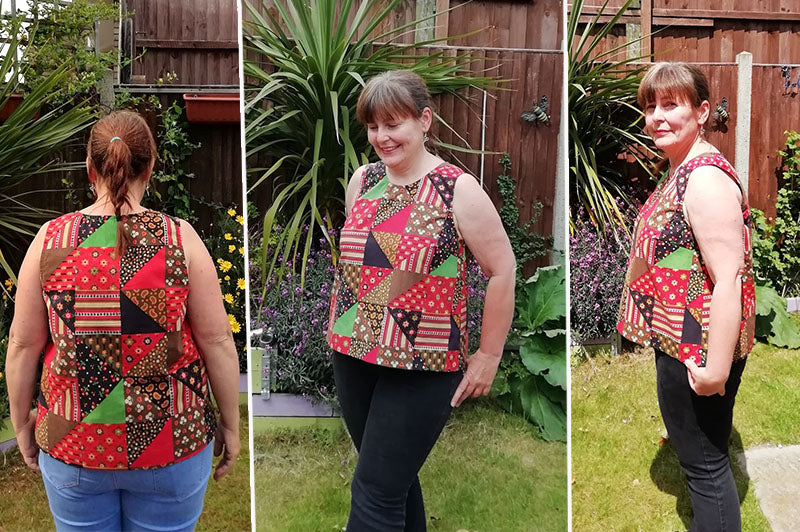 Jill
@jillypopsews
"This is a lovely cami top that fits beautifully on the shoulders and bust and then skims the tummy and hips in a very comfortable way. No FBA required on this one, it has already been taken care of!"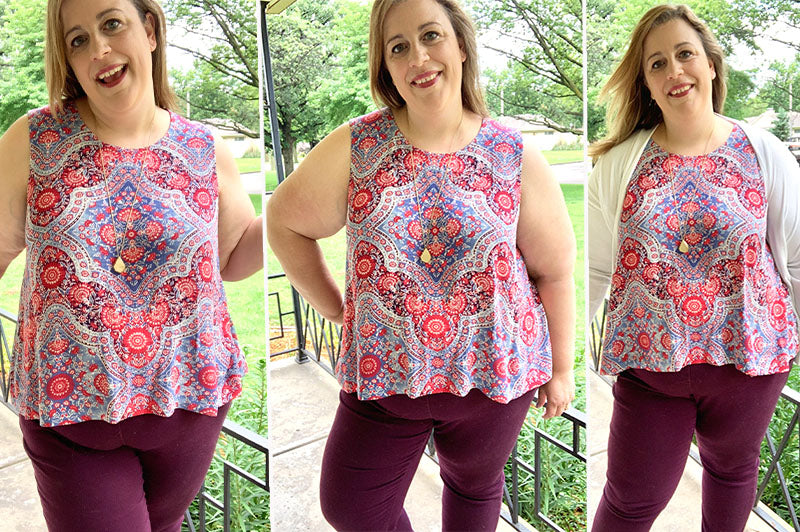 Kristine
@kristinesews
"This pattern was a joy to sew! The facings give a professional finish and they actually lay flat!! I especially love the wide hem facing, it's such a nice detail for a simple design. As always the instructions are clear and easy to follow. This top will be a wardrobe staple for me!"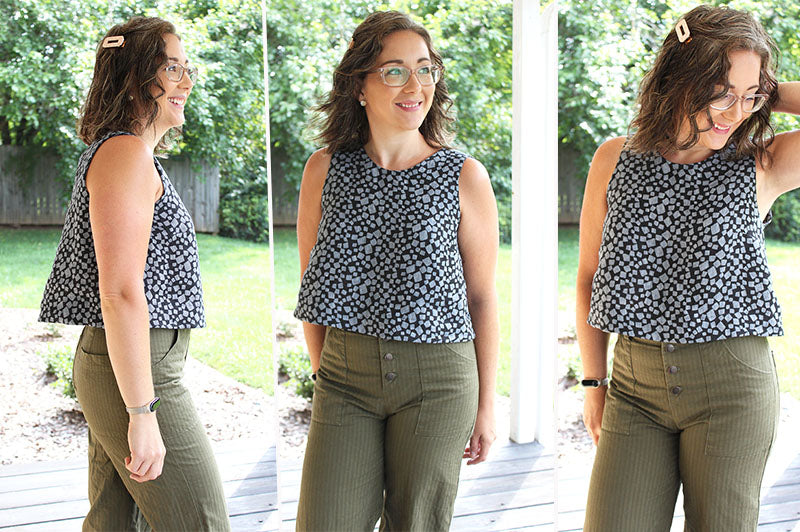 Heidi
@heidi_handmadefrenzy, handmade-frenzy.com
"Ashton is such a fun staple pattern piece for your wardrobe! The cropped option is perfect for wearing with all your on-trend, high-waisted bottoms. The sewing is very pleasant, the pattern comes together so well and the instructions make it perfect for even a beginner!"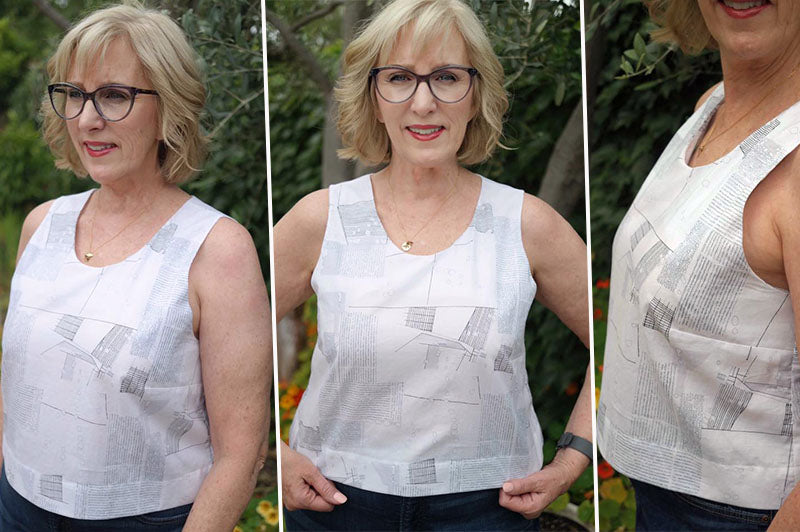 Diane
@diane_stanley_sews_and_knits, etsy.com/shop/dyelotsstudio
"The pattern is very well written and easy to follow. The cropped version will be a summer staple in my wardrobe and I'm planning on making more."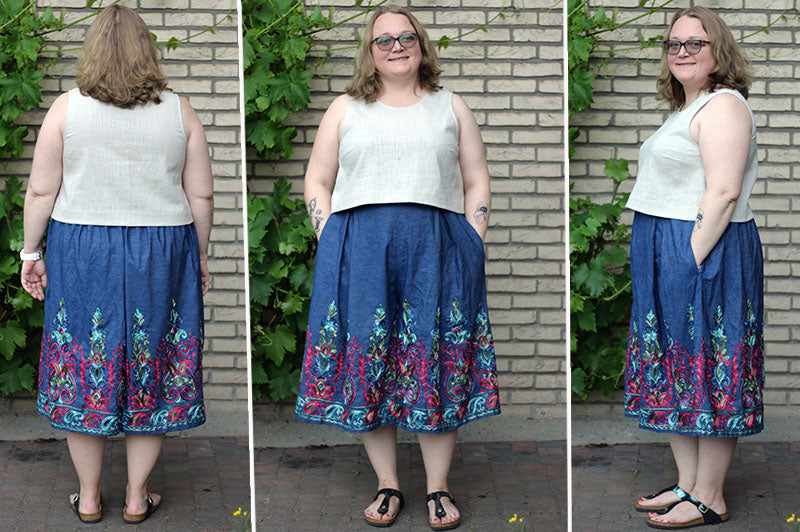 An
@diskordiacurvysewing, diskordiacurvysewing.blog
"I never ever thought I'd make a crop top and I'm so happy I did! This pairs so well with the Winslows!"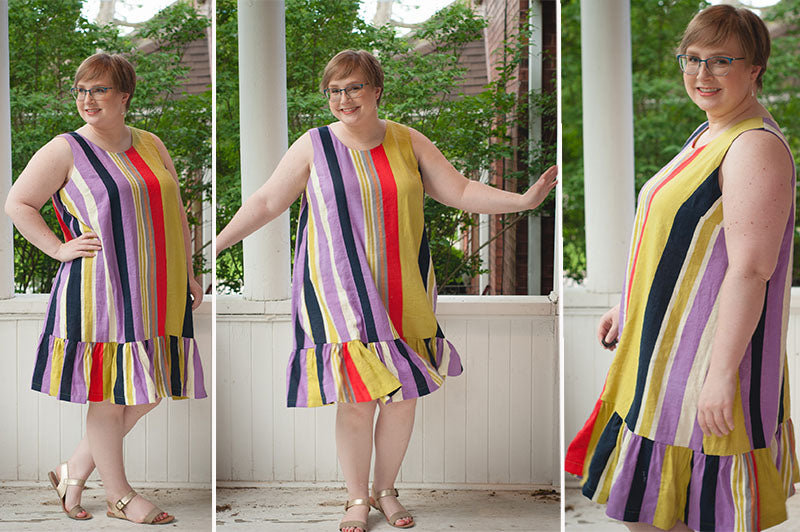 Gillian
@craftingarainbow, craftingarainbow.com
"This pattern is just begging to be hacking into many variations! After testing the cropped version, I immediately made this version by extending it and adding a deep ruffle. The all-in-one facing gives a beautiful finish and helps it come together so quickly. In the tester group, it looked stylish and fresh on sewists of all sizes!"
Kellene
@kellenehunter
"The Ashton Top is a wardrobe staple. It is quick and easy to make and uses very little fabric. It is perfect for spring and summer and also great for layering in cooler months."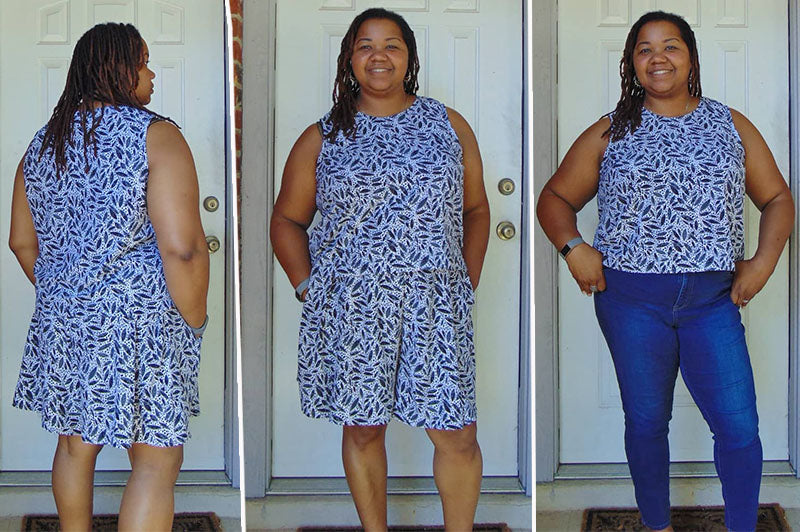 Roschelle
@mindofaladybug
"This shirt is fabulous! From the shoulder coverage to being the perfect length for whatever I pair it with, this shirt rocks! No zippers, buttons or hooks, this shirt will become a staple for more summer wear. Not bad that they also pair nicely with the Winslow culottes!"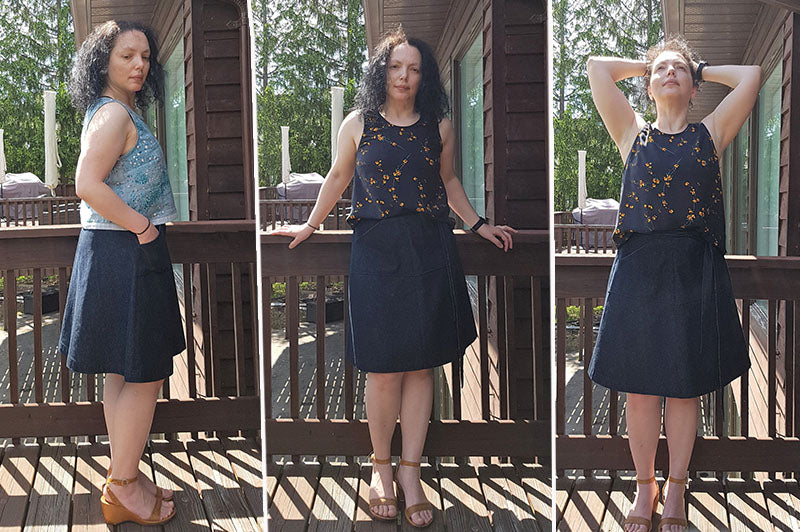 Daniela
@danicreates
"Ashton is a wonderful summer top. The hip-length version is fun and easy to sew, and it goes with everything. The crop top version is perfect to wear with trendy high-waisted jeans or skirts."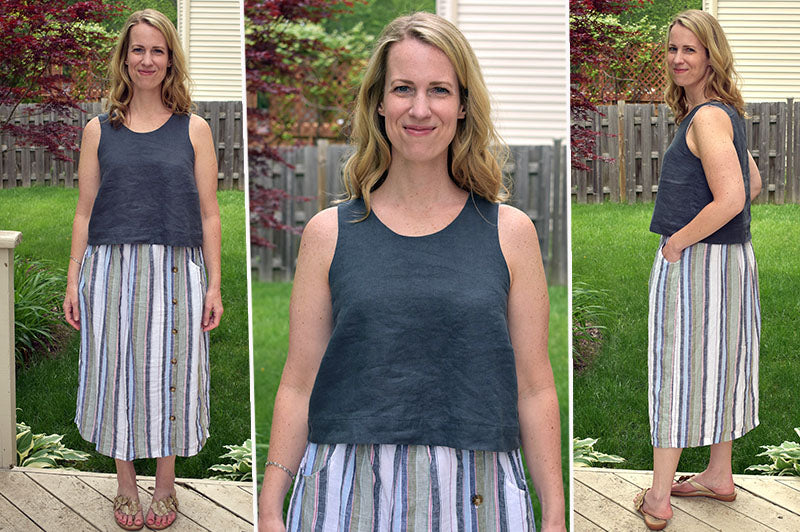 Teri
@teridodds1, fasewla.wordpress.com
"The Ashton tank is a great basic woven tank, that is elevated with lovely finishing details. French seams are my sewing love language and Ashton's 5/8″ seam allowance makes them easy to sew. I love that there is the option of using an all-in-one facing or bias tape to finish the neckline and armscye. Add the hem facing and the inside is just as pretty as the outside! The a-line shape is cute and comfortable. I know I'll be returning to this pattern again and again."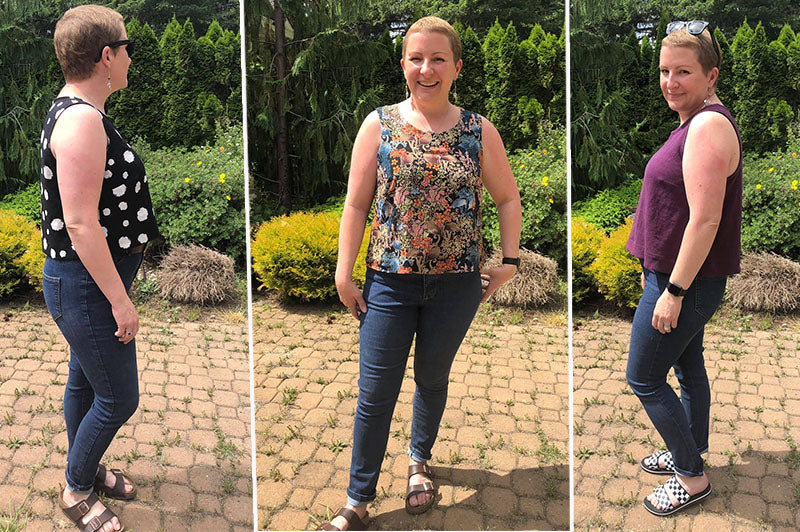 Heather
@heatherandthepugs, thepugandneedle.com
"I feel like I'm always saying this about Helen's patterns, but the Ashton top is sure to become a staple in your wardrobe. Great for summer but also great for layering, this pattern is a quick sew and requires little fabric which makes it a great scrapbuster. Although simple in design, the details we've come to love from Helen are there. I love the hem facing and I love that there is more than one option for finishing your armscyes and neck line. I can't wait to make more of these!"
Danielle
@sew.stoked
"Great pattern to sew! I love the facings because it makes a basic tank top feel like a high quality garment. It's a great every day piece that I plan to wear under a cardigan for work or with jeans for casual."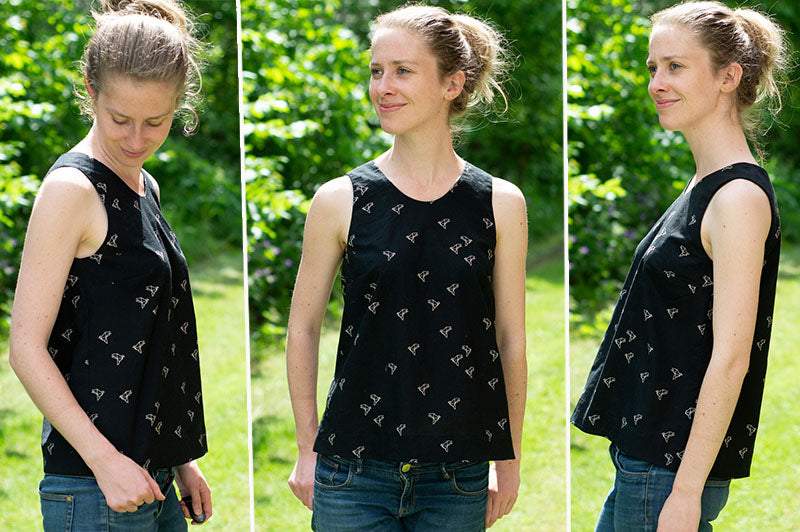 Fleurine
@mariefleurine, sewmariefleur.com
"I love the all-in-one facing – it's such a beautiful and neat way of finishing a neckline and armholes. And since the Ashton doesn't require a lot of fabric, it's perfect for stash busting!"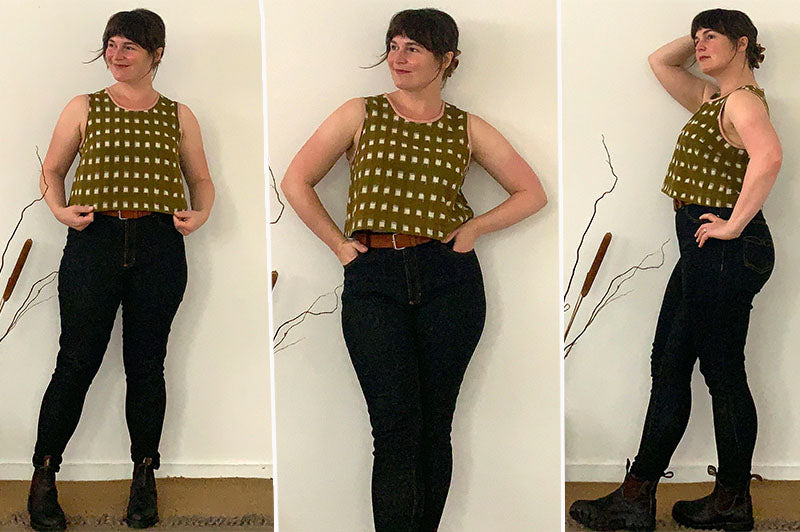 Gabrielle
@bibbity_bobbity_buttons, bibbity-bobbity-buttons.me
"A scrap-busting hero! This is an excellently written pattern that results in a lovely top with tidy finishes. Using contrasting facings and/or bias binding, you can get a cropped Ashton out of a mere squeak of fabric, making it a great way to use up those stash leftovers. I love the thoroughness of Helen's patterns—they have all the details you could possible need, from clear measurement guides, to stepping through alternative techniques, to useful tips to discover along the way. The pattern is a learning event, as well as the means to making a cool garment, and I think the Ashton will be a great addition to a summer wardrobe!"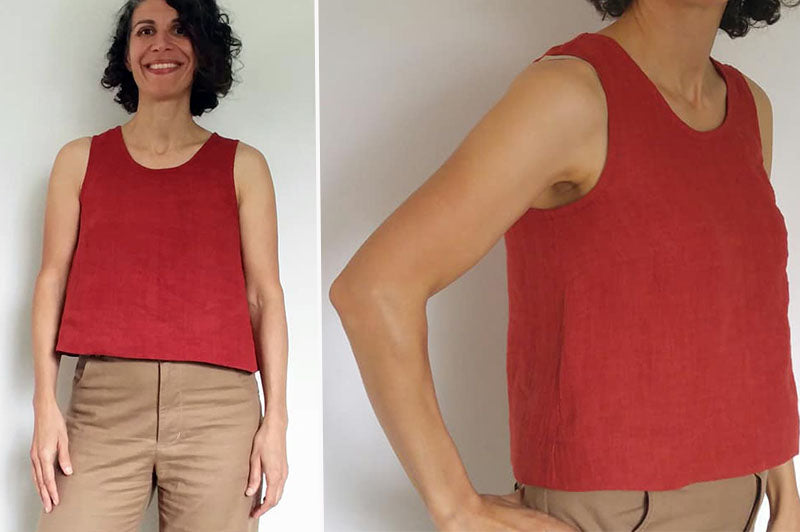 Michelle
@meesh.made
"I've been hankering for tops with the right proportions to go with my high-waisted bottoms and the Ashton top fits the bill perfectly! As always, Helen offers some polished finishing options, such as the deep hem facing, and her instructions are stellar."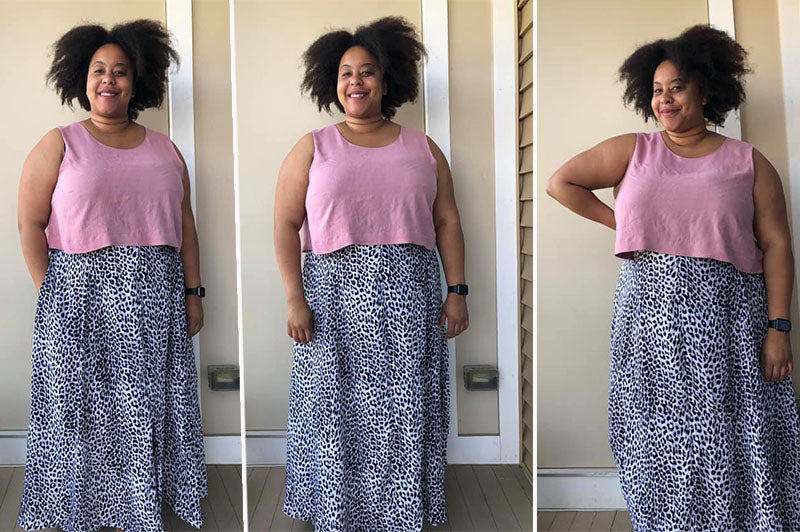 Sierra
@sierraburrell, seamslikesierra.com
"This was my first time using the burrito method and the instructions were incredibly helpful. It felt a bit magical. I'm really happy with how this top turned out and I can't wait to pair it with my high waisted bottoms all summer."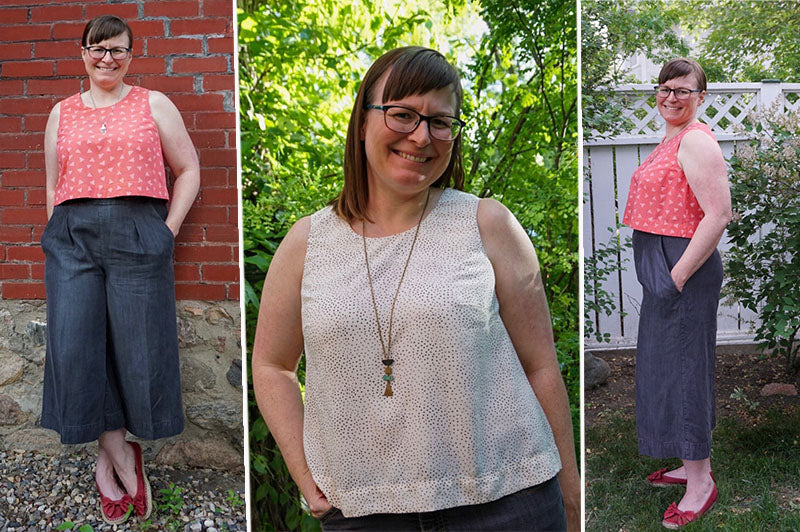 Anne
@sewanemone
"I can already tell that the Ashton is going to be a staple in my wardrobe. The cropped version is just what I needed for pairing with all the higher waisted pants and shorts I've been making. The versatility of this pattern is fantastic – I've made one in crisp cotton shirting and another in ultra drapey viscose poplin and I love them both!"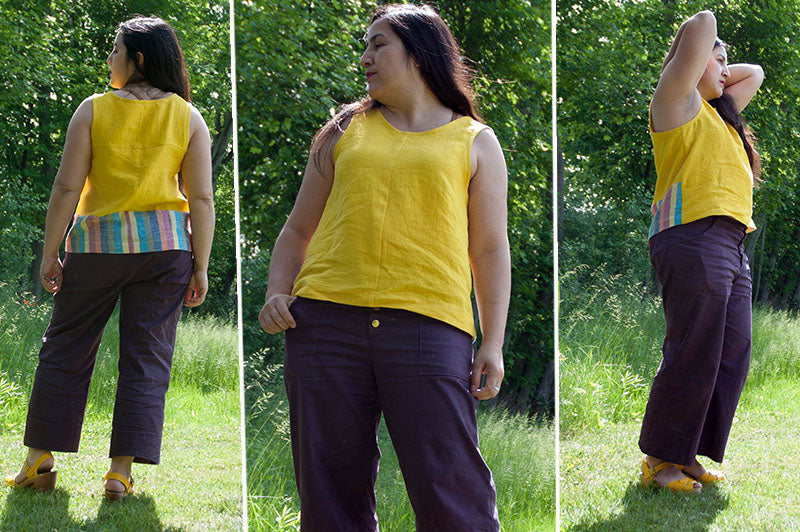 Christine
@unlikelyhandmadestyle, unlikelynest.com
"This seems like a very simple pattern, and there are a lot of free or inexpensive patterns that look similar. But having tried many of them and drafted some of my own, I can tell you that making a GREAT fitting basic woven tank is not as simple as it looks! I really appreciate the work that Helen has put into making this wardrobe staple as perfect as possible for the greatest number of bodies. Another aspect of this pattern that is really great are the finishing instructions… she provides awesome directions, very clearly illustrated, for getting a beautiful, clean finish, inside and out."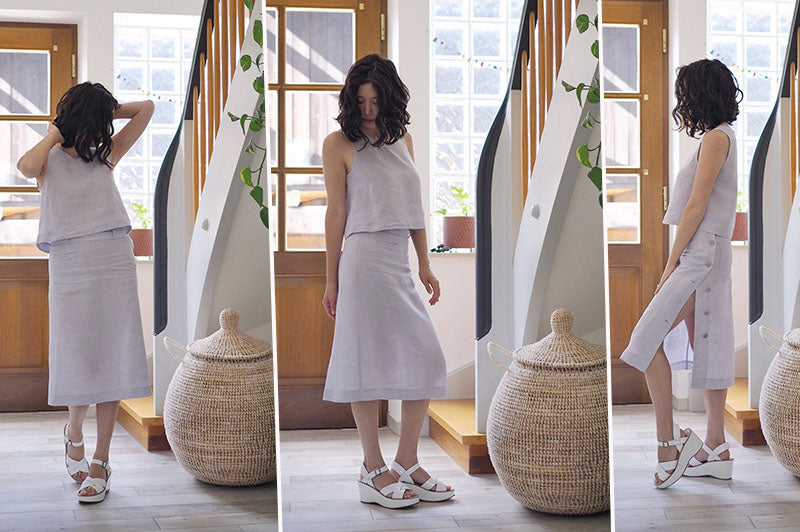 Saki
@sakijane, sakijane.com
"The Ashton is a perfect base pattern— easy to fit, easy to sew, and so so so easy to come up with variations to make it your own!"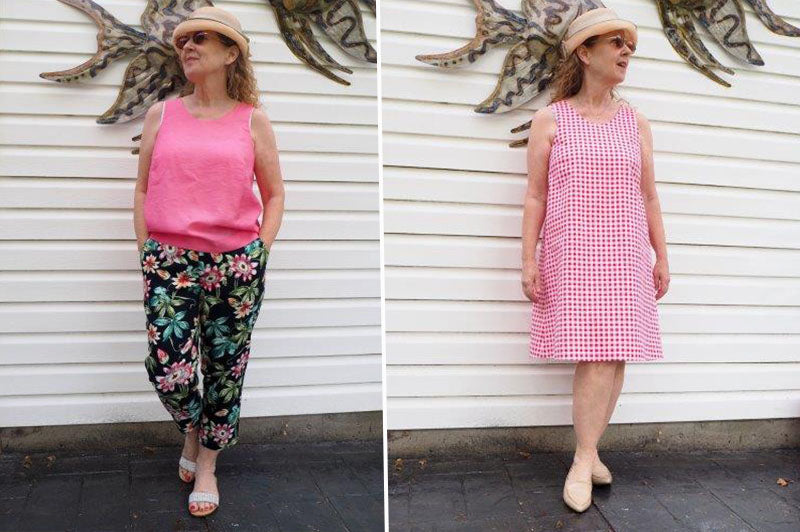 Sue
@acolourfulcanvas, acolourfulcanvas.com
"Helen's Ashton Top is sure to be a workhorse in my wardrobe. Sleeveless shell tops work so beautifully as layering pieces under my Suki Robes or lightweight sweaters. Of special note: I love the method for the all-in-one facing!"
Thanks so much for taking the time to read about our incredible pattern testers and their Ashton Tops! To celebrate the launch, Ashton and Donovan are on sale for 20% off until June 24.
Both Ashton and Donovan are available in sizes 0-30. Grab both patterns this week for 20% off!