Happy Wednesday, makers! This week, we are wrapping up our Donovan Sewalong, and getting excited about our next projects!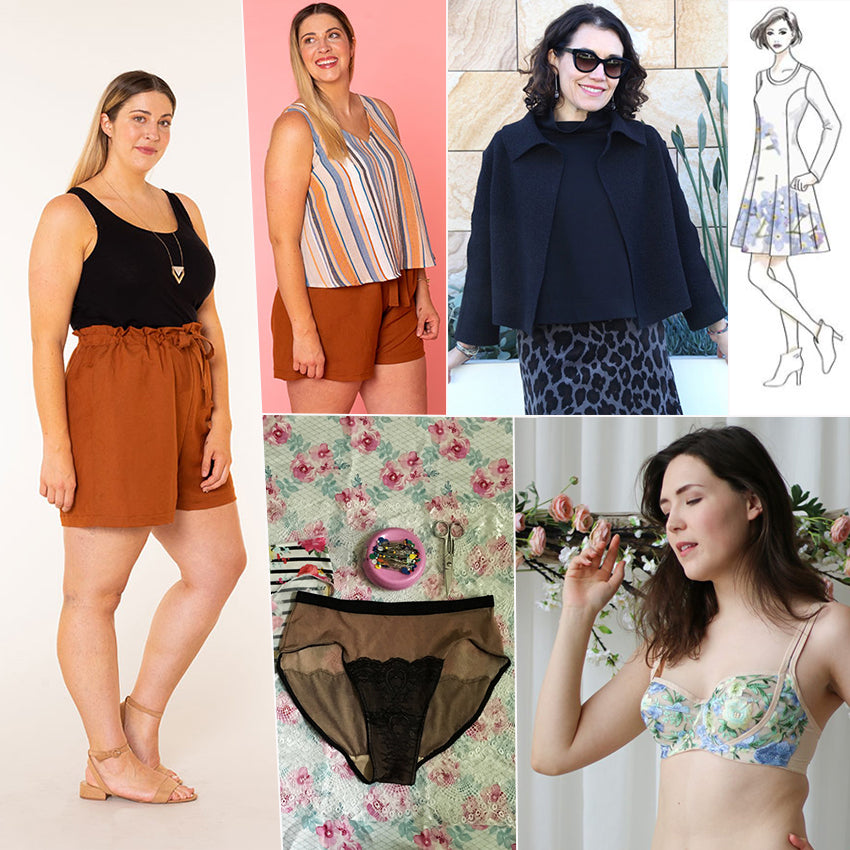 News (clockwise from top left)
Seamwork released the Clarke Top and Miller Shorts.
Tessuti released the Verona Jacket.
Forget-Me-Not Patterns released the Clementine Knit Dress and Top.
Emerald Erin released the Black Beauty Bra.
Primrose Dawn released the Hellebore Hi-Cut Panty.
Community
#HaveLegsWillWearShorts is underway! Maker Mountain Fabrics started this challenge to encourage us all to be comfortable and wear shorts this summer. This challenge is all about promoting confidence, body positivity, and self acceptance through sewing and wearing shorts during the month of July. To read the details, head to the Maker Mountain Fabrics Blog. Follow along on Instagram using #HaveLegsWillWearShorts!
Makes
Erika Bunker looks STUNNING in this white crepe wrap jumpsuit she sewed.
The Sara Project made the cutest striped Wiksten Shift.
Sablecraft made the most gorgeous and impressive bra using the new Black Beauty pattern mentioned above.
I love this red dotted Eowyn Dress from Bee Made. I am here for anything named 'Eowyn' and this dress is especially cute.
The Doing Things Blog sewed the sweetest Shelby Dress! This make brings up some major April Cornell calico nostalgia.
Erin Always shared these beautiful Essex linen Burnside Bibs on the Imagine Gnats blog.
Something about this striped Olya Shirt Dress by I Sew, Therefore I Am is really classic but modern at the same time.
Resources
Closet Case Patterns released a free leather belt bag pattern.
Emma's Atelier shared some jeans making hints and tricks.
Lucy from Sew Essential made a blog detailing how to raise and lower bust darts, which can help really perfect the fit of a garment.

On the Podcast
How competitive are you? This week we discuss our experience managing our competitive sides and fostering the sewing community. We hear from our listeners and dive into sewing competitions, social media comparison traps, and how to start a business in a competitive environment. Listen here.
[soundcloud url="https://api.soundcloud.com/tracks/648428639″ params="color=#ff5500&auto_play=false&hide_related=false&show_comments=true&show_user=true&show_reposts=false&show_teaser=true&visual=true" width="100%" height="300″ iframe="true" /]