We are continuing our Ashton August series with another guest post! Gillian from Crafting a Rainbow is here to share her Ashton with ruffled hem dress hack. Gillian is a creative powerhouse, blogging, sewing, and bringing people together through The Sewcialists. She is also a huge supporter of us here at Helen's Closet. Thanks, Gillian!
You can grab the Ashton Top this month for 20% off using the code ASHTONAUGUST.
---
Hi, my name is Gillian, and I obsessively sew knits… except when Helen tempts me with a fantastic woven pattern!!! I was happy to be a pattern tester for the Ashton top this spring, and almost immediately jumped into hacking it.
You see, the magic of a dress is that with just a few more inches of fabric, you go from half an outfit to a whole one-and-done outfit! And when your fabric is as bold as this striped linen I bought locally, it deserves to stand alone.
So, how can you make your own Ashton dress, with a ruffled hem perfect for twirling? Read on!
First things first: decide where you want your ruffle to hit. I have wide low hips, and I prefer seams to hit just under them as opposed to at the widest part of my body. For this dress, you can see the ruffles start at fingertip length. To figure out that length, I just tuck a long clear quilting ruler under my arm and measure along where that side seam should be! I'm 5'2″, so your ideal length may vary based on your height and your preferences.
Construct the whole garment according to the instructions, stopping when you get to the hem (I used the beautiful all-in-one facing, which gives a clean finish with minimal effort).
There are several options for your ruffle design. A circular ruffle, like I used on this dress or this one, gives an elegant flare. For my Ashton, I used long rectangles which are much more fabric-efficient! I cut two 10″ rectangles the width of my 60″ fabric and sewed them together at the short ends, making a long loop. In a size 20, like my dress, the piece is essentially double the width of the hem.
Learn how to lengthen your top to a dress here.
Now, let's gather that ruffle! A precise sewist would tell you to baste with three rows of long stitches then pull the threads to gather… but let's be honest, I cranked up the differential feed on my serger and let it do the gathering for me! My method results in slightly less even gathers, and created the occasional little pleat as I sewed it to the dress, but I truly don't think anyone will notice. Pick the method you prefer!
Learn how to gather using basting stitches here.
Pin your ruffle to the raw hem of the dress with right sides facing, and sew. Once it is attached, try on your dress and decide on your preferred hem length. I think it's better to start with too deep a ruffle and be able to hem it higher if you want. I trimmed 1″ off my 10″ ruffle, and hemmed it at 1″ for a length that worked for me!
Et voila! You hacked an Ashton Dress!
Let's just take a moment to admire that faced neckline, shall we?
Here's a few tips and tricks for hacking this pattern:
-Do your normal adjustments on a dress as you would for the top version of the pattern. In my case, that means a 1″ petite adjustment above the bust.
-The faced neckline makes is really easy to alter the neckline or shoulders, too. A V-neck, cut in shoulders, a traditional tunic-style neckline with a vertical slit at centre front – these would all be easy to do!
-Of course, you could also skip the ruffle and make a straight a-line dress, tunic or maxi… or put a deep "ruffle" at waist height and it becomes a dress with a gathered skirt!
-Don't be thrown off by the yardage requirements. I sewed this size 20 dress with ruffle using just 2m of fabric! There is a sneaky seam in the back of the dress adding width – it's somewhere off centre under my arm, but I can't see it in the pictures so I bet you can't either. You can hide as many seams in your ruffle as you need to if you are short on fabric and piecing it together.
-A waist tie, belt or even elastic sewn inside would give this dress a more fit-and-flare shape if you prefer!
-Finally, you knew this was coming, right? YOU COULD MAKE IT IN A KNIT! I'd suggest either something drapey like a mid-weight rayon or something with body like a pontè or Liverpool poly double knit if you want a more sculptural look. Use the same facings (but top stitch them in place) or use a folded band or narrow knit facing to finish the neck and armscye.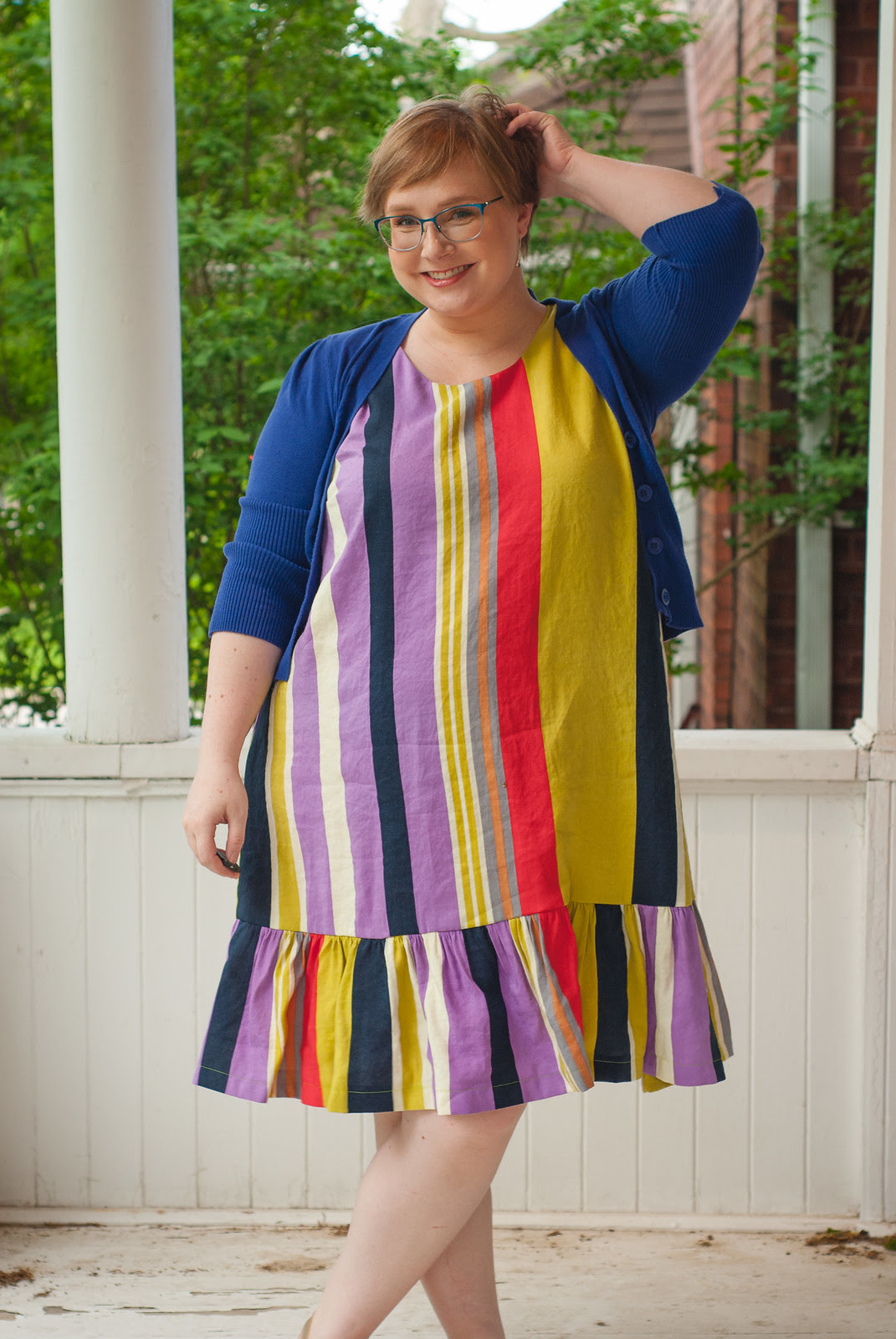 Happy sewing!
Gillian blogs at CraftingARainbow.com, and in on Instagram as @gilliancrafts and @craftingarainbow. In her spare time, she co-runs TheSewcialists.com and is obsessed by cats and colourful fabrics! She is 5'2″, and measures 45″/39″/50″.
---
You can grab the Ashton Top this month for 20% off using the code ASHTONAUGUST.
This hack is a part of a new blog series all about the Ashton Top! See all the posts in this hacking series here.