Hello friends! I (Chloe) am really excited to share my contribution to Ashton August– my colourblocked Ashton Top! Today I'll show you how to color block your own Ashton. You can grab the Ashton Top this month for 20% off using the code ASHTONAUGUST.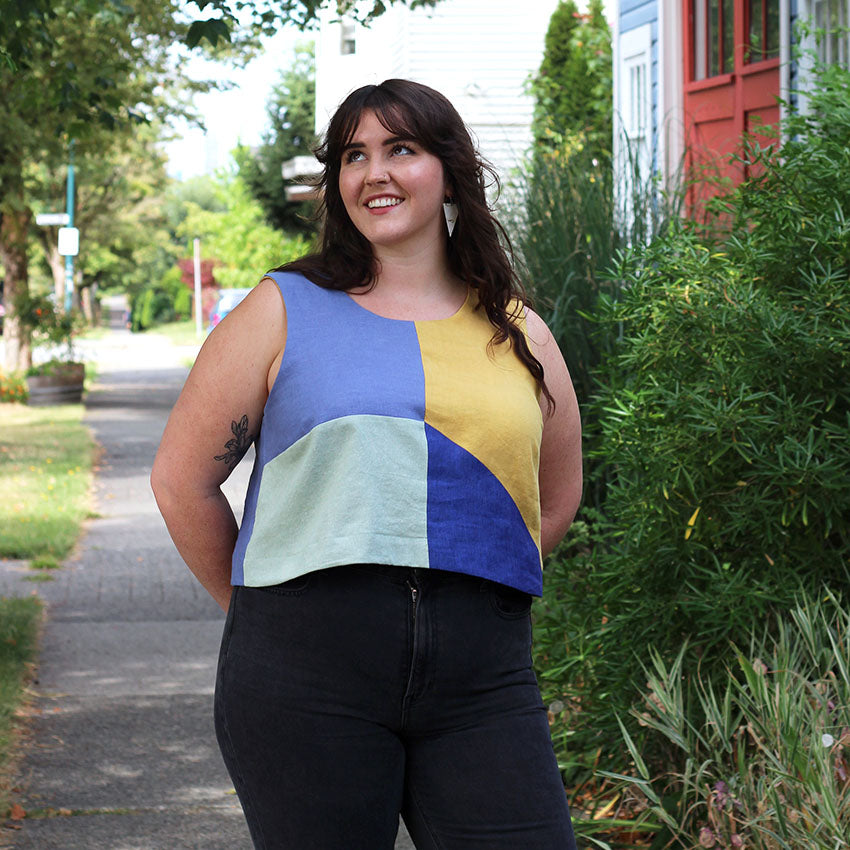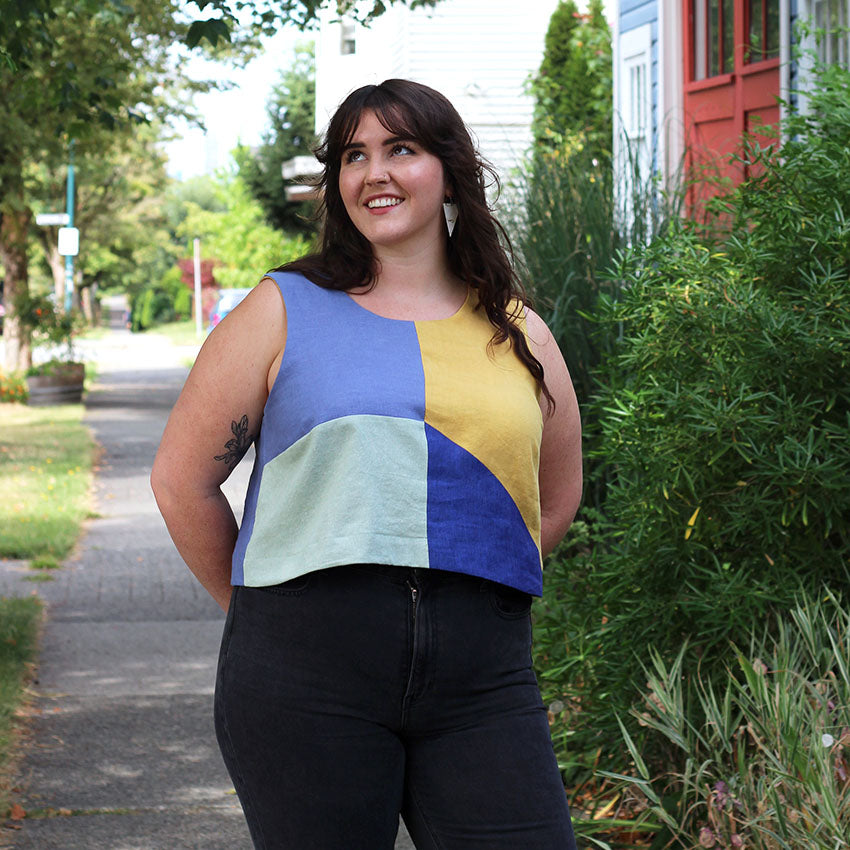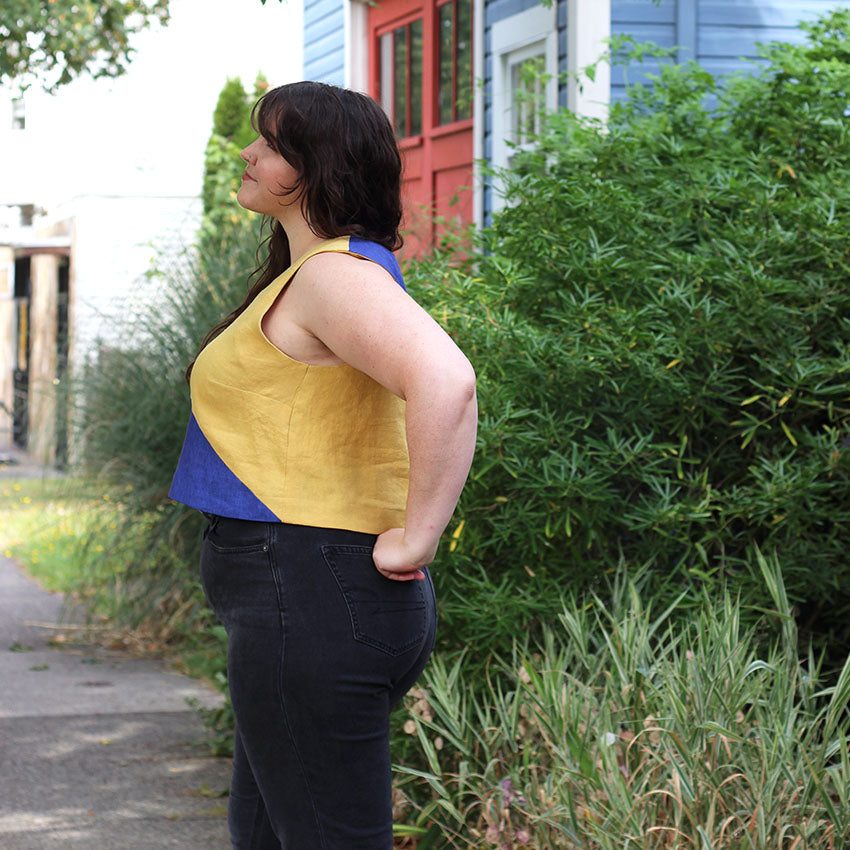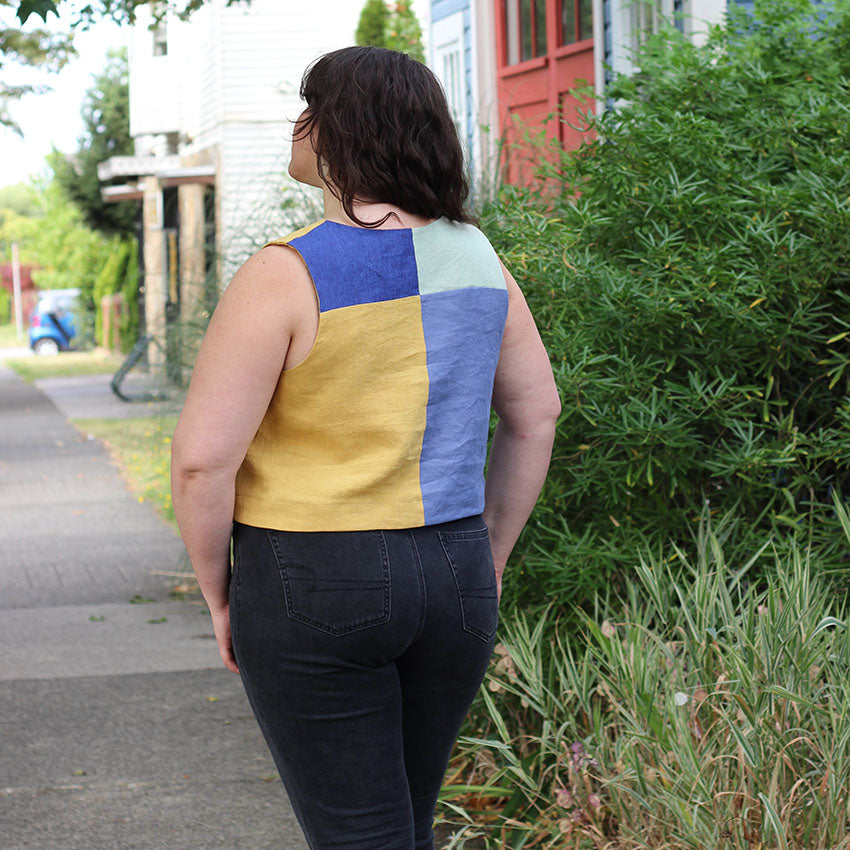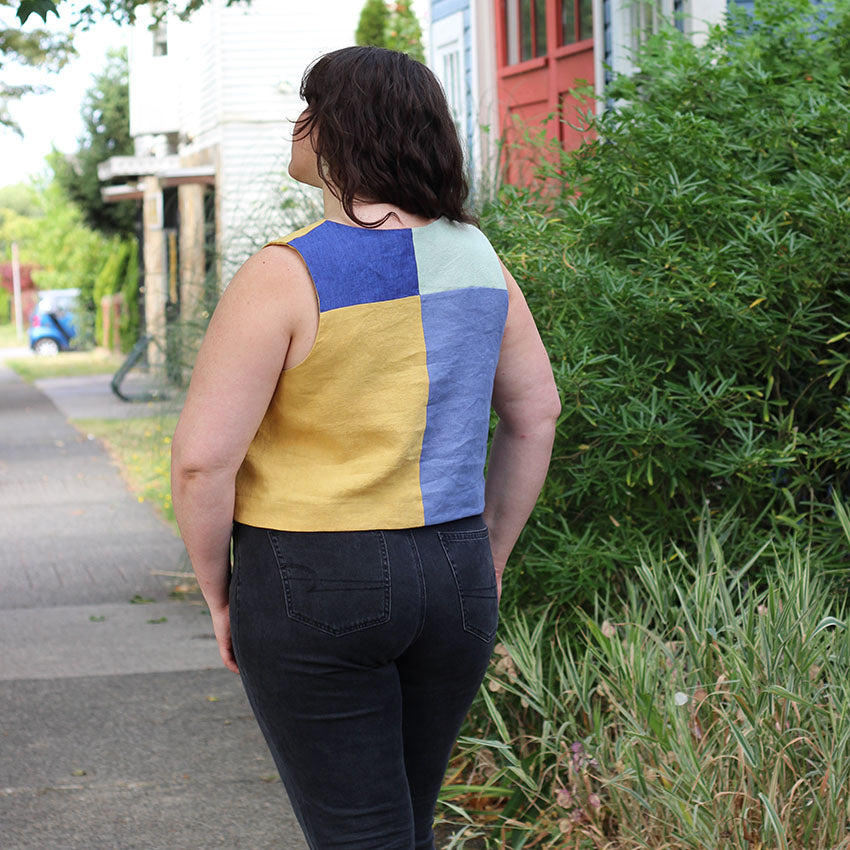 I am the first to admit that I am covetous with fabric. When I'm cutting out a pattern, I squeeze my pieces in as closely as I can. I've teetered on the razor's edge of having enough fabric for a project more than a few times. I hoard scraps like a squirrel saving acorns for winter. As a result of these behaviours (and my obsession with linen) I found myself with a sizeable pile of linen scraps that were too small to make whole garments, but big enough so that there was no way I would consider getting rid of them. I paid for those scraps, after all! Colourblocking is a fantastic way to use up these scraps; with a little creativity, you can turn them into useable fabric again!
The first thing I did in this process was take a detailed look at my linen scraps so that I knew what exactly I was working with. I wanted to make sure that I used scraps of a similar weight, so that the movement of the fabric would be consistent. Once I had a good idea of which scraps I wanted to use and which colours I had, I was able to start brainstorming ideas for how to make use of each bit and what sort of shapes I could have in my design.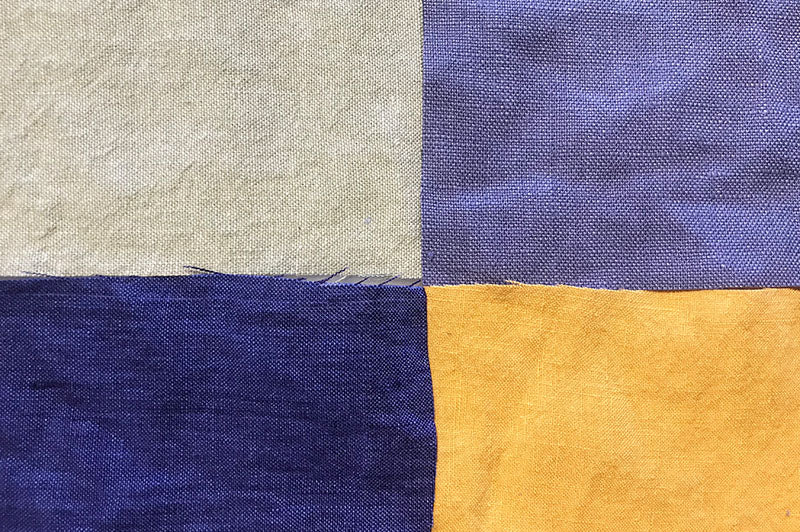 After sketching out a few ideas, I decided on a design for how I wanted to color block my Ashton Top, and I set about creating the pattern pieces. This process was actually pretty simple. I took my existing Ashton pattern and penciled in new lines where the colour blocks would be using a ruler. I then cut my pattern apart into the shapes I wanted the colour blocks to be. Since I was essentially taking small bits of fabric and sewing them together to make a bigger piece, I had to factor in seam allowances. Because I am mathematically challenged and knew I would never remember on my own, I added notes and indicative arrows wherever I had to add my seam allowance, so that everything would come out properly.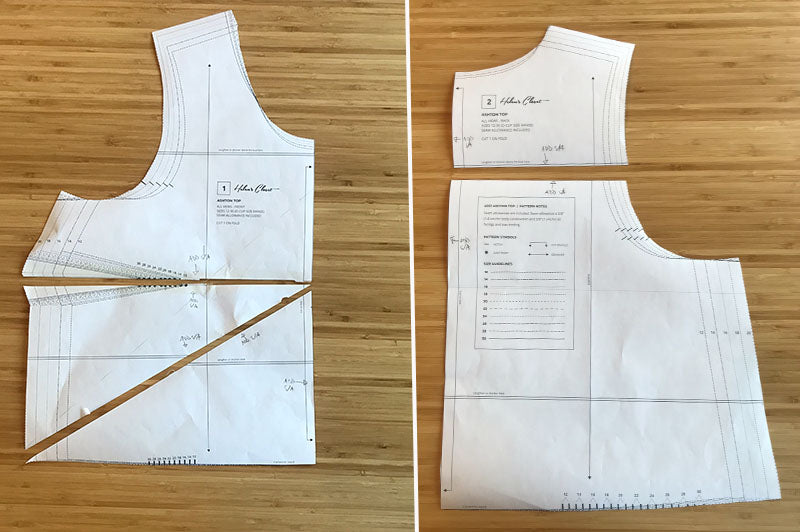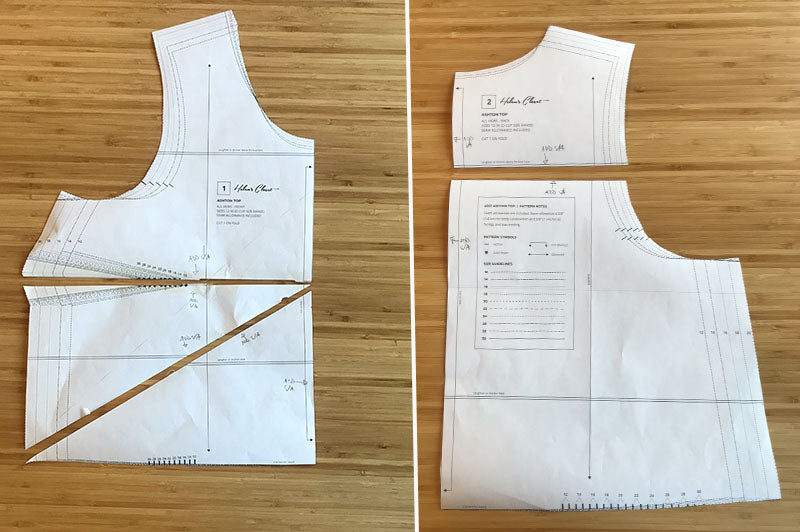 You might notice that on my front pattern piece, I slashed it right through the dart. I realized while planning my top that the line that runs through the centre of the dart was the perfect spot to place a colourblock; not only do the colour proportions work really well, but the dart is totally hidden!
After planning and cutting all of my pattern pieces, I finally got to cut out my scraps. This part was fun because I felt like I was giving them new life. To make sure the added seam allowances were correct, I used a quilting ruler to add a 5/8″ seam allowance wherever I would be sewing two scraps together to make one piece of the pattern.
Once I had all my pieces cut out, I pinned and sewed my colour blocks together to create the top pieces. Once I sewed my blocks together, it was just a matter of following the regular Ashton Top instructions to create my colour-blocked version! The only other adjustment I made in the sewing process was using four different bobbin thread colours for my hem facing so that there wasn't any obvious contrasting stitching. It turned out pretty nicely!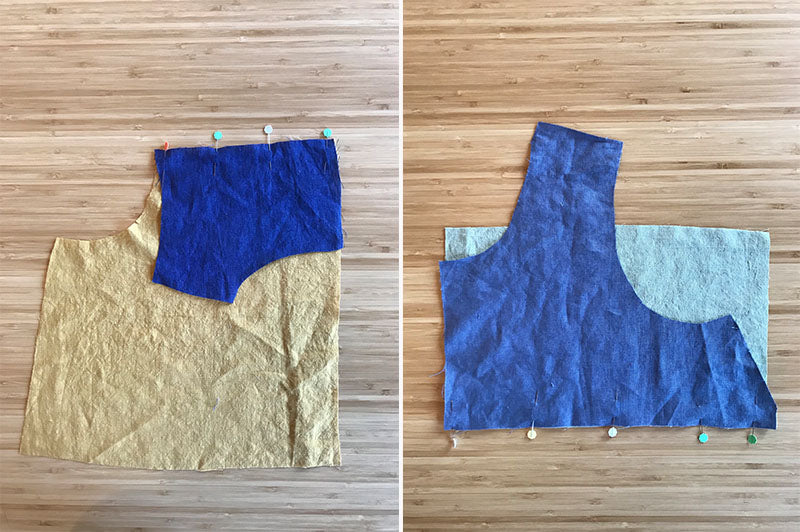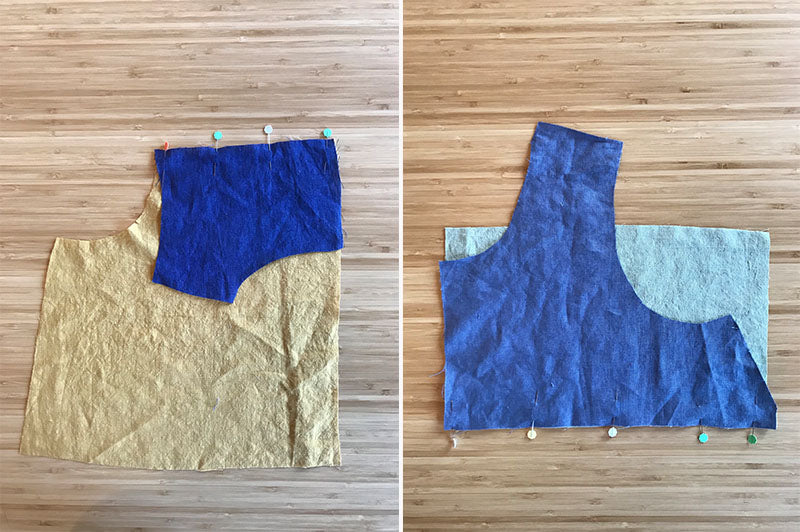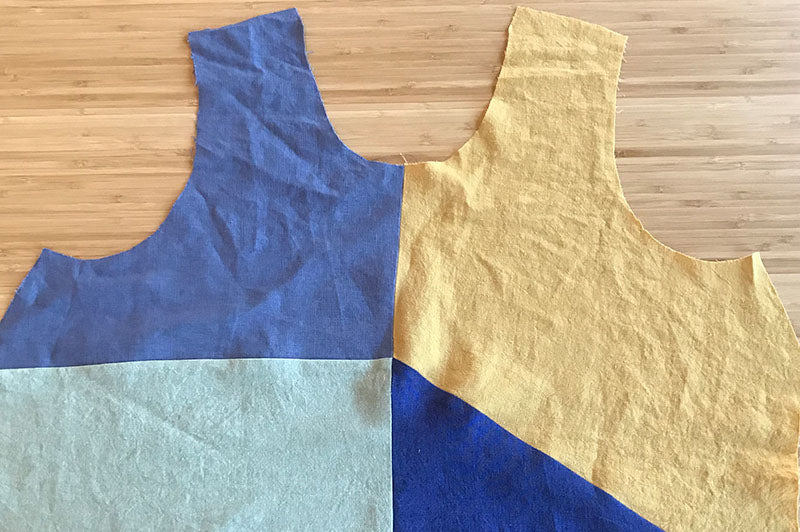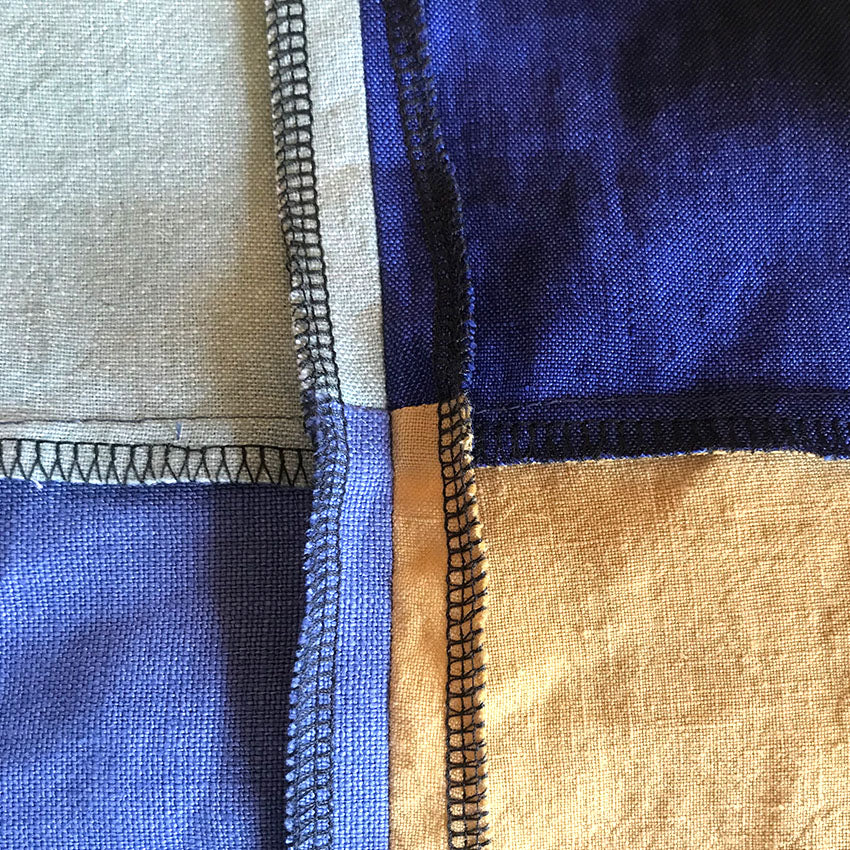 I went with the cropped view (View B) and used a facing finish for my Ashton. I made a straight size 20. The facings are also all made up out of scraps.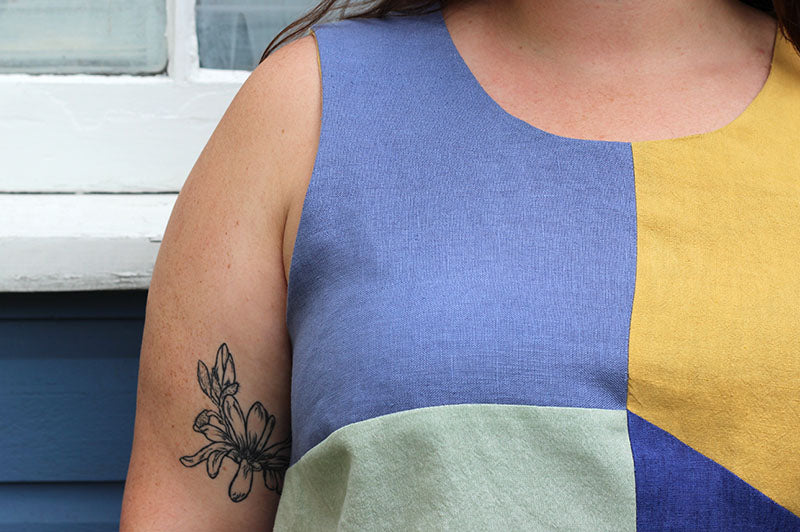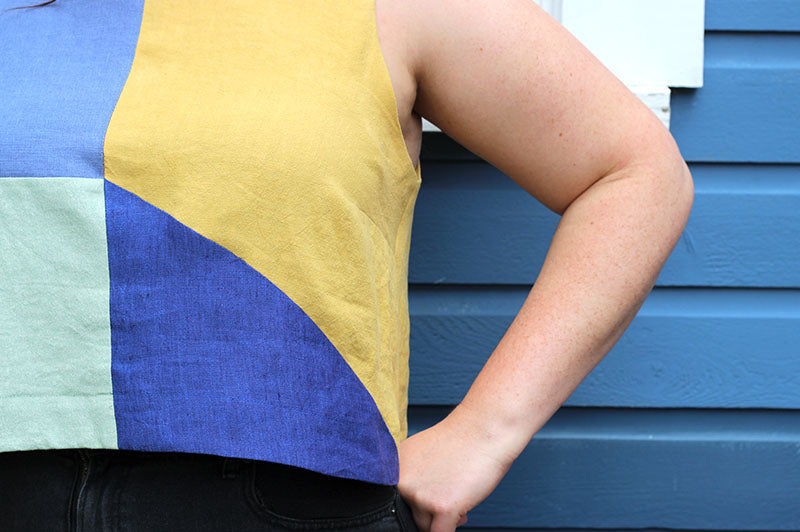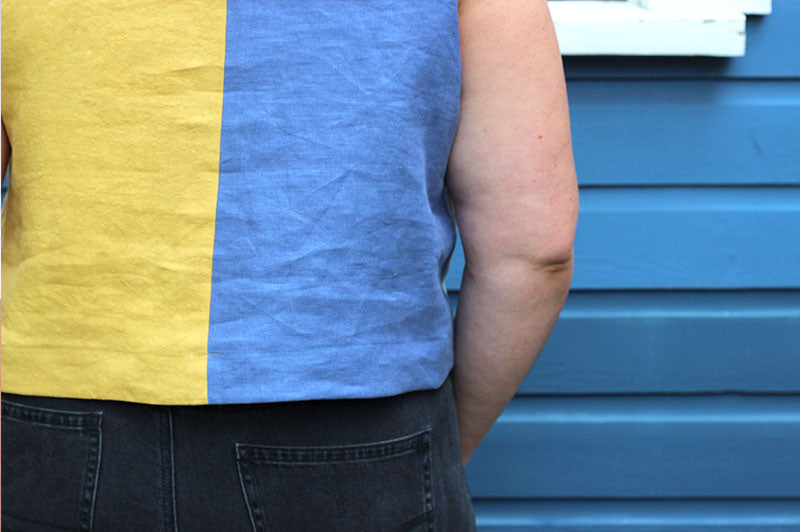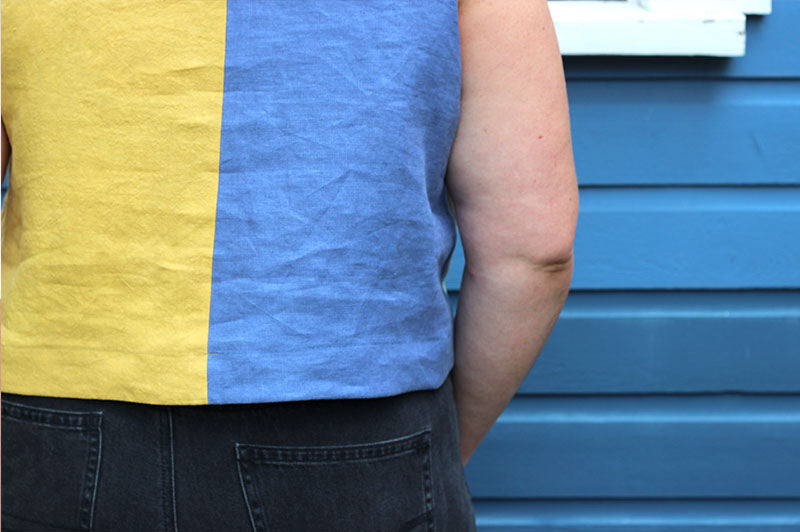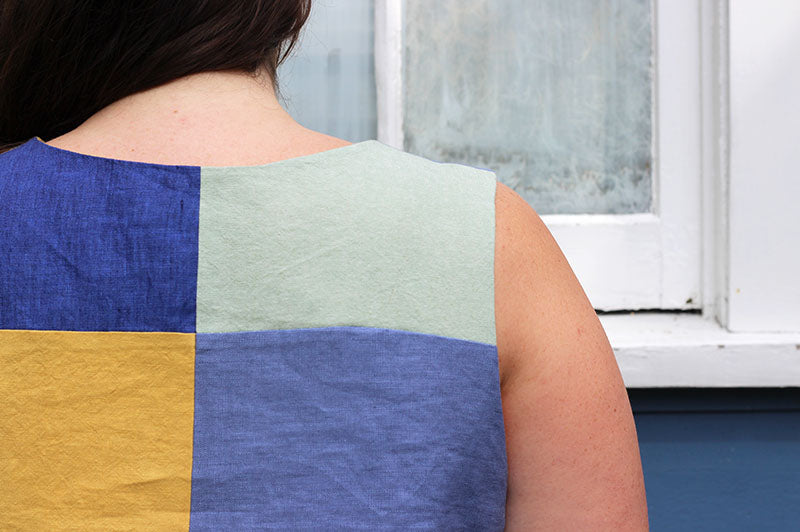 One of my favourite parts of this process was looking back at all the garments that these scraps originally came from; a Zadie Jumpsuit I wore to a friend's wedding, another Zadie that I made for a close friend, a Lou Box Top that I absolutely love, and Helen's tulip back Ashton hack all led to the birth of this colour-blocked Ashton.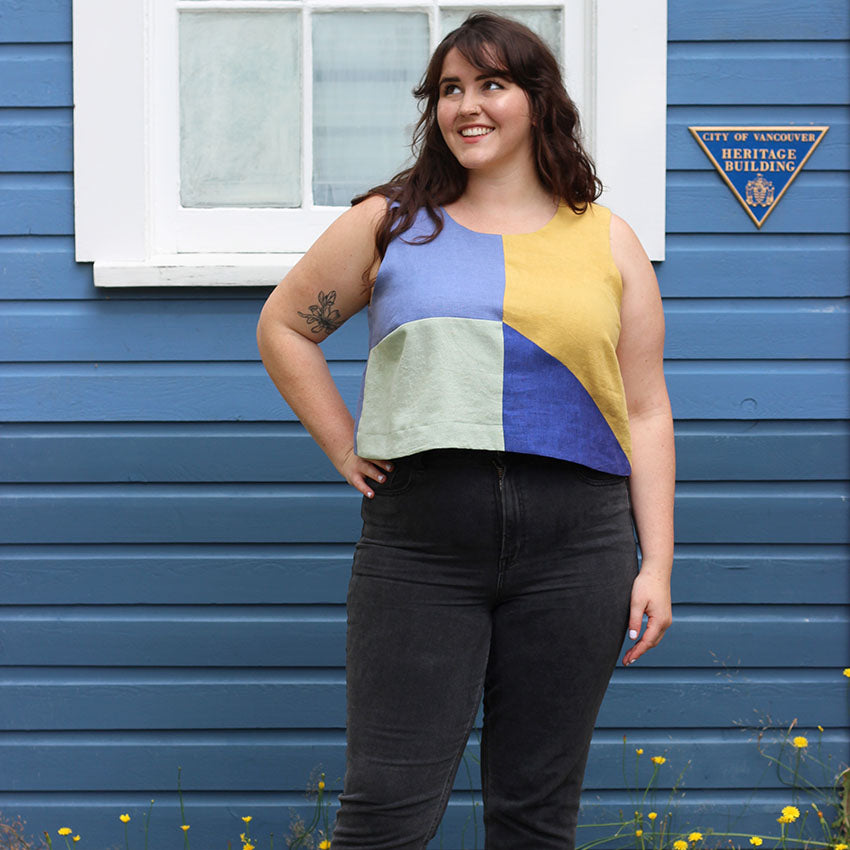 I am so pleased with how this colour-blocking experiment turned out! There were a couple of moments where I was nervous that I might end up looking like a clown or a scarecrow, but in the end, I think my colour-blocked Ashton looks really, really cool. I feel inspired now to colour-block more! The process was very manageable, definitely fun, and I can't wait to try it again in the future.
You can grab the Ashton Top this month for 20% off using the code ASHTONAUGUST.
This hack on how to color block your Ashton is a part of our blog series all about the Ashton Top! See all the posts in this hacking series here.