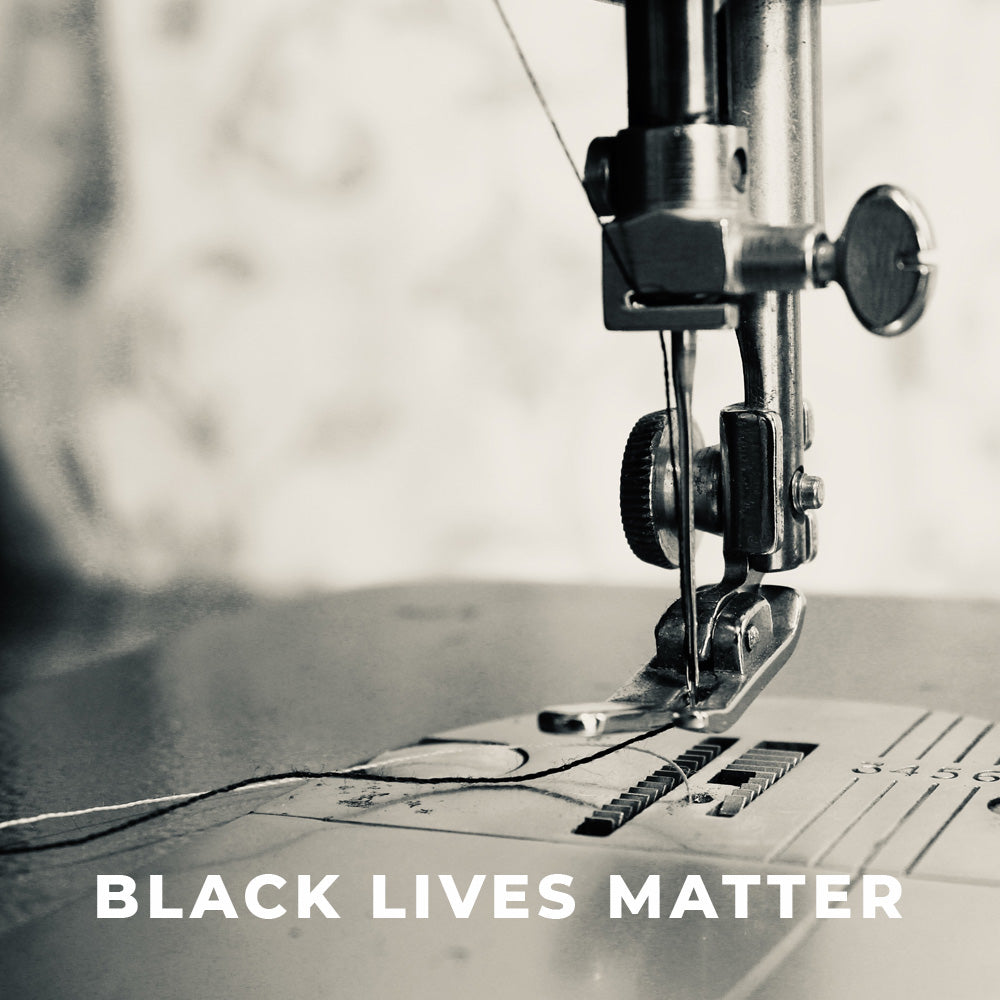 This past week has been devastating and a serious wake-up-call. The murder of George Floyd by the Minneapolis police was horrific and unjust. It was yet another murder in a long line of police brutatliy against Black people. Breonna Taylor, Ahmaud Arbery, Eric Garner, Michael Brown, Tamir Rice, and countless others known and unknown. I should have spoken up for all of them. I should have been saying their names.
To say this time has been educational is a gross understatement. It has challenged me in ways I desperately needed to be challenged. Thank you to the Black people who have shared their stories this week and offered countless ways to support Black Lives Matter and be actively anti-racist. Thank you to my fellow sewing community members who have been sharing those resources and amplifying those voices.
I have benefitted immeasurably from our society that is built on white supremacy. I have been complicit in the structures that keep minorities from having the same opportunities that I have had. I do not have to think about my own safety at the hands of the police. I have so much to learn and I am taking the steps to educate myself now because it's not too late. This is a pivotal moment for myself and for our sewing community. I am not going to look away.
This week, Sam and I have donated to bail funds and organizations that are involved in supporting Black Lives Matter and helping Black people and communities. We have been listening, learning, and talking with the people in our life about racism, white supremacy, and how to be anti-racist. We are also making a plan of action for ourselves personally and for Helen's Closet Patterns. We are doing the same over at the Love to Sew Podcast. Black lives matter and we value the Black makers in our community. We need to show up better for them and their communities.
What's next? I am writing my action plan for Helen's Closet Patterns and will be sharing that in full when it is ready. It needs to be rooted in our mission and our values, something that I am revisiting right now. I am taking the time to build a stronger foundation. Yes, we want to spread the joy of sewing far and wide. Yes, we want to be as inclusive as we can and make an impact with our patterns. Yes, we want to give back to our local community and broader sewing community. How are we going to do those things specifically? How are we going to make a difference for Black people and amplify Black voices? How will we support our local Indigenous peoples? These are some of the questions we will be addressing.
So far I know our action plan will be centered around inclusivity, representation, opportunity, mentorship, and giving back. We highlight and work with makers everyday in our community. I will include more Black makers and seek out Black people to work with. I will give back to Black communities. I will amplify Black voices. I will include specific steps and goals to make sure I do these things in my plan and will share that publicly so I can be held accountable.
I welcome suggestions from you for ways I can support Black makers and the broader Black community with my business! Help me make this action plan one that really makes an impact. Comment below.
If you are wondering what you can do I recommend the following action items. I myself am working on all of these right now:
Donate funds and consider ongoing donations. See list below.
Read about how to be anti-racist and about white supremacy. See suggestions below.
Look inwards at the ways we have benefitted from and are upholding white supremacy
Converse with the people in our lives about racism and white supremacy.
Call-out racism every time we see or hear it.