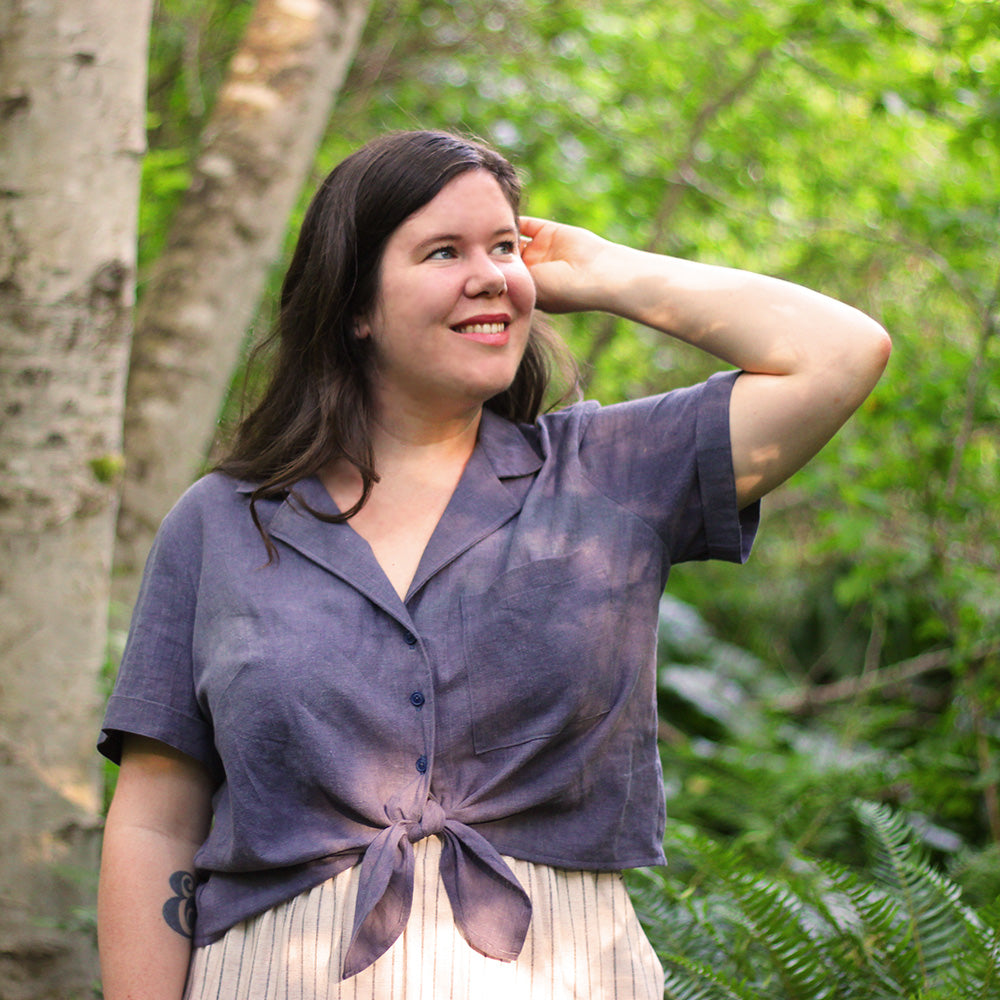 We are so excited to announce a new pattern in our collection! The Gilbert Top is our latest addition and obsession – we just can't get enough of sewing and wearing this pattern!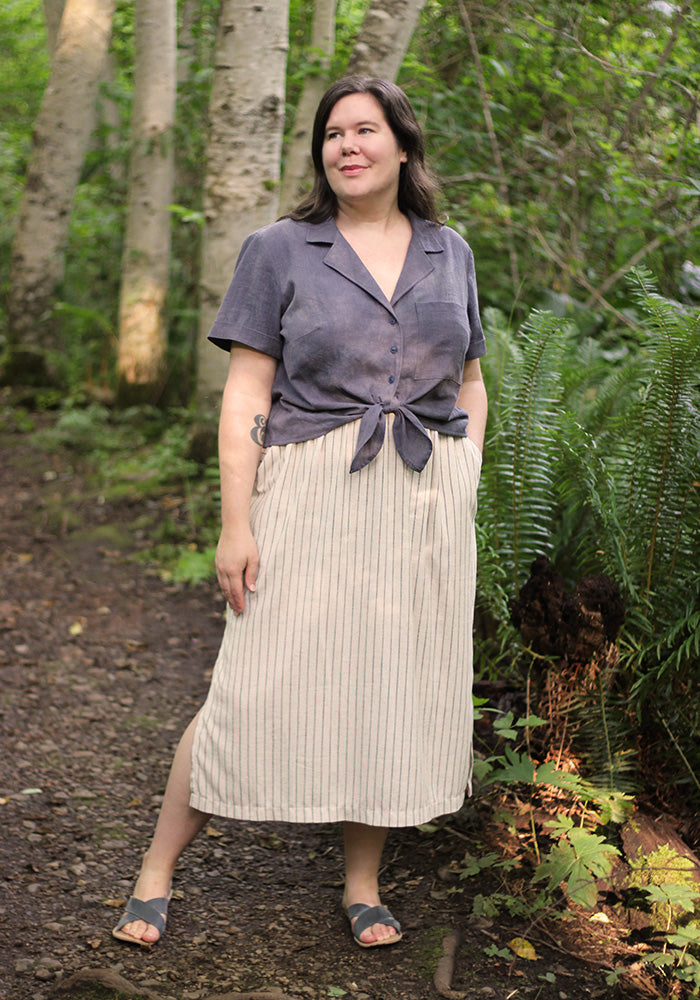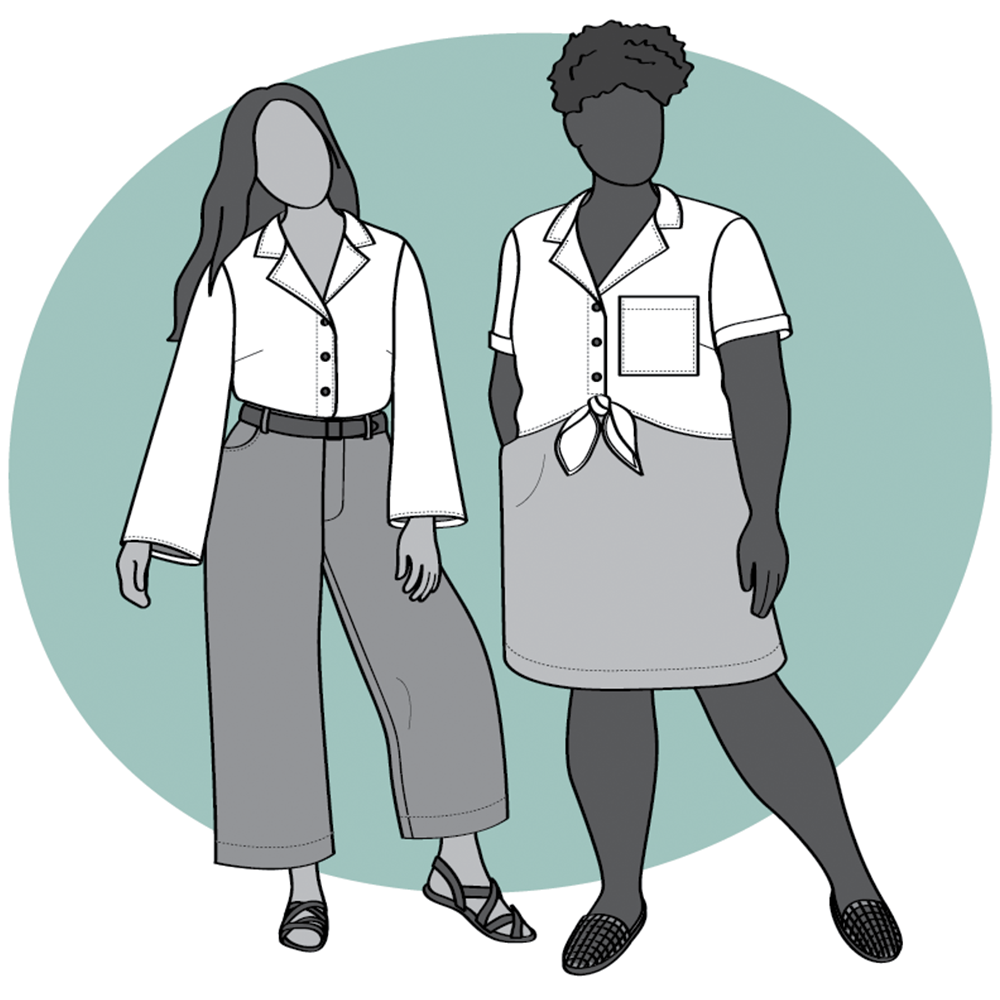 The Gilbert Top is a boxy button-up shirt with set-in sleeves and a camp-style collar. View A features a tie-front and a slightly cropped hem. View B has long dramatic bell sleeves and a longer length that is perfect for tucking into high-waisted garments. We can't decide which view we love most!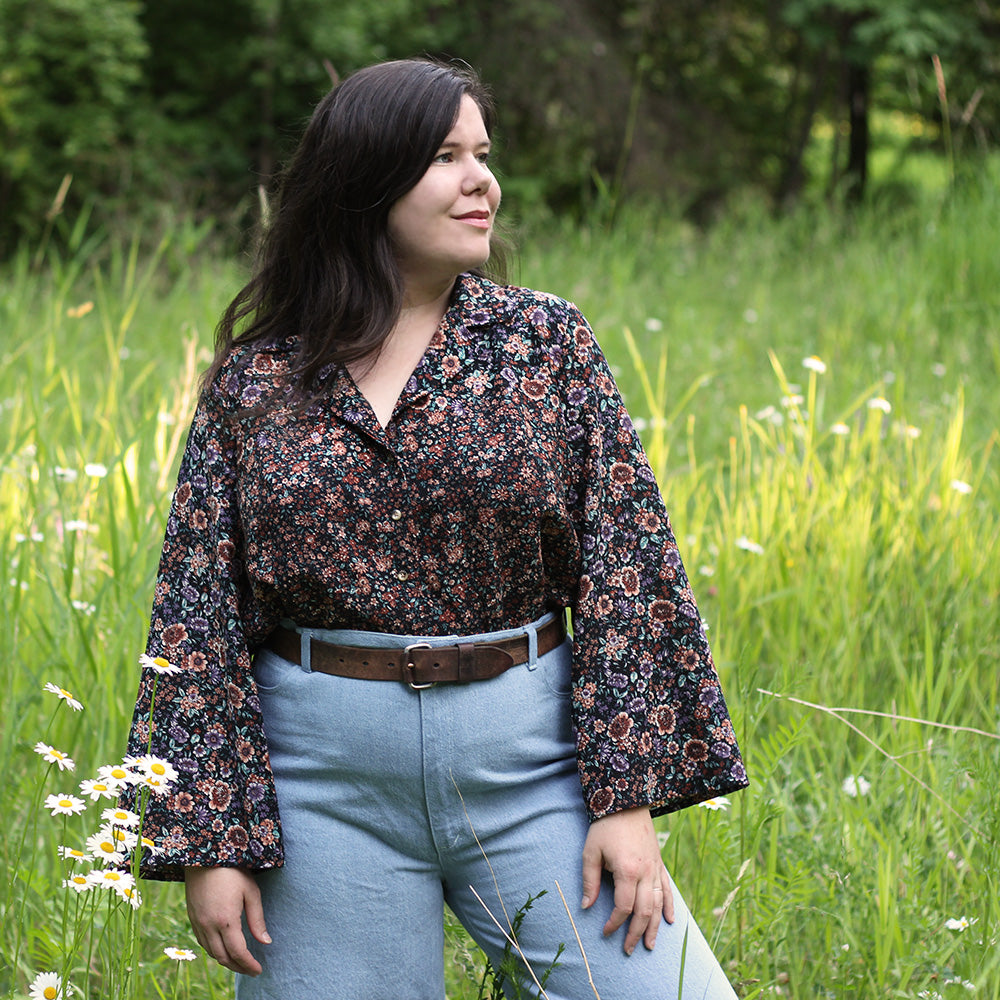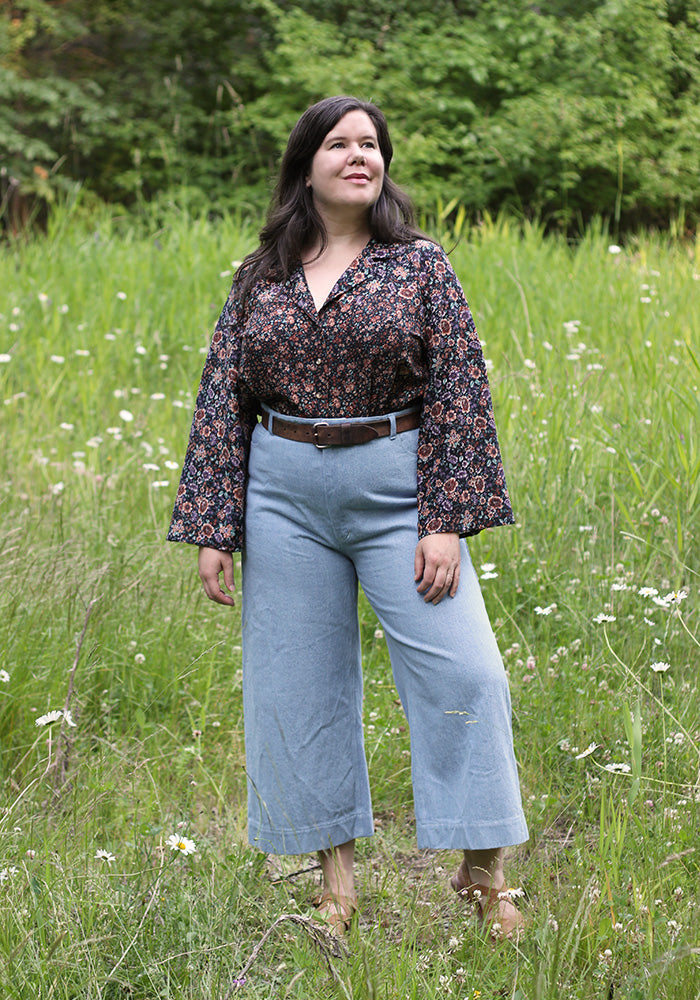 Can you believe that Gilbert is only the second woven top pattern in the Helen's Closet collection?! It is hard to follow the Ashton Top but we think this pattern delivers. If you are an Ashton fan, you will love Gilbert! This pattern has a similar relaxed fit and is equally wearable. We really enjoy pairing it with all our me-made skirts and pants.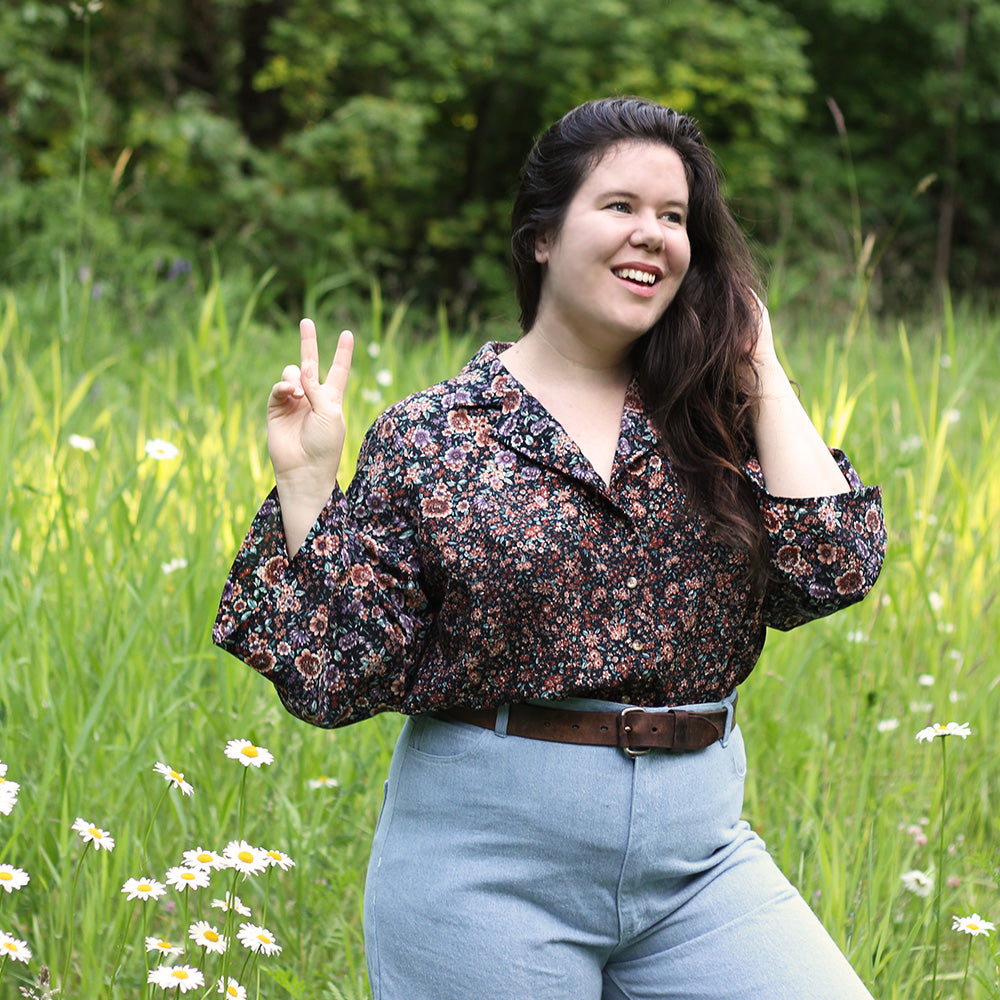 Helen is modeling Gilbert because it's the safest way for us to have a photoshoot during the pandemic. Do not fear though! We have several guest bloggers lined up for this launch week so you can see this pattern on other people, too!
You can make the Gilbert top in so many of your favourite fabrics! We've loved our makes in cotton lawn, washed linen, rayon challis, and wool crepe to name a few! View A works great in fabrics that have more structure like lightweight cotton and linen because the front tie can hold it's shape. View B is dreamy in flowy fabrics with plenty of drape like rayon, Tencel, and silk.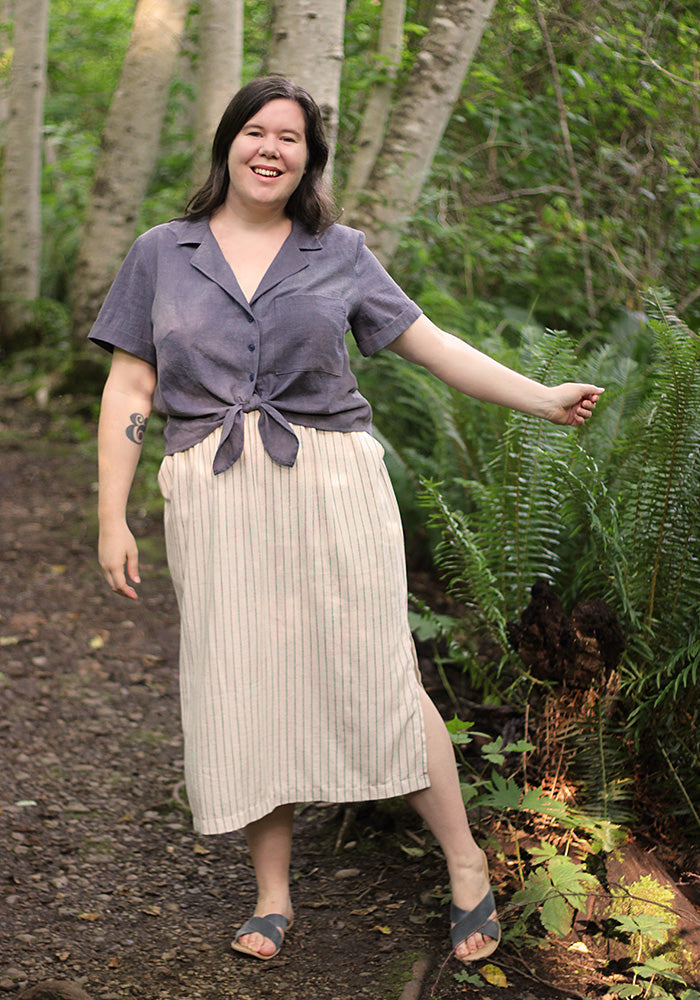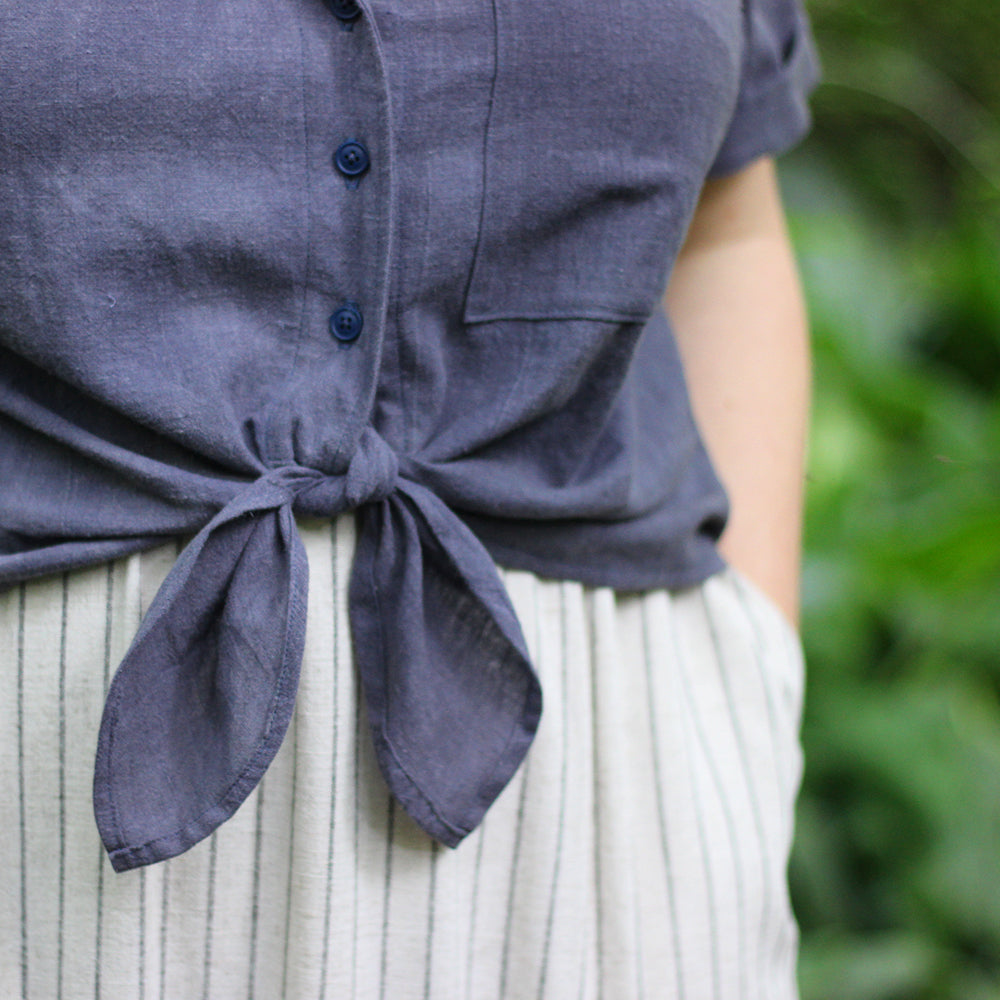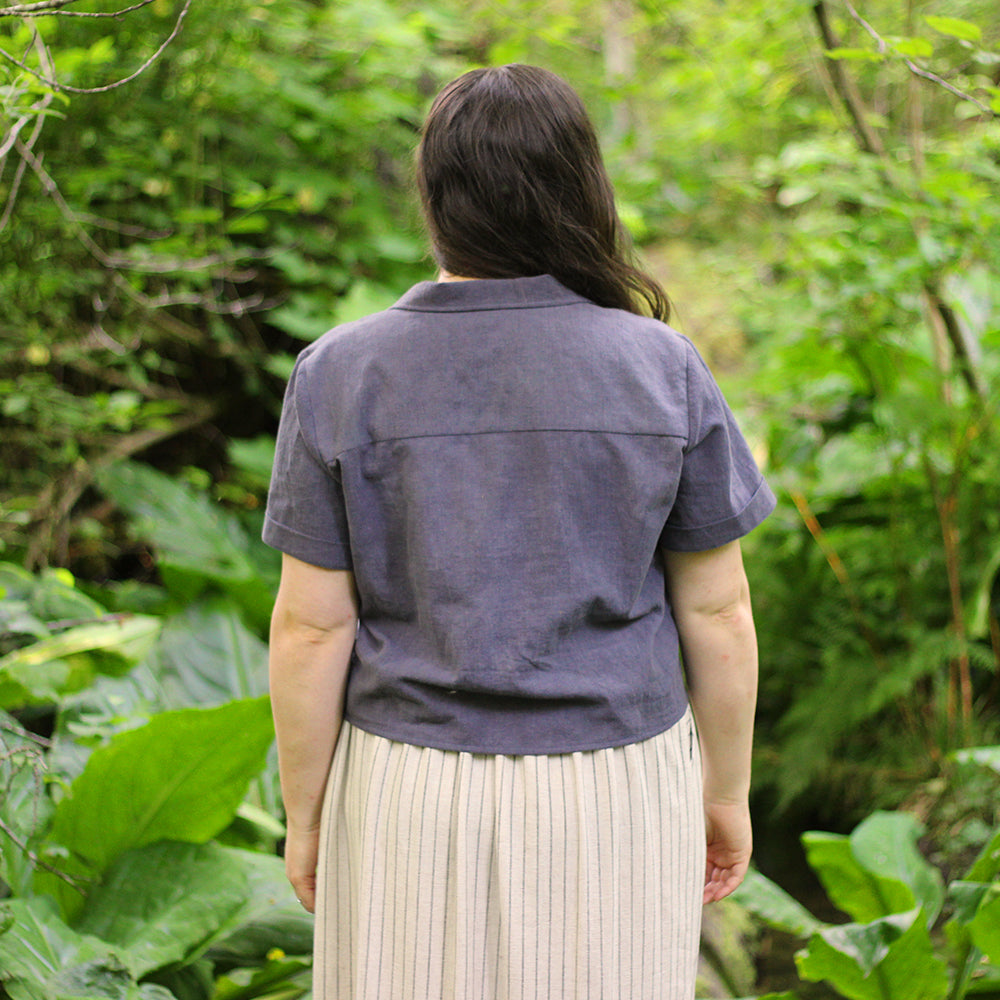 As always, we have put our heart and soul into the instructions for this pattern. We've carefully tested this pattern with our QA team, and they love it! One of the most common themes in their feedback is how much of a joy it is to sew Gilbert! We've marked it as an Intermediate pattern, and it's the perfect pattern for a confident beginner to use to step up their sewing! You will learn how to sew a collar, set in sleeves, and sew a front facing for a button placket! The yoke and collar are constructed using the popular 'burrito method', but with our own Helen's Closet spin. You will love how fun Gilbert is to make! Check out some examples of our detailed instructions below.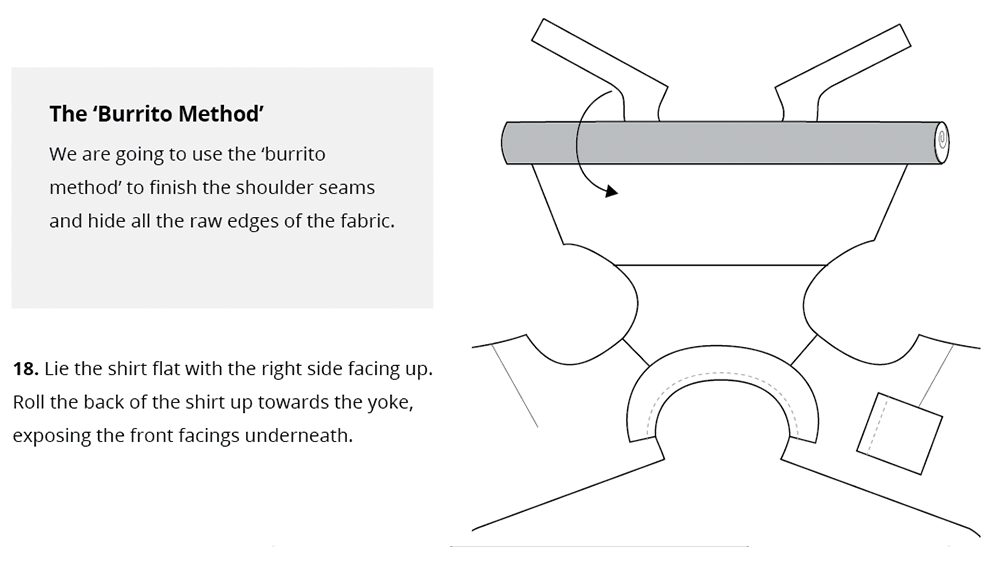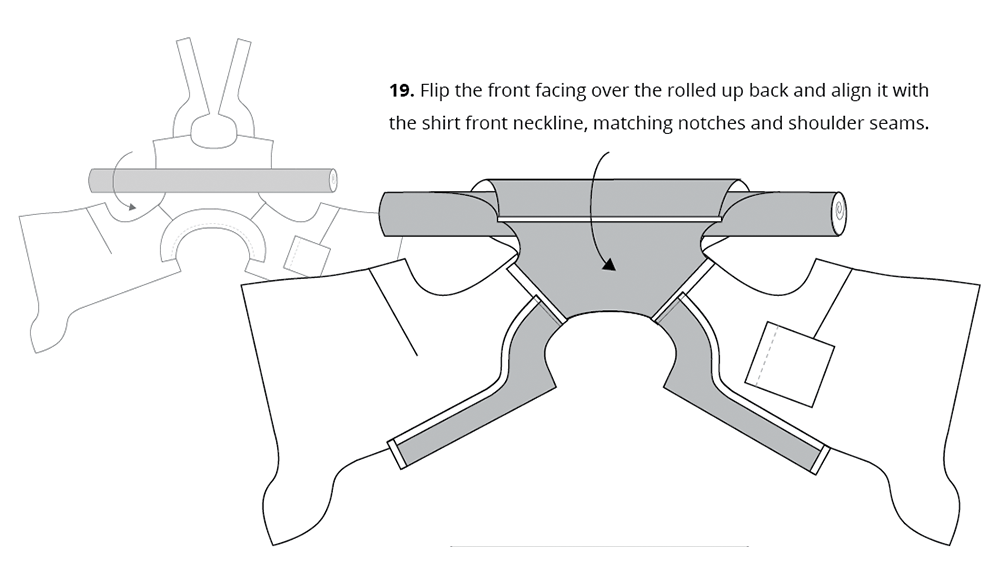 One of our favourite things about this design is how easy it is to mix and match. You can have the long dramatic sleeves of view B with the cropped length and tie-front from view A! Or choose the short sleeves and a longer length! Helen even made a version with the cropped length and no tie. It's easy to choose your own adventure with Gilbert.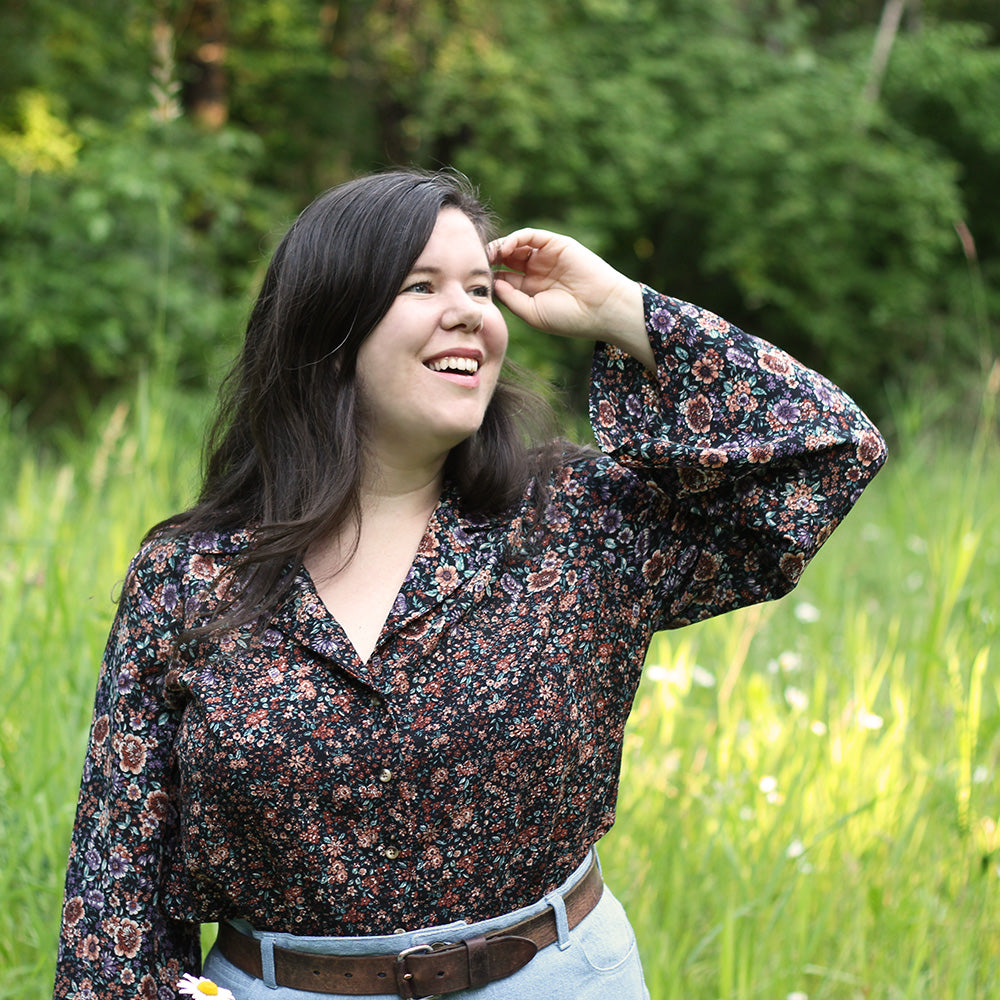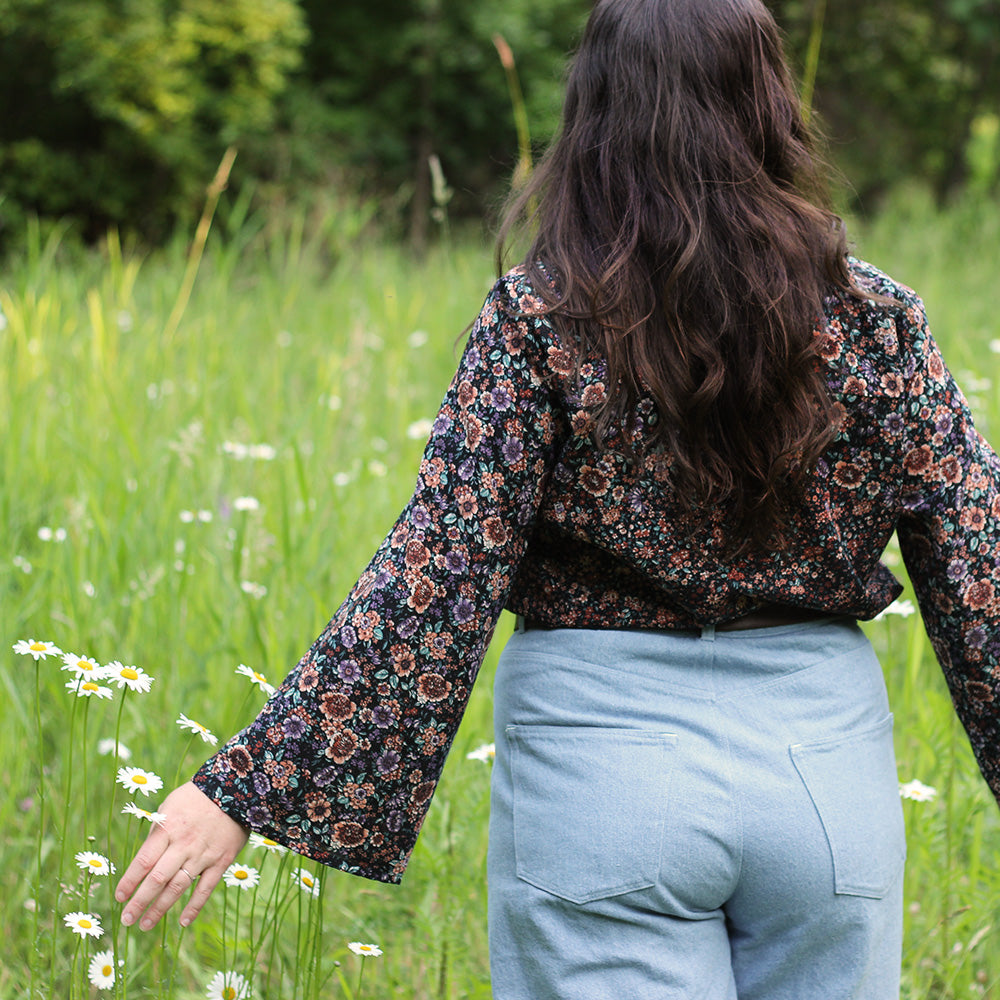 You may be wondering – can I make this top sleeveless? Can I make it into a shirtdress? Why yes you can! Gilbert is SUPER hackable, and you know Helen be hacking this pattern and sharing the process with you!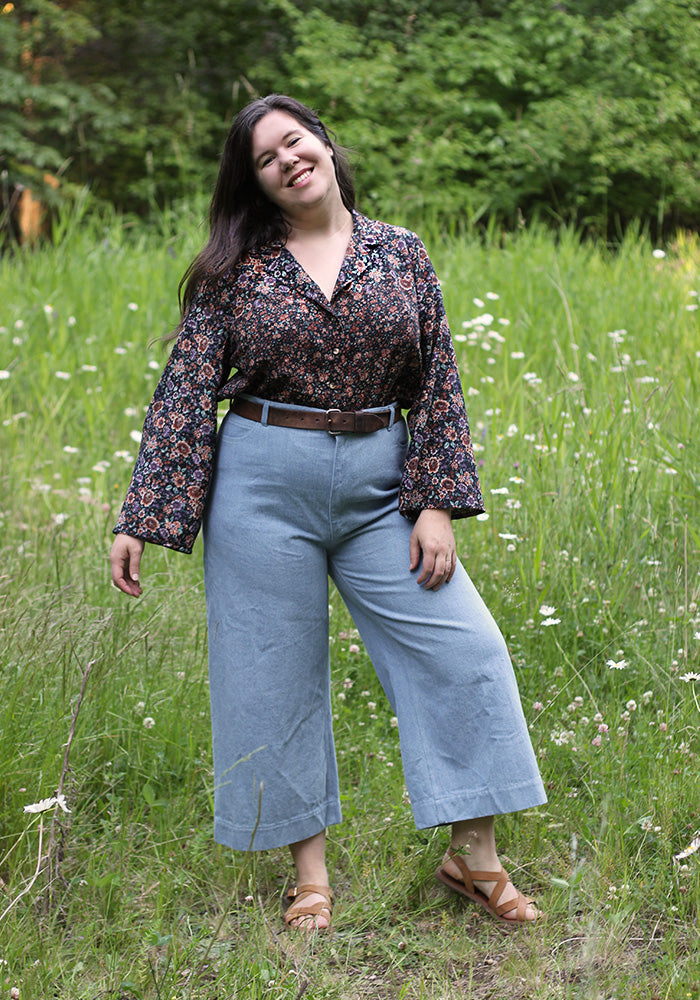 Thank you for checking out the Gilbert Top! We are so proud to release another pattern into the world and we can't wait to see what you make! Stay tuned for lots more posts about Gilbert this week!