We are continuing our guest blogging series this week with another post from a fellow sewist! We recently moved away from 'pattern testing' and are doing 'QA (Quality Assurance)' for our patterns now – read more here. We have more clearly separated the testing and marketing sides of pattern review because, well, that's how it should be! We now pay our testers and we no longer have 'tester roundups' where we show off the test versions. Instead, we are welcoming paid guest bloggers to make the final version of the Gilbert Top pattern and share their review of the design! This is just another way for us to show you new patterns on different figures and in different fabrics!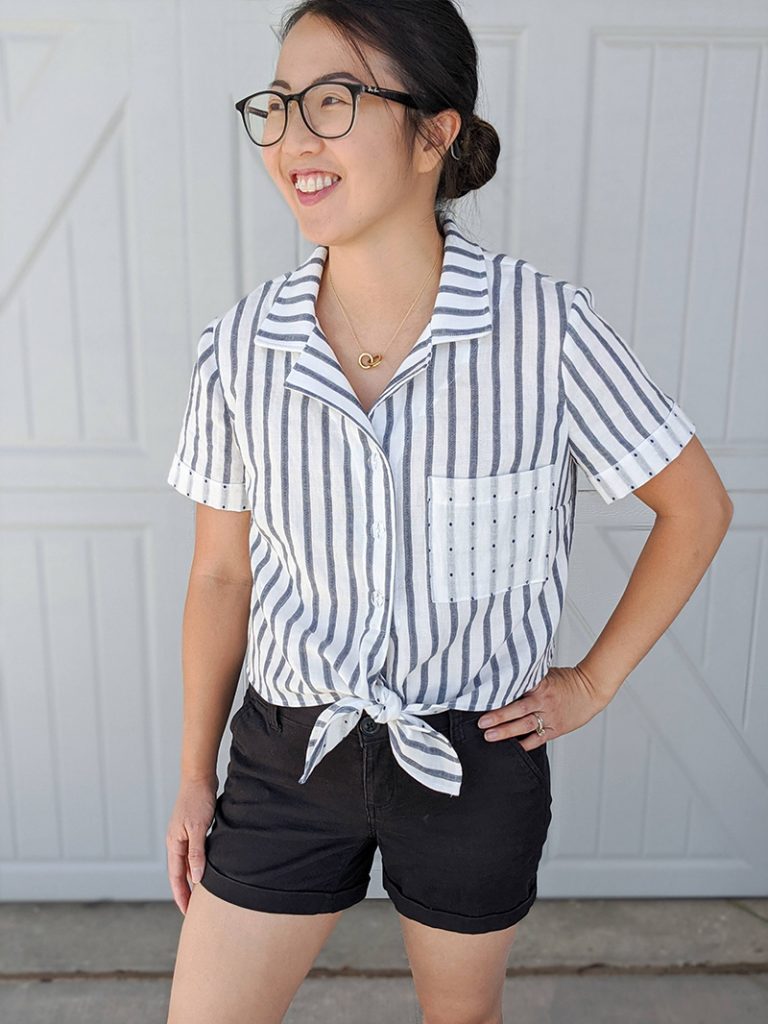 Today we are welcoming Simone (@intenselydistracted and intenselydistracted.com) to share her review of the Gilbert Top pattern! Simone started sewing a couple of years ago and I love following her for her excellent taste in fabric and awesome sewing attitude.
Note: I ask my guest bloggers to be honest! I want you to hear what they thought of the pattern, things they might change for next time, and how they feel in the garment! You know, the real sewing experience! This post is their own and all opinions are honest.
Helen's Closet Gilbert Top Pattern Review
Hi everyone! I'm Simone. I started my handmade wardrobe in 2018 with very little experience sewing for myself and Helen's Closet was one of the first indie designers I discovered and fell in love with. Suffice it to say, I'm pinching myself that I have the opportunity to share Helen's newest pattern with you!
One thing I absolutely love about Helen's patterns is how thorough the instructions are. From when I was a beginner to now, the instructions are always very well written and I appreciate the helpful tidbits sprinkled throughout. I always learn something new with each pattern. The instructions for the Gilbert Top are no different and I can definitely see an advanced beginner doing well with this pattern if they take the time to read through carefully.
When I started looking for materials for this top, I wanted a light and airy vibe for the summer. For my fabric, I played with the stripes on this beautiful reversible double cloth from Style Maker Fabrics. For my buttons, I used the clear circle buttons from Tabitha Sewer which give it a nice modern detail.
I made view A in a size 6 based on my high bust measurement. For my 5 foot frame, I shortened the bodice 1 inch above the bustline and 1.5 inches more at the shorten/lengthen line. I also shortened the sleeves by 2 inches. Even though I'm less than an A-cup, I didn't find the ease of this in the B-cup size range overwhelming and I would definitely stick with this size again.
After a total of 2.5 inches shortened in the bodice, the hem hits just above my hip line. I'm wearing mid-rise shorts here and you can see my midsection make an appearance when my arms are raised. The ties make the front hem shorter as well so keep that in mind when deciding on length. I think this length is great and I personally wouldn't want it any shorter.
Collars can be daunting, but I loved how easy this one came together. The technique of turning at the corners of the collar (described in the instructions) made the collar simple to do and it was done before I could even stress about it. This pattern doesn't require a lot of fabric which I'm always a huge fan of, but be aware that the ties are unlined which means you'll see the wrong side of the fabric on view A. Because I used a reversible fabric, I decided to carry the dotted side of the fabric to the pocket and sleeves. For the pocket, I treated the dotted side as the right side and followed the instructions accordingly. For the sleeves, I folded the hem of the sleeves opposite from the instructions with right sides together instead. If you're doing something similar for the sleeves, I would suggest doing a french seam so you have a clean finish.
The Gilbert Top was surprisingly simple and quick to make and turned out even prettier than I envisioned. It's a great wardrobe staple pattern and I could see myself wearing it with just about everything. For future versions, I'd love to make a solid color and try view A with a full button placket. If you're thinking about grabbing this pattern, you won't regret it. It definitely meets the standards I've come to expect from Helen's Closet and I can't wait to see more versions of it!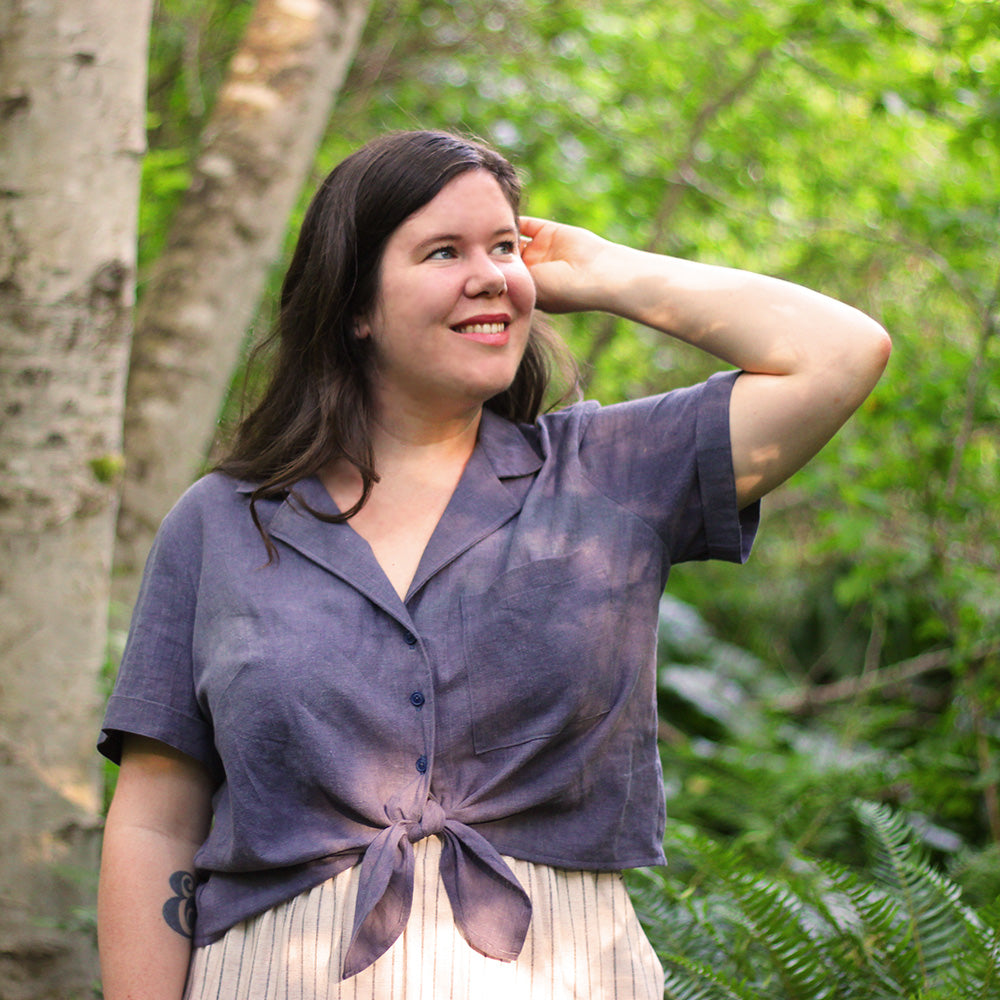 We have lots more posts about the Gilbert Top on our blog! Check out this guest blogger review from Leanne and this Gilbert Top review from Sylvia!