We are continuing our guest blogging series this week with another post from a fellow sewist! We know how important it is to see different versions of a pattern and get real feedback from the community, which is why we now welcome paid guest bloggers to make the final version of the pattern and share their opinions on the design! This is just one more way for us to showcase new patterns on different bodies and in different fabrics!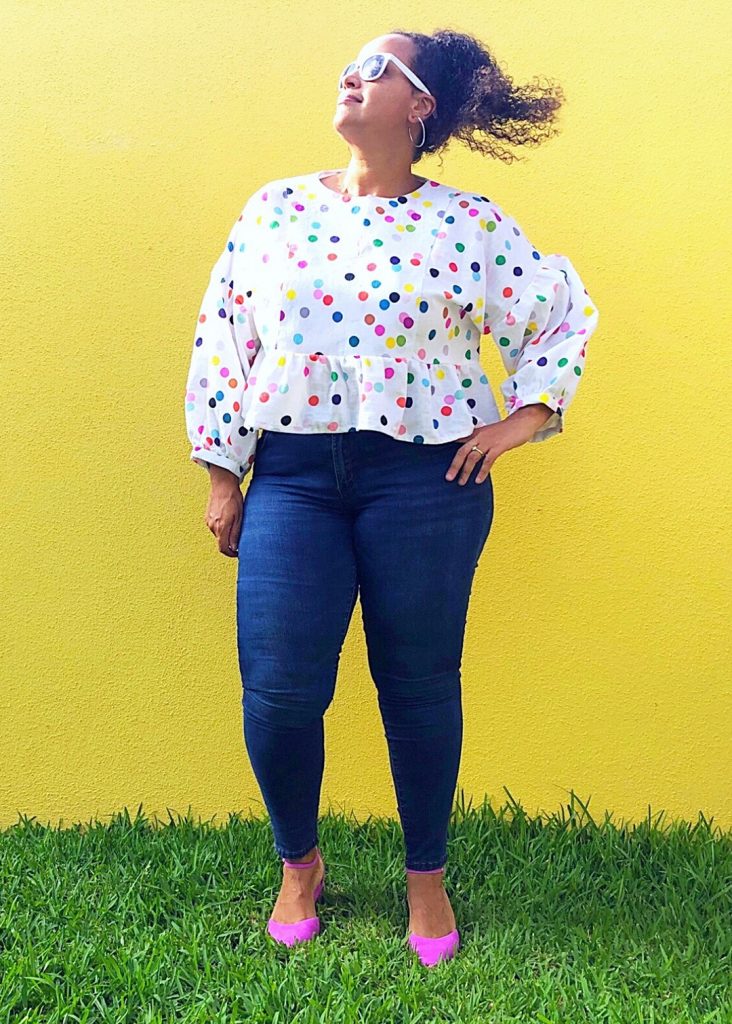 Today we are welcoming Flavia (@flav_made_this)! Flavia is always a vision in bright colours and beautiful prints in my feed. She's an adventurous beginner sewist and I love seeing what she is working on. Let's see what she has to say about the March Top and Dress!
Note: I ask my guest bloggers to be honest! I want you to hear what they thought of the pattern, things they might change for next time, and how they feel in the garment! You know, the real sewing experience! This post is their own and all opinions are honest.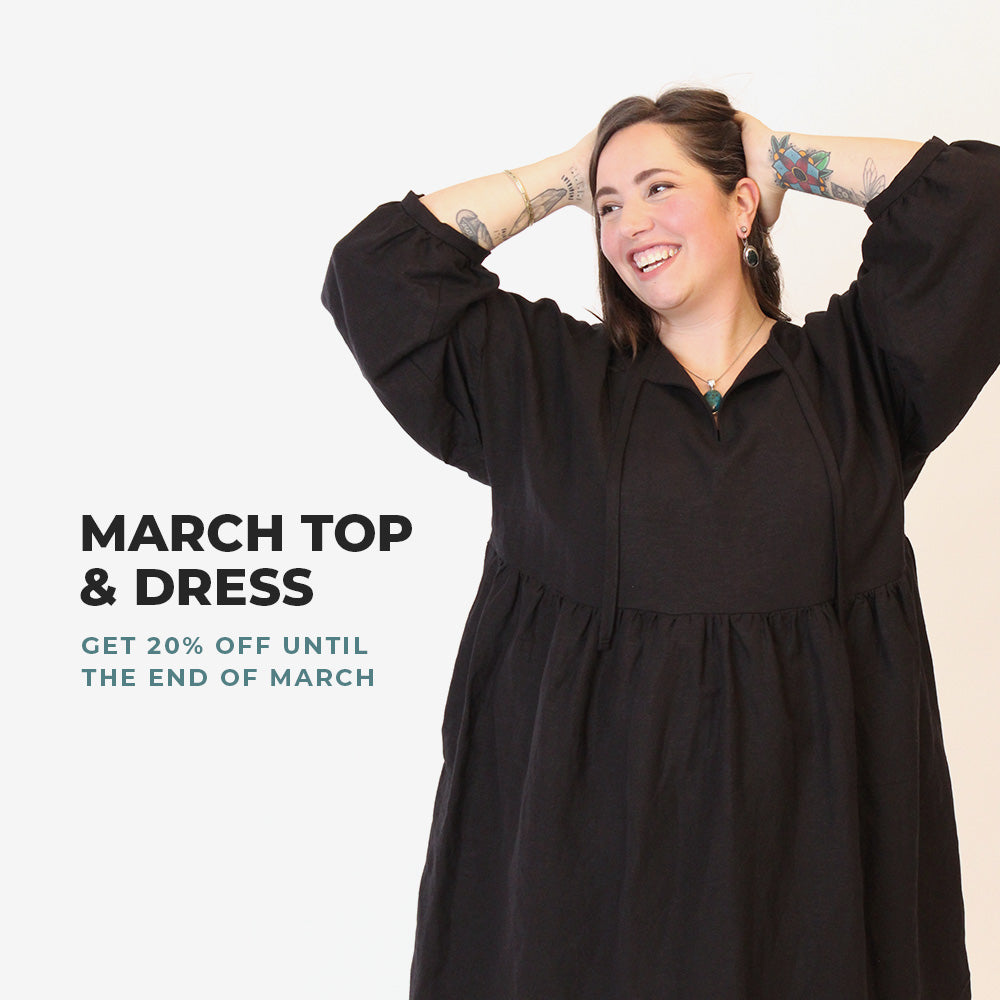 Flavia's March Top and Dress Review
Hi everyone!
Helen has invited me to write a blog post on her latest pattern—The March Dress and Top, and I must admit that I'm still pinching myself and I'm so thankful for this opportunity.
The March pattern is a 70's inspired loose fitting dress and top. Think big, bold statement sleeves and beautiful gathers.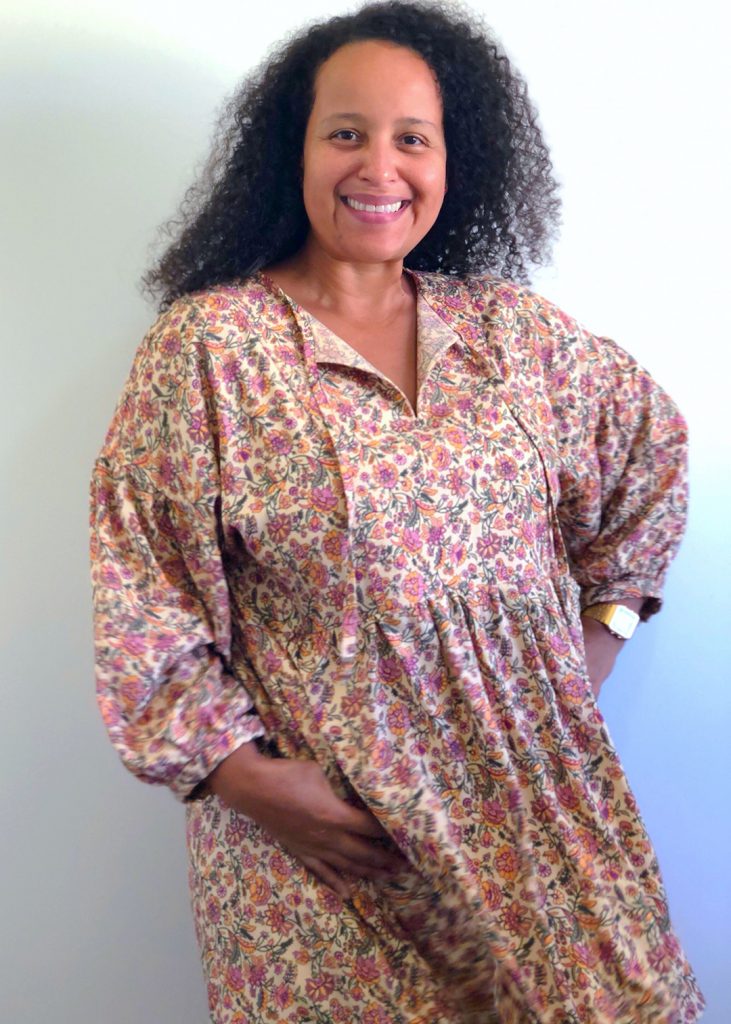 Unable to make a decision on what version to sew for this post, I decided to make view A and B—view A is the dress and view B is the peplum top.
You may notice that the pattern calls for an intermediate level of sewing. I consider myself an "adventurous beginner" and found this pattern to be challenging at times, however easy to navigate thanks to the great instructions and graphics by Helen. If you're a beginner, this is a great way to up your sewing game.
There are lots of tips as you go and as with all of Helen's Closet Patterns, by the end of the project I felt like Helen was sitting next to me given the level of detail and clarity of the instructions.
Now onto sewing!
View B (the top) was sewn first in size 18. My measurements are: bust 117cm (46″); waist 99cm (39″); and hips 128cm (50″). I decided on the size based on the finished garment measurement. For view A I decided to size down to a 16, however, this was a personal preference for a more fitted dress.
Both sizes fit well and I made no alterations to the pattern.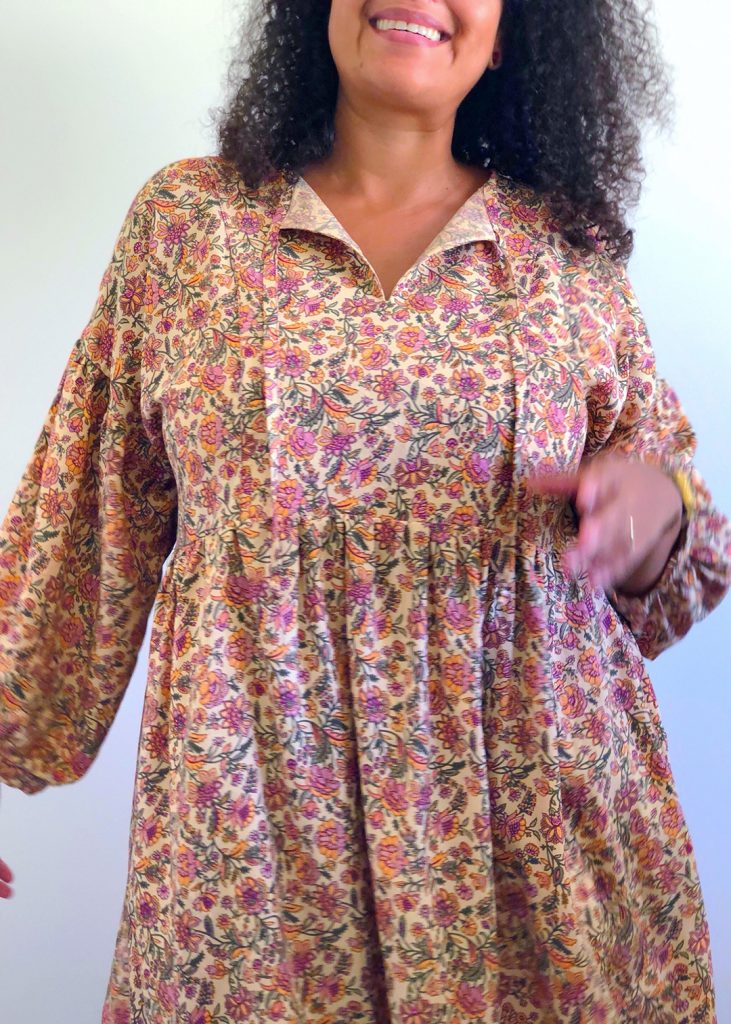 Making both views took a couple of hours each, there's a lot of pressing involved and you want to press when Helen tells you to. It will make your life heaps easier.
The peplum top was made with lightweight linen for more structure, and I love how defined the gathers and sleeves are. For the dress, I wanted a bit more movement so I chose a rayon fabric.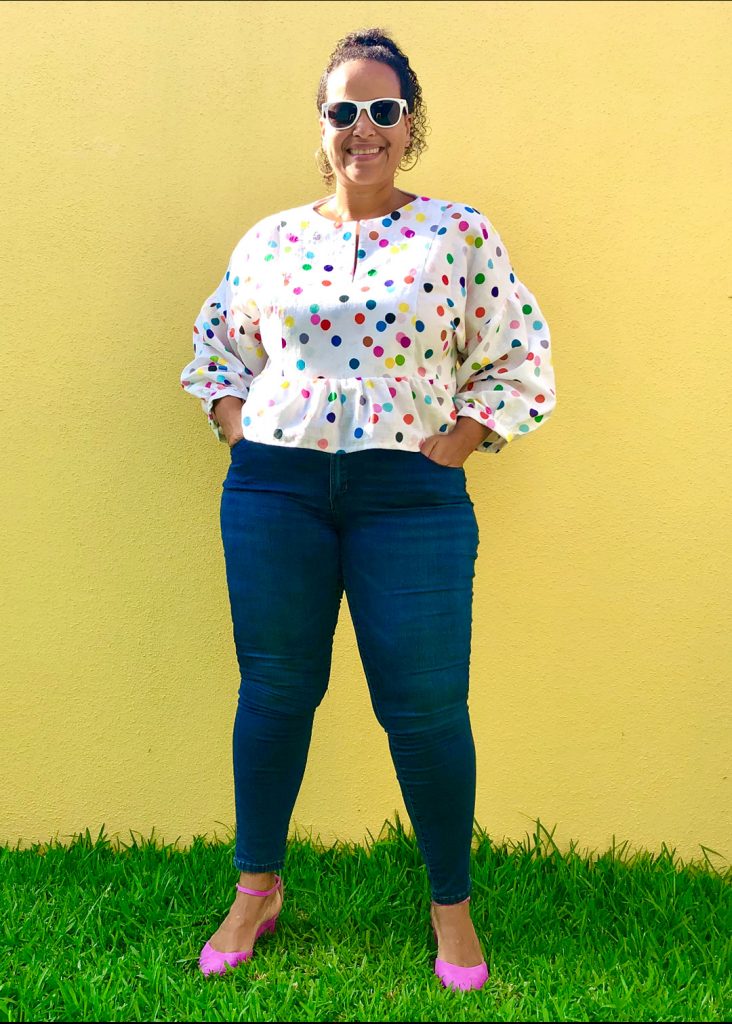 One thing that stood out were the pockets. They're huge and the construction was a first for me. You cut one large piece, fold in half and voila, there's your front and back pocket pieces.
For my future versions, I'll probably be more inclined to use fabrics with more structure like linen as they really highlight the features of this pattern. Next on my list is view C in a seersucker.
I also plan on sewing another peplum top, but will add an inch or two to the bodice length and also open the V neck a bit more so it stays nicely open without the ties.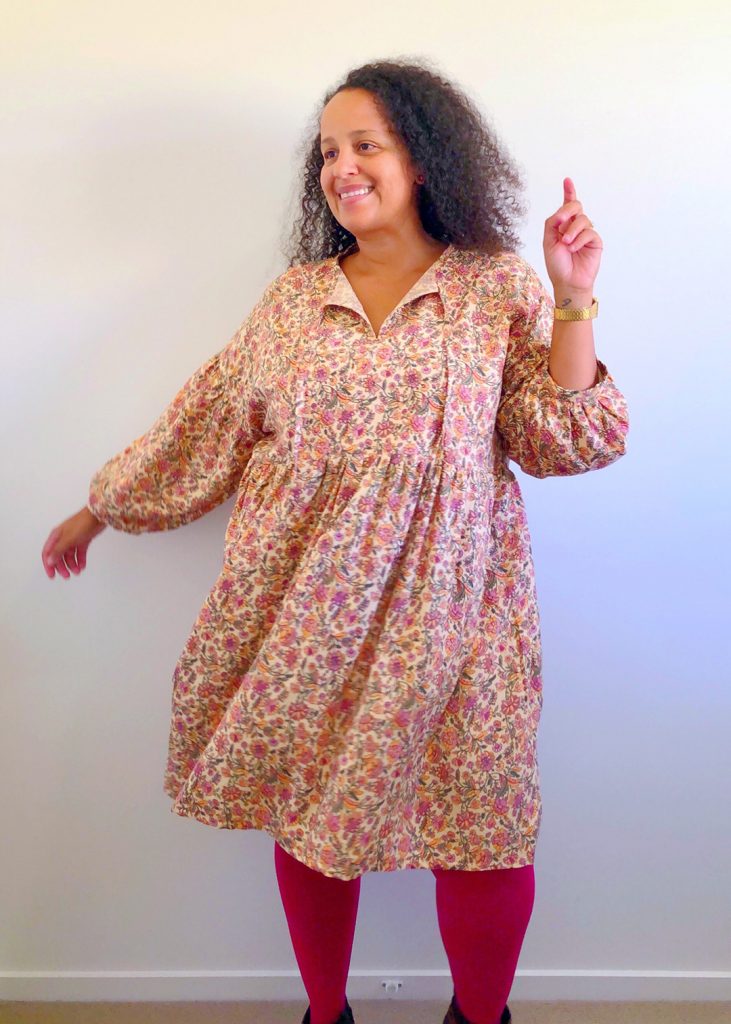 Sewing both views was fun and I truly appreciate all the tips and the explanation of every technique used.
I'm a sloppy sewist, I try to cut corners where I can and this project pushed me to the edge because my normal ways didn't work here, LOL.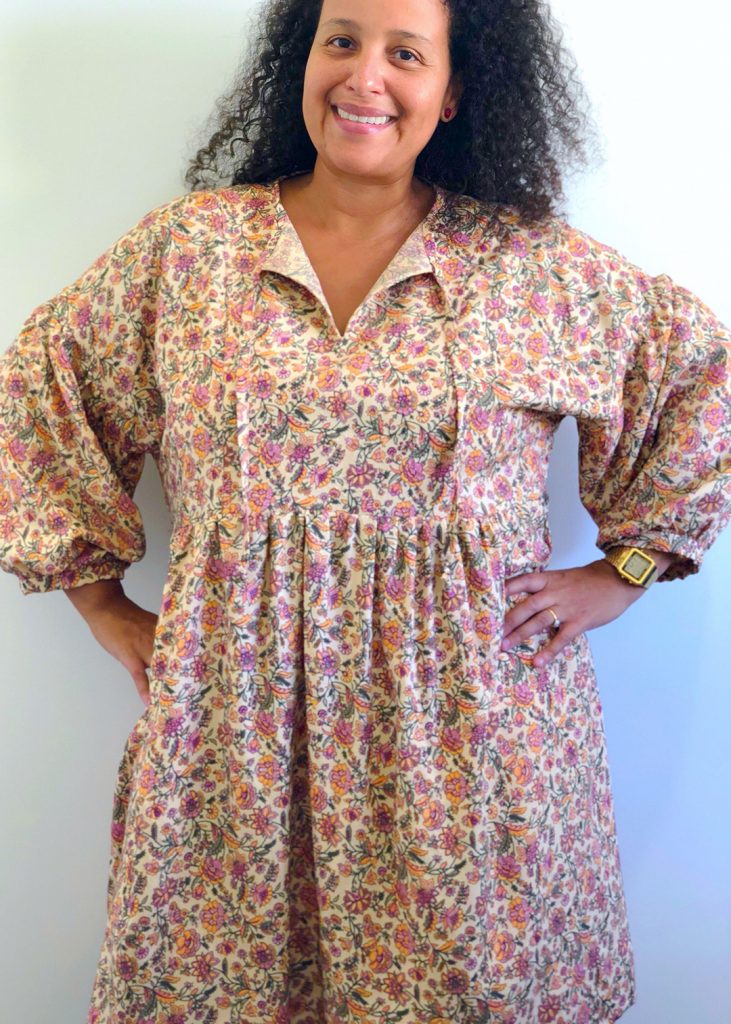 Before I go, here are some notes I would like to share with you:
Make sure you buy good quality interfacing. The front and back panels on March are one of the most beautiful features of this pattern, and you should really take your time to press the interfacing correctly. You don't want to end up with bubbles thanks to your interfacing not adhering properly to the garment (ask how I know)!
Pin away, especially when sewing the panels—you want them to be spot on. Remember it's a feature!
Go slow on the edge stitching. I find ¼" machine foot to be super handy!
Like with all of Helen's patterns, March is stylish and comfortable. It's a great option for a transitional me made wardrobe, whether you're entering or exiting the colder months.
Until next time!
Flavia
---
This is the second in a three-part guest blogger series! See Swetha's March Dress here and check back tomorrow for another guest blog review of the March Top and Dress!