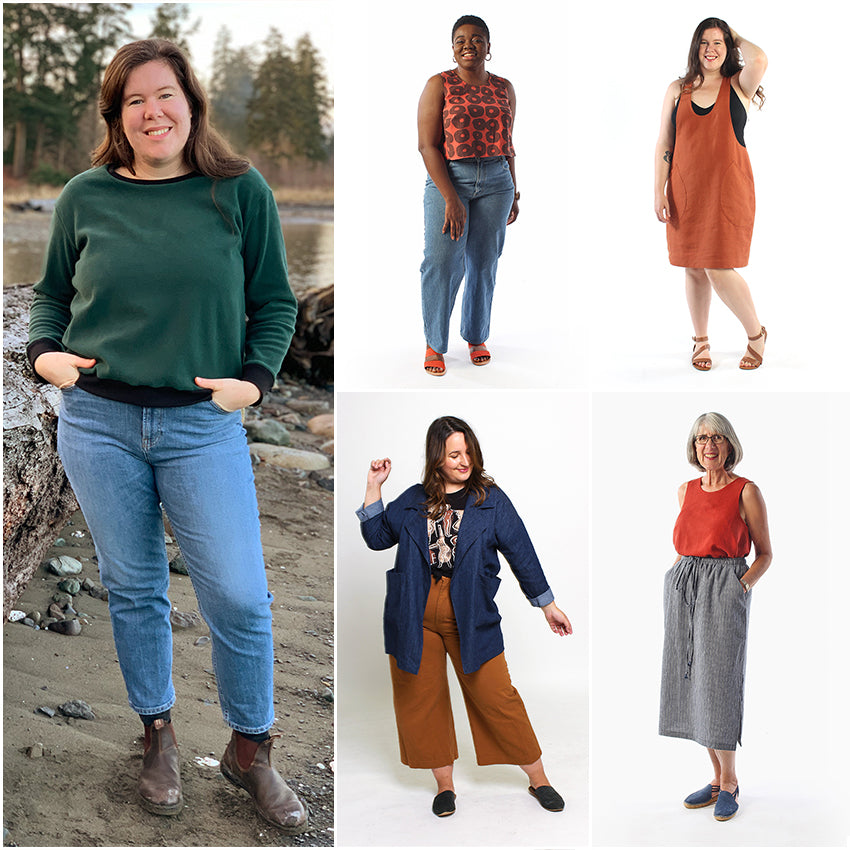 One question we get asked all the time is, "which pattern should I sew if I'm a beginner?" Whether you are just learning to sew, or you have loved ones interested in taking up sewing, choosing the right pattern can make all the difference in the success of your project. So today we thought we'd share a few guidelines for selecting sewing patterns for beginners, and round up some of our favorite Helen's Closet patterns for new sewists!
What exactly makes a pattern beginner-friendly? Many sewing patterns will label the difficulty level of a design, but how this is defined can vary from brand to brand (if the information is there at all). In general, these are the things you should keep in mind when selecting your pattern:
Great Instructions
For new sewers, it's important to have detailed and thorough instructions that don't leave you confused or frustrated. Indie patterns are known for offering a better set of instructions than what you'll find at big box stores, which usually assume you already have a working knowledge of how to sew.
Of course, that doesn't mean this is universally true of all independent sewing brands, and there is a ton of variety between companies in the level of instruction they provide. If you're unsure, it's worth doing a Google search to read reviews about a brand first. Alternatively, you can try downloading their free pattern to get a feel for their instructions and patterns first hand. We offer the Luna Tank as a free introduction to Helen's Closet patterns, but many indie companies also offer free sample patterns in their catalogue.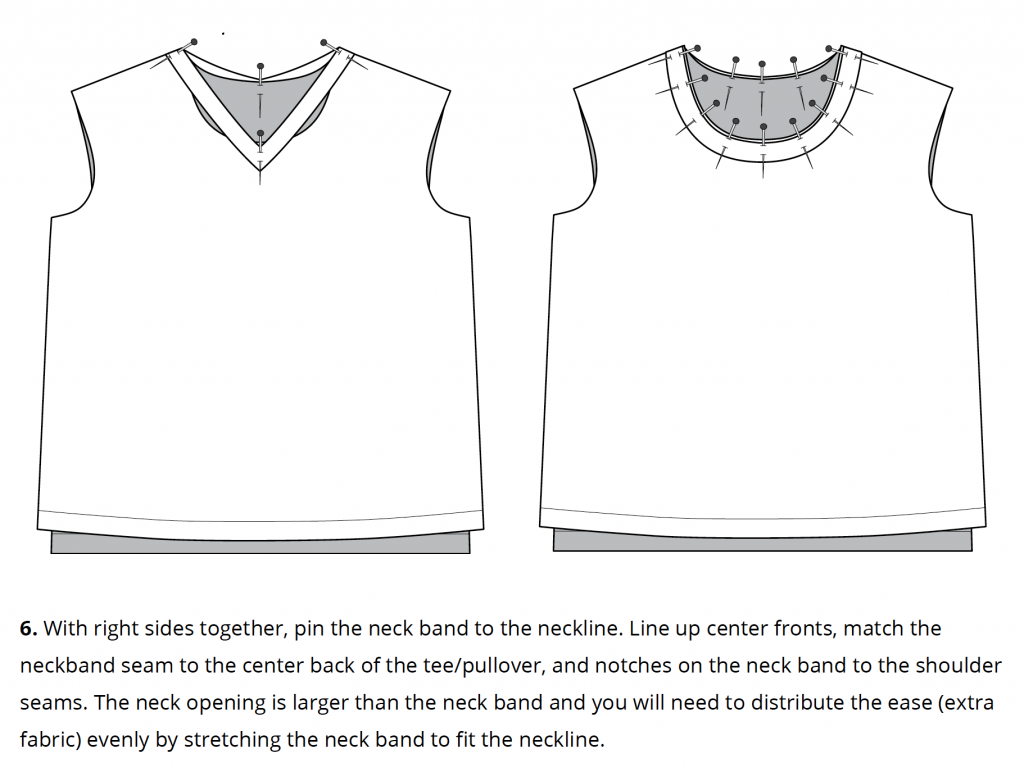 Fabric Type
Some fabrics are easier to sew than others, and if you've never sewn a garment before, you will probably find yourself frustrated if you dive straight into working with silk for your first project. Instead, aim for a project designed for sturdier fibers, like cotton or linen, which will allow you to focus more on the actual sewing and less on fiddling with your machine settings.
When you're shopping, you can find information about fabrics under a pattern's recommended fabric list (which don't worry—should be available to review before purchase). Try not stray from this list when selecting your fabric, since pattern designers carefully consider the intended design, ease, and drape when making these recommendations. Substituting fabrics before you have much experience with sewing can lead to disappointing results and is better saved for a future project!
Ease of Fit
Nothing is bigger buzzkill than pouring hours into making a handmade piece of clothing only to discover . . . it doesn't fit! Like ready-to-wear clothing, sewing patterns are designed to accommodate a specific shape and size, and very rarely fit perfectly straight out of the envelope. This isn't a reason to panic though! Almost every experienced sewist will tell you that they have a list of common pattern adjustments they need to make regularly, and learning these skills comes with time, practice, and patience.
When choosing your first project, keep in mind that the more tailored or fitted a design is, the more likely it is you will need to make adjustments to get a good fit. Something with a lot of darts, woven set-in sleeves, or fitted pants are all examples of garments that can require adjustments to get right. If you're brand new and haven't explored the world of pattern adjustments yet, opt for designs that are simple in construction, intended to be oversized, or designed for forgiving fabrics like knits instead.
Closures
Another thing to ask yourself when choosing a potential sewing pattern is how does it goes on the body? Will you be able to pull it over your head, or does it need some kind of fastening to get on and off? Zippers, buttons, and other closures all require special notions and techniques to sew. While these are great skill-builders and very achievable milestones for the adventurous beginner, it might be better to skip these techniques when you embark on your first or second project.
Now that you have a better idea of what to look for in a beginner sewing pattern, you are ready to pick your first project! Without further ado, here are some of our favorite options for new sewers from the Helen's Closet catalogue!
Our Top 5 Sewing Patterns for Beginners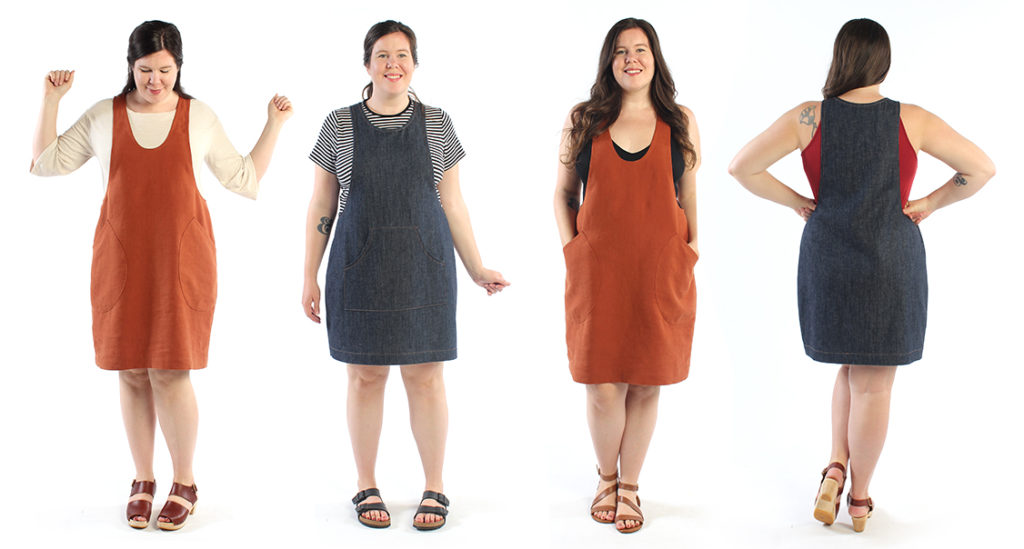 York Pinafore
The York Pinafore is a stylish option for anybody ready to dip their toes into the world of garment sewing. It's great for more structured fabrics like canvas and cotton, and the design makes it easy to fit and wear (no fiddly sleeves or closures!). Plus, you'll learn how to apply a bias binding finish, and get practice topstitching with pockets—techniques that will serve you for many garments to come. It's also one of our most hacked patterns, which will give you plenty of design ideas to play with when you are ready to expand your sewing horizons.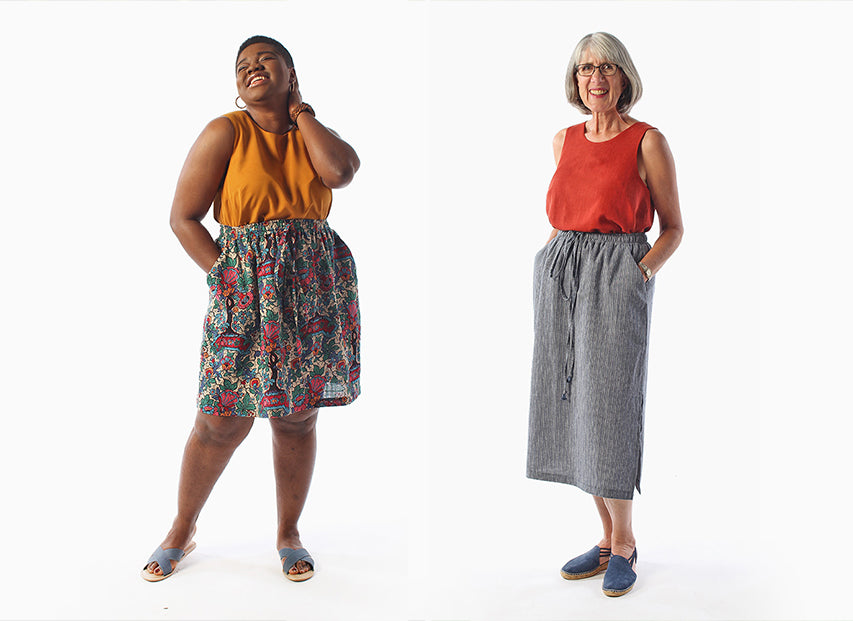 Donovan Skirt
Easy breasy, the Donovan Skirt was designed with beginners in mind, and is a fantastic option for a first garment. The elastic drawstring waist makes fitting simple, and we've put together an entire sewalong series to help walk you through every step. It looks great in a variety of sturdy woven fabrics, but is also a fun pattern to practice sewing with more fluid fibers as you build your skills.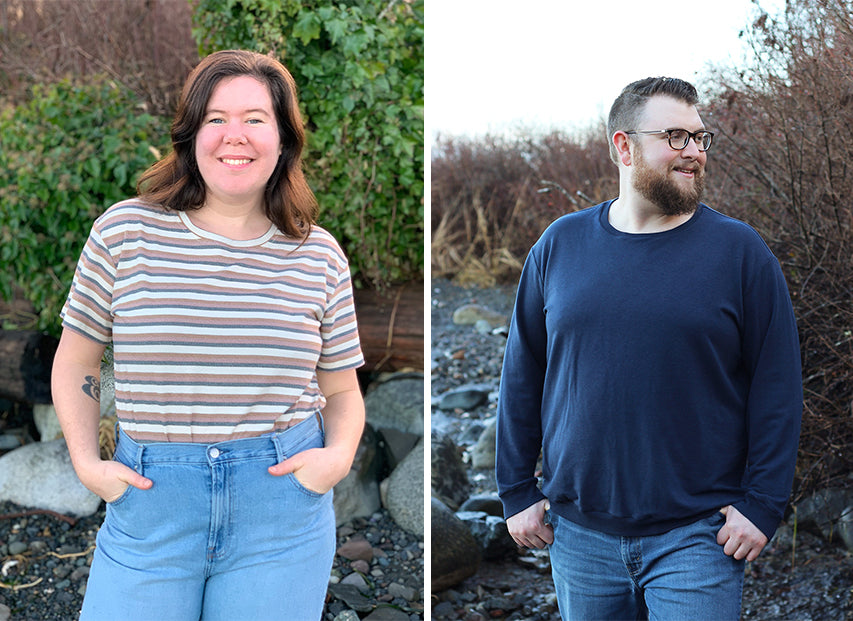 Jackson Tee and Pullover
Who says knit patterns can't be beginner patterns? In fact, knit patterns are often ideal first projects, thanks to their forgiving fit and how comfortable they are to wear. Knit fabrics are known for not fraying at the cut edges, which means you don't have to worry about seam finishes. The Jackson Tee and Pullover is a fantastic gender-inclusive option for beginning sewers, and will teach you all about sewing with knits on your machine (no special equipment required). This pattern only requires minimal stretch, so you can work with easier-to-sew knits like 100% cotton.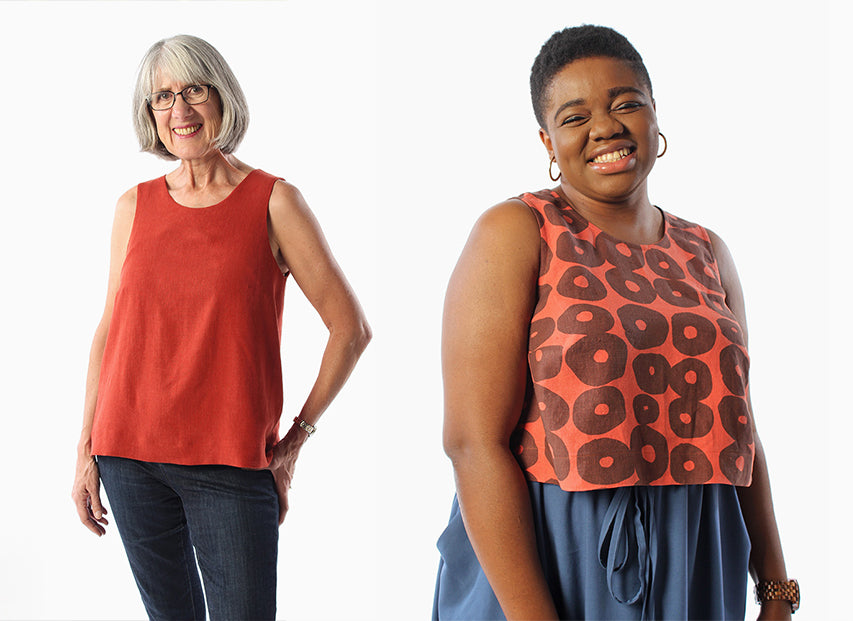 Ashton Top
The Ashton Top isn't just stylish wardrobe staple, it's a fantastic introduction to working with darts and learning how to do a bias binding. The sleeveless design keeps fitting to a minimum (although if you're feeling adventurous, you can always try out the Sleeve Expansion Pack), and it works well in a variety of easy-to-sew woven fabrics. Even better? With nearly fifteen Ashton hacks on our blog, this pattern can keep teaching you about sewing long after you've made the original design—making it one of the most versatile sewing patterns in our collection.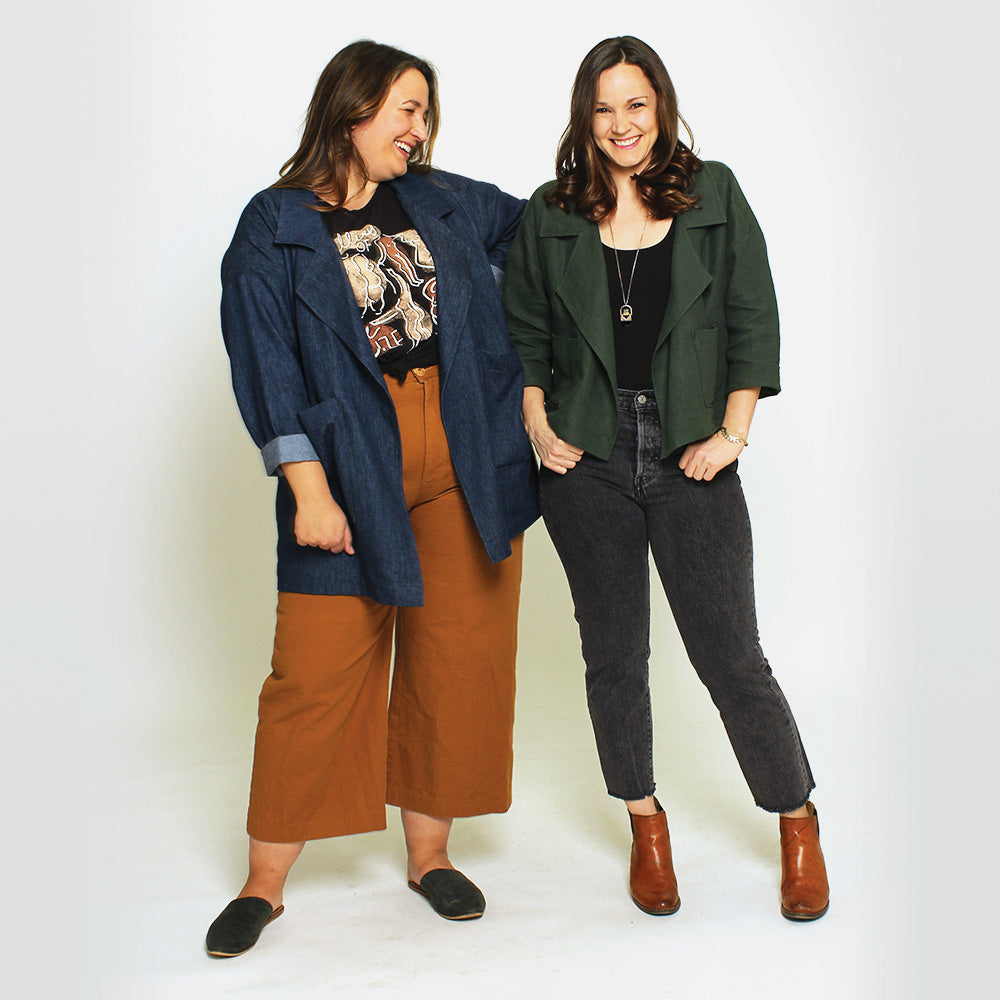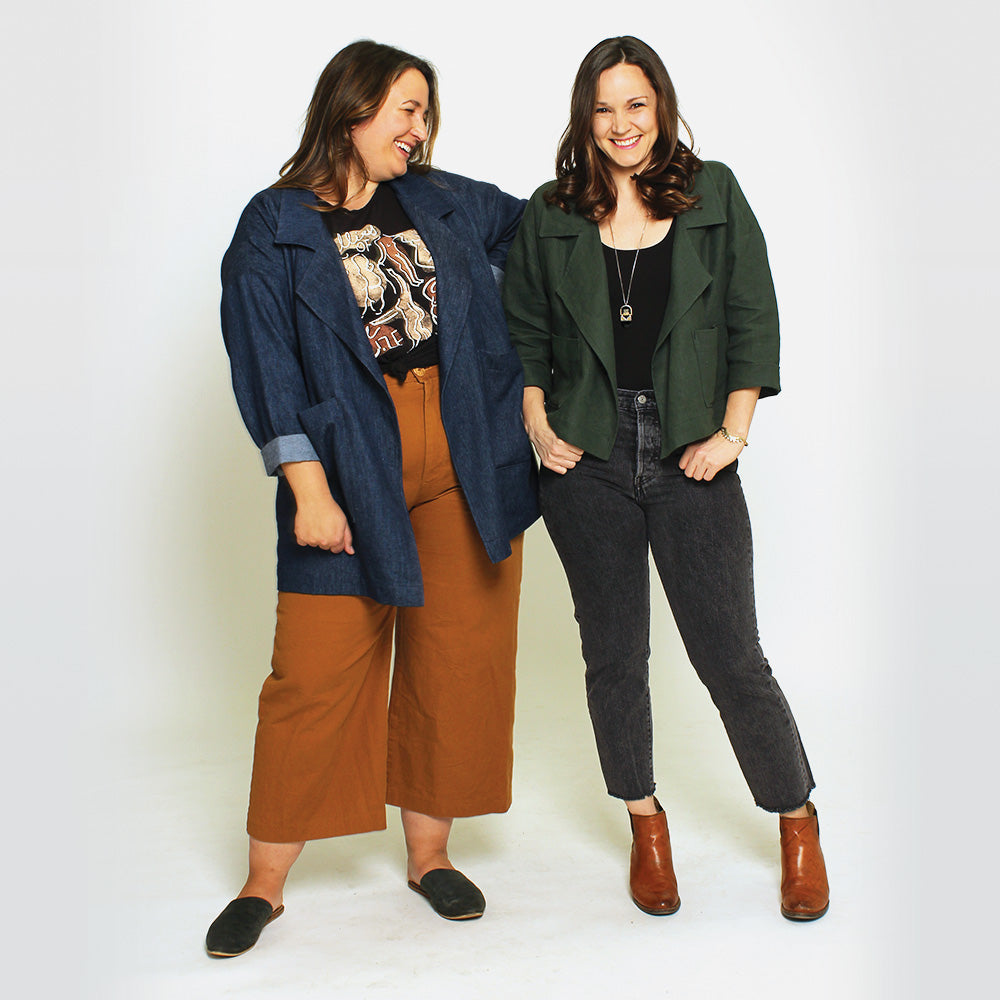 Pona Jacket
Last but certainly not least, the Pona Jacket is the perfect jacket pattern for beginners. Blazers are notoriously advanced to sew, but the Pona will give you a similar look and feel without the same complicated techniques! While this pattern has a few more pieces than the others listed so far (including a collar), don't be intimidated—it is an easier sew than it looks. Extra-wide facings allow the front of the jacket to drape open (no closures or lining needed), and the slightly oversized design makes fitting easy. It is a great introduction to coats and jackets, and can be made from a variety of beginner-friendly fabrics like linen and denim.
Of course, we like to think of all of our patterns as beginner-friendly, but the ones above are best for brand new sewists. If you're ready to step your sewing game up and learn some more advanced skills, we have other patterns to help you do just that. The Blackwood Cardigan is great for sewing bands and pockets with knits, while the Winslow Culottes will teach you how to insert an invisible zipper. One of the best ways to learn is by building on your skills one at a time, so don't be afraid to tackle more advanced patterns and techniques as you are ready for them!
If you're looking for even more resources as a beginning sewer, we just released a brand new episode on the Love to Sew podcast all about learning to sew! Click here to listen.
Happy sewing!
Helen