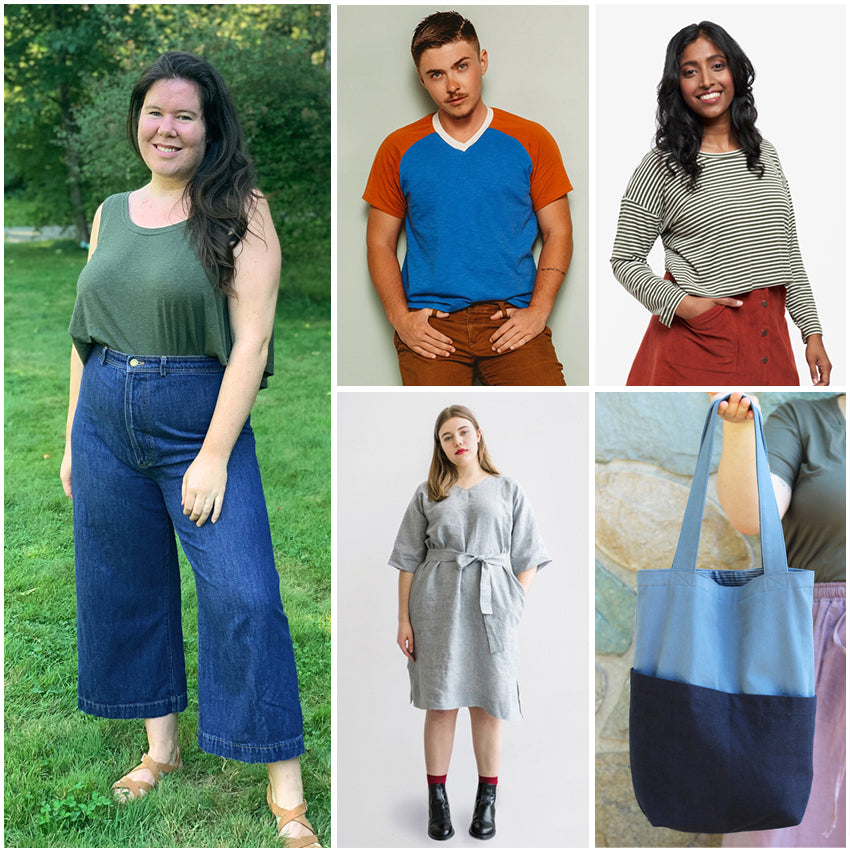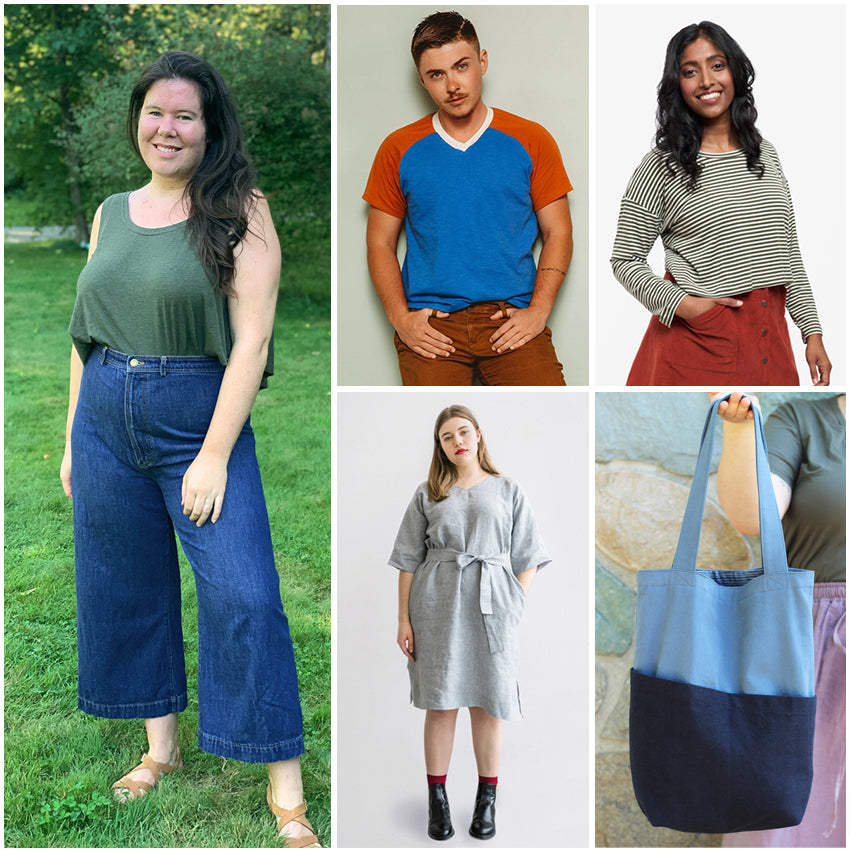 Anybody who sews knows that this hobby can be expensive! From fabric to notions, equipment and supplies, the costs can add up quickly. The good news is that there are a ton of free resources available if you know where you find them—especially if you are looking for patterns!
Free sewing patterns are not only a great way to save money, but they are also a fun way to test out new designers and projects! Many if not most independent pattern companies offer a free pattern in their catalogue, and these can serve as a great preview of their drafting and pattern instructions. With so many options to choose from, we thought we'd round up of some of our favorite free pattern designs with you. Most of these are garments, but we've sprinkled in some other fun options as well. So without further ado, here are 10 amazing and FREE sewing patterns: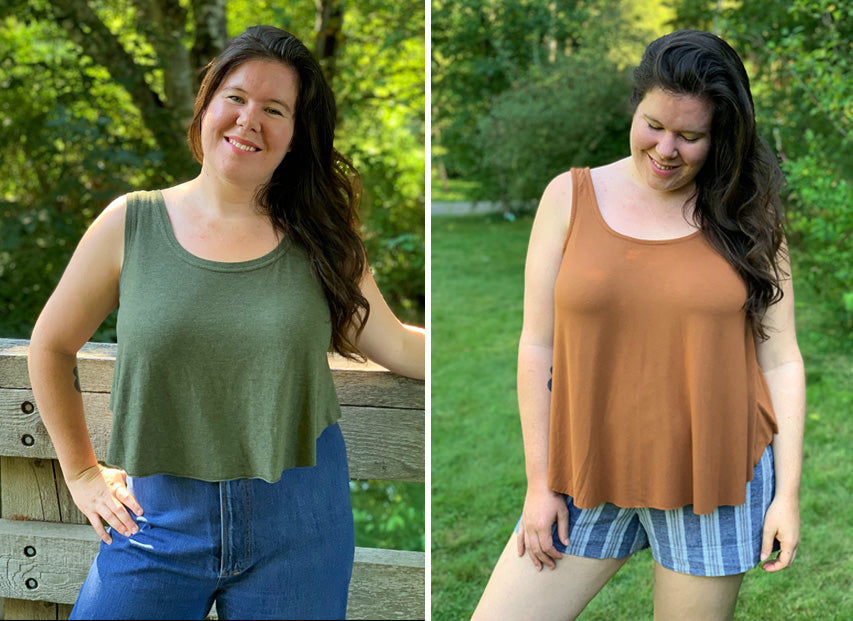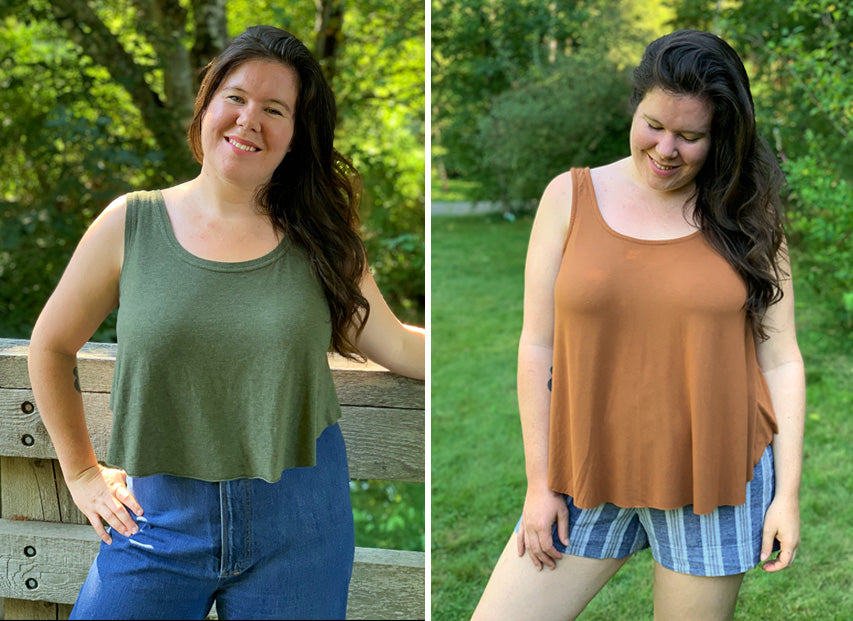 Luna Tank – Helen's Closet Patterns
Looking for a swingy knit tank this summer? We've got you covered. Luna started as a self-drafted tank that quickly became a TNT garment in my closet. I realized this design deserved to be shared with everybody, and Luna was born! This pattern is available in two lengths and goes up to a 56" bust, 48" waist, and 58" hip. You can download Luna by signing up for our newsletter here. Already subscribed? No worries! Simply sign up again, you won't be added to the newsletter twice.
Sunday V Neck – Friday Pattern Company
The Sunday V Neck is a free and gender neutral raglan tee shirt pattern from Friday Pattern Co. I am a huge fan of Chelsea's pattern designs and the Sunday V Neck is no exception! Last year I made the Ilford Jacket and Vernazza Swimsuit, and they were some of my favorite projects to date. Sunday would be a great way to bust some knit scraps and experiment with colorblocking if you're feeling adventurous!
This pattern is available in up to a 54" chest, 47" waist, and 57" hip. Click here to download the Sunday V Neck.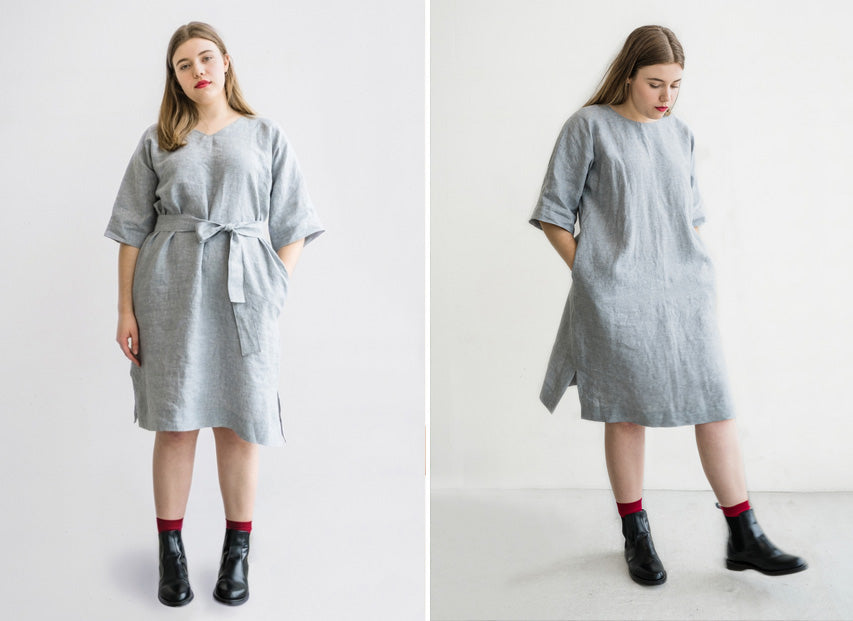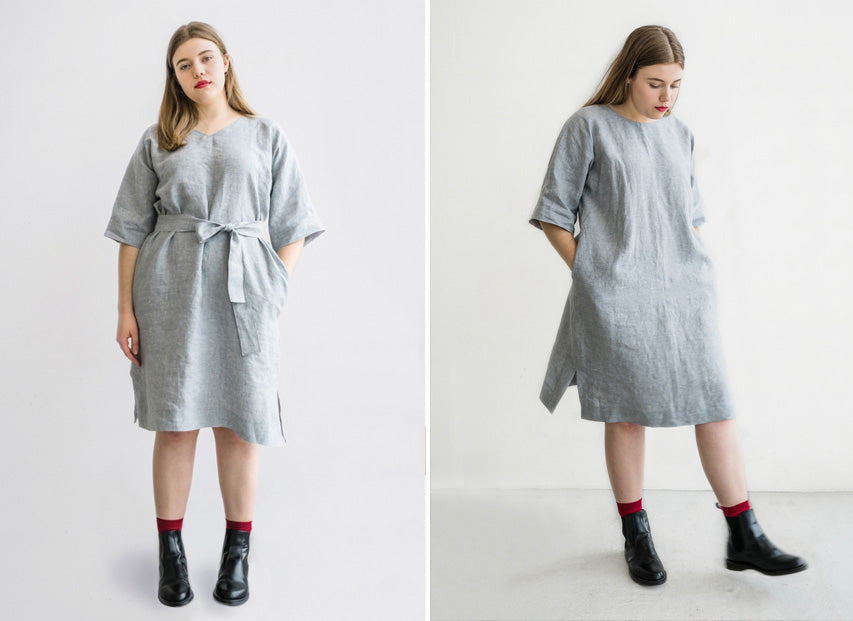 Peppermint Everyday Dress
Peppermint Magazine is one of my favorite free resources for patterns! They collaborate with indie designers to release a free sewing pattern every quarter, and there are a ton of great designs available in their catalogue (seriously, go get them all). Many free patterns tend to be on the basic side (great for beginners!) but I love the Everyday Dress as an option for when you're feeling a little fancier. Plus, it's reversible! How cool is that?!
This pattern was designed by In the Folds and is available in up to a 51.5" bust, 45.5" waist, and 55" hip. Click here to download the Everyday Dress.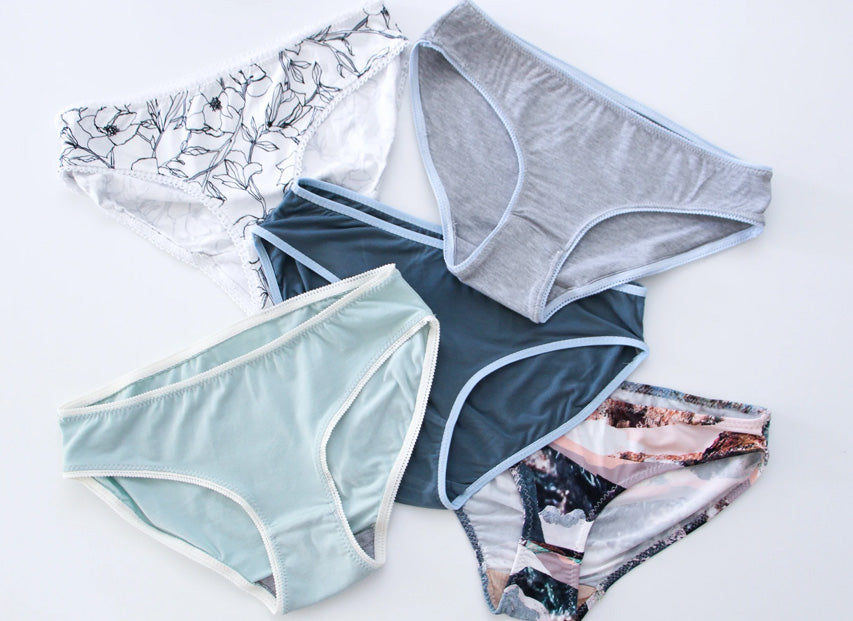 Acacia Undies – Megan Nielsen Patterns
If you're curious about dipping your toes into the world of underwear and lingerie making, the Acacia Undies from Megan Nielsen Patterns are a great place to start! These are a low-rise bikini-style underwear, and the instructions will teach you three different elastic insertion methods so you can try different techniques and figure out your favorite. Undies are also a fantastic way to use up those small knit scraps.
The Acacia Undies are available in two size ranges and go up to a 58" hip. You can download them by clicking the link to sign up for Megan Nielsen's newsletter here.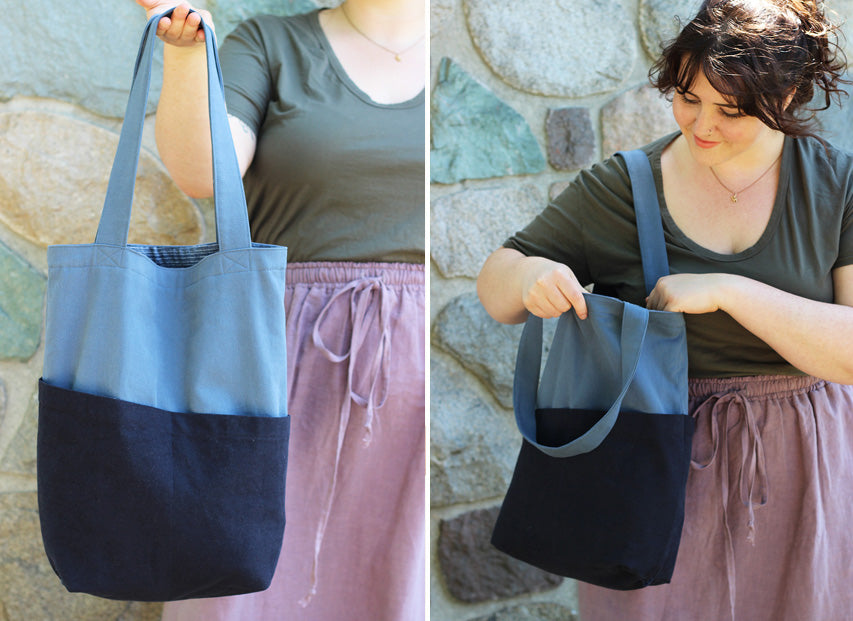 Costa Tote Bag – Helen's Closet Patterns
Not to toot our own horn, but did you know we actually offer two free sewing patterns for newsletter subscribers? This reversible tote bag pattern is designed for everyday wear and includes four side pockets that are perfect for your sunglasses, phone, or keys! Take it to the store, the beach—wherever! It's also another great scrap buster and perfect for playing with different fabrics. Click here to download yours.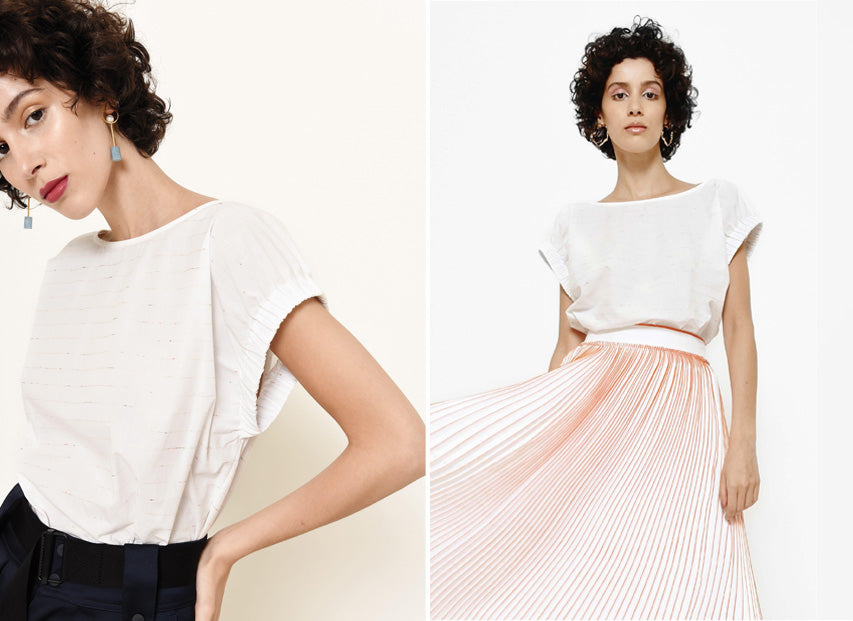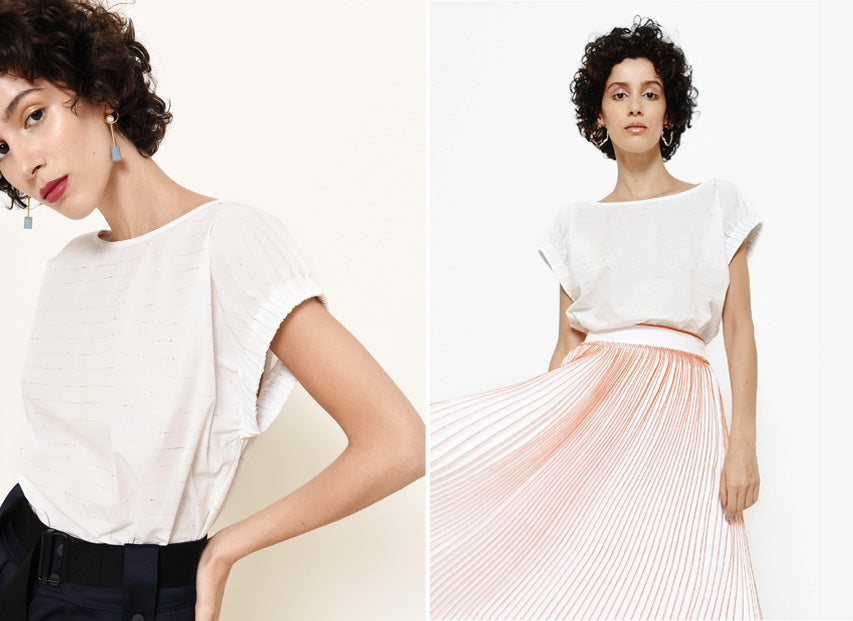 Frances Shirt – Fibre Mood
I love a simple blouse design with a lot of pattern hacking potential, and the France Shirt from Fibre Mood is just the pattern to fit the bill! This free top pattern features a boat neckline and cool elasticated sleeve hems. The dropped shoulder makes fitting easy, and the simple lines of the pattern would make it a great match for showing off a fancy print.
This pattern is available in up to a 57.5" bust, 52.5" waist, and 57" hip. Click here to download the Frances Shirt.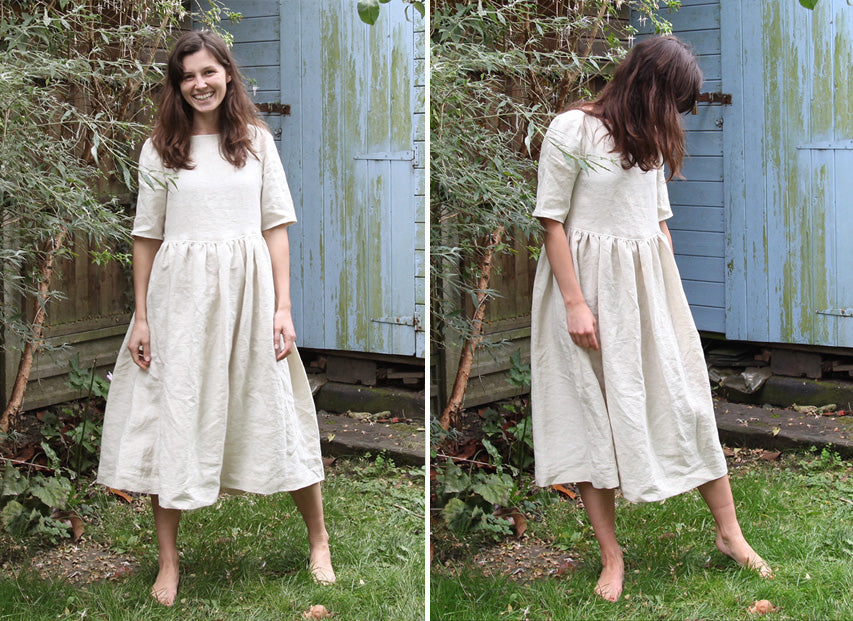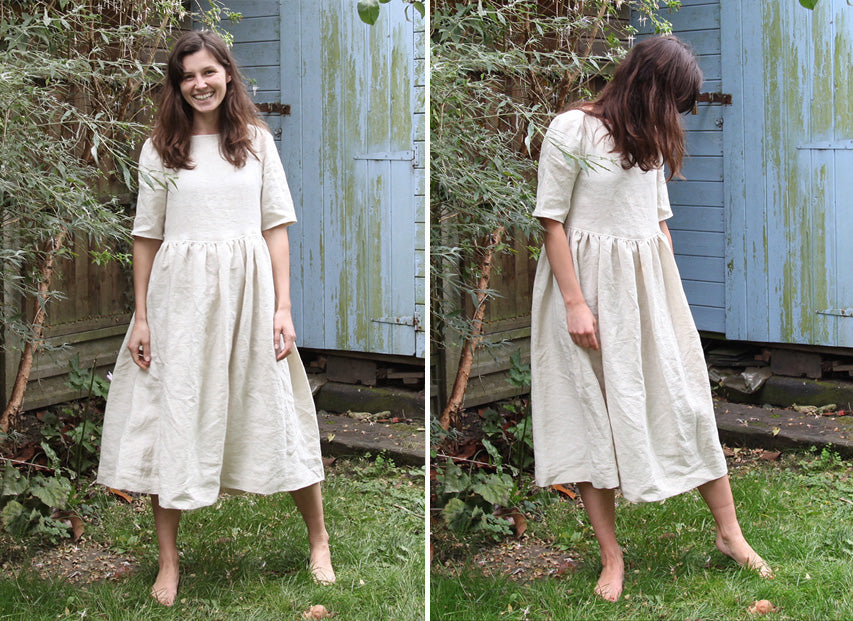 Cora Half Sleeve Dress – Fabrics-Store
If you've followed this blog for any amount of time, you know it's no secret how much I love sewing and wearing linen! Fabrics-Store.com offers an entire library of free patterns designed for linen, but I especially love the hacking potential of the Cora dress! This pattern looks like a fun sew and a breeze to wear.
The Cora dress goes up to a finished bust measurement of 53". Click here to download the Cora Half Sleeve Dress.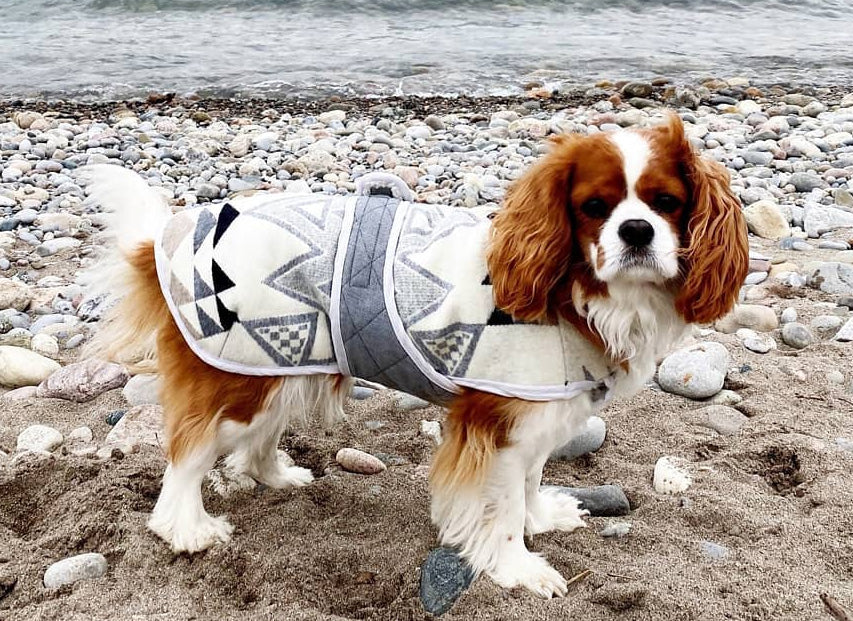 Closet Core Dog Coat
A free pattern and an extra cute dog, too? Yes please! Heather's patterns are always thoughtfully executed, and I'm sure this free dog coat pattern is no exception. Plus, it's great way to use up some of those coat scraps! I can't wait to make a version for Emma this fall.
You can download the Dog Coat pattern by signing up for the Closet Core Newsletter here.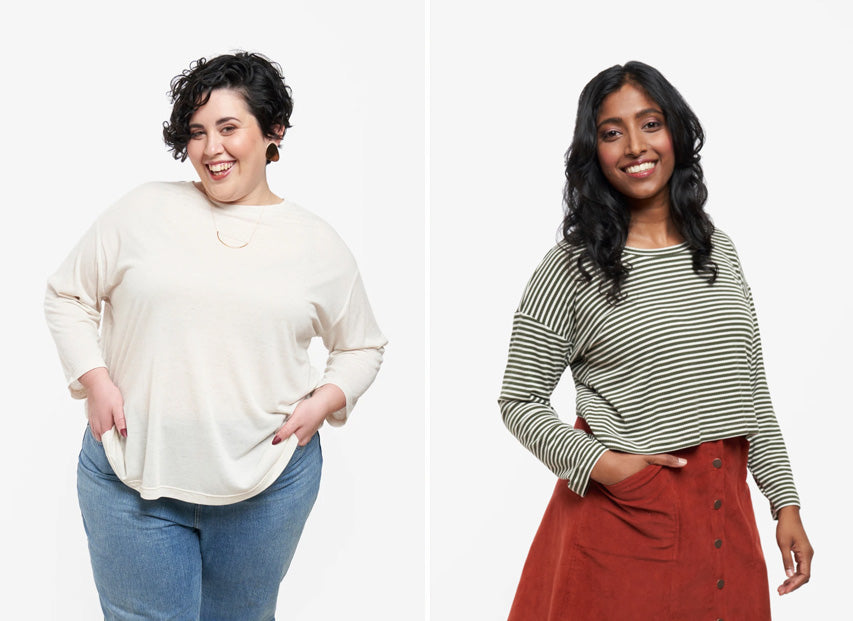 Hemlock Tee – Grainline Studio
Jenn of Grainline Studio is another designer I'm a big fan of, and the Hemlock Tee is something of a cult classic in the indie sewing community. Featuring dropped shoulders and a boxy silhouette, it's a great option for some of those slinky fabrics in your knit stash!
This pattern is available in up to a 56" bust, 49" waist, and 59" hip. You can download the Hemlock Tee here.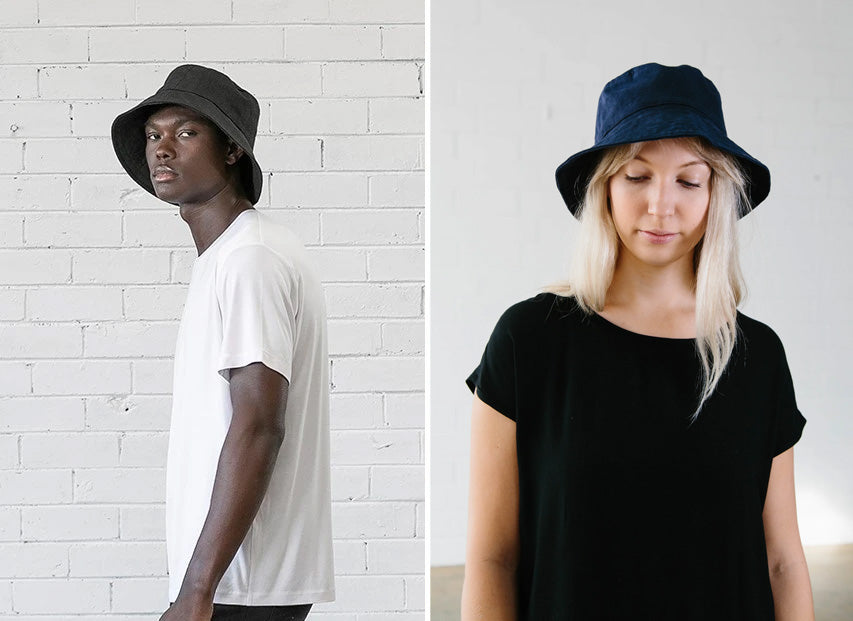 Sorrento Bucket Hat – Elbe Textiles
Okay, so this pattern isn't exactly free—but it is only $2, and proceeds benefit a different charity every month. Bucket hats are back in a big way this year, and even better, they are a quick and easy sew! This would be a great project for busting some scraps, using a cool print, or making gifts for all of your friends and family. You can purchase the Sorrento Bucket Hat here.
While these are some of our favorite free sewing patterns, this list is by no means exhaustive. If you're looking for even more free sewing resources, including tutorials, blogs, and podcasts, check out episode 160 all about Free Sewing on the Love to Sew podcast!
Happy sewing!
Helen