Today we want to welcome Marie of @marie_stitchedup for another guest blogger post! Marie is not only a talented sewist in her own right, she's also been an outspoken advocate for increased accessibility and inclusion in the sewing community. We have learned so much from her over the years, and it is an honor to have her guest posting for Helen's Closet. Today, Marie is sharing her version of the March Dress and demonstrating how she hacked it to create an internal facing. So without further ado, let's see Marie's March!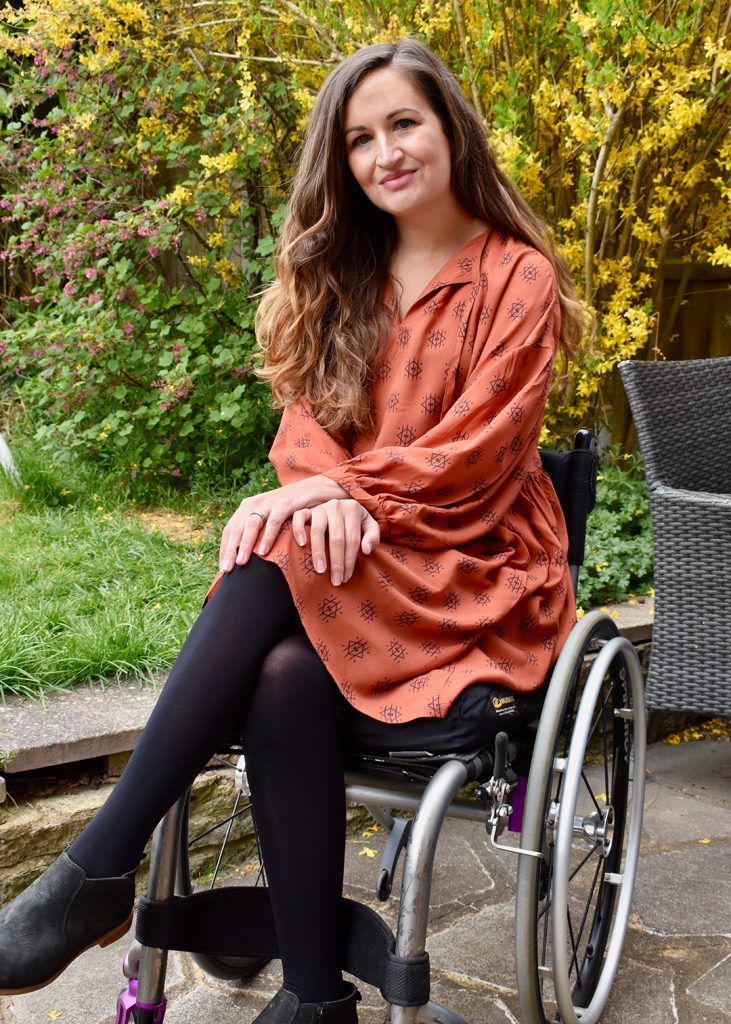 Helen's Closet March Dress
Thank you Helen's Closet for for inviting me to add my thoughts to the newly released March Dress and Top. You may have seen me around on Instagram already, under the handle @marie_stitchedup. This is where I chronicle my sewing progress, what it's like to live and sew with a disability, and copious amounts of photos of Woody, my gorgeous Cocker Spaniel!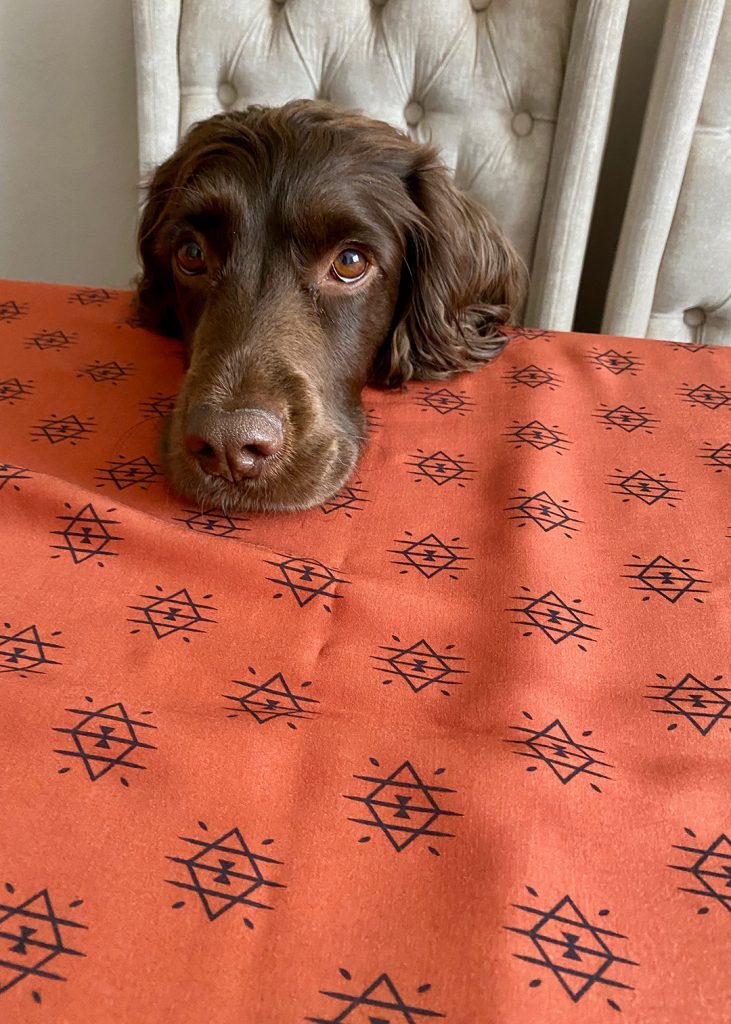 I have been sewing for just over 3 years now, after needing something in my life in addition to medical appointments and surgical rehabilitation. Little did I know how much it would become such a huge part of my life and identity. I could never have imagined how many connections and friendships I would make through sharing my sewing story on Instagram.
As a disabled sewist, choosing a pattern and fabric often raises different and additional considerations than it does for most people. Of course, everyone wants their clothes to be suitable for the occasion and comfortable; but for me, the existence of a seemingly innocuous feature can render it completely unsuitable and cause discomfort.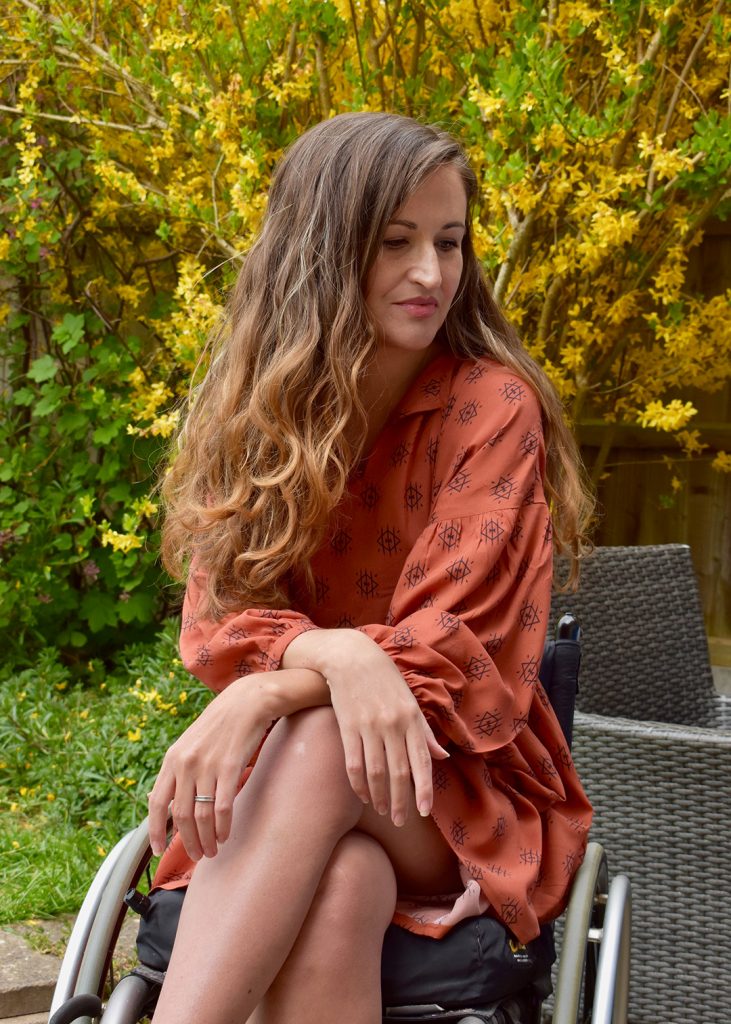 The whole experience of shopping is difficult and usually unsuccessful when using a wheelchair. Since I have started sewing, it has given me the freedom to take charge of the elements I want to include or exclude in a garment.
For many people with disabilities, there is a real feeling of underrepresentation and exclusion in many, if not most areas of life. Although things are improving, this does include the sewing community. Imagine my delight then, when not only was I asked to guest blog, but I opened the email to see the pattern illustration! I will admit that this image threw me . . . in such a good way. Representation is so important, especially in a world of filtered beauty.
Anyway, let's talk about this pattern.
The March Dress caught my eye on release as I love wearing dresses that are easy to relax in and provide maximum comfort. Plus, I love a good sleeve! . . . But those big sleeves I love so much? They are a mud magnet. And even if it's not wet or muddy, they just get in the way when your hands are pushing wheels!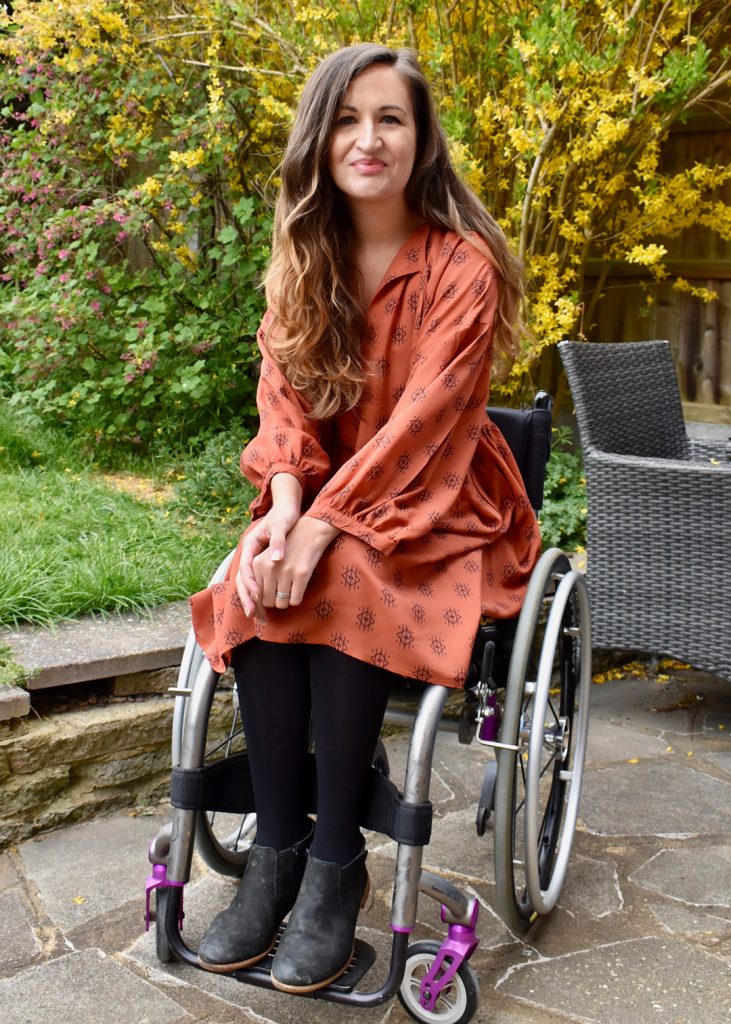 That doesn't mean that bishop sleeves and I can't co-exist. There, my friend, lies one of the many advantages of sewing my own clothes. Usually I will shorten the sleeve to give a bracelet 3/4 sleeve finish so that my sleeves are safe from the wheels. For some peculiar reason, I missed this step and jumped right to cutting and sewing! But this is such a simple fix on this dress. I can just remove the cuff, chop, and re-apply the cuff!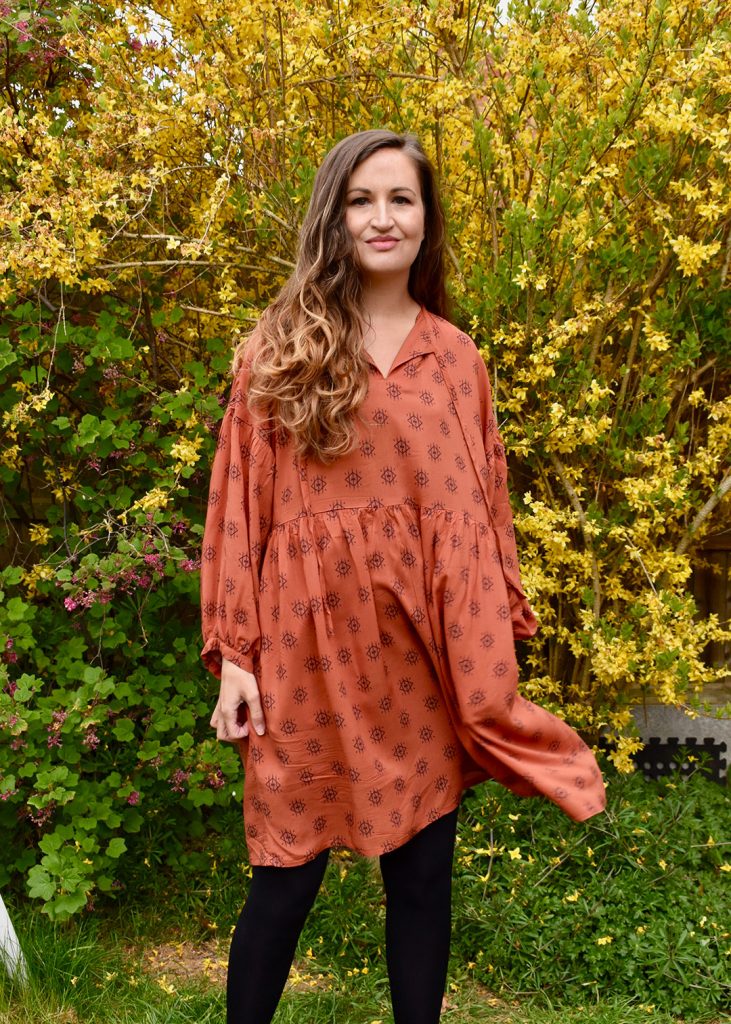 I decided to use an Art Gallery Fabric rayon that I had bought with exactly this style of dress in mind. I won't lie, this was a slippery nightmare that jumped off grain as soon as I breathed near it! It does, however, give a beautifully soft finish with a subtle effect in the sleeve and skirt gathers.
Due to the repeating pattern on the fabric and how difficult it was to cut, I decided to remove a certain amount of stress from my life and perform a small hack. Yes, listeners of Love to Sew—#YouCanHackIt!
The seams that run down the front bodice give a clever illusion of princess seams. I realised once I skimmed the instructions that actually, they are effectively a topstitched external facing. It was here that I decided to go rogue and create a standard internal facing.
To make this change:
I cut the front and back panels (pieces 3 and 4) so they finished just below the opening on the top front (piece 1) using a French curve to achieve a smooth line. I interfaced and finished the outer edge as you would for an ordinary facing.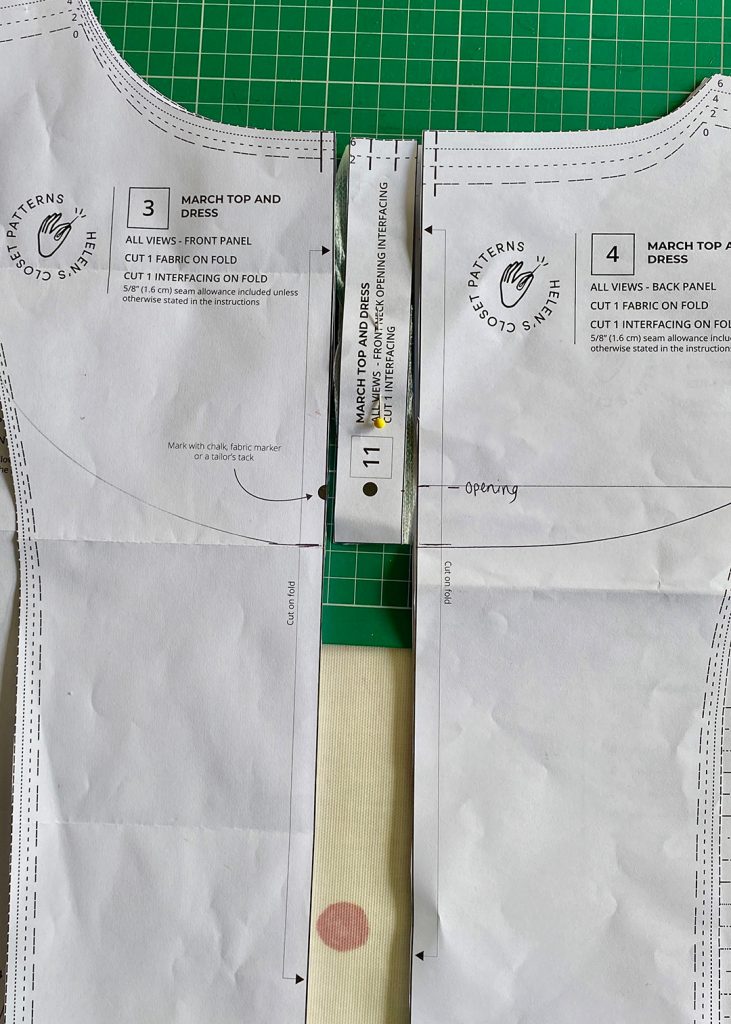 After assembling the shoulder seams, and omitting step 4 (pressing the sides of the front and back panels) I pinned the facing to the top body right sides together at the neckline. Next, I marked, sewed and cut the front opening, as directed in the instructions. If you prefer to omit the ties, you could also sew the neckline when the front opening is sewn.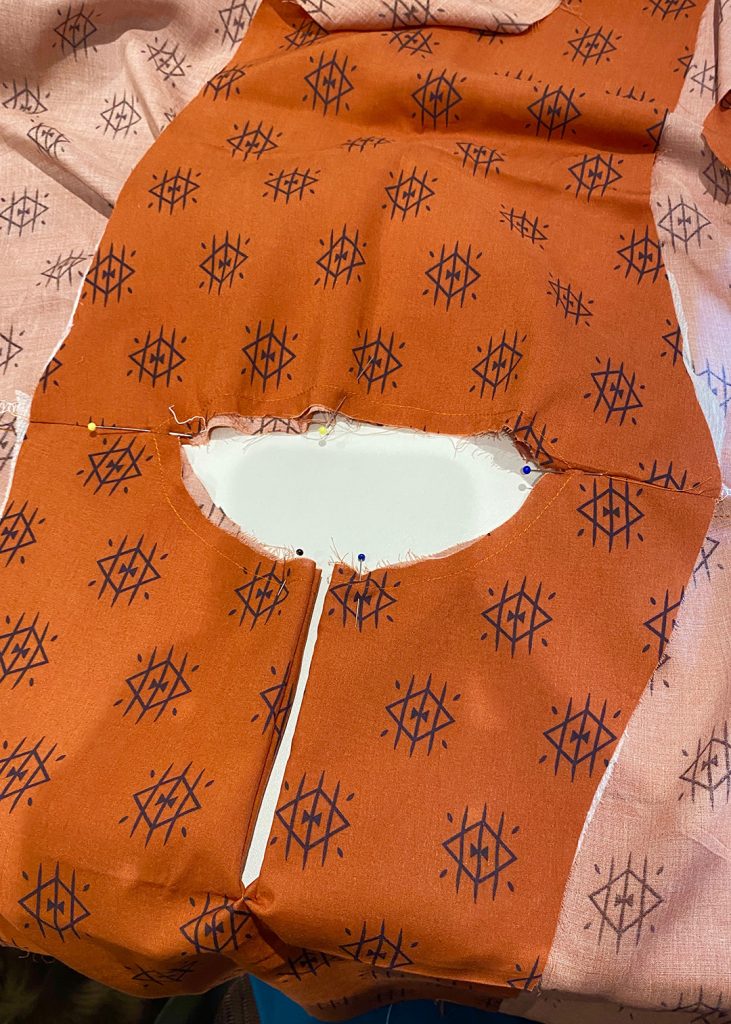 I then flipped the facings to the inside of the top, wrong sides together. To make the application of the neck ties easier I basted the neckline to keep the two layers from slipping. In order to secure the facings, I stitched in the ditch along the shoulder seams.
From here, I followed the instructions as normal.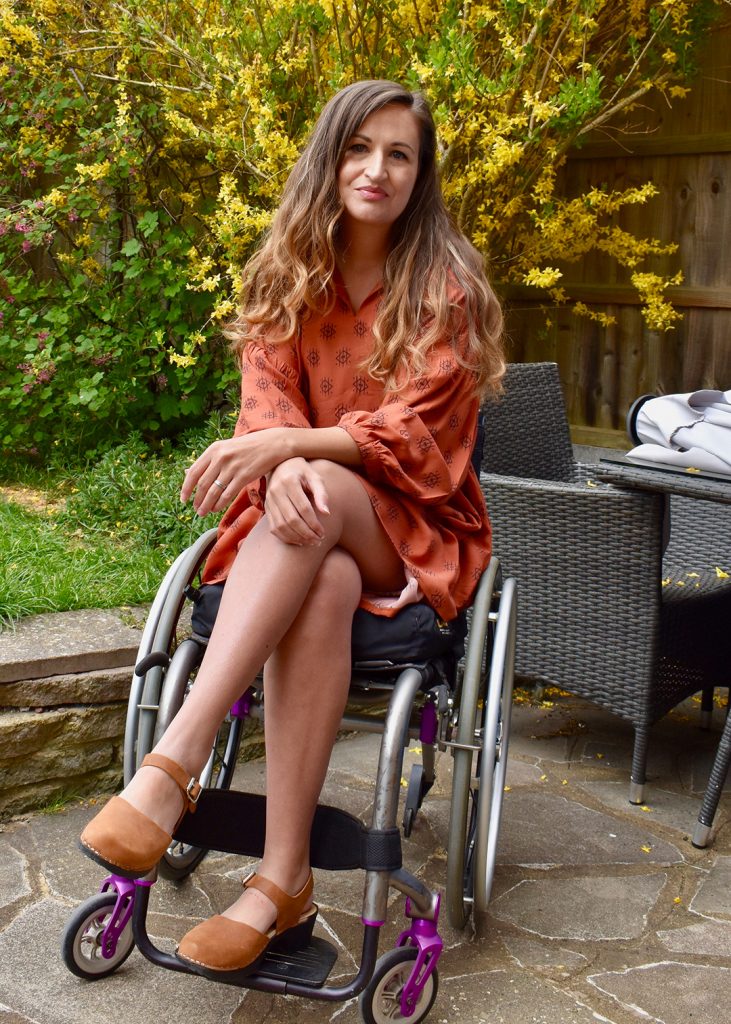 I love the look of the front panel and I am very tempted to make a plain linen version with some embroidery to fill that space. I just felt for this particular fabric, an internal facing made more sense. I also like that the facing is long enough to give the illusion of a lining when the ties are worn open as the right side of the fabric is showing.
The only other minor technique change I made was in the finish of the cuffs and neck binding/ties. As all of our non-essential retailers are still closed, I didn't have an *exact enough* shade of thread that I would be happy to see as topstitching. Therefore I settled in with my needle and thimble and worked on my invisible stitching!
I love the finished garment! I think it is going to be in regular rotation around the warmer months, and the colours of this particular one will lend itself really nicely to tights when the chill is upon us. It's extremely comfortable which is very important to me.
One last thing. We need to talk about the pockets! The construction is so clever and I love the way they are incorporated into the waist seam to stabilise them. So often I wear a dress with in-seam pockets and they don't have enough substance to hold something. These pockets are made for filling—preferably with your sewing snacks!
Thank you for reading and thank you again Helen for inviting me to guest blog.