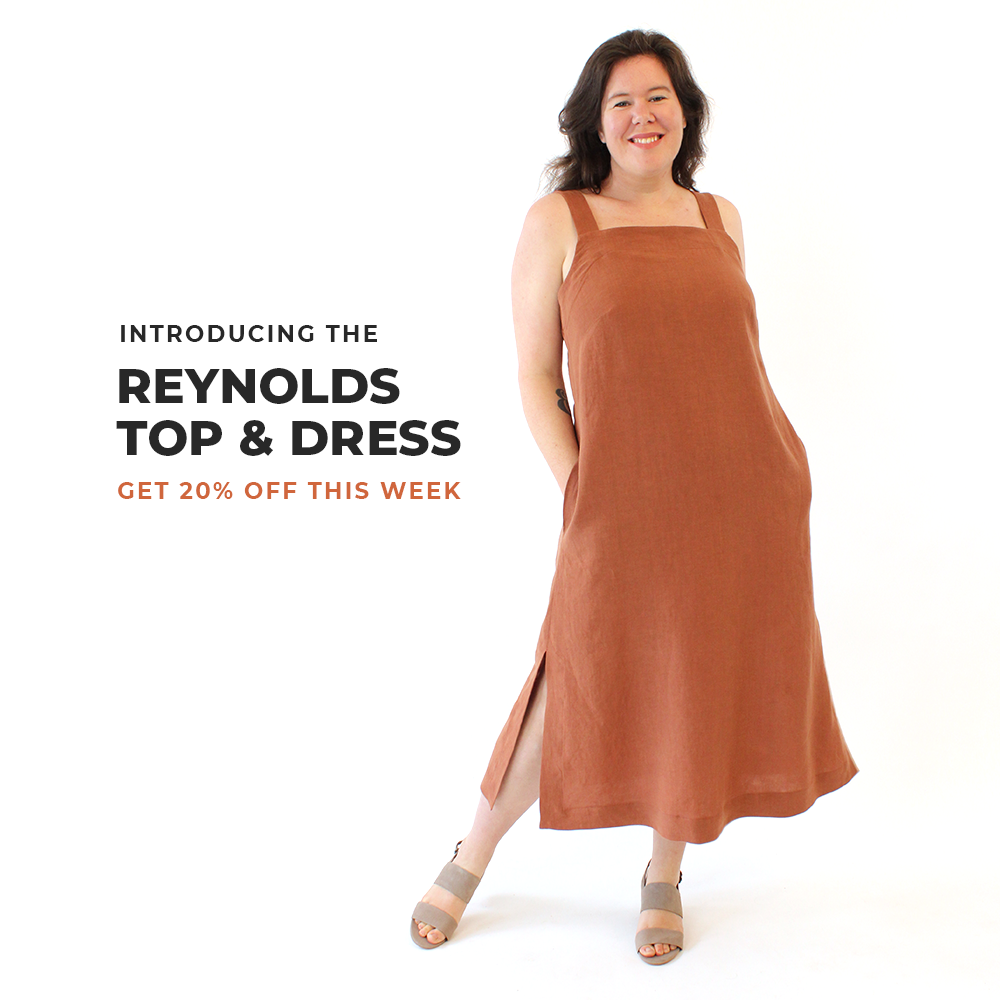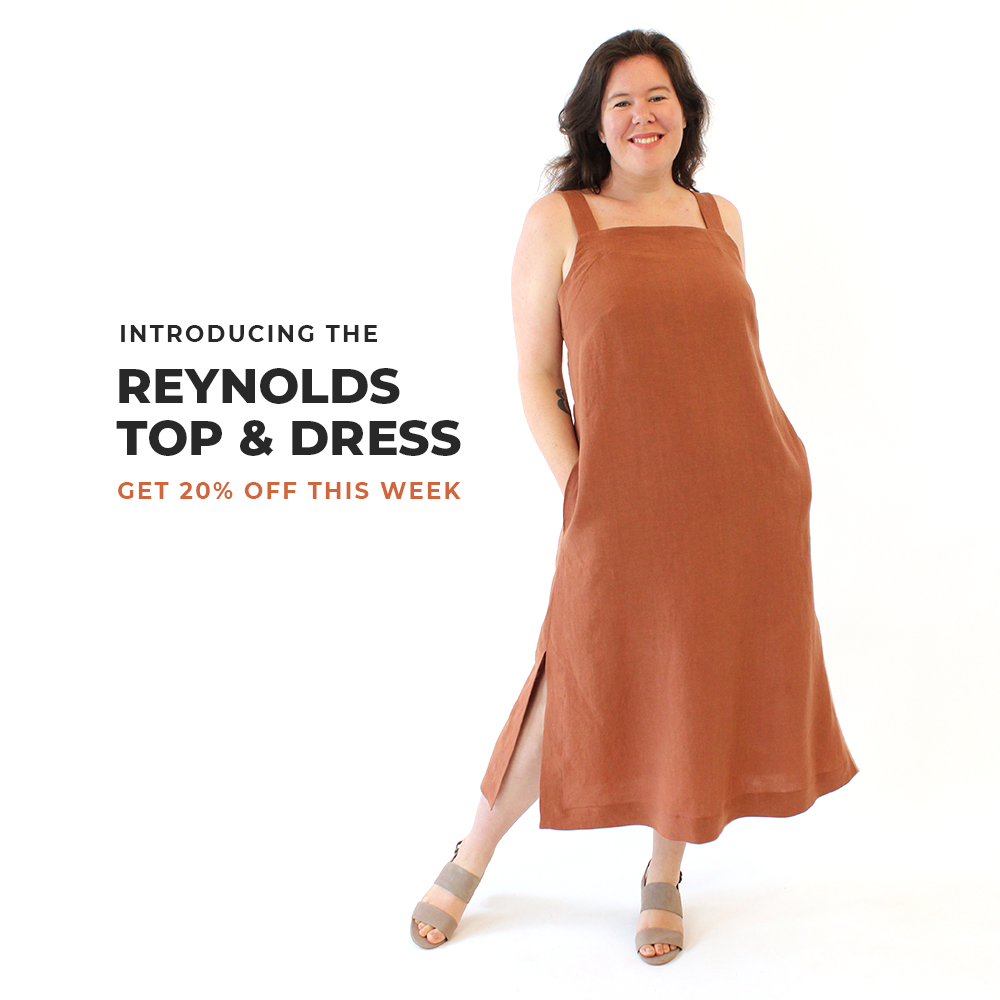 It's HERE! It's finally HERE! Some of you may remember this dress from 3 years (!!!) ago. I self-drafted my perfect summer dress and shared it here on the blog. I don't think I've ever received more requests for a pattern! Clearly people were as excited about this warm-weather staple as I was. I still wear this dress constantly and I am so happy to finally have this summer dress pattern as an option in my shop. Introducing…drumroll please…the Reynolds Top and Dress!
The Reynolds Top and Dress is available in sizes 0-34 (up to a 62" chest/hip)! Grab this quick and satisfying summer sew for 20% off this week, no code required.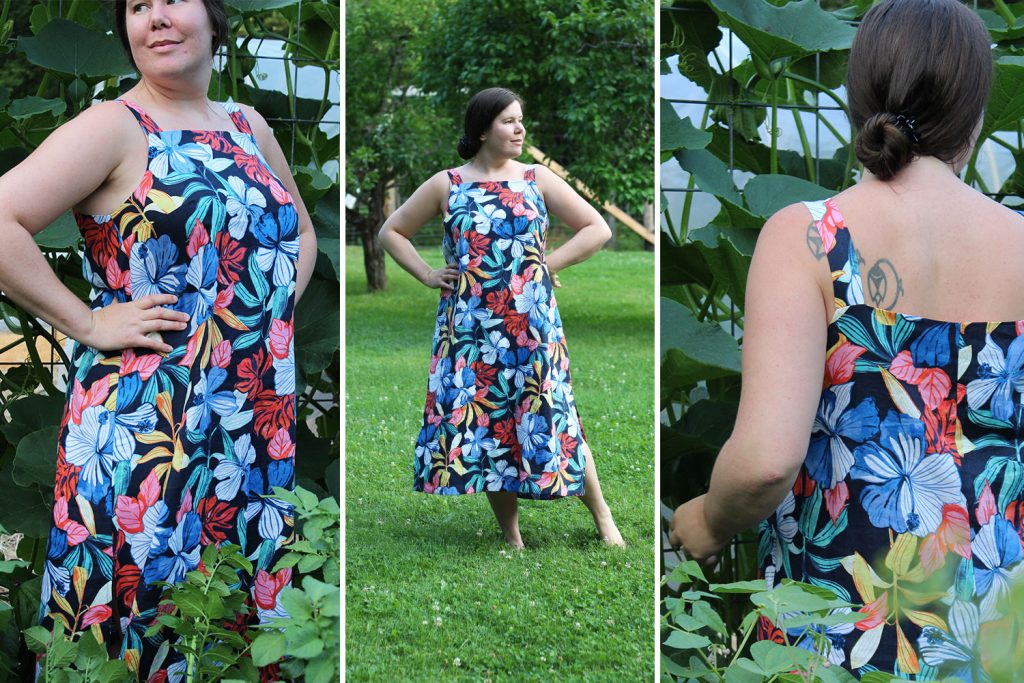 Let's take a look at some of the Reynolds Top and Dress features! I love so much about this design and the way it fits. It really is my perfect summer dress pattern and I hope it can be yours, too!
The Views
Reynolds includes options for a cropped top, a knee-length dress, and a longer mid-calf-length dress. Both dresses feature inseam pockets and side slits. All views have a deep hem and wide straps with a topstitched facing finish. The Reynolds is designed to be pulled on overhead, no fussy zippers or buttons required!
The Fabric Options
The Reynolds Top and Dress works really well in a variety of lightweight non-stretch woven fabrics. We love it in linen, cotton (lawn, poplin, voile, seersucker, shirting, double gauze, crinkle cotton), Tencel twill, and rayon/viscose challis or poplin. Structured fabrics like crisp cotton lawn will have more dramatic volume, and drapier fabrics like rayon challis will have more fluid movement. We used linen for the top and long dress samples in this photoshoot and crinkle cotton for the short dress view. All fabrics are from Blackbird Fabrics.
For a really quick sew and scrap bust, try the Reynolds Top! This design only requires 1 meter of 150cm (59″) wide fabric for sizes 0-22 and only 1.5 meters for sizes 24-34! See the product listing for the full fabric requirements and size chart.
The Wide Straps
I love a good tank top for summer but so often the straps do not play nice with my bra straps. I like when tank straps are substantial enough to cover my bra and placed perfectly so they don't fall off my shoulders. I think the width on these straps is just *chefs kiss*! That said, these are so easy to adjust to any width or angle you like. It's one of the beautiful things about sewing your own clothes!
The Chest Fit
Speaking of bras & clothes playing nice, I am also a huge fan of the way the Reynolds Dress fits around the upper chest, underarm, and upper back. It is just low enough to feel like a tank top while still feeling very comfortable and secure. We added extra instructions for customizing the fit around this area, ensuring you get the right coverage under your arms. We've got your back…and side…and front!
The Facing Finish
Reynolds has one of those really satisfying facing finishes. The straps are sandwiched between the outer fabric and an interfaced facing that goes all the way around the garment. The hem of the facing is turned under and topstitched for an ultra-clean finish. This also offers a nice stitching detail on the outside of the garment! If this topstitched look is not your thing, instructions are provided for how to tack the facing down at the side and back seams so you can skip the topstitching.
The Center Back Seam
Here is where the magic happens. The Reynolds Top and Dress is designed to be pulled on overhead. Easy-breezy, no finicky closures like zippers or buttons. This can be a design challenge because it limits the amount of shaping you can add to a garment while still being able to pull it on. We have added shaping to Reynolds in the side seams and, most notably, in the center back seam. This seam follows the curve of the back and provides a touch of shaping while maintaining that breezy vibe. We've also included an optional line of topstitching here to accent this seam if you like!
The Pockets
Every good summer dress pattern needs pockets, right!? We've gone with a standard inseam pocket on this design and they are at just the right height for your hands, phone, or snacks! Reynolds flares out slightly at the hip so there is room for these 'handy' pockets! We have some of the most robust instructions in the biz and this includes the pockets, too! How do you sew an inseam pocket and ensure every raw edge is finished neatly? We'll show you how 🙂
The Side Slit & Mitered Corners
I love a good pattern detail. I find it can take the simplest design to the next level and add a bit of excitement to the sewing process. It's nice to tackle new skills and sew elements that you don't normally sew, so we've designed the side slit to have gorgeous mitered corners at the hem. The Reynolds side slit and hem has all the raw edges turned under so it is a really neat finish. Learn how to sew this mitered corner on both the short and long dress views! I find this technique to be SEW satisfying.
All of these lovely features combine to make Reynolds the ultimate summer top and dress pattern. I am having so much fun pairing my cropped Reynolds Top with my denim cut-offs, my Donovan Skirts, my Winslow Culottes, and my Arden Pants!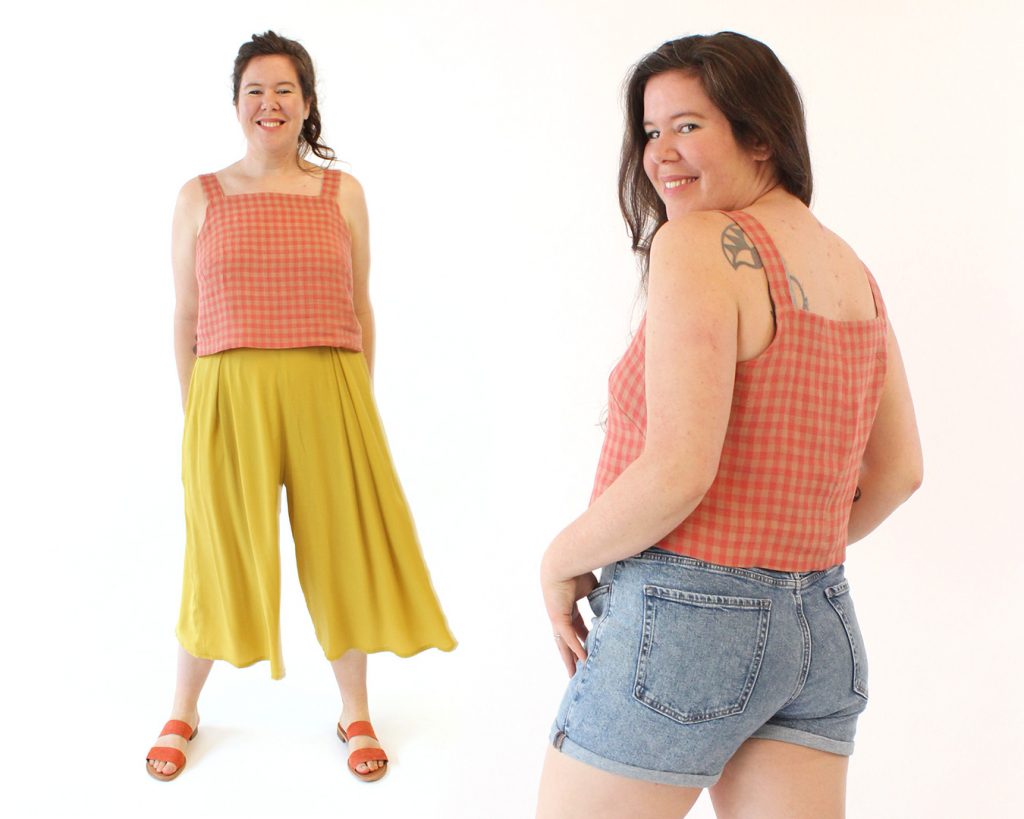 My long linen Reynolds Dresses have definitely become my go-to dress for everyday wear. I'm reaching for this above all other garments right now because it's so comfortable and easy to wear! Reynolds is the perfect dress for relaxing at home or wandering around in my garden.
The knee-length view of Reynolds has taken me by surprise! We added this view near the end of development in order to provide more options for folks and I was so into the long view that I hadn't really considered this length for me. Once we sewed it up I was completely smitten! It's just the right proportions for summer and I feel so adorable in this dress! I love the little mini side slit detail and I could see this in SO many fabrics. It feels like the perfect dress for summer weddings, backyard parties, or (of course) the beach!
As with all our patterns, we have worked hard to ensure a great fit across all sizes and an excellent sewing experience. Our instructions will ensure you are successful with your make and that you will have fun sewing! That is always our primary goal and this fun summer sew is no exception.
I hope you try Reynolds! Grab this new pattern for 20% off this week, sale ends midnight PST on June 30th. No code required!