Ready to dip your toes into sewing swimwear? It's no secret that I love making swimsuits, but I know it can be an intimidating project for beginners who are new to sewing high stretch fabrics. The good news is that sewing a swimsuit is easier than you think, and it can be SO rewarding to finally make yourself that dream one piece or bikini. Plus, it's super fun! All you need to be successful making your own swimsuit are the right supplies, techniques, and a little patience. Today I thought I'd share my favorite tips for doing just that!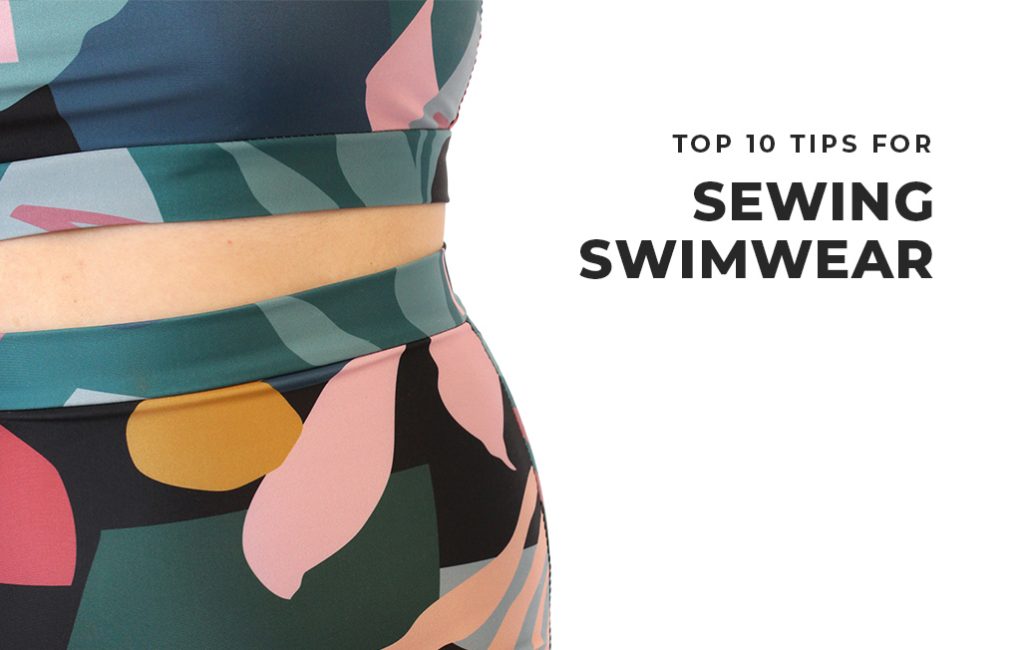 1. Purchase the right fabric.
This is one situation where we want to avoid sewing with natural fibers like cotton or linen, which are very absorbent and will get too waterlogged for swimming. The gold standard for swimsuit fabric is a nylon and spandex blend (also known as lycra) with 4-way stretch and a spandex content of no less than 10%. You want to make sure it has lots of stretch and great recovery! Polyester knits can work too for swimsuits, just keep in mind that they might not hold up as well to the sun, chlorine, and saltwater. 
You can check out our full fabric recommendation list for the Sandpiper swimsuit here.
2. Choose a lining that works for you.
Lining fabric is an important component of swimsuits—it's the fabric that sits directly against your skin and provides added support and stability to the swimsuit. In RTW suits you're likely to see 100% nylon lining (sometimes referred to as Helenca lining), but in a pinch, you can also self-line with your swimsuit fabric. Some patterns might even call for this depending on the design or specific needs of the suit. Either way, this method tends to add bulk and might make your bathing suit feel tighter (so don't be afraid to size up if you need to).
The other option (and my personal favorite) is using power mesh to line your swimsuit. Power mesh is commonly used in lingerie or activewear to provide an added level of strength and support to garments, making it a great option if you want to feel a little more secure in your suit. Power mesh tends to have a lower stretch percentage than regular swim fabric, so like a self-lining, you may need to size up.
3. Use swim-specific elastic.
All swimsuits require elastic, but you want to avoid using standard polyester elastic because it will not hold up to chlorine and salt. Instead, look for chlorine-resistant cotton or rubber elastic. Make sure it's labeled specifically for swimwear! If you simply cannot find swimwear elastic, you can sub regular elastic in a pinch. Just be aware that it may deteriorate faster.
4. Check your measurements and the size chart.
Swimsuits are harder to toile (you can't use a cotton muslin, after all), and the negative ease might have you scratching your head when the finished measurement chart is smaller than your own measurements. Don't worry—this is correct! Swimsuits are designed to stretch over your body so they fit snuggly and you don't have any wardrobe mishaps.
For the most part, knits are pretty forgiving so you don't need to worry much about doing all of the same adjustments you would for a woven garment. That said, there are a couple of things to keep in mind. Pay particular attention to the height your pattern is drafted for, and adjust the lengthen/shorten lines accordingly. If your bust is within 1-3 inches of the pattern draft, you probably don't need to worry about an SBA or FBA. Any more than that and you might want to consider doing a Full Bust Adjustment (FBA) or adding length in the bust and width at the front side seams to increase the room for the bust.
Swimsuit fit is SO personal! Some people may want a looser fit and others may desire a compression suit. We have added a page to the Sandpiper Swimsuit instructions where you try on the main swimsuit pattern pieces and assess the fit. This is a great opportunity to take the swimsuit in and make it tighter where you feel it is needed.
5. Cut your pieces accurately.
Swim fabrics can be pretty slippery, but luckily there are a few things you can do to make cutting less difficult. First, try to cut your pieces on a single layer—this will not only be easier, but you'll also get more accurate results. This is a great time to bust out the rotary cutter and pattern weights. Make sure to cut with the printed side of the fabric facing up, so you can be precise about pattern placement and avoid a misplaced flower or design feature. 
It's also especially important to pay attention to the grainline when you're cutting your pieces. Because swimsuits are so stretchy, pattern designers carefully layout the pieces in such a way that the intended stretch direction matches the needs of the swimsuit design. This will either be along the grainline (parallel to the selvedge), or the DOGS, aka direction of greatest stretch (often but not always perpendicular to the grainline). Either way, take note of how the pattern wants you to cut the pieces and make sure you are doing so accordingly. 
6. Make sure you have the right needle, thread, and pins.
This one is huge since high-spandex fabric can be especially fickle about needles—and we all know how frustrating skipped stitches can be. Make sure you are using a stretch needle that is suitable for the weight of your fabric (you might need to test to find exactly the right size). Some people have luck with ballpoint needles (also called jersey needles), but I've personally had more success with stretch needles, and that is what is recommended by most needle manufacturers for high spandex fabrics. I have also found Microtex needles to be great for sewing elastic. They are super fine point needles that can go through the elastic without bouncing. When you're pinning, use ballpoint pins to prevent holes or snags in the fabric.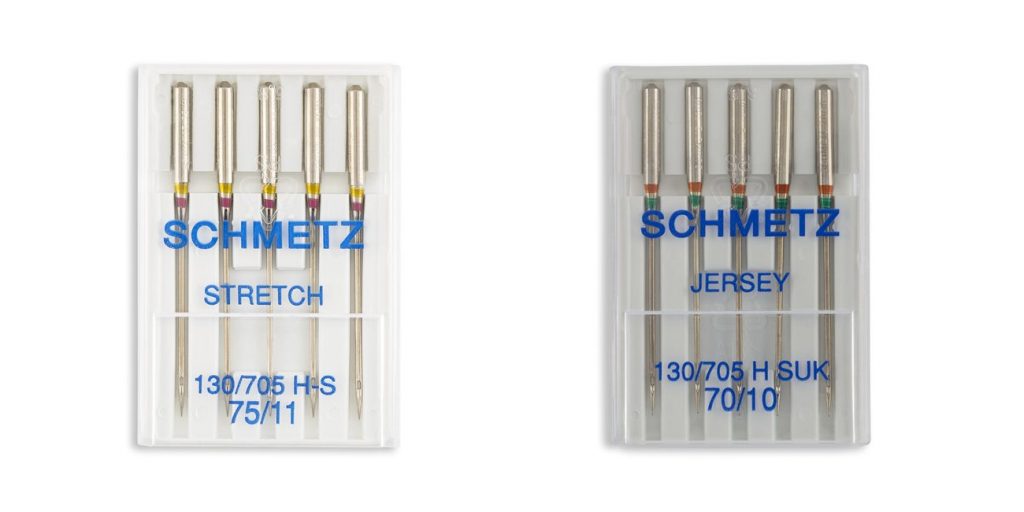 For thread, you want to stick with polyester which will hold up best to chlorine and salt. Try to use a name brand if you can—lower quality thread can cause skipped stitches, even when you are using the correct needle. If you're feeling adventurous, you can also try using woolly nylon thread in the upper and lower loopers of your serger or in the bobbin case of your regular machine. This is a great way to provide extra stretch to your swimsuit without sacrificing strength—but it's totally optional! A serger or overlocker is not necessary to sew swimwear, but it can be used in conjunction with a sewing machine for certain finishes.
7. Use stretch stitches.
This might go without saying, but stretch fabric = stretch stitches! Sergers are a popular choice for the inside seams of swimsuits, but there is no reason you can't use a regular machine to sew the entire swimsuit. The zigzag stitch, triple zigzag stitch, and lightning bolt stitch are all fantastic options. The pattern instructions might recommend specific stitch settings, but you should still test since your individual machine and fabric choices will add some variability. You'll want to check that you can stretch your test swatch without any popped stitches to ensure your finished swimsuit will hold up to normal wear and tear.
Keep in mind that swimsuit fabric doesn't fray, so raw edges are okay! It can be really fun to hack your swimsuit pattern with a cute peplum or ruffle detail and not worry about finishing the hem.
8. Don't pull the fabric while you sew.
You want stretch fabrics to have some give when you wear them, so try not to stretch or pull the fabric taut as you sew. This will distort the final shape of the swimsuit and you'll lose some of its stretchiness. When you are attaching binding pieces or elastic to your suit (which are smaller than the main fabric pieces), you'll need to stretch those just enough so that they are the same length as the main fabric, but not any further.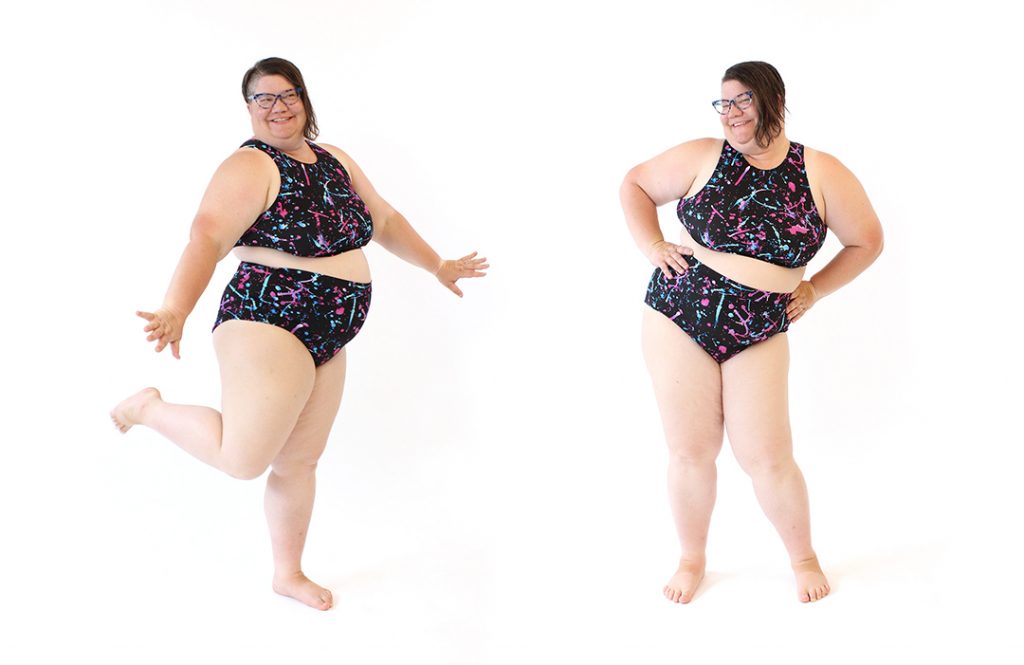 9. Skip the iron.
I've never had much luck ironing lycra fabrics, and have found that finger pressing works just as well. In fact, synthetic fabrics can melt with too much heat, so if you do decide to iron make sure to keep the heat setting really low. If you have a seam that you want to make sure has a crisp, flat edge, you can try topstitching it down with a zigzag or triple zigzag stitch instead.
10. Rinse your suit after swimming.
You've spent time and money making the perfect swimsuit, you want it to last right? Even with all the appropriate fabric and materials, chlorine, salt, and sun exposure can all take their toll and can affect the lifespan of your garment. Make it a habit after swim days to rinse out the pool or ocean water from your swimsuit before it dries (either during a shower or by soaking it in a bowl of cold water for 30 minutes). This will help keep your new swimsuit looking great for years to come.
With these tips in hand, you are well on your way to making the swimsuit of your dreams! Do you have any other tricks for sewing swimwear? Let us know in the comments!
Don't forget that the Sandpiper Swimsuit is on sale for 20% off until July 22, no coupon code required!