It is always a treat when we get to welcome Laurie back to the blog to share one of her makes! Laurie is my mother-in-law and she has taken up sewing in the past year with great success. I love watching people discover the wonderful world of making your own clothes! It's been so amazing to see her growth and determination to tackle new projects.
This week I want to share Laurie's Sandpiper Swimsuit with you! I think her experience sewing and perfecting the fit of Sandpiper is really relatable. She is a beginner when it comes to sewing swimwear but she was totally able to do it! She even said that she enjoyed sewing the elastic and that overall, she found sewing swimwear to be pretty easy and fun!
You can grab the Sandpiper Swimsuit for 20% off this week during our anniversary sale! Sale ends midnight PST August 23rd, 2021.
Laurie's Measurements are as follows:
High Bust: 40" (101.5 cm)
Full Bust: 45" (114 cm)
Underbust: 38" (96.5 cm)
Waist: 38" (96.5 cm)
Hip: 44" (112 cm)
Height: 5'7" (170 cm)
Laurie's measurements put her in many sizes for both top and bottom. She made a muslin to check the fit using some scrap swimsuit fabric I had on hand. We have a whole page about making a muslin and assessing the fit in the Sandpiper instruction booklet.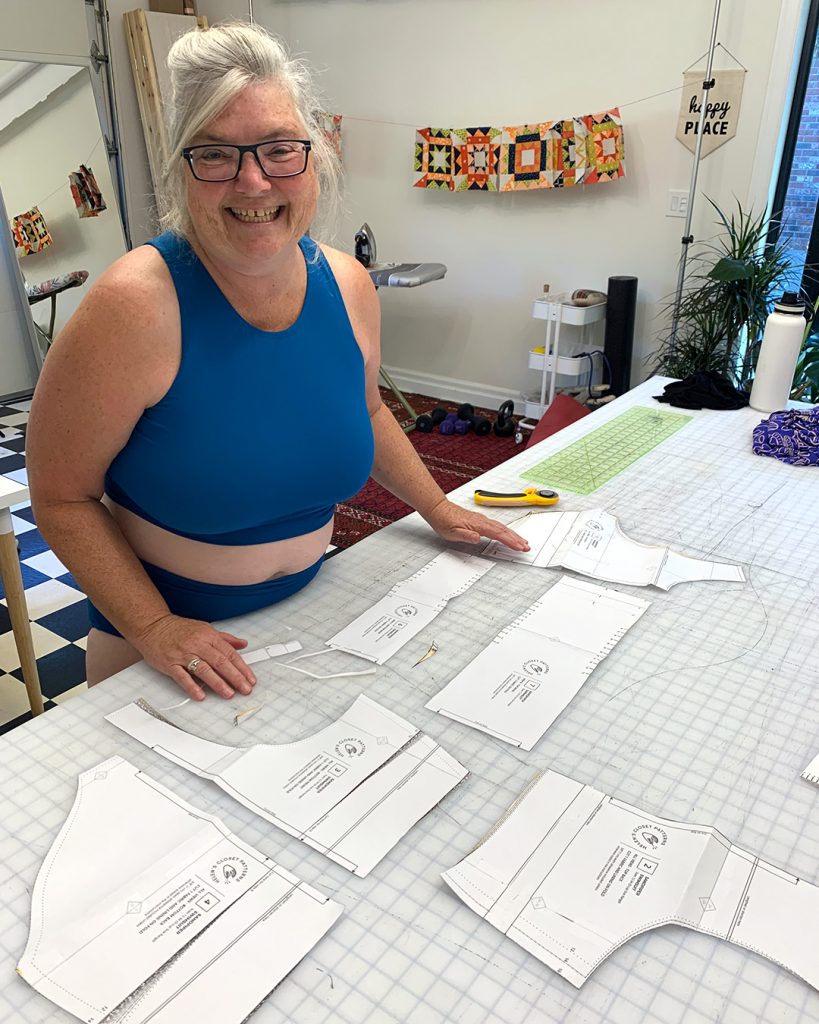 Laurie sewed the top in a size 18 for her muslin and the bottoms in a size 18 at the waist and 16 at the hip.
After sewing her muslin she decided to make the following changes:
Top
Laurie graded between sizes 18 at the underarm, 20 at the full bust, and 16 at the underbust. She cut a size 16 for the band on the top and used the wider band from view B.
She then added 1" (2.5 cm) to the Sandpiper top at the bust lengthen/shorten line to get more length in the top at her chest.
She also added ½" (1.25 cm) to the center front of the suit and blended it back to the side seam. This helped her get a bit more coverage for her bust.
Bottoms
Laurie ended up sewing a size 14 in the bottoms. Because her waist size (20) is larger than her hip size (16), she often has trouble with high-waisted knit garments staying up. This is especially true for undies, leggings, and swimwear. After sewing an initial size 18/16 in the bottoms, she decided to size down to a 14 overall for a tighter fit. This helps the bottoms to stay up but she did note that it is causing the waistband to curl a bit on her. She said it is not uncomfortable, but worth noting! She also made the band wider on the bottoms to match the top.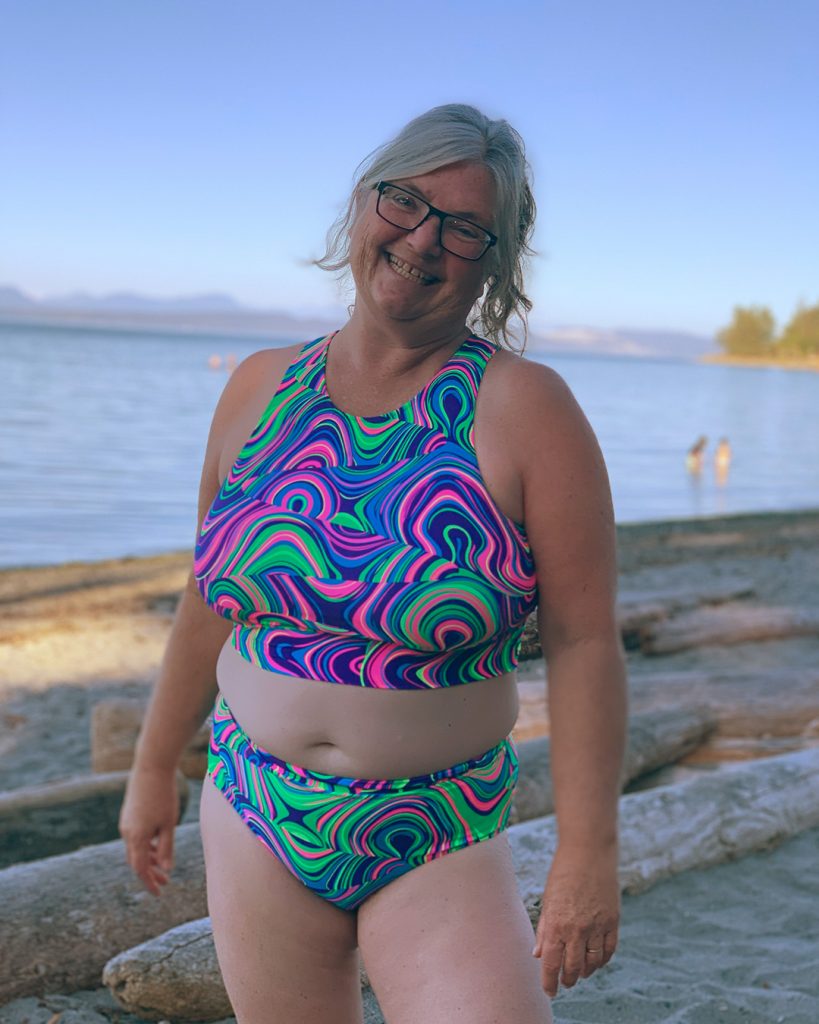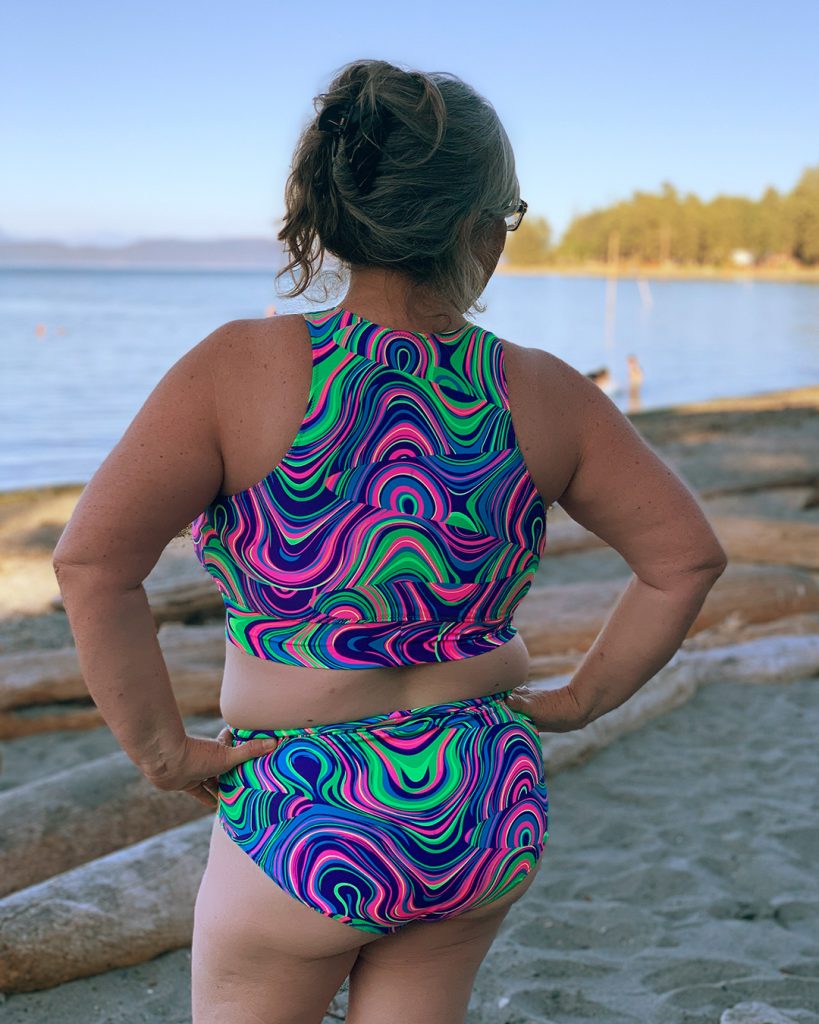 Other folks with a larger waist than hip size may also find that sewing a straight size based on their hip (or even sizing down) is the ticket to getting bottoms that will stay put.
Laurie chose this amazing swim print called 'Twister' from Discovery Fabrics for her swimsuit. Isn't it just so fun!? I love how bright and playful it is, and it totally suits her personality (pun intended).
Laurie is totally smitten with her Sandpiper Swimsuit and she is looking forward to making more! She says the top is SO comfortable now that she has adjusted it for her body and she could see making bras and tops using this pattern. It was worth the effort to get the fit right and finally have a swimsuit that she feels comfortable in! In her experience, swimsuits often have a breast-forward design that can make swimming and playing on the beach near impossible. Either that or they are boring and make her feel old. Now, she feels secure, cute, and SO ready for all the water activities! Thanks for sharing, Laurie!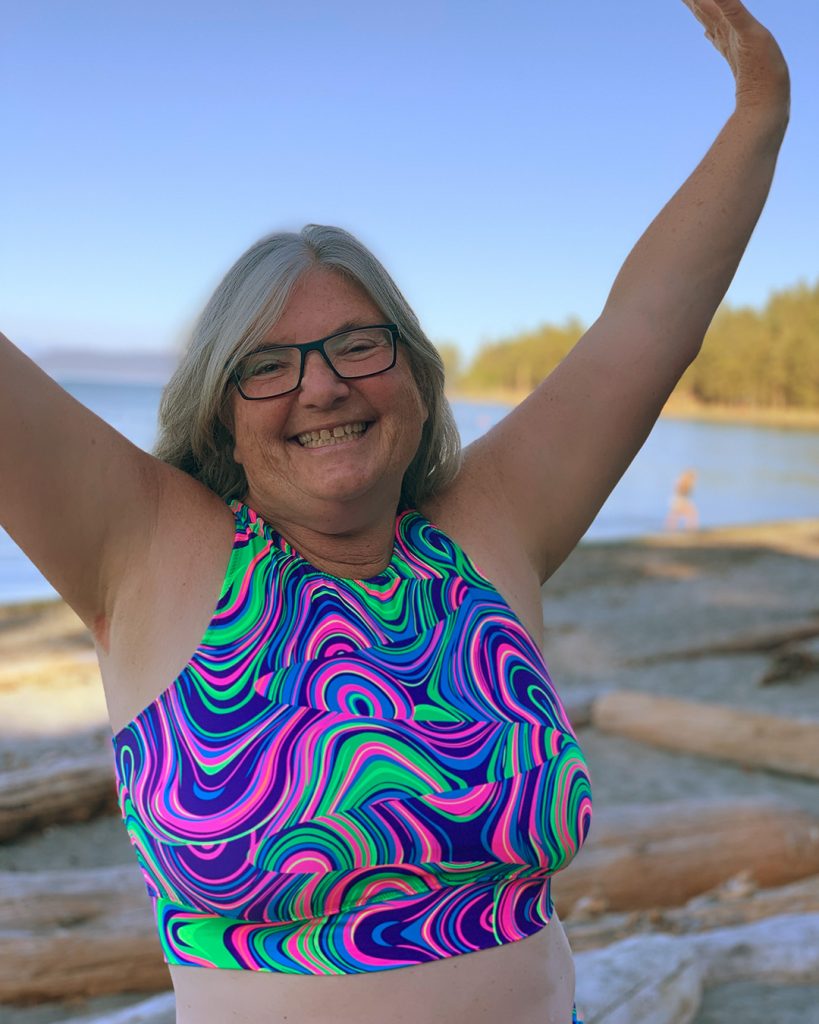 You can grab the Sandpiper Swimsuit for 20% off this week during our anniversary sale! Sale ends midnight PST August 23rd, 2021.