I'm thrilled to announce the newest Helen's Closet pattern – the Wildwood Jacket and Vest! This quilted pattern marries my new-found love of quilting with my love for garment design and I could not be happier to share this design with you. To celebrate the launch, Wildwood is on sale this week for 20% off!
The Wildwood Jacket and Vest is the ultimate quilted garment pattern. Learn how to sandwich layers of fabric and batting together to create a lovely quilted textile that you will transform into a cozy and versatile layering piece. Wildwood features unique overlapping shoulder and side seams, making it an easy pattern to adjust for your preferred fit. The edges are bound with bias tape that can be sewn in a contrast fabric for an outlining effect. Roomy patch pockets are the ideal size and shape, and Wildwood can be closed in the front with snaps. This is a medium-weight jacket or vest that is perfect for transitional seasons and layering.
The Views
Wildwood offers the option to create a jacket or a vest, making it a very versatile pattern for your collection. Both views include three length options, so you can make a high-hip length, a low-hip length, or a mid-thigh length garment. It is also easy to customize the length to suit your preferences!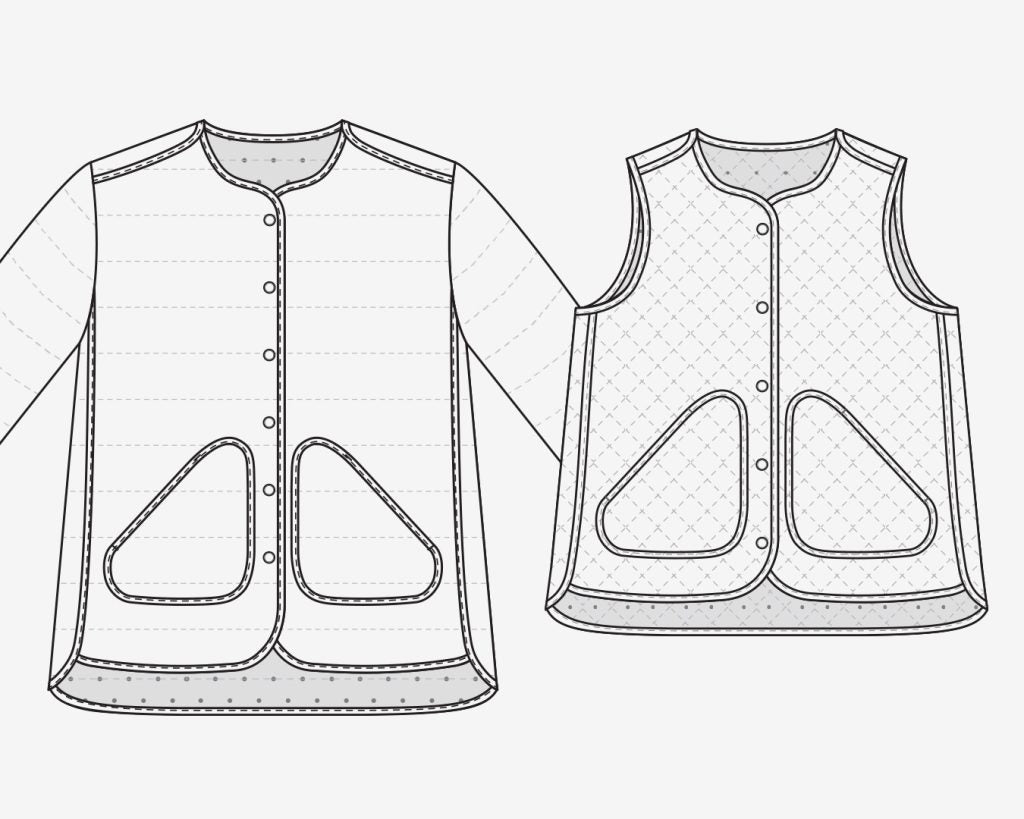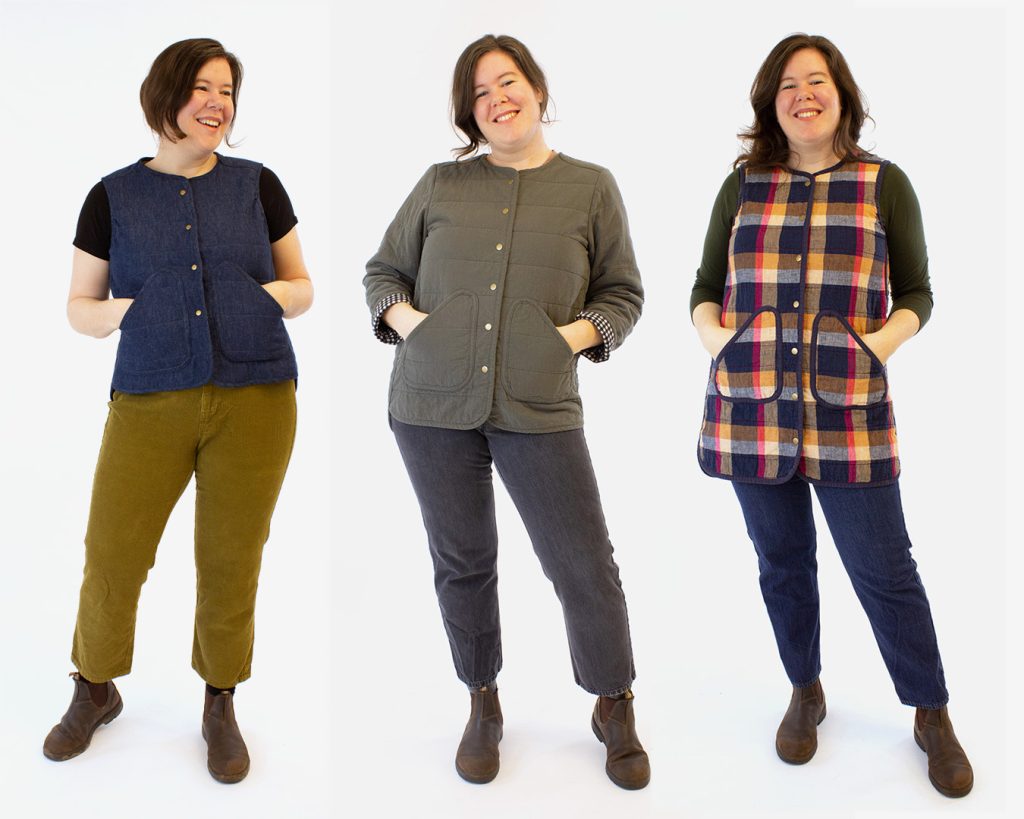 The Fit
Wildwood is designed to be gender-inclusive and it features a dartless front design. The jacket is roomy in the chest and fits cup sizes A-D comfortably. We will be sharing a blog post later this week that outlines how to add a bust dart if needed.
Wildwood has a very unique construction that is really fun to sew. Not only that, it makes this pattern easy to fit as you make it! The shoulder and side seams of Wildwood are overlapped and topstitched. This is great for bulky quilted fabric, and it allows you to increase or decrease the overlap as needed. For example, you can decrease the overlap at the hem to make more room for the hips! We've outlined when and how to alter the overlapping seams to get the perfect fit for you in our comprehensive instruction booklet. We just love the way this overlap looks at the shoulders and sides. It adds a design element to the pattern that is just *chefs kiss*.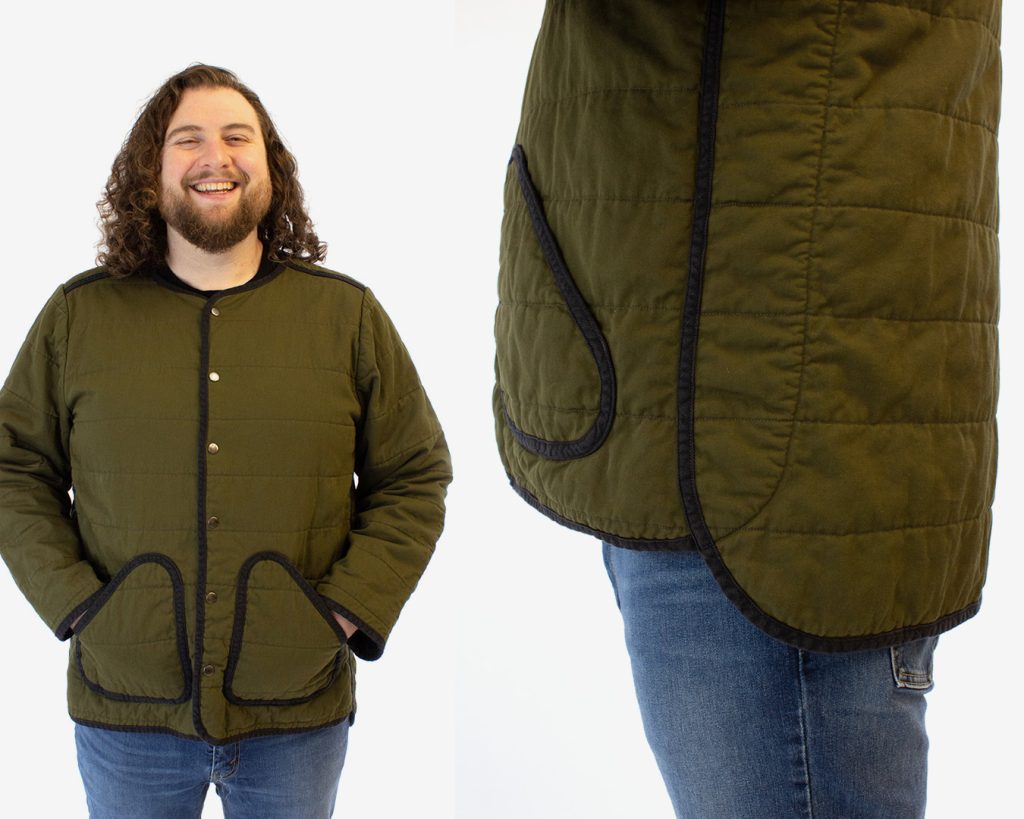 For the vest view (A), we came up with a fun solution for the inevitable gaping armhole that happens when a boxy fit is combined with thick, quilted fabric. We have you sew a small amount of ¼" (0.6 cm) elastic into the armscye before you bind the armhole. This elastic cinches in the armscye and eliminates the gaping. It makes for a really beautiful and customizable fit!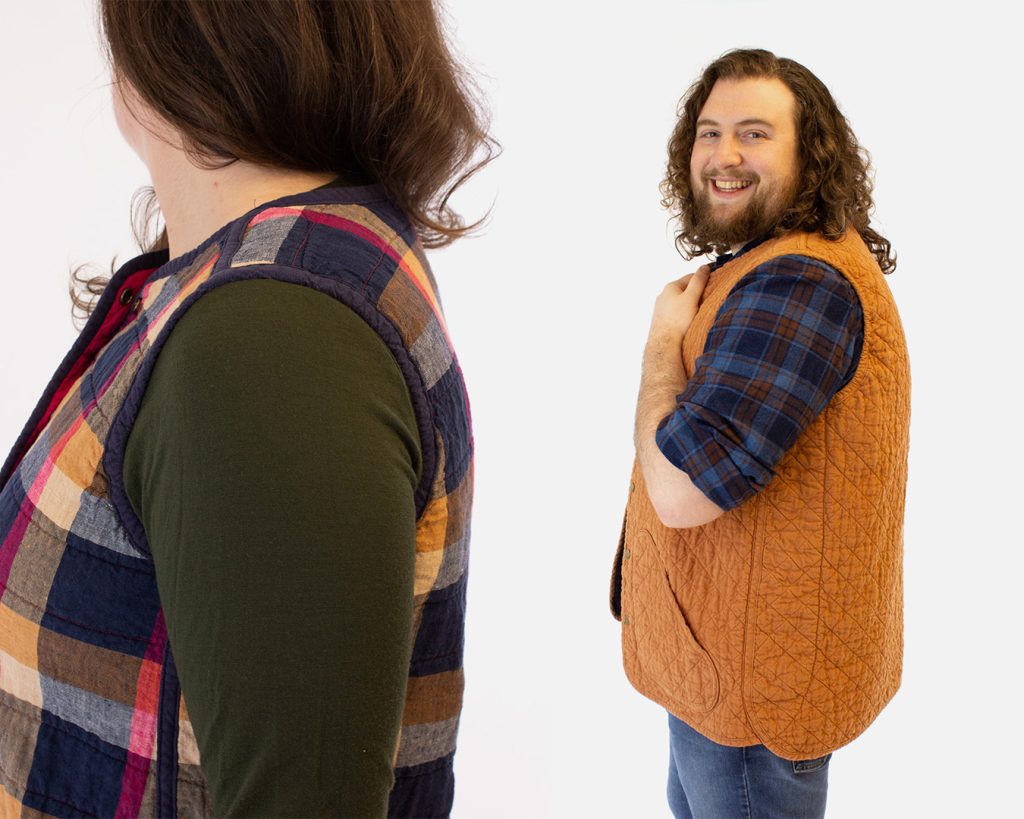 Fabric & Batting
Wildwood works best in light to mid-weight fabrics with no stretch (3-6 oz) for both the outer fabric and the lining. Cotton, flannel, linen, wool, and hemp are all good choices. Heavier fabrics will add too much bulk once the batting and binding are sewn.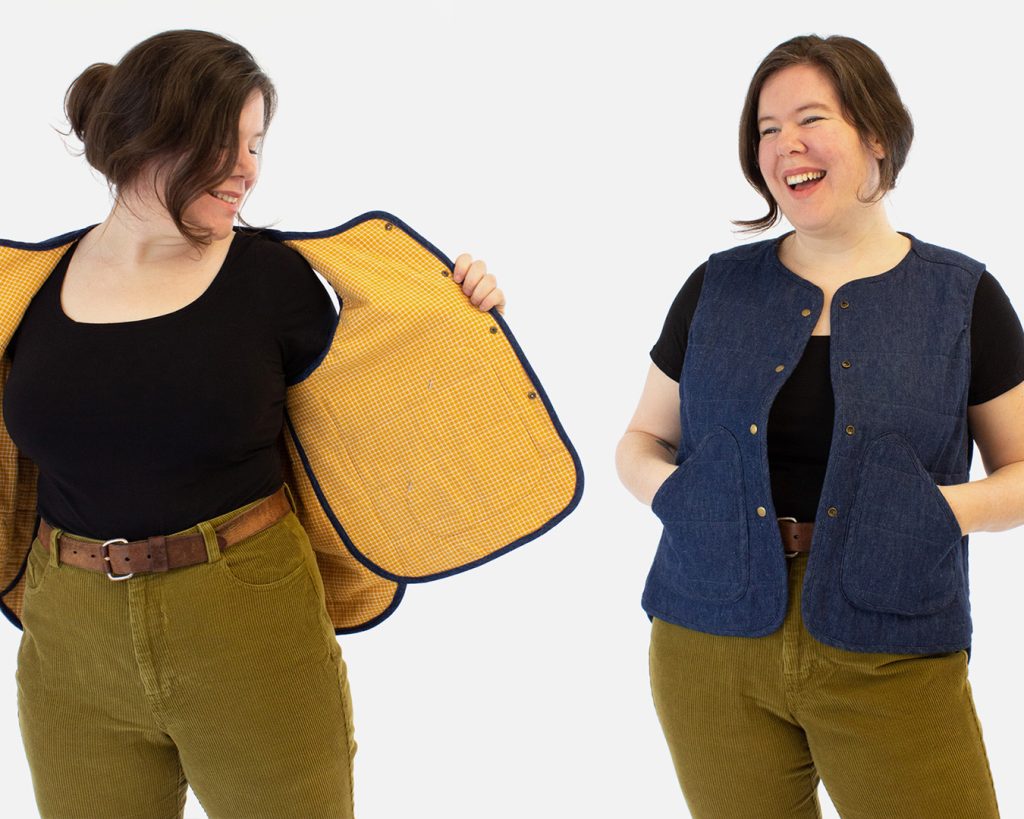 Use the batting of your choice for the middle layer. If you are using cotton and polyester batting, the vest/jacket will be washable and dryable. Silk or wool batting will need to be hand washed or washed on a gentle cycle.
Pre-quilted fabric is also a great option for Wildwood. It saves you the trouble of cutting, sandwiching, and stitching your fabrics together. You can skip right to assembly and binding! Pre-quilted fabric will likely result in a lighter jacket, so just keep that in mind.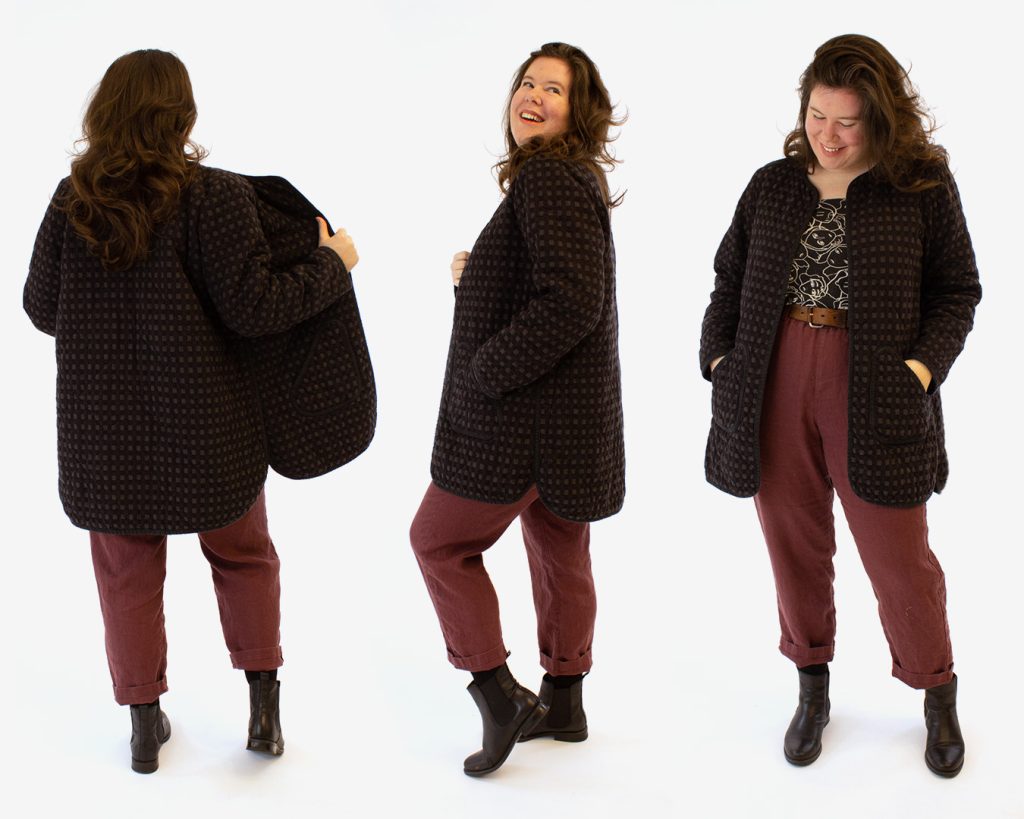 Quilting
Don't have any quilting experience? Not a problem! You can totally make Wildwood. We walk you through how to sandwich and quilt your fabric together with your batting to create your custom quilted textile. It does take some time, but the results are totally worth it. You get to choose your preferred stitching pattern and you can make it as loose or dense as you like. We love a simple horizontal stripe for beginners, since it is pretty fast and easy. Diagonal cross-hatch is also beautiful and it can be sewn at a small or large scale. The world is your oyster here!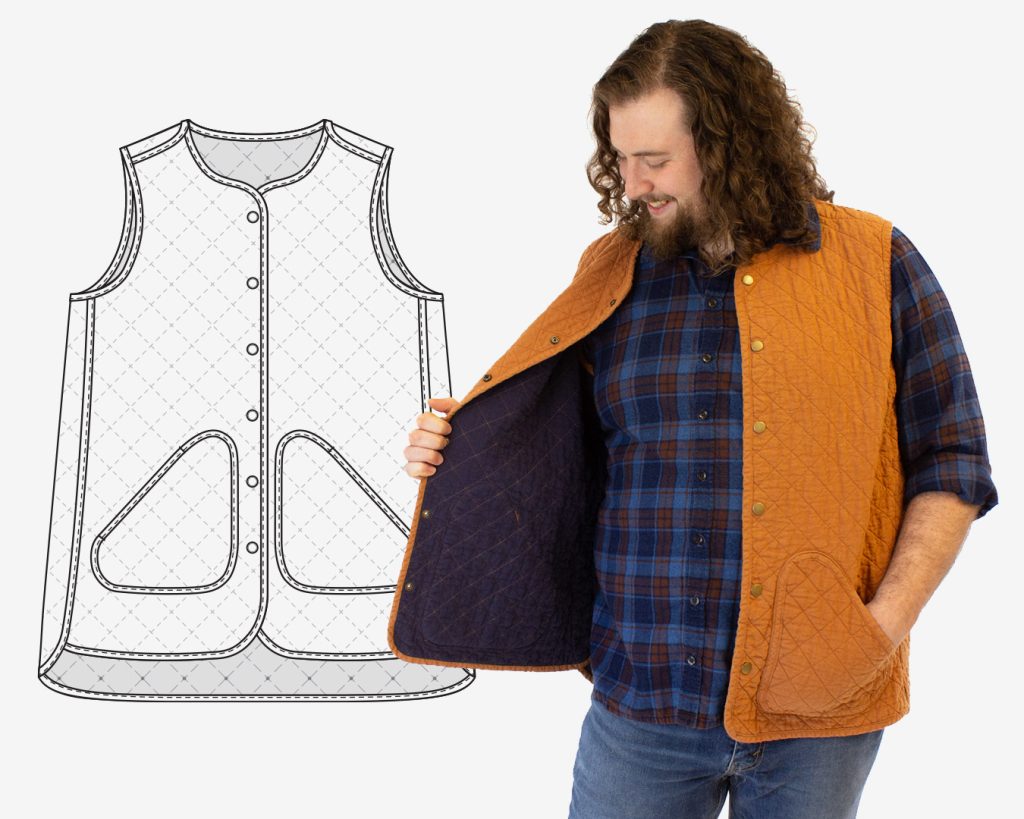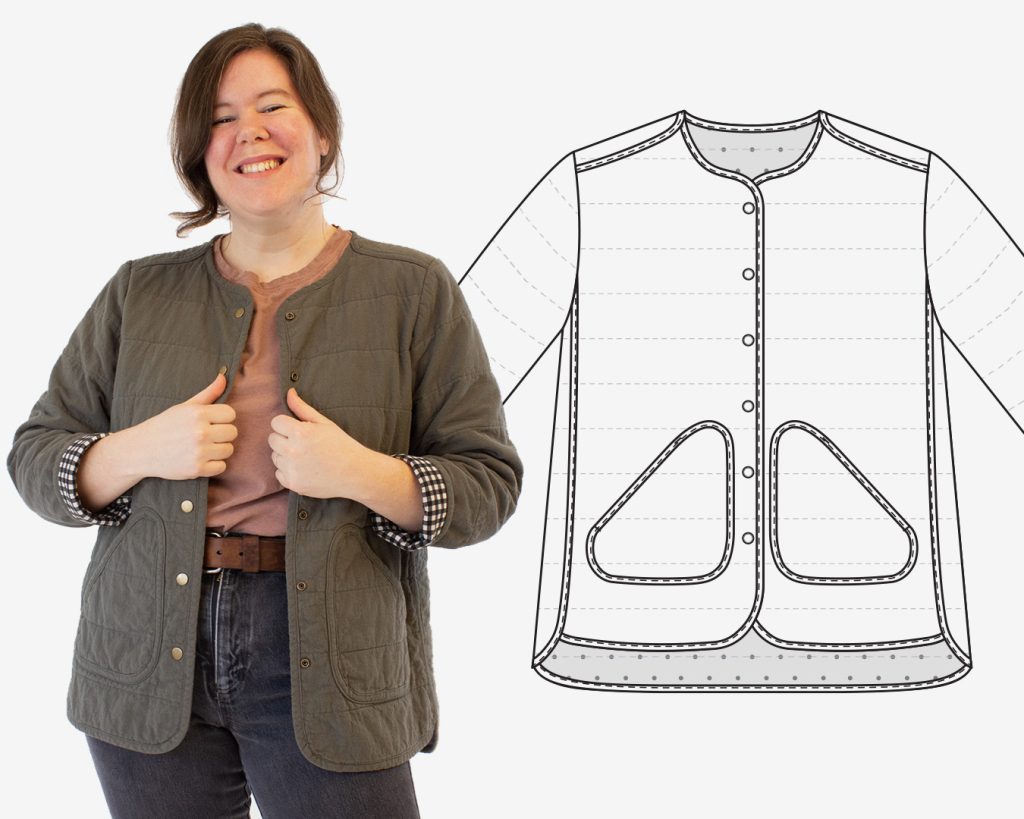 Bias Binding Edges & Closures
Wildwood uses double fold bias binding to finish almost all the edges of the garment. It's a beautiful and clean finish that really stands out with the overlapping construction. You have the option to use store-bought tape or make your own! We provide instructions for making your own in the booklet. By the time you complete Wildwood, you will be a binding expert!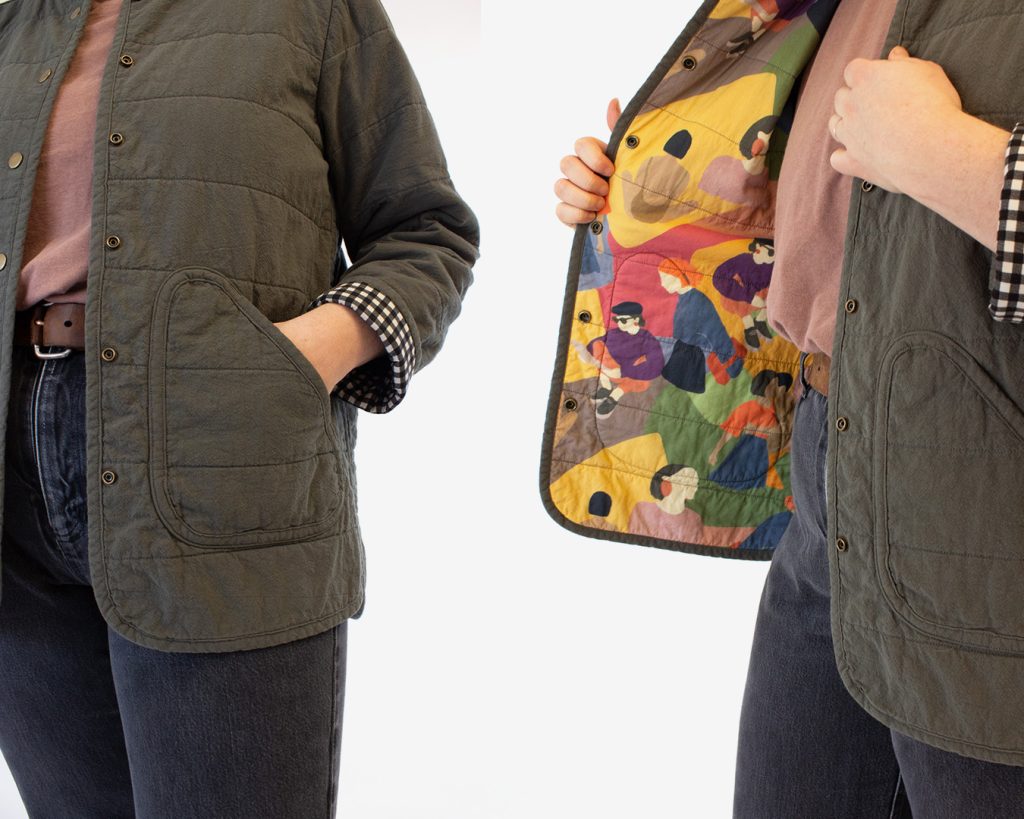 To close the jacket in the front, we recommend snaps. You can purchase snap kits from the fabric store or Etsy and they are easy to install. If you prefer, you can also use buttons and buttonholes, hook and eye closures, or skip the closures altogether!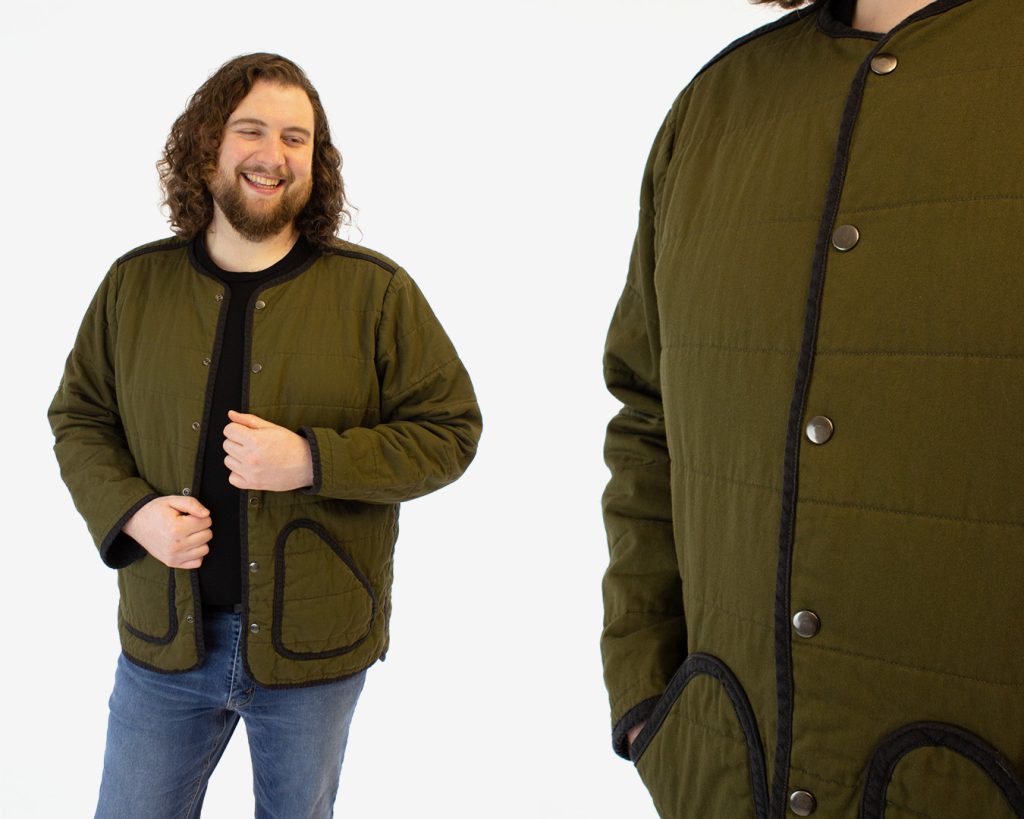 It Has Pockets!
We played with a lot of different designs when it came to the pocket for this pattern. I knew I wanted patch pockets, and I wanted something with some curve to it, because the edges of the pattern are all curved. I also love an angled pocket opening because it is so much easier to put your hands into than a vertical or horizontal one. These pockets are the perfect size and shape for your hands and your phone, keys, etc! The bias bound edges match the rest of the design and really make these pocket stand out.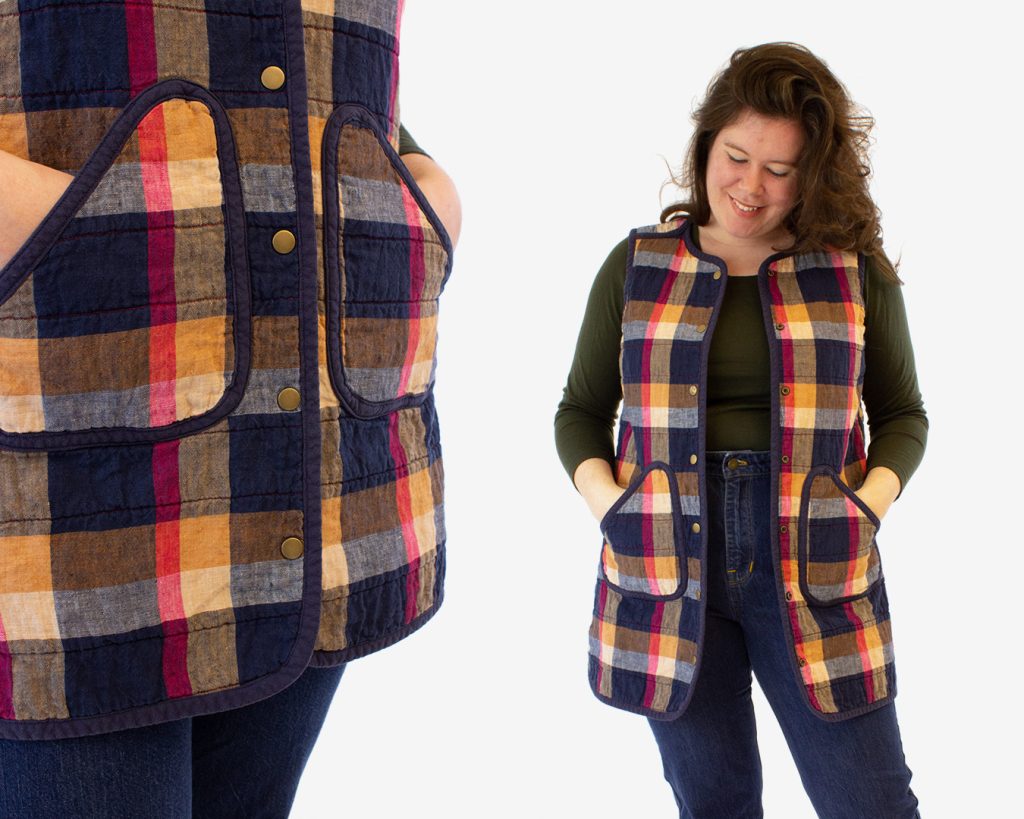 FAQ
Can Wildwood be made reversible?
Great question! The pattern is not designed to be reversible, BUT, it can be done, with a few caveats. We cover this in the instruction booklet and will be sharing a blog post that goes into more detail about this later on this week. Essentially, the vest is easiest to make reversible because it has less seams. You only need to consider the pocket stitching. The jacket has sleeve seams and armscye seams that face the lining side of the jacket. If you finish these seams neatly, like with bias binding, you could wear the jacket inside out with the bound seams as a cool design detail. Keep your eyes open for our post about this if you are interested in a reversible Wildwood!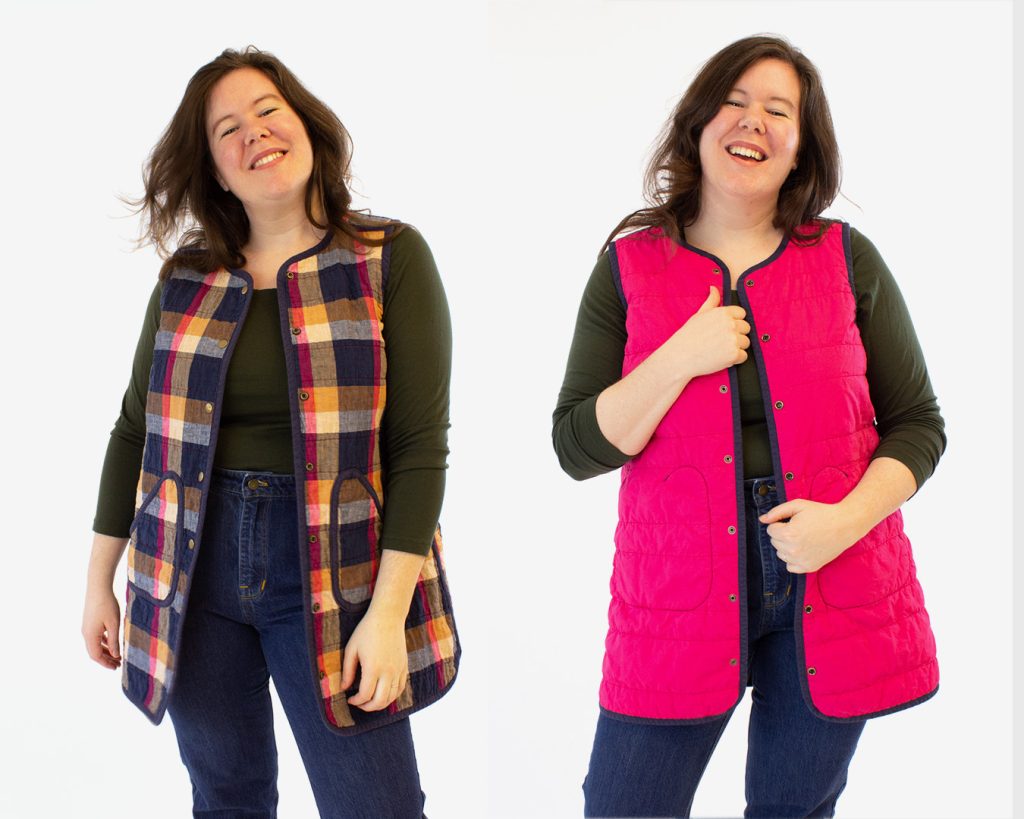 Can I do an FBA?
Yes! You can do an FBA on Wildwood and add a bust dart. We will be sharing a blog post about how to make this adjustment and how to approach the sewing and quitting parts of the pattern once you have your dart.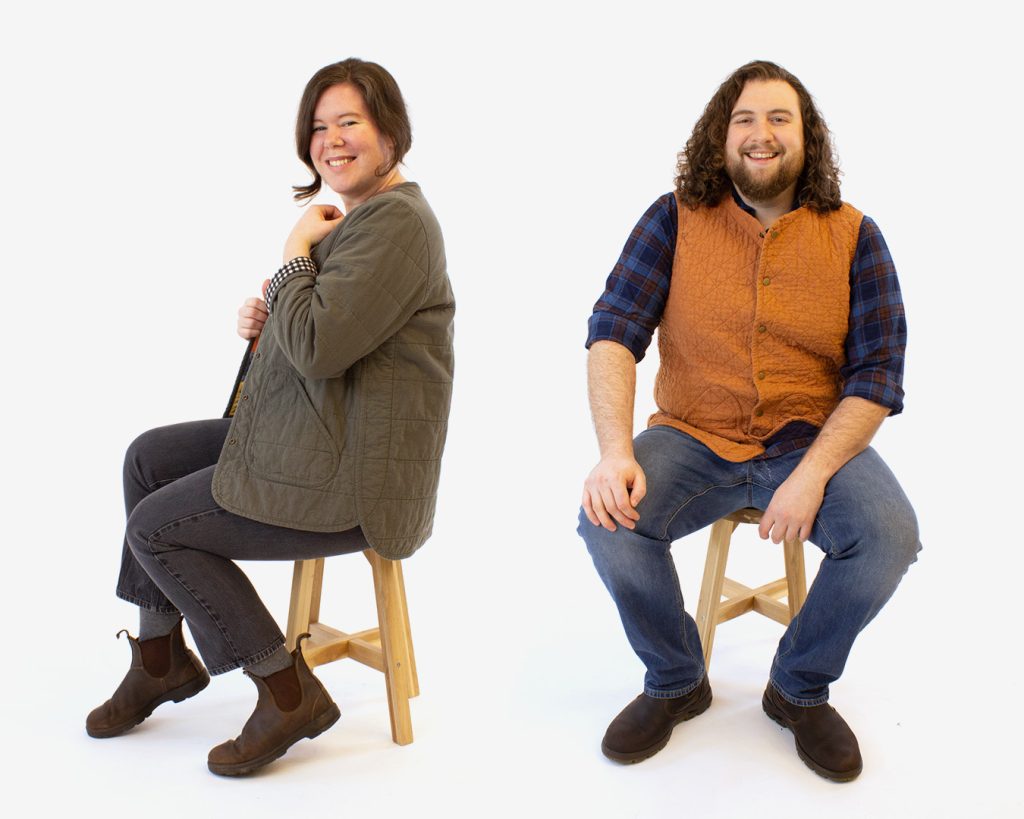 We are so happy with this new design. It's cozy, unique, fun to sew, and such a great piece for any wardrobe. Both Sam and I are particularly into the vest view right now because it is the perfect layer for dog-walking in the woods. We can't wait to see what you do with Wildwood! This new pattern is on sale this week for 20% off!