One of the things we played around with a lot when we were developing Wildwood was trying to make it a reversible jacket. As is, the cool overlapping seam construction looks great inside and out! That said, there are a couple of things that are hard to make perfectly reversible, but we do have some tips and tricks for you to try if you want to go for it. This post will help you to get that reversible Wildwood of your dreams!
Wildwood is on sale this week for 20% off!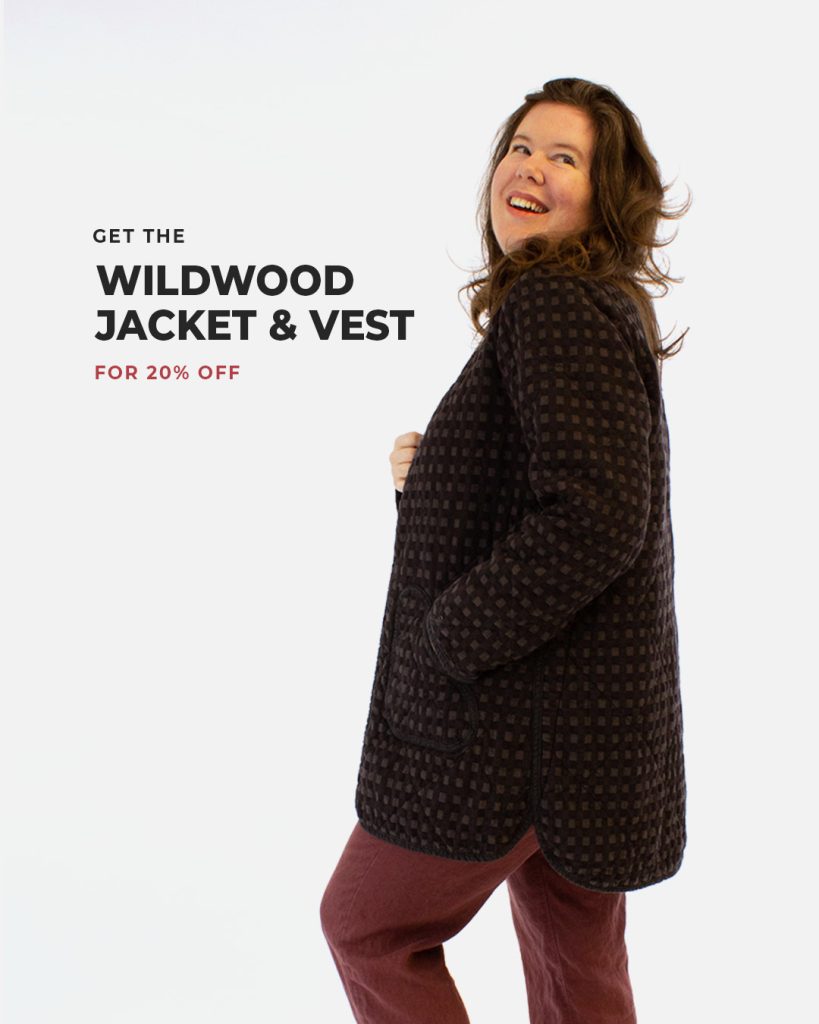 Reversible Vest (View A)
The vest is the easier of the two views to make reversible. The only detail that affects this is the patch pocket. One side of the vest will have outside pockets and the other side will show the pocket stitching. You can opt to eliminate the pocket if desired (and therefore have no visible stitching), or you could try sewing pockets to both sides of the vest. In this case, hand sewing the pockets to the vest is the way to go. Keep in mind that this may weigh down the front of the vest. Use a light fabric and thin batting if you want to double the pockets.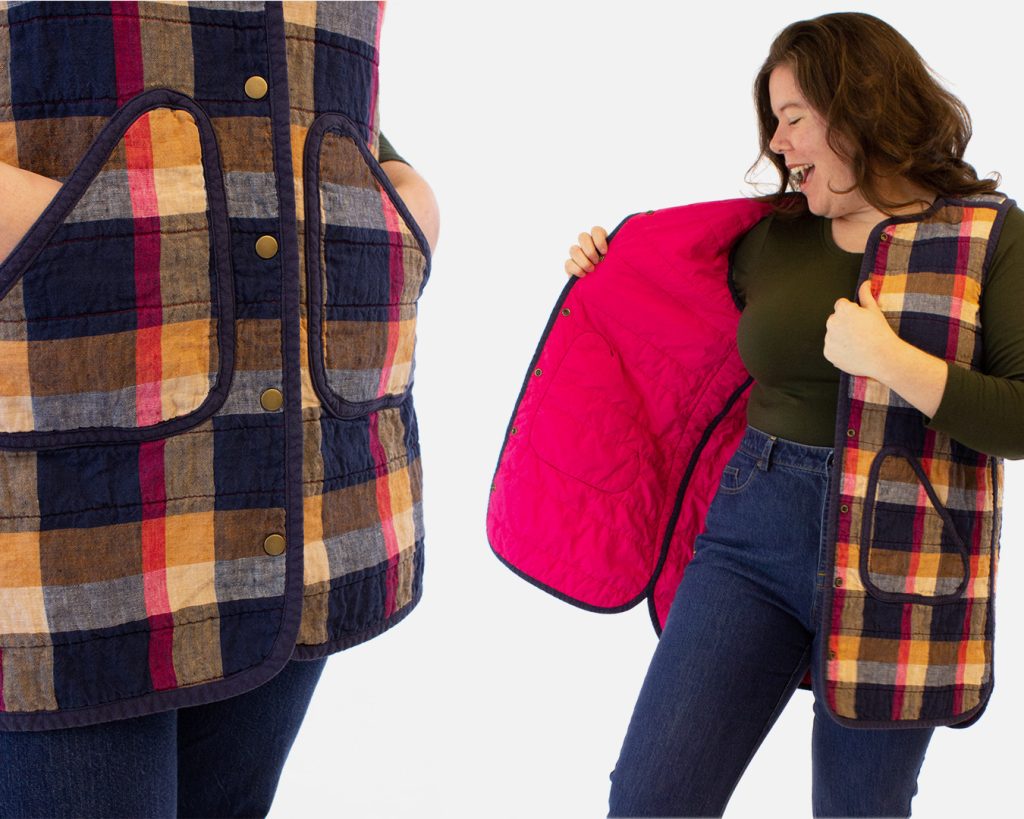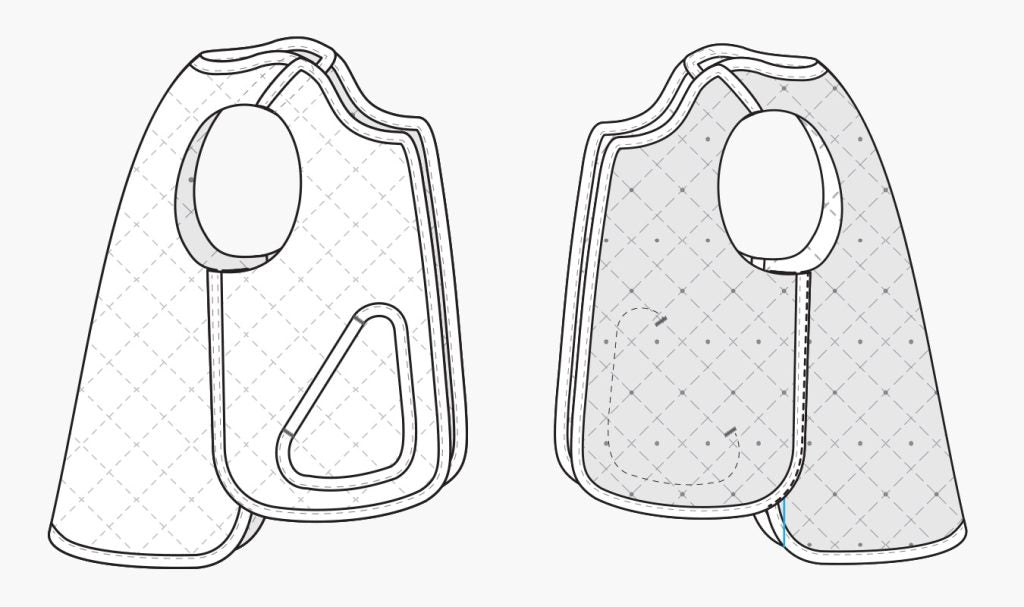 When making a reversible vest, pick one fabric to be the "right" side and the other to be the "wrong" side and stick to it throughout the instructions. This will help to eliminate any confusion.
Consider using buttons instead of snaps to close the vest when making the vest reversible. Attach two buttons to each side of the vest front. This way it will be easy to close from either side! So cool!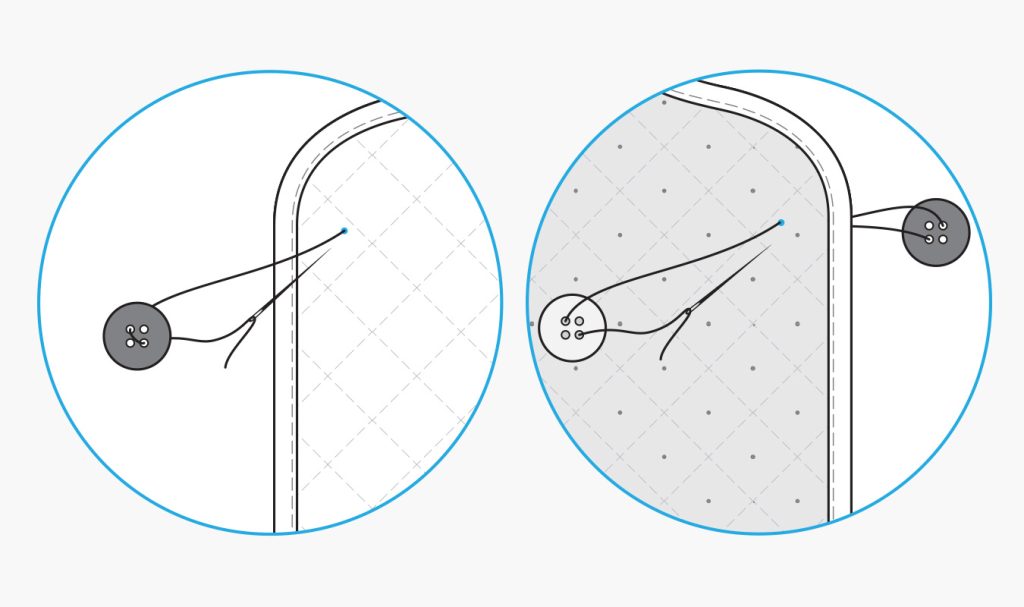 You can also use snaps and just have inside-out snaps on one side of the vest. We found this works fine, it just looks a little different. It is up to you if a reversed snap is a deal-breaker or not.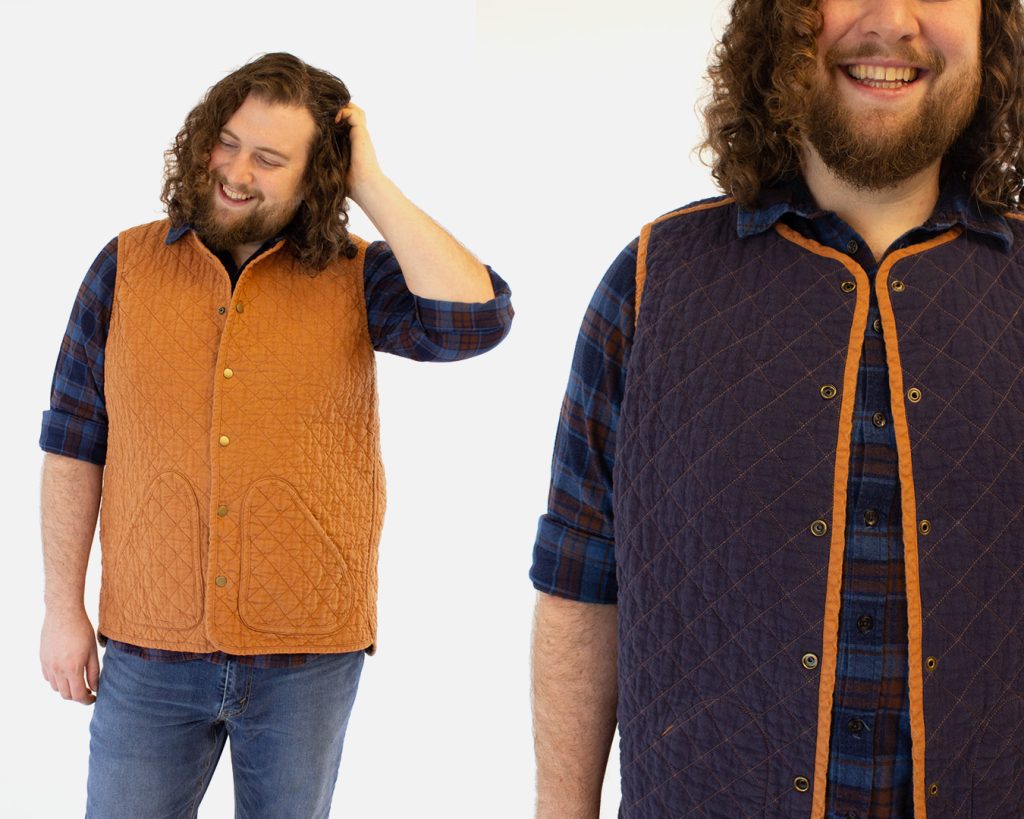 We have three vest samples to look at from our pattern photoshoot. The first is my favourite sample, this long vest with a plaid linen exterior and a hot pink cotton lawn lining. I just love this sample! I think it looks great worn both ways, and I especially love how the quilting pattern really pops on the pink side.
We used blue thread for this sample which helps accentuate those quilting lines even further, and it also makes the pocket topstitching stand out. I personally think this shape looks pretty cool and am not bothered by it showing on the reverse side of my vest. If we would have put pink thread in the bobbin, it might show less, but it would still be visible.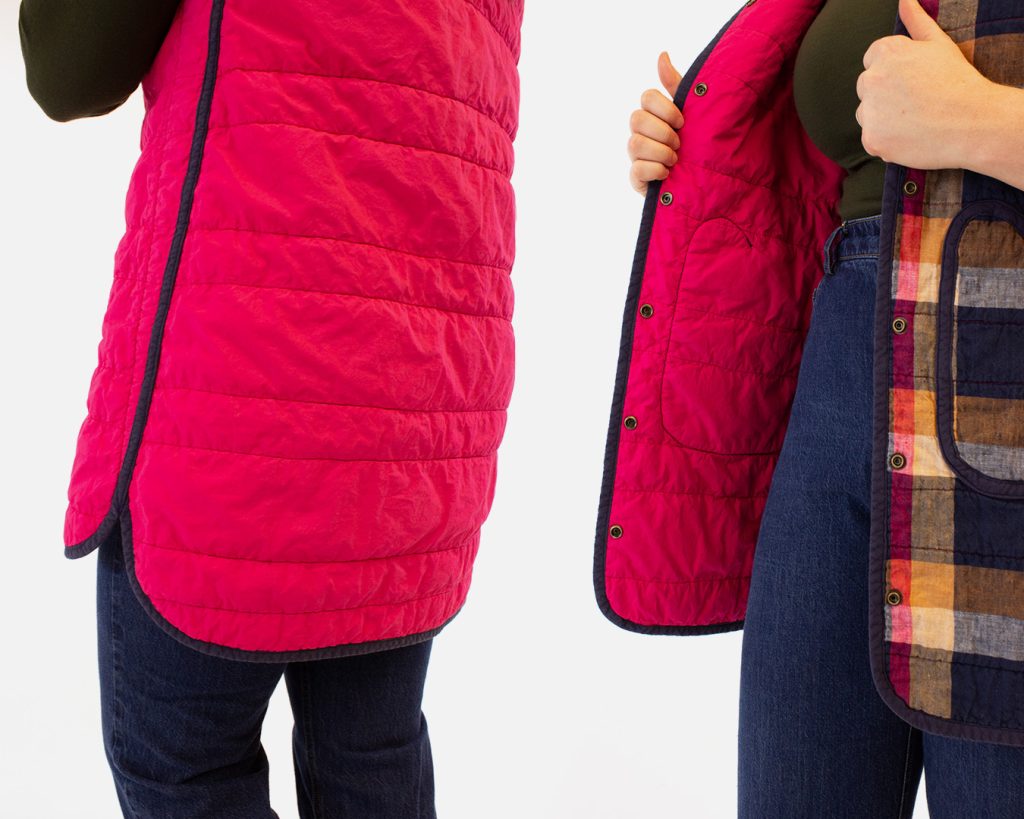 Our next sample is Sam's Wildwood Vest in a beautiful terracotta linen slub with a navy sandwashed cotton lining. We used gold thread throughout and really went for it with the diagonal crosshatch quilting! I love this look, especially the way the gold thread pops on the lining side.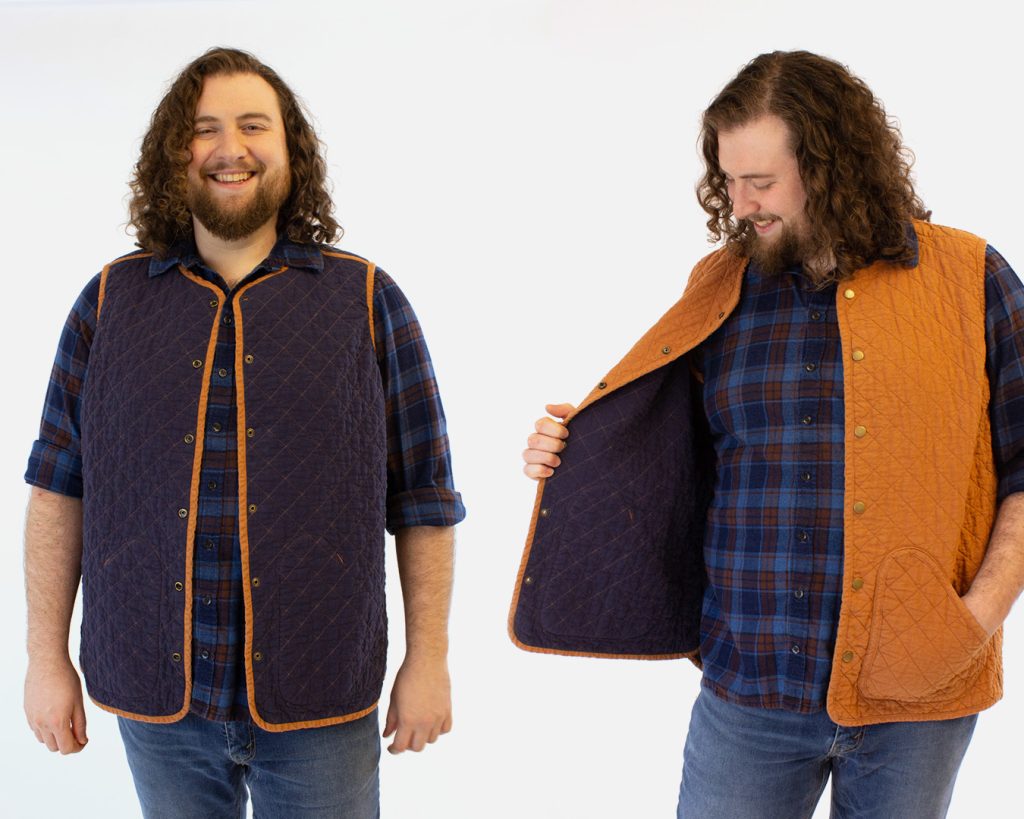 Because we used the terracotta fabric for the binding, there is great binding contrast on the lining side of the vest. This is one of my favourite things about Wildwood! There are so many ways to customize the look and put together different fabrics and colours. Once again, you can see the pocket stitching on the reverse side of the vest and the snaps are backward.
Lastly we have my short Wildwood vest in cotton/hemp denim and lined with a yellow handwoven cotton check. This one is so nice and soft and comfortable, I've taken to wearing it around my studio when I get chilly.
For this sample, we used yellow thread in the bobbin, so the quilting lines are less visible. You can see how it affected the pocket topstitching—it's still visible, but less so. I'm not sure I'll wear this one lining-side out, but that is just my personal preference. The denim side is just too cute!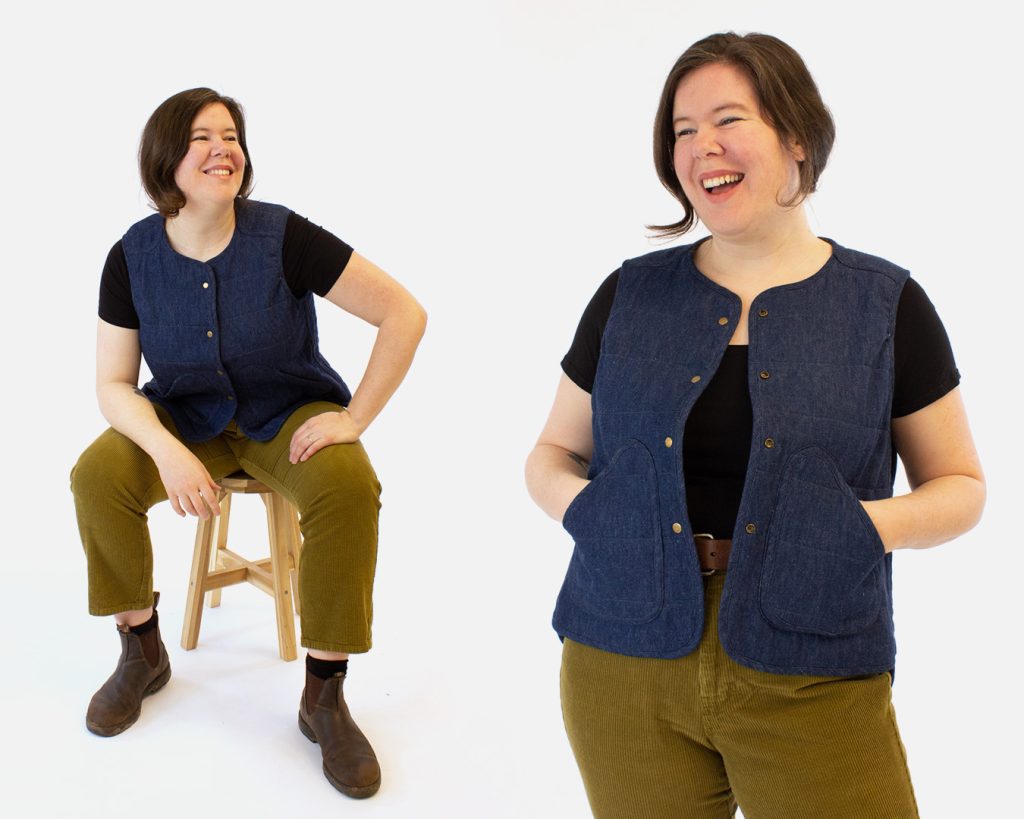 Reversible Jacket (View B)
The jacket is less easy to make reversible because of the sleeve and sleeve attachment seam. Both of those seams are sewn normally, not overlapped. That being said, if you do a bias binding finish on these seams, it is possible to wear this jacket inside out with those bias bound seams as a cool shoulder and sleeve accent.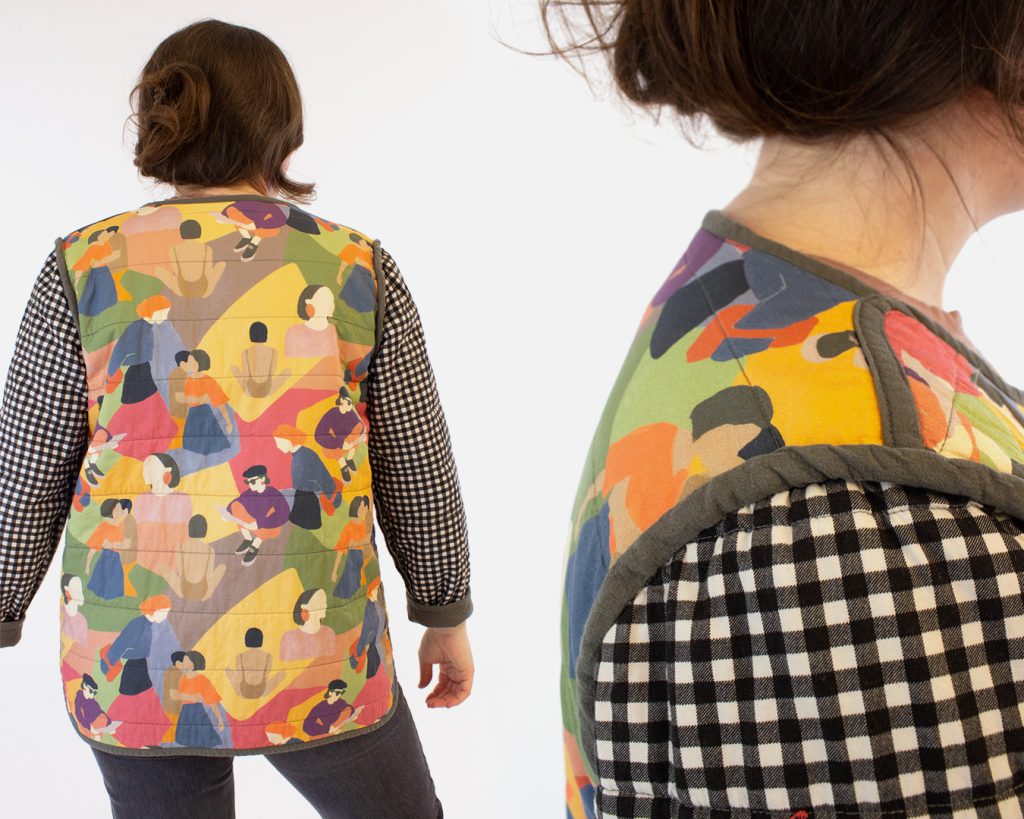 We had so much fun choosing fabric combos for our Wildwood samples! It's particularly fun to have a business side and a party side. For example, this sample uses a plain sandwashed cotton for the exterior and binding, while on the inside, it's a bright and cotton colourful print with a gingham sleeve! I love how the gingham shows when the jacket is cuffed. When worn inside out, the sage shoulder binding looks like an intentional design detail.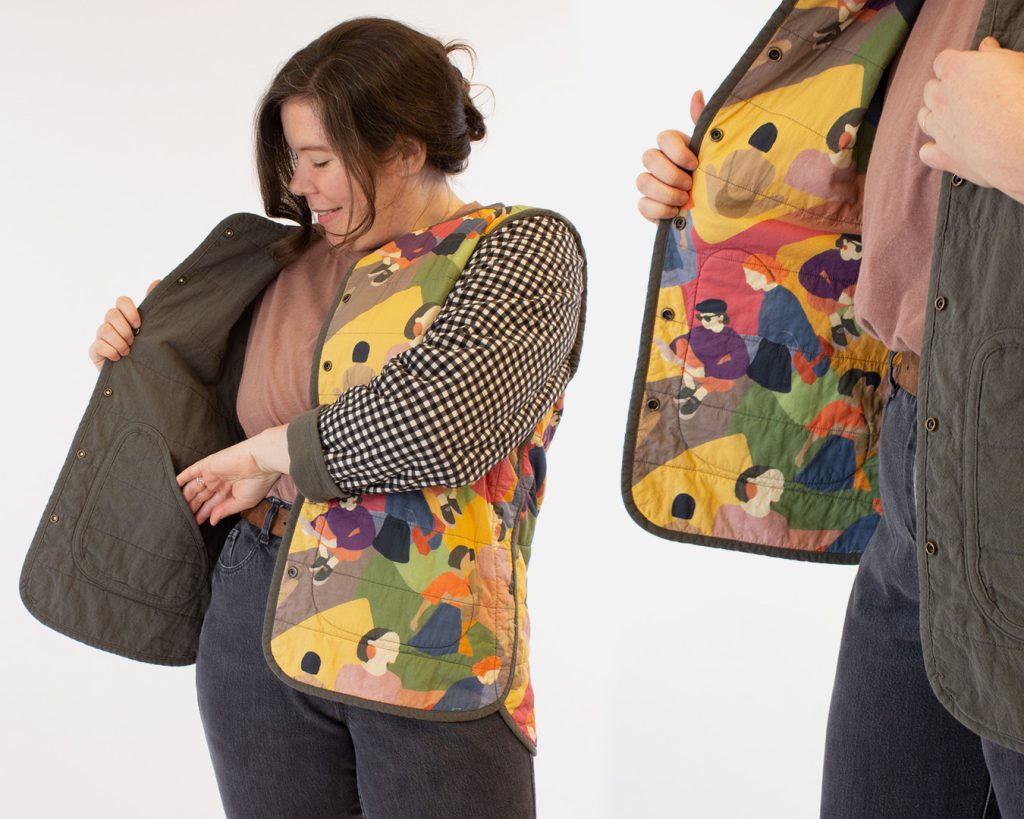 Here is another example of this on our long jacket sample. The exterior is a mammoth flannel and we used a really pretty (and shiny!) cotton fabric for the lining. We bound the shoulder seam using the same lining fabric, so it almost looks like a cool thick piping detail. As always, you can see the pocket topstitching, but it is not that noticeable in this black fabric. The sleeves were bound with the same linen binding as the outer edges of the jacket.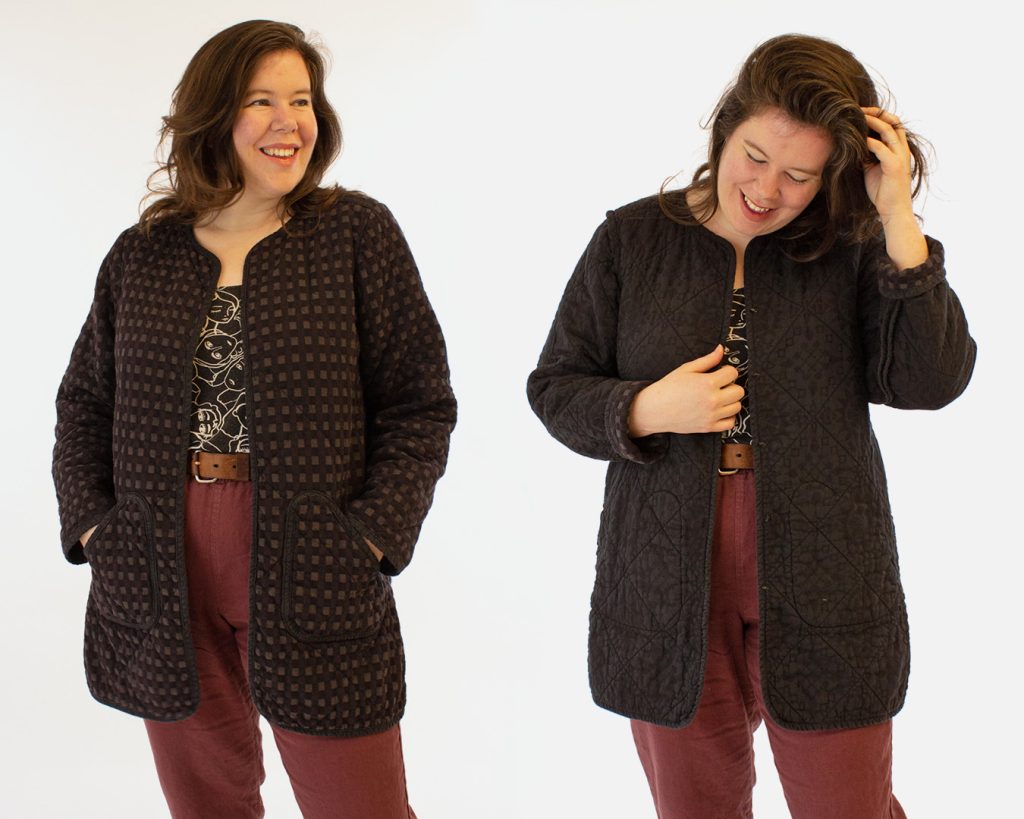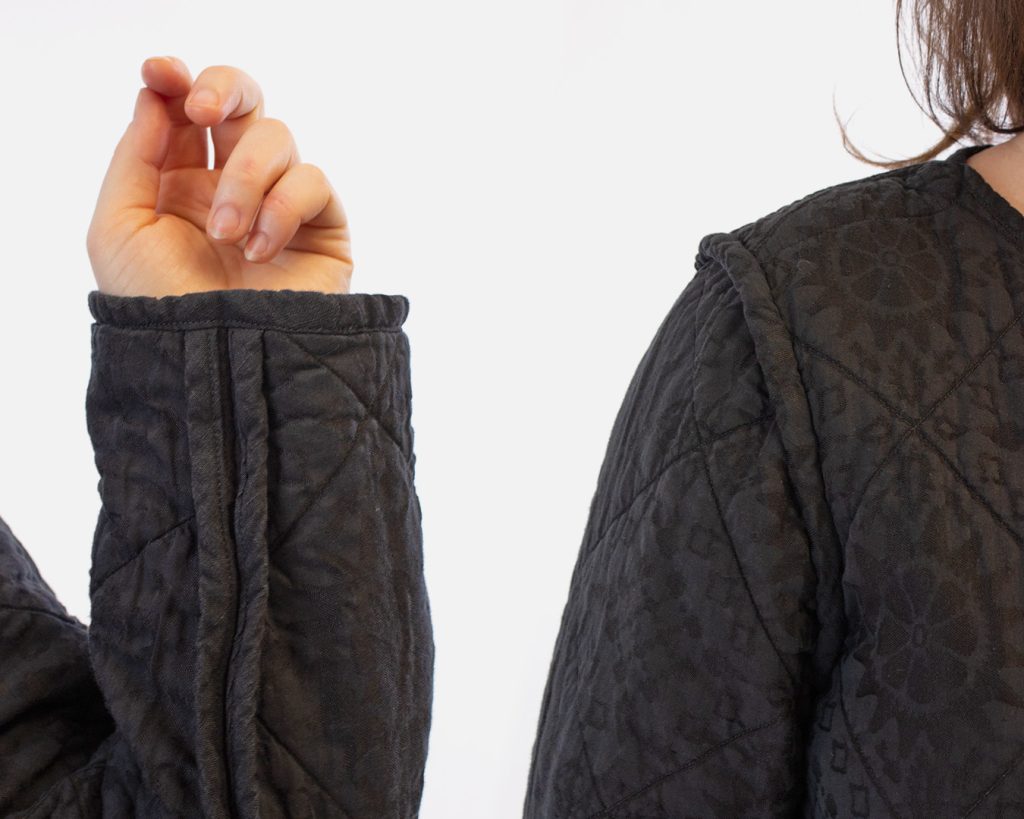 For closures, you may want to consider the double button method outlined above, or you could try hook and eye closures like we did here. These are really subtle and work well for more decorative fabrics like this black-on-black jacquard. They are nearly invisible and work really well in reverse.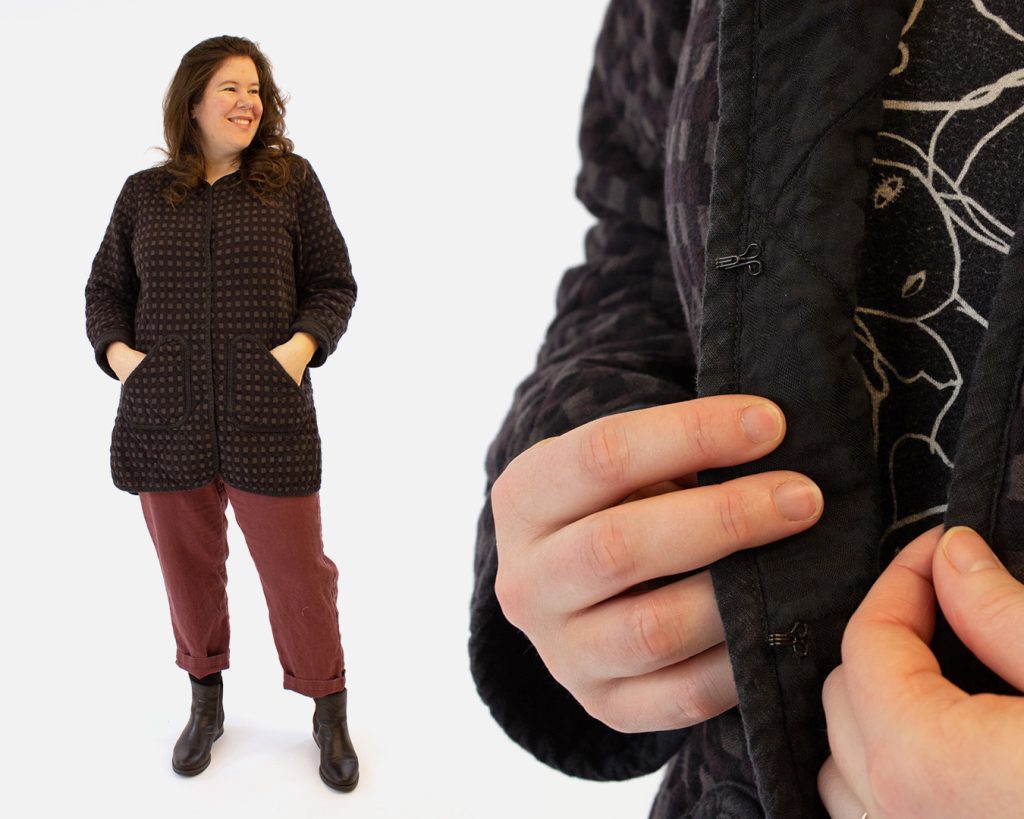 Final thoughts
I think reversible jackets are super cool! You get two looks with one garment. With these extra steps, you can make a really unique piece that will blow people away. If you don't want to make a reversible version, that's great too! Chances are you will have a preferred side anyways. I hope this helps!
Don't forget, Wildwood is on sale this week for 20% off!